Profile: The Rise of Kris Hampton
Kris "Odub" Hampton's journey from a rough past to Red River, rap, and Power Company Climbing training stardom
Heading out the door? Read this article on the new Outside+ app available now on iOS devices for members! Download the app.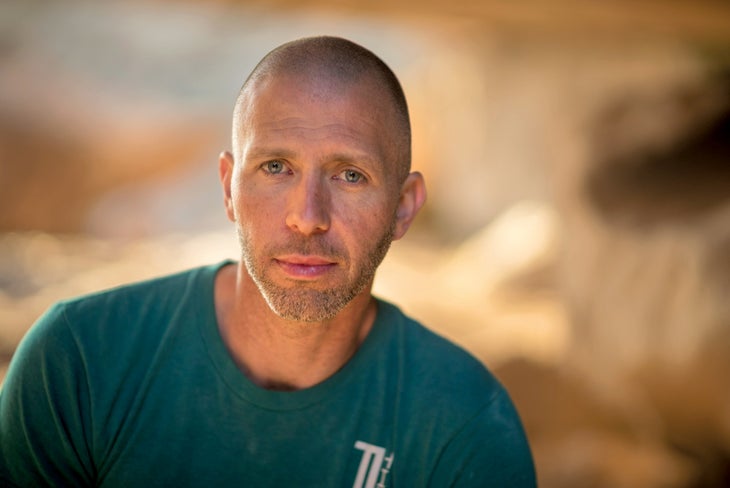 "I have to commit now," Kris Hampton thought halfway up the swell of Transworld Depravity (5.14a) at the Motherlode, in the Red River Gorge. "There's no choice." On a weekend trip to the RRG in late spring 2014, a few weeks before his fortieth birthday, Hampton had tied in below his project. If he sent, it would be his first 5.14. Drainage from the forest above soaked the top third of the route. But Hampton had been training, putting his own self-developed principles into practice, and he felt strong. It was now or never.
At the second crux, a lateral move off sloping crimps, Hampton surprised himself and the crowd of about 35 climbers watching below as he linked through the section. The crowd roared. A final 50-foot stretch of wet 5.13b guarded the chains. Hampton sprinted for a pair of incut crimps where he hoped to shake out. Unfortunately, his hands landed in puddles. He kept climbing. One move from the anchors, with wet hands and swollen forearms, Hampton fell. As he was being lowered, he remembers thinking, "I've never felt as good climbing as I did being lowered off that route with the chains unclipped." Later that year, in October, Hampton returned for a proper send, but the failed attempt had been much more meaningful. "Everyone was going crazy, and in that moment, it all came together," recalls Hampton. "I thought, 'This is my tribe and these are my people.'"
Today, Kris Hampton is 42. Raised in Cincinnati, where he lived for decades, he's now in the process of moving to Lander, Wyoming. Hampton has always been the quiet guy in the corner. At 5'8" with a lean, muscled 145-pound frame, Hampton exudes a steadfast presence behind a pair of glacial-blue eyes. His calm perhaps comes from his roots, having to remain centered while growing up amidst a turbulent family life in Cincinnati, baggage he carried through his early-adult years when he earned a criminal conviction for stealing car stereos. Or perhaps it's just who he is, an observant, intense, considered presence. Throughout it all, Hampton has been a self-made man—you may know him through his fame as a climbing emcee, using the handle "Odub," a nickname based on his traddy/offwidth days at the Red. Or perhaps you've heard of him more recently, as his Power Company Climbing training business takes off, both at the Engine Room at RockQuest Climbing Center, his home gym in Cincinnati, and in digital form through his podcast and apps. Or perhaps you even know him as a dad on the ABS circuit, where his daughter, Katy, was a competitor from 2006 to 2009.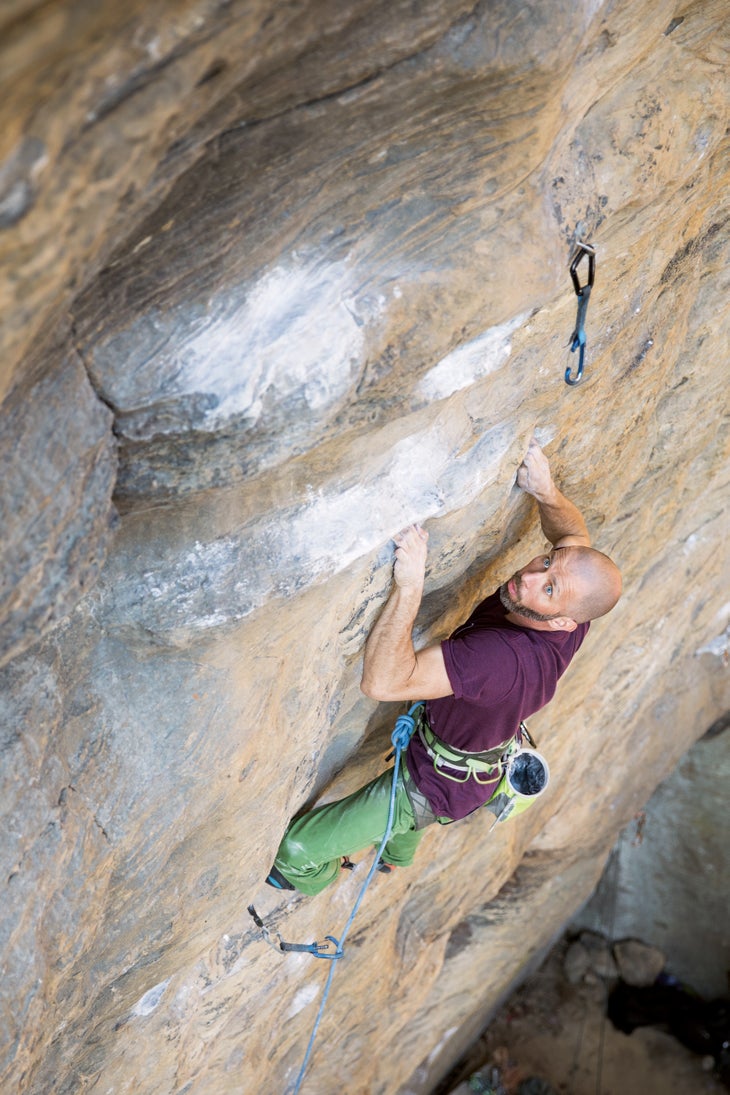 In 1987, Kris Hampton, then 13, was just another kid playing on the streets of Cincinnati's gritty Highpoint neighborhood. The area was populated by Appalachian families who'd migrated north for factory work—it was an all-white, racist, rough community. One day on his way home from school, Hampton wandered by Queen City Gymnastics, stopping to watch the gymnasts practice through the windows. The way they moved—their grace and power and athleticism—fascinated him. He crawled into a dumpster behind a mattress factory and fished out some discarded mattresses. For the next three years, Hampton "appropriated" the mattresses to practice gymnastics in the park. At 16, he stopped watching and took a class at Queen City; within six months, he started teaching and coaching. Back at home, he clashed with his stepdad, who was only 10 years his senior. A fight between the two led his mom to press assault charges against the young Hampton. He spent a few weeks at the Hamilton County Juvenile Detention Center, and then never returned home.
Having escaped family tensions, Hampton focused on the art programs at high school. His art teacher became his second mother, and art became his second escape. Hampton studied the simple, stark, and lonely paintings of Edward Hopper, whose portrayal of light and captured "emptiness" struck him. Meanwhile, music, specifically hip-hop, spoke to him. In 1986, when the Beastie Boys' Licensed to Ill came out, rapper Mike D wore a VW symbol on a chain. Hampton stole a VW bus logo and wore it for a few days to emulate his musical inspiration. He left the logo hanging in a friend's basement and moved on to stealing stereos and cars. "I never sold or kept the stereos or cars," Hampton says, "I gave it all away. I have no idea where any of that stuff ended up." In 1993, his luck ran out, and Hampton along with three friends was arrested for stealing car stereos in Springdale, Ohio.
The day he finished his six-month sentence at the Queensgate Correctional Facility, Hampton bought a gym membership at Climb Time in Cincinnati—Hampton had climbed at the gym twice before, and he knew he'd need a passion upon his re-entry into society to stay out of trouble. After the first month, he started sweeping the gym floors in exchange for a membership. Indoor climbing quickly led to climbing at the Red River Gorge, two and a half hours away. Within a few months, he climbed Ro Shampo (5.12a) and led his first trad route, the 120-foot dihedral crack Roadside Attraction (5.7), with his friend Ray Ellington, the RRG guidebook author. As Hampton set off on the lead, Ellington passed him the rack and said only, "If they don't fall out, then you placed them right." The ethical rigor and obscurity of trad climbing drew Hampton in. Teamed up with Ellington, he pushed trad standards at the Red, with such first ascents as Country Lovin' (5.12b), an offwidth roof at the Indian Creek crag; Vascular Massacre (5.12a), a dihedral at Clearcut Wall; and Pistol Ridge's 40-foot offwidth roof boulder problem When Doves Cry (5.12b/V5).
In 1997, Hampton became a father. He'd dated Katy's mother, but they were no longer together when she learned of her pregnancy. The pair tried to make it work, but different parenting styles forced them apart. Learning to become a father meant realizing how he'd been raised and observing who was successful as a parent and who wasn't. Hampton made sure Katy felt loved, safe, and happy. She spent her youth in the USA Climbing competition circuit, going on climbing trips with her father. "I loved climbing with him—it was our bonding time," says Katy. "He was a big inspiration with climbing, but music is super important to me, and when we'd be in the car, we always sang along. I knew most rap songs by the time I was six."
The same year Katy was born, Hampton began painting murals and decorative wall finishes, a job he held until 2015. He often spent weeks perfecting an installation on a ceiling, walls, or floors. His work consisted mainly of landscapes, old-world finishes, and faux-wood graining.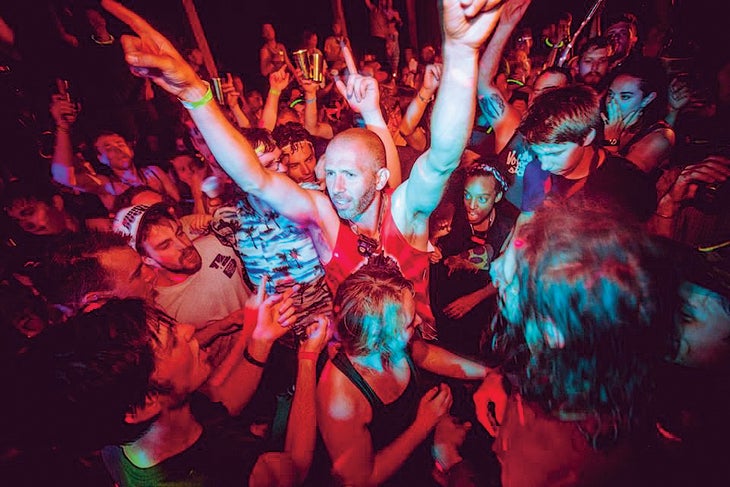 Starting in early 2002, Hampton took a four-year hiatus from climbing. Still, it remained an influence. He wrote songs about his passion for offwidth climbing, which the studio guys at Powerblast Worldwide in Cincinnati found hilarious. They began calling him "Offwidth," which was quickly shortened to "Odub." His music gained traction online, promoted through Myspace and online music sharing. Hampton emceed climbing festivals like the New River Rendezvous, Outdoor Retailer, 24 Hours of Horseshoe Hell, the International Climbers Festival in Lander, and countless gym events. He recorded a half-dozen albums with Risk Recording, made mixtapes, and contributed music to a half-dozen climbing films. In 2009, Hampton recorded "Float," a song he wrote and performed with Misty Murphy, as a tribute to Todd Skinner, who died in Yosemite in 2006. Through "Float" he became close friends with Skinner's wife, Amy, and her family, who introduced him to his fiancée, Annalissa Purdum.
In time, performing for the climbing community led Hampton back to the rock. Here, he struggled on easy climbs. Wanting to improve, Hampton dove into research: He recalled his gymnastics coaching, studied Eric Horst's Training for Climbing and Douglas Hunter's The Self-Coached Climber, and read and reread every climbing-magazine training article he could find. Seeking motivation, he recalled a comment that the RRG guidebook author John Bronaugh once made on an online message board: "Kris Hampton in not an overachiever. He is an underachiever. He does just enough to get noticed and then he disappears." Bronaugh was right—Hampton had never truly applied himself. He made 5.13 his goal and began training for the Red's enduro-blast style. On October 27, 2007, roughly a year after returning to climbing, he sent Appalachian Spring, a 5.13a at Funk Rock City in the Eastern Gorge. As other climbers at the gym and in the Red saw the results, Hampton became an informal coach.
Seeing others succeed in turn inspired Hampton. The more he trained others, the more he liked it. He started a blog, named it the Power Company, and began recording what he was learning about coaching and training. Hampton soon developed a following of climbers who appreciated his straightforward, dedicated approach. He trained fellow Cincinnatians and started writing training plans and coaching clients long-distance "He's unique among coaches because he tests his suggestions out on himself first," longtime friend and climber Yasmeen Fowler says. "He trains alongside you instead of just coaching you. You witness his accomplishments that were attained using the same training techniques he's prescribing for you."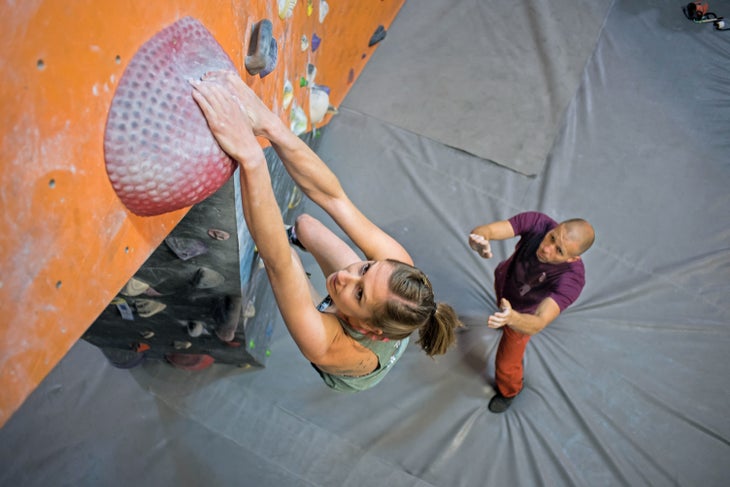 For Hampton, life was good: He was working as a successful artist, climbing better than ever, and developing a reputation as a coach. Then, in 2015, it all tore apart—literally. His right shoulder, compromised from 18 years of repetitive use at work, finally gave way. Commissioned to replicate a hundred-year-old room, Hampton hand-applied, sanded, and polished nine layers of stain and wax. The work tore his labrum and supraspinatus, as well as partially tearing and shredding his bicep tendon. He struggled to lift his arm. Surgery in April 2015 repaired the tears and resulted in a bicep tenodesis: Doctors cut out the shredded piece of bicep tendon and attached what was remaining to the humerus, rather than to the labrum. After surgery, Hampton threw himself into rehabilitation and training; his shoulder healed well. He could climb six months post-op, but it took 18 months to regain full strength. The downtime gave Hampton the opportunity to realize the full potential of a project he'd been working on for a long time.
As Hampton recovered, he developed the Power Company into an online, app-based training protocol, based off his old blogs and training plans. He launched a podcast, improved his website, and expanded Power Company Climbing. "The thing I find most valuable about Kris as a coach is that he personalizes and continually evolves the training plans," says Power Company athlete Meghan McGuire, a 43-year-old mom, actress, and marketing manager for a Fortune 500 company who climbs mid-5.11s. The Power Company has thousands of clients doing ebook plans and almost 100 people using the app. Their Facebook community group features lively, interesting discussions on training—part of the community aspect of his work that Hampton finds so rewarding.
In early March 2017, Hampton traveled to Albuquerque, New Mexico, to work with Molly Rennie, a mom and high school teacher whom he'd been coaching online since November 2015. "He started showing me the way the body moves and how to make it move better," Rennie says. In the past two years, Rennie's ability skyrocketed. She placed fourteenth at Bouldering Nationals in January 2016, has sent double-digit boulders, and competed at the Vail World Cup. In New Mexico, the pair bouldered on Triple Mullet, a V10 at a collection of welded-tuff boulders called the Pond, near Ponderosa. The climb traverses upwards on slopey rails to a powerful move to a gaston. Together, they spent an hour deciphering the beta. They both eventually hucked to the gaston. Neither quite stuck it, but for Rennie it was solid progress on a local project. She was stoked.
"That's why I do this," Hampton says. "That same high that you get when you make a breakthrough, I get it when I watch that lightbulb come on for a client."