Climber's Only Pro Pulls While 30ft Up. Stranger Solos Up to Reset It As He Whips
In a crisis, decisive action may be the difference between life and death. Sometimes only a bystander is prepared to take that step.
Note: This is part seven of a 10-part story, which will be released weekly. Visit Ordinary Heroes to find the other parts as they are released.
Climber: Carl Harrison
Location: Eldorado Canyon State Park, Colorado
Date: Early 1980s
The Scene
Carl Harrison was bouldering at the foot of the Bastille, a tower of dark, bulletproof sandstone that rises about 350 feet above the dirt road in Colorado's famous climbing park. In the late 1970s and early 1980s, Harrison was among a group of talented climbers who put up many free routes in Eldo, at Lumpy Ridge in Rocky Mountain National Park, and at other Front Range crags. (Romulan Territory, a three-pitch 5.10 at Lumpy, established with Scott Kimball, is perhaps the best and most famous of these.) According to Mike Brooks, a friend of Harrison's, he was warming up for an attempt at Marie Antoinette, a poorly protected face climb left of The Bastille Crack.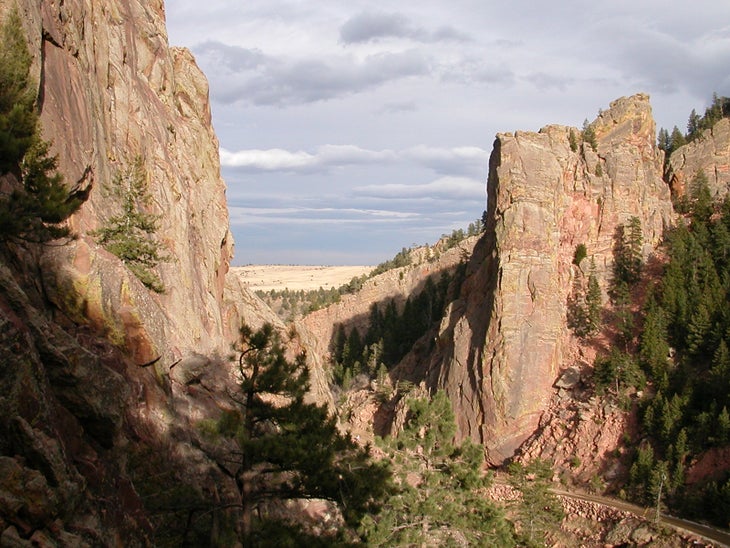 Harrison barely took notice as an inexperienced leader started up the über-popular Bastille Crack, a five-pitch 5.7+ with a short crux about 30 feet above the ground, just after a step left from a gaping flake leads into a polished hand and finger crack. This passage has been the scene of several accidents when leaders placed inadequate protection before making the transition—and then flamed out before they could place good pro in the crack.
As Harrison traversed thin holds along the base of the cliff, he noticed the leader stretch left to place a single nut for protection at the bottom of the Bastille Crack. After committing to the traverse, the leader shakily started moving up the crack. He stalled out, his legs began to shake, and then his single nut popped out and slid down the rope and into his terrified belayer's hands.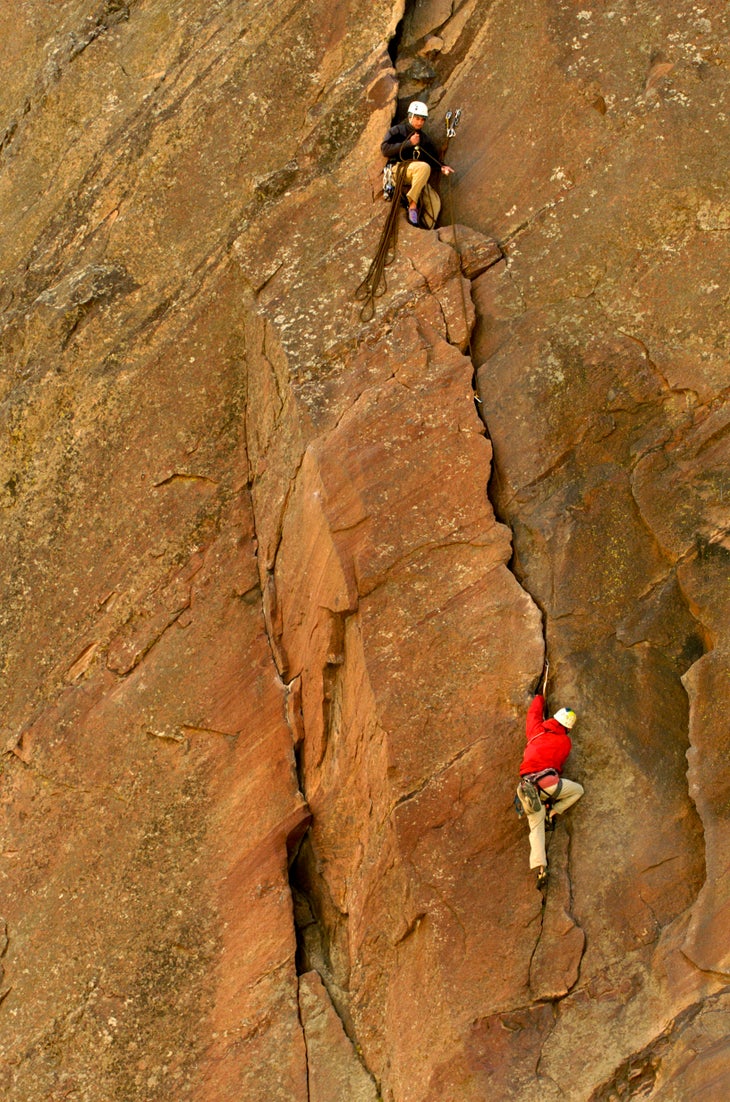 The Response
As the leader whimpered and shook nearly three stories above the jagged flakes at the base of the route, Harrison sprinted over to the belayer, grabbed the nut off the rope, and, without hesitating, speed-soloed up the easy ground to the big flake on the Bastille Crack. He reached left, slammed the nut into the crack, and clipped the rope into it, just as the leader screamed "Falling!" and pitched off. The belayer held the fall.
If Harrison ever learned the names of the climber he prevented from cratering off the Bastille Crack or his belayer, they have been lost in the decades since. Harrison eventually left Colorado and moved to Hawaii, where, Brooks said, he worked for a newspaper and died from cancer in the mid-2000s.
Many times climbers wonder if they should intervene when they see other climbers using questionable belay techniques or placing inadequate pro. We may think it's none of our business, or perhaps even believe new climbers should learn climbing's lessons the hard way. Harrison had no such doubts, and he didn't waste a second. His immediate intervention prevented a severe injury—or worse.
Survival Tip: Slow Down
How do you avoid panicking when a partner crashes? Slow down, make a plan, and focus. "Paul Petzoldt, founder of NOLS, used to tell his students that, during any emergency event, you should stop and smoke a cigarette before responding," Weber says. A healthier response: Do a careful inventory of the gear you're carrying for items that may be useful. "A deliberate response calms you down," Weber explains. "This will allow you to better help your injured partner."
It's also helpful to realize that many climbing injuries are not life-threatening, and the eventual rescue—whether you handle it yourself or call in the cavalry—is likely to be successful. "If someone is alive after their accident, there is a good chance they can stay that way during a rescue," says Weber.