Self Reflection: The Colette McInerney Profile
Pro climber and photographer Colette McInerney opens up about what she sees in the mirror.
Heading out the door? Read this article on the new Outside+ app available now on iOS devices for members! Download the app.
This story originally appeared in the June 2016 issue of our print edition.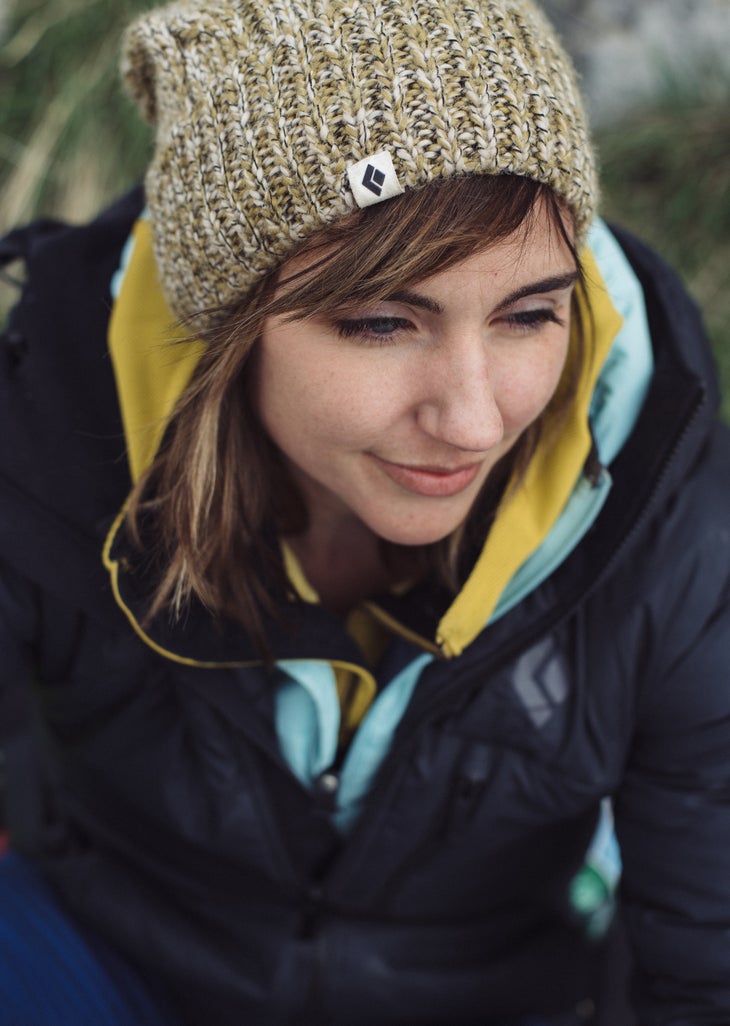 Four limbs kicked dirt in a fast six-step while Daft Punk's "Lose Yourself to Dance" echoed off the limestone walls of the Winchester Cave in Rifle, Colorado. Thirty-two-year-old Colette McInerney crescendoed her break-dancing routine by spinning and lifting into a handstand. Suddenly, she snapped to her feet, freezing with one hand outstretched in front, while a cloud of dust rose around her petite 5'5" frame. It was the summer of 2013, and between sending 5.14 sport routes, photographing ultrarunners, globe-trotting from crag to crag, and producing climbing videos, one thing characterized Colette's life: constant motion.
Born in Nashville, Tennessee, to British parents, Colette lived with her mother and older sister while her musician father toured throughout the states and Europe with various folk singers. "We had a great relationship considering he was away a lot and I didn't live with him," Colette said. "My parents divorced when I was very young, but they always had a friendly relationship and have always been supportive and caring." Growing up in daycare and at friends' houses while her mom worked in the restaurant industry, Colette learned to be independent from a young age. "I did whatever I wanted," she said. Her desire for freedom only intensified when she traveled as a kid, spending three months outside of London while her mom took care of her grandmother.
"When she got a car, I don't think I ever saw her," Colette's mother Mary Orcutt said. "She would just drive and drive and drive." Seeing the itinerant life of her father, Colette felt restless in Nashville. At 18, she moved to New York City to attend Fordham University, where she received a degree in communications with a focus on journalism.
"I always loved reading and came from a family of book lovers, so somewhere in there I think I always wanted to be a writer. But I never had a good foundation for it," said Colette. She worked at a student news channel and WFUV, a public radio station, producing news stories. "I never thought I had an artistic bone in my body until I started dabbling with photos almost five years later."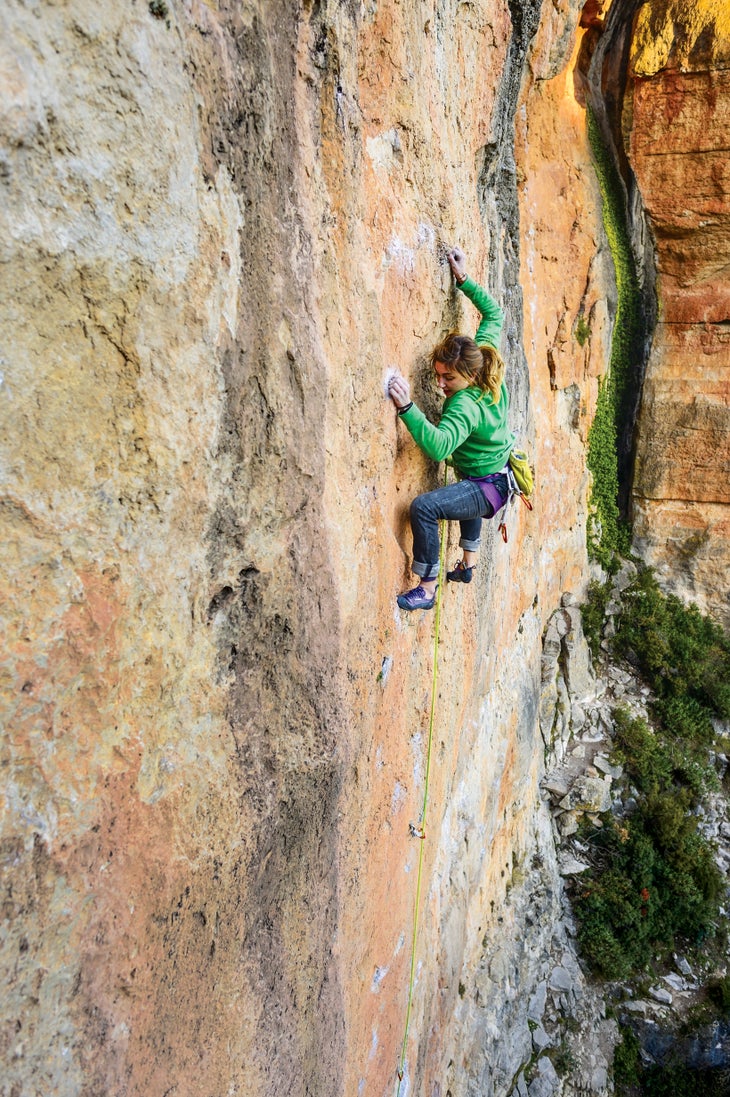 Having climbed a little in the local Nashville gym, Colette's first experience on rock happened during the summer break of her freshman year. Her mom had recently remarried, and her new husband, Tom, and his daughter, Lindsey, climbed occasionally. The foursome went to nearby Foster Falls. Lindsey, the ropegun, hung a toprope on a 5.7.
"I was completely amazed," Colette said of Lindsey's climbing ability. "I totally looked up to her." Although Colette had done yoga and hiked, climbing seemed different. "That sort of recreating was not a part of my life," she said.
Mary climbed a few times with Tom. Seeing educated, respectable people participate in a sport she had previously associated with slackers and rebels helped her accept Colette's later decision to focus her efforts on climbing. Back at school, Colette would climb at the Gunks and do short multi-pitch routes with various male mentors. When she tired of the drama that came from men confusing climbing with dating, she bought a crashpad and shifted toward bouldering by herself. Eventually she met climber Jackie Chiddo, another Fordham student, and the pair began going on trips.
"At that time there were not a lot of girls traveling and climbing together," said Aly Dorey, a climber who met the girls when they drove to Boulder, Colorado. A year later, Aly, Jackie, Colette, and Jody Hansen made the 24-hour drive from Boulder to Squamish. "We made up a dumb song that we sang all the time," said Dorey of the trip. "For the most part it was a lot of goofing around." Despite the silliness, Colette sent several moderate boulder problems in the Canadian forest, including Golden Boy (V7) and a flash of Swank Stretch (V5).
"It was before I had years of only being on trips with my boyfriend and other guys," Colette said of her first big women's climbing trip. "I was fresh out of college where I had lots of girlfriends, and Jackie was one of my main climbing partners, so I thought having a girl crew was pretty normal."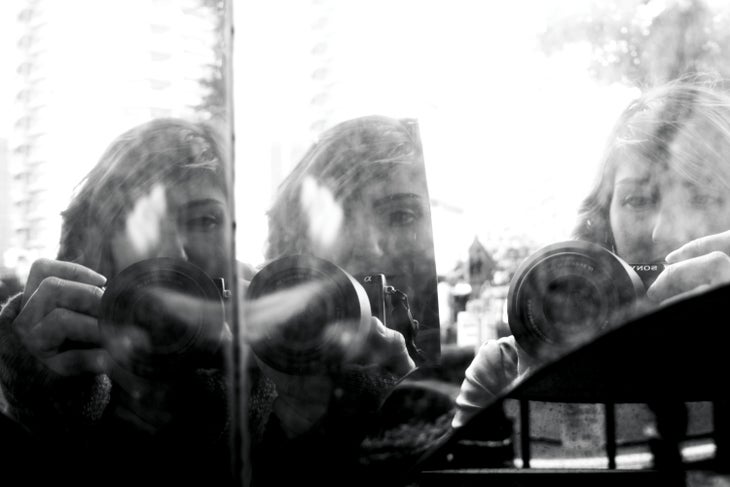 During her senior year at Fordham in 2004, Colette met Joe Kinder, an aspiring professional climber two years her senior at a climbing competition at the Earth Treks gym in Maryland. The pair connected and took off on a seemingly endless road trip, traveling all over the United States in an Astrovan they bought together. Colette funded her life on the road by working odd jobs as a caterer, a waitress, and an assistant at a modeling agency in Vail. The pair took their van to remote sport crags around southern Utah in the winter, spent summers in Rifle, and traveled to France and Spain.
In 2005 Colette sent Heretic Wisdom (5.12a) at the Wailing Wall in St. George, Utah. A year later, she jumped a number grade when she sent Minus Five, a 5.13a, also in St. George. "I was mainly a boulderer and had made a definitive switch to sport climbing, but I was a total wuss and way out of my comfort zone on a rope," she said. By 2011, she had climbed Fluff Boy (5.13c) in Rifle and Vigor (5.13c) in Gorges du Loup, France.
Road life was far from constant sending and living the dream. "It was fucking epic," said Colette of trying Apocalypse 05, a 5.13c at Rifle's Project Wall. She began the project in early summer 2010, working it while on a regimen of painkillers, Red Bull, and three days on. "I remember getting so angry; I threw my shoe and my iPod down the road," she said of developing tendonitis from too much climbing and a women's arm wrestling competition.
Colette finished the route later that season, and her obsession only intensified. She focused solely on climbing for a February 2013 trip to Spain, instead of balancing it with work, as she had done on every other trip. It paid off when she sent Marroncita, a 5.13d in Oliana that marked a new grade for her. Two months later, she surprised herself by sending China Crisis (5.14a), also in Oliana, with little effort.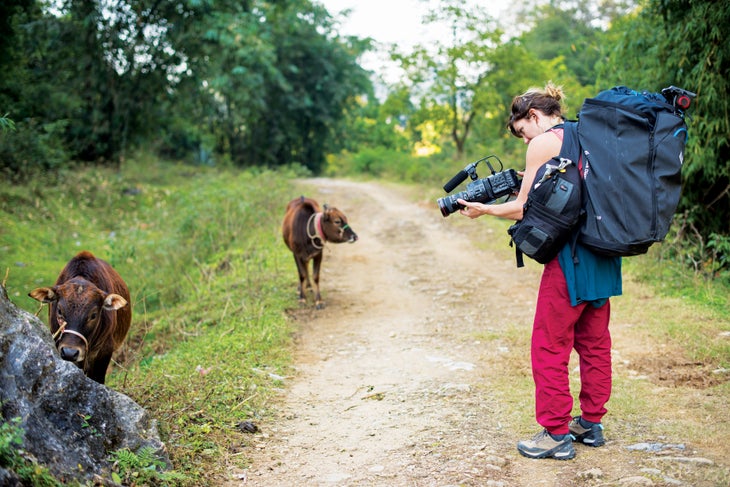 "I'm not using my degree. Is this what I want to do?" Colette asked herself in 2005, after a series of short-term jobs. "Should I be doing something more serious?" Joe's focus as a professional climber meant the pair traveled to the hardest sport crags in America and Europe to produce media. Colette became the one behind the camera, recording and editing video. With Joe, she made dozens of skill tutorials, product videos, and road trip dispatches for his sponsors.
"I actually hated shooting video at the time. I enjoyed taking photos a lot more, and mainly lifestyle or travel photos, not necessarily climbing," Colette said, "but Joe was stoked on editing and it was a cool contribution to his sponsors at the time." She wasn't interested in being the visionary behind the videos back then, but she loved taking part in the shoots. "The early productions were a real eye opener to a new kind of work I never knew about," she said. "I wanted to be a producer or assistant director of photography or really anything that had to do with the shoots."
"I have had a couple of photographers say they would hire a burly younger dude over a smaller girl," Colette said, "because photo assistants are for lugging gear and rigging."
"In China, she had the largest bag and everything in it," said photographer Caroline Treadway of their photo work in Asia in summer 2015. "She was like a pack horse."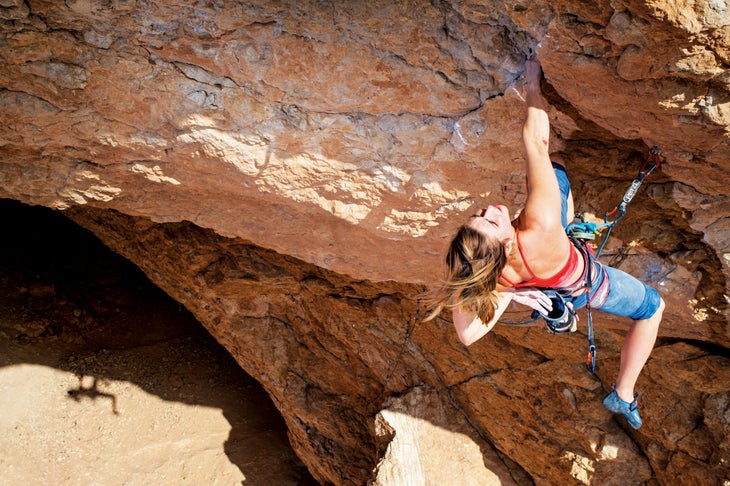 "When I think back to what inspired me as a climber, it's always been images of women," said Colette. "I want to create images and media about badass women doing rad stuff." For years, Colette worked with Joe producing films about their travels, but in 2013, she branched out to focus on what had always inspired her. She started making climbing shorts about impressive women like Daila Ojeda, Melissa Le Nevé, Alizée Dufraisse, Olivia Hsu, Caroline Treadway, and Hazel Findlay. She had finally created a career path that married her climbing and traveling lifestyle, female inspiration, and a newfound love for photography and video work.
"When I got really psyched on photos, Joe would always be like, 'Take a picture of me, take a picture of me,'" Colette said, "and at the time his career was supporting us." It was a way for her to contribute financially to the partnership, but she hated not having images of herself. She pointed the lens in a new direction—a broken mirror on a side street in Cornudella, Spain, a subway window in Tokyo, a pair of sunglasses in Céüse, France—in each reflection, one can see a pair of strong eyebrows above a camera. "I started taking photos in reflections initially just to remember I was there," Colette said. "I take tons of them all the time that nobody sees, and I just keep them for myself like little diaries."
While many climbers find simple entertainment in Colette's photos, playfully mimicking her with the Instagram hashtag #coletteing, for others, the pictures are more significant, offering a break from the traditionally dominant "male gaze."
"It's this idea that visual media, the way it presents women, is from a male perspective," said Dorey, speaking about the feminist concept from Laura Mulvey's 1975 essay Visual Pleasure and Narrative Cinema. "Movies are all about men, and the person behind the camera is usually a man too." Colette presents herself as the photographer and the subject, ignoring the male perspective altogether and portraying a more realistic image of a woman. The disheveled hair, the squinting eyes, and the dirty mirror offer authenticity and a divergence from mainstream perceptions of beauty. Over the years, the selfies moved beyond seeing herself and remembering the events. The focus sharpened. The woman in the reflection became more defined.
Through her videos, selfies, and other photography work, Colette shows strong female characters, women who are capable of adventuring, climbing, and living independent of men. She's not trying to make a point; she's just putting her work and perspective into the climbing world. "I don't know if my 'women climbing films' differ from other videos, but I like telling stories about people," she said. "Not just the routes they do, but why and how they do them. I try to convey a deeper story."
In March 2016, Colette left Utah for three weeks in Australia. Afterward, she would return to the U.S. to climb in Vegas, Bishop, around Los Angeles, and then she would drive to Nashville to deal with her storage unit by the summer. "If you look at the calendar and go backward, it looks different every two or three months," she said. The summer would be Switzerland and Céüse, and fall would be spent back in the states. Half of the traveling would be for climbing, and half for film work. For Colette, there isn't a place to be, but a time to be there.