Shift to Shift: The Working Climber's Longs Peak Triathlon
After leaving work at midnight, two climbers embarked on a manpowered mission—80 miles of biking, 14 miles of hiking, and 1,700 feet of climbing—and got back in time to work the next shift. Well, almost in time.
Heading out the door? Read this article on the new Outside+ app available now on iOS devices for members! Download the app.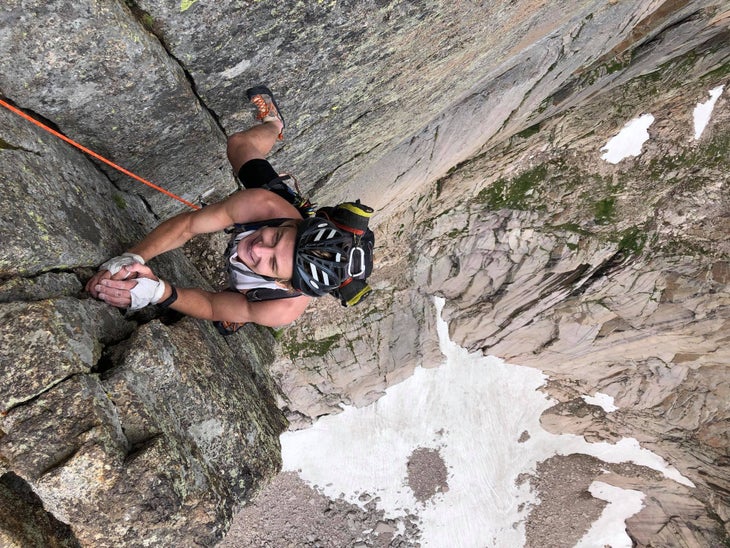 The Longs Peak Triathlon is a coveted athletic feat among Colorado climbers. Its parameters are this: a 40-mile bike ride from downtown Boulder to the Longs Peak Trailhead; a 5-mile approach to the base of the Diamond; an ascent of the 1,700-foot Casual Route (5.10a); a 9-mile deproach; and a 40-mile bike ride back to Boulder. In July of 2019, the 21-year-old recent college graduate, Oskar Blues line cook, and climber Mat Gruber got off a closing restaurant shift at midnight, embarked on the Triathlon, and rode his bike directly back to the restaurant the following evening for yet another closing shift. Gruber holds the only documented line cook shift to line cook shift completion of the Longs Peak Triathlon. This is his story.
Gruber is a wildly passionate climber, though not an exceptional endurance athlete. His partner Jacob Schmidt, then 23, is the reverse—an endurance enthusiast with less climbing experience. Gruber and Schmidt first got wind of this Longs Peak Triathlon through watching a short film about Anton Krupicka and Stefan Griebel's fastest known time for the human-powered endurance challenge.
"When we first saw the video of Anton getting the FKT my thoughts were like, I can do this climb, and Jacob's thought was, wow this bike ride is achievable," Gruber said. "In my mind, the bike ride was not achievable, and in his mind the climb was not achievable, but we both convinced each other that they were. The perfect partnership isn't when you're the same, it's when your strengths and weaknesses are interlinked."
The partners talked about the Triathlon for years, but being college students with day jobs, they never quite pinned down a day for the mission. Schmidt was unable to get weekdays off, and Gruber was moving away at the end of the summer. The window of opportunity was growing thin.
"A weather window came up that we were free for, but it was sandwiched between two restaurant shifts for me," Gruber said. "All the stars aligned that, that had to be the day. It was do or die, there was no other option."
Gruber worked a 4 p.m. to 12 a.m. kitchen shift, flipping burgers behind a hot grill and scrubbing the greasy floor, while Schmidt prepared their gear and rested. After Gruber left work, the duo set out at 12:30 a.m.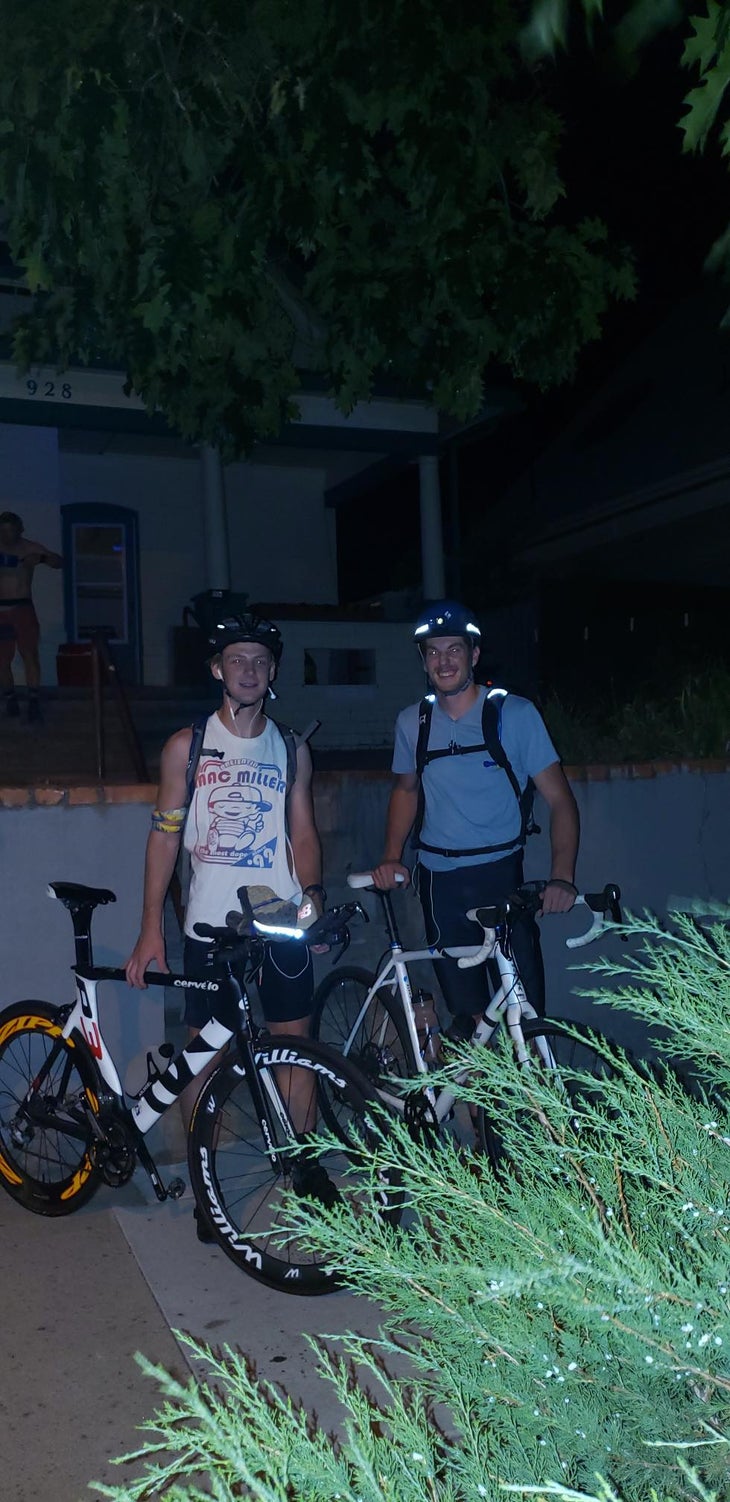 "It was a perfect night," Schmidt said. "It was warm, not a breath of wind, nobody on the road, and just pitch black."
The first stretch of road felt easy, cruising over the rolling hills through velvet darkness, with their palpable stoke spinning the bike pedals. Though at about two hours in, Gruber was already starting to feel the weight of exhaustion.
"Things started getting gnarly," Gruber said. "I had to stop two or three times in that stretch to stop and catch my breath on the side of the road."
They arrived at the Longs Peak Trailhead at 3:30 a.m. after biking 42 miles with more than a vertical mile in elevation gain in four hours.
"We were fucking destroyed," Gruber said.
"For the record, I was not destroyed after that bike ride," Schmidt said.
The pair made the 5-mile approach, and Gruber began to feel rejuvenated as the sun and the prospect of rock climbing warmed his bones. They crested the ridge above Chasm Lake just as the morning light painted the face of the Diamond a warm, golden honey color.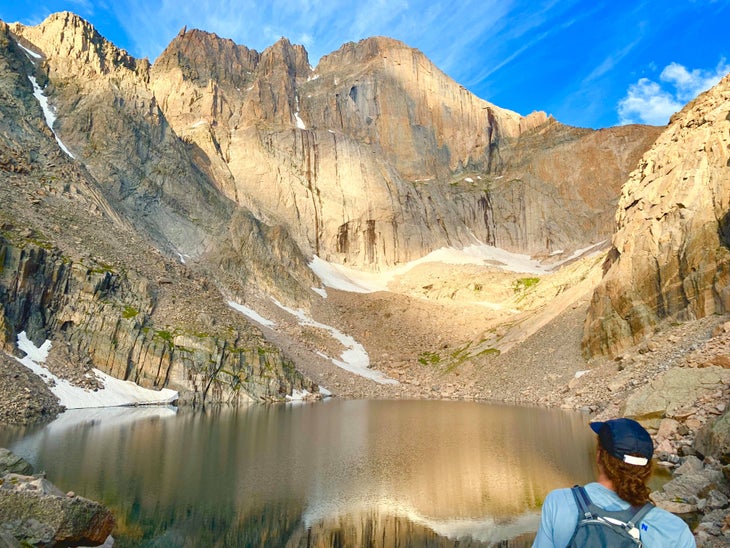 Gruber and Schmidt scrambled the 700-foot North Chimney—though they got off route and wound up pulling unsettling 5.8 moves sans protection—to Broadway Ledge, and tied in at the base of the Casual Route at approximately 9 a.m. It's worth noting that, while Gruber had climbed the Diamond once before via the Yellow Wall, neither climber had ever done the Casual Route.
"I felt so good," Gruber said. "I had energy. As soon as I pulled on rock I was stoked. It's one thing when you're biking up to it, but as soon as you step onto the Diamond it's like, this is it, this is what we're here to do."
Being the more experienced climber, Gruber led the entire route—1,000 feet of technical climbing, which they simul-climbed in two pitches. Gruber reached Table Ledge, where the technical climbing of the Casual Route ends, and built a belay for his partner. Schmidt was feeling worked below as he entered the crux pitch at nearly 14,000 feet above sea level when a hailstorm came down on them.
"That was the craziest part, being on the face and having it start hailing on us. That moment was pretty scary," Schmidt said. "I was like, I need to fucking get up there as fast as I can. That was not so casual for me."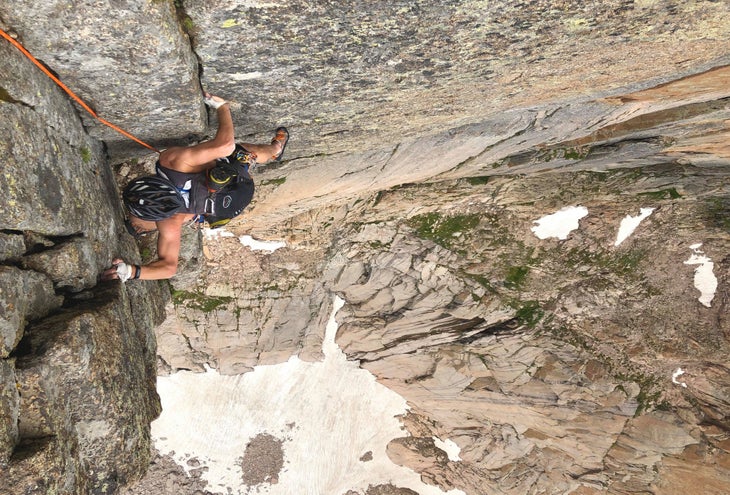 Luckily, the storm blew over quickly. The team reached the summit at approximately 1 p.m. At that point, Gruber realized that he would not be on time for his 4 p.m. shift at Oskar Blues, 50 miles away. The climbers shared a brief moment of elation for having achieved the summit and relief for being off the face, but their joy quickly faded as they grit their teeth for the long haul back to Boulder.
"I was so tired," Gruber said. "At that point you don't really have anything to look forward to."
They made the 9-mile hike back to the trailhead with relative ease, but arrived to the parking lot physically and mentally spent, ravenous, and out of food. Gruber and Schmidt hopped on their bikes and set off just after 6 p.m. Halfway through the ride night fell on them. For the final 15 miles, they pedaled hard into an unrelenting headwind over rolling hills, as semi-trucks roared past in the darkness. "That last part was super shitty," Schmidt said.
Gruber and Schmidt rolled into Boulder at 8:30 p.m. after a continuous 20 hour push. They high fived at a red light as Schmidt broke off to head home. Gruber rode straight to the back door of Oskar Blues. He was haggard with bloodshot eyes and his shirt soaked in sweat. His managers weren't thrilled that he was nearly five hours late, but it didn't matter to him.
"It was that high of, you are so elated and can't believe that you pulled it off, but at the same time you are so destroyed. It doesn't seem real," Gruber said. "And it's not like I pulled it off and could be at my house and crack open a beer and relax, it's like, OK, I pulled it off, now closing shift, I get to clean the kitchen at Oskar Blues."
A handful of servers came back into the kitchen and asked Gruber what he'd done that day, why he was late, why he looked as bad as he did. In his exhausted state he tried to explain to them what he and Schmidt had accomplished—The Longs Peak Triathlon—but the gravity of the feat couldn't be relayed through his sinking words. After cooking some pizzas and swabbing the kitchen floor, Gruber left work at midnight, went home, and fell asleep.
"It's one of my proudest accomplishments," Gruber said. "It's one thing doing something big like that when you're a sponsored athlete and there's people making a movie about it and your job is to attract media attention. It's a whole different thing to be two fresh-out-of-college boys who are very passionate about the mountains and making it work. It's one thing to do it when everything is on your side, it's another thing to make it work when circumstances aren't on your side. You have your regular job, can't do it on the weekdays, picked a mediocre day, and still made it happen. Not in the fastest, craziest time, but just disaster style. Just got it done."