Sincronia Màgica: Isolation in Patagonia
Sílvia Vidal spent nearly two months alone in Patagonia while completing a solo first ascent on El Chileno Grande, unaware of the unfolding pandemic in the outside world.
Heading out the door? Read this article on the new Outside+ app available now on iOS devices for members! Download the app.
When Sílvia Vidal embarks on solo climbing expeditions, she does so incommunicado—no satellite phone or radio, no contact with the outside world. No weather forecasts, navigation devices, notes from family members, calls for rescue, or updates on global affairs. She experiences true solitude, a vague concept in today's world of interconnectedness, instant notifications, and real-time news cycles. At the end of January 2020, Vidal set out into the remote Andean mountains in the Aysén region of Chilean Patagonia to climb the virgin face on El Chileno Grande. Nearly two months later she completed her objective, having established the 1,200-meter Sincronia Màgica (A3+/5.10c) via aid soloing. She returned to civilization just days after the World Health Organization declared COVID-19 a global pandemic. As Vidal emerged from the mountains, the rest of the world was entering a different form of isolation.
Native to Barcelona, Catalonia, Vidal was introduced to climbing in her mid-twenties while at university, quickly took interest in the sport, and began climbing in the famous Montserrat range near her home. The conglomerate stone was an ideal training ground for her to develop the free, aid, and big wall techniques that she would later take to remote regions around the world.
"In the '90s there were a lot of people doing bivouacs with portaledges and haulbags on the walls in Catalonia, and the idea of ​​living hanging on the vertical attracted me," Vidal said. "I started to do big walls during my first climbing year, and it went really fast."
Vidal's first big wall solo was in 1995: La festa del Paca on Roca Regina's wall (A3/6a+) in Catalonia, in which she spent one night on the wall. Later that same year, she climbed El Mirall Impenetrable (A5) in Montserrat with a partner, Pep Masip, and on El Capitan she climbed Mescalito (5.9+/A3) and Zenyatta Mondatta (A3+) with Masip, and Zodiac (C3) solo.
"I had only been climbing for a year," Vidal said.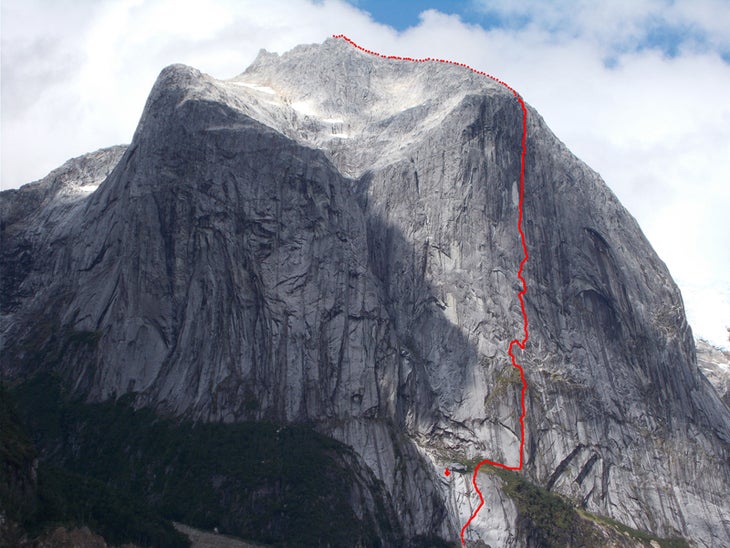 Over the last two-and-a-half decades, Sílvia Vidal has established herself as one of the most prolific big wall climbers on Earth, embarking on expeditions to the Himalaya, the Karakorum, Baffin Island, Alaska, Patagonia, and beyond. She is drawn to first ascents and significant repeats—both with partners and solo—by "the possibility to experience something intense, new, and different, every time."
A condensed list of Vidal's significant solo ascents includes: Principado de Asturias (A4) on the Naranjo de Bulnes formation in Spain—just two years into her climbing career—she spent five days on the wall and was awarded a Piolet de Oro from the Spanish Mountain Federation; the first ascent of Life is Lilac (A4+/5.10b) on Shipton Spire in the Karakoram range, spending 21 days on the wall; the first ascent of Naufragi (A4+) on the Kailash Parbat massif in the Indian Himalaya, spending 25 days on the wall; and the first ascent of Espiadimonis (A4/5.10c) on Serranía Avalancha in Chilean Patagonia, spending 32 days on the wall. Vidal is no stranger to commitment and the long, meticulous process of solo expeditions.
El Chileno Grande is a 1,200 meter wall—slightly taller than Yosemite's El Capitan—in the Asyén Region of Chilean Patagonia, about 400 miles north of the famous climbing mecca El Chaltén. The wall has seen two previous documented attempts. In 2015, French climber Étienne Tafary made an attempt with a team, but their mission was unsuccessful. He returned again in early 2020 with fellow Frenchmen Antoine Eydoux, Etienne Grosclaude, and Pierre-Jean Lallement. This year, the team spent about a month in the area, spent seven days on the wall, and ascended 400 meters, but were forced to retreat due to unrelenting rain.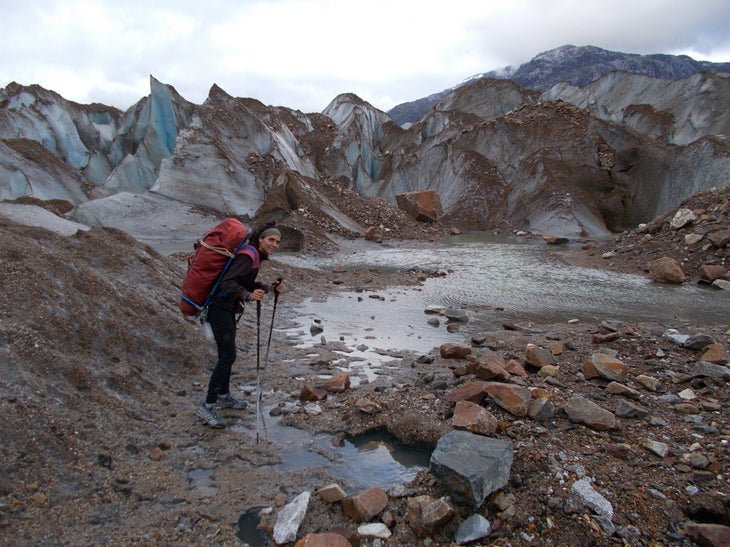 Vidal arrived in the valley shortly after. She spent a total of 16 days portering 150 kilograms of gear to the base of the wall, covering 150 kilometers total over the course of multiple trips. Three local workers—Andrea, Marco, and Manu—each helped by carrying a load for one trip. It was the end of January. At that time, all known COVID-19 cases were isolated to China. When Vidal entered the valley, she had not the slightest inkling of the virus that would spread like wildfire across the globe in the coming weeks. For now, she was alone, standing at the foot of a towering obstacle.
"The climbing and the walls are not the most challenging part in these kinds of expeditions. It doesn't mean that the climbing is not a challenge, it means that the rest is more," Vidal said. "The climbing can be hard and difficult as well, but the solitude (to be alone means you have to do everything by yourself; physically and mentally), to be incommunicado (if something happens you can't ask for aid, but also it means that you won't have a weather forecast that will help to make climbing and logistic decisions), the quantity of days in the wild (one-and-a-half-months), the weather (Patagonia…), this is all the hard part."
Prior to the mid-2000s, before satellite phones were commonplace, most backcountry adventures were incommunicado. Nowadays it's unusual for an expedition to opt out of a satellite phone, radio, or GPS. In fact, PataClimb.com—the authority on Patagonian climbing—recommends that all climbers carry some sort of communication device in case of emergency. But for Vidal, carrying a satellite phone or tracking device would detract from the immersive and committal experience she seeks.
"It's a personal choice, and it's how I want to experience it," she said. "If I go alone, it's because I want to be and feel alone during the expedition. I seek the experience of solitude (the good one; the one that you choose) in its whole magnitude. If I have a phone or radio, it would change the whole experience and my commitment with the situation."
The wall was slow to progress, not necessarily for the difficulty of the individual moves, but for the varied maneuvers it took to link together plates, fissures, and climbable features—large pendulums and crossings, and many ceilings to overcome. Aid soloing is itself a burdensome task: climb, rappel, clean, jug, haul, repeat. She climbed capsule style, fixing 180 meters of rope and establishing three camps on the wall. Difficulties are exacerbated by the notoriously harsh Patagonian weather, though Vidal feels as though she was "lucky" because it only rained half of the days.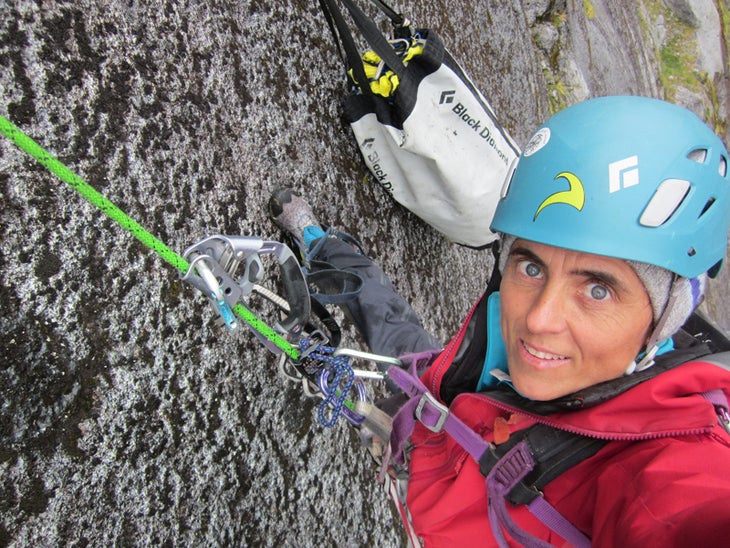 "The weather was not good, but was not bad as well, considering that it is Patagonia," she said. "It rained half of the time I spent there. El Chileno Grande seems to have its own clouds, because at times when there was sun on the glacier, it was raining inside the Chileno Grande Valley. Usually when it rains I keep climbing, I only stop if the weather is really bad or until I get really cold."
The gales are not as relentless in the Asyén Region as they are further south in Patagonia, though they can still blow in with horrific force. Twice while Vidal was living on the wall she was hit with violent windstorms. Once while she was trying to set up a portaledge, which she asserts would have been impossible in such conditions if she were hanging from an anchor. Fortunately there was a nearby ledge to stand on. A second windstorm blew so hard that it lifted and spun the portaledge 180-degrees—while she was inside—and then slammed it back into the wall.
A 300-meter section of the line was so dense with vegetation that the cracks could not be cleaned and climbed using traditional techniques. Vidal instead donned her crampons and ice axe to progress over the vegetation. Protection was scant, but she was able to move upward.
For 33 days Vidal lived in the vertical, steadily ascending the uncharted terrain. While she dealt with the physical and mental challenges day after day alone on the wall, the COVID-19 pandemic was unfolding across the globe at an alarming rate. The number of cases increased exponentially by the day, borders closed, governments implemented nationwide lockdowns, and the citizens of Earth felt the cold clench of the unknown, our own step into uncharted terrain. Unaware of any of this, Vidal continued on. Thirty-three days after leaving the ground, she stood atop El Chileno Grande (albeit not the highest summit). She named the route Sincronia Màgica—Magic Synchrony.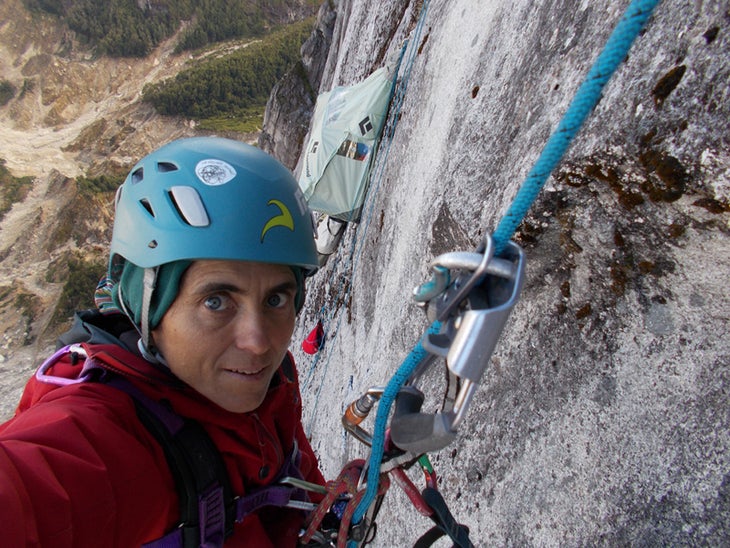 "The reward doesn't come at that concrete moment," she said. "It comes with time, once you are back, once you start to share the experience with others, and once you assimilate what you have done there. After the wall you still have a lot of work. You have to carry back all the equipment and everything you have carried up. It took me another week and a lot of effort. You can't relax until you are back home."
She returned to the park entrance in mid-March, where there were quiet murmurs of the virus. After another few days, she arrived at village Villa Cerro Castillo and was able to check the Internet for the first time. That is when the gravity of what was happening in the outside world began to set in. It was the same day Chile closed its borders. Vidal's flight had been canceled, though after a few more days she was able to arrange another flight home.
"Usually it takes me some time to acclimatize back to civilization and to assimilate the whole experience," Vidal said. "Until you start to share what you have done with people it's difficult to fully realize what you've done. This time when I came back things were different than usual because of the virus. An expedition has a lot of uncertainties and isolation, as the lockdown does too, so there were some similarities. The main differences were that everybody was experiencing a similar situation at the same time [in civilization], and that the expedition was something chosen and the lockdown was not. But do we really choose as much as we think?"
Sílvia Vidal is available for climbing presentations and motivational speeches. Visit vidalsilvia.com for more information.