Soloing Felt Easy and Fun. Then an Avalanche Broke the Reverie.
On November 11, 2021, my climbing partner and I weathered two avalanches while on an alpine climb in Canada. We were simul soloing and dumb luck kept us alive.
---
Join Climbing
Create a personalized feed and bookmark your favorites.
Join Climbing
Create a personalized feed and bookmark your favorites.
Join for free
Heading out the door? Read this article on the new Outside+ app available now on iOS devices for members! Download the app.
It was a long weekend in early November 2021, and, figuring that the usual early season ice venues would be stuffed with weekend warriors like ourselves, my friend Karl and I decided to check out the east side of Boom Mountain in Canada's Kootenay National Park, a steep face often laced with autumnal ice and punctuated with solid reddish quartzite.
It was negative 20 degrees at the highway, and very dark at 6 a.m. Unsure of what we'd find on Boom's east face, we'd packed everything, and our packs felt heavy laden with two ropes, most of a double rack of cams, pitons, a set of ice screws, and our deep-winter belay clothing. We followed our headlamps along a slick snowshoe trail, exchanging bad jokes, and when we arrived below the face the sun was still an hour below the horizon. Looking up at the deep-blue wall, I spied flashes of white ice high on the face, discontinuous and thin; not quite the early ice destination it had been the year before. There was a pale blue ice couloir on the left that reared steeply at two-thirds height to form an exposed headwall with a deep rocky gash up the middle. A half mile of steep trail breaking lay ahead and we got to it, taking turns swimming through facets; but then, reaching the open fan of snow beneath our line, we noticed a shallow gray trench paralleling our own approach. A trail? Indeed, a trail. Suddenly our plans on the east face didn't seem so bold or original—clearly another party had a similar idea within the last few days. We didn't complain, traversed into their hard-won trail, and caught our breath while finishing the last of the approach.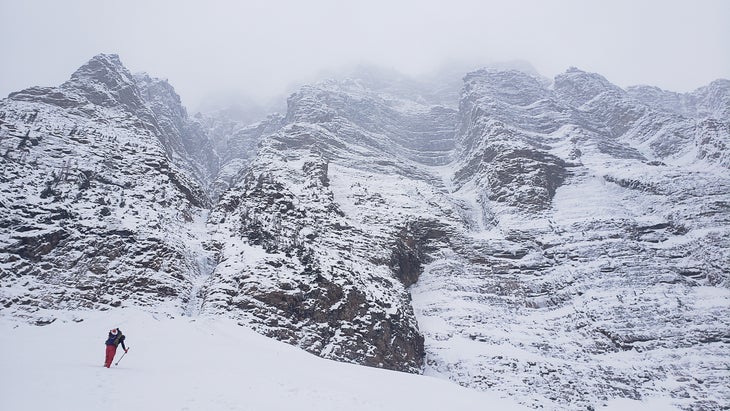 "This doesn't look so bad," I called down to Karl, dropping my pack at the base of the route. "Probably don't need the rope?"
Karl agreed and we unloaded just the essentials for the first ice step: harness, crampons, tools, and a bit of hardware in case the climbing turned out to be harder than it looked. Climbing first, I navigated a thick shell of snice and thin sections of ice over top of a compact slab. I swung, scratched, and balanced up the first 130 feet of the climb, to a snow ledge, placed a short ice screw, and yelled, "Come on up, Karl!"
Karl followed quickly, unphased by the tricky conditions. I don't typically watch my partners solo—regardless of how solid they appear—but I take exception with Karl. He and I have stowed the rope on many climbs before; if I feel OK without the rope, Karl won't need it either. The next pitch was steeper, a short section of vertical ice, but it was fatter too, and I didn't give it much thought. Karl tucked beneath a shallow rock overhang and I climbed quickly to the next ledge. He followed again and together we looked up: the next pitch appeared wet, electric blue, and wide enough that we could climb together.
"Side by side?" I asked, cracking a smile. 
"Oh yeah!"
We took off just a few feet apart, telling jokes during lulls in the steep climbing. If a question went unanswered, the other quieted until a crux section was passed. We topped out the lower ice after several hundred feet, spied a slung chockstone on our left, committed it to memory, and began plodding through knee-deep snow up a 40-degree couloir. The next ice pitch was too narrow to climb beside each other so I tucked behind a dripping ice pillar while Karl led on. He stayed in front while we dispatched several more steps of ice, which ended abruptly at the base of a deep rock cave. I couldn't see Karl so I clambered inside; he was 10 feet deep flaking out a rope for what would be our first belayed pitch.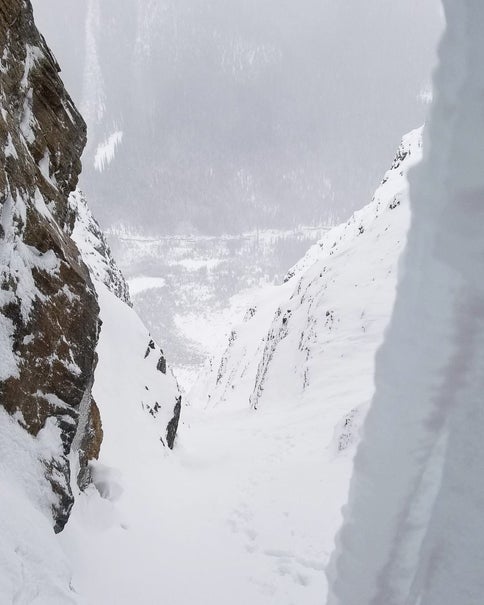 "We're making good time," he said. "You want this pitch?"
I looked up at the fractured orange rock hanging steeply overhead. 
I hadn't answered Karl when a deep rumble sounded above. Whoosh! A wet avalanche crashed over our cave and thundered down the couloir, wiping out our pick holes and deep trail. It spouted cleanly above the cave like the rooster tail of a water ski. We stayed silent. After a few minutes the avalanche slowed from a torrent to a trickle, and, finally, to nothing. We didn't speak. I stuck my head out the cave and listened for another one. Nothing. 
We had been saved by less than five minutes. Any later—a snack break, a tightened boot—and we would have been goners, swept hundreds of feet down steep snow and ice.
"Welp, I suppose this is our highpoint," I said.
We shared a nervous laugh. Karl began preparing a V-thread.
***
I poked my head out of the cave again and looked down. The couloir now appeared much less inviting: a steep and narrow terrain trap with few places to hide should another avalanche rip. I thought back to the ice pillar I'd waited behind. Maybe, with some down climbing, we'd make it there in one rappel. Karl handed me the ropes. I clipped in and then threw them, ensuring each was free of tangles before stepping out of the cave. We needed to get out of there fast. 
I zipped down our lines, then down climbed as fast as I could to the ice pillar. Karl did the same while pulling one end of the rope with him as he traversed into the protected nook. He pulled the rest while I shot nervous glances at the steep walls above us. Heavy, wet sluffs had begun to peel away from both sides. I drilled a V-thread and shoved our yellow half rope through the bend. I clipped in again and started down the snow-climbing section of the couloir, awkwardly breaking trail in reverse as I walked-rappelled down it. I reached the end of the ropes still hundreds of feet above the next section of ice. I added slack above my rappel device, enabling Karl to come down to me, but stayed clipped in as I scanned both walls for cracks to place another anchor. I didn't find anything; the nearby cracks were out of reach, and the remaining stone was too smooth, too compact. Karl and I weighed the benefits of an anchor against the time it would take to find one. The time we'd spend as sitting ducks, ready for a plucking. 
"Fuck it," I said, "let's downclimb."
Karl nodded and sped down, his arms plunging and legs kicked in a coordinated display of frantic excellence. I clipped the yellow rope to my harness, faced into the slope, and shot down after him. Down, down, down. I didn't dare look up. What would be the point? To see the avalanche that would kill us both?
I looked between my legs: Karl was out of sight. He had traversed left to the chockstone anchor. I reached it too, clipped in, and leaned back. "Whoa!" I shouted. The chockstone had moved. On further inspection, after rattling it some more, we realized it was placed like a fist-sized nut in a constriction: it probably wasn't going to go anywhere, but it didn't inspire much confidence. I backed the chock up with a No. 2 cam, threaded the rope, and clipped in once again.
"Two more to go," I thought aloud.
I crept backward, eyeing the loose anchor, and half wishing I'd placed another back up. It's fine, I assured myself. We need to go. I angled to the right, back to the middle of the couloir, where it narrowed to just 15 feet. Thud. Another slide. I saw the powder cloud drop from the top of the headwall and, in just an instant, bury our ice-pitch highpoint. "Karl! Tuck in!" I yelled, as I kicked back toward the wall.
The slide hit me at the waist like cement. I felt the half ropes tug and stretch and the ends below came tight like a steel cable. I saw a face hold and crimped it with my left gloved hand, locking off until the snow was only rushing by my knees. I was lucky. This avalanche wasn't as strong as the first. I waited until the flow had eased slightly and committed once again to the couloir. Snow cascaded over my hooded helmet as I slid down the ropes.
Below me, the route reached its widest point and I clipped into a final V-thread while Karl came down. One more rappel, then the ground, then the steady jog out of avalanche terrain. We stopped running only after reaching a thick line of trees and loudly drank water, grateful to be alive.
---
Anthony Walsh is a digital editor at Climbing.
Also read: