The Climb: A Virtual Reality Climbing Video Game
Heading out the door? Read this article on the new Outside+ app available now on iOS devices for members! Download the app.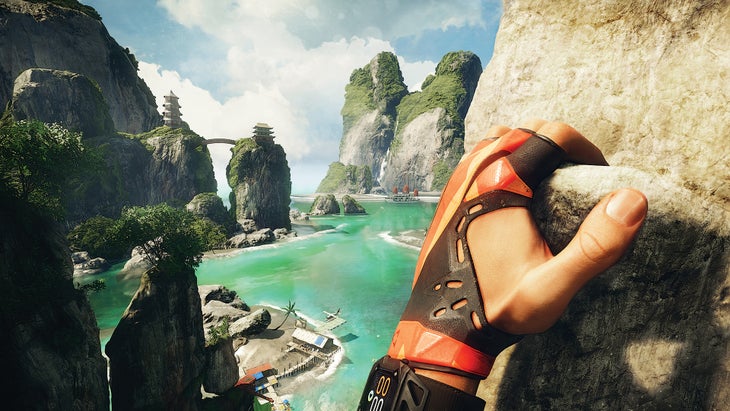 A monumental shift came to the video game world this year with the arrival of long-awaited virtual reality headsets. Crytek, a major game studio known for state-of-the-art technology, launched The Climb, a game that emulates real rock climbing. We spoke to executive producer Elijah Freeman about the experience of virtual climbing.
How did the idea for The Climb come about?
We wanted to create a special experience, designed specifically for this new virtual reality (VR) hardware. We took some of our best prototyping designers and thought, "Hey, what could we design that would make sense in VR?" Climbing wasn't our focus, but we have rock climbers on the team. They began experimenting with the verticality and built a [very basic] prototype. The sense of scale you got from climbing up and seeing the environment was amazingly fun, and we knew we had something special. Then the other climbers in the studio got really excited and started gravitating toward it. The game started taking shape, and there was no other option than to move forward. I wouldn't call it a simulator, but it is certainly a climbing adventure that you can have from your living room.
What's the experience like?
You're represented in the game by two hands. You're given different routes; there are different degrees of difficulty and multiple ways to climb those individual routes. You basically make your way up one hand after the other. We introduce challenges, and we also have a stamina meter for your hands. You can't hold on for very long because the stamina drains accordingly to make you either reach elsewhere, grab on with two hands, or grab the hold in a more natural position. You're climbing for fun, but you're looking for speed and accuracy. As you move up into the more difficult routes, we introduce different hand grips. There's a crumbling hand grip, for example. That one gives you a couple seconds on before it falls away. There's a chalking mechanism also. If you chalk up, your stamina drains slower. All these things combined make really interesting routes and gameplay.
How is the player physically controlling this?
The headset is tracked, so wherever you look, that's where your hand lands. You're also holding controllers. Pull the trigger and you'll grab the handhold. That's how it works with the basic game controller, but eventually, we'll be using the Touch controllers [a more advanced controller]. Then you'll raise your hand up and pull the trigger to grab something.
What are the climbing locations?
The first setting is loosely based on Ha Long Bay, Vietnam. We did a hyper-realistic version of it because we wanted to make the gameplay fun for the average consumer, not someone who would actually know the real-life routes. The idea is to get people to feel like they're climbing in that environment, give them really beautiful views, and offer that sense of nature. We also have a German/Austrian Alps location, and a desert canyon location.
How do you handle falls in virtual reality?
Virtual reality is a very sensitive mechanic. There are certain things you can do that create motion sickness. One of those activities is falling without any control. So you just fade to a shade of black when you fall in The Climb. It's not as abrasive as hitting the ground, which would be incredibly disruptive to the brain.
Were there any interesting things that you didn't expect?
One of the things we found is that people with a fear of heights can climb in the game forever. They don't have any issues until they reach a platform. Then they get that sense of vertigo because they can see off the edge. The game is tuned so that you don't feel a lot of that, but there is a tiny sense of it.
Has the team made any trips out to the gym or crag for "research"?
They go on field trips to the gym on a regular basis, at least to investigate certain kinds of handholds and things that will be evident when you play the game.
Is it challenging to recreate rock climbing while keeping it fun for the average player?
Our intention wasn't to go out and build a rock climbing game. We built it from the ground up as a fun mechanic for VR. It just lent itself to rock climbing. While we didn't intend to make it a simulator, the guys that climb on a regular basis say it feels really accurate to the sensation of climbing, at least as close as you can get in a game. The climbers on our team added a lot of little nuances that make it all the more enticing for rock climbers.
Do you think it will inspire people to go outside and climb?
One of the most interesting things to come out of this is that some people have climbed using the game, and then they've felt motivated to go and climb outside. I only hope our game creates this mentality where people get excited by playing the game during the week then go out to climb on the weekend.
The Climb is available now for the Oculus Rift. Watch a trailer below.