The Givers: 6 Selfless Climbers Working Hard to Keep Our Crags Safe, Healthy, and Open
Heading out the door? Read this article on the new Outside+ app available now on iOS devices for members! Download the app.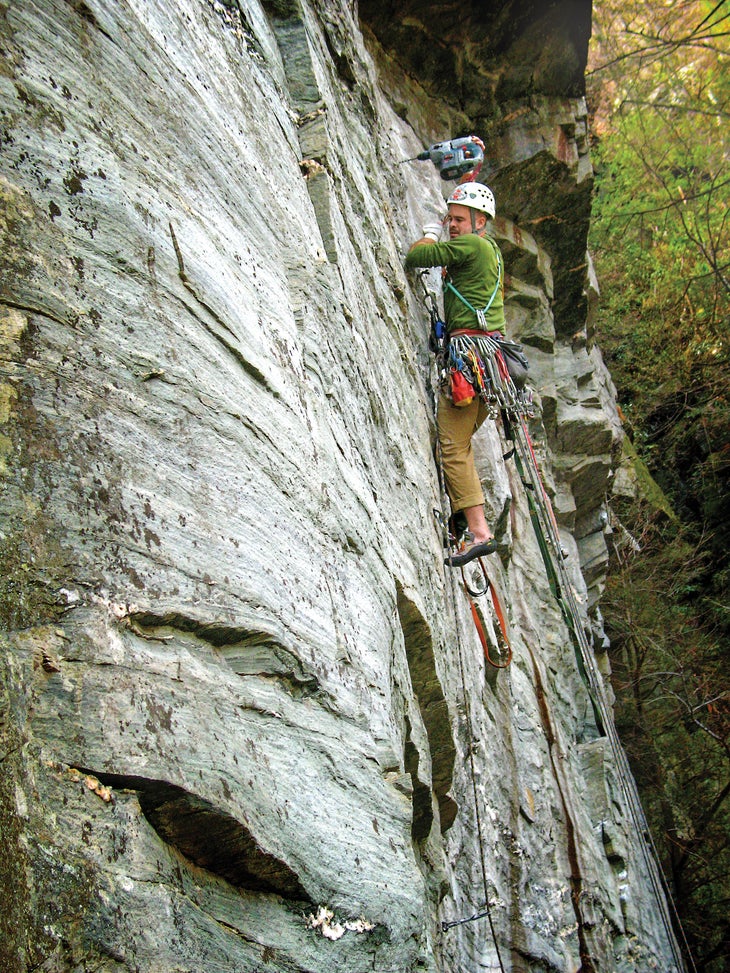 It is early February and the weather is too spring to be true at the Obed in Eastern Tennessee. We warm up on steep jugs, clipping bolts and arriving at bomber chains. Then, in a futile attempt to sample the thuggy local style, we choose Solstice (5.12), a vertical face to a 90-degree ceiling. Permadraws dangle from the roof but not the face. We will have to toprope the first half of the climb or else do some nightmare tramming to retrieve our draws down low.
While we rest between burns, a local appears. Friendly and supportive, she chirps, "Oh, you're getting on Solstice! That's my project! It's too bad it sucks to clean. They came and rebolted the route, and then didn't replace the permadraws on the lower half. I'm not sure why …. "
I pause before responding, "Who are they?"
I'll admit it, I've used the word many times myself: They. They need to replace these bolts. They ought to do trail work. They should fix that anchor. They need to install a bathroom. After climbing for five years, I have only now started realize who they might be.
Unfortunately, I'm not alone. How many of us put much thought into these matters? With climbing comes a culture of dirtbagging, of selfishness, of living on the cheap in order to fund the next trip, and with that an implicit nod to taking handouts. The draws are already hanging? Awesome. Someone put in new anchors? Too cool. The stewardship event is offering free breakfast? Incredible—I'll stop by the food table before I ditch the trail day for my project.
Climbing is growing. Bolts are getting older and trails more eroded. Our public lands are threatened. At the time of publication, congressmen in Utah have been trying to reverse Obama's national-monument designation for the Bears Ears region (a 1.9-million-acre swath of land that includes Indian Creek), handing the land over to private companies. Think gas exploration, mining, road development, and motorized vehicles, not rock art, quiet canyons, and splitter sandstone cracks. In the last few years, our sport has been all across the media: the Dawn Wall circus, the Freerider free solo, the Olympics, Ashima and Coca-Cola. In 2017, climbers can no longer hide in our vans and free campgrounds, do a few pitches, come back to camp, and hope no one bothers us.
At the same time, the climbing community is still small enough that individual action can effect change. We have the ability to embody a vision of democracy, and organizations like the Access Fund and its local affiliates exist for this reason. And yet we're struggling to catch on; it's all too easy to spot issues and complain, thinking that someone (they) isn't doing their job.
This article presents a picture of the small, growing minority of climbers working to keep crags open, trails navigable, and routes safe. They are climbers like you and me: the computer engineer, the 5.14 climber, the under-the-radar local; the community organizer, the dad, the wandering soul; the guy who couldn't see the need and not meet it, the social butterfly, the woman too stoked to not get involved. All six climbers profiled here share one common trait—they have all realized that community only works if each individual takes ownership. They have all asked, "If I don't do it, who will?"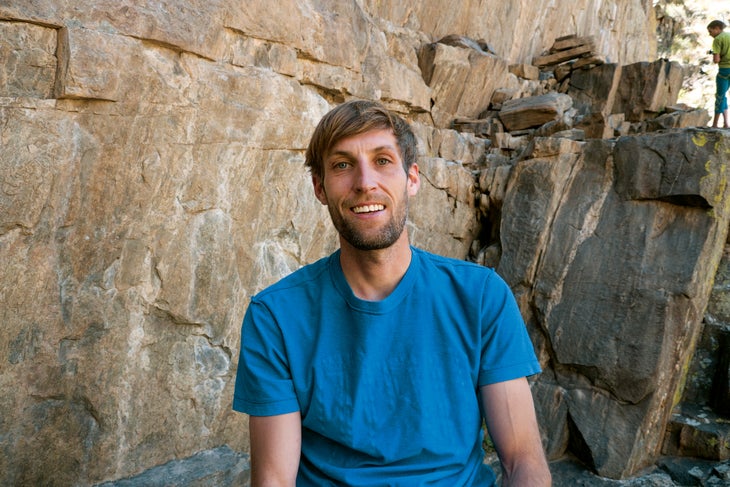 Ben Scott is proof that you can have a family, work a full-time job, send 5.14, and volunteer on the board of your local climbers' coalition. Scott has been president of the Northern Colorado Climbers' Coalition (NCCC) for seven years now, and has helped the Fort Collins climbing community blossom with new routes, free guidebooks, climbing and stewardship events, established trails, and shiny, new hardware. Read profile.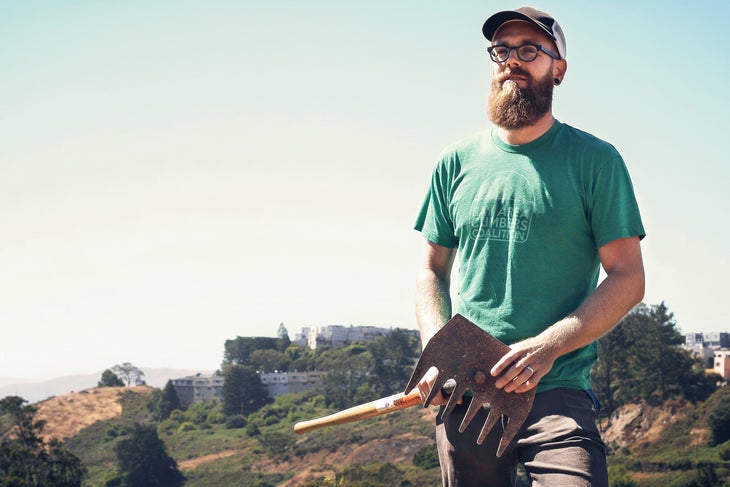 Matt Ulery might look like your typical California climber. The 35-year-old from Oakland works at Touchstone Climbing's Berkeley Ironworks, makes weekend trips to Bishop, sports a Bay Area hipster beard, and owns a dog named Barry. However, a few years ago, Ulery realized more and more of his ilk were flocking to climbing—gyms were becoming crowded, the parking lots at the crags overrun, and trails receiving more impact than they could handle. So, instead of retreating into nostalgia for the good ol' days, Ulery hatched a plan. In 2013, he founded the Bay Area Climbers Coalition (BACC), a volunteer-run 501c3 nonprofit focused on climber stewardship and access in the Bay Area. Now, the organization boasts 1,500 members. Read profile.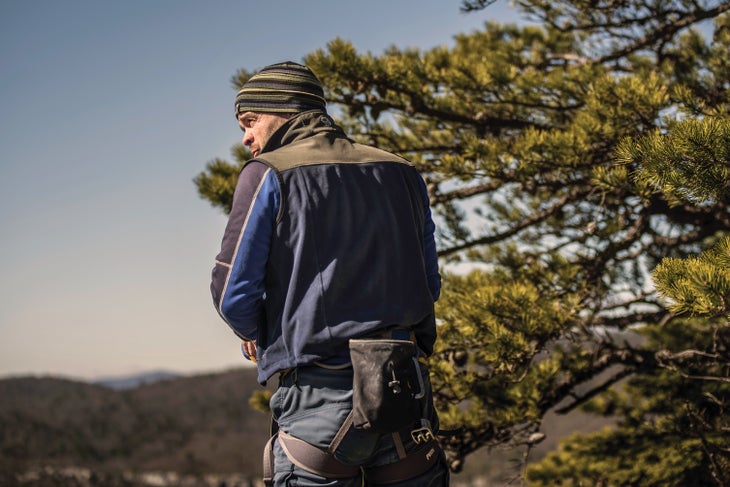 Nathan Brown is a bit of a loner: He'd rather clean swaths of untouched rock or go out with his dogs to work on trails than join a group of 50 local climbers for a trail day. "I like to go and get shit done just to get it done, not just when they're handing out prizes," he said. The impetus behind his stewardship work is a sense of responsibility. While Brown agrees that organized stewardship and crag cleanup days have their place—letting land managers know the community is involved while providing a platform for members to give back—he advocates for more intrinsic motivation. He envisions a community in which every climber takes personal ownership of the cliffs, and doesn't just look to crag days and coalitions for guidance. Read profile.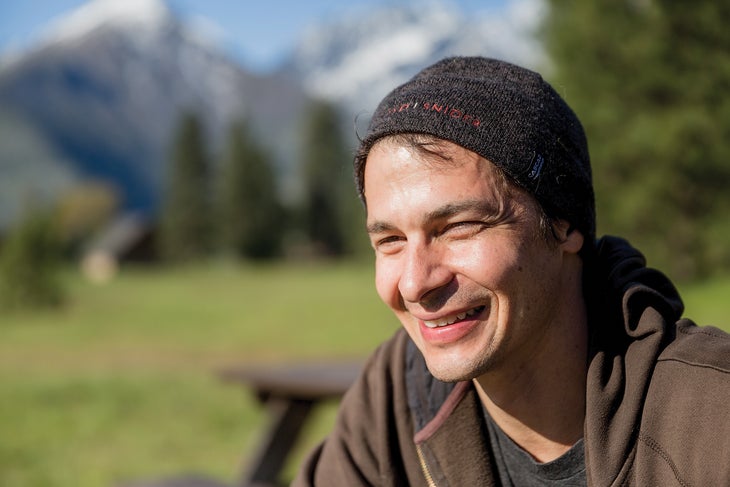 Cleaning comes naturally for Gabe Cisneros. A geologist by trade and an environmentalist at heart, Cisneros loves studying the outdoors, but is equally passionate about preserving it. Recently, Cisneros started developing boulders at Larrabee State Park near Bellingham, an hour north of his Seattle home. He realized that he and the other developers needed to put on the brakes and consider their impact. Cisneros, who has been climbing for 18 years, has seen how an increase in climbers to an area has a huge environmental impact, and a corresponding effect on the land managers' view of climbing and climbers. He watched back in the early 2000s as one of Washington's premier—and only—sport crags was closed because of lack of permissions, and only reopened with much effort and lobbying from locals and the Access Fund. Now, Cisneros and the other developers made a decision to immediately begin to work alongside the park rangers before spreading the word about Larrabee. Read profile.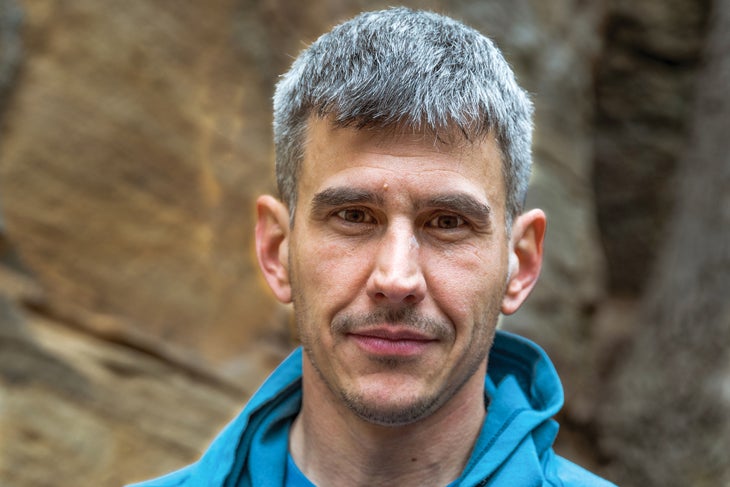 If you've climbed on a rope, you've probably clipped a bolt or trusted your life to one. Likely, it was a safe one, as you're still here, reading this. However, most climbers don't know how to inspect a bolt for safety, much less replace a bad one. The Red River Gorge local Blake Bowling hopes to change that. Read profile.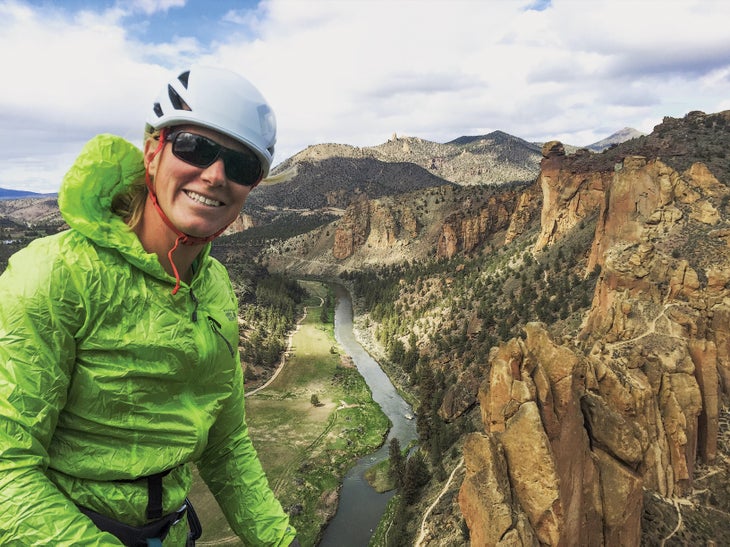 If you participated in a trail-work event over the past few years, you likely met Amanda Peterson. For three years, Peterson and her husband, Mike Morin, traveled in the Access Fund's Conservation Team Jeep and trailer, providing tools, training, consultation, and leadership for volunteer stewardship efforts at dozens of US climbing areas. The Conservation Team's projects range from the obvious to the obscure: trail building in Indian Creek, an epic trash cleanup to open a climbing area in Springfield, Ohio, and the revitalization of urban bouldering in Southern venues like Moss Rock Preserve in Hoover, Alabama. Read profile.
Jenny Abegg is a guide and freelance writer. Visit jennyabegg.com for more.