The Givers: Nathan Brown—The Man of Solo Action
Heading out the door? Read this article on the new Outside+ app available now on iOS devices for members! Download the app.
This is part three of our series, The Givers, which profiles six climbers that share one common trait—they have all realized that community only works if each individual takes ownership. They have all asked, "If I don't do it, who will?"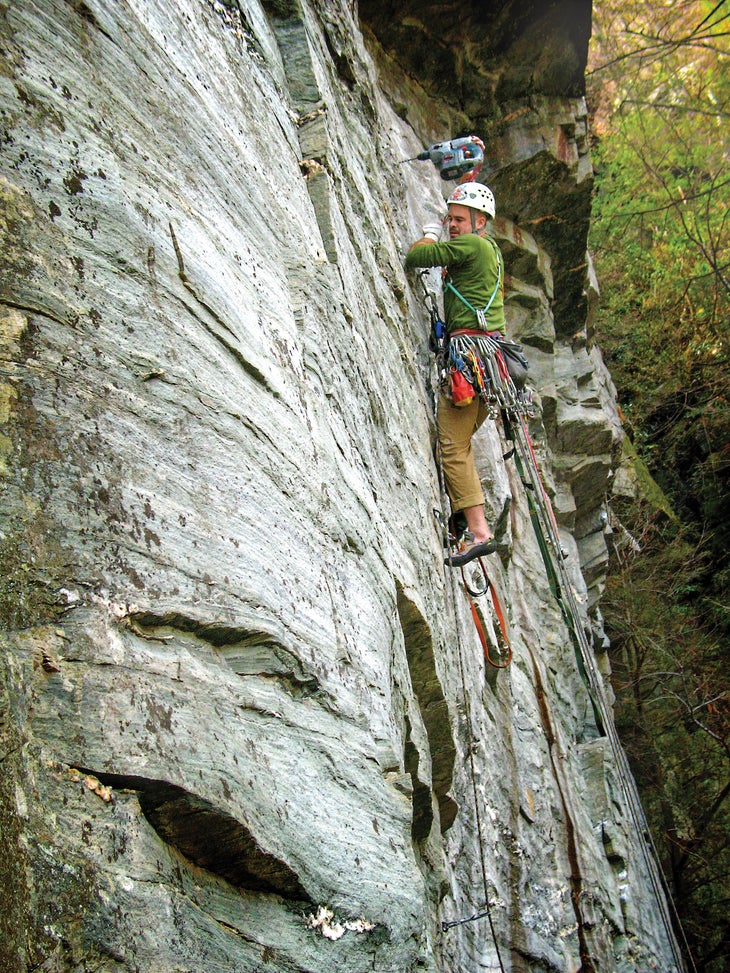 Nathan Brown weaves his way along the rim of the Linville Gorge, through the sub-alpine-feeling terrain in western North Carolina's remote Pisgah National Forest. He pauses to throw branches off the trail, and reflects, "I'm an alpine climber at heart, born in the Southeast. I think that's why I love the exploration of putting up new routes so much. You might have to search for adventure in the South, but it's definitely here."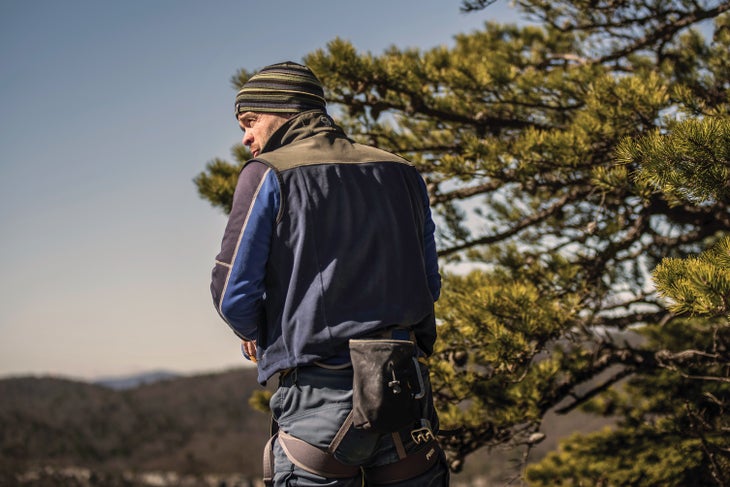 Brown's list of routes on Mountain Project, "just a drop in the bucket" of what he's established, is 255 strong and growing. And they're all high quality—those in North Carolina's inner circles call Brown "Mr. Clean." He rarely just climbs a line and moves on. Instead, Brown scrubs routes, trundles loose rocks, and cleans tight, dirt-filled cracks for gear placements. Adhering to the staunch North Carolina style, his routes are almost exclusively established ground-up, mostly lead solo. Yet Brown will often climb through sections without fixed gear or a solid stance to drill, and then later rappel to place a bolt, with future climbers' safety in mind. If you climb the 500-foot 5.11 Permission Granite on Laurel Knob, you have Brown to thank for a few of the bolts he placed following his first ascent, protection that prevents the risk of a 50-foot fall on insecure, slabby 5.10.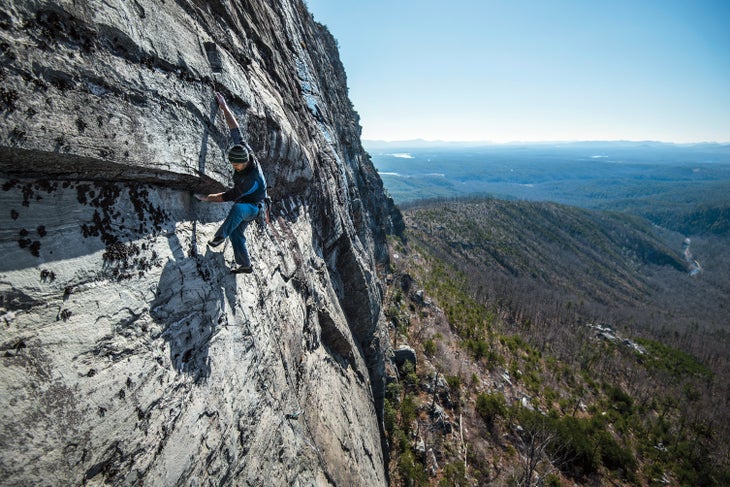 Compared to the other folks profiled here, Brown is a bit of a loner: He'd rather clean swaths of untouched rock or go out with his dogs to work on trails than join a group of 50 local climbers for a trail day. "I like to go and get shit done just to get it done, not just when they're handing out prizes," he told me. The impetus behind his stewardship work is a sense of responsibility. While Brown agrees that organized stewardship and crag cleanup days have their place—letting land managers know the community is involved while providing a platform for members to give back—he advocates for more intrinsic motivation. He envisions a community in which every climber takes personal ownership of the cliffs, and doesn't just look to crag days and coalitions for guidance.
Brown's hand-swaged cables attached to nuts slotted in cracks, anchors that he places atop his climbs, line the crags in North Carolina. Once, while we climbed together at the Linville Gorge, he grew frustrated to see that steel biners he had placed on the anchors of Supercrack had been removed. "I just don't get it," said Brown. "Are people just out for themselves? Are they selfish or just ignorant?" For Brown, climbing is synonymous with community—in his ideal world, we would all see it as our role to take care of the crags and each other's safety.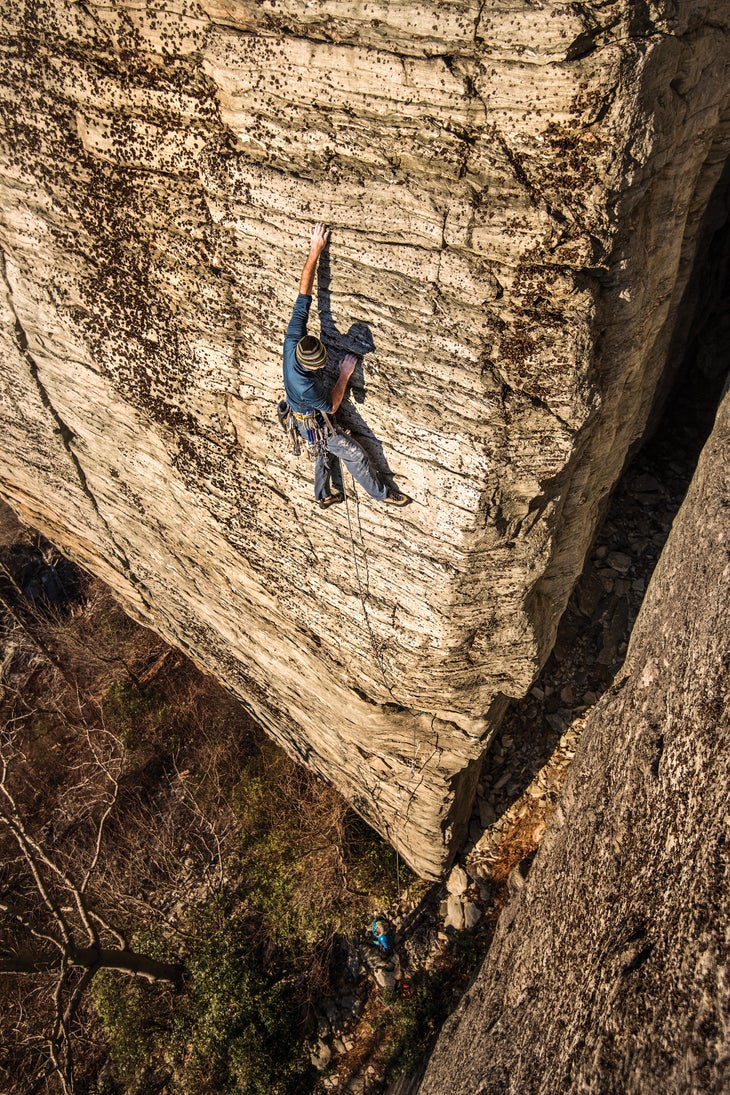 Recently, the Carolina Climbers Coalition hosted a trail day at a local crag that had been devastated by a wildfire. One of the projects was a set of steps; volunteers worked for a few hours before heading up to climb. The next day, when Brown showed up to rope solo, he saw the half-finished steps and, instead of climbing, spent his day finishing the job. It wasn't the first time he's finished what others have left undone. It's just what he does.
Check out the rest of our Givers series: