The Indestructibles: Matt Bosley
Five top climbers who came back stronger than ever
Heading out the door? Read this article on the new Outside+ app available now on iOS devices for members! Download the app.
This is part three of The Indestructibles. a five-part series profiling climbers who came back from serious illness or climbing accidents to climb harder than ever. New editions will be posted weekly. This story originally ran in the May 2018 issue of our print edition—subscribe here.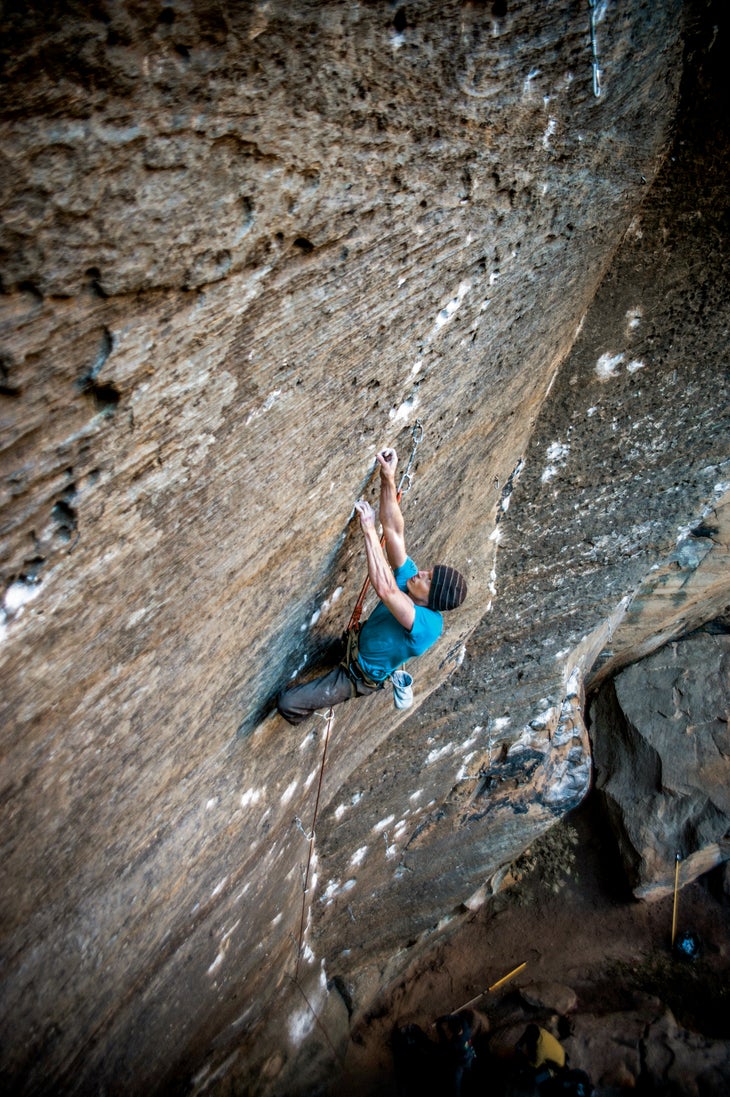 In 2008, Maryland native Matt Bosley, then 29, had just gotten married to his wife, Charlotte. Bosley, a longtime route-setter at Earth Treks in Timonium, MD, and Charlotte were en route to the Bouldering World Cup in Vail, Colorado, before embarking on their honeymoon.
But Matt had been feeling off-kilter. Known for his low-key ascents of hard climbs like Nuclear War (V14) in New York and Still Life (5.14b) at the New River Gorge, Matt had also been a successful competitor at the regional and national level, winning The Triple Crown. He was always psyched and driven. Feeling off was unusual.
"I thought it was the effects from setting and training," says Charlotte. "He'd come home and pass out in bed every night."
Then he started losing weight. At first, it was an added benefit. "I was losing weight, but climbing well," Matt says with a laugh. "I kept dismissing it until I hit this point. My vision declined and I had some friends tell me I needed to eat more."
Gearing up for Vail took all the stoke Matt could muster, and during the qualifying rounds he felt heinous, failing to make finals. "I drank a liter of water after and felt so weird; I kept dismissing things," recalls Matt. He passed off the symptoms as nerves and altitude. Then, on their honyemoon, his weight loss and symptoms became even more alarming. Says Charlotte, "He didn't want to be outside in the sun because he couldn't see. We were in the Bahamas … he was so done."
By the time they returned to Baltimore, Matt had dropped to 129 pounds and was starting to lose up to three pounds a day. He finally made an appointment with a doctor, who did a blood test. The diagnosis: type I diabetes. "It was a shock," says Matt, who had never had a serious health scare prior.
His case was forwarded to an endocrinologist, who broke the diagnosis down. Matt Bosley was an anomaly: 95 percent of diabetes is type II, and Bosley had type I, sometimes referred to as insulin-dependent or juvenile diabetes because of its early onset. As described by Merck Manuals, in type I diabetes the body's immune system destroys insulin-producing cells of the pancreas, which means "insulin production is absent …. " Without insulin, cells aren't getting energy supplies and blood-glucose levels run amok, wrecking havoc on the body.
"On the mental side, right after he got diagnosed, he was terrified to go anywhere and do anything," says Charlotte. Keeping his health in check became a complicated formula of carbs-to-insulin. "It's easy to calculate at rest," says Charlotte, "but then you start factoring in working out that has unknown effects to your body … it's such a game, holding life in balance."
Suddenly, Matt's diet gained utmost importance. His go-everywhere kit now includes a blood-glucose monitor, insulin, and fast-acting sugar like Coke, Gatorade, or Lifesavers.
But he had to return to climbing. "I try to look at the positive," says Matt. "I actually came back stronger and knew more about nutrition and took my health more seriously." Six months post-diagnosis, Matt sent Nagual (V13) in Hueco Tanks. "Sending … left me with the feeling that I was on the path to figuring this thing out," Matt says. Since, he's sent 5.14, placed in national comps, and faced his own son's diagnosis with a serious illness. "Matt's passion changed," says Charlotte. "Having this finality on life puts more perspective on your plate. He climbed beyond grades and sponsors—it was to fulfill his soul and bring joy to life."
Strength Training for Injury Prevention
Dealing with an injury of your own or looking to strengthen your body against future injury, to send your hardest? Check out our new AIM Adventure U course Strength Training for Injury Prevention, available now. Taught by longtime climber Dr. Jared Vagy, author of Climb Injury Free, along with pro climber Sasha DiGiulian, this 8-week course ($125) is your proven road back to top form.