The Story Behind the Siege: Alex Johnson's Decade-Long Battle With the Swarm
Alex Johnson first tried The Swarm at age 21 in 2011. In March of 2021, 10 years later, she came back, ready. We first published this essay on April 3, the day she turned 32, having given herself a birthday present. 
---
Join Climbing
Create a personalized feed and bookmark your favorites.
Join Climbing
Create a personalized feed and bookmark your favorites.
Join for free
Heading out the door? Read this article on the new Outside+ app available now on iOS devices for members! Download the app.
The first time I hiked up to The Swarm was February 10, 2011. I had absolutely no knowledge of the boulder and zero expectations. I didn't even know what it looked like. I was on a lengthy solo trip to the bouldering mecca of Bishop, California, and went out climbing that day with Kilian Fischhuber, Nalle Hukkataival, and Anna Stohr. The boys were raring to go on what they referred to as a legendary crimp line, and I figured I was pretty good at crimps. Why not tag along?
Walking up to the Secrets of the Beehive area for the first time took my breath away. A massive boulder perched at the edge of the world, hardly dwarfed by the snow-capped peaks of Humphreys, Basin, and Tom beyond. A single line of miniscule crimps, edges as thin and sharp as broken glass, perfectly spaced for long pulls, trended up and right on an otherwise blank overhanging face, and ended with a competition-style glory jug. The footholds were tiny, hardly identifiable, and the texture of marble. A perfectly sequential set of holds—and only one way up. Just barely enough usable surface existed for a climb to be possible. It was one of the most beautiful, impressive lines I'd ever seen. Although I considered it to be out of my league, something ignited within me, and my long, tumultuous relationship with The Swarm began. 
From then on that climb stayed  in my mind, there no matter where I was or what I was doing.
After spending most of both 2011 and 2012 focused on World Cups, I traveled to Europe in the fall of 2013 on an eight-week bouldering trip. Climbing outside every day, I felt my technique sharpen and my finger strength increase. Something in me started to pull back toward home. By the end of the trip, all I could think about was Bishop and The Swarm. 
Leaving Europe, I landed Stateside and took a few days at home in Wisconsin with my family working to insulate my tiny 12-foot travel camper—my home in Bishop for the next several months. My brother and I hit the road for the 26-hour journey West. On the drive out I made a subtle post on my Instagram that I might be trying the climb. I didn't say, "I'm going to try The Swarm, for serious." I just put out a photo of the boulder, and a caption that began with the John Muir quote, "And I must go…" and closed with "sights set high. Bring it on." I was apprehensive about going public because it was so uncommon. Most climbers will only talk about a climb after they've completed it. Yet at the same time I wanted to tell the story of what it was truly like projecting at your limit. So often all we see is the victory celebration, yet I find the blood, the grit, the screams of effort along the way far more interesting. Of course, there was the chance I wouldn't be able to finish it, would fail and be embarrassed. In the end, I decided to go for it, and the catchy hashtag #SiegingTheSwarm popped into my head one day, so that's what stuck.
Those first few days working the climb in early 2014 felt so promising. My brother, Patrick, took his winter break from college to accompany me. He's four years younger than I am, and not a climber. It was such a cool experience having him there, out in the boulder field under the Sierra. He got to see what my lifestyle was like—at age 25, living on the road with my dog, hanging out in the mountains. He schlepped pads, brushed holds, cheered, pushed "record" on my little camera. On rest days we went fishing. It seemed like the perfect environment for success; maybe a story of sibling bonding would arise if I sent.  
My third day on, I stuck the elusive second move. It felt like a send was imminent.
When he left after just over a week, I had done the first two moves a few times, but had yet to get into the shoulder sequence from the start, a transition I considered to be the crux. All of a sudden I felt incredibly lonely. The hike up to the Beehive was too quiet, my grunts of effort went unheard, and I had no one with whom I could share my frustrations or tiny successes. 
It went on like this for weeks; I'd hike up to The Swarm, only accompanied by Fritz, my four-pound teacup chihuahua. Staying in my camper, I'd go straight from the trailer door to the boulder. I went days without interacting with another human. Setting up my camera on the tripod, I sometimes felt as if I were about to film my final video diary entry as a castaway on a desert island. 
I had grown up as a competition climber, feeding off the support, energy, and volume of crowds to propel me further up a climb; sitting under the Brown Wall boulder alone for weeks allowed the deep loneliness to swell into self-doubt and depression. I think that's why I dove so earnestly into sharing my efforts publicly, and created the campaign. This is hard to admit, but I craved human interaction and affirmation, even if it was just online. 
A few friends came and went during the three months I was in Bishop that year. The days I had company were far and away the best. Elliot Faber helped me clean and rehearse the moves on the mossy green face that led to the tip-top of the boulder. As far as I knew, the full highball top-out hadn't been done previously. Most climbers top out by rolling over the initial lip and scoot down a right ramp to descend. At the time I was no stranger to tall, dangerous lines, and if I were to send, I wanted to take it to the true top. 
I had grown up as a competition climber, feeding off the support, energy, and volume of crowds to propel me further up a climb; sitting under the Brown Wall boulder alone for weeks allowed the deep loneliness to swell into self-doubt and depression.
My best day on The Swarm that season was when Kyle O'Meara hiked up there with me, bringing the energy of an entire team of cheerleaders. That day, I stuck the shoulder move from the start—I was SENDING! I couldn't believe it. But I made a slight error in body position, and I back-splatted onto the pads. I yelped, ecstatic, certain that The Swarm really was possible, and the self doubt started melting away. But like my brother, both Elliot and Kyle departed, and I was alone again for weeks, carrying more than just the weight of the pads up the hill every day.
Toward the end of February I grew weak-bodied and heavy-hearted. It had been a month since I'd hit my high point, and I had yet to reach it again. Spending all my "on" days trying the same first two moves of the same climb was draining my fitness and confidence. I was barely climbing, and continually failing. Some days it was my body that was incapable, other days my skin, splitting in gashes on the left-hand crux crimp. Most days it was my head.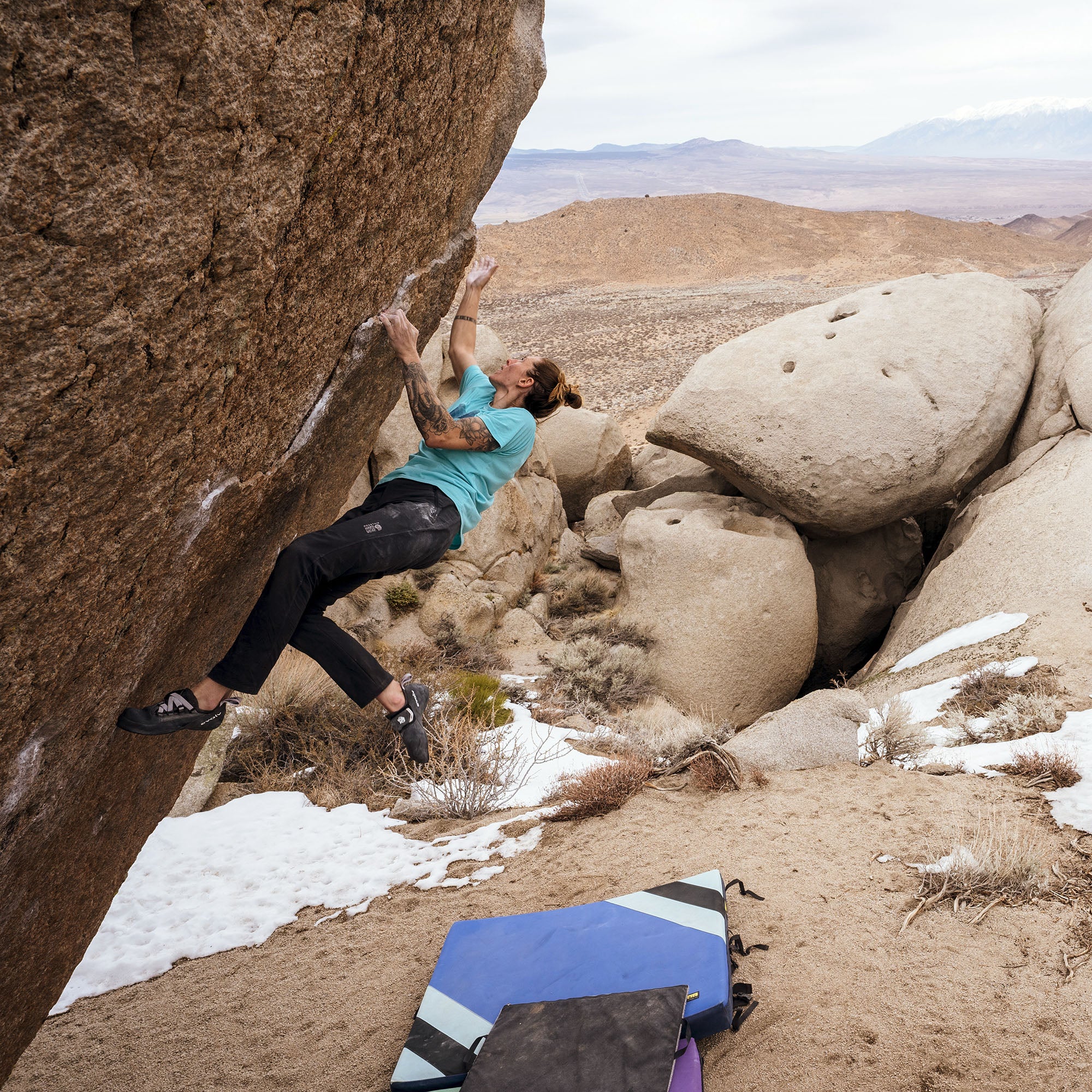 I left Bishop mid March of 2014 feeling emotionally broken. At the time I attributed that to having failed on a rock climb, but I believe now that was only part of it. The biggest element in that time of depression was dealing with an intense loneliness that created the existential questioning of who I am. Considering that I had failed as a climber led to the thought process of, If I'm not as good a climber as I thought, what value do I have as a person? Without climbing, who am I? Do I even want to know? This internal conversation was something I'd been trying to run from my entire life, and I wanted to keep running. I wasn't popular in school; I think my peers could tell I was different. I was bullied, and being good at climbing made me "cool" at my local gym. Other climbers looked past the difference and just saw me as talented. Being a great climber was my safe space, my cover. Questioning my abilities, though, brought my deepest insecurities to the surface. So I ran from the isolation of projecting The Swarm, claiming the season was over in Bishop due to heat.
I returned to Bishop, almost grudgingly, a year later, in January of 2015. I was nowhere near mentally ready to face this climb again. It had become the distant catalyst in my journey of self-acceptance. It made me question everything about who I was or was pretending to be. After all those months alone with it the year before, I hated that it made me face myself. I left a week later empty-handed.
In February 2016 I returned, again in the wrong headspace. The goal was to try again, and at the same time make a short film with Gnarly Nutrition on what it was like not sending, and feeling like a failure in the public eye. We called it "The Art of Failure," and I was as vulnerable as I knew how to be then. I was out of climbing shape, and still feeling embittered. I spent a few days on the boulder, and performed my worst ever. That effort in the spring of 2016 would be my last for a long time. In my mind I was done, possibly, trying to siege The Swarm. I'd be asked about it repeatedly in the years to follow: People would wonder when I was finally going back, saying they were rooting for me. I was so afraid of how it made me feel, though, that I just tried to put it out of my mind.
The Swarm endeavor started as a personal project for me. In the middle, it grew into something more about proving myself to others, because I'd been so public with my attempts. Yet in a way I could never have envisioned, it ended by coming full circle, landing back on me wanting to do it for myself. It was a decade of a lot of growth and change that maybe I needed to go through.
Growing up in a small town in the Midwest, I'd been hiding and holding back a huge part of who I am for my entire life, afraid of what people would think. For years, I felt stifled in how reserved and controlled I needed to be in my demeanor and the things I said. The more I dressed and acted in a feminine way, the less likely people would be able to see through the facade. If my friends found out, would they think I had crushes on them? For years I couldn't bear the thought. In 2018, though, I publicly came out as Queer in an Instagram post. An overwhelming outpouring of acceptance and positivity followed. I slowly began to leave the self-loathing behind, and become who I wanted to be. I didn't have to lie to everyone anymore.
That freedom to be who I was started to change me as a climber, too. With the ability to be more open, I was able to dig deeper inside myself in my training and efforts. Having been away from comp climbing for three years, I made the podium again at the 2019 Bouldering Nationals, I competed on the entire 2019 World Cup circuit, and podiumed again at 2020 Nationals. I was "back," most people would say, but to me, it felt like I was finally myself. From the moment I came out, I've only improved as a climber, and grown stronger and more confident. Working as a youth coach in Minnesota made me fall harder in love with climbing, and continuously describing movement led to a deeper understanding of it. All my energy spent trying to qualify for the Olympics introduced me to more precise and specialized training. I climbed V12 again in the fall of 2020—my first since 2015. 
This past spring, in March, after five years away, I decided to return to the climb that had been so much more than just a rock to me: an obsession, a source of inspiration, a friend, a catalyst, a nemesis, a lesson, a heartbreak. It was time to return to The Swarm.
My first day back on the crimps of the Brown Wall boulder was shockingly promising, possibly the best day I'd ever had on it. I knew that I was the strongest I've ever been, but also that the mental toll this boulder took on me could easily diminish whatever physical strength with which I arrived. My partner and I hadn't told a single person that we were in Bishop. It was just me, Bree, and our three pups. That same project ladder I'd had all those year ago made the journey from Salt Lake to California with us, still boasting most of the letters from an early, now-peeling #SiegingTheSwarm sticker. Using the ladder, I pulled onto the climb as if I'd stuck the second move, and was able to take it through the shoulder crux and to the end three times that day. All I needed to do was stick the second move once. 
The momentum of that first day carried into the next few days up there, and I was consistent through the middle crux to the end, each day almost—but not quite— sticking the second move. Knowing that one of the mistakes I had made in the past was getting sucked into only trying the project, we broke up the days at the Beehive with days at the 'Milks main area and the Happies. I needed to remember what it felt like to let the try-hard rip and top something out. One day I made quick work of a similar crimp line, Thunderbird (V11), which I'd tried in the past. That feeling of sticking the crux move, bearing down on those crimps with the full force of my fingertips, and finishing the climb was the mental and physical experience I needed. My confidence skyrocketed. I was ready.
The next morning we took the 20-minute hike slowly. I focused on positivity and staying present, taking in everything around me: the smell of the Sierra air, the crunch of the kitty-litter scree beneath our feet, and the tingling in my fingers as I grew warm. 
Up at the Secrets of the Beehive, I warmed up in my usual zone under the Queen Sweet Nectar boulder. As I sat and popped my warm-up shoes off, I looked to my right and saw a penny sticking out of the sand, heads up.  Today is the day.  I picked it up, zipped it into my pants pocket, and walked over to the Brown Wall.
As I placed my fingers on the start crimps, feeling the crystals beneath my tips, I told myself, One time. Try hard, just this one time. The next thing I remember is dangling from the finish jug.
I often have the experience of "blacking out" when I am giving it my absolute all.  It's a psychological phenomenon I may never understand but will always appreciate. To send I had to get out of my head, block out the self-doubt, and let my body go. 
"Ten years!" I yelled as I rolled my body over the lip. It was March 14, 2021.
I've changed so much as a climber and a person in the last decade, but my desire to climb this boulder remained constant. This climb broke me, changed me, and initiated growth inside me that I never knew could happen. I think I needed to become who I am today, to come out, to be real, to succeed. It was more than that, too. In retrospect, it seems that everything I'd done in recent years was unknowingly in preparation for this boulder. Every competition was a lesson in focus, learning from mistakes, bouncing back from bad rounds, maximizing effort, performing. Each outdoor tick was a physical-capability milestone, and more reassurance. 
In some ways I owe The Swarm my gratitude for what it taught me: patience, perseverance, focus. On the other hand, I never want to walk back up there again.
I spent so many years trying, dreaming, thinking, and obsessing over this climb.  Sending has almost felt underwhelming. I feel a bit lost. Now what? What do I do after finally sieging The Swarm? 
I honestly have no idea. I haven't thought about it, and actually haven't even climbed since I sent! I'm really enjoying the time off. 
Of course I feel proud and glad. Not because I can finally move on, but because I really could do it. No matter how sure I felt that I physically could do it, I always, deep down, feared that I might not be able to mentally. And now I know.
For now, I savor what happened. It was bittersweet to walk away from The Swarm that day. I said goodbye as we packed and loaded up, closing my eyes and placing my palm on its cool, smooth face.  
I hiked out, at peace.
---
Alex Johnson, a former national and World Cup bouldering champion, lives in Salt Lake City with her partner, Bree Robles, and her dogs, Fritz, Kota, and Sunny.
---
Check Out Our Alex Johnson Archives!
---