Why You Should Seek Out the Sisterhood of the Rope
The unique way women inspire each other to climb.
Heading out the door? Read this article on the new Outside+ app available now on iOS devices for members! Download the app.
"To be a good climber, or good mountain climber, you need two qualities. The most important is to have confidence and to have the determination to do something," Catherine Destivelle said while narrating footage of herself rope-soloing the Old Man of Hoy, a 449-foot sea stack off the coast of Scotland. In late summer 1996, I had checked out the short film Rock Queen from the library in my hometown of Baton Rouge, Louisiana. I slammed the tape into the VCR and watched, transfixed, as Destivelle negotiated the dark spire with the cold waters of the Atlantic crashing below. Her words etched into my brain: "You have confidence because you have a lot of experience and you know exactly what you are able to do."
I'd only been climbing for a few months, but I understood that with practice and time I, too, could hone my skills. I'd gotten into climbing earlier that summer at a North Carolina camp where I worked as a junior counselor, urged to do so by my boyfriend, also a junior counselor. At camp, I had to choose an activity to facilitate. Watching the kids climb the vertical wooden wall piqued my interest—I'd try climbing. While other counselors swam, beaded, and rode horses, I belayed, rappelled, and built toprope anchors. When camp ended, I left behind Looking Glass, the Linville Gorge, and the Snake's Den and returned home to the flats of Louisiana.
I longed for chalk on my hands, bruises on my knees, and the sweet, piney smell of the mountains. I climbed at the newly opened Rok Haus climbing gym in Lafayette, Louisiana, and at Southeast crags on weekends and holidays. But I relied on my boyfriend's and other male peers' knowledge. I only knew two other female climbers, and they too relied on male counterparts. Seeking inspiration, I snuck away to the library, devouring anything climbing related. Only three years prior, Lynn Hill had made the first free ascent of the Nose. While I had no idea where Yosemite was, I imagined Hill to be an Amazon with the strength of Xena, the warrior princess. I came to learn that Hill was petite like me and that like Destivelle she had incomparable confidence and determination. I wanted to emulate these women, to put the rope up and lead.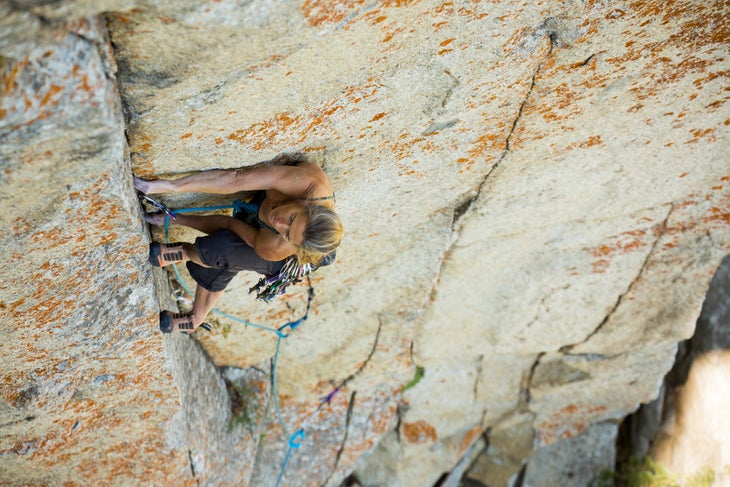 The following autumn, 1997, a few friends and I wandered through the reddish-brown sandstone maze at northern Alabama's Sandrock. We stopped at the Sun Wall, a south-facing cliff with topropes, trad climbs, and moderate sport routes. At the base, a woman in her mid-40s racked draws onto her harness. I had never seen a woman lead before. I stood mesmerized as she climbed, at the crux grabbing a crimp, locking it off, and executing the sequence perfectly.
"Take!" she yelled from the anchors of Misty, a 5.10c/d.
This woman wasn't a professional athlete. She wasn't Destivelle or Hill. She was just another female climber, like me. In that moment, she inspired me more than either of those two superstars. She showed me firsthand what was possible.
"I'm going next," I told my mates, who nodded encouragingly. I tied in and counted out 10 quickdraws. I dwelled on Destivelle's words. I had enough experience that I knew what to do, and I knew I could do it. I crimped through a coarse-grained bulge, shook out, breathed, then pulled hard on the incuts of the upper headwall. I clipped the anchors ecstatic, having finished my first lead some 10 months into my career.
Over the next decade, more and more women entered the climbing scene, and I met more female climbers. They mostly wanted to boulder or sport climb, and these disciplines dominated my early days. However, I still looked to men for spotting, instruction on gear, and advice on navigating tricky terrain. Beth Rodden and Steph Davis made headlines with their Yosemite ascents, and I longed to experience big adventures like theirs.
In 2006, I left behind friends, my boyfriend, a secure job, and the rocks of the South for Yosemite. I had climbed 5.13 and V8, but the Valley's endless cracks and featureless granite were another matter. Yosemite locals supported my quest to become a better trad climber, but these men would also take the lead at the slightest sign of uncertainty—and there weren't a lot of women climbers around when I first arrived. I was again reliant on male teachers.
Later that summer, I met Sara Vera, who had arrived from Idaho to work in the Valley's campgrounds and climb. Sara owned a rack, while I had a rope. We spent hot days hiking up to the Cathedral Spires only to get shut down because we couldn't find the route. We bailed off "easy" 5.9s, turned around by nightmare offwidths. We whipped on gear, rapped off nuts, and gained more confidence.
The next year, we romped up Epinephrine (5.9), 1,600 feet of chimneys and cracks in Red Rock's Black Velvet Canyon. We summited just before sunset. The wind blew hard and sand pelted our faces as we tried to decipher the descent. Soon, night fell and we shared our first shiver bivy. We tucked under a juniper and spooned as the lights of Las Vegas glowed in the distance.
While we descended, having earned a new notch on our belts, the magazines published news of Kate Rutherford and Madaleine Sorkin's first all-female team ascent of Zion's Moonlight Buttress (V 5.12d) in 2006, and then, in 2007, the Regular Northwest Face of Half Dome (VI 5.12). Their competency was palpable, and as peers they felt more relatable than Destivelle and Hill.
In 2009, I met my "husband to be" on Middle Cathedral. With Ben, I climbed El Cap for the first time, free-climbed numerous walls, redpointed 5.14, prusiked stuck ropes, and stayed out too long in the rain. Unwavering in his support, Ben has been one of my best mentors and partners. My male mentors and partners have empowered me and helped me get where I am today. Without these men, I wouldn't be the woman I am, and I am grateful for that. But I have consistently drawn the most fire and inspiration from other women.
Over my 21 years in the sport, I've met many skilled, adventurous ladies, and my quiver of rad women to tie in with has grown substantially. Through experiences both amazing and difficult, we look to each other to lead the way; we support and encourage. I've also begun to seek out more female partners for every type of climbing.
In September 2016, Alessia Pope, a friend from the Bay Area, and I climbed the West Ridge of Mount Conness (12,589 feet), a 1,500-foot alpine 5.6 near Tuolumne Meadows. Primarily a gym climber, Alessia wanted to climb bigger objectives in the backcountry. Learning from a woman eased her through this transition—she felt comfortable asking me to repeat instructions.
We started climbing at 10 a.m., pitching out the harder sections then simul-climbing where we could. After several hours moving high above green-blue Sierra tarns on the technical granite ridge, we summited. Even with a clear sky, Alessia's excitement made the top feel electric. "I can't believe I did it!" she said.
Seeing her joy felt greater than any personal climbing accomplishment. Recalling Destivelle's words, I could see that climbing Conness had taken determination from Alessia and given her a burgeoning confidence in the alpine. A few weeks later, Alessia emailed me. After Conness, she had the confidence to follow her love for the outdoors, moving from the Bay Area to Truckee to be closer to rock.
Climbing can be intimidating, requiring grit and courage. It's important for women to inspire other women in these realms where risk tolerance, skill, and strength have been deemed the "domain of men." However, I believe it's not about denigrating men but instead about admiring women's strengths, being there for each other in times of weakness and pushing one another through. One woman's success is another's inspiration. Through female partnerships, women can learn, grow, and be empowered, which will help the entire community become stronger.
Katie Lambert is a professional climber based out of  California's Sierra Nevada with her husband, photographer Ben Ditto. Lambert has climbed for more than 20 years on everything from boulders to big walls.