The Wright Stuff: An Ode to Fallen Routes
Heading out the door? Read this article on the new Outside+ app available now on iOS devices for members! Download the app.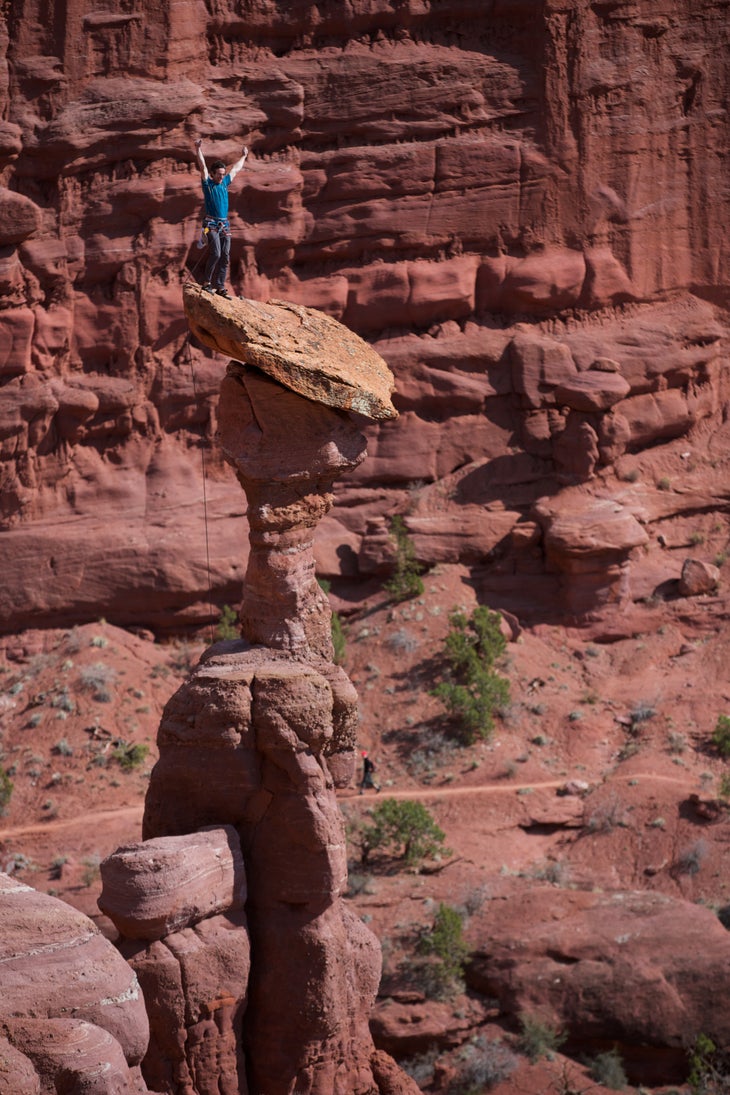 More than most things in life, you can count on rock to stand the test of time. Boulders, crags, giant monoliths—they're each more permanent than us silly little fleas. For me, this is one of the big attractions of climbing—especially first ascents. Long after I am gone, the climb will live on. And because that climb remains the same, anyone from coming eras can test their athleticism and creativity on the same moves. This is what makes repeating old-school classics so cool; it's an opportunity to tread in the footsteps of climbing pioneers and, in some small way, experience a different time and feel what it was like to be a rock climber of that era.
But rock is more dynamic than you might think. I distinctly remember the first time I realized a climb could have an expiration date. I was walking out to an obscure 5.10 arête in Humboldt County, where I had learned to climb among the sea cliffs. When I got to where the climb should be, I wondered if I'd taken a wrong turn. Where once there had stood a tall and proud arête, there was only a sad-looking mound and a massive pile of rubble. It was more than a little alarming and surreal to see a TV-size piece of rock at the base covered in chalk with a bolt hanger sticking out of it! I learned that day that even something as immutable as stone was actually just dissolving in slow motion into the sea.
My old friend Brian "Coiler" Kay, who was my dirtbagging guru and mentor, invented a funny but informative rating system called the "Obscurity" system. The O-system came about as a critique of sorts to the fact that most climbers stick only to a few popular routes and rarely—if ever—venture into the unknown. The Obscurity rating was also meant to be a motivator to step off the trade routes. Climbs worthy of an "O" rating were relatively unfrequented and unknown—a guaranteed adventure! At the upper end of the closed "O-grade" system was O4, which was the second or third ascent of a route. An O5 was a route of legend, meaning there was a tale of it having been climbed but no topo and no conclusive evidence. Finally there was the coveted O6, a grade retroactively assigned to a climb that no longer exists.
Over my climbing career I've been lucky to do a handful of climbs that now hold the illustrious O6 grade, and even luckier not to be on any of them when they fell to pieces. In Joshua Tree there were two cracks, Enter the Dragon (5.9) and Fists of Fury (5.10a), near the popular Gunsmoke bouldering traverse, that I often soloed. The sheer face between the two cracks turned out to be a huge house-size boulder, and one day, after a big rainstorm, it slid out and tumbled to the ground. Sometimes you need to lose something to gain something, and in this case, a couple of years later, Sharma established one of J-Tree's hardest problems on the boulder, a wild and difficult V13 highball called Iron Resolution.
A more recent and iconic example is The Cobra (5.11b) in Utah's Fisher Towers. While Alex Honnold and I were bagging towers as part of our Sufferfest 2 project, we climbed this crazy freestanding Seussian tower. "Climb it before it falls over," I joked. A few months later during a ferocious thunderstorm the tower was struck by lighting and toppled over! I can only imagine how horrific it would have been if it toppled over while we were on top of it. There are examples all over the world—see commentary sidebar at right. I asked our Facebook followers to chime in and came up with quite a few O6 routes. On the scale of geologic time, a cliff is as permanent as a snow bank. Sometimes this is merely interesting; other times it's downright terrifying.
Over 10 years of dirtbagging in Yosemite, I witnessed several huge catastrophic rockfalls that took lives and ripped huge swaths of trees to the ground. Another major route gave way this summer. Yosemite was the scene of one of the most notable routes of all time being rendered, at least for a moment, an O6. The historic Regular Northwest Face on Half Dome had a huge three-pitch chunk in the middle of the wall mysteriously slide away. A climbing party arrived at the Robbins Traverse to find the passage ahead missing and blank! The NPS released an informative photo that showed the area that had fallen off. It had the distinct shape of a penis! What does it all mean?
An aid route has been reestablished (see p.20), but the 5.12 free route is no longer with us, and only time and recon will tell if there is still a free route up this section of the wall. Most likely it will be much more difficult, and insecure. The likelihood is that Honnold can rest safe knowing that no one will ever repeat his historic free solo…because it's gone! And I'm happy that I can also add this free route to my O6 tick list. I climbed it 10 years ago with Renan Ozturk.
It begs the question: What famous route is next? I'd put my bet on the Boot Flake, one of the most distinct pitches on the Nose of El Cap.
Impermanence is a difficult thing for humans to confront, and in some ways I believe climbing is an attempt to escape the chaos and disorder of human life. Climbers seek something permanent and known. Compared to sports like surfing, kayaking, or my most recent love, paragliding, that deal with constantly evolving mediums, and where every experience is a bit different, climbing is a relatively solid and static experience. That's part of why I think the climbing community is so tight; by climbing the same routes we share the same experience and this bonds us together. And when a historic route like the Regular Northwest Face on Half Dome is permanently changed, we collectively mourn the loss of the route, like we've lost an old friend.
Facebook Commentary: Ephemeral Routes
Bryan Kay: North Face of Lower Cathedral Rock, Promulgated Pinnacle, and Werner's Crack, to name a few Yosemite routes.
Jason Grote" The Gendarme at Seneca Rocks in West Virginia. Also a large chunk of Calypso in Eldorado Canyon.
Jennifer Gaynor: I was so sad when The Gendarme fell. Seneca Rocks is my Zen place.
Anto Chambon: In Chamonix we have the Dru. Serious rockfall altered routes in 1950, 1997, 2003, 2005, and 2011.
Cesar Valencia: Well, Black Ice (V10) in the Flatirons flipped over after the 2013 floods. Does that count?
Bearpond Balt: Cannon Cliff in New Hampshire has lost several parts of classic climbs.
Kathleen Corr: New Hampshire even lost its state icon, the Old Man in the Mountain!
Marie McDonald: We have loads in New Zealand, especially in Canterbury and Wanaka, after all our earthquakes. LOL.
Dylan Weldin: Cedar, the whole summit of New Zealand's Mt. Cook fell off a while back rendering the mountain 30m shorter!
Pat Bagley: Ever ice climb?
*Entries have been edited for clarity.