Cedar Wright on "The Value of a Good Sandbag"
Wright recounts that time he and Alex Honnold were sandbagged
Heading out the door? Read this article on the new Outside+ app available now on iOS devices for members! Download the app.
It'll be ironic when Alex Honnold dies on a rope, I think, as each of his sketchy moves rains more choss on me at the belay. We are on pitch two of the Shark's Fin in the Canyonlands of Utah, and in a bad spot. Alex's foot trembles on a dirt clod. "Watch me, dude," he says as his voice shakes. Every third hold rips off the wall while his body tilts and teeters on the verge of catching some HUGE air.
"This route is awesome; you can bring all your favorite holds home with you," I joke. "Shut up and belay," Alex snaps. The rope arcs 80 feet to Alex's private hell without a single piece of protection capable of holding a fall. Initially, I worried Alex would rip us both off the wall if he pitched, but currently there's no need to belay. If Alex falls now, he will deck from the second pitch.
How in the name of Royal Robbins, Warren Harding, and all things holy did we end up here? One word: SANDBAG. For those living in a bubble of friendly first ascents, honest grades, and safe routes, a sandbag is a route that is very, very hard for its grade. Climbing culture defines it in every online glossary, but my favorite comes from the Brits at The British Mountaineering Council (BMC).
Sandbag. (noun) A route whose grade belies its difficulty. This can be either because it is undergraded, or requires a trick move to overcome the crux. Or it's just more work than it looks.
Sandbag. (verb) To direct someone to a route that is a sandbag, saying things like, "It's easy; you will love it."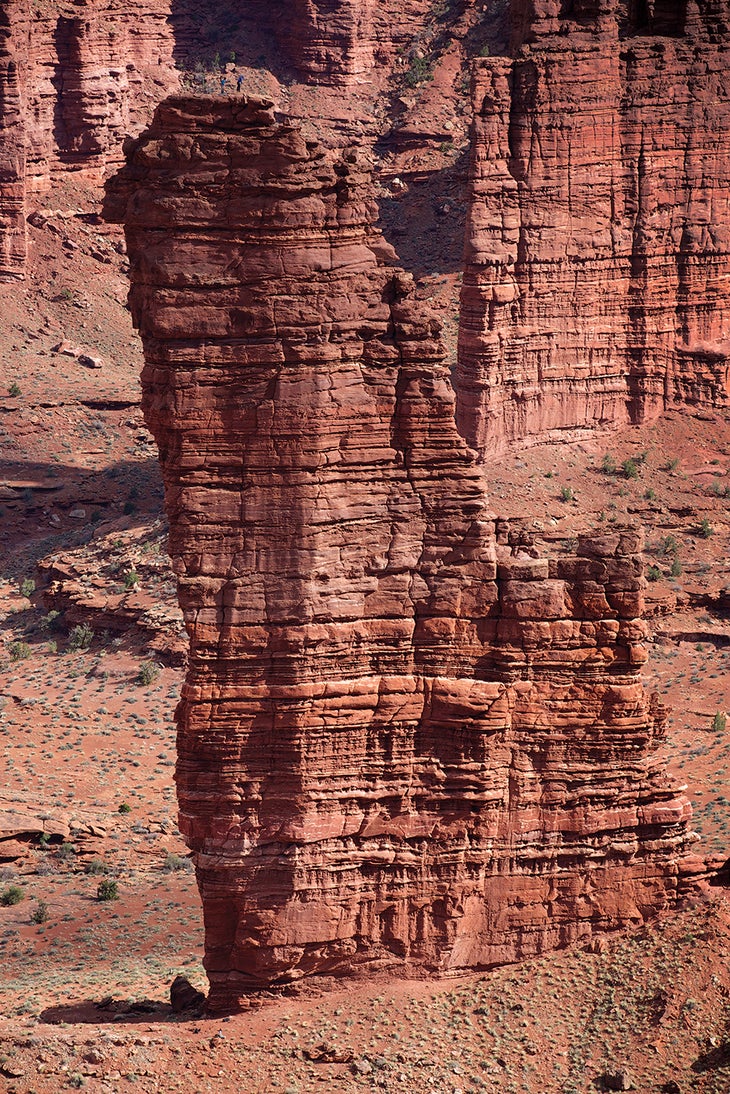 The Shark's Fin sandbag came in the verb form. During our "Sufferfest 2" mission to climb 45 desert towers in the four corners of the American Southwest by bike in spring 2014, Rob Pizem, a prolific desert climber, generously suggested routes.
"If you guys are down at Standing Rock, you have to do my route on the Shark's Fin. It's a super-fun tower with some easy climbing up to a fun, short 5.12 roof section; you guys could just run right up it. You'll love it!" Rob effused with an innocent smile. In retrospect, it must have taken everything he had not to laugh out loud.
A week into Sufferfest 2, we parked our bikes in Canyonlands, ready to link Standing Rock and the Shark's Fin together. After climbing the 5.11 route on Standing Rock in less than 25 minutes, we were confident Shark's Fin would take us no time. One horrifying hour later, I had climbed a meager 60 feet. Each pitch was a 5.12 religious survival. Only a halfway-pounded-in piton protected the "fun short 5.12 roof" at the top. Even Alex—famous for being an atheist—saw God on that pitch. We cursed Rob all the way up the tower and thankfully topped out, albeit with twitchy, thousand-yard stares. The Shark's Fin was the steepest, hardest, and most unique route of the trip. If Rob had told us how heinous and difficult the route was, we never would have climbed it.
That's the value of a good sandbag; it pushes us out of our comfort zones and into adventure. But sadly, sandbags are in danger of going the way of Lycra, Tricams, and dirtbags. Not only are grades getting softer and softer (just compare 1980s grades to anything after 2002), but for the last 20 years, climbers have taken it upon themselves to upgrade one classically stout route after the next.
For 50 years the Steck-Salathe on the Sentinel in Yosemite was 5.9. When SuperTopo came along with a detailed rack list and a move-for-move beta map, it became 5.10b-. What the hell?! Sure it was really, really hard for 5.9, but that was part of the route's charm. John Bachar originally rated Tuolumne's Bachar-Yerian 5.10d—bless him for that. Now it's 5.11c. This trend isn't just in Yosemite. I'm sure every climber can think of a route that used to carry a lesser, but more "benchmark" grade.
R.I.P. Sandbag.
Obviously underrated routes and "stout" areas remain, but one well-meaning guidebook author or Mountain Project consensus can destroy yet another perfectly good sandbag. Think before you upgrade! Thankfully we have entire areas that remind us about how back in the day, we graded things a little differently. Shout-out to Seneca Rocks, Eldorado Canyon, Yosemite, Devil's Lake, Vedauwoo, and Index to name a few. Also a special shout-out to plus grades, which are usually harder than minus grades with a higher number. "It's only 5.9+."
How can we keep the sandbag alive? Perhaps more first ascensionists should take the tact of my late great friend, climbing mentor, and notorious sandbagger Sean Leary, who once said, "Give routes the lowest grade possible while keeping a straight face."
Of course routes can't all be sandbagged. Be it the Yosemite decimal system, weird British E-grades, or the indecipherable UIAA system, the aim should be to give climbers an idea of the difficulty and danger of a route. It's not all science, though. We use grades to set goals, compare ourselves to others, and quite often as a source of ego gratification. And, for this grade-induced inflated-ego syndrome, there is no better antidote than a good old-fashioned sandbag.
"How hard do you think it is?" I asked Rob Miller 14 years ago in the Yosemite cafeteria. A week before, I had finally freed a wild and proud 40-foot roof called The Gravity Ceiling, a former aid route, at the top of Higher Cathedral Rock. My epic siege prompted me to give it the illustrious grade of 5.13a, a standard-setting Valley grade at the time.
"Well Cedar, I wouldn't say it was 13a," Rob said before pausing to push the knife farther into my heart. "I'd call it athletic 12c."
This brutal and notorious downgrading prompted Mikey Schaefer and James Lucas to call one 5.13 pitch on Schaefer's Middle Cathedral route Father Time "athletic 12c." I adjusted my grading scale after that, and while I still occasionally slip into wishful ego grading, it rarely happens these days.
Many climbers argue that sandbagging is dangerous, or just another form of "humble bragging," a not-so-subtle way of stroking your own ego. Those claims aren't without merit, but still I profess my love for the sandbag. And it's not always malicious. Sometimes the climber is just too damn strong and sandbags everyone accidentally, especially when rating a route well below their level. Most 5.14 climbers have a hard time telling between 10a and 10d. Could this lead to risk? Yeah, but this sport is not golf. It's supposed to be a bit exciting and sometimes dangerous.
Because I want other climbers to experience the surprise and struggle of the sandbag, and the ultimate success that comes from pushing ourselves beyond our perceived limits, I've continued the tradition. My latest hobby is routinely sandbagging the routes at my local climbing gym. New routes are graded there by consensus, with each person selecting between three grading options with a checkmark. To do my part, I forge different-looking checks in each box of the lowest grade to insure that the gym remains heinous. I know it's not much, but it shows that I care and am doing my part to keep everyone honest.
One of the core benefits of sandbagging is that it helps us realize our true potential. Some of my best onsights have happened thanks to a sandbag. A quality sandbag can trick you into realizing that your capabilities are far beyond your expectations. We all need to get sandbagged now and again to grow and become better climbers. That's why I urge you to sandbag your friends, like Rob Pizem did to us. It's the right thing to do.
Also Read