Three Questions with Melissa Arnot
Heading out the door? Read this article on the new Outside+ app available now on iOS devices for members! Download the app.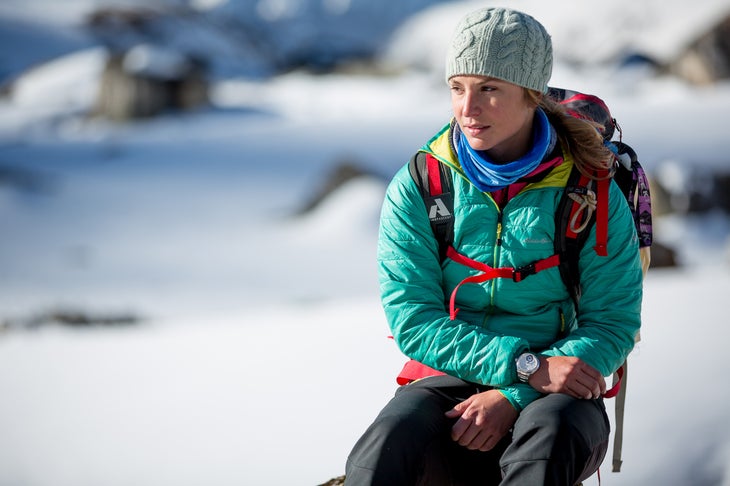 On May 23, 2016, Melissa Arnot became the first American woman to summit Everest without supplemental oxygen. That also marked her sixth time standing on top of the world's tallest peak, solidifying her record for most Everest summits by an American female.
Why was it important for you to summit without oxygen, and having succeeded, did the allure match the reality?
I never knew if I would be able to do it. I thought for sure that it was possible, but also that this might just be a dream in my life and I will never know what it's like. It was just a question: Can I do this? I'm very average athletically. I'm not super elite. I'm not one of those people who can just climb 5.12 off the couch. I have to work for that. Does having achieved it match the allure? My goal was to answer a question, and I answered it, so yes. I put 100 percent of what I had into this. Had I not been successful, I'd tell you the same thing: I'm very satisfied with the answer I got.
You've said that while it's difficult being a female minority in mountaineering, it also opens up opportunities. Has that been true in your career?
There are absolutely challenges in being a minority. At the same time, outliers are interesting. I'm 5'3" and super feminine. I get opportunities out of that, because it's interesting to people, and I don't begrudge that side of it. I also like to think it's because of who I am, because I'm articulate and have other attributes that people are interested in besides just ovaries, but it's a double-edged sword. I benefit from it, but there are also huge challenges. It might be easier for me to get opportunities, but it is significantly harder for me to be respected and treated equally once I have that opportunity.
Do you think the atmosphere for women is changing in the mountaineering world?
I know when I first started working as a mountain guide I wasn't respected. It was obvious, right in front of my face. It was, "Oh, are you sure? It's her first year guiding; is this little girl going to be able to keep me safe?" As I've gotten more experience, I've gotten more respect. I hope people understand that climbing is one of those really beautiful things that's not gender-weighted, especially the kind of climbing I do, which is mostly walking up so slowly. You don't have to be a big dude; you don't have to have a longer wingspan; you don't need physiological differentiation. The mountains just don't care at all.