Russia's World Cup Ice Climbing Scene is as Hardcore as it Gets
How the USA Ice Climbing Team found purpose in the frozen damp of a Russian winter.
Heading out the door? Read this article on the new Outside+ app available now on iOS devices for members! Download the app.
I. Welcome to Russia
Two grizzled security guards pulled me through metal detectors. One pointed, not asking. Blue cuff, blue sleeve, fingers glued together from too many salutes. The hand gestured to a row of metal chairs. I heard radiators cranking, working overtime to keep out the cold. Like everywhere in Saint Petersburg, Russia, it was hot inside—too hot. The land of extremes.
Our heap of brightly hued packs filled a corner. Chromed chair legs fought linoleum with pained squeaks. We sat. We sweated. We'll never make it to the competition in time, I thought, fussing with the zipper on my team uniform. I was self-conscious of the brazen branding, the logos for our newly established USA Ice Climbing Team looking like those of a church softball league—basic, screenprinted. USA in ALL CAPS a foot wide across my back.
There was a patriotic mural of Russian firefighters on the far wall. Fluorescent lights flickered. The guards bent their heads to confer, murmuring in Russian. They made phone calls.
It was December 2019, and we'd come for an impromptu ice comp. This wasn't Plan A, which had the five of us Americans competing in Moscow, at the first installment on our tour of the 2020 UIAA Ice Climbing World Cup series. Plan A had been to be on time and prepared. Plan A had been to help the rookie American team make a good impression.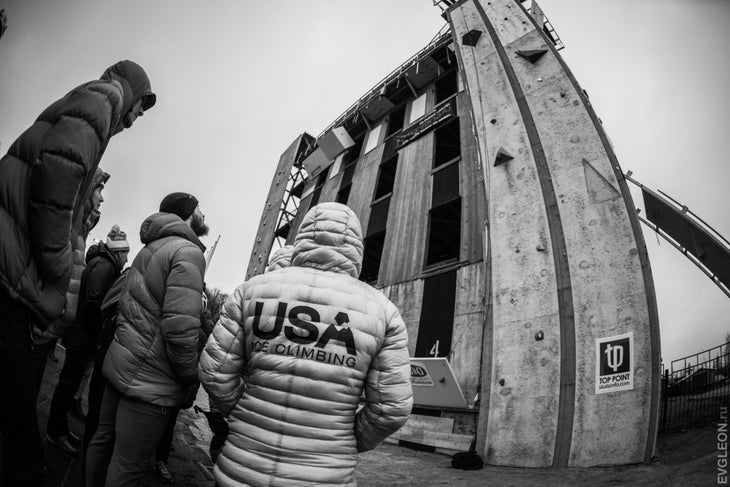 The "rookie" qualification depends on your definition of "team." The US has been fielding athletes to Ice World Cups for two decades, but mostly just one or two or three at a time. It wasn't until 2018 that longtime competitor Kendra Stritch helped the American Alpine Club (AAC)—which serves as the national organizing body for competition ice climbing in the States—formalize the application process and bring prestige to the young sport. Even without offering athlete funding, the new level of organization lured enough climbers to bulk out the team. The only issue: Many had never been to a World Cup. Most, in fact, could count past comps on one hand.
We needed every competition we could get to gain experience. But our hopes for padding our résumés with Plan A had fizzled when Russia's Ministry of Sport pulled the plug a month before the Moscow event. The Russian ice climbers, apparently used to this sort of thing, had simply thrown up their hands, muttered about government corruption, and decided to throw a competition themselves in Saint Petersburg. Everyone who'd planned on Moscow was invited, so now, here we were.
II. "See You in Russia."
One week earlier: It was our last team practice in the States, in a facility that was state-of-the-art for American dry-tooling: the Ice Coop, a three-walled woody, with 675 square feet of wall, in a recently vacated marijuana grow-op in a warehouse district in east Boulder, Colorado. It might not sound like much, but the year prior we'd trained mostly by deadhanging from tools stuck in a beam on the second floor of The Spot Bouldering Gym. The Ice Coop was a major upgrade.
A dozen climbers, the bulk of the USA team, lined the mats beneath the woody. Among them were the five of us—Thomas Gehrlein, Angela Tomczik, Lindsay Hastings, Wes Fowler, and me—who would comprise America's envoy to Russia.
The good news: We'd all competed in at least one World Cup event.
The bad news: We kinda sucked. Some career highlights:
Colorado, 2017. Wes hooks ice during the Ouray Elite Mixed Climbing Competition. It's the easiest spot on the route, below the competition structure hanging over the ice. The ice breaks and Wes plummets. He finishes close to last.
Switzerland, 2018. Angela competes in speed. Poor form puts an overly sharpened tool into her leg. She is polite and apologetic. There is blood everywhere.
Italy, 2018. Lindsay arrives below her first World Cup route, finding the initial section to be entirely ice. New to outdoor climbing, she has never led pure ice. She reaches the pre-clipped first bolt and, nervous, drops off. To this day she's not sure if she fell or jumped.
Denver, 2019. My first World Cup event. In qualifiers, I swing off the first hold, narrowly catch myself—and fall again before the first bolt. I come in second-to-last.
Read more: Why You Should Enter a Climbing Competition, Even if You Suck
That was our rhythm: Step up to the plate. Fail miserably. Hang our heads and join the audience to watch the semifinals. But every time, as the Koreans and French and Russians—so many Russians—advanced without us, we'd get swept up in their glory. By the end, we'd be hoarse from cheering. Maybe one day, that will be us, we hoped. Perhaps we could eventually bring the prestige to the sport that the AAC had envisioned.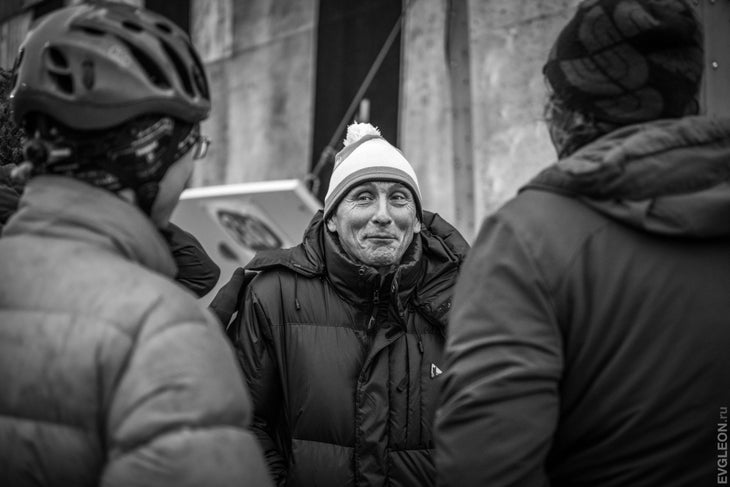 Thomas, the team manager, occupied the wall. Restless from spending too long, the year before, in a job he'd hated, Thomas had thrown himself wholeheartedly into dry-tooling. He grunted through powerful moves on the 45-degree overhang, barrel chest heaving. A tool hooked a metal hold, frontpoints slammed into the plywood, and he twisted into a drop-knee. Glutes tensed.
"Hell yeah, that's America's ass!" someone hooted. Thomas's cheekbones reddened through curls of beard.
Among the sprawl was Wes, chuckling quietly. He pushed his glasses farther up his nose and tugged at his sleeves, a futile habit. He would soon discover that his team uniform didn't fit; few companies make sleeves for a 6'10" wingspan.
"I just got a message from Andrey," said one of the hecklers, scratching his head. We all knew the Russian ice climber Andrey Varvarkin. Or rather, of him.
Dry-tooling is all about equipment, and no one knows equipment like the Russians. Over the last decade of Ice Climbing World Cup champions, six of 10 men and seven of 10 women have been Russian. And that's just in lead. In speed ice climbing, the number rises to 10 out of 10, across both genders. The man supplying tools and crampons to all those Russians? Andrey.
In our minds, Andrey was a caricature of a mad Russian engineer. Through his online company, Krukonogi-titanium.com, he'd manufactured the drilled metal puck Thomas had just latched, and the picks he used to latch it, and the specialized crampon points he sank into the wall. Krukonogi Titanium stays busy, shipping custom orders to small gyms and competitors across the world. Andrey has also been known to strip his holds off the wall after a competition and sell them, black-market style, in the shadows behind the structure. He's a recreational climber and a coach, but Andrey is first and foremost an inventor, drawn to the sport for its precise forces and lever arms and market for machined steel.
The heckler held up his phone. "I've been trying to get Andrey to make modified handles for my tools," he complained. "This time he just said, 'Why? You are trying to make a sports car out of a Corolla.'" Laughter. A screech of a misplaced pick. A slam as 200 pounds of Thomas hit the mat.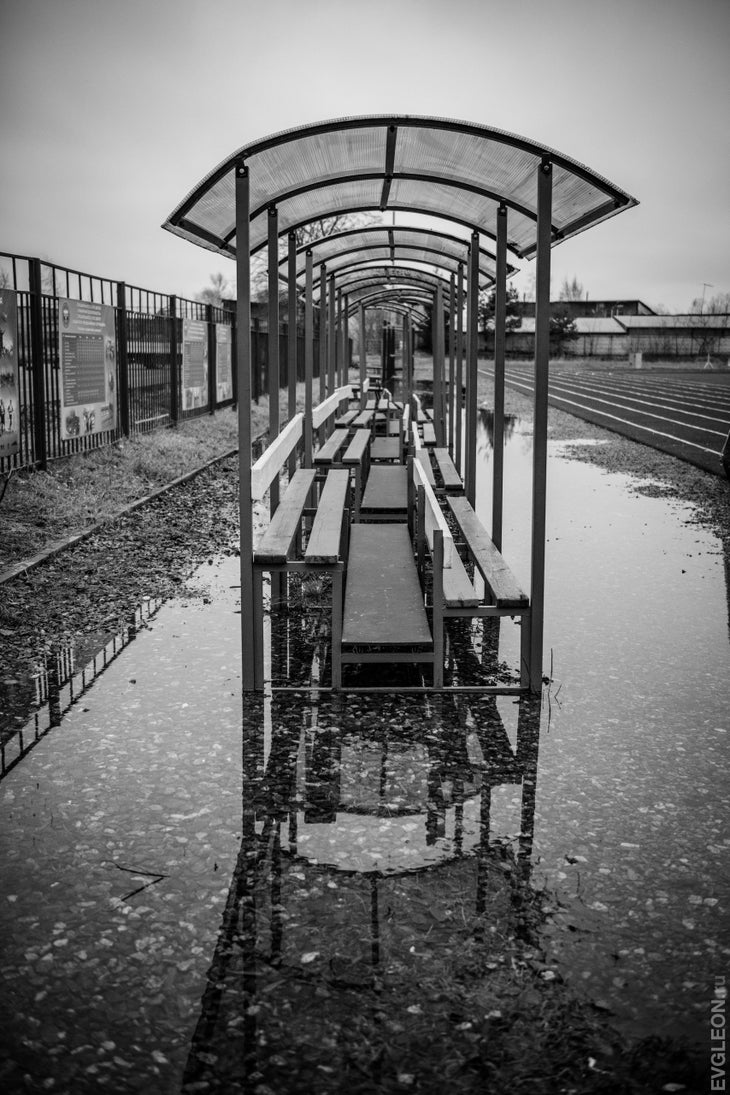 I attended my first-ever World Cup as a journalist in Durango, Colorado, in 2016. I didn't know anything about the sport then, and the thing that struck me the most wasn't the concept—and climbing plastic holds with ice tools is a pretty bizarre concept. It was the way the Russian competitors Alexey Dengin and Nikolai Kuzovlev made it look so easy. On spans that left the Americans shaking with effort, the Russians floated. They were overtrained, overmuscled, more powerful than the wall itself, as if they could pry the holds off the structure with a flick of a wrist. Later, I was told they train by hanging on their tools for hours, lapping horizontal roofs without stopping to rest.
Watching that Russian grace and ease had inspired me to get into dry-tooling. But now, on the eve of my first World Cup trip, I wondered if I had made a mistake. In the Ice Coop, the heckling and giggling were a cheap perfume, barely masking the pre-competition anxiety that hung in the rafters. We women, particularly, felt it. In the States, women's dry-tooling was very new. As a result, we were less experienced than the men and had less training, fewer mentors, and fewer international contacts. We felt totally unprepared.
Just outside, Angela was crying a little and talking a lot, brushing tears into her frizz of brown hair. Inside, Lindsay pinched blonde highlights into a ponytail. She hadn't spoken all practice. Her phone blinked, and she set down her medicine ball mid-rep to check it.
I was quiet, too, trying to shoo away my own phantoms with the rhythmic rasp of a file on frontpoints. I watched Thomas pack up his tools and remind the handful of teenagers on the floor, for the hundredth time, to check their visa applications before their own event, the UIAA World Youth Championship in Kirov, Russia.
Thomas shouldered his duffel bag and raised a hand.
"See you in Russia," he said.
"See you in Russia," we replied.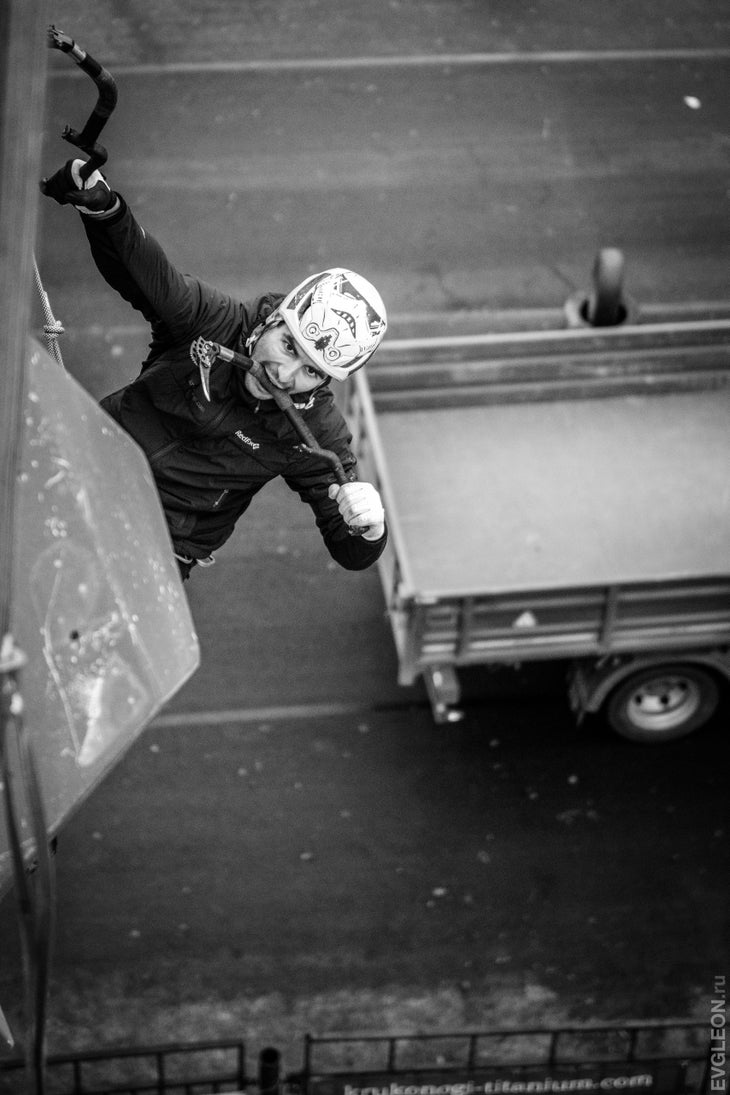 III. In Russia, You Don't Smile
A month before our departure, I'd called my friend and climbing partner Yura, a Russian who'd grown up in Kazakhstan before moving to Colorado by way of Brooklyn. I wanted advice, and I knew Yura was incapable of sugarcoating, a quality that was either New Yorker or Russian or both. All I knew about the country was what I'd seen in the movies (mobsters, track suits, vodka) or read in the news (hackers, government-mandated doping, Putin). In my mind, Russia was stern. Russia was manipulative. Russia was the enemy.
"Yura, what should I expect?"
"Don't smile," he said. "Russians don't smile." Apparently they have a saying: Don't trust nice people; anyone who's polite is out to get you. Also, he added, "You're going to be the coldest you've been in your life."
But now, after a long journey, we were here. Four airports, 14 hours of flights, and then a jet-lagged foray into the Saint Petersburg subway, where at Mayakovskaya station, beneath Soviet-era vaulted ceilings and marble statues, we'd bumbled around with packs full of ice axes and crampons—and promptly set the metal detectors blaring. We'd frozen in place, but the sea of unsmiling, trench-coated morning commuters simply parted around us, heading for the escalators and the chandeliered halls. We would trigger the detectors another half dozen times during our trip. Sometimes, a uniformed glance fell in our direction. Once our packs were X-rayed, revealing our axes, before the guards waved us boredly on.
We slipped in among the commuters, barraging Thomas with questions about the event that he couldn't easily answer. He had only an email in broken English from Andrey to guide us.
"I feel ugly here," Angela whispered. I looked at the passing women, perfectly coifed and made-up. They descended and ascended in perfect rows, like mannequins fresh off an assembly line.
Exiting the station, we set off the metal detectors again. We walked, trying to outpace the steady march of the cold, the kind that sinks straight through your skin, seeking muscle. Seeking bone. We arrived at the bus station: a strip of cement floating in black fog, surrounded by crumbling strip malls. Signs in Cyrillic flickered in the pre-dawn darkness, red and green like retinas peering out of the black. People wandered by, wrapped nose-deep in scarves, faceless in the mist.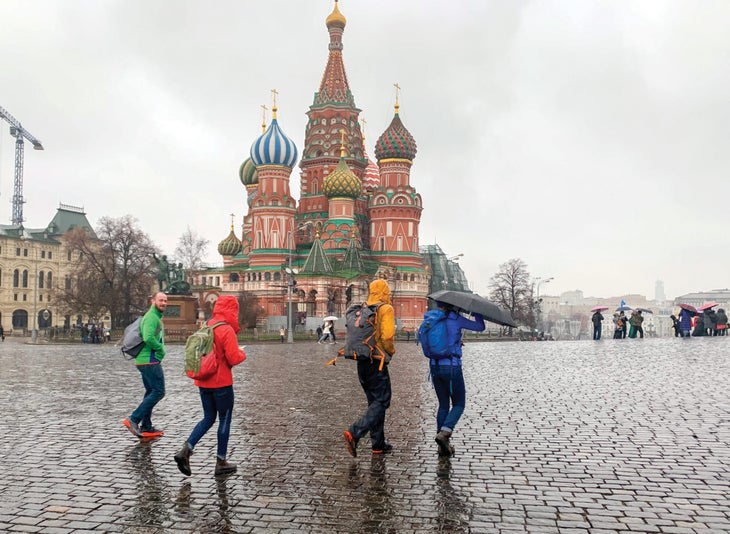 Saint Petersburg stands bound to a bend in the Neva River, trapped between a Blade Runner future of flashing neon and a lamplit past of siege and stone. This is a proud city, a fallen capital, a World War II stronghold that gave Germany the finger while half the city starved. It's where Dostoevsky came to die. Today it's vibrant with a modern food and art scene, but at night the wet platforms still drift with ghosts.
The screech of tires announced the arrival of a rickety, flat-nosed bus. We piled on, and the lumbering vehicle carried us off into the waning night, a thick paste that was reluctant to cede its stranglehold. It turned the windows into mirrors, thrusting our worries and our jetlagged faces back at us. Pale and bruise-colored. A ghost-ride through purgatory.
A lurch. Our final platform. We stepped off onto sheets of buckled plywood laid over winter mud. It was hard to tell where the rain-slicked pavement ended and the gloaming began. Silhouettes of smokestacks materialized through the haze. We looked around, confused.
"Thomas, where are we going?" I asked.
He peered at his phone.
"I'm not sure," he said. "The map says it's behind this building." We looked up: An expanse of concrete. A tall iron fence split by a narrow turnstile. Young cadets in uniform materializing out of the fog and filing through the gate in ones and twos. We shrugged, slipped in behind them, entered the grounds of what appeared to be a paramilitary organization—and were promptly detained by those two grizzled security guards.
Eventually the guards dug up an English-speaker, who was able to (A) tell us where the bathroom was, and (B) inform us that we were, against all odds, in the right place: the grounds of a rescue school, some cross between a police and fire academy.
We smiled with relief. No one else did; they were Russian.
IV. "Davai, Davai!"
Our rescuer, Andrey, arrived. An unassuming man in his late forties, he had a stooped lumber, rough English, and a thinning mop of gray hair. With Andrey's say-so, the guards led us outside to a five-story shell of a building used to simulate rescue scenarios. Its southwest corner had been bolted and plated in plywood; draws and competition holds hung from its outer walls, just now resolving from the darkness as dawn colored the sky a dull orange. As we stared at the hulking structure, athletes from France, Japan, Korea—the best competition ice climbers in the world—trickled in. And, finally, our 2019 World Cup champion and personal hero, Nikolai Kuzovlev, arrived.
Nikolai is on the short side, broad like a gymnast and lean like a sport climber. He has pale hair, a tight mouth, and deep-set eyes. This day, he wore a jacket with the red, white and blue of the Russian flag, emblazoned with an eagle in gold thread.
We like Nikolai; on the wall, he moves with so much power it seems to slow time. Every reach and pull oozes a nonchalant, cat-like confidence, as if it's all easy, as if he's done it all before. Even in the speed event, he looks like he's jogging—until the buzzer rings at a mere eight seconds flat and you see him sit back into the rope with 50 feet of vertical beneath him.
Nikolai smiled as he graciously shook each of our hands.
This is different, I thought. Maybe you can smile to a friend.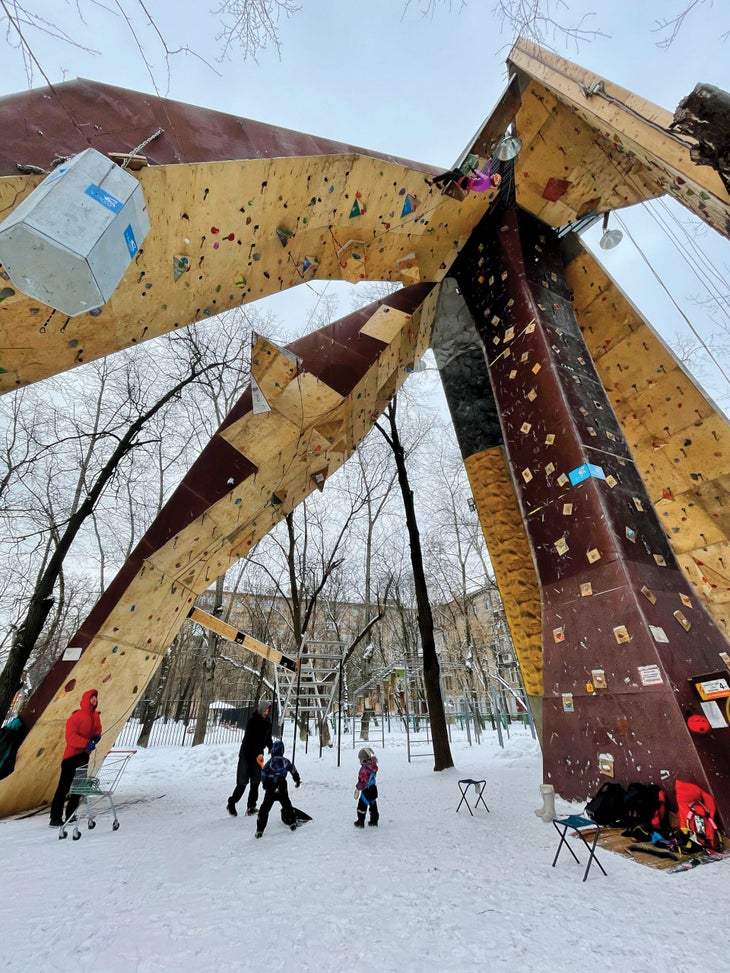 We unpacked our tools and crampons and started warming up. Qualifiers came first. I didn't perform well, but the routes were challenging and the setting thoughtful—high-caliber climbing despite the understated venue. I told Andrey this.
"I am so happy that you have good experience," he beamed. He said it meant the world to him that we had traveled so far.
As usual, the Russians dominated. We cheered wildly for our 2019 champion and personal hero Nikolai Kuzovlev, who ended up placing second, an unexpected fall landing him just behind the South Korean competitor Young Hye Kwon. "Davai, davai!" we yelled. We'd heard the refrain in the first Ice World Cup in Denver in February 2019, and in all the World Cup footage we'd watched. "Come on, come on!"
During our turns, we Americans moved slowly, with the halting caution of rabbits venturing onto open ground. We didn't know the holds. We kicked too hard or too gently. Even after a few comps, the sport was unfamiliar territory. The Russians, in contrast, flowed across the walls with the confidence of climbers who had been to a hundred competitions and will go on to a hundred more. With the patience of climbers who can hold onto their tools forever.
Read more: How Competitions Taught Me the Heartbreak of Winning and the Joy of Defeat
V. City of Ghosts
Two days later we were in Moscow, amid its gray sprawl of spired churches and Soviet housing blocks. It is the coldest megacity in the world, a metropolis of thieves and billionaires. It's a political factory, an architectural shrine. And it houses the unmarked graves of Stalin's Great Purge. Another city of ghosts.
We'd arrived, however, on an invitation from the living—from Katya Vlasova, a Russian competitor who'd handily won the women's category in Saint Petersburg. On the wall, she'd moved with a slow, steady grace, folding easily into and out of figure-fours as if she was made of copper wire. Katya invited us five to train with her and to check out their local dry-tooling structure, Sosulka.
"You can come stay with us," she said, the "us" referring to herself and her husband, Pavel, also a prominent member of the competition community. "Is no problem." Angela and Lindsay took her up on it, occupying a crashpad in the kitchen. The rest of us opted for a hostel.
Sosulka began its life as a single tower on a small patch of university land managed by the Moscow Alpine Club. Every time the club raised enough money, they'd lean another 40-meter-long iron panel against the main tower, weld it on, and slather it in holds and plywood. Now they have a five-legged iron spider, 40 meters high, like some steampunk super-structure of Shelob.
Sosulka was the only permanent dry-tooling structure we climbed on in Russia, but there are others, equally improbable: There are two training walls in Siberia. And in Kirov, to the east, World Cup competitions take place on the underside of a defunct Olympic ski jump that city officials are trying to condemn.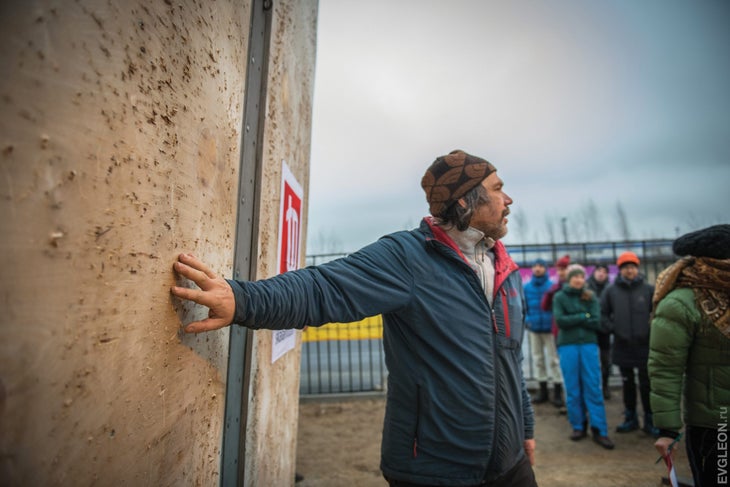 Wes and I arrived first from a hostel across town and wandered between the spider's battered shins. I wrapped my arms around myself, but the cold had settled into my neck and shoulders, heavy and needling and mean. I felt squirmy, but it was hard to tell if it was the dampness or the anxiety—our skills were about to be examined again, and I felt outmatched.
The Russian team arrived within the hour, each climber solemn-faced and pushing a shopping cart to transport ropes and gear from route to route. The place echoed with the drip of rain, the thunking of crampons sinking into plywood, the screams of the world's greatest competition ice climbers—and the squeaking of old shopping carts.
"How much for a day pass?" I asked Katya. She just shook her head and said, "Is free for visitors." I later learned that the structure had been built not for the benefit of the Russian team but to share the sport with outsiders. The climber who'd arranged the build had died four years ago, but growing the community had been important to him. Now, Katya and the rest of the team carry on that legacy—to tell us that, despite our certainties to the contrary, we are worthy and we are welcome.
I looked upward. Narrow walls arched toward one another at 20- and 30-degree angles, soaring into the steely Moscow sky. Holds no bigger than thumbnails plastered the undersides of volumes, and ticks marked mandatory dynos from one leg of the tower to the other. After a few laps, I was too pumped to do anything but watch Katya hike the structure's hardest lines—up, down, then back up again—in a single go.
That night, she invited us for dinner. We bought beer and pies and followed her directions into a concrete apartment block. Inside, the elevator was the teal of hospital scrubs and too small to fit all five of us. We packed in anyway.
Katya pulled us into her home with one fluid motion and introduced the other tenants: her 10-month-old daughter, Paulina; her mother, Tatiana; Pavel; their French guest, Etienne; and the cat, Cot—"cat" in Russian. Pavel was carrying the fat brown tabby around the apartment, cooing. I could see the entirety of their cramped space from the front door: four tiny rooms. One bathroom with one faucet, with a hose to divert water between sink and shower. Dark vinyl floors, Formica counters, a round table just big enough for four. A kitchen small enough to fit within our little woody at the Ice Coop.
Bowls of pasta and salad landed on the kitchen table. Elbows bumped elbows, and we sat down and ate.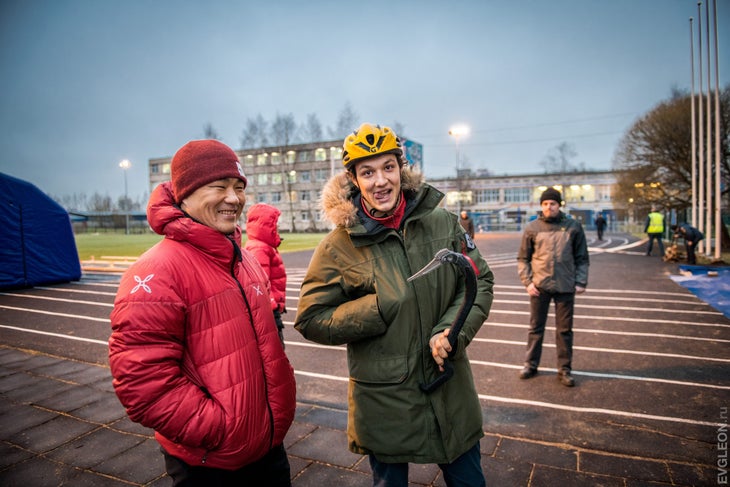 Empty cans and plates piled up, and the conversation wandered. At one point, Gordon McArthur, a Canadian competitor legendary to us all, called from Cranbrook. Pavel put him on video, and our dinner grew by a guest.
"How's the recovery?" Gord asked gently. About a year before, Pavel had fallen 120 feet from the top of the training structure after sitting back on an unfinished figure-eight knot, and shattered both his legs. Katya was pregnant then with Paulina. Now, she was teaching both husband and child how to walk.
Pavel brushed off the question: "Oh, I cannot talk about it. It will make me very depressed." Before his fall he was the World Cup circuit's best setter and a serious big-wall climber. Now, he said, the odds were good that he'd never climb again.
VI. "Your technique is shit."
We trained again the next day, and this time Pavel joined, hobbling on his shattered feet and shouting beta. He seemed excited just to be there, back among fellow climbers. Thanks to decades of training, competing and World Cup setting, Pavel has amassed an untold wealth of technical knowledge—far, far more than any of us Americans had. He realized this fact quickly, and so his advice became more concise.    
"Your technique is shit."
Anyone who's polite is out to get you, I remembered. Aha. Pavel was a friend.
In this moment, our new friend was speaking to Angela, who'd been practicing her figure-fours a few feet off the ground. She pried herself off the wall, sipped a patient inhale, and waited for advice. Pavel took her ice tool in his hand to demonstrate. Leg over the wrist. Squeeze with the thigh. Chest out, spine straight, lats engaged. He nudged her back toward the wall, giving her a movement drill to perform.
That night, we again crowded into Katya and Pavel's apartment, our last night together before we'd see each other at the next World Cup event a week later, scheduled for early January 2020 in China.      
After dinner, we crammed our full bellies into our coats and exchanged numbers. (A year later, Pavel still messages me with criticisms of my technique, and, inexplicably, Tom Cruise movie recommendations. And news—just recently, he has started climbing again.)
"Goodbye—see you in China," Katya said.
"See you in China," we replied.
The elevator bundled us down, and the narrow hallway coughed us out, and that's where the cold found us again. It crept up and sank in and made itself at home in the marrow of our bones. But tonight was Christmas Eve, and the lampposts supported a canopy of twinkling bulbs. Trees ablaze in tinsel peered from shop windows. Stars hung from the bellies of bridges, their reflections glittering in the canals below.
Tonight, there was light enough in Russia to keep the ghosts at bay.
Post-script: In China, Wes placed nineteenth in lead, barely missing the cutoffs for semifinals; Lindsay placed tenth in speed; and, thanks in part to Pavel's advice, the rest of the team finished in the middle of the pack—no American came in last.
Corey Buhay has been a member of the USA Ice Climbing Team for three years.