Brad Peterson: How to Make a Difference Through Climbing
Meet Brad Peterson, former Director of the Utah Office of Outdoor Recreation. Yes, that's a thing.
Photo: Andrew Burr 801-463-3821
Heading out the door? Read this article on the new Outside+ app available now on iOS devices for members! Download the app.
This story originally appeared in the May 2015 issue of our print edition.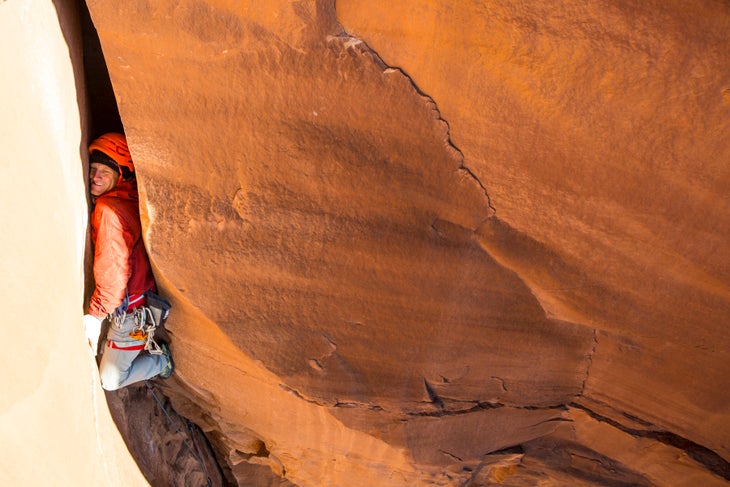 Note: At the time of publication, Brad Peterson was the Director of the Utah Office of Outdoor Recreation. He has since stepped down to return to the private sector. Tom Adams is the current director.
"On belay—not that it'll help for awhile!" Brad says, and I set off on the runout final pitch of In Search of Suds (5.10+). It's a six-pitch route on Washer Woman Tower that's just off the White Rim Road in Canyonlands National Park, and it's got a little bit of everything from groveling, blue-collar offwidth to thin face climbing on pitch six. I'm not a big fan of leading offwidth, and Brad's not overly psyched on crimps through R-rated territory (protected by rickety old pins no less), so we make pretty good partners. After reaching the top, we're rewarded with what I'd argue is the best bazillion-acre view in all of the Desert Southwest. Sepia-tone canyons fold in on one another, towers and buttes line the rim, and the snow-capped La Sals glow in the distance. It was one of the most memorable multi-pitch routes I've ever done in the desert, but just another meeting in the books for Brad. His job description has got to be one of the most interesting—and challenging—in the country.
In early 2013, Utah Governor Gary Herbert had a crazy idea: His office could do more to improve recreational opportunities in the state and to protect public lands. So, in conjunction with the Outdoor Industry Association, he created a position in the state's Office of Economic Development to do just that. Then he called Brad and appointed him to the task.
Brad's a native Utahn with an impressive business-oriented resume. His past job titles can be defined with just a couple of letters (GM, COO, etc.). But more important, he also has more than 30 years experience climbing, paddling, skiing, hunting, and motorcycling the Beehive State's backcountry.
"How can you advocate for Utah's outdoor industry and develop new recreational amenities throughout the state if you aren't emotionally tied to them?" he says. "This is a position where you need to walk the walk in addition to talking the talk. I started rock climbing in 1985, ice climbing in '90, alpine climbing in '92, and climbing big walls in '99. And this experience plays directly into the mission of my office, which is to employ Utah's unique natural assets in ways that inspire people, businesses, and communities to thrive." That could mean showing big companies that Utah is committed to developing a high quality of life that will make it easy to attract key employees or helping rural towns discover ways to use recreation to support tourism. Brad tells me there's one town that you could argue was saved by climbers.
"Climbing has had a strong economic impact in Orangeville, where Joe's Valley bouldering is located," Brad says. "Since 2000 when Ben Moon first climbed Black Lung (V13), Joe's Valley has grown to become an international climbing destination, bringing tourism dollars into an economy typically driven by coal mining. Now that coal is being replaced by cleaner natural gas, we're working with the land managers and groups like the Access Fund and Salt Lake Climbers Alliance to enhance camping facilities and access to the boulders. It's a unique partnership driven by climbers that directly benefits the community."
Months after our Washer Woman climb, I join Brad on a mountain biking and climbing tour along Canyonlands' White Rim Trail. In typical Brad fashion, he rides all 110 miles in one push just to make sure conditions are good before meeting me at noon. Utah couldn't have a better steward. 
What I Learned About Making a Difference Through Climbing
1. Explore New Areas
As the Joe's Valley story proves, just visiting new crags and bouldering areas can have a positive economic impact on surrounding towns. Climbers are notorious for stretching a buck as far as it will go, but go ahead and get a coffee or a burger or rent an extra pad instead of risking a rolled ankle. Your visit and support provide livelihoods.
2. Get Engaged 
The population grows, climbing increases in popularity, and our public lands are under increased pressure. The days of taking access for granted are over. It's imperative to support organizations like the Access Fund and local advocacy groups like the Salt Lake Climbers Alliance to protect the future of climbing.
3. Get Out of the Office
Some of my best policy discussions have occurred while leading the state's senior government officials on alpine climbs, river trips, or mountain bike rides. Whether you're brainstorming for work or trying to resolve a conflict in a relationship, doing it within the larger context of a shared adventure will bring solutions quicker than a boardroom.
4. Make Big Goals 
While I have favorite area climbs I revisit annually, my personal goal is to slowly tick off Roper and Steck's 50 Classic Climbs of North America. The various styles and skills required to tackle them keep me active and progressing toward something. It also keeps you in the climbing community. Plus, I climb at Momentum climbing gym three days a week. 
5. Take Pictures 
Utah has 30 million acres of public land and more rock than anyone could possibly climb in a lifetime. The natural beauty is off the charts, and now that social media enables everyone to share experiences so effectively, your photos and stories do some heavy lifting for us, marketing-wise. Our natural assets are key to Utah's long-term strategic plan and unsurpassed quality of life.