What Happens When the Leader Falls? A Risk Scientist Reflects on a Risk-filled Climbing Career
Most risk scientists live risk-minimal lives, but Robert Charles Lee and his wife, Linda Cook, devoted their spare time to alpine and ice climbing. Now retired, Lee has written a book about risk, climbing, and partnership. In this excerpt he writes about the time he broke the cardinal rule of ice climbing: don't fall.
Heading out the door? Read this article on the new Outside+ app available now on iOS devices for members! Download the app.
I've been technical climbing and backcountry skiing since the 80s. Despite a long-term outdoor addiction, I wasn't a famous badass. You've probably never heard of me. I wasn't featured in any climbing magazines. I didn't make many first ascents, and I didn't climb 8,000-meter peaks. But I estimate I led or soloed over ninety percent of the hundreds of technical climbs I completed, which is likely above average, and I worked through my fair share of dangerous moments. I believe that I'm still alive because I learned to manage risk.
Risk has defined my life. For more than a quarter century, I worked as a risk scientist, studying and applying risk assessment and management practices in a wide spectrum of disciplines, ranging from medical errors to radioactive waste disposal to asteroids hitting the Earth. I've also willingly walked through a variety of dangerous doors before and during my decades of rock, ice, and alpine climbing. The main lesson I've learned, from both work and climbing, is that even though we may be subject to or even addicted to risky situations, we can manage risk if we stay rational.
I wrote my memoir, Through Dangerous Doors, after I retired from work. The book includes a lot of climbing, but it isn't about climbing. It's about life risk management. It's about taking risks, but managing them and constantly learning. Few risk scientists lead risky lives, especially one whose risks are shared by a spouse as a long-time partner. At a recent party with my wife's work colleagues, one physician asked if Linda and I had ever I'd experienced any close calls. I laughed and replied that the book is a litany of close calls, and we're alive because we learned from them.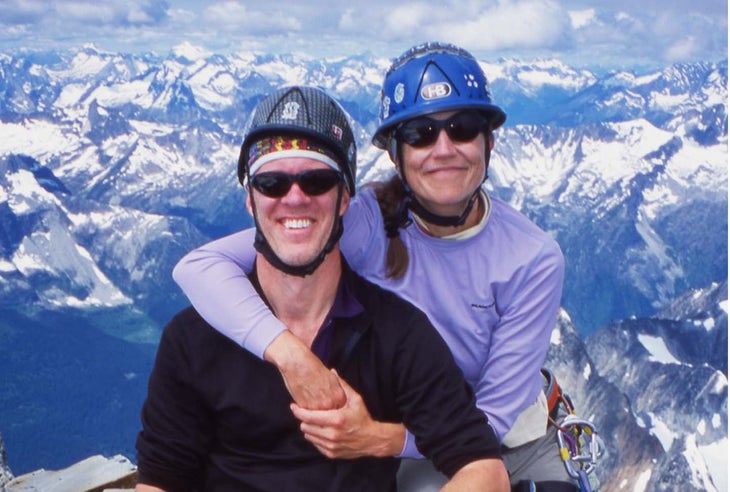 As a leader or soloing, a climber doesn't want to fall on ice because of the sharp objects in their hands and on their feet. I never fell as a second, and neither did Linda, so I don't know what risks exist in that situation. I wrote up my one consequential leader fall on ice on a Rockies climber's website, a new phenomenon at the time. Somebody submitted the account, unbeknown to me, to the American Alpine Club. They published it in the 2006 edition of Accidents in North American Mountaineering. I was startled when I browsed through the volume and started reading about myself.
The three-hundred-foot climb is called 2 Low 4 Zero. The guidebook states "most often 2 Low 4 Zero is an iced-up rock route, but it occasionally forms up fat." It was emaciated when we climbed it. The first pitch was mostly ice and seemed fine. We set up a bomber and protected belay for Linda. The second pitch was much thinner. I was doing okay, as I'd climbed a lot of thin ice and mixed ice and rock by then. I found some ice for a good screw, attaching this to one of the ropes with a screamer. I moved up and hooked my left tool on top of a sheet of ice five feet square and an inch thick and proceeded to make the next plant with my right tool.
The left tool pulled the entire ice sheet off the rock, and the hammer side of the tool popped me in the mouth, like Edward Norton punching himself in David Fincher's Fight Club. One of my incisors broke off and punctured my lip, but more importantly, I knocked myself off the climb. My feet were good, so this must have been a hammer blow of some force. I free-fell backward about ten or twelve feet, catching my right crampon on the ice and partially tearing the connective tissues in my ankle. I was wearing boots with a flexible upper, befitting mixed climbing. My leg may have broken with a stiff boot.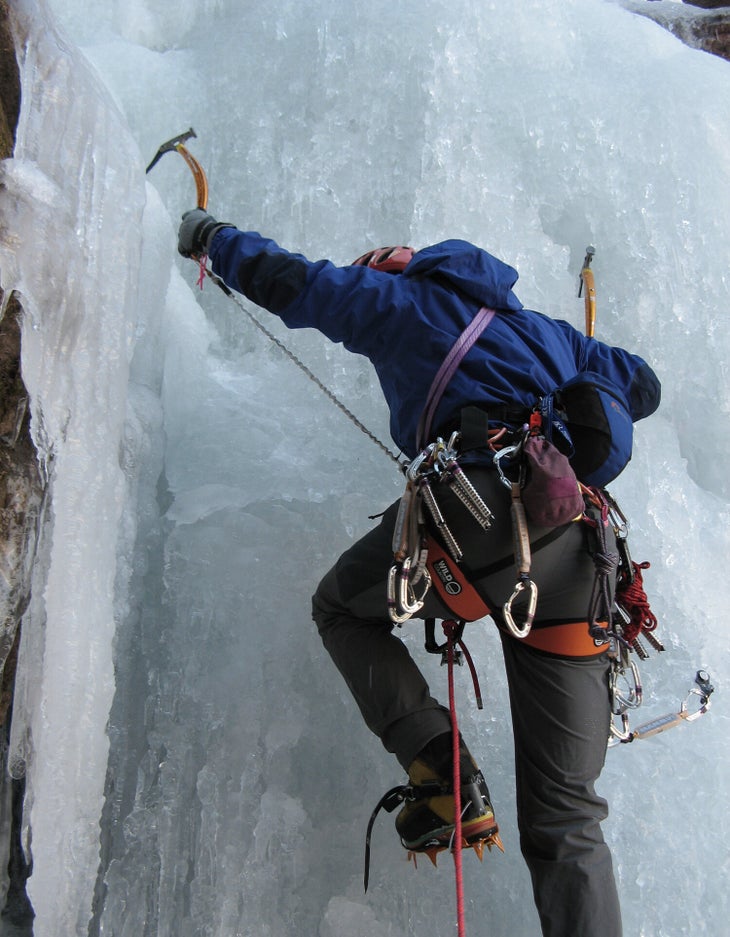 This fall produced enough force that it pulled Linda off her feet, but she and the pro held fast. I hung upside-down from a screw at a spot where the ice was a couple inches thick and separated from the rock. I grabbed the rope and pulled myself right side up. The first thing I pondered was the screw above me. It still looked good, and the screamer ripped out as intended. If this screw failed while I was monkeying around, I would've been truly screwed, so I monkeyed with a sense of urgency. I screwed in a stubby or short ice screw and tied into this, while Linda held me on belay. Meanwhile my ankle was hurting badly, and I was heavily bleeding from my mouth. I needed to set up a quick rap. There were no obvious cracks to place rock pro.
I drilled a sketchy Abalakov anchor in the thin separated ice, which is two intersecting holes in the ice through which a short length of cord is threaded and tied. Spitting blood, I drilled a stubby above this anchor as a backup. I pulled one rope through the screw above, set up the rap, spit out even more blood, hoped for the best, and rapped down. Linda rapped down from her belay using the other rope.
We had to walk out about three miles in the snow. The climb is in an area with several other good ice climbs and a trail was beaten out, otherwise this would've been much worse. Some kind climbers who happened to be on a nearby climb offered to run out for a rescue, but heaven forbid I'd consent to be rescued. Lovely Linda took most of the gear in her pack. I took our two ski poles for support, tightened my boot, and hobbled out. It was quite cold, which had contributed to the fall; the ice was brittle. But the cold helped manage the pain in my ankle.
Linda drove to the Canmore ER. I was examined, my facial wound glued shut, and my ankle X-rayed. I was sent on my way with a be careful or something nice but useless, and a recommendation for a dentist and physiotherapy. I finally felt like a proper Canadian male, as I was missing a front tooth, although not due to a hockey puck in the face. I suggested to the dentist I wanted a gold front tooth, but she ignored me. I'll rectify things when the present ceramic crown has to be replaced.
As an aside, when we first moved to Calgary, I asked a Canadian climber what he employed for home invasion or robbery management, as guns are much less common there compared to the US. His classic Canadian reply, "What do you think hockey sticks are for, eh?"
A great benefit of Calgary was the availability of excellent physiotherapy. I went to a clinic serving many pro and world-class amateur athletes, judging by the signed photos on the walls. They'd seen just about every sports-related injury possible. The ice soaks were inspiring, for example, but the real fun was in my sessions with the Marquis de Sade, a stocky bald guy who didn't care how much pain I was experiencing in my quest to jump back in the icy saddle. After only a couple of weeks, he ordered me to jump from a three-foot-high bench onto a small trampoline and back up, one-legged on the injured ankle.
He encouraged me with, "I've seen twelve-year-old girls do better than that, eh?" My reply to this was, "Fuck you, they don't weigh one-eighty-five, eh? Let's see you do it, fat ass." It was met with hearty gales of laughter. The Marquis and the other therapists were good at their jobs and accustomed to surliness on the part of athletes in pain.
Six weeks later, I was climbing again, albeit on steep climbs without long approaches, as walking on uneven terrain was painful for a while. Linda and I climbed Louise Falls near Lake Louise as a first day out, a relatively non-painful outing. It may have actually been preferable in the long-term to have broken my leg, as I now have a wobbly ankle.
In the Accidents report, I made the following statement: "Although I have done quite a bit of soloing on easy water ice, this experience has cured me of that. I would have surely died without a rope." It didn't take long for me to renege on the promise. I soloed the ice climb Massey's when it was thirty below zero, just to make sure my head was still in it. Sometimes it's just more efficient and safer to climb without pro and get it over with.
A cool dude who later climbed 2 Low 4 Zero and who heard about the incident contacted me and returned the screw I'd fallen on and left in the ice, as well as the ripped-out screamer. Cheers, bro! I still have the screamer, to remind me of the value of good pro and how close I came to augering. The gear worked as intended, but there's only so much that can be done to prevent incidents like this from happening in the first place, aside from not climbing. My tooth crown and loose ankle are also constant reminders.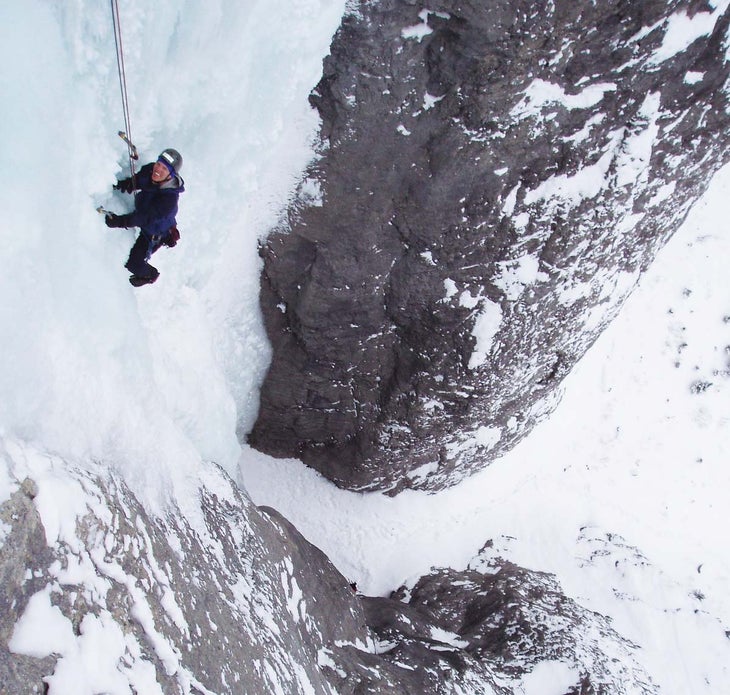 I approached climbing risk management with as much thought and care as I did in any of my professional risk work—if not more so, considering the downsides of not managing the risks. Over the years, I've met some accomplished alpinists and backcountry skiers who aren't thoughtful about risk. They're extremely lucky they're still alive. Climbing can be highly rewarding, but dying from it is the ultimate loss. Managing risk keeps you alive and climbing.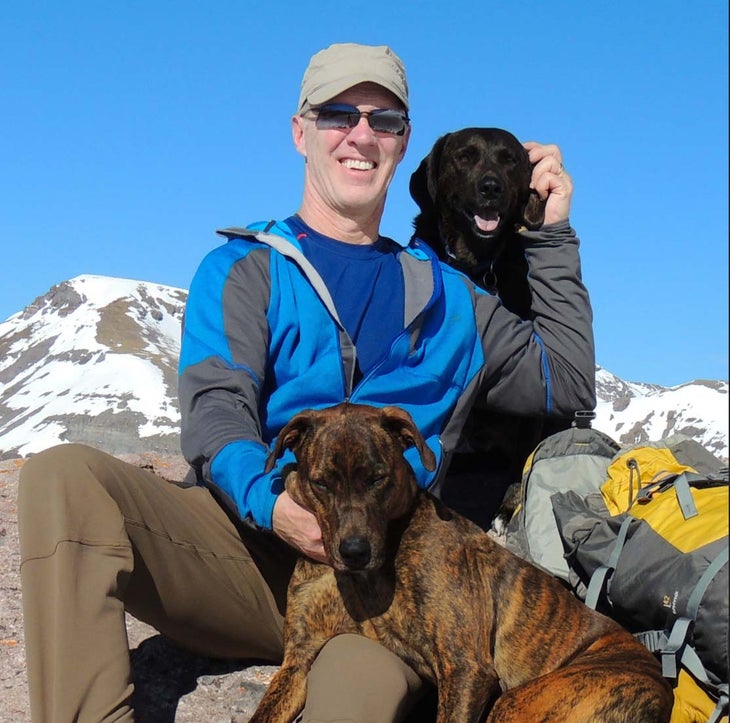 Through Dangerous Doors is available for purchase on Amazon.com and on WiDo Publishing's website.
Robert Charles Lee is a retired risk scientist with over twenty-five years of academic and applied risk analysis, decision analysis, and risk management experience in a wide variety of contexts. He has authored over one hundred peer-reviewed scientific works, as well as over one hundred technical reports for industry and government agencies. With his wife, Linda, Robert has climbed hundreds of technical and non-technical mountain, rock, ice, and canyon routes, hiked thousands of miles in several countries, and skied many miles of vertical feet at resorts and in the backcountry.
He has a BS in Botany, a BS in Science Education, an MS in Environmental Health, and a Certificate in Integrated Business Administration. He is ABD (all but dissertation) in a Toxicology PhD program. He is an ordained Minister and has an honorary Doctorate of Metaphysics from the Universal Life Church, and is a Member of the Nova Scotia L'Ordre du Bon Temps, or Order of the Good Time. He is also an avid amateur photographer, musician, and sound engineer and producer. He was trying to learn to relax in retirement, but then he discovered non-technical writing. He has written a memoir and a poetry collection, and is working on a collection of short stories.