The Wide Boyz' Epic Quest to Send One of the World's Toughest Cracks
The story so far of Tom Randall and Pete Whittaker's journey to send The Recovery Drink (5.14c) in Jøssingfjord, Norway.
Heading out the door? Read this article on the new Outside+ app available now on iOS devices for members! Download the app.
This article was originally published in 2019.
The North Sea's frigid, wet air beat against Pete Whittaker as he spanned between two cracks on a 25-degree-overhanging granite wall. Tom Randall, the other half of the UK crack-climbing duo the "Wide Boyz," craned his neck at the belay, 35 feet off the ground, cautiously feeding rope. Pete jammed his left hand to the knuckle and gastoned the other in a thin crack. He arched his body as his feet swung out, throwing his right leg, improbably, into the crack above his head then matching his left hand to his right foot.
Climbing The Recovery Drink, a 5.14c crack on the isolated Profile Wall in Jøssingfjord, Norway, requires determination and creativity. To date, the 115-foot route has only had two ascents: the FA by the Belgian climber Nico Favresse in May 2013, and a repeat by the German climber Daniel Jung in August 2018. The dome-shaped Profile Wall looms over a boulder-strewn gully a half-mile above the North Sea's foreboding waters. Fissuring up the undercut rock is a set of parallel cracks, scarred into the stone in a nearly plumb line. These veins disappear in and out of the smooth face, attracting the eye and commanding fearful respect.
The Wide Boyz, both based in Sheffield, England, first partnered over a decade ago and have gone on to establish some of the world's hardest cracks, including Century Crack (5.14b), a 120-foot offwidth roof on the White Rim of Utah's Canyonlands, and Crown of Thorns (5.14a), a 165-foot roof crack also along the White Rim. They've also repeated famed lines like Squamish, British Columbia's Cobra Crack (5.14b).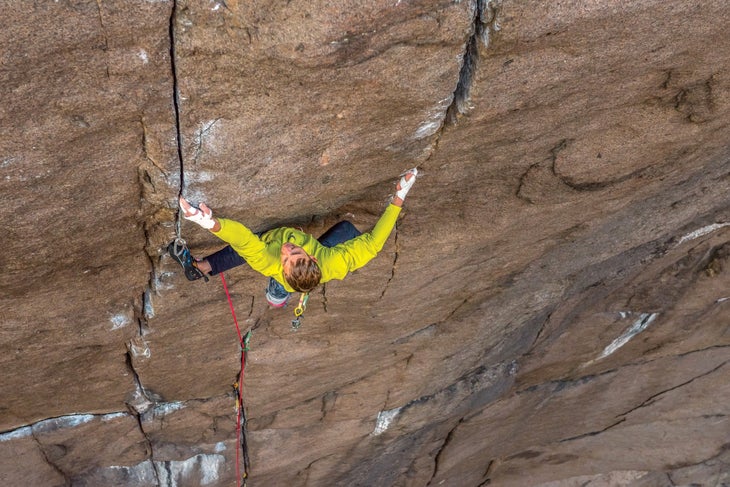 Tom, the 38-year-old founder of Lattice Training, and Pete, a 27-year-old full-time climber, both started climbing 20 years ago. When they first met at the gym in 2007, Tom had recently returned from Yosemite, where he'd struggled up the hand cracks and squeeze chimney on Reed's Pinnacle (5.9). He was captivated by the opportunity to overcome a new challenge—as he muses, "When I find something I am terrible at, I want to get better." Pete, having climbed very few cracks as well, was also drawn to new challenges. The two first climbed together outside in the Peak District on a crack whose name has since vanished from memory. What has remained, though, is a lighthearted brotherhood of joking and humor. Take, for instance, their joint-birthday tradition of climbing the Millstone Edge testpiece Master's Edge (E7 6c) in various costumes, including fat suits, banana suits, and old-man masks, or their banter on social media where you can find them making gentle fun of each other's style. The energy they build off each other has helped them stay motivated to chase new, ever-harder cracks, notable in a country not known for its splitters.
Initial Inspection
In 2013, Nicolas Favresse released a video that showed him taking a giant whipper on what he was calling "the hardest crack he had ever redpointed," The Recovery Drink. The climb had taken Favresse two trips, culminating in a three-week focused session. "If Nico is falling, it must be a hard line," thought Pete as he watched the video at home in Sheffield. Interested, Pete added it to a ticklist he and Tom keep of the world's hardest crack lines where it sat for two years alongside other dream routes, including Beth Rodden's Yosemite seam Meltdown (5.14c), and, later, their uncompleted Utah-desert roof project The Crucifix (5.15a).
In May 2015, the Wide Boyz took a two-day detour from the Ballestein Festival, a rowdy Norwegian climbing festival, to try The Recovery Drink. There, as is common in northern Europe that time of year, they were met with inclement weather; they curled up at the route's base shivering and fighting icy hands, struggling to warm up. When they could almost feel their hands, they climbed to the belay ledge. "The days were miserably cold," Tom recalls. "I had three pairs of pants on and two jackets." The duo worked the route on aid, examining the holds and jams as they made the occasional move with frozen extremities.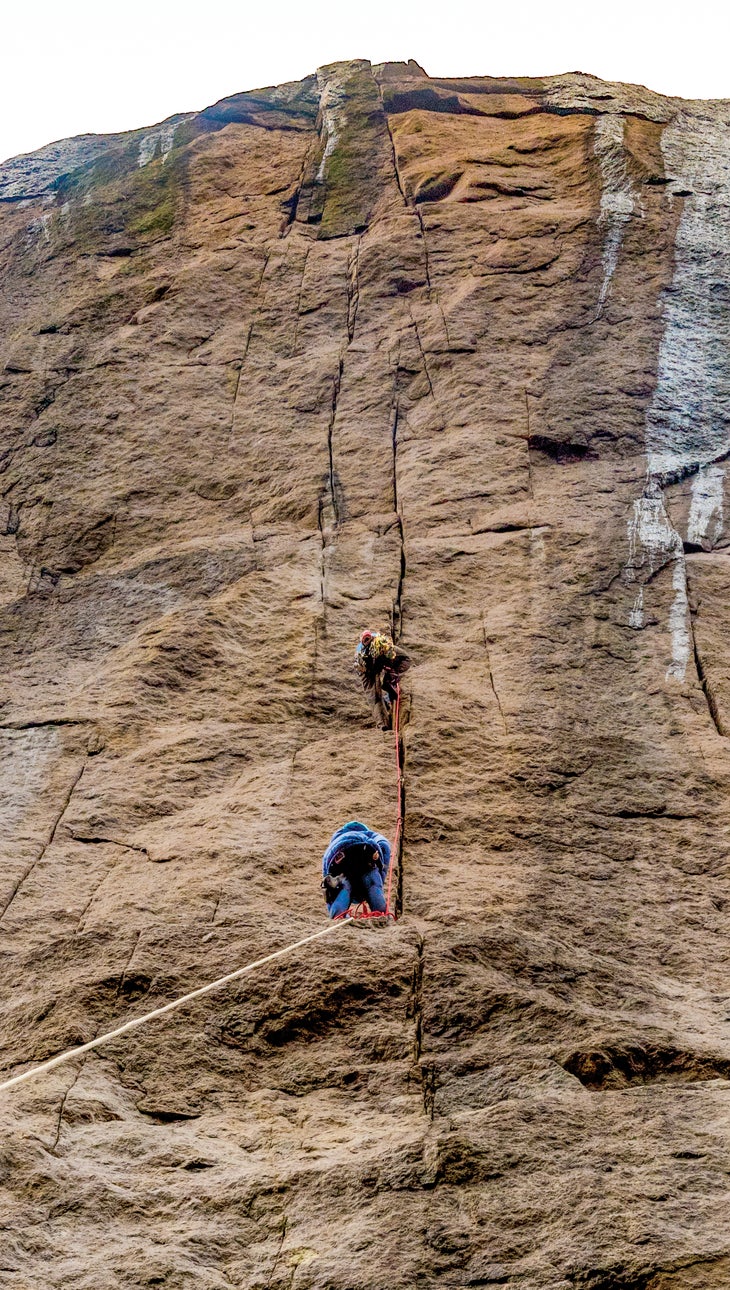 Their efforts allowed them to break the climb into three sections, with the middle (30 moves total) being the hardest. Off the belay, the line follows a single crack of hand and finger jams for 60 feet of 5.12c before traversing left to a rest. Above, you enter the crux on the parallel "railroad tracks" cracks: More 5.12c climbing leads to a V7/8 transition from one crack to the other. Then, with only a five-second shake for one hand, you encounter the eight-move V9 crux, which requires either compression between the two cracks or tips jams that sparsely let up to awkward thin hands, with the final stab rightward, at arm's width, to a rattly hand jam. From here, five strenuous moves guard a rest and then the final, 32-foot section of 5.13b thin hands and fingerlocks.
Their interest piqued, the Wide Boyz nonetheless waited three years before they talked about training for the climb. This follows their projecting ethos: They never force a project into their schedule and avoid rushing from one big climb to the next, a lesson learned the hard way after Century Crack. After returning home from Century Crack, which had entailed a two-year buildup of route-specific training, the duo wanted to ride the fitness wave and keep pushing. However, says Tom, they failed to "appreciate the down period enough and both got really ill." Pete succumbed to post-viral fatigue, leaving him with severe exhaustion, muscle fatigue, and soreness; it took him six months to begin to feel better, and a full year to completely recover. Tom, meanwhile, dealt with a lack of motivation and low energy, but was able to bounce back in only a few weeks. From this, they learned to take their rest periods seriously and to spread projects farther apart.
Thus, amidst projecting The Crucifix, Pete completed a sub-24-hour roped solo of the 3,000-foot Freerider (VI 5.13a) on El Capitan, and Tom established The Kranken (V13), a 40-foot roof crack in Hartland Quay, UK. The Recovery Drink remained an unticked box until early 2018 when, as is often the case, the climb simultaneously crept back into both of their minds.
The Training Begins
The Wide Boyz' training started with close study of the line. They watched and rewatched the video of Favresse. While some start thinking of sequences or get blinded by individual moves, the Wide Boyz instead examined the muscles involved—the deltoids, biceps, triceps, and core needed for the climb's gymnastic positions. From this, they developed phase 1 of their training protocol, a foundation they would continually build off as their understanding of what to train evolved after subsequent visits. "[I knew] finger strength wasn't going to be the limiting factor," Pete says, "so I focused on locking strength and power-endurance, realizing I would need to continually hold static to seat my next jam." Tom, meanwhile, focused on power for the parallel-crack moves.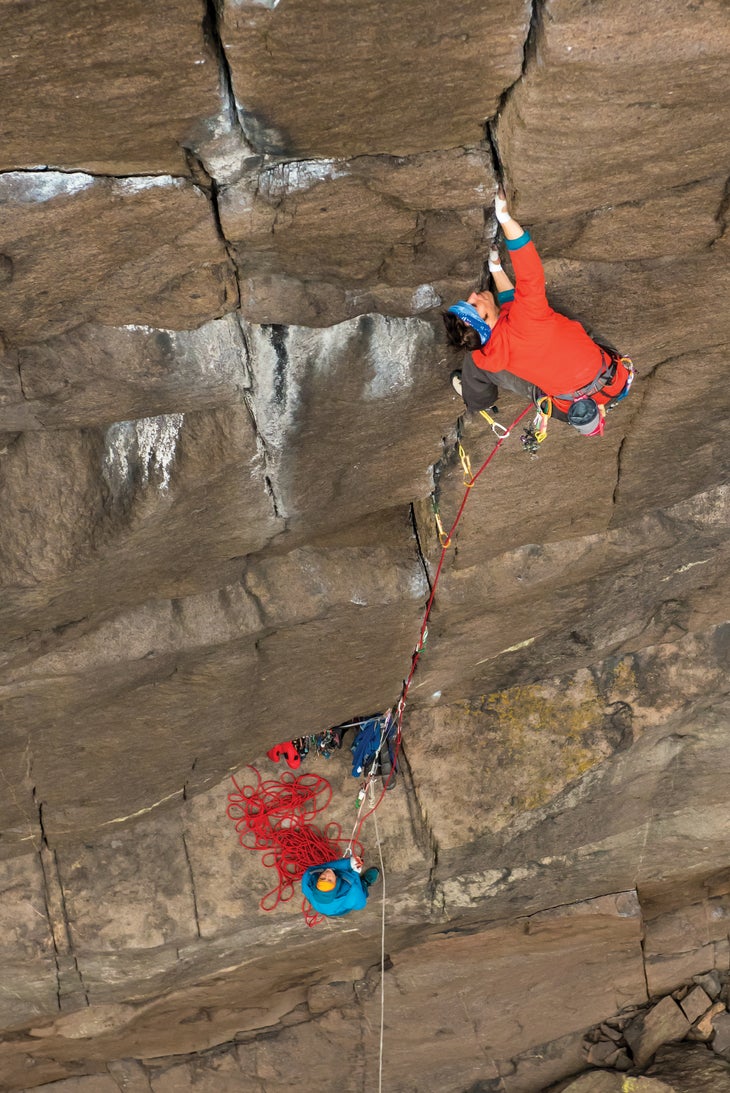 Their observations from the video allowed them to create an initial, route-specific training plan to follow at their local climbing gym. "We found hard boulder problems where the grips were facing in the right directions," Tom explains. "They not only needed to make us reach out wide, but they also needed to be sidepulls either thumb up or thumb down"—to build the requisite jamming and compression strength.
The easygoing Wide Boyz might seem nonchalant about training, referring to it as "basic athletic conditioning." But Tom is an expert, having spent a lifetime focused on sports training, with national rankings in pole-vaulting, hurdle, and martial arts. He has adapted his knowledge into a climbing-specific focus for Lattice Training, a business he founded in 2016 and through which he creates customized training plans based on a systematic assessment program. It has helped some of Great Britain's top competition climbers and athletes, such as William Bosi and Dave Mason, reach their goals. Tom has also adapted his knowledge to help his own climbing.
Tom's normal routine includes five days of training per week, with climbing days counting as training—usually this breaks down to climbing outside twice per week and then training at home or the gym the other days, switching between weights—either a general, one-hour routine or a route-focused routine—and working a training replica if it exists. With replica training and working on connecting specific movements in the gym, "I'm normally looking at around 90 minutes of time working individual moves and sections of two to five moves to start with," Tom says. "Once I know the moves better, I link in more and more sections. Overall, though, I never spend more than 90 minutes on a hard session, because at that point you're just too fatigued."
Pete's training regimen, although a bit looser, contains similar elements. Says Pete, "If I don't have a project to focus on, I just climb; if I have a project, then I might train three to seven days a week." On his project-training days—of which there might be two or three a week—he'll focus on route-specific movements at the gym in two-hour bursts. The exercise, says Pete, is often so fatiguing that he'll do very few laps, taking long rests in between. His replica training varies as well—some weeks he'll skip it altogether, and other weeks he'll put in two or three sessions, going until he's fatigued or no longer making moves effectively. He also typically does dumbbell curls a few times a week, using his strength as the set indicator, doing reps until he feels taxed.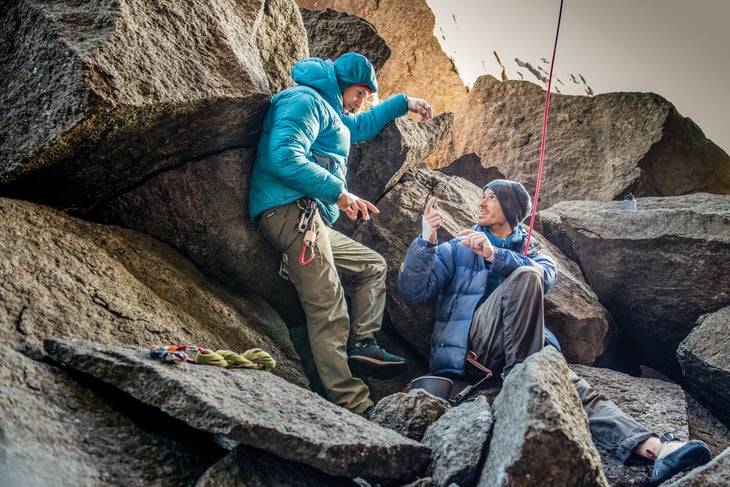 Although both climbers no longer meticulously track their training, this has not always been the case. When they prepared in 2013 for Cobra Crack, they created a spreadsheet to record their 140-repetition Bachar Ladder sessions. And for Century Crack, they transformed Tom's cellar into a maze of hand cracks, finger jams, and wooden offwidths; as they navigated its tortuous windings, they'd record their times for shuffling along and hanging upside down in the punishing wooden cracks.
Reconnaissance
With five months of training under their belts, the duo came back to Norway in June 2018. "I was still apprehensive about returning," Pete says. "All I could remember was freezing-cold hands and minging jams." With temperatures 20 degrees warmer this time, they were able to learn the moves and examine different beta, seeing how each worked through the cruxes. Tom climbed straight-in with more traditional crack technique, while Pete switched between jamming and compression moves.
They both used the same 10 pieces of gear. On the lower section, they could place Friends up to No. 2; the middle mostly took small gear; and then they relied on a blue Alien (eschewing the fixed nuts on redpoint) before the final crux where they could then place a .75 Friend. The final 30 feet only needed one yellow Alien.
At the end of 10 days, they left feeling pleased with their progress. The trip also helped them home in on specific techniques to train. "I don't think I have ever drop-kneed that many times in a row," Tom explains.
Back in Sheffield, they replicated the crux moves on a rudimentary 12'x12' board in Tom's backyard that folds into a tent-like shape, creating a 30-degree overhang on one side and a 50-degree overhang on the other. On the 30-degree side, amidst the clutter of previous projects and old holds, they fastened 2×4 rails and Lattice Training rungs vertically, spaced about four feet apart. This allowed them to practice the crux's finger jams, compression moves, and drop-knees. Although the board only allowed for five consecutive moves, the sheer difficulty meant they could only do spurts of four to six repetitions.
Pete also worked power-endurance at the gym, with the goal of linking four specific boulder problems consecutively to simulate the unremitting crux. "Even though the grade isn't any harder than other routes I have worked," Pete says, "it doesn't let up once you begin." Over the following weeks, he worked this routine to the point where he was meeting his goal. Tom, between family (he has a wife and two children) and his busy schedule with Lattice Training, would pump out solo sessions on the backyard railroad tracks a few nights a week—"Any more and the skin gets too sore," he notes.
"Sometimes training appears like a lonely, unenjoyable process, or like you are antisocial, but I know I only have so many hours in the day, and at night I would rather take an hour and get in another lap and see my family than go out," Tom says. "That is more enjoyable to me, especially when I am in my process."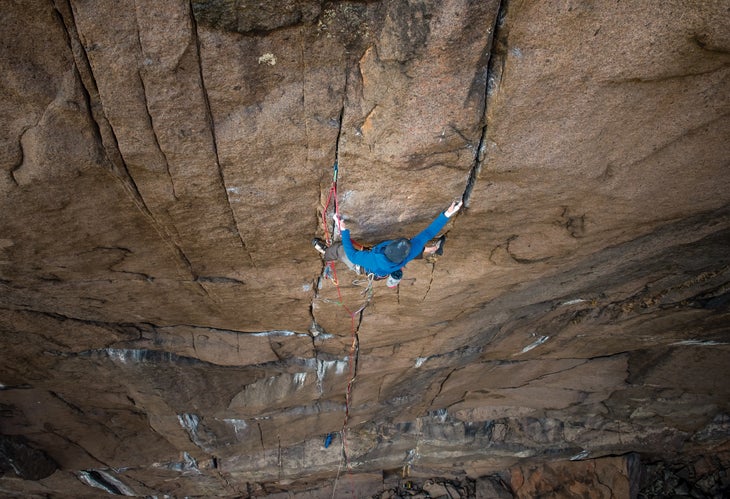 Both climbers also tailored their weight training to Recovery Drink's exigencies. "I tended to do pretty short and sharp [weight] sessions: leg raises, lever raises, and weighted floor core," Tom says. "This rarely went beyond 20 minutes, though, as I wanted to work strength and power, not endurance—endurance is never my weakness."
Redpoint Efforts
In July 2018, the two met back in Jøssingfjord for another 10-day stint. This trip, by coincidence, overlapped with that of Daniel Jung, who'd also been projecting the route.
As the three swapped leads, they would ascend until falling, often at the crux moves, then focus on specific sections—searching for subtleties in the crack to adjust their hands, or overlooked face irregularities where they might find a better foothold. Some sessions they would aid through trouble spots to focus on a new section with fresh energy. As the three swapped beta and took laps, they would progress, regress, and adjust. Thinking they had unlocked a sequence, they would clean the gear, rest, and then attempt a redpoint, only to find their beta needed adjusting lower in the sequence to allow them to hit a precise hand or foot higher up. This process is trying on a climber's patience: The Wide Boyz exalted after unlocking beta, but then would feel shattered after falling lower on subsequent redpoint attempts.
The climb's extreme difficulty meant the climbers only had one or two full-power attempts before needing a rest day. Although they had found a comfortable bivy at Jøssingfjord, tucked behind the old Helleren houses underneath a 30-foot rock overhang, recovery was still difficult. Watching the days fall off the calendar was frustrating. "My final day of redpointing was shambolic, so I started trying Tom's beta—[and] Tom's beta is usually off-point for me," says Pete. Still, this day, the change to his sequence got him through the lower crux on the railroad tracks.
After the Wide Boyz left in early August, Jung stuck the upper crux, a place that had been stopping him for years, and redpointed the climb. "I was pleased to hear he finished the climb," Pete says. "He looked so strong—it was heartbreaking to see just this one move stopping him for so long."
More Training
The Wide Boyz could now complete all the moves on lead. Feeling close, they canceled an October trip to The Crucifix, returning instead to Norway. With only six weeks back home before their next effort, the Wide Boyz did little to modify their training. Yet Pete, in an attempt to feel "light and springy," and shrug off sluggish feelings he had been having, began dieting for the first time. Although a lean, 5'9", 155 pounds, Pete jokes he is known as "the fat Wide Boy" compared to Tom, a 5'10", 145-pound beanpole. Pete focused on controlling his sweet tooth, cutting out sugars and dairy. This brought him down to 148 pounds, and his "energy and alertness went through the roof." Still, he wanted to ensure he didn't lose any power-endurance, so while working his four-problem bouldering routine he added back the weight he'd lost by wearing a seven-pound weight vest.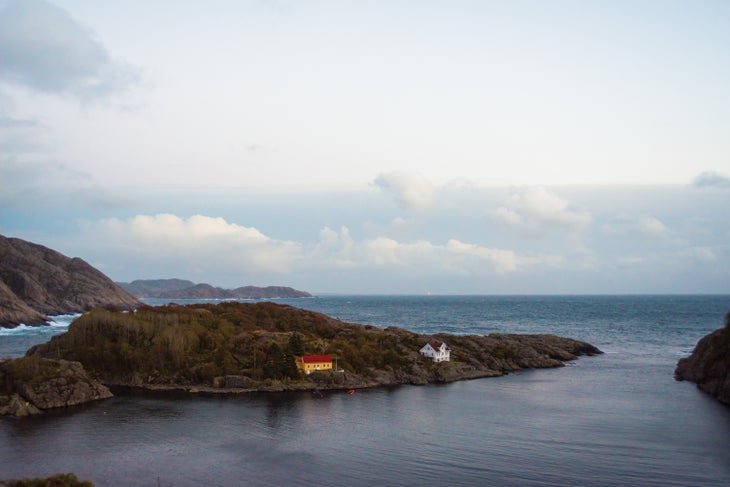 Sticking to his routine and confident in what had been working, Tom continued training on the backyard replica. "By the end of the last six weeks, I could repeatedly make it up in my sessions, which I couldn't do before," he says. The final weeks also involved focused route visualization for both climbers, who'd picture each move as well as their full sequence for the exact duration the climb would take to ascend.
Third Try
The Wide Boyz left for Norway for the third time in late September. The routine would be to climb for two days in a row, rest one or two days, and repeat until they either redpointed the route or their three weeks ran out. While it was late enough in the year that the weather would likely be wet again, the wall's angle meant that the crack stayed dry in all but the most sustained downpour. "I've always doubted my ability to actually be good enough, physically, for this kind of very demanding route, and I was pleasantly surprised to see that the preparation was genuinely perfect," Tom says. In the first week, they progressed from making a few hour-long laps, during which they practiced moves on preplaced gear, to making one or two redpoint attempts a day. Their progress slowed as they waited for better conditions. The wind had to be blowing to keep the moisture down from the continuous rain and to dry their hands for the difficult jamming. The slow process of perfecting beta and waiting for good conditions wore on them psychologically.
"I didn't stick to [the beta] in week two," Pete says, "and I had crap attempts when I could have had good ones. When I stuck to the plan, the weather went shit and then I only had one redpoint attempt. I essentially wasted time and my chances." Additionally, Pete began to feel an outside pressure from close friends, a sort of internal dialogue stemming from conversations they'd had on his confidence in sending. Meanwhile, the monotonous schedule was wearing on Tom—"I found it pretty tedious just having two attempts a day, and then climbing one day out of two or three," he says.
Still, they were making progress. Toward the end of the second week, Tom, with a slight hint of fatigue, set off from the belay. He ascended easily to the rest, where he spent two minutes shaking out and warming his hands for the crux. As he entered the railroad tracks, his breathing was calm, his movements smooth and controlled. He floated the lower part, making one right-legged drop knee after another, deliberately jamming through the thin fingerlocks. At the last crack transition, he gave a forcible exhale then surged off a tiny left jam, bumping his right hand up to a rattly hand jam. Just as Tom weighted the jam, however, he found himself airborne. He hadn't sunk the jam in the precise spot, leaving him "just a whisker's reach short" of completing the final crux.
Pete's efforts would come to a close that same day as well. As Tom fed rope from below, the air was silent save Pete's breathing as he set out, muscles still tired from the prior days' attempts. He fought through the lower crux, clipped a last piece, and pulled his body against the wall on outstretched arms, his eyes focused on the last transition—into the rattly jam. Pete swung his right foot out and sunk it in the crack, jamming it above him like a third hand. As he revolved over his foot, the last two pieces of gear on his harness clanked together. He reached his left hand over his foot to match, but as he went to bring his right hand up into the jam Pete slipped, gasping with frustration as he plunged into the void.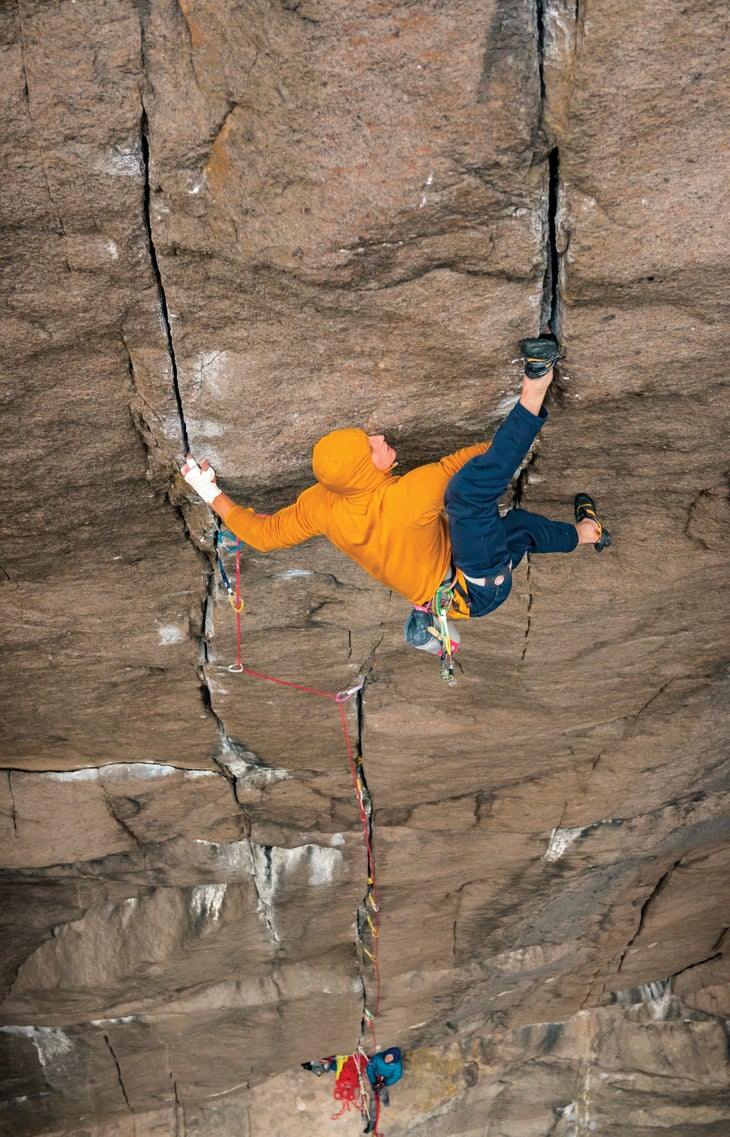 For both Tom and Pete, these attempts were the high point of the trip, leaving the route tantalizingly out of reach—just one jam away. After this, the weather turned against them, leaving the wall wet and "soapy." Still, the Wide Boyz continued trying for the duration.
Despite ultimately coming up short on the redpoint, both climbers learned a few key lessons. Pete realized that the pressure he'd felt to send had been strictly internal. "I genuinely think [my friends] thought I would do it because I was so confident," Pete says. "I shouldn't have felt pressure because they don't mind if I do or don't do it. To be honest, nobody cares apart from me." Tom says on his future projects he will not solely focus on one line; instead, he will intersperse it with various other climbs, as they have done on previous trips to Utah.
As the two huddled on the belay ledge on October 13, 2018, the last day of their stay, frigid gusts off the North Sea slapped them across the face. They stared up at The Recovery Drink one last time before pulling the rope, a routine that has almost become ceremonial with every project they've been forced to leave for another trip. As the Wide Boyz rapped off the ledge, coiled their rope, and walked down the gully, the moves played fresh in their minds, just as they had so many times before. And just like those other times, the Wide Boyz would go home, refocus, train some more, and at some future point return, refreshed and ready to try again.
Update:
In mid-August of 2019, Pete Whittaker climbed The Recovery Drink.
Tristan Hobson works as a freelance photographer, and in marketing for several climbing and outdoor brands around the globe.