Climbing Caption Contest Winner and Honorable Mentions (Spring 2020 Edition)
Heading out the door? Read this article on the new Outside+ app available now on iOS devices for members! Download the app.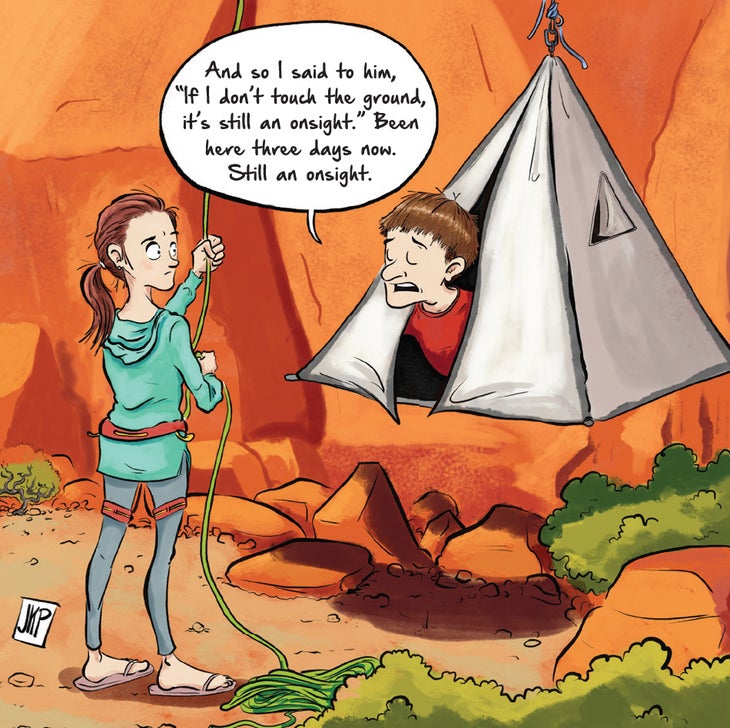 For his caption—"And so I said to him, 'If I don't touch the ground it's still an onsight.' Been here three days now. Still an onsight"—Paul Sagar is the winner of our inaugural Caption Contest, which we'll be rolling out each issue with cartoons from Jordan Peterson (@jordankpeterson_)—stay tuned to Climbing's social channels for more. Paul wins a 70m 9.6 Siurana rope and rope bag from Fixe Hardware.
Here were our runners-up:
"Yeesh this pitch is intents." @cookge11

"Honnold did it with no rope, I'll do it with no hands. So belay on, and make it snappy." @kmlara41

"Big day, almost made it to the top of P1. Gonna camp here tonight and get an alpine start." @beccatarbox

"Free solo didn't count because he didn't sit-start it." @j_simcox

I've never sent this route because I always tents up." @v_clem_minus

"You don't have to pay for a campsite when you're camping on the climb." @shacobs

"Uh yeah, I've been working this project for like 2 years." @todd.deem

"Well, you were the one who told me climbing was in-tents!" @anna_schnoods

"I slept here because my Sprinter is in the shop getting new heated floors installed. Being a true dirtbag is tough—you wouldn't know anything about it." @biesus

"Have you never heard to let sleeping hangdogs lie?" @gavinwoodard

"It's called big-wall climbing,; you wouldn't understand…" @heath_lawrence1

"Pitch 15 be like…" @kevin_goodman

"When I said I wanted to spend some time on the wall, what did you think I meant?" @sinjindelmore

"Hey there, beta babe! They call me Crag Craig. It's like a trail name but, like, it's a crag name. Anyway, if you need any beta from a pro, I'll be right here. It's not my first time away from the gym—it's the second…" @kgriffin9500

"You weekend warriors make me sick! Never committing to the sport." @louis_blake7

"Please stop spraying beta. I'm trying to sleep." @peaceofschmidt_

"I know you think that rope is green, but it's actually malachite." @kristoffroodt

"Excuse me, ma'am… Have you got a belay certificate?" @veselinhrusanov

"I literally did this climb in my sleep. *yawn*" @jamesd_91

"Could you PLEASE not belay so loud?!?! I'm trying to sleep!" @rossmaestroerickson

"Pardon me, but do you have any wag bags?" @michaelgladkin