Photo Essay: Park Daze
Fifty days—in a single season—of hiking, bouldering, and long talus falls on the world-class blocks of Rocky Mountain National Park, Colorado.
Heading out the door? Read this article on the new Outside+ app available now on iOS devices for members! Download the app.
"What's the worst that can happen?" I asked Nina Williams. It was midsummer 2016 in Rocky Mountain National Park (RMNP), Colorado, where a ranger swung his arm in a circle, turning people around at Moraine Park, 4.5 miles below the Bear Lake lot and trailhead for the Chaos Canyon boulders. We'd failed to make the 7:30 a.m. parking-lot closure (the lot fills quickly in high season) and would need to take a long shuttle-bus ride if we didn't get past the kiosk. I eyed the ranger and told Nina, "Punch it!"
Earlier that summer, we'd followed Hunter Damiani and Jack Lester past this very kiosk, also ignoring the rangers. We'd hiked to Upper Chaos in the snow, bouldered a bit, and watched Jack complete the first ascent of the V5 Diamond Horizon (see photo p.5). On this second visit, Nina gassed the engine and flew by the rangers. I figured we'd be at the boulders before they even reached their car. In the mirror, a ranger frantically waddled to his patrol car. Twenty minutes and one $300 ticket later, we drove back to Boulder, chastened and defeated.
After this mission, I'd shied away from the alpine bouldering above Estes Park, Colorado. The following year, Nina and I made a few more forays, and I started to enjoy the alpine blocs—and soon became overstoker. One night, I hiked to Lower Chaos Canyon, warmed up, worked my project, and then tried to repeat Revenge (V6). I slipped my single pad under the crux and flicked on my headlamp. I stuck the steep moves through the bulge, traversed into the finish, and pulled onto the rounded topout. Then my foot slipped and I crashed onto the rock below. One foot cracked against a boulder; the other twisted. I crumpled in the cave, screaming. I gathered up my gear, shouldered my pad, and hobbled a mile back to the parking lot, passing out in my van at midnight. The next morning's X-ray revealed a crack in the largest metatarsal of my left foot. Between the ticket and the broken foot, I'd begun to doubt that Colorado's best bouldering area was worth the effort. However, it was too good to stay away. In summer 2018, I tried again, telling myself to commit to 10 days. Ten days morphed into 50 as I fell in love with RMNP. I'd finally found my park daze.
Day 1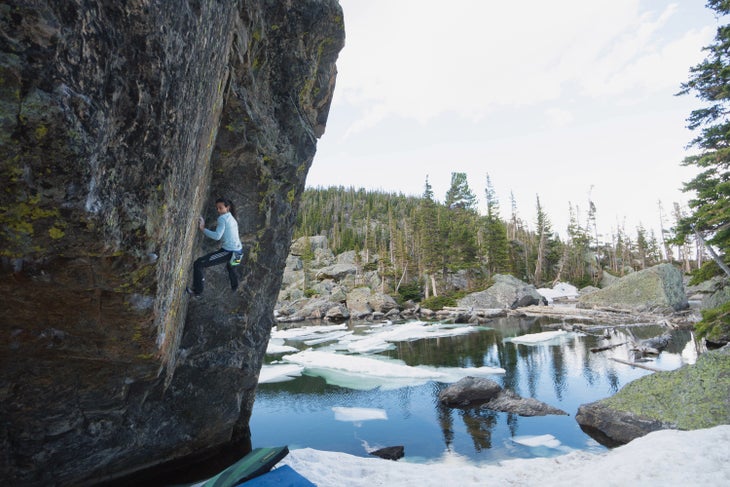 Nina Williams | Cookie's Corner (V7)
In May 2018, Nina Williams and I postholed through knee-deep snow to the west side of Lake Haiyaha, searching for dry rock in Lower Chaos Canyon. Next to the new-school line of Cat Ranch (V14) sits the aesthetic Cookie's Corner, put up years ago by Mark Hobson. Nina and I took turns on the highball, stemming into the crux and then falling onto the pads and the iceberg that supported them. Every move upward meant a bigger fall from the titanic boulder as the cold water sloshed higher and higher. Heading into the park so early in the season felt daunting, and I wondered if I was ready for the plunge into a summer of RMNP bouldering.
Day 2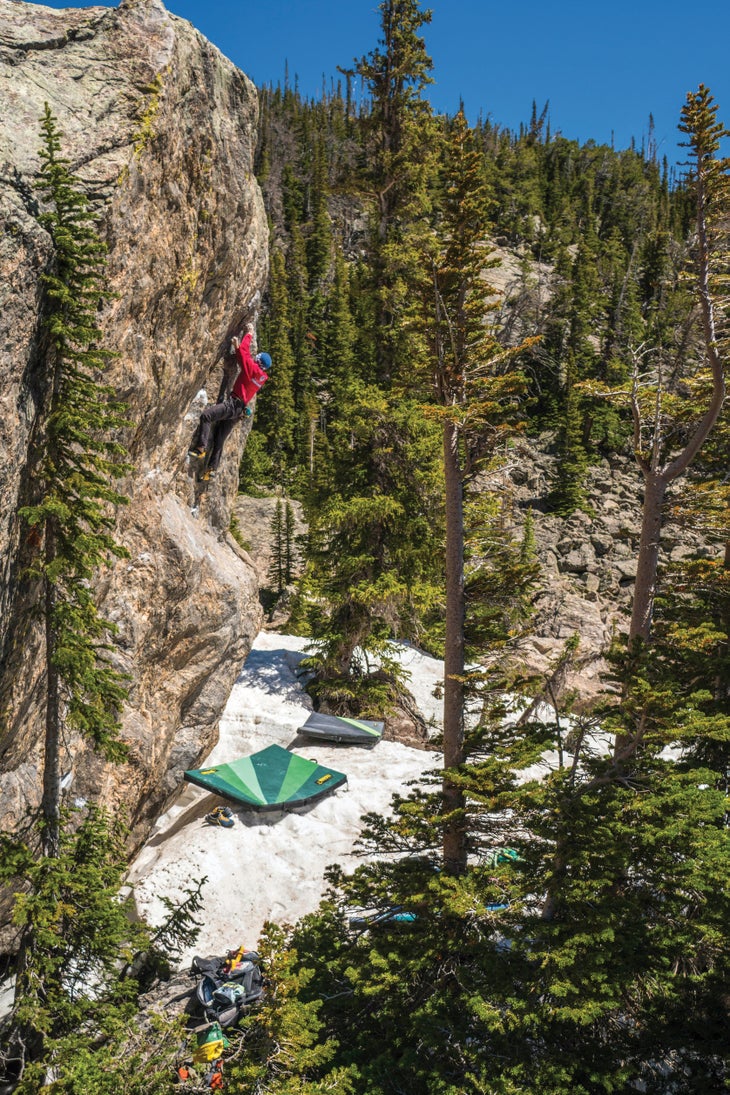 James Lucas | Skyscraper (V5)
A dozen feet of snow buried many of the boulders, as is common in the early season. Most of RMNP stays covered until June, and some problems remain buried until July. Two years before, I had tried the 30-foot Skyscraper, a series of crimps that lead up a sloping section, an arête, and then into the crux V5 moves. I had climbed up and down the lower reaches that time, but taking the 20-foot fall from the crux seemed like too much. With an extra four feet of snow underneath, however, I climbed up the face and committed to the crux, topping out. The snow had made an enormous difference. I suddenly realized how many boulders were accessible with "enhanced" landings.
Day 6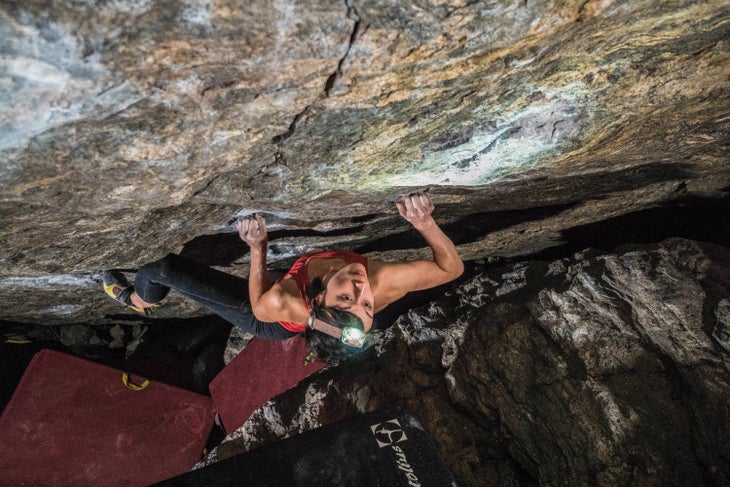 Hailey Moore | Potato Chip (V7)
The lights flicked on just before sunset as Hailey Moore grabbed the crimps on Potato Chip at Lower Chaos and began climbing the classic Tommy Caldwell line just a few hundred feet from the blue-green Lake Haiyaha (10,200 feet). Alpine bouldering in RMNP dates back at least to the early 1990s when Jim Hurst first climbed In Your Face—now known as The Kind, a very popular V5 at Emerald Lake. In 1998, Mike Caldwell hiked to Lake Haiyaha to fish. He noted all the boulders and told his son, Tommy, who promptly established Tommy's Arête (V7) and Potato Chip (V7). By the early 2000s, RMNP had some of the world's hardest boulder problems, with then 19-year-old Dave Graham establishing The Automator (V13) and Nothing But Sunshine (V13). Even now, the park remains at the forefront of hard bouldering, with Daniel Woods's additions Hypnotized Minds (V16) and Box Therapy (V16).
Day 10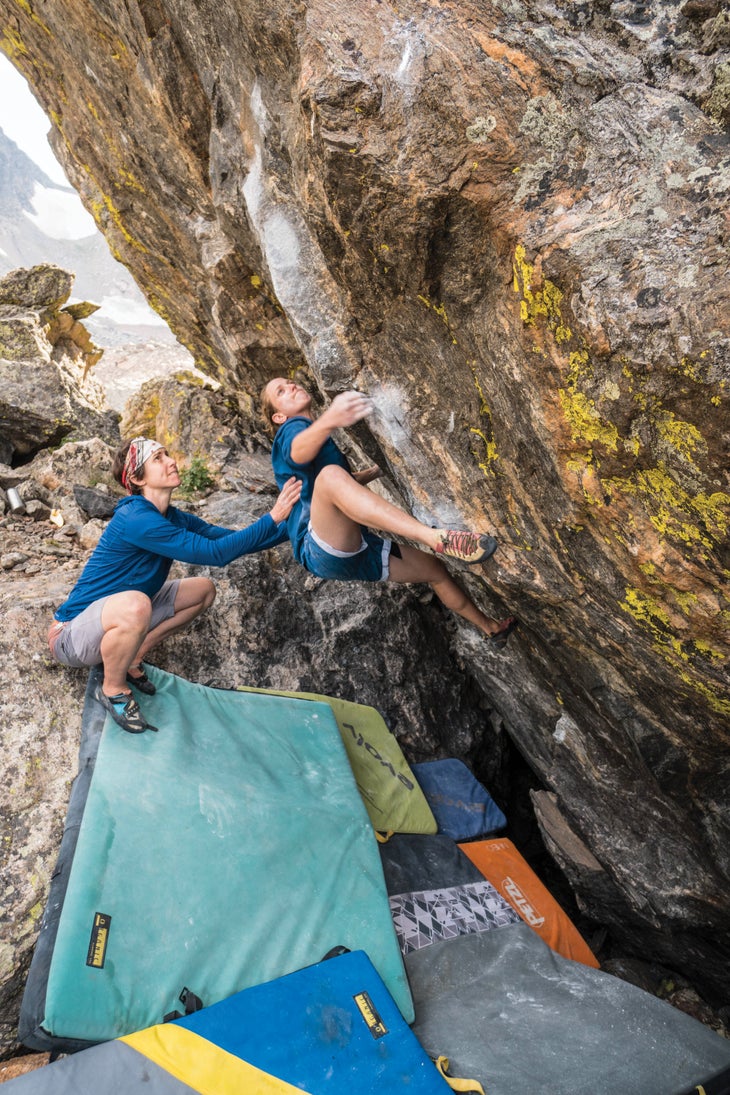 Sarah Shaw | The Wolves of Heaven (V7)
"We found you!" Madaleine Sorkin said, breathing heavily as she and Sarah Shaw set their packs down below The Wolves of Heaven, a Jamie Emerson compression line two miles from the Bear Lake parking lot at 11,000 feet. Upper Upper, located in the massive talus field in the east-west-running bowl between Hallett and Otis peaks, requires complex navigation and up to two hours to reach. However, after a few trips, I quickly realized that Upper Upper contained more climbs in the V6–9 range than anywhere else in the park. The more I explored, the more amazing lines I found. Uppercut (V7), Snake Pit (V7), Residual Stress (V8), and Abyss (V8) lurked right next to the harder, better-known lines of Omega 3 (V12) and Wheel of Chaos (V14).
Day 16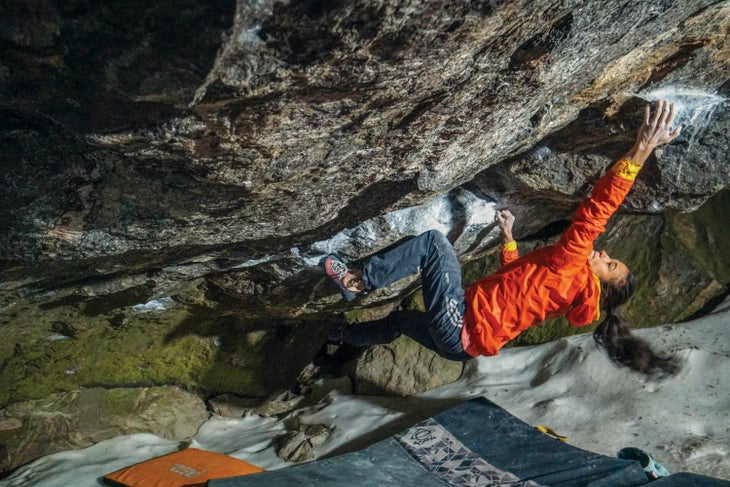 Nina Williams | The Shining (V13)
Nina dragged up the hill behind me, exhausted. A week before, she had hopped off a boulder problem and badly bitten her tongue. Unable to chew, she'd since been on a liquid diet and couldn't take in enough calories, losing weight. At 8 p.m., we headed over to The Shining, a long roof problem that Nina had been working. Her first try, she floated through the crux but fumbled her heel. She tried again and easily dispatched the problem, her second V13 ever. We glissaded down the snowy hill back to the car by moonlight.
"I dabbed," Nina told me as she stood on top of The Automator (V13) later that week. While rounding the corner of the low, 20-move boulder problem, her back had grazed the pads. She'd been trying The Automator on and off for years. The problem breaks down into a long V10 at the beginning to a final V10 single crux move at the end. "I'm gonna try it again," Nina said. This time, she reached the crux move, grabbed the tiny holds, and dispatched, sending her second V13 in a week.
Day 25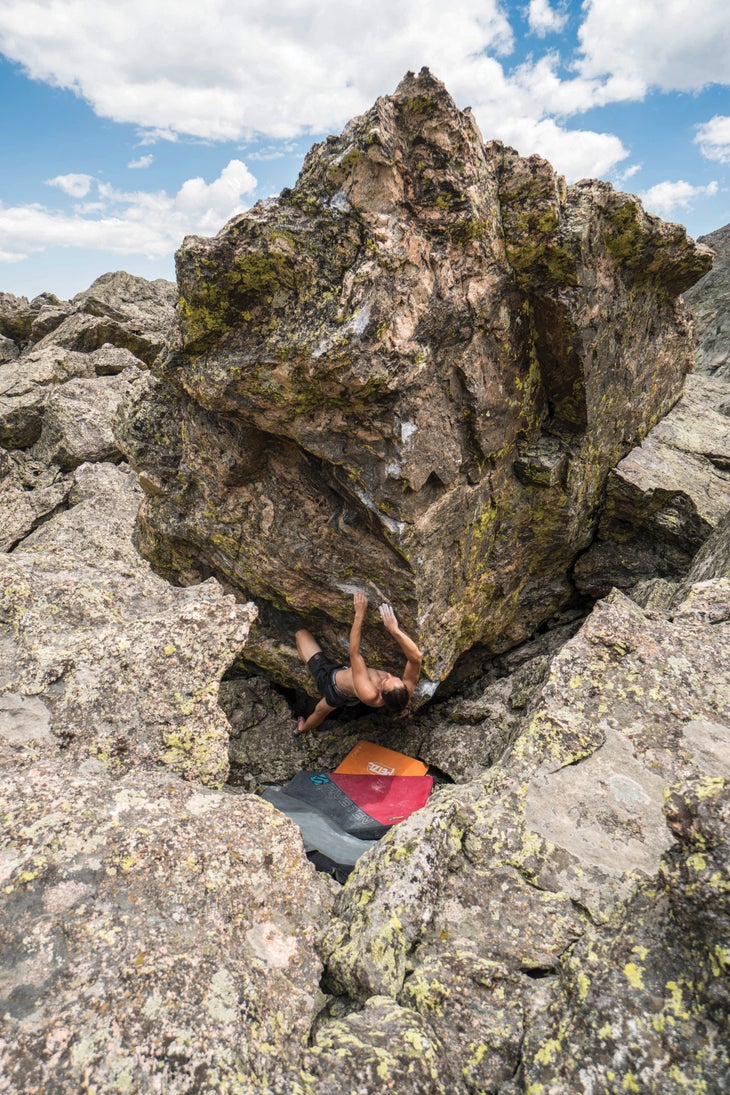 Kevin Takashi Smith | Analog Arête (V3)
There aren't any moderates up here, I thought. I'd found myself hiking to Upper Upper Chaos and seeking climbs I could do. Emerald Lake had Beginner's Luck, a classic V2 out a hole; Lower Chaos had Topaz, a V2 traverse just off the trail; and Upper Chaos had Trout Fishing in America, a V1. But in Upper Upper, there seemed to be a dearth of true moderates—or at least established ones, probably because nobody had bothered to look for them. Just 200 feet from the hardperson classic Wheel of Chaos (V14), I found Analog Arête, a series of cool crimps and slopers above an abnormally flat landing. On the Contents Boulder, I established a fun V5, Pickle Suit Patrol. There were certainly moderates to climb—you just had to hunt for them.
Day 28
Chris Weidner | Disatrophe (V6)
Blake Rutherford found Disatrophe, on the southern section of the Upper Upper Chaos talus, around 2005. With excellent rock, a line of perfect crimps, and a satisfying finishing jug, the problem stands out as one of the best of its grade in the park. It also features a typical RMNP landing: "You can step off at any move," writes Rutherford in the Jamie Emerson guidebook, Bouldering Rocky Mountain National Park and Mount Evans, "but really can't fall." Coming off the problem would mean pinballing down into the slot, and if you got hurt in Upper Upper, it would be a long crawl out. Being able to step on and off problems does make sending them significantly easier: Instead of constantly going ground-up and then falling at the hardest moves, you can easily figure out the crux just by pulling on—sort of like dogging then redpointing a sport climb. When I started a bloc at the beginning, I'd often have all the moves sorted and have lowpointed the problem already, climbing from just before the crux to the finish. This makes sending some of the dicier problems in RMNP feel safer and more secure.
Day 30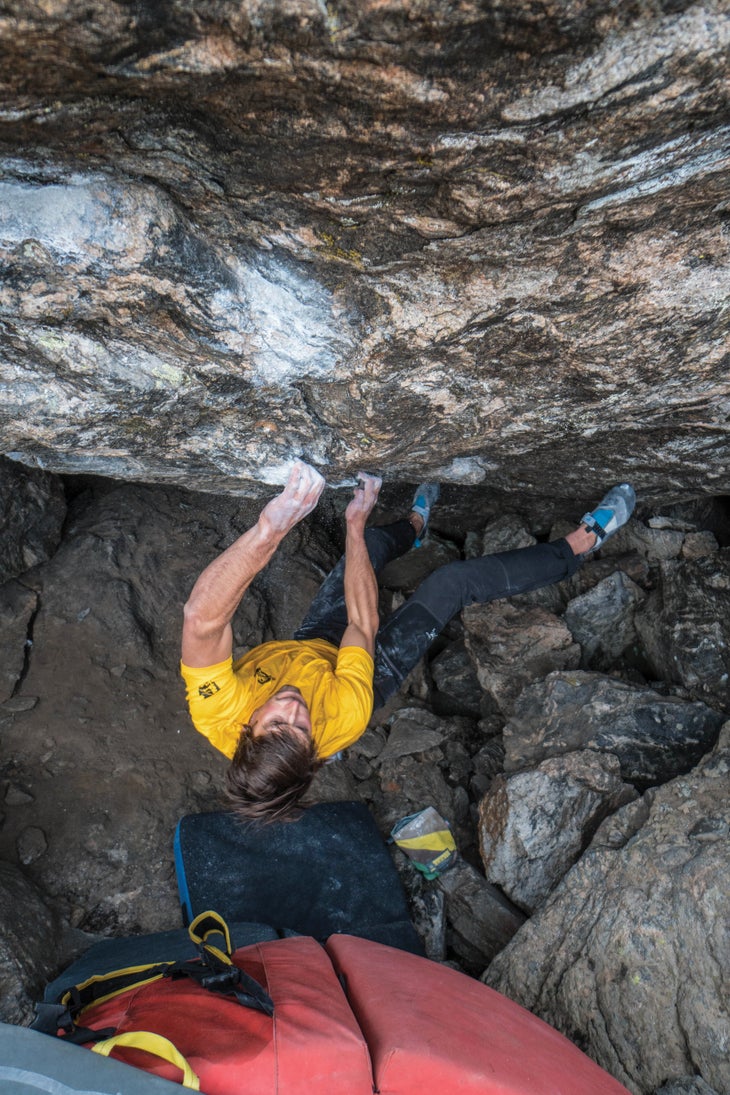 Max Barlerin | Old Religion (V5)
An RMNP climbing ranger, Max spends most of his time patrolling the more heavily trafficked areas of Emerald Lake and Lower Chaos, educating people on Leave No Trace practices. Hiking into the alpine, I'd often come across human waste and toilet paper along the trails. My first few visits, I will confess that I walked on past, figuring "someone else" would pick it up. But when I began seeing the same mountains of TP along the trail, I realized that that "someone" would have to be me. So I started bringing small, reusable trash bags, cleaning up any garbage. As I spent more time in the park, it became more important to me for it to be maintained. In my early 20s in Yosemite, I used to call the rangers "pickles" for their green uniforms. But seeing what rangers do—how they help to educate park users and keep the parks clean—I've come to appreciate them more. Maintaining the park is a difficult job, one that requires both rangers and users to be conscientious and vigilant.
Day 35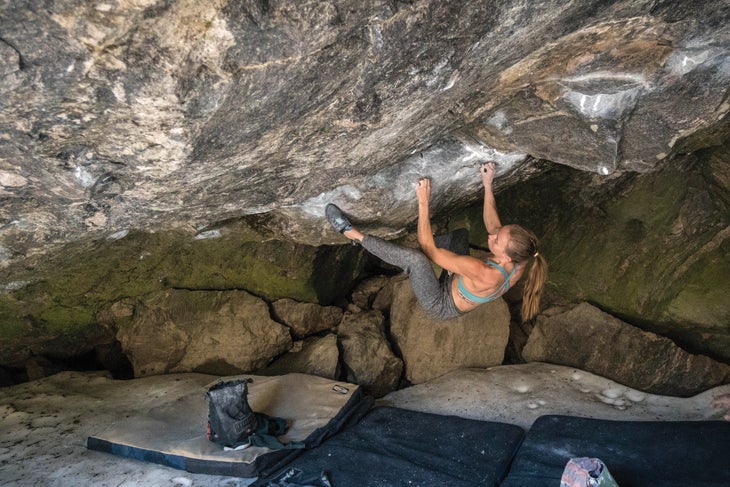 Isabelle Faus | Doppelganger Poltergeist (V13)
"It's a story about a dark obsession with twins," Dustin Saunders told me of his FA Doppelganger Poltergeist, named after Denis Johnson's short story from The Largesse of the Sea Maiden. It's coincidental that high in the talus of Upper Upper Chaos, the problem would be established by Dustin, who has haunted the boulders along with his identical twin brother, Brad. Isabelle, who also has a twin sister, made the third ascent of the roof, which splits off from the Shining (V13). Both twins—Dustin and Isabelle—seemed to be ghosts in the talus, quietly crushing without drama or fanfare.
Day 32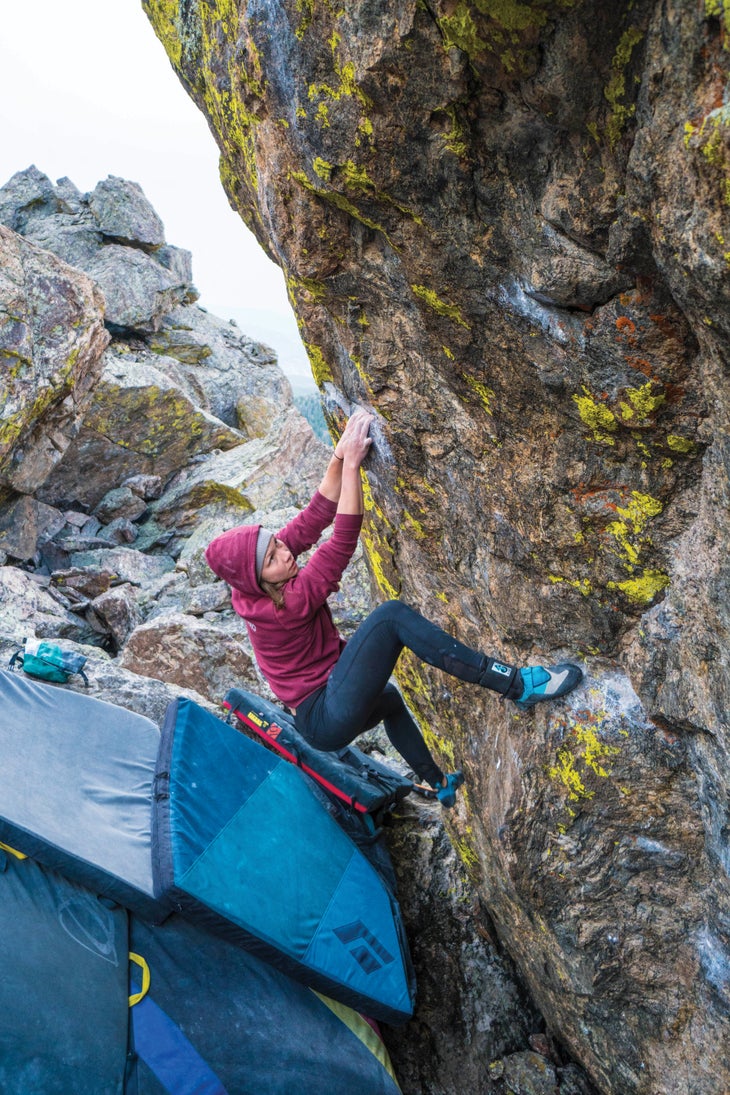 Olivia Cecil | Contents Under Pressure (V6)
Climbing in Upper Upper Chaos after work was sometimes easier than on the weekends. While the post-work sessions required more effort, they had advantages: The Bear Lake parking lot emptied out at 4 p.m.; any afternoon thunderstorms had passed, and the weather was stable; and, most importantly, traffic was mellower. Oftentimes on weekends, traffic would snarl in the park, for three primary reasons: a deer jam, which meant slow-moving cars as Texans poked their heads out the windows to gawk; an elk jam, which meant momentarily stopped traffic and a minimum of three tourists on the shoulder; and a bear jam, which meant tourists stopped mid-road, hazard lights on, slamming doors, fumbling for video cameras, possibly a fender bender, and at least a dozen people with tripod setups watching Smokey poop in the woods. However, with a psyched crew and enough lighting, you could head out later and skip all this. And so, I found myself hustling to Upper Upper after work to try lines like Contents Under Pressure and the problems that traversed into it, happily avoiding the tourist extravaganza.
Day 38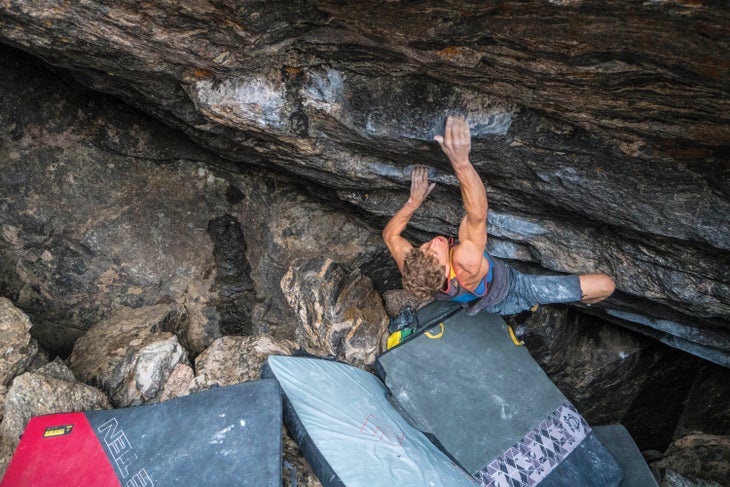 Nik Berry | Tour de Rails (V8)
On the west side of the Colossal Boulders is a series of perfect slopers that diagonal out a hole for 20-plus moves. Ryan Silven established the first ascent of Tour de Rails, and Jimmy Webb established a lower start in the summer of 2018. After hiking up to the boulder four times and only sticking the crux move a few times, I considered giving up. While resting, I began pawing at some holds just left. A couple of decent slopers sat off the main path, requiring a few more—but more doable—moves. My next session, I topped out via my variation, wondering if I'd sent the problem or if I'd instead done Detour de Rails. Regardless, I felt ready to leave the high reaches of Upper Upper Chaos.
Day 50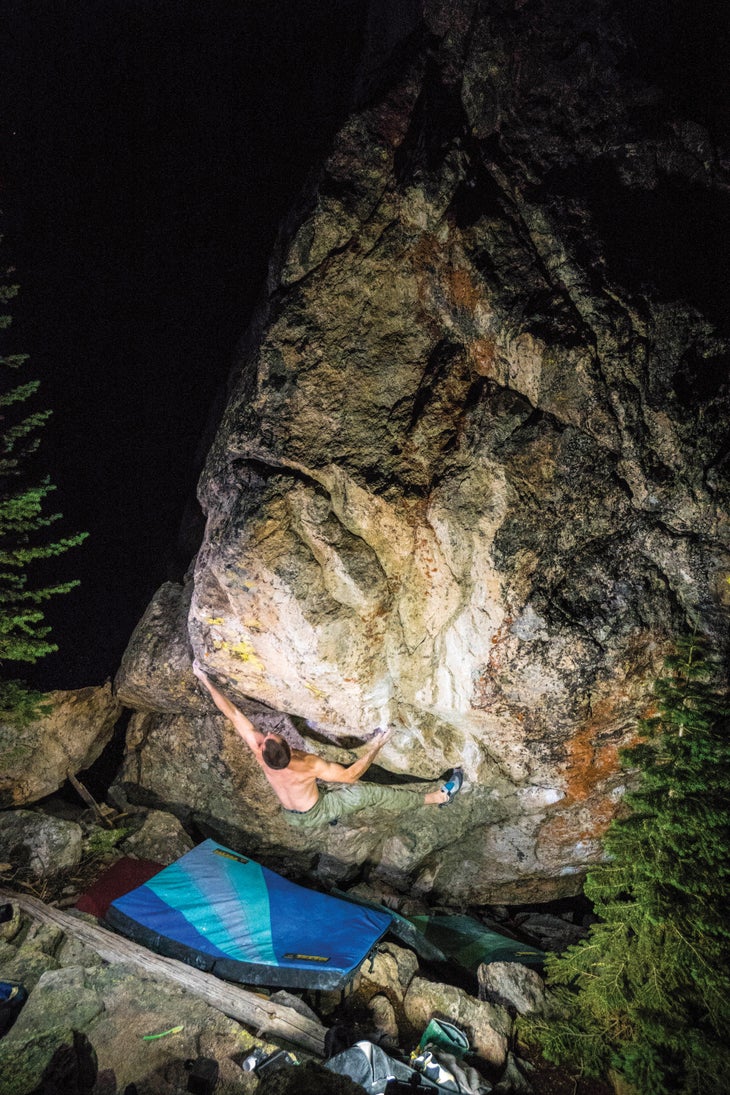 Cameron Maier | White Wizard (V7)
By early October, my energy for the park had waned. I'd been up there 50 total days in 2018, hiked over a hundred miles, lost seven pounds, sent 40 boulder problems between V4 and V8, and become a crimping machine. I felt burnt out and didn't want to hike anymore. Cameron Maier, Adam Stroup, and I headed to Lower Chaos, climbing on Potato Chip (V7). Wanting to get home before midnight but still climb, we started hiking back to the car around dark. At the junction of the Dream Lake and Glacier Gorge trails, we marched north through the woods to the White Wizard Boulder. This block features a bit of white quartz, a 20-foot face, a few projects, and the thuggy line of White Wizard. When we finished climbing, we rolled downhill to the parking lot. As I got farther from the boulders, my mind started churning, returning first to Emerald Lake, then Lower Chaos, then Upper Chaos, and then Upper Upper. Maybe I could crimp harder, get more endurance, and go back in the early season. Maybe I could send some of my unvanquished projects. And maybe—just maybe—I could do 75 days in 2019.