Photo Gallery: Michaela Kiersch, Tom Randall, Alexander Huber, and More
Heading out the door? Read this article on the new Outside+ app available now on iOS devices for members! Download the app.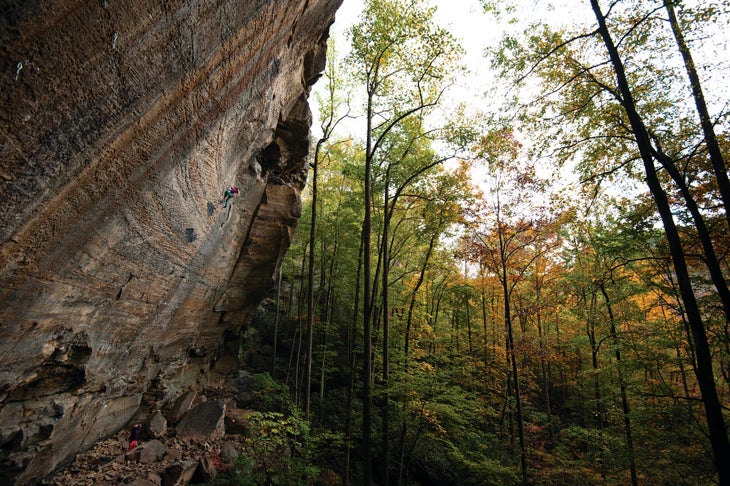 Climber: Michaela Kiersch
Route: The Golden Ticket (5.14c)
Location: Red River Gorge, Kentucky
On November 14, 2016, Chicago climber Michaela Kiersch added The Golden Ticket (5.14c) to her 2016 tick list, a résumé already stacked with area classics like Lucifer (5.14c), Pure Imagination (5.14c), and Thanatopsis (5.14b). First ascensionist Adam Taylor originally suggested 5.14d for The Golden Ticket for its 75 feet of powerful reaches on small holds. Kiersch describes it as "riddled with big moves and powerful jumps, including a full-on, double-hand dyno" to a tricky slot. In between college (Kiersch is a senior at DePaul University) and competitions, Kiersch made the seven-hour drive to the Red nine times this fall. She says, "It feels like home, [where] the trees, sandstone, pizza, Ale-8, locals, non-locals, and windy Kentucky roads all combine into paradise."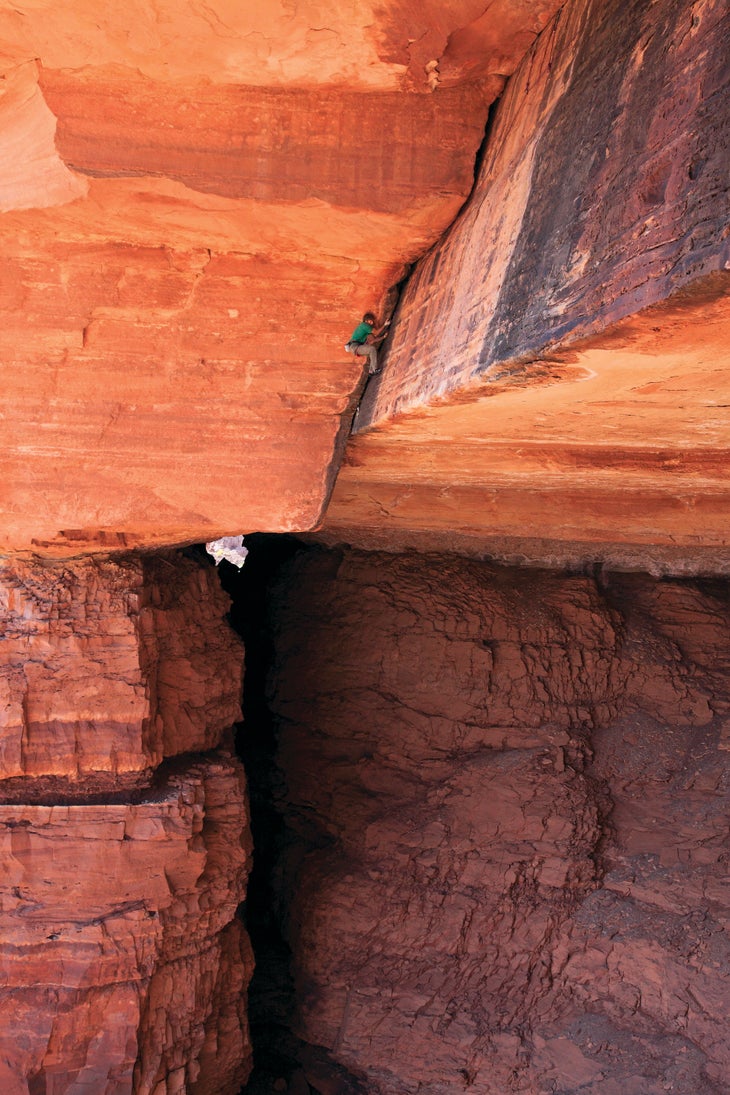 Climbers: Tom Randall and Pete Whittaker
Route: The Millennium Arch (5.14)
Location: Canyonlands, Utah
While working the Canyonlands' Crucifix Project, a massive, cross-shaped roof crack, in October 2016, wide-crack masters Tom Randall and Pete Whittaker stumbled upon this 300-foot sandstone offwidth that splits a dead-horizontal roof. The pair spent six days sorting moves, hanging gear, and solving the logistical nightmare of the climb—the pair's ropes were too short, so they had to fix a rope in the middle of the climb to switch lead lines, as well as haul a third cord to lower off. On the sixth day, after spending two hours each on the climb and battling numb fingers from hours spent upside down, the Wideboyz sent The Millennium Arch (5.14). As for the first ascent: "There's no first with us. It's equal teamwork," Randall says. "It's neither sport nor trad climbing—just a very, very unique climb!"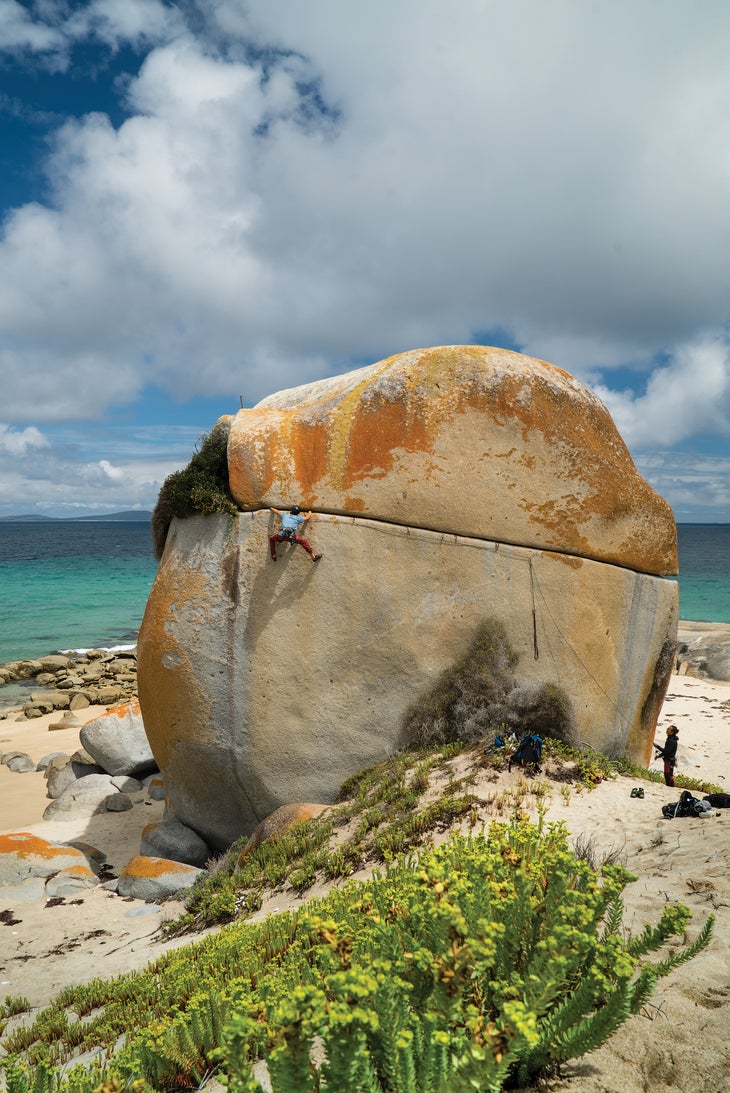 Climber: Pat Kirby
Route: Castle Rock (5.11b)
Location: Flinders Island, Tasmania
Tasmanian photographer Simon Bischoff saw this 50-foot-tall boulder in "pictures in tourism magazines" and dreamed about climbing the striking crack. Plopped on the beach on Flinders Island, which is located between Australia and mainland Tasmania, this block is "excellent water-washed granite," says Bischoff, but slick feet made the otherwise straightforward climb more powerful than it first appeared. He and Pat Kirby found the real crux was getting off the ground. "The start of the climb is totally blank," Bischoff says, "so you have to tape a cam to a stick and blindly stuff it into the crack above, pulling on the sling to get to the crack and hoping the cam doesn't blow. Pretty exciting!"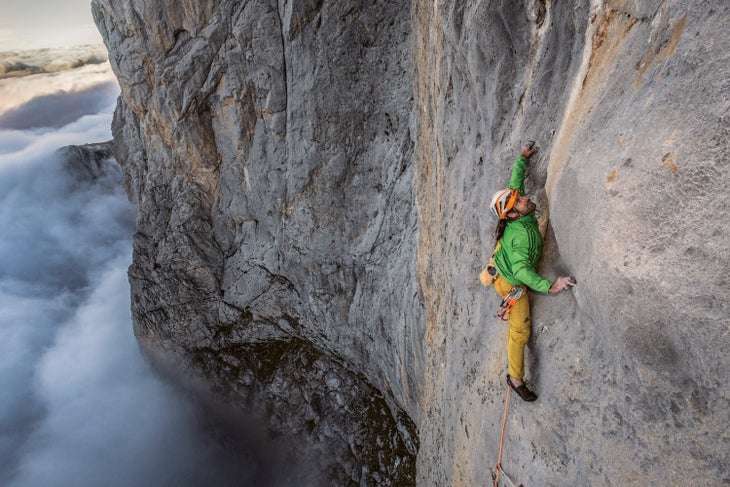 Climber: Alexander Huber and Fabian Buhl
Route: Sueños de Invierno (5.13b/8a)
Location: Naranjo de Bulnes, Spain
Reaching above the clouds in Picos de Europa National Park, Naranjo de Bulnes is a famous and storied limestone peak, known for its long, difficult aid and free routes. On the overhanging northwest aspect, Sueños de Invierno ("Winter Sleep") has remained elusive as a free route since its establishment in 1983, when the first ascensionists spent 69 days on the wall. Last summer, Alexander Huber and Fabian Buhl earned the first free ascent after working through 540 meters (1,772 feet) on minimal gear. The German duo linked the traditionally protected second and third pitches, followed by a "60-meter marathon pitch," and then on the fourth pitch used five skyhooks to protect an exposed 20 meters. A previous five-day recon trip allowed Huber and Buhl to summit on their first redpoint attempt, which took the pair nine hours.