The Story Behind 3 Standout Climbing Photos
Heading out the door? Read this article on the new Outside+ app available now on iOS devices for members! Download the app.
Take a look behind the scenes of three of the year's standout climbing photographs in the categories of action, scenic, and portrait. Here, the photographers who took them share what went into each image, as well as their tips and tricks for nailing the perfect shot.
Action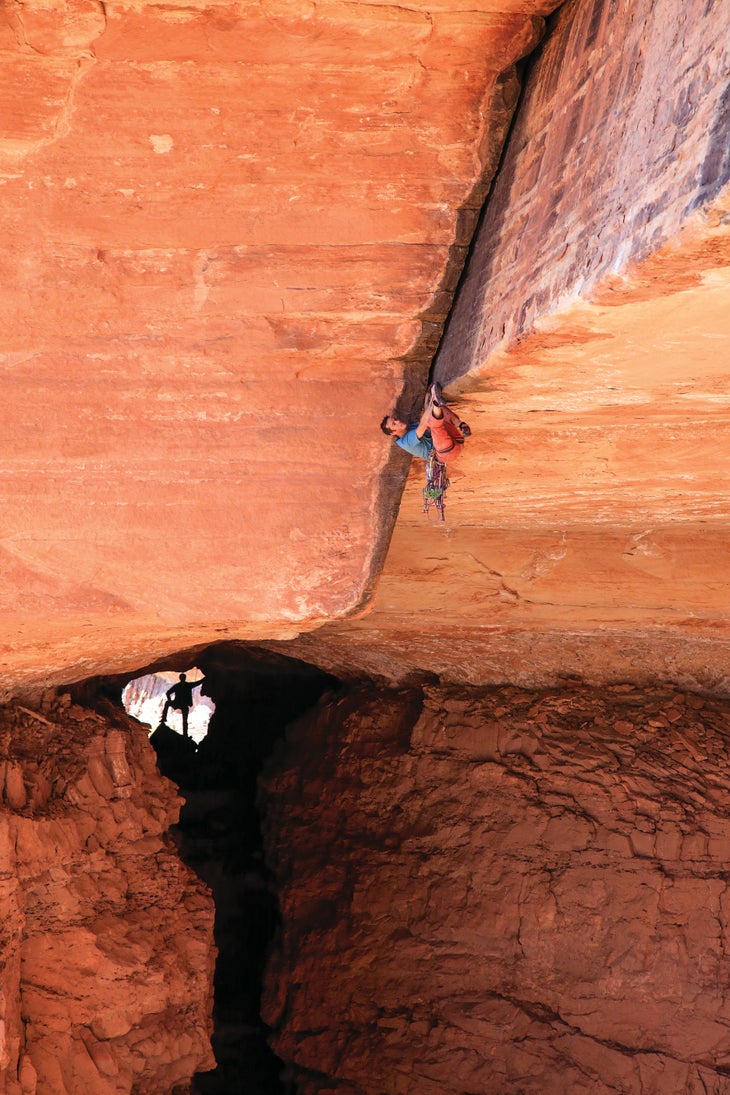 Photographer
Michael Hutton
Climber/route/location
Tom Randall, Millennium Arch (5.14), White Rim, Canyonlands National Park, Utah
Camera/lens/specs
Canon 5D Mark III with a Canon 24-105mm f/4L lens @ 105 mm; 1/250 of a second at f/7.1, ISO 800
Time of day
Midafternoon. "People might think the route was getting nice end-of-day light," says Hutton, but it was in the shade. "The rich orange colors are reflected (bounced) light from the valley floor."
Shot logistics
"I spent about an hour rigging up an abseil from some prickly bushes," Hutton recalls. "After abseiling 60 meters, I untied and scrambled around on a large, unstable pile of rubble to get the shots."
Pro tip
"For taking great climbing shots, 80 percent is just showing up, and the rest is being creative and original in the way that you position yourself."
Fun fact
Hutton, during the 60 minutes he was shooting, took 250 photos of this attempt. "There was no way I was going to miss a thing," he says.
Scenic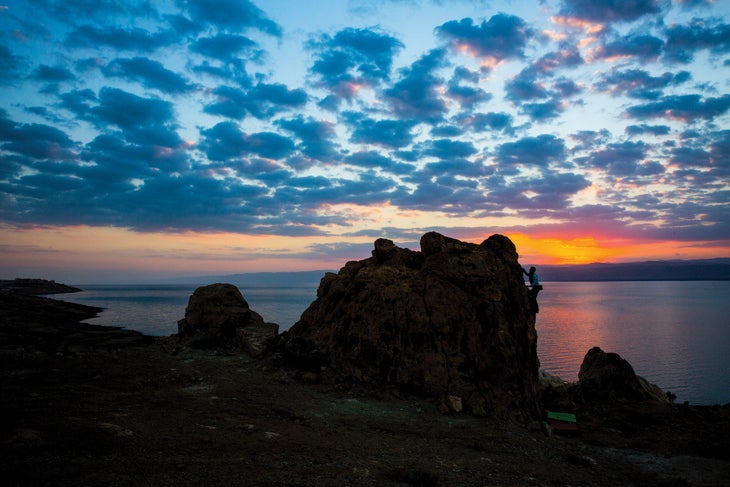 Photographer
Andrew Burr
Climber/route/location
Ben Hoiness, High Gravity (V3), Dead Sea, Jordan
Camera/lens/specs
Canon 5D Mark III with 24-70mm lens @ 50mm; 1/80 of a second at f/14, ISO 400
Time of day
Sunset.
Shot logistics
"This was a classic shooting-from-the-hip scenario," recalls Burr. Wanting to get a shot of climbers with the Dead Sea in the background, Burr directed the crew he was traveling with to some boulders he'd spotted earlier in the day. When the boulders turned out to be mostly choss, he scrambled around till he found the only one with climbable rock that lined up with the water. With just minutes of sunlight left, he began shooting.
Pro tip
"Practice your craft. The best way to learn is by doing. You must have an eye for it; everything after that falls into place if you put the work in."
Fun fact
High Gravity, at 1,400 feet below sea level, is the world's lowest (groundhogs take note: not shortest) boulder problem.
Portrait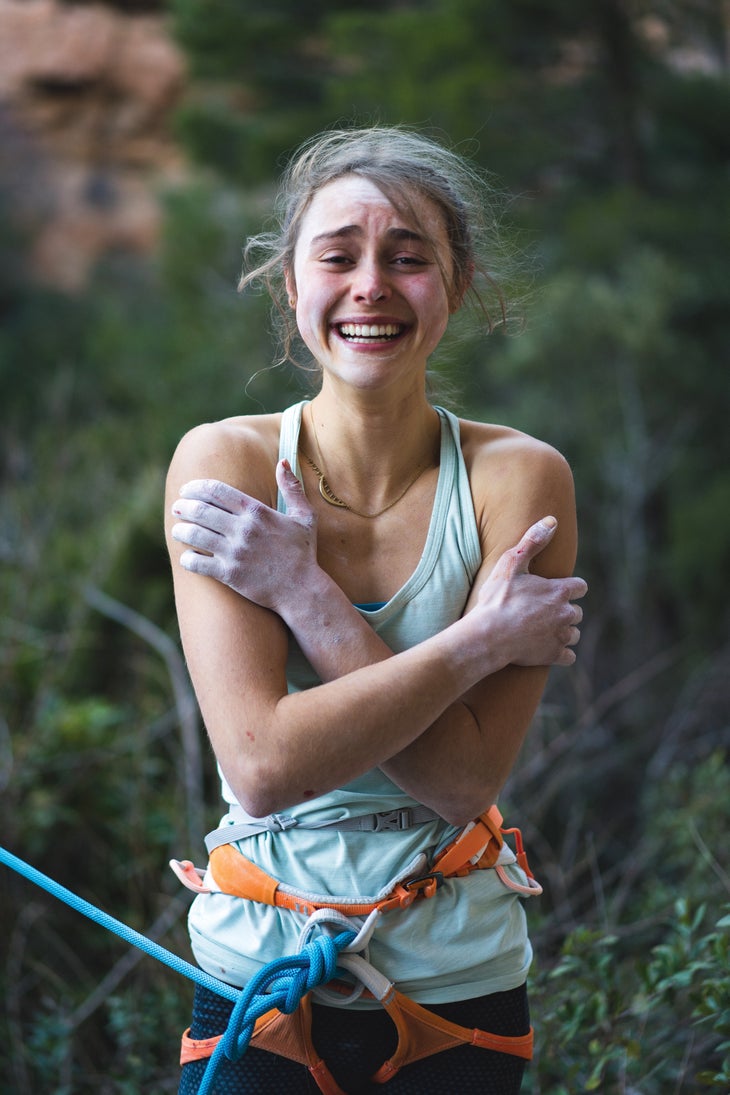 Photographer
Matty Hong
Route/climber/location
Margo Hayes, La Rambla (5.15a), Siurana, Spain
Camera/lens/specs
Sony a7R II, 55mm lens; 1/200 of a second at f/2, ISO 100
Time of day
About 5 p.m.
Shot logistics
As Hong belayed Hayes on her historic first-female-5.15 send of La Rambla in February, he began to prep. "Before I lowered her, I had my camera ready," says Hong. Once Hayes was on the ground, Hong tried to be discreet: "I took a couple pictures, congratulated her, and every few moments took one or two more shots."
Pro tip
"There is a lot of emotion in our sport—from frustration and anger to joy and disbelief," says Hong. "Capturing these emotions can tell the story while remaining unique to each climber. Shooting a specific moment, while also respecting the climber and giving her space, can be difficult. Nobody wants a camera shoved in her face after she's fallen."
Fun fact
Hong let Hayes hang a bit at the anchor in order to get his camera ready, so he could nail the shot the minute she was down.