Unpublished Climbing Photo Spotlight: Ken Etzel
Heading out the door? Read this article on the new Outside+ app available now on iOS devices for members! Download the app.
This story originally appeared in the July 2015 issue of our print edition.
Thirty-seven-year-old shooter Ken Etzel says that traveling 200 days a year in pursuit of finding "the next new spot" is a huge perk of his chosen career, but it's a life he's used to, saying, "We lived a transient life growing up, and not much has changed!" Borrowing an old film camera that his dad bought before he was born got him into photography, and always having it around is how he launched that passion into a career. "Climbing and photography go hand in hand with me," he says, "and I just go out to shoot and tell the stories that my friends and I share." Etzel finds inspiration in fresh angles and light ("Monotony crushes me."), and he follows a few standard rules when out shooting: "Have fun! Shoot a ton! Don't fall into the gear-obsession trap or worry what other people think. Just shoot from your gut."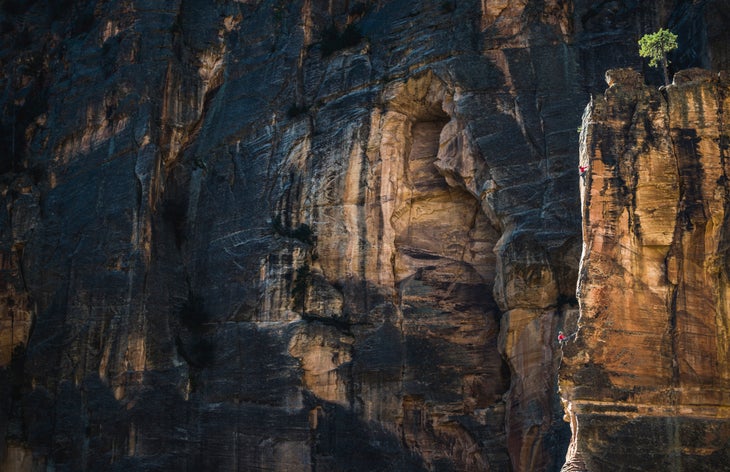 Climber: Jeff Snyder and Dean Hoffman
Route: Heart and Soul (5.11+)
Location: Oak Creek Canyon, Arizona
This whole scene blew my mind. I had heard about an incredible route put up in Oak Creek Canyon outside of Sedona, Arizona, by Chris Tatum and John Burcham. This two-pitch arête called Heart and Soul (5.11+) is on a tower in the middle of this Zion-esque canyon. There were so many good angles and ways to shoot it, so I wasn't sure how I wanted to approach it. But once I saw how the arête was bathed in a ribbon of light, I knew it was going to be a lazy morning of sitting on a rock outcropping in the sun with a long lens watching Jeff Snyder and Dean Hoffman climb this amazing route. I'm not a huge fan of shooting on a rope, so this worked out perfectly for me.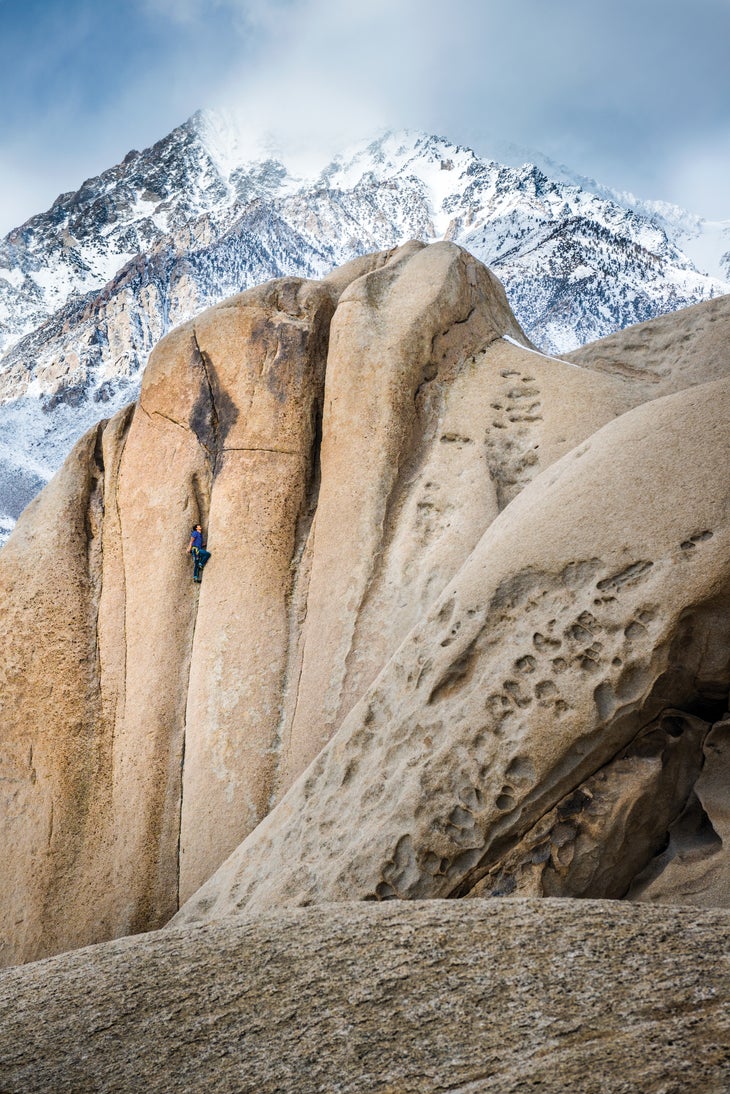 Climber: Christian Herrera
Route: Wavelength (5.11c)
Location: Bishop, California
I had seen this sharp-looking finger crack up above the Buttermilks several times, but I hadn't found anyone willing to give it a whirl. Apparently this route has a little bit of a reputation for being sharp, grainy, and somewhat heady at the top. By chance, Christian Herrera told me he had been working the beta out and randomly asked if I'd like to shoot it. Of course I did! When we woke up that morning, we had a fresh dusting of snow in the mountains and some nicely diffused light, the perfect formula for an environmental shot that shows climbing and backdrop in tandem. That's the perfect recipe for me.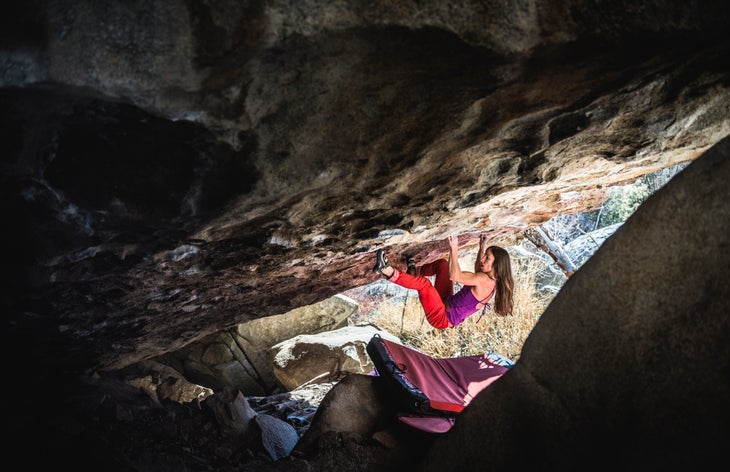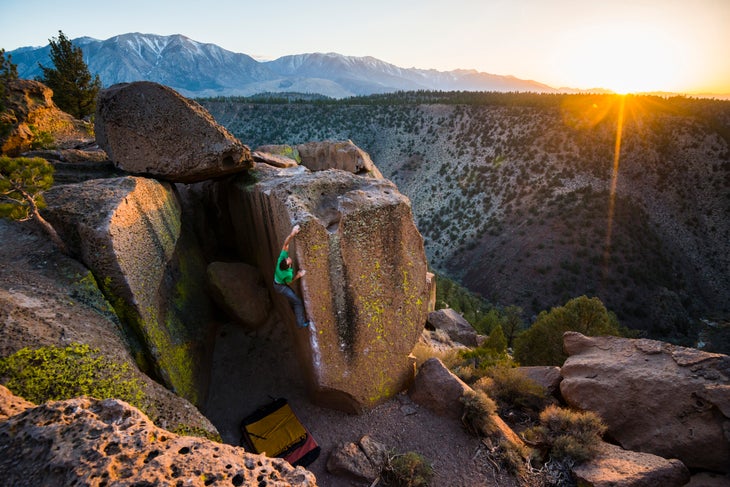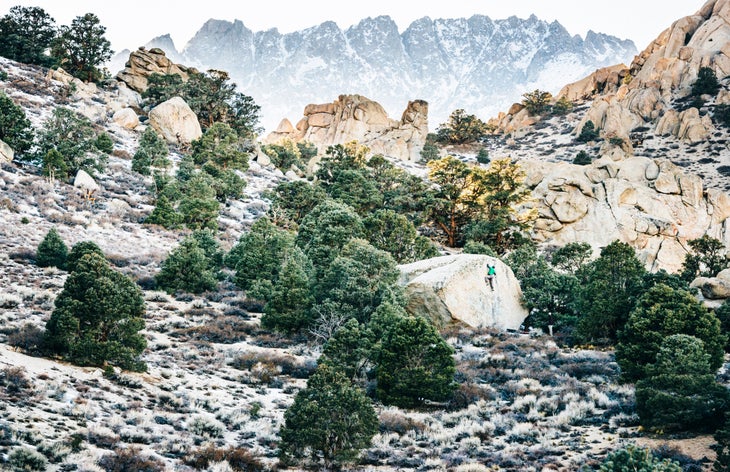 Climber: Josh Vale
Route: Green Hornet (V4)
Location: Dale's Camp, Bishop, California
This problem represents one of the best of its grade in the Buttermilks and all of Bishop. Funny enough, I live 15 minutes from this mecca of bouldering, but the only times I shoot there anymore are when I'm on assignment, the light is totally off the hook, or I have something fresh to shoot. Which, believe me, can be very difficult in what might be the most photographed climbing area in the world. I rely on fresh places and perspectives. For this shot, I used a long lens to compress the subject and background, bringing the top of Basin Mountain tight into the frame. A common theme in my imagery is a sense of place, and to me, a great hangout trumps great climbing. That is the feeling I want to portray.
Website: kenetzel.tumblr.com
Instagram: @ken_etzel
Further Reading:
Unpublished Photos From 3 Top Climbing Photographers