A Baffin Island Big Wall Apprenticeship With Mike Libecki
Embracing The Way of the Turtle
Heading out the door? Read this article on the new Outside+ app available now on iOS devices for members! Download the app.
This article originally appeared in the March 2015 issue of our print edition.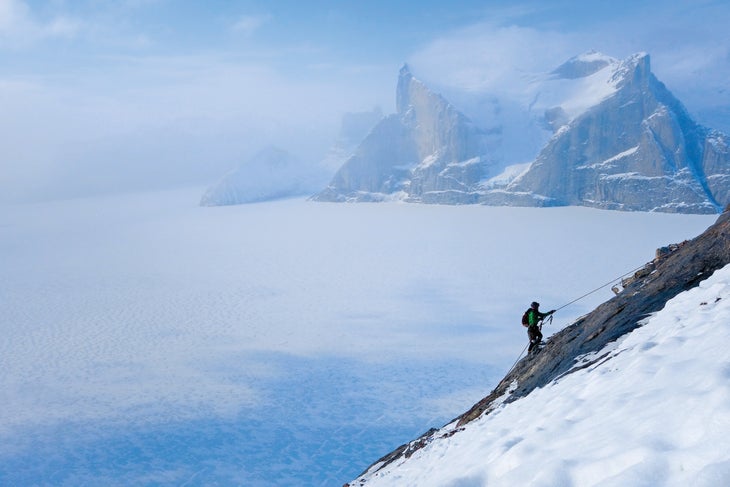 Seventeen years ago I lost my big-wall-first-ascent virginity on Baffin Island. It's been 12 years since I tasted, smelled, touched, heard, and laid eyes on those gorgeous granite walls. In May 2014, I went back to see my old flame for my sixth expedition to the frozen dreamland.
Something awoke inside of me, a mental erection if you will, this burning desire to feel the icy stone and numbing winds, to tread where polar bears roam and 24-hour sunlight sets fire to the steep, steely faces of these northern arctic walls. This is religion to me, and this time I thought I'd bring another virgin to sacrifice to the first ascent gods: my Swedish neighbor, Jonas.
Watch the video about Mike and Jonas's expedition: Baffin Island Virgin
When it comes to climbing big wall first ascents, my approach has always been quite simple: Slow is fast. For as long as I can remember, slow is fast has been an organic way of life for me, from math competitions in my youth to climbing around the world at my ripened age of 41. Laugh if you will—I'm as aware as you are that going slow doesn't make a good headline—but it's proven its worth time and time again to me, whether it's a nonstop push to a summit or a couple weeks of capsule-style portaledge luxury on the side of a wall. Slow is fast as a mantra is about embracing consistency and constancy: flowing, moving, working, breathing, all while immersed in the magical moment of now. And then, almost out of nowhere, I find myself standing on the summit doing my ritual celebrations: eating a victory salami and dancing while wearing the current year's Chinese zodiac animal mask.
The slow-is-fast approach is not only a physical thing, but a mental grasp at patience, which is necessary for increasing your chances of success (or simply avoiding death). But honestly, I am never, ever in a hurry. Allowing enough time to enjoy daily rituals high on a wall is part of why I am there in the first place. For example, I love making hot coffee and watching the sunrise on a small rock ledge just big enough for my ass cheeks, feet dangling in the air thousands of feet up. There is nothing like waiting out a ferocious storm inside a portaledge for several days, reading good books, meditating on the now, and embracing the intense high. What's that old saying? "The higher we get, the higher we get." It's true, isn't it? Sure, I've climbed several routes in a continuous push, body trashed, exhausted, and proud of the accomplishment. Sometimes that is just what the route equation commands. But, it's not nearly as enjoyable, at least for me, as just setting my cruise control to slow-is-fast and enjoying the view of the ultra-now. Cumulatively, I've been on the side of a rock wall for more than a year of my life. It could've been much less, but that'd be a tragedy. I am like a turtle in a world of rabbit climbers. But remember, in the classic story, somehow the turtle ends up getting to the finish line first, or in my case, getting to climb a lot of first ascents.
Speaking of rabbits, how about a joke? What did the boy rabbit say to the girl rabbit? "This won't take long…Did it?!"
Now, do you think either rabbit found that enjoyable? I like the turtle approach better; this slow-is-fast terminology pertains to my lifestyle as a whole, a constant wheel in motion to find and climb more first ascents. If I could accumulate another year's worth of nights spent on the side of walls before I die, it would be just fine by me. Thus, my love affair with Baffin Island.
In the climbing world, Baffin is known as the home to the world's largest concentration of the biggest and steepest walls. It was in 1997 when I first stepped through this granite kingdom's doorway and climbed The Weeping Wall in the Weasel Valley, not far from Mt. Thor and Mt. Asgaard, with two Japanese partners I had met in Yosemite, Misako Koyanagi and Shinichi Sakamoto. For five summers prior, Yosemite had been my home and training ground for arctic vertical exploration. In 1998, I went back to Baffin, to Sam Ford Fjord with Josh Helling and Russell Mitrovich for the first ascent of the north face of the Walker Citadel, which took 30 frozen days living on the wall to reach the summit. In 1999, I climbed my first solo first ascent big wall, the Ship's Prow at the mouth of the Scott Inlet. In 2000, Josh, Russ, John Middendorf, and I bagged the first ascent of the Fin in Sam Ford Fjord, which was made into a film for Outdoor Life Network. Then in 2001, I spent a month in Sam Ford Fjord guiding the Red Bull BASE jumpers Shane McConkey, Felix Baumgartner, Miles Daisher, and crew. The love affair with Baffin went on for five years in a row. Then I decided to start seeing other walls on other continents, but I never stopped thinking about Baffin.
Baffin Island had taken my first-ascent-big-wall virginity; those walls would be in my heart forever. Do you want to go deeper into the truth of the matter? Well, here you go then: I've had five wet dreams in my entire life, and they all happened on Baffin. One every year for five years in a row. I suppose that might be too much information, but I am writing about Baffin Island and my experiences there, and this is a climbing publication, so aren't I suppose to share the most intimate moments?
May 2014. It was time to head back alone and look for new cracks that led to an unclimbed summit. First, I contacted my friend Levi Palituq. He's a local Inuit and a friend that has helped on past expeditions. He lives in Clyde River, a small settlement on the east coast of Baffin. For the eastern fjords of Baffin, the usual route is to fly into Clyde River, then it's either sleds pulled by snowmobiles or dog teams over the frozen ocean to access the walls. This is in April, May, and some of June when the ocean is ice and hypothermia is lurking. I cringed when I reserved my plane tickets; they were the most expensive commercial airline tickets I had ever bought. From Salt Lake City to Ottawa to Iqaluit to Clyde River, it was $4,200! I have flown around the world for less. The airlines up there make it simple: Pay through the roof or don't go. Thank goodness for credit cards and the convenience of debt to live your dreams in 'merica.
Two weeks before leaving, I got a random call from a good friend, Jonas Haag, a transplant from Sweden. He lives near my home in Cottonwood Heights, Utah. It was a sunny Sunday afternoon on April 20 at 4:20. I remember because this specific date and time is a relatable and notable moment of the year for many climbers. Through my crackly, old-school home phone (I have never owned a cell phone), Jonas said in his Swedish accent, "Hey Mike, what's up, brother? Do you want to go for a hike with the dogs?"
"Dude! Yes!" I said, and we made plans to head to The Fairy Fortress, a wilderness area a few miles up Deaf Smith Canyon in the Wasatch Mountains near our homes. It's one of the last dog-friendly hiking and climbing areas around. We headed into the forest with four dogs anxiously leading the way; no doubt they find the same joy hiking in the mountains that we find climbing. As we hiked, our discussion intensified about life and our goals ahead, and I said to Jonas, "Man, I am so fired up. I leave in two weeks to Baffin Island. Utter solo mystery awaits!" Jonas told me it was a fantasy of his to go there someday, to climb a wall or BASE jump. Jonas had never climbed a big wall, though he had some cragging experience.
Surrounded by a singing stream, alpine flowers, and rock cliffs, I had a spontaneous, wonderful idea: "If you want to learn about big wall climbing, there is one really fast, really intense way to do it. Just come with me!" Jonas is an extraordinary human, so I was not surprised when his eyes lit up, and a huge smile spread across his beard-speckled cheeks. "Seriously? Do I have what it takes?" he rightly asked.
"You could do a big wall apprenticeship. I can show you everything I know," I said. "I have been fortunate to learn so much from so many amazing partners the last 20 years; it would be sweet to share this with you. Do you know a clove hitch?"
Jonas said, "Yeah man, I know a clove hitch." And we ran down the mountain trying to keep up with our dogs.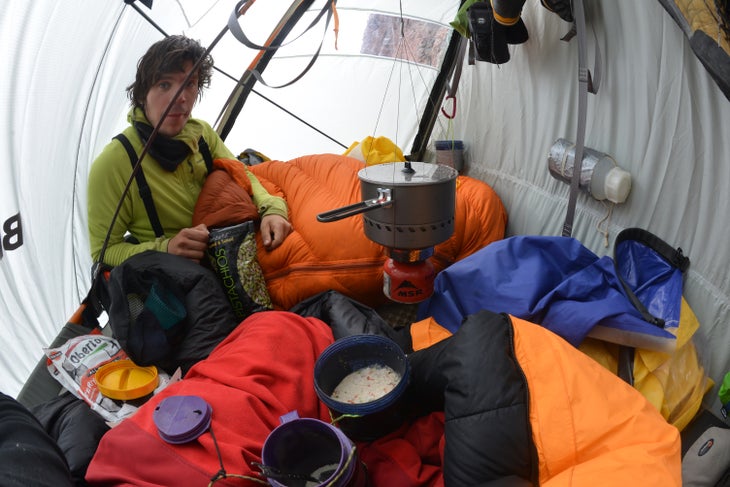 Jonas had been free climbing at crags for a few years and knew his way around gear and proper safety techniques, and he was always fired up. He had also been up Denali, as well as Cotopaxi and Antisana in Ecuador, so he knew something about enjoying expedition life and frozen temps, too. When joy is the most common thing between people, there is no doubt that the sweetness of life is waiting. Jonas called me the next day, "Mike, I got the time off! I am in!"
It took me years of training in Yosemite to be ready for Baffin Island. And I had the opportunity to learn from some incredible partners there. I feel fortunate that so much knowledge was passed on to me, like I had been a big wall apprentice myself. Now I had a chance to share this knowledge. It was also a welcome personal nod, an acceptance into a later point of my life. After all, the first big wall I climbed in Baffin was 17 years ago. Though I must say, I feel stronger and more psyched than I ever have.
So it began: The Way of the Turtle and the Art of Slow is Fast. As with many a great expedition, ours started at Costco for beef jerky, oatmeal, nuts, M&M's, coffee, and chocolate-covered almonds. We double-bagged everything, including our dehydrated dinners: pad thai, lasagna, and beef stew, among many savory selections. Then we loaded up tons of Clif bars. It's important to eat well when you're living in temperatures colder than your freezer at home.
Then came the rack: 2.5 sets of medium cams, one each of a No. 5 and 6, three sets of small cams, two sets of nuts, three sets of blades and arrows, lots of peckers, a variety of hooks, bunches of biners, slews of slings, cordelettes, bolt kit, tag line, ropes, portaledge with expedition fly, rock shoes with sewn-on gaiters, approach shoes, a helmet, my old-school knee pads, a harness that will fit over a few layers, jugs, aiders, daisies, MSR Reactor stove with hanging kit, the works. The plan was for "capsule-style" climbing, to be prepared to live on a wall for a couple weeks if we had to wait out storms.
The rest of the gear list is easy, and after packing for more than 50 expeditions now, it's written on the front walls of my brain. A very warm sleeping bag, down is fine since everything is frozen. I don't even wear a hard shell, just a softshell when climbing, which is perfect for the light arctic snow glistening like diamonds in the 24-hour magical golden light (sorry, lost myself in a bit of a daydream there). A couple pads for sleeping on the frozen-ocean basecamp, just one for the wall. An XGK stove for basecamp, good for melting a lot of snow and ice. A sleep tent and a cook tent, first aid kit, and repair kit. Books, iPod, and other life-enhancing necessities. Lots of layers and hats and gloves and a down jacket, a balaclava, and ski goggles (hard to climb when your eyes and the skin on your face are literally frozen). Oh, and can't forget a rifle in case a polar bear shows up and has not eaten a seal in a while. And then you're off!
We got held up in the Ottawa airport because we arrived with a rifle. It took about three hours of questioning until 3 a.m. before they let us through, even though I had all the right paperwork. We grabbed a bunch of donuts from Tim Hortons and crashed for two hours before our flight to Iqaluit, then on to Clyde River. My friend Levi picked us up and took us to the only hotel in town. We repacked our bags from airplane mode to sea ice basecamp mode. Local Inuit showed up and offered to sell us bone, antler, and ivory carvings. We also had a couple people offer to sell us marijuana. It's one of the most common things among all the places I have been around the world. There is always marijuana offered, on every continent. Just legalize it already! Jeez.
The next morning Jonas and I and all of our gear were on two qamutiqs, traditional Inuit sleds that have two long, 15-foot, ski-like bases that bend and flex with the wavy, sometimes rough ice beneath. Snowmobiles pulled us over the frozen ocean, and six hours later we entered Sam Ford Fjord, home to dozens of steep granite walls and towers bigger than skyscrapers; they welcomed us with ominous, surreal beauty. Being here always makes me feel like there is a God, and he must have been a climber. Our two Inuit snowmobile drivers, Levi and Maurice, stopped to show us the first of many polar bear tracks we would see that day. I had never seen so many polar bear tracks in Sam Ford Fjord before. Levi said in accented English, "Bears have been more active here than I have seen before. Lots of seals here." He pointed, and we could see two seals by a hole in the ice. The polar bear tracks in front of us revealed there were two big males, a mother, and two cubs in the area. I could see a bit of concern in Jonas' eyes now that we were among the walls.
Our goal was to find a beautiful line of cracks that started from the frozen ocean and ended at a summit in Sam Ford Fjord. It was not necessarily about the formation, as it sometimes can be. We were going to reconnoiter as many walls as we could within about eight hours, the time allotted on the qamutiqs. Two of the lines we scoped were just too big and demanding for the time we had, as well as the experience of our team. The routes we passed up were 5,000+ feet of climbing; I have plans to return to them with my buddy Cheyne Lempe for his first Baffin trip this year. These giant routes were both unclimbed, and possibly the biggest unclimbed walls on Baffin Island. I was thinking of something in the 2,000- to 3,000-foot range for Jonas and me, still big and demanding but more feasible considering the time and the apprenticeship. After cruising Sam Ford Fjord and the connecting Walker Arm, we finally found our destination. It was a tower I remembered from 1998 when Josh Helling, Russell Mitrovich, and I climbed The Mahayana Wall on the Walker Citadel. According to the map, the snowcap behind and above this tower was 3,500 feet in elevation. So it was probably about 3,000 feet of climbing. Jonas pointed out some incredible splitters on one of the routes that could not be denied. This would be our route!
The line coincided well with some of our climbing goals. The first was not to drill on lead, using only natural cracks and features. The second was not to use a hammer or any type of piton on lead, to climb clean. Since we planned to climb capsule-style with a portaledge and take enough supplies for two weeks to wait out any storms, I planned on drilling bolts at anchors if necessary, which would double as rappel anchors on the way down. As we sipped tea and stared up at the tower, it was about -5°F without wind chill, so rock shoes and barehanded climbing did not seem so fun. Inevitable cold and suffering awaited.
Just before Levi and Maurice left, Maurice stretched his arm, pointed out over the frozen sea, and said in his slow, deep accent, "Hey, it looks like we have some company. Can you see him? Looks like a pretty big male." They unhitched the qamutiqs. Levi said, "Come on, let's go and meet him." A few minutes later we were running down the bear on our snowmobiles; you could see terror in his eyes. We literally scared the shit out of him as he was running, but that was the point, to scare him away from our basecamp in hopes he would not come back.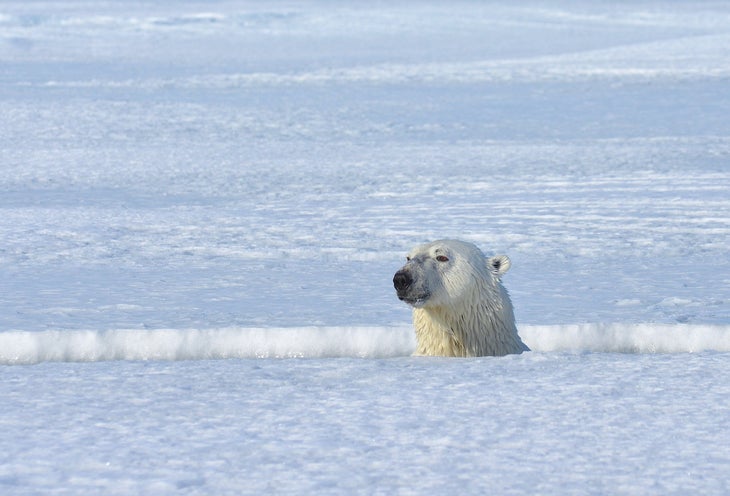 We set up our sleep tent and our cook tent and made cozy beds on the frozen ocean. Hopefully, if a bear did come, he would find his way into the cook tent first. The following day we studied our line on the tower's southeast buttress. Almost half of the route was comprised of thin, splitter cracks up golden granite and the rest was red granite corners, with some mottled sections of mayhem up black-and-white, narwhal skin–colored rock. I could see a few sections of hanging teeth and daggers; I would deal with those when the time came.
There are a couple crutches that make it simpler to climb on Baffin compared to some other places around the world. First is the 24-hour sunlight. You can climb as long as you want without worrying about a headlamp. Another is the approach to the walls. Pretty much everywhere else in the world, the approach to remote, unclimbed walls is half the battle. On Baffin, in the eastern fjords, the rock mostly comes right out of the ocean, and you can easily arrive right at the base. Of course, low elevation is another factor. There is lots and lots of oxygen available when you climb right off the ocean.
After a frosty night, we woke up and had a mellow morning of coffee and pancakes while Bob Marley rocked "Natty Dread" on our solar-powered speakers, then Grateful Dead live in 1977 at Barton Hall, then some Snoop Lion. The view across the fjord was of some of the most impressive granite monoliths on the planet: the Polar Sun Spire, Beluga Spire, and the Walker Citadel. We packed our haulbags, dragged them over the sea ice to the base of the wall, and started climbing. I said, "I am just going to plan on leading all the pitches; if you get psyched and want to lead a pitch, just let me know." Jonas said, "Yeah man, I am psyched to do whatever it takes. I am going to work on my jumaring and cleaning skills and see what this is all about and how I feel." We climbed and fixed three pitches. Jonas jugged and cleaned for the first time. The first two pitches were easy 5.6 and 60 meters long. The third started up the steep part of the wall, some tricky A2 shenanigans through some loose flakes, then a perfect ½" A1 crack for another 60-meter pitch. We decided to haul up our gear to a big ledge the following day. We headed back to our sea ice camp and gazed in awe at the spectacular moon as it traversed across the sky. That's the thing about Baffin: The walls are only a fraction of my never-ending love affair. I can honestly say after many expeditions to remote areas around the world, Baffin is still my favorite place.
The usual clockwork of frozen big wall climbing began. Big wall climbing in subzero temperatures can feel like some kind of engineering job. When we woke up, we clocked in, and when we got in our sleeping bags, we clocked out. I led the pitches with a tag line, pulled up the haul line and then hauled our bags. Jonas jugged and cleaned the pitches and dealt with lowering the bags. It reminded me of when I lived in Yosemite 20 years ago; I had a friend that followed me up a dozen big aid routes on El Cap—he just wanted to jug and clean. I led every pitch, and we had our systems dialed.
The climbing started to get really sweet on the fourth pitch—just over vertical into a straight-in thin crack, from ∑" to 1", that split gold granite in two. If it weren't so cold, it probably would have been 5.11 or 5.12 climbing. The next pitch started with a few frozen 5.10 face moves and brought me into another A1 splitter. It was extra cold because of the wind chill; ropes were flying around like big whips. They cracked at me to keep moving as I shivered and shook out my hands below me to get blood back into my fingers. It's the belayer that really suffers in the cold, though. On lead it stays warmer because you're moving and working. Jonas was starting to get the full value of arctic big wall climbing. Sometimes laughing and mocking the suffering temperature is the key to getting through it. I was literally laughing on lead at how amazing it felt to be on a first ascent with cracks of this caliber. These are the kind of cracks that a climber would sell his soul for. We followed this system for two pitches. So far, every pitch was a full 60-meter stretcher. Sure, I could have stopped at better stances here and there, but my theory is always the longest pitch possible every time, hanging belays or not. Jonas radioed from below, "Mike, fiiiive feet!" Through the wind I could barely hear him from the radio that hung on my harness. One of the things we had talked about was letting me know when I was almost out of rope.
Almost out of rope! I remember that moment— super stoked to have another stretcher pitch and moving up slowly but surely—I heard Jonas on the radio again, "Yeah brother, loving this, yeehaw!" He too figured out to mock the cold. But then, and this always seems to be the case on big climbs, "When life looks like easy street, there is danger at your door." I moved closer to a small stance, perfectly placed at the end of a 60-meter pitch. Jonas yelled through the radio, "No. More. Rope!" At the same moment, I went to pull an undercling so I could reach another crack far to my right and place a cam to start building an anchor, then CRRRACCKK! The big flake I was underclinging came off. I was at a small stance with a cam to my left when the flake slammed down onto me, and I was whipped onto the cam, left hanging from my daisy chain. The flake stopped. It had three points of contact: my left shoulder and arm, a cam with my daisy below, and the right part of the wall. The flake was about 5' x 3.5' and six to eight inches thick, weighing well over 200 pounds. It was hyper madness all at once in my head: "I-could-die-but-I-am-not-dead, It's-going-to-chop-my-rope, I-am-fucked, I-have-to-send-this-flake, Fuck-it's-going-to-chop-my-rope…" I could feel blood running down my arm under my jacket. The flake had ripped through to flesh instantly. It literally took everything I had to lift the flake, move it out of the way, and drop it below me. Somehow, basically pure luck, it did not hit the ropes below me. If my lead and tag lines were chopped, I would have been stranded 60 meters away from Jonas, at least if I were still connected with my daisy chain. It did slice the sling connected to the cam in two like it was dental floss. I was not worried about the flake hitting Jonas because I had traversed a decent way right from the anchor below. The flake sounded like a slow-motion helicopter at first, spinning faster and faster until it exploded against the wall like a bomb, with shrapnel flying in all directions. The flake had been frozen to the wall. It's just part of the deal when doing a first ascent, or any climb really. I was looking forward to clocking out that day. My arm was bleeding in two places. The rope had some good furry spots, but all was okay. Soon the haulbag was up at the anchor, and Jonas arrived on his jugs.
Two feet from the anchor, the rock changed from golden granite to a blackish-gray band of deteriorating stone. I had seen this section from the ground—narwhal skin. I was on high alert from the huge flake that almost ruined everything. I started leading and was immediately under a huge refrigerator-sized pillar of stone that was frozen or somehow connected to the wall; all evidence showed it was detached. I ran out some easy face climbing to the right and into a big offwidth-squeeze funk show and delicately made my way around the refrigerator. I placed gear with calculated runners that acted as tensioned directionals so the rope snaked perfectly around a maze of big, loose flakes and teeth without touching them. Then an overhanging aid section of kitty litter rock. It was the scariest pitch so far, and got a C3 R/X rating. I pulled up on a big ledge, our soon-to-be bivy. There was a bunch of snow there, another calculation from the ground and a crutch for climbing arctic walls: lots of snow and ice to melt saves weight from hauling water up.
We sat out a storm day in the portaledge before moving our camp up. These are always welcome rest days: cooking hot meals with the hanging stove, reading a good book, meditating, and then being snapped back into reality as snow and wind turned our portaledge's rainfly into King Kong's hyperventilating lungs. The storm broke the next day, and we started packing everything into haulbags. It's a tedious task with so much equipment. We had fixed four long pitches above and prepared to haul to our high point. I showed Jonas a Munter-mule knot system that is ideal for weighting and unweighting the bags with ease. At the top of pitch six, we were on the big, snowy ledge. One of the great joys of a natural ledge is how much easier it makes taking a dump; it's much nicer than hanging in your harness.
Another windstorm hit us the day after we hauled to our new camp. At moments we were in a wind-powered washing machine on the heavy-duty cycle; our entire portaledge was blown up and down and into the wall. SLAM! SLAM! SLAM! Every time I began to worry that our portaledge would be ripped apart, the gusts mellowed. Our portaledge was made to take a beating and proved itself once again. Though, admittedly, I was scared of rockfall. With 60 mph gusts, wind can easily pull big flakes off the wall above. Many rocks came down around us but nothing too big. When they hit the wall it sounded like a rifle firing at us. Pihhhkow! Fortunately, we were only hit by shrapnel that ricocheted off the thick rainfly. It sounded like hail pattering on the fly when kitty litter, sand, snow, and ice were scooped up by the wind from somewhere above. We ate beef jerky and chocolate-covered almonds as our muscles got a chance to catch up on some protein. Then, Jonas surprised me, laughing, he said, "Hey Mike, check this out! Now we will make the top no problem!" He had brought his book How to Climb Big Walls, by Chris McNamara. I said, "Dude! No way, that is awesome. Classic, man!" It was a good laugh. I took a bunch of fun photos of him reading the how-to book already 1,200 feet up the wall. Although very informative, I had never read this book myself. Funny though, as I started flipping through it, I noticed I do things much differently than what the book advises. I am a left-handed Polish dude by blood, so that probably explains it. I have my old-school ways, and they work for me. Seems like I have always done things just a little different than others.
Vast blue skies greeted us the following morning. We clocked in and scooped out snow from the SealLine bags into the pot on the hanging stove and boiled water for oatmeal and coffee. We were never in a hurry. It usually took about 45 minutes to get everything ready, cook, put on our boots, take a dump, and get into belay and lead mode. As I led the pitch, I was horrified by what could have happened: Loose flakes the size of guillotine blades somehow clung to the wall. I was perplexed that the wind did not pull them off and send them down to decapitate us during the ferocious windstorm the previous day. The pitch was mellow, 5.9 with some easy aid. To avoid the loose rock, I placed directional slings so the rope wouldn't knock off the flakes and kill Jonas below. I radioed to Jonas, "Yo! When you come up, be very careful. There is loose rock everywhere!" Jonas jugged and cleaned faster with each pitch. I suggested he re-rack as he cleaned to be more efficient, then I could rack up quicker while he could stack the rope. The next pitch started off with big stemming moves through expanding flakes of white granite that crunched like potato chips. Protection was minimal, maybe only good enough for mental assurance. This is where I almost whipped when a huge flake fell away under the weight of my right foot. Soon I was in a big corner that opened up to a giant six-foot-wide overhanging hallway with double cracks in the back of it. The entire system was hollow and scared the fuck out of me. I kept tapping and slapping the giant flakes; if any of them moved, I would have either died or decided to bail, but they remained still. There were several 20- to 30-foot giant pieces of stone sandwiched between millions of tons of granite. Mostly scary A2 ended with a mandatory 5.11 stemming section to finish another 60-meter stretcher. I drilled two bolts for an anchor and hauled our lead bag while Jonas jugged and cleaned. With two pitches fixed, we rapped back to the portaledge. On the way down, I threw off a few dozen flakes so we did not have to worry about them above us while we slept. We cooked a warm dinner of fettuccine alfredo and hot chocolate and talked about women.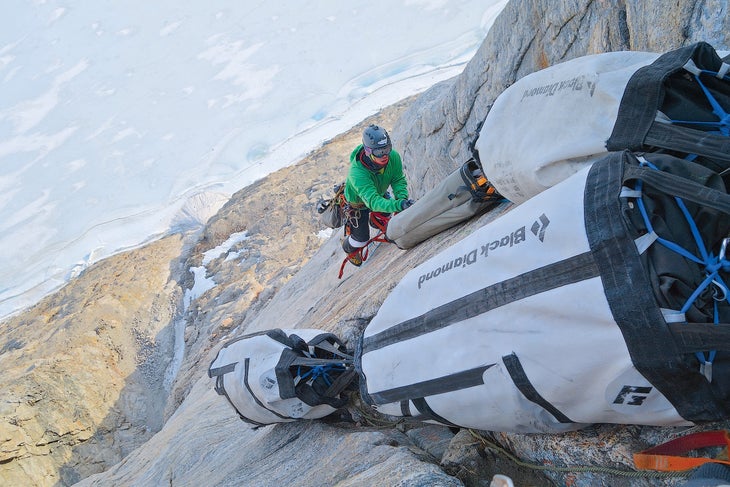 It was getting colder. Levi had joked that there was no evidence of global warming on Baffin. We jugged up two fixed pitches and continued our turtle's pace reach for the summit. I had been looking forward to the next red corner pitch since gazing at it from the frozen ocean below with binoculars. It started about 60 feet above our anchor. Once I pulled through an overhanging section of crumbly quartz, more potato chip flakes, then a quick grunt through an offwidth, the red corner delivered the goods: steep 5.9 hands and stemming for more than 100 feet in a red, brick-and-mortar corner. The variety of the pitches so far was splendid. I drilled two bolts for the anchor. We were going to rap the route, so getting in rap anchors as we went made sense. Soon I had another 60-meter pitch done: 20 feet to finish out the sweet red corner, some chossy, blocky mayhem, another 30-foot corner, then a traverse through big tooth-like flakes, finally to a big bombay squeeze with a good ledge for an anchor.
We had been on the wall for about eight days. We were up 10 pitches from the ocean. At this point we planned to blast off to the summit in a push. Unfortunately, the next pitch was incredibly loose and frightening. I had already almost died from the big flake that came off below, so I was being cautious, almost paranoid about loose rock, and rightfully so. There was a lot of ice gardening in the cracks to find true protection. It was a subzero day, and it took us a few hours to safely lead the next 60-meter pitch, drill an anchor, haul, and clean it. We fixed it and rapped down to the portaledge. We decided the next day we would push for the summit. At this point I estimated we had about four to five roped pitches to go before the steep hike to the top. We were delayed by another day of fierce winds and protein intake.
Push for the summit day! The clockwork of coffee, oatmeal, dump, gear up, and jug. This time, though, we were unsure when we would get back to the portaledge. We had to jug up five pitches to our high point (yes, we brought five ropes, two lead lines, and three static lines for fixing and hauling). I usually keep a rope at the portaledge in case of an emergency, but we needed to fix it unexpectedly.
Once at our high point—we brought two of the fixed lines with us to continue our push—it was go time. It was the coldest day since we had been in Baffin. The wind started to kick up, and clouds were moving in. Snow started to blow sideways. My toes and fingers were numb before I started leading. This was a tricky pitch. Steep to an overhanging bulge through loose blocks, eventually to a perfect, thin ∏" to 1" splitter for 100 feet. Slow is fast, yes, but I wanted to increase the slowness to a little more fastness at this point. I radioed to Jonas, "Hey man, let's step it up a notch, just clean and jug as fast as you can!" I made a natural anchor, no bolts at this one. He cleaned and was at the anchor in half the time than before. That's when the storm really hit us hard. Snow was blowing up the wall. We were both plastered by snow and slowly turning white. Of course, this is when the goggles come in handy, as with every other piece of cold-weather artillery. Everything was literally freezing. The rope was like a metal cable, and slings were like popsicles—when you held one by the end it stayed erect. Cam hinges were sticking. Jonas barely got the rope to work in the Grigri it was so frozen. Some of my small cams would not work, so I put them in my mouth without touching flesh to metal and exhaled to unfreeze them. It worked. Had they touched my flesh, they would have stuck to me like in that classic scene from "A Christmas Story," when the boy gets his tongue stuck to the metal flagpole. Snow, wind, cold—I started to get concerned. I was so cold I had to consider if we should go on or if we should think about going back down to the portaledge. It was now or never. I was 100 feet up perfect A1 cracks cut into golden granite when I radioed down to Jonas, "Jonaaassss! You OK down there?!" He responded, "Yeaaah, man! I am freezing but loving it, trying to take a pee!" There were many moments that Jonas inspired me, and this was one of them. He must have been fucking frozen! It was -20°F at least! We were suffering, but in the hyper-moment of now! A bit of spicy aid shenanigans and I was at the end of another 60-meter pitch. My jacket, pants, harness, slings, rope—everything was frozen. I live for these moments: pushing the edges of my personal potential. If the storm continued, hypothermia could set in. We had no bivy gear and were seven pitches above our portaledge camp, with who knows how many to go. I placed a bolt next to the ice-filled shallow seam that took a questionable nut and two small cams. I radioed down to Jonas as I shivered in the snow and wind, "Line is fixed! Belay is off!" A full-on snowstorm was having its way with us. This time, though, it took Jonas longer than I expected to jug and clean. He finally got to the anchor and said, "Fucking hell, man, the jugs were slipping down the frozen rope! I had to keep stopping to massage the rope with the jumar teeth. That was pretty cool actually, made me feel alive. I backed up with the Grigri and tied figure eights." We were on the edge of the unknown, the kind of unknown that could be very painful, or worse.
I started leading up shallow, ice-filled cracks. All of the rock and all of the cracks were glazed with ice. It took time to clean out the crack and then meticulously find a placement. I had an assortment of pitons with me, but so far the route had been hammerless, except for anchor bolts. I wanted to keep it that way. Though, I will admit, after testing some of the pieces that kept popping out because of the ice, I almost had Jonas send up some pins on the tag line. I stayed focused, patient, and was able to get some gear to stick. A lot of the pieces I was aiding on felt like Russian roulette. Even though I have learned to bounce-test tricky aid when possible, some of these pieces were totally on ice. The pitch eased back to a lower angle about 100 feet up, and big cracks ate all of my big cams to the end of another 60-meter pitch. The storm mellowed, and light snow fell; the clouds that engulfed us started to open up, and we were almost to the end of the roped pitches, where we could hike. Jonas made good time; he was so cold he tried to go faster to get blood flowing and avoid frostbite.
I traversed out on a big ramp to the right about 75 feet to a big snow ledge. I belayed Jonas over; we were pretty sure it would be fifth class from here. Once again, when life looks like easy street, well, there is face climbing of ice-glazed danger at your door. We had to keep pitching out the low-angle rock near the top. It was steep enough that if we fell we would tumble over the edge to our deaths. Had it not been for the ice-covered rock, we would have been able to simul-climb, or maybe even scramble up. Two long, easy ice and snow pitches later, we were able to hike in deep snow to the summit. Sometimes the snow was up to our waists! Our legs and feet froze.
And then, we found ourselves on the top. I was pretty exhausted; it had been a long day already, probably about 30 hours to reach the summit on our final push.
We hugged and double high-fived. Time for the summit salami. I cut it in half, and we indulged on salty calories. The Year of the Horse masks came out next. I always celebrate the current Chinese lunar year with the appropriate animal mask on the summit. We were stoked to say the least, for about 20 minutes. Then the reality of rapping the route set in.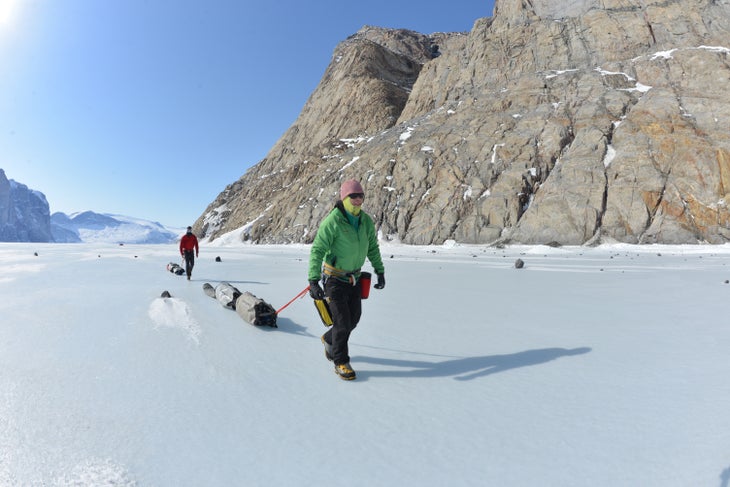 I got to lead every pitch and haul the bags. Jonas learned to jug and clean, which is no easy task—along with the hundreds of variables that go along with a huge first ascent on a subzero arctic summit. I was blown away by Jonas' work ethic, psych, and commitment. But it wasn't over yet. The summit, as we all know, is just halfway.
We scrambled down to our portaledges, 17 pitches from the ocean. We brought up a haulbag with all the extra gear, tag line, first aid kit, food, and water. I explained to Jonas that one of us would have to "ride the pig." Basically setting up the haulbag to a rappel device, clipping it to a climber's harness, and then riding it down. It seems a little scary when it's your first time. Jonas said later, "I thought, well, if Mike tells me I need to do it, that makes sense because it was part of the learning for this kind of big wall climbing. I needed to understand the system and commit to it." Jonas muscled the bag. I went down first to set up the rap anchors and clipped the remaining ropes to me. One of the ropes got stuck, and we had to cut it. I left slings and biners for bomber rappel anchors, including several nuts and a few cams at the natural anchors. I did not have any more bolts for anchors. When we arrived back at the portaledge, we had been gone 35 hours.
We slept for a long time.
We were still at our portaledge camp six pitches up, and there was one last thing I wanted to show Jonas. Instead of riding the pigs, we would lower the haulbags all at once. With all of our gear, sleeping bags, portaledge, etc., the weight adds up quick. I tied all the haulbags together into one power-point. I went down first on our two rappel lines, with another line connected to me and the bags. Once at the anchor below, Jonas started lowering the bags on another rope from the Munter-mule knot. Four ropes in play: two for rappel, two for lowering the bags. Once the bags neared the anchor, I pulled them close with the first lower line and Munter-muled them. This line would become the next lower line. The two lowering lines would alternate, using Munter-mules and making things simple as pie. A few hours later, we stood on the frozen ocean­—the true summit.
Jonas crushed his first big wall in amazing style. There was never one moment of anything but positive vibes. On the ground we slept with a loaded rifle, hoping for the best. On our way out, we learned a bear had ambushed two Inuit hunters north of us and they'd barely survived. One hunter had been dragged out of the tent with his head in the polar bear's jaws.
This trip was just training for the next trip. And it will never end.
Mike Libecki is one of the world's leading expedition climbers and a frequent contributor to Climbing magazine.