America's 10 Best Climbing Gyms
Heading out the door? Read this article on the new Outside+ app available now on iOS devices for members! Download the app.
This story originally appeared in the February 2016 issue of our print edition.
Once a dank cave where diehards trained through the winter, the climbing gym is now an architectural wonder, a cultural phenomenon—and the perfect place for our tribe to gather. While in practical terms the very best gym in the country is the one closest to your house (or van), here's a short list of gyms driving the current plastic paradise boom.
The Front Climbing Club
The power of authenticity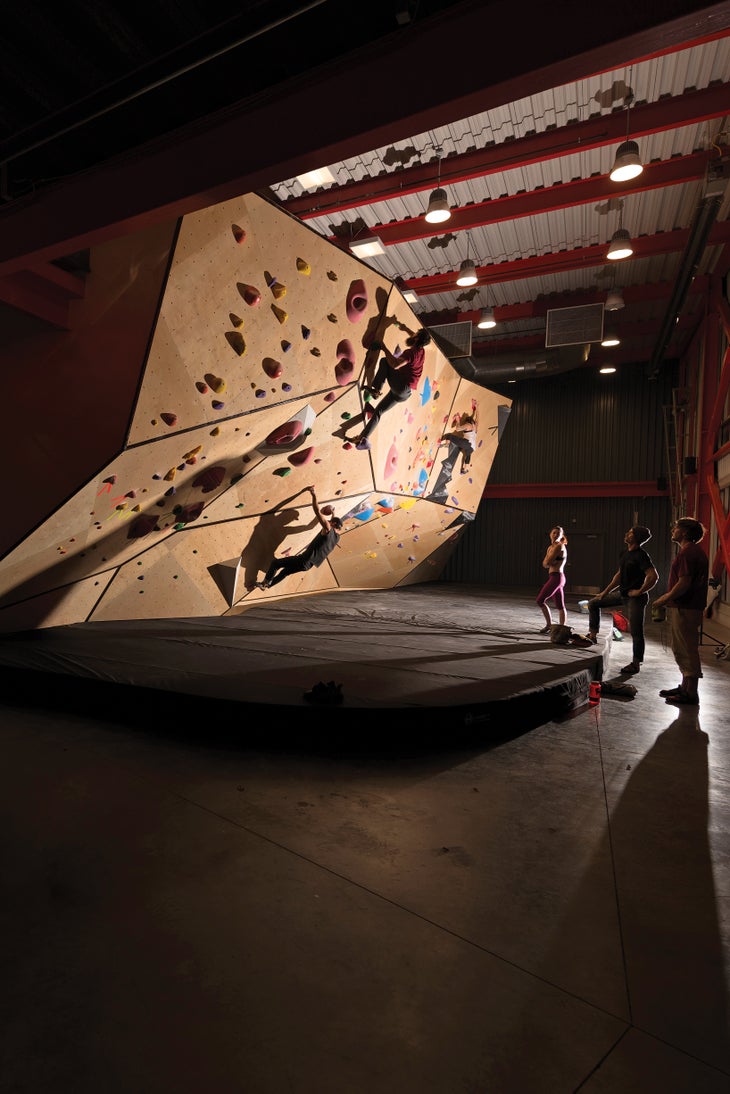 Founded as a bouldering gym, The Front in Salt Lake City has a reputation for attracting some of the area's best climbers as members. It's a place that, they say, inspires people to keep pushing themselves. It's still a spot to hone your craft and progress as a climber, but they now offer a multitude of classes, weight training, cardio, and even complimentary yoga and Pilates, a perk for the "not interested in climbing significant other." In 2010, The Front installed solar panels, generating almost 10 megawatts of power per year, and they neutralize the rest of their energy consumption with wind power offsets.
Founded: 1989
Classes & Clinics: Yoga, Pilates, spinning, bouldering 101, intro to climbing, lead climbing, and gym to crag.
Website: frontslc.com
Member Quote: "The Front is my top choice because of its atmosphere. Everyone is psyched, but not overly intense. There's a real sense of dedication and camaraderie among all the climbers that makes it feel like home." —Leah Scott
Brooklyn Boulders
Making climbing the epitome of cool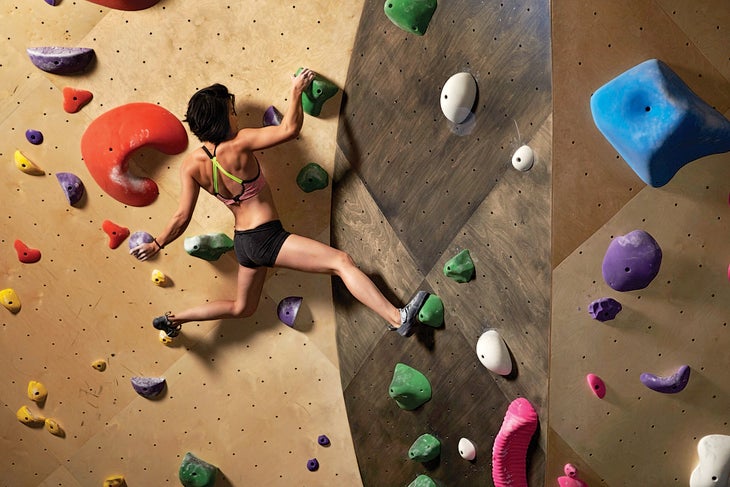 There was a time when climbers didn't care about being cool. In fact, they relished being uncool, or not giving a shit at the very least. But Brooklyn Boulders, or BKB, has brought an urban, almost punk, approach to gym design and climbing ethos. There's graffiti and art and an attitude of fun. BKB has expanded from Brooklyn to three more locations in New York, Massachusetts, and Illinois. Their Somerville (MA) location incorporates a 4,000-square-foot workspace where you can post up to finish your freelance assignment or trade some stocks (why not?) before working your project. The walls are a natural wood grain, pleasing to the eye, and a creative challenge for routesetters, since smearing is all but eliminated. The routes here are, well, fun.
Founded: 2009
Classes & Clinics: Yoga, Pilates, capoeira, pro climber speakers, and parkour.
Website: brooklynboulders.com
Member Quote: "Brooklyn Boulders Somerville has created an environment where there's an organic community that gathers to climb, workout, and hangout. I've met so many new friends here—and I climb stronger than ever." —Matthew Henson
Climb So iLL
Yesterday meets tomorrow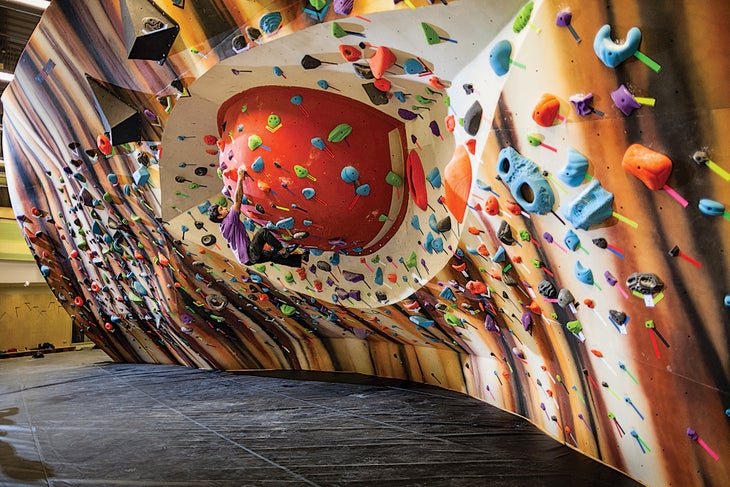 Housed in a once-abandoned power plant, Climb So iLL has made a massive impression on St. Louis climbers since it opened its doors in 2012. The walls are among the wildest and most creative we've ever seen (think giant eyeball, see below). Nearly everything is repurposed from the original building or custom-made—the place has a brick factory–meets–USS Enterprise look and vibe. Climb So iLL designs their own holds and works with other hold companies to create grips and colors exclusive to their gym, so the routes are truly one of a kind.
Founded: 2012
Classes & Clinics: Yoga, strength and conditioning, gym to crag, Warrior's Way, scouts, and running.
Website: climbsoill.com
Member Quote: "The aesthetic of the gym plays a huge part in my climbing experience. It's amazing to walk in and see that giant eyeball staring right at you. Or walk by the beginner's wall and see a giant purple elephant. Being in a creative environment encourages you to think outside the box when you're climbing." —David Nguyen
MetroRock
Connecting new climbers to the community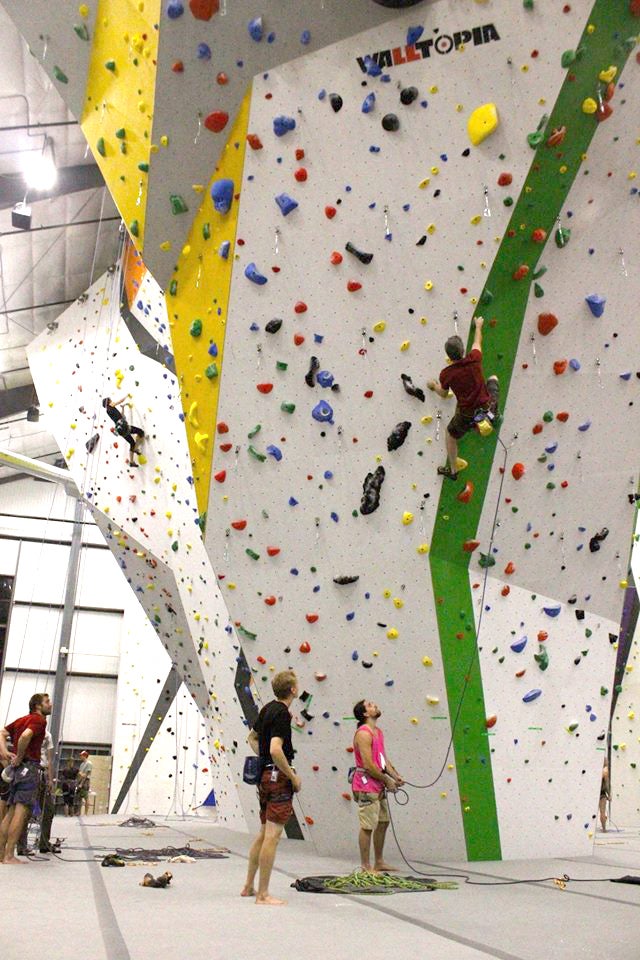 MetroRock has three gyms in New England, and the mission of each isn't just to get you prepped for gym climbing and belaying duty; they also want their members to take the skills they learn indoors and transfer them to the crag. In other words, your membership card is for more than just the gym; it's for the wider climbing community. MetroRock says their routesetting style emulates outdoor climbing as opposed to competition-style setting. You get chimneys and slabs as well as the classic gym overhangs and roofs, and an in-house guide service offers rock trips across the Northeast. With 26,000 square feet of climbable wall and hundreds of routes at its Boston flagship location, it's a great space to learn and progress. 
Founded: 2004
Classes & Clinics: Yoga, child and adult climbing training, ropes courses, and gym to crag.
Website: metrorock.com
Member Quote: "With its strong ties to the Appalachian Mountain Club and a lot of super-experienced and lifelong, enthusiastic climbers, a newbie can really learn in a much more systematic way. Without such great mentoring I don't think I would be as good and safe of a climber as I am today." —Ming Tung
Momentum Indoor Climbing
It's all about the walls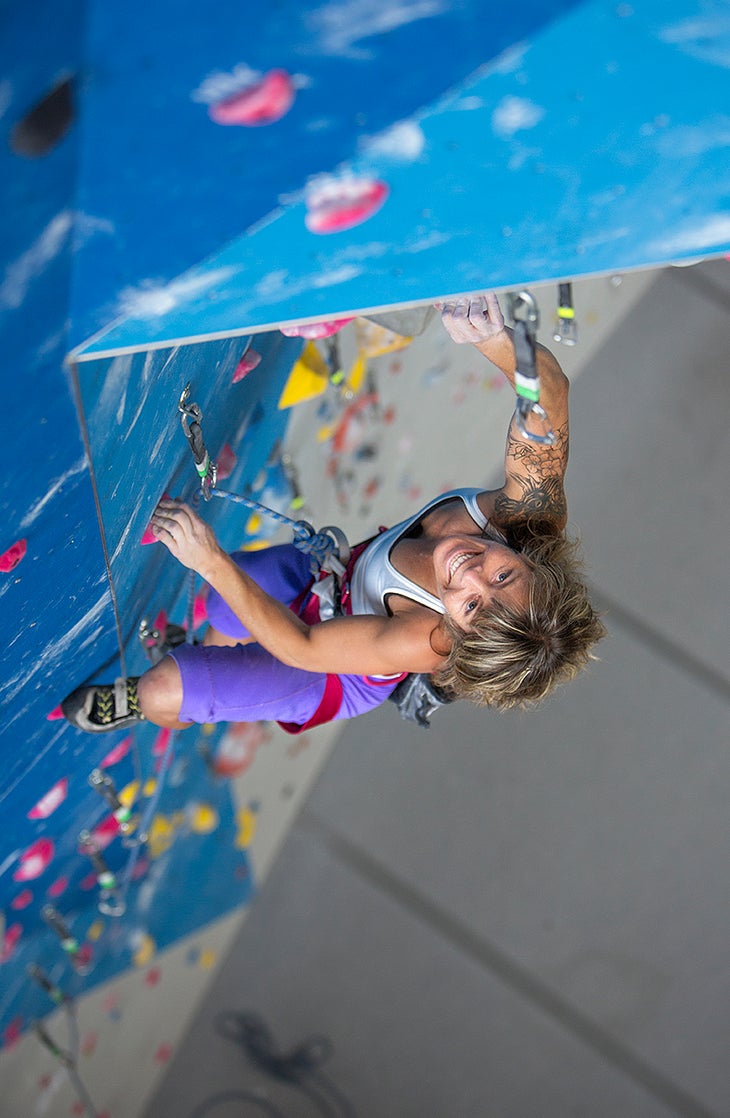 The Momentum gyms (there are three in the Salt Lake City area) were the first in the country to use the now-ubiquitous, candy-colored Walltopia walls in their facilities. And this speaks to the vision of the owners about how they think gyms should look and climb. Momentum has more or less the same amenities and classes as other large gyms, but they stand out because of their out-of-the-box thinking, an obsessive attention to detail, and their focus on the main thing you walk into a gym for—the climbing. The Millcreek location has more than 25,000 square feet of climbable surface, up to 190 roped routes, and 150 bouldering problems, so any climber of any level will find a challenge to keep them busy. Their community features local crushers, visiting pros (we ran into Sonnie Trotter there once), and newbies alike. In 2014, the company expanded from one to three gyms, and with financial backing from Walltopia, Momentum plans to expand nationwide with their first wave of new gyms planned for Texas. 
Founded: 2007
Classes & Clinics: Fitness, bouldering, toprope belay, lead belay, self-rescue, how to rack, private instruction for outdoor climbing, and competitions.
Website: momentumclimbing.com
Member Quote: "I started climbing in earnest back in the 1990s. The problem was, of course, that during the long winter months, rock climbing along the Wasatch Front wasn't much of an option. Jeff Pedersen and his gyms changed all of that. It's the place I go so that I can handle the other days of the week." —Waine Riches
Earth Treks
Learn to climb, climb for life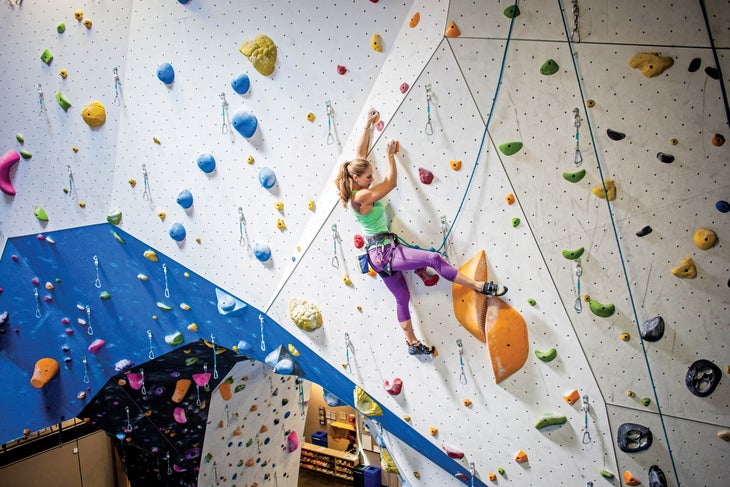 Chris Warner, a former Outward Bound instructor, AMGA guide, and high-altitude mountaineer, founded Earth Treks in 1990 as a small outdoor school in Maryland. Eventually Warner decided to take his company in a wild direction and opened an indoor climbing gym by the same name. The first Earth Treks gym opened in 1997 in Columbia and has expanded with two more Maryland locations, a Golden, Colorado location, and a Virginia location slated for 2016. Their facilities are well-known for their gobsmacking size and wild terrain, but one of the coolest aspects of the Earth Treks DNA is their proactive approach to climbing education. They team up with the American Alpine Club, Access Fund, and local coalitions to design gym-to-crag classes, host many a guest speaker, and were one of the premier stops for the Access Fund's Rock Project. They also host clinics on footwork, falling, crack climbing, and a slew of other climber-centric skills to help you climb smart and send. Awesome for new climbers: They have separate teaching areas to help starters get their feet under them in a non-intimidating environment.
Founded: 1997
Classes & clinics: Yoga, fitness, gym to crag, footwork, lead belay, bouldering fundamentals, crack climbing, ice climbing, summer camps.
Website: earthtreksclimbing.com
Member Quote: "I feel like every day that we make it into Earth Treks, our consciousness is elevated. It's a place where I feel I have the tools I need to succeed." —Paul Lottridge
High Point Climbing and Fitness
Redefining the modern gym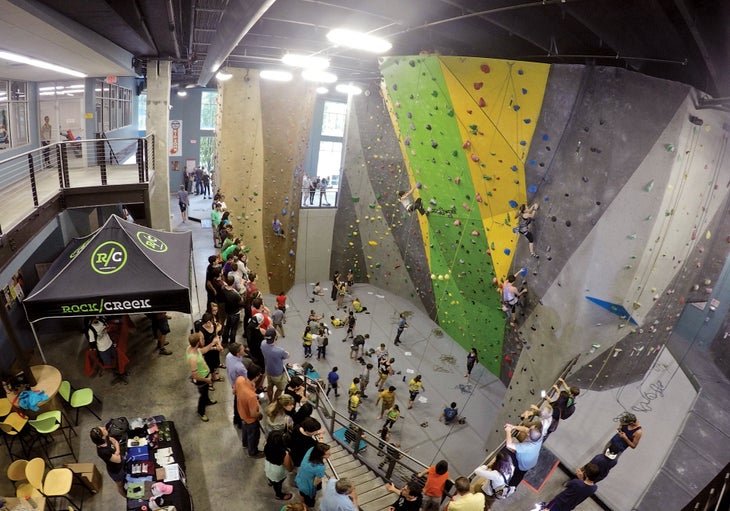 High Point is perhaps the only gym in the country to offer indoor and outdoor climbing right on site. The exterior walls of its downtown Chattanooga, Tennessee location are layered in transparent panels adorned with holds, bolts, and anchors. It's a unique experience to climb after dark on the backlit walls above the city. The gym is more than a novelty, though. Pro climbers Lisa Rands and Wills Young man an in-house climbing school offering instruction, guiding, and coaching. In a staff visit, Climbing editors loved how the gym's rooms were organized for bouldering, instruction, toproping, lead climbing, and training. There's even a Kid Zone the size of most gyms. High Point has two Tennessee locations and is opening in Alabama in 2016.
Founded: 2013
Classes & Clinics: Yoga, spinning, personal training, guest speakers, slideshows, adaptive climbing, kids' programs, speed climbing
Website: highpointclimbing.com
Member Quote: "I really think all the different-themed rooms is key for everyone to have fun and get what they need from their experience. It seems to work really well, and having multiple areas spreads people out on busy days." —Matt Sims
Sender One
High-profile owner, high-profile gym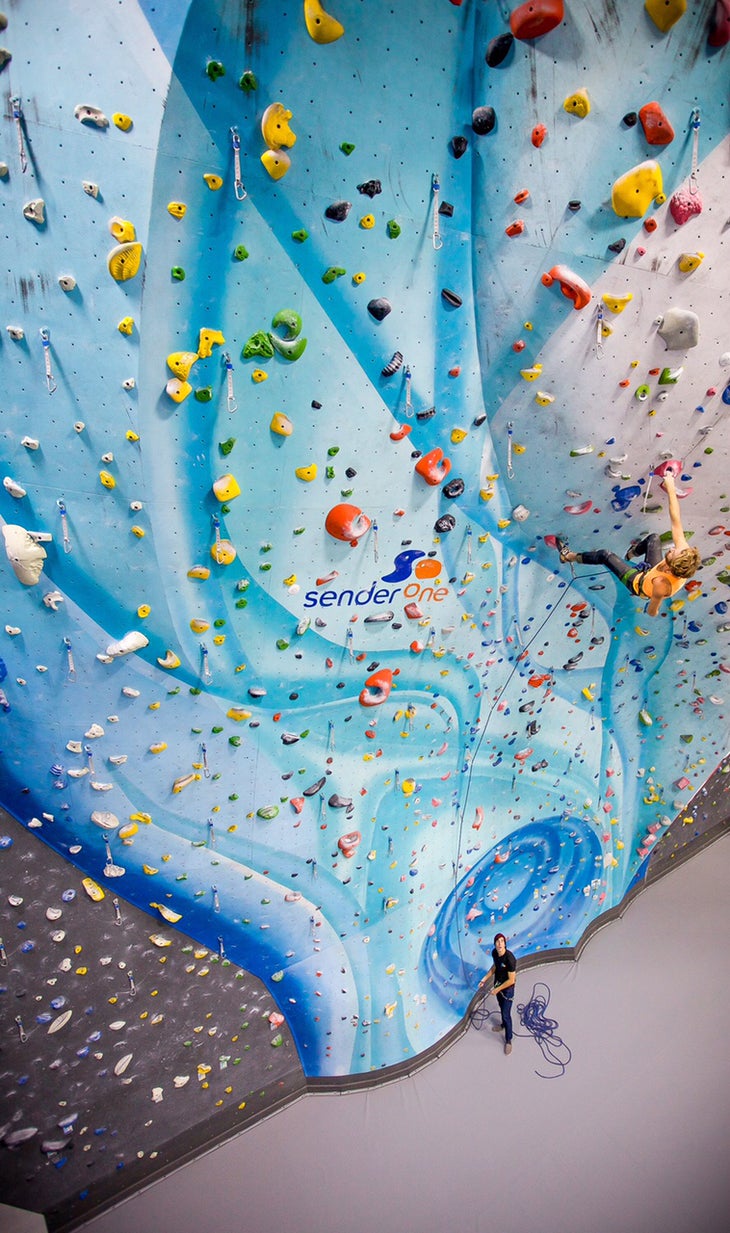 With its Ice Cream Cone Wall, a giant blue-and-white swirl feature that has a litany of routes set on its unique shape, Sender One is easily one of the most iconic and recognizable gyms in America. But what really sets this gym apart is its dedication to routesetting. Sender One has five full-time routesetters. Each setter climbs the others' routes and offers criticism before a route is finished. And with a rotation of six to eight weeks for setting, the gym always feels new. Chris Sharma is an owner and designer, and Sender One is a frequent competition venue (as seen on the cover).
Founded: 2013
Classes & Clinics: Yoga, fitness, intro to climbing, lead climbing, and movement.
Website: senderoneclimbing.com
Member Quote: "The Cone is so cool, but it's not the only rad area of the gym. The two pillars that go up in the center also create some pretty challenging routes. It gets you away from just a vertical wall into some really amazing body positions." —Charles Landis
Vertical Endeavors
Bringing new heights to the Midwest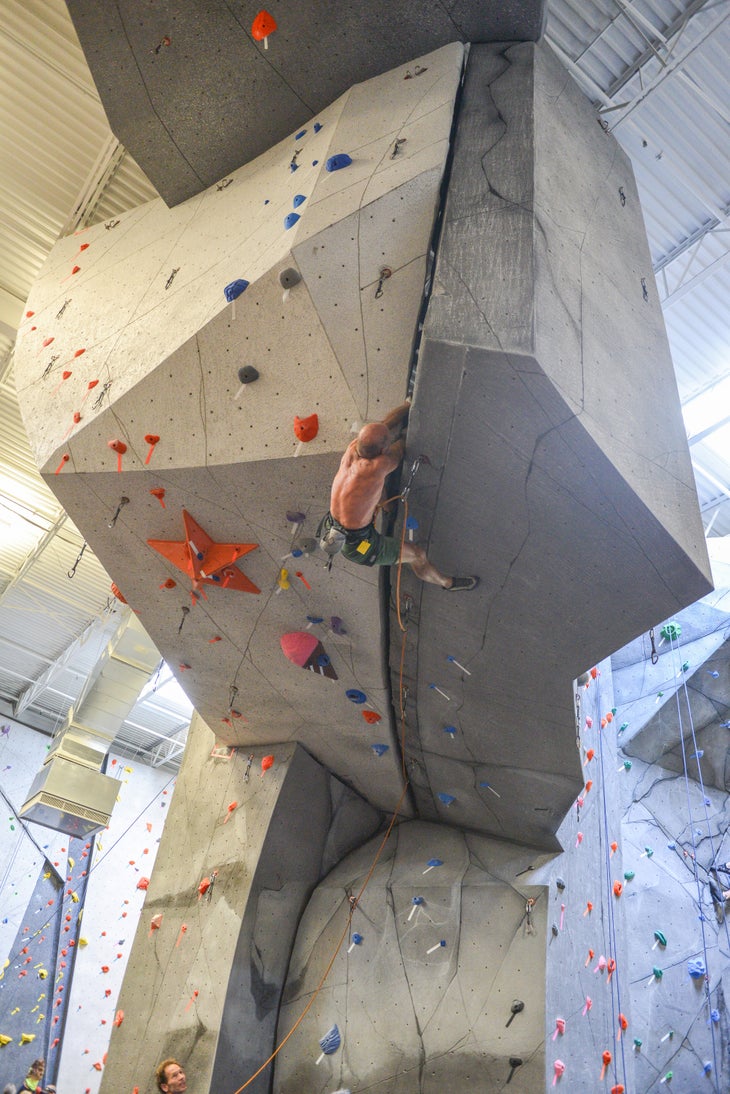 Vertical Endeavors first opened in Minneapolis and has expanded to four locations in Minnesota and Illinois (with more Midwest gyms planned). Though each spot has its unique perks, the Glendale Heights facility stands out. It's one of the largest gyms in the country with more than 40,000 square feet of total climbing space, including three separate bouldering stations. Good luck exhausting the routes before they're reset. And for those crack climbing enthusiasts, Vertical Endeavors also has a dedicated crack climbing tower with a variety of styles from finger cracks to overhanging hands to gut-wrenching offwidths. Wow factor: Five of the climbs on this tower are exact copies of outdoor classics—four are from Devils Tower and the other is a replica of Yosemite's Serenity Crack.
Founded: 1992
Classes & Clinics: Adult climb league, camps, scouting events, toprope, lead, movement and technique, guided outdoor rock and ice climbing.
Website: verticalendeavors.com
Member Quote: "On the 'Devils Tower' section, there is a variety of finger and hand cracks to hone your skills, all of which can be led! I usually spend a bit of time here each week to maintain and improve the skills needed for my crack climbing." —Bob Ruzich 
Planet Granite
Paying it forward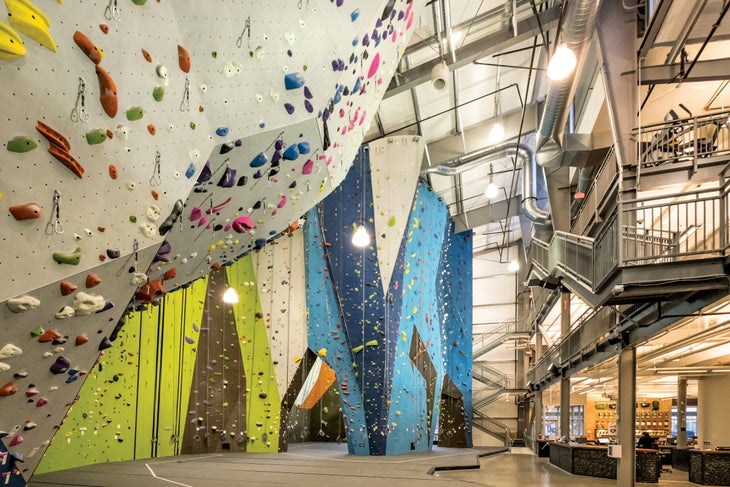 Planet Granite is a California-based rock gym with four locations, three in California and the fourth—a real gem—in Portland, Oregon. The Portland gym boasts some of the tallest walls in the West with 30,500 square feet of climbing. There are more than 325 routes and boulder problems, four hydraulically adjustable cracks, 13 other crack systems (including two offwidths!), overhangs, slabs, vertical walls, and a beginner area with designated easy routes. Oh, and there are four bouldering walls up on the second floor. Perhaps that is why the Climbing Business Journal called this spectacle the "climbing gym of the future." What makes this gym really special, though, is its community outreach. Last October, they helped raise more than $55,000 for the American Safe Climbing Association by matching donations made at an annual fundraiser, making it possible to rebolt routes across the country.
Founded: 1994
Classes & Clinics: Yoga, fitness, pro speakers, slideshows, and gym to crag.
Website: planetgranite.com
Member Quote: "Every week they have something up in the gym that they are supporting. More applicable for me is the amount of effort they put into creating a community within their gym. They also announce when someone needs a climbing partner, which happens all day long." —Jordan Schmidt. 
Honorable Mentions
Rocks and Ropes
Tucson, AZ
Rocks and Ropes offers the vibrant Tucson climbing community two gyms, gym-to-crag courses, and guided trips to Cochise Stronghold and Mt. Lemmon.
rocksandropes.com
Boulder Rock Club
Boulder, CO
So what if we're a little biased? Where else can you casually bump into Lynn Hill, Jonathan Siegrist, or Kelly Cordes while sneaking out for a lunch hour session?
boulderrockclub.com
Texas Rock Gym
Houston, TX
Here, the ethos is "train to be outside," and with that TRG also offers a variety of fitness classes and private instruction.
texasrockgym.com
Triangle Rock Club
Morrisville, NC
Triangle has three gyms in North Carolina and won the U.S. Chamber of Commerce Small Business of the Year Award.
trianglerockclub.com
Stone Summit
Atlanta, GA
This southern stronghold has two enormous Georgia gyms, and their Atlanta location has 30,000 square feet of climbing space and more than 160 routes that get reset every two months.
ssclimbing.com
Vertical World
Seattle, WA
This was the first indoor climbing gym in America when it opened in 1987; it now has three locations in the Seattle area.
verticalworld.com
Mesa Rim
San Diego, CA
With four SoCal locations, MR believes climbing and yoga are the same thing—forms of meditation—and they offer some of the area's best resources for both.
mesarim.com
Movement Climbing + Fitness
Boulder, CO
Opening in 2009 with a bright and spacious feel, Movement immediately set a new local standard for rock gyms. Eighty percent of their power comes from solar.
movementboulder.com
Touchstone Climbing and Fitness
San Francisco, CA
With 11 locations, Touchstone reaches more climbers in America's most populous state than anyone.
touchstoneclimbing.com
Evo Rock + Fitness
Portland, ME; Concord, NH; Indianapolis, IN
Their philosophy is that everyone has untapped potential and that we can build stronger communities—and that rock climbing can help actualize both.
evorock.com
Did we miss your favorite? Or do you disagree with one of our entries? Tell us in the comments.