America's 100 Best Sport Climbing Routes
---
Join Climbing
Create a personalized feed and bookmark your favorites.
Join Climbing
Create a personalized feed and bookmark your favorites.
Join for free
Heading out the door? Read this article on the new Outside+ app available now on iOS devices for members! Download the app.
What makes the perfect route? Is it the setting, technical difficulty, rock quality, style, variety, or maybe just how you were feeling that day? Through our 100% subjective polling process, we asked Facebook users, pro climbers, photographers, route equippers, media makers, and any well-traveled bolt-clipper (who would stop obsessing about their strength-to-weight ratio long enough to respond) what their absolute favorite routes across the country are. We then cross-referenced those responses with Mountain Project's Top 50 Classics and Route Finder tools to create this list loosely organized by region and grade. So grab a cold one, sit down with your friends, and get ready to debate—and build one hell of a bucket list in the process.
Region: Eastern
Quality over quantity is the rock mantra for this part of the country. And the climbs are so damn good that we could make a case for filling half our national list with the hardman testpieces of Rumney and the bomber sandstone lines of the New River Gorge alone. Climbers like Joe Kinder, Dave Graham, and Sasha DiGiulian got their starts here, and while you might not be crushing 5.14+, the crisp fall days spent climbing amid brilliant gold and fiery red leaves will make you think about putting down roots. It's that good.
Crowd Pleaser (5.7)
Rumney, NH
Smooth, clean face climbing up positive holds on the first pitch leads into a slabby, airy arête with fun exposure on the second pitch. It's guaranteed that everyone will love this, uh, crowd pleaser!
Mrs. Field's Follies (5.8)
New River Gorge, WV
Crack climbing, face moves, an overhang, and, believe it or not, it's a 5.8 sport climb.
Junco (5.8+)
Rumney, NH
Mellow slab climbing and a stellar finger crack lead into a fabulous view of the quaint New England hills of Rumney. "My all-time favorite 5.8; it can't be beat… I don't see this one ever getting old."
The Eagle's Gift (5.9+)
Eagle Bluff, ME
Take one look at the massive roof on this line put up in 1991 and you'll deny profusely that it could be easier than 5.11, but a couple thank-the-lord jugs in just the right places make this a fun romp.
Lonesome Dove (5.10a)
Rumney, NH
"Wow, always classic, always fun, one of the best routes of its grade… Every single move on the climb is fun… This is by far the greatest climb I've ever done." You might have to wait in line for this technical slab with small edges and holds, but it's well worth it.
Honeybadger (5.10a)
Adirondacks, NY
The Empire State isn't known for its sport climbing—trad is king here—but there are a few standouts, and this well-protected, "sick!" route is at the top of the list. A delicate, balance-focused slab then "dances nicely up the face on positive holds."
Millenium Falcon (5.10c)
Rumney, NH
"It's so good you can't even remember how good it is until you're back on it." Situated at one of the best cliffs Rumney has to offer, creatively named the Main Cliff, this climb works its way up a steep face and tops out with just a bit of techy climbing—good sequencing goes a long way.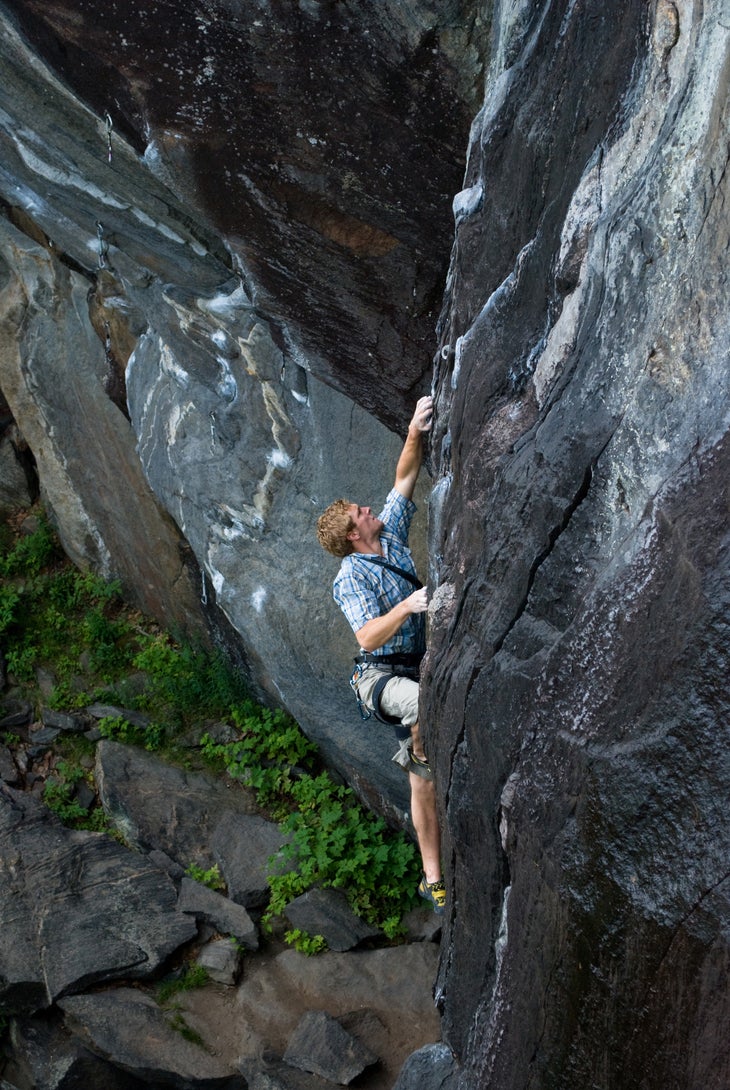 Waimea (5.10d)
Rumney, NH
"Flowy moves between incut flakes on classic overhanging black and tan Rumney rock—beware the pumpy crux at the top!" A prominent ebony streak of rock makes Waimea instantly stand out, but once you pull on, you'll see how creative movement makes this list-worthy.
Legacy (5.11a)
New River Gorge, WV
"Awesome, varied movement on a beautiful piece of rock…impeccable face climbing," raved one Appalachian climber about this 90-foot route with big reaches to solid holds and a small roof.
Flying Hawaiian (5.11b)
Rumney, NH
Another shoe-in, this "crazy, sweeping dihedral with a shiny line of bolts on the right wall is long, proud, and f***ing terrifying, which only adds to the allure," says one local climber. An adventure through and through, this climb tests power, technique, and your personal commitment factor, making it the testpiece for the grade at Rumney.
Porter for Recorder (5.11+)
New River Gorge, WV
"With no section that is less than perfect, this is without a doubt one of the best 5.11s in the New." Committing clips, shaky cruxes, and a variety of different climbing types means this line will certainly test you, but at the end of the day you will be coming back for more.
Under the Milky Way (5.11d)
Summersville Lake, WV
A "stupid hard" boulder problem kicks this no-gimme route off, and a blunt arête will have you slapping, crimping, and cursing your way to the delicate and balancey moves near the chains. When you get done throwing your wobbler after whipping at the top, don't forget to look back at the view.
Narcissus (5.12a)
New River Gorge, WV
The ideal gym rat's first 5.12 that just so happens to be a classic for the grade and the region. A super-overhanging pumpfest on crimps and jugs has a crux that you can dyno through or use a terrible intermediate—both ways are hard.
Technosurfing (5.12b)
Rumney, NH
An obvious line up the middle of the cliff, this impressive route has three bouldery and intense cruxes, each separated by no-hands rests, and an overhanging ledge system guards the chains. It might see a little too much traffic, but it's for very good reason.
Shagg It (5.12d)
Shagg Crag, ME
The granite is perfectly carved into what seems like straight-from-heaven holds. "It's long and has it all, from steep, reachy sidepulls to jug hauling, as well as a few hand jams and technical moves to finish it off. Badass."
Quinsana Plus (5.13a)
New River Gorge, WV
Sustained and techy climbing on a bright orange face complete with pockets, edges, rails, and a mantel add up to a superb, outstanding route.
Apollo Reed (5.13a)
Summersville Lake, WV
Jugs ahoy! With 90 feet of somewhat unrelenting steepness, you'll welcome the massive jugs that come about halfway through on this line, and thanks to the blocky nature of the sandstone, a plethora of hold options provide several ways to get through the crux at the second bolt.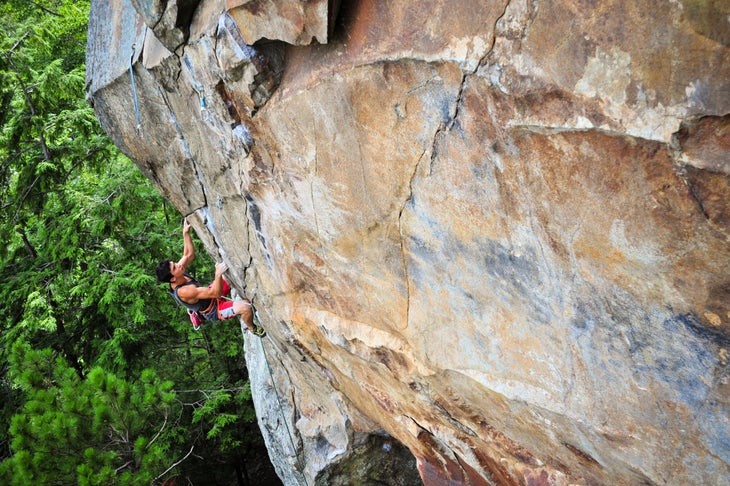 Beat Junkie (5.13b)
Rumney, NH
"Predator gets most of the attention because of its photogenic position, but Beat Junkie has better moves, better rock, and a better overall feel," according to one local. Sustained climbing, varied moves, an exhilarating finish, and the "possibility to fall from almost any move on the climb," make this a must-do 5.13.
Cold War (5.14a)
Rumney, NH
"After about 80 moves, four cruxes, four kneebars, and 12 bolts of climbing, clip the chains and lower off. Then shirk all belay duty and take a nap in the sun." Ah, if only it were that easy!
China Beach (5.14b)
Rumney, NH
Some guy named Dave Graham put this line up in 1999, and it became an immediate standout line when it was featured in Dosage II being climbed by the first ascensionist himself. Technical layback moves, overhanging crimps, and very difficult and precise footwork are just part of the fun.
Region: Midwest
There's a reason we meet more Midwesterners in Colorado than Coloradoans. But from South Dakota's granite spires to Kentucky's sandstone caves to Texas' surprising limestone, you can find dozens of road trip–worthy destinations. In fact, "the Middle" has more than a few single-pitch clip-ups that put the rest of the country to shame.
Waves (5.8)
Mt. Rushmore, SD
Two pitches, safe bolting, and ripple-like features in the pegmatite granite offering huge holds make this line an absolute must-do. "The holds are massive, and the protection is awesome."
Green Goblin (5.8)
Horseshoe Canyon Ranch, AR
It's hard to find a 5.8 that's considered "sustained," but Green Goblin is one—wonderfully carved sandstone ledges and edges force the climber to stem, layback, flag, and employ various intermediate techniques on this
"easy" route.
Waste Knot (5.8)
Custer State Park, SD
With 15 to 20 feet between bolts, this line is the definition of spicy. One fan places this 130-foot moderate into the category of "if you only have time for one climb, make it this one."
Best Seat in the House (5.9+)
Obed, TN
It's clear where first ascensionist James Gose got the name for this stellar arête climb in one of the South's premier climbing areas. Hit the life-saving jug at the top, scramble above the anchors, and take it all in.
Baba Cool (5.9+)
Mt. Rushmore, SD
Legendary climber Paul Piana once had this to say about this crystal-covered, six-bolt wonder: "A perfect route. All-time classic. Climb this route!" Enough said.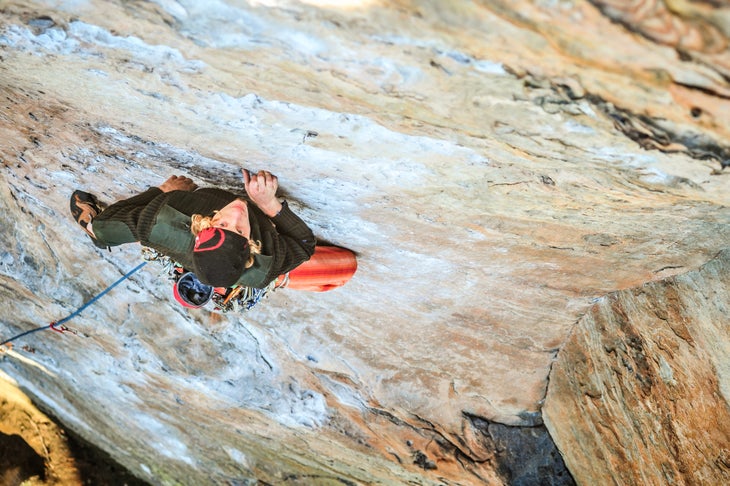 To Defy the Laws of Tradition (5.10a)
Red River Gorge, KY.
It's rumored to be the first bolted line in the mighty Red, hence the name—or maybe first ascensionists and Red godfathers Porter Jarrard and Chris Snyder were just Primus fans—but either way, "cool, technical moves and a slightly overhanging finish make this a classic."
Gettin' Lucky in Kentucky (5.10b)
Red River Gorge, KY
Imagine taking thick ceramic dinner plates, gluing them to a wall, and then climbing via the jugs, pockets, sidepulls, and massive edges they create—that's pretty much what this ultra-über-classic line is like. With a great name to boot.
The Sundance (5.10b)
Spearfish Canyon, SD
"This route can get sadistic if you don't have Popeye's forearms and the muscle shirt you bought didn't actually come with any real muscles." The wall leans back as you get to the top, and big whippers are not only possible but encouraged.
Carp (5.10c)
Spearfish Canyon, SD
"Technical at the bottom on small pockets and edges that lead into a funky dihedral" and "fun—no matter how hard you climb."
Spawn (5.10c)
Obed, TN
"Lots of great climbing on super-solid white sandstone with a great view from the top. Take time to look," writes Kelly Brown, author of The Obed: A Climber's Guide to the Wild and Scenic.
Crimp Scampi (5.10+)
Horseshoe Canyon Ranch, AR
Even with the copious amounts of chalk covering the holds, you might still have a hard time reading the correct sequence. "A bit hard for the grade, especially with the more recent polish, but screw the haters, this route is fantastic!"
Horseshoes and Hand Grenades (5.11a)
Horseshoe Canyon Ranch, AR
Andy Chasteen, the founder of the madman climbing competition 24 Hours of Horseshoe Hell, says, "Sweet route. Thin, steep climbing with one long move leads to a little easier terrain and a rest before pulling a bulge (big grips) to easier terrain again…classic!"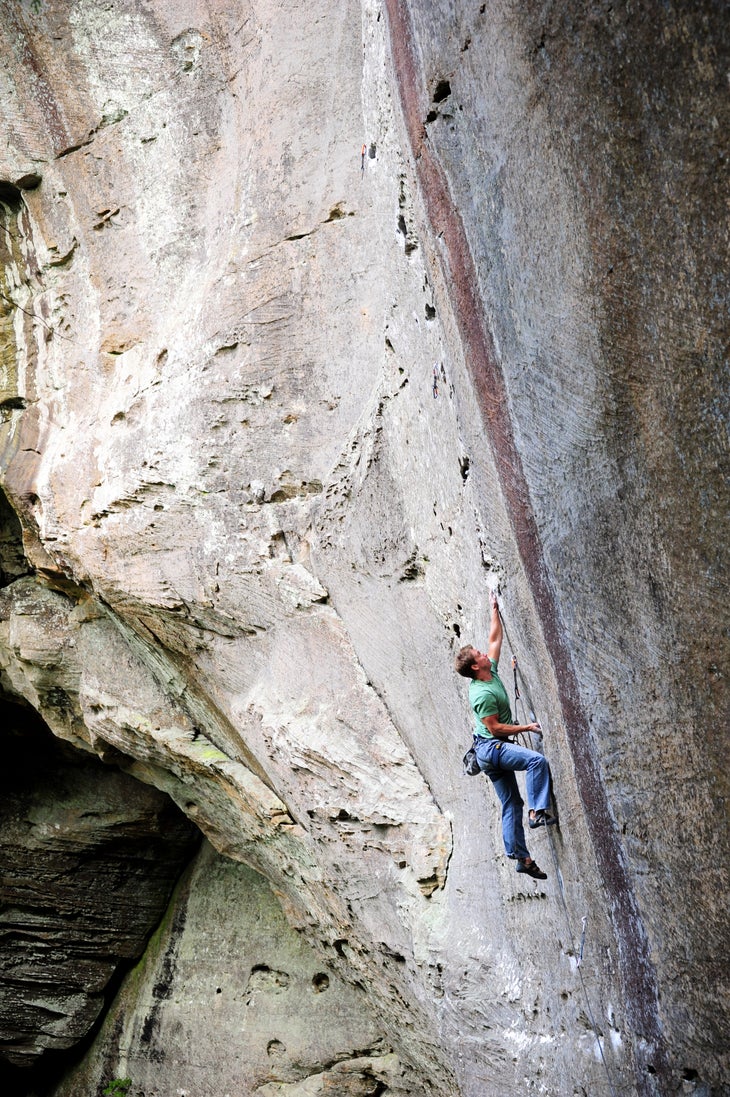 Amarillo Sunset (5.11b)
Red River Gorge, KY.
With a few thousand lines in a small area, to be called one of the best routes in the Red means it's gotta be good, and Amarillo is the poster boy for what makes the Red special. Big moves between even bigger holds, which are delicately carved out huecos and pockets, this line is just as fun as it is aesthetic.
Aerial Anticipation (5.11c)
Wichita Mountains, OK
Although no single move is harder than about 5.10+, the steep roof is unrelenting on blood-filled forearms, and each hold grabbed will leave you expecting big air…
Liposuction (5.12a)
Reimer's Ranch, TX
Pull onto the dripping limestone tufas of this ultra-classic and you might think you're in Spain for a minute. Starting on a platform about 10 feet above your belayer, jump to a jug, climb a horizontal, upside-down spine with one leg on each side, then move up to find (and milk!) the no-hands rest before the final exit sequence. Sick!
Rap Bolters From Hell (5.12a)Wichita Mountains, OK
This route is as "backcountry" as it gets for the Sooner State. A two-mile hike through the beautiful and wildlife-filled (bison anyone?) Charon's Gardens Wilderness Area will make you think you're in Vedauwoo, and this beautiful, crimp-filled face has the fun and techy climbing of Smith Rock with the "crowds" of, well, Oklahoma.
Mercy, the Huff (5.12b)
Red River Gorge, KY
"One of the best sport routes on the continent. Never too hard but very sustained and always interesting. Totally stellar rock," strongman Mark Anderson says. Another line put up by first ascent masterminds Porter Jarrard and Chris Snyder, Mercy features distinct boulder problem cruxes separated by big rests. Guidebook author Ray Ellington writes, "Take your time, breathe, relax, focus—and don't fall at the top!"
Barbwire and Lingerie (5.12b/c)
Obed, TN
One guidebook calls it "one of the best 5.12s in the South," and we can't argue. Steep and sequential, this interestingly named line has a high crux that rejects many a too confident climber.
Battlecry (5.12b/c)
Spearfish Canyon, SD
"This is one of the best routes in the entire canyon, and possibly in the whole universe." Pockets that get shallower as the wall gets steeper—practice your own battle cry for the potential big whipper on this creamy limestone beauty.
Jesus Wept (5.12d)
Red River Gorge, KY
Far and away one of the best routes in the Red (and our wonderful cover shot this issue), this magnificent climb would impress the Messiah himself with its bouldery start and multiple pocketed cruxes. For the Red is the kingdom and the bullet sandstone and the glory forever and ever. Amen.
Whiskey a Go-Go (5.13a)
Necedah, WI
Several short and thin finger cracks break up the steep face of Y-Crack Wall, and Brian Runnells (aka ClimbingNarc) says it's "50 feet of intense and intricate movement." Almost a quarter of a century ago, first ascensionist Dave Groth climbed this stout line on gear and gave it a rating of 5.12c R. Now it's 5.13a with bolts—go figure, ya softies!
The Force (5.13a)
Red River Gorge, KY
In classic Red style, this 75-foot line put up by Chris Martin is capital-S Steep with ever-smaller holds. The guidebook says, "May the force be with you for the redpoint crux at the top."
Tied to the Whipping Post (5.13a)
Wichita Mountains, OK
Located on the Lost Dome with Rap Bolters From Hell, this "old school" 5.13 line climbs a gray water streak on perfect red granite covered with green lichen in a beautiful setting far enough from the car that it's almost guaranteed you'll be alone. What else could you want?
Ultra-Perm (5.13d)
Red River Gorge, KY
"One of the best routes east of the Mississippi (or west for that matter)," reads the guidebook entry for this five-star, standout, world-class, one-of-a-kind route. The wildly overhanging wall starts with jugs that will build up your nerve before the crux smacks you over the head and yells in your ear, "You gotta earn it, dummy!"
God's Own Stone (5.14a)
Red River Gorge, KY.
For a while it seemed like every young crusher and their mom was ticking this line (We really mean it: Mom and daughter duo Robyn and Brooke Raboutou, who was 10 at the time, both sent the route on the same trip in 2012.), but it was popular for good reason. Located on a strikingly beautiful golden wall, it follows a steep line on smaller and smaller holds with a midway bouldery crux that will hit you right in the ego.
Region: Mountain West
With the Continental Divide winding like a dragon spine through this peak-filled region, one might think that trad and alpine climbing reign supreme (and, yeah, that stuff's pretty damn good too), but this region is rife with world-class bolted lines, from enduro testpieces in the hardman's paradise of Rifle, Colorado, to perfect pocket pulling in Ten Sleep and Wild Iris, Wyoming, to cobble conglomerate caves in Maple Canyon, Utah. If you don't already live here, start planning a visit. Like now. Seriously, what are you doing?
Tachycardia (5.7)
Maple Canyon, UT
Three pitches of fun, well-protected cobble climbing on mostly less-than-vertical terrain that tops out with a steep headwall guarding the stand-alone summit—this route proves that a climb doesn't have to be hard to be world-class.
Playin' Hooky (5.8)
Clear Creek Canyon, CO
Another perfect-position multi-pitch climb high above the river on the slabby walls of one of the Front Range's best sport climbing areas. Comfortable belays, solid exposure, and fun movement combine to offer a giggly outing. Must be done on a work day for full effect.
Room With a View (5.8)
Stone Hill, MT
The climb itself is only about 60 feet tall, but because of the rock formation's incredible position over the beautiful Koocanusa Lake, it will feel like 500 feet of air under your butt. Take a deep breath, pull through the roof, and enter the room!
Guppy (5.8)
Clear Creek Canyon, CO
Getting to the wall of this climb is half the fun. After crossing the Tyrolean traverse over a rushing creek, you are rewarded with 115 feet of sustained 5.8 climbing on perfect rock, ending with a spicy crux. A 70-meter rope is a must!
Scream Cheese (5.9)
City of Rocks, ID
This "scary but remarkably fun" route, according to one City of Rocks lover, has incredible holds, a friction-dependent crux at the top, and a runout at midway that will make any 5.9 leader earn his stripes.
Post Moderate (5.9)
Diablo Canyon, NM
With 165 feet of sustained 5.8 climbing and some thought-provoking 5.9 crux moves at the very top, this climb has "plenty of bolts for those that need it."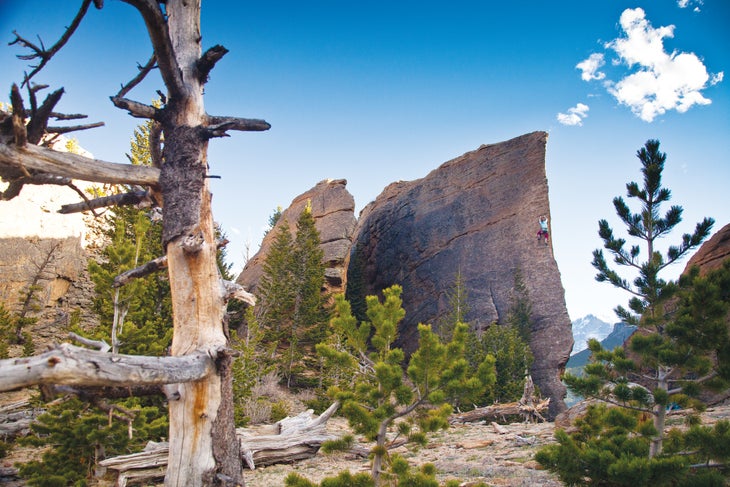 Edge of Time (5.9)
Estes Park, CO.
Sandbagging at its finest! When you start getting Elvis leg above the sketchy runout about halfway up, wondering how the hell anyone could call it 5.9, peek around the arête to one of the most breathtaking views of Longs Peak. Now quit your bitching and send.
Tribal Boundaries (5.10a)
City of Rocks, ID
Get ready to get intimate with the rock. Almost entirely vertical, Tribal Boundaries is the definition of balancey. It starts on edges no more than a finger pad wide, and only gets thinner as you climb over the ridiculously scenic City. If you're sliding your hips and your face right against the stone, you're doing it just right.
Winds of Fire (5.10a)
American Fork Canyon, UT
"Lots of fun moves with great pockets, cool exposure, better-than-average protection, and a crux that had me scratching my head," said a fan of this route put up by Scott Unice.
Mr. Slate (5.10b)
Flagstaff, AZ
"A classic line with super-cool pockets and features with a really fun roof move," describes one local climber. The jugs found in the carved-out huecos on this climb will make you giddy with joy.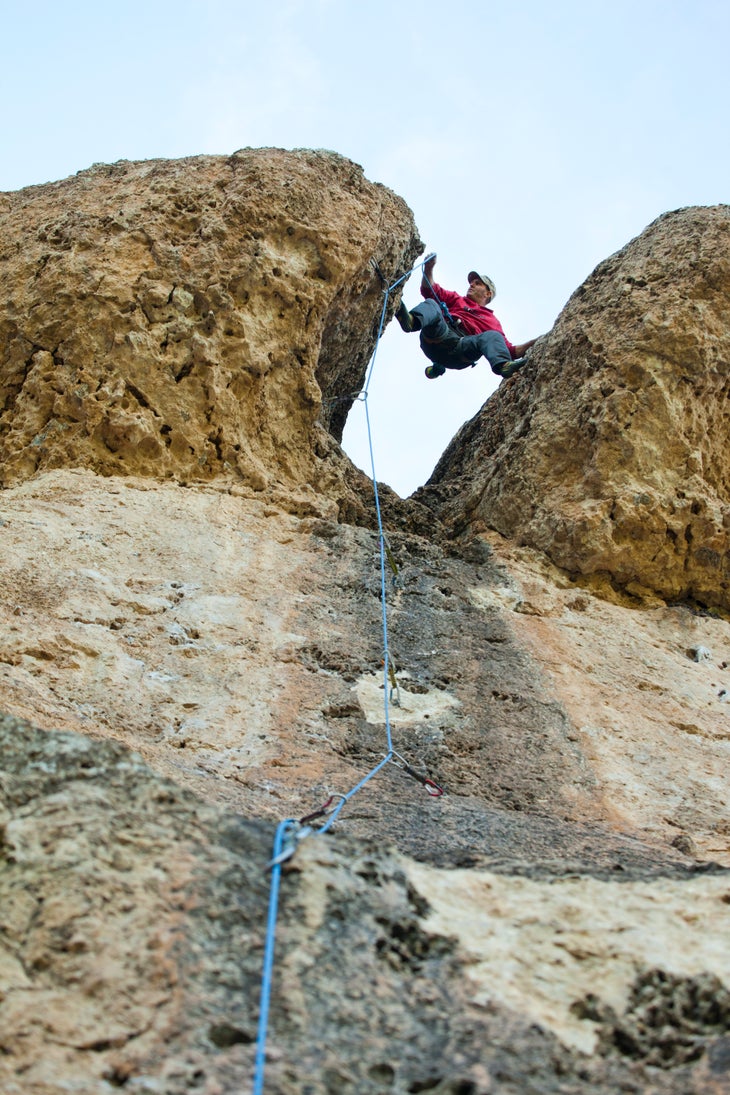 Beer Bong (5.10b)
Ten Sleep, WY
With a name like that, how could any self-respecting climber NOT call this wild but accessible route one of the best?! A slabby crux about halfway up leads into a crazy chimney scoop that forces the climber to turn around backward, face out from the wall, and stem his way up 5.7 jugs to the top.
Tabula Rasa (5.10c)
The Monastery, CO
Technical slab climbing moves get you up a detached spire at one of the most breathtaking alpine crags right outside of Rocky Mountain National Park. Make sure your buddy on the ground has his camera out and ready to snag a shot of you on this photogenic line.
Colossus (5.10c)
City of Rocks, ID
Huge scoops with scattered edges and patina flakes give this line phenomenal movement and force creative problem solving on the go, as your arms keep trying to punch out for the day. Hold on tight and ditch your ego for the blue-collar mantel at the top.
Babe-a-licious (5.10d)
Logan, UT
Seventy feet of pure radness. Flakes and pockets go up the middle of this overhanging wall, which ends in a mini-roof. The little rests right where you need 'em are the only reason this climb doesn't get a higher grade.
Circus in the Wind (5.11-)
Ten Sleep, WY
"One of those climbs you hop on with no prior knowledge of, then every move flows into the next, and it feels so natural that you don't have to think for a single second. Then when you start to get pumped and have to try a bit harder, you're clipping the chains. A true masterpiece," one longtime Ten Sleep climber said. Praise be to the genius of first ascensionist Charlie Kardaleff.
Not My Cross to Bear (5.11a/b)
Penitente Canyon, CO
Techy stemming that will put callouses on your palms. This line couldn't get any more perfect thanks to the small nubbins in just the right spot and the lovely Virgin de Guadalupe watching over you from the face right next to this laser-cut dihedral.
Tribal War (5.11b)
Wild Iris, WY
Get off the ground with tech-tastic slab climbing then finish off this 70-foot route (long for the area!) by fighting the fierce pump that's come to spit you off.
C++ (5.11c)
Devil's Head, CO
"Wow! For a single-pitch sport route, this thing is epic," described one Colorado climber. Try not to let the stellar view distract you from the sustained climbing on the upper headwall.
License to Thrill (5.11c)
American Fork Canyon, UT
"Über-classic…amazing…One of the few routes at American Fork that would be good at any climbing area in America," said a few different fans of this steep 80-foot line that features big moves and big holds. Pumptacular!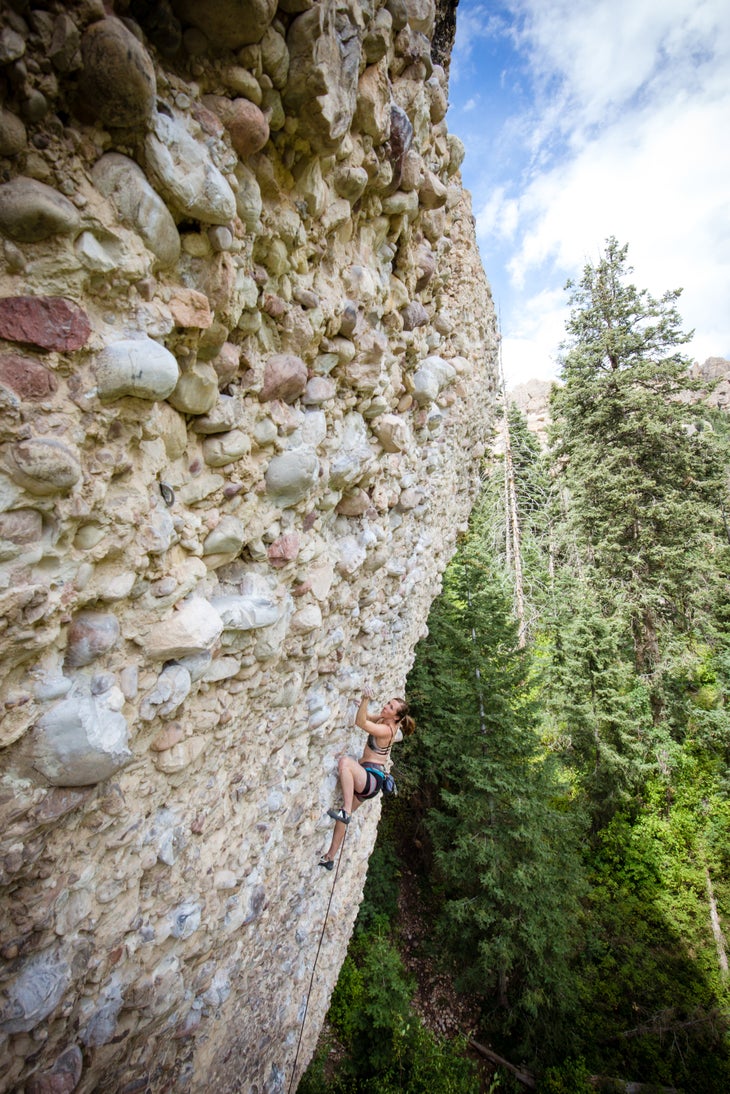 Groundwork (5.11c)
Maple Canyon, UT
Just because a route is all jugs doesn't mean it's a gimme, and Groundwork is in-your-face proof of that. Challenge yourself by the conglomerate cave that angles back even more just as your hands want to give up and let go.
Lats Don't Have Feelings (5.11d)
Shelf Road, CO
Lats might not have feelings, but forearms sure do, and yours will be screaming bloody murder as you crimp, sidepull, gaston, and grunt your way up this 75-foot route that feels more like 175 feet. This line is visible all the way across the canyon at the main camping spot for this understandably popular winter climbing area, and it will taunt you until you tick it.
Wet Dream (5.12a)
Clear Creek Canyon, CO
Overhanging 5.11 jugs, vertical face climbing, a slab-tastic techy portion, a powerful V4 boulder problem, and a runout 5.9 section at the top—there's not much more you could cram into 110 feet of climbing. The variety and length of this must-do route will spit off even 5.13 climbers who get too cocky. Mega bonus points for the onsight!
Namaste (5.12a)
Kolob Canyon, UT
This line of huecos and pockets is the definition of immaculate, and the location in the beautiful backcountry of Zion will make you feel like you're in a bright-red sandstone dream. Put up by the esteemed Conrad Anker, there aren't any heartbreaker moves in the 140 feet of climbing, but the pump might foil your sending plans.
Cocaine Rodeo (5.12a)
Ten Sleep, WY
The chalked pockets on this aptly named route ride the bucking-bronco ups and downs of three bulges that each have their own distinct crux. Luckily a few big rests will let you regain enough juice to send this long route that contains some of the best limestone pocket pulling in the country. Happiness in Slavery (5.12b)
Happiness in Slavery (5.12b)
Ten Sleep, WY
As first ascensionist Aaron Huey would say: THIS IS THE BUTTERY SICKNESS!!!! Pockets, crimps, and wicked pump on some of the best rock in the canyon. "If you don't get on this route, you hate America and your mom."
Slap My Fro (5.12b)
Winslow Wall, AZ
"An arête climbing masterpiece," according to local photographer Blake McCord. The thin, technical climbing is continuous and surprisingly slabby for how hard it truly is. Multiple devotees said it was the best route they've ever climbed regardless of the area.
Bullet the Blue Sky (5.12c/d)
Penitente Canyon, CO
You show us a prettier, more aesthetic line and we'll show you a liar. This remarkable, fabulous, jaw-dropping route must have been chiseled by God himself. Slopey pockets, pinches, and a big ol' dyno are all part of the fun. The word "classic" doesn't even begin to do it justice.
Ultrasaurus (5.13a)
Flatirons, CO
Read also: Milk Bone (5.13a) and $00pr kr33m (5.13a), also in the Flatirons. Paying homage to our former editor in chief and the talented man behind these routes, Matt Samet, we couldn't choose between these three tremendous testpieces. We were never that good at math anyway.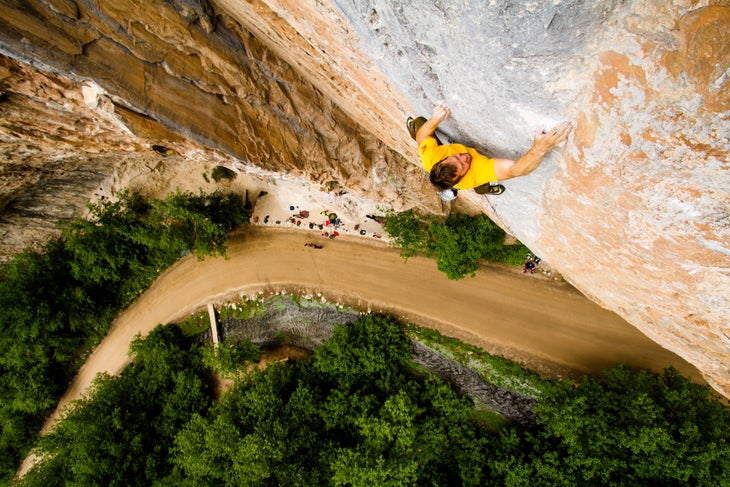 The Eighth Day (5.13a)
Rifle, CO
"Just ask anybody who's ever even looked at it," Chris Kalous of The Enormocast says about calling this long route one of the best in the country. Eighth climbs a perfect gray streak in the strongman's paradise; Honnold calls it "a proud line on a nice wall," and Hayden Kennedy claims it's the "best route in Rifle." Need we say more?
Grand Ol' Opry (5.14c)
The Monastery, CO
"Technical, powerful, immaculate granite, and there's only one way to the top—pretty much everyone has to use the same beta," pro climber Paige Claassen says of this challenging route, put up by neighbor Tommy Caldwell in their backyard of Estes Park.
Region: West Coast
There's no arguing that the far left region of the country is beyond stacked with incredible climbing, and any single one of the states is worthy of a cross-country road trip. This area also boasts the birthplace of sport climbing: Smith Rock, Oregon. With other hot spots like Owens River Gorge, California, and Red Rock, Nevada, you'll find endless varied, fun, and always-interesting clip-ups.
5 Gallon Buckets (5.8)
Smith Rock, OR
"You see this route from the trail and really hope it's within your ability level so you can climb it, and it's perfect for any entry-level sport leader," one Smith Rock enthusiast says. The biggest huecos you've ever seen yield the biggest jugs you've ever hooked your whole arm around. Hold on tight, though, because the polish is real—and the first bolt is 30 feet up.
Cryptic (5.8)
Joshua Tree, CA
Sometimes climbing isn't just about climbing, and this 50-foot line on an insanely perched boulder is the perfect example of position, view, and location being the main attraction. But don't worry, the moves are pretty freaking fun too.
Cry Babies (5.9)
Smith Rock, OR
Climb the 5.8 and fun Ginger Snap to get to this five-star second pitch variation. The amount of exposure on the arête will have you over-gripping and wondering how the hell anyone called it 5.9.
Leonids (5.9)
El Cajon Mountain, CA
It's three pitches (all 5.9), spot on for the grade, and 350 feet long in sunny Southern California—are you excited yet? This dreamy multi-pitch is bolted well with excellent rock. The only drawback is that your toes might hurt from all the edging on a slab!
Big Bad Wolf (5.9)
Red Rock, NV
Nothing scary or dangerous about this four-pitch, 220-foot-long desert stunner. With short pitches, ample bolts, and easy communication, it will get you high above the desert floor with a clear view of nearby Las Vegas.
Pistol Pete (5.10a)
San Bernadino Mountains, CA
A cruiser, varied route on perfect patina flakes takes you up an arête and puts you on top of a beautiful pinnacle in the San Bernadino Mountains, way above sea level.
Screaming Yellow Zonkers (5.10b)
Smith Rock, OR
"Another super-mega 5.10…cruising up knobs and pockets," according to guidebook author Jonathan Thesenga. Just so happens to share an anchor on the Mesa Verde Wall with another world-class 5.10: Moons of Pluto. Just get to Smith already!
Moons of Pluto (5.10d)
Smith Rock, OR
This nubbin adventure is an excellent example of the knobby knobs of Smith's volcanic welded tuff, and this line will have you moving slowly and carefully right next to the arête overlooking a stunning view.
Under the Boardwalk (5.10d)
Red Rock, NV
"Just think jugs, jugs, jugs as you walk there," reads one online description, but this climb is no gimme! Huge holds down low give way to smaller ones up top as the wall gets steeper, forcing good climbing technique and just a touch of try-hard.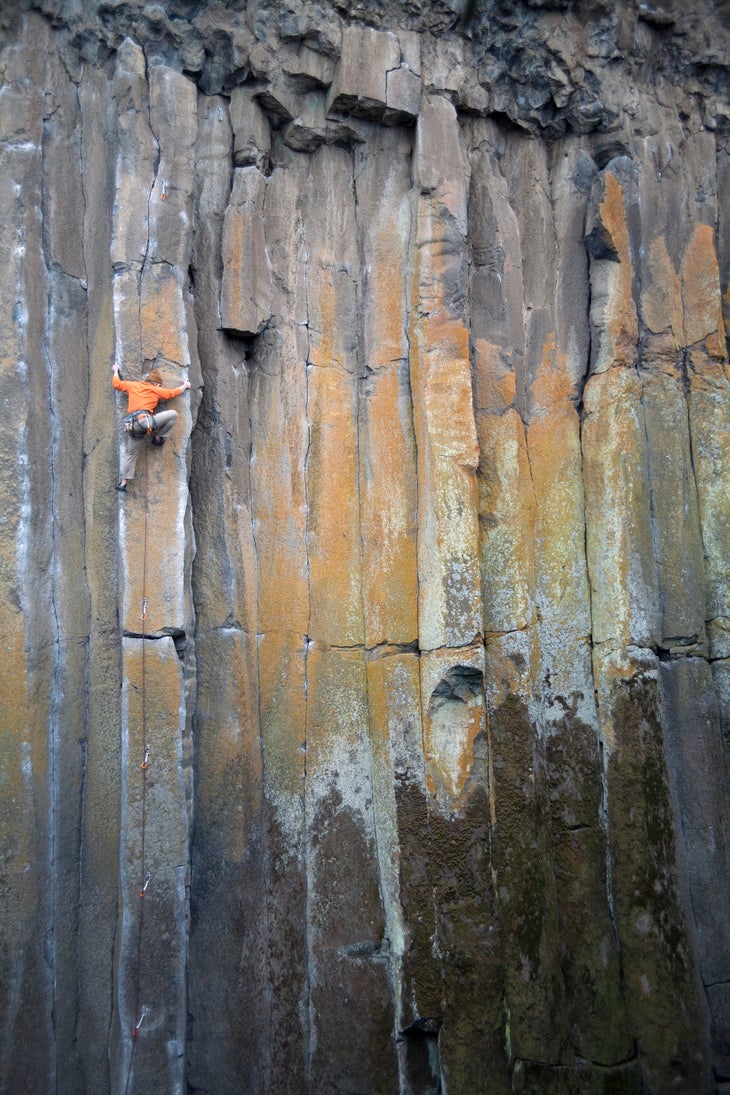 AC Devil Dog (5.10d)
Sonora Pass, CA
"First you hug, then you slap!" one local describes. Columnar basalt forms outstanding pillars that provide one-of-a-kind double arête climbing, where you're trying to bear hug a formation that's as wide as a refrigerator with nominal feet and blunt handholds.
Cunning Stunt (5.10d)
Index, WA
Say that five times fast—just not around your mom. Climb flakes on a steep face that is not too easy but not too hard: "absolutely delectable, exquisite technique," one devotee said.
Desert Dessert (5.11a)
Frenchman Coulee, WA
Another tongue twister and another marvelous line in the Evergreen State. Climb the freestanding pillar on double arêtes with striking green streaks on the face. "This climb is sick, and this wall is sick!"
O.R.G.asam (5.11a)
Owens River Gorge, CA
How'd this route get its name? Well, if you like laybacking and crack climbing next to bolts, this rig might be better than sex. This fully bolted sport climb has ample crack and flake systems to get you sweaty, tired, and pumped. Care for a cigarette?
Towering Inferno (5.11b)
Owens River Gorge, CA
Another top 100 route that's a must-do "for novelty, length, and position," the 480-foot, five-pitch Inferno demands power and endurance for the sustained movement that includes a few mini boulder problems. Giddyup!
Mr. Choad's Wild Ride (5.11b)
Red Rock, NV
With big ol' pockets in the desert sandstone, you might feel like you've transported from Nevada to Wyoming on this long, unrelenting pitch. Find the mono for
brownie points.
Rock 'n Rattle (5.11c)
Leavenworth, WA
Excellent, steep climbing on a face dotted with green lichen characterizes this route that provides thought-provoking moves up into an overhanging roof. "An incredible pitch in an awesome position beautifully high above the Wenatchee River."
Sunny and Steep (5.11+)
Red Rock, NV
The moniker pretty much sums this route up, with ledges and edges galore lining this beautifully overhanging wall that gets drenched by the sun all day—perfect for cold winter cragging.
From Chocolate to Morphine (5.11d)
Owens River Gorge, CA
According to a local climber, "This wild line moves up a steep slab, over a roof to a headwall, and just won't quit!" You'll notice the pump right as the climbing gets harder, and neither lets up until you clip the chains.
Scirocco (5.12-)
The Needles, CA
"The best and most memorable pitch I've ever done," one fan said of this 150-foot route. "The soaring, flawless arête" includes some seriously heads-up runouts, especially up high when you're starting to get tired and desperate.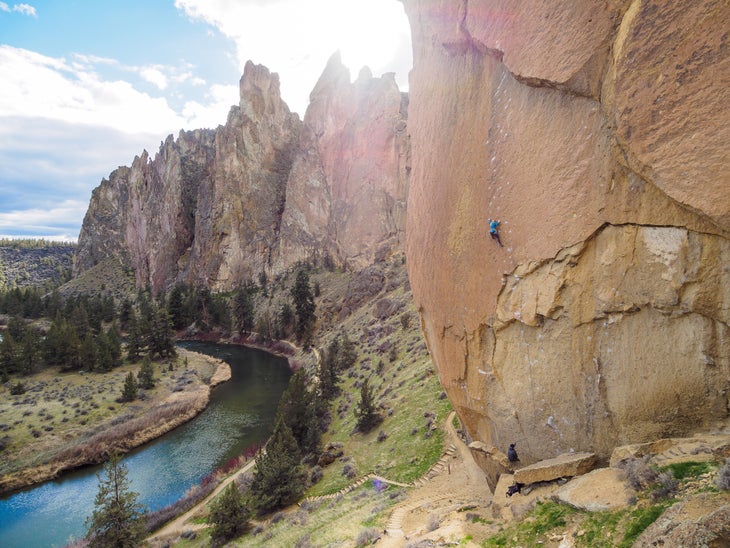 Dreamin' (5.12a)
Smith Rock, OR
Jonathan Thesenga's Smith Rock Select guidebook calls it "a mega-classic line with bold runouts…full-value climbing—make sure you have your head dialed in." This clear line of chalked holds is a standout line in the place where it all started.
Fifth Force (5.12b)
Index, WA
Shares a start with the equally rad Cunning Stunt, and many who attempt this 100 feet of "vertical climbing with hard cruxes and great rests" find it to be sandbagged. One local photographer had one thing to say about the grade: "Ha!"
The Gift (5.12d)
Red Rock, NV
"On a sunny winter day, one can spend the afternoon watching numerous people cruising the lower section only to be spit off by the crux, again and again and again." Fun, right? This very famous route has "nice flow on tasty rock."
Monster Skank (5.13b)
Red Rock, NV
"The line, the location in a desert corridor, the gorgeous rock, sparse features, and even the name make this a solid classic," one local climber explains. Another says, "If you ever work a 13b, let it be this one."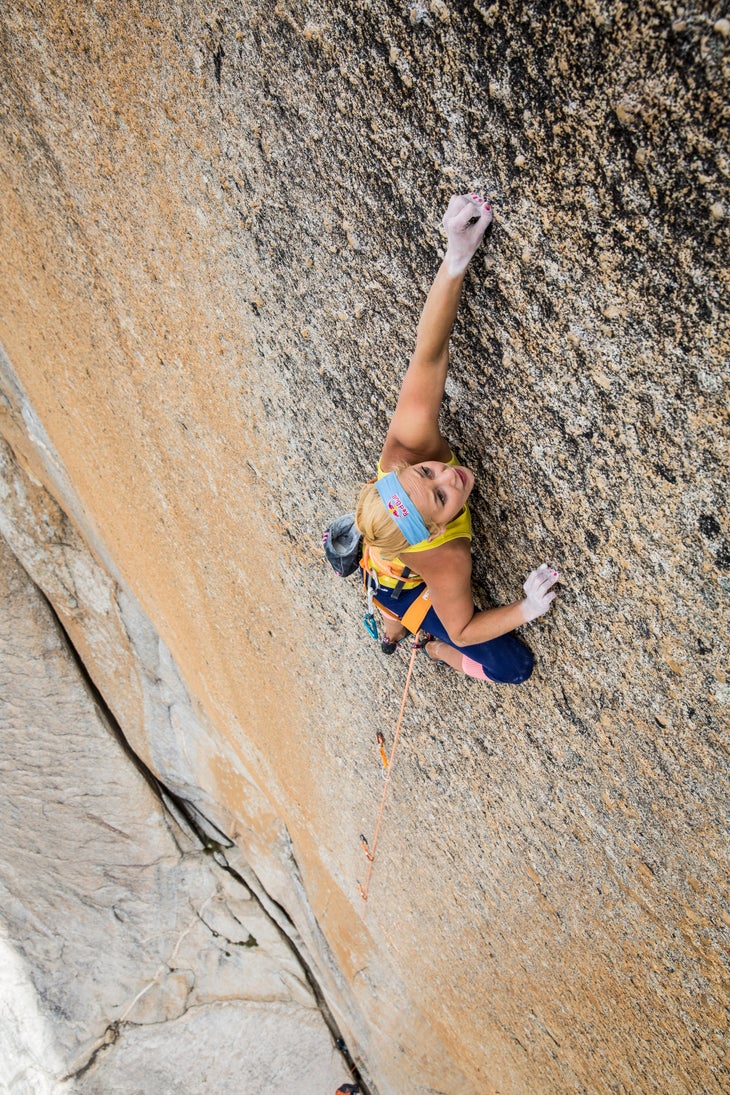 Peace (5.13d)
Tuolumne Meadows, CA
With the infamous Bachar-Yerian (5.11c X) as its neighbor, this route, put up 20 years ago by Ron Kauk and Chris Falkenstein, is one of the hardest climbs in the area. A long pitch of golden knobs on Medlicott Dome, it's a crowning achievement for any climber.
Just Do It (5.14c)
Smith Rock, OR
Alex Honnold called it "the proudest line up the proudest wall," and since it covers 140 feet on the extraordinary Monkey Face, who are we to argue? When it was put up in 1992 by French climber Jean-Baptiste Tribout, it was by far the hardest climb in North America, and in June 2014, American Paige Claassen redpointed the 18-bolt route in a send that took 47 minutes.
Did we miss your favorite route? Or do you think a route we included is a steaming pile of choss? Tell us in the comments!
Thanks to the following folks who helped create this list: Jordan Achs, Jacob Bodkin, Dan Brayack, Paige Claassen, Paisley Close, Dylan Connole, Kevin Corrigan, Shannon Davis, Craig DeMartino, David Goldstein, Ben Hoiness, Alex Honnold, Kaare Iverson, Chris Kalous, Dan Krauss, Dougald MacDonald, Meagan Martin, Blake McCord, Chris Noble, Rob Pizem, Alli Rainey, Liz Regan, Alton Richardson, Brennah Rosenthal, Justin Roth, Chris Schulte, Gary Sorcher, Matt Van Biene, Chris Vultaggio, and JP Whitehead.
This article originally appeared in the October 2015 issue of our print edition.