Another Kor Classic Tower, but without Crowds
Savor this five-pitch route outside Grand Junction, Colorado.
Wedged between an arching column and a smooth wall on Colorado National Monument's Kissing Couple Tower, I moved up through a sandstone basilica. Past the gigantic flakes and tilted walls, I sensed an emptiness: the breaches in this prehistoric cathedral and the abyss between me and the desert floor, 400 feet below. I'd been here before, back in 2003 when I first climbed the five-pitch Long Dong Wall (III 5.11). Sixteen years later, as I revisited the climb with my wife, Heather, it didn't feel any easier.
With only back-and-foot tension holding me to the rock, I felt as much alarmed as elated—a ledge beneath my last, distant piece dared me to relax the wrong muscles. In those moments, I couldn't quite appreciate the words of the desert rat Fred Knapp, who in Eric Bjørnstad's guidebook Desert Rock III is quoted as saying, "The exposed chimney is perhaps the best 5.8 pitch in the desert."
Colorado National Monument is easy to miss. If you're driving I-70 past Grand Junction, another 90 minutes west will get you to Moab and the motherlode of desert towers. However, if you pull off at Fruita and take the circuitous road into the Monument, you'll enter a labyrinth of lonely cliffs and spires comprising a few different layers of geologic history. While the majority of the rock is Wingate sandstone, it has a lighter orange hue and softer feel than the towers of, say, Castle Valley, and is often guarded by a base layer of dark, broken Chinle Formation ("Chinle Choss"). Then, just before the summit, the whitish-yellow Kayenta Formation kicks in, offering steep, blocky, and sometimes unstable caprock.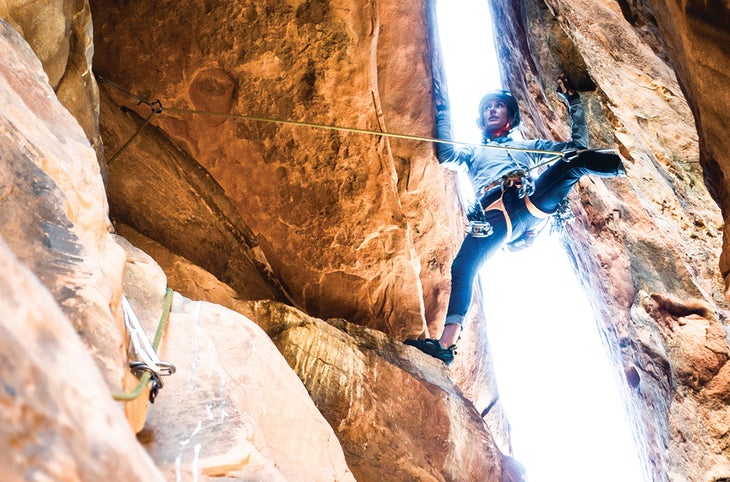 In spring 1960, Harvey T. Carter convinced Layton Kor and John Auld to drive that road into the Monument. It was the start of what Steve "Crusher" Bartlett, author of Desert Towers, described in his book as "One of the most productive desert trips anyone has ever made before or since." Indeed, it was Kor's first foray into tower country, and after topping two smaller summits in the Monument in two days, the trio tackled the Kissing Couple. (Theirs was not the first documented tower climb here. That honor goes to John Otto, founder of the Monument, who in 1909 soloed the short, squat Liberty Cap and in 1911 summited the 400-foot Independence Monument via Otto's Route, carving steps and drilling lead pipes to fashion a ladder.) Kor would go on to make many tower FAs, including of the Titan, Castleton, and Standing Rock. But what he named the Bell Tower—but is today more aptly called the Kissing Couple—has a symmetry, elegance, and mystery that rival its Utah cousins.
At least five routes from A3 to 5.11 R grace the Kissing Couple, but the original, Long Dong Wall, is the most sophisticated of the bunch. It's steep, diverse, and free (or nearly free, if you grab the crux bolt on pitch one) at a reasonable grade. Of course, in the desert, "reasonable" rarely means "easy."
During the 16 years between my two ascents, the crux—a desperate, sandy traverse on sloping edges 80 feet up—had disintegrated, its once-crisp edges worn down by sweaty tips and skating rock shoes. And the steep intro of 5.10 jamming and stemming is no gimme, either. You'll likely agree that the old "5.11a" rating is sandbagged—a rugged warm-up indeed!
The next pitch offers classic tower terrain: a chimney, a squeeze, and a sandy mantel. (Hint: Ready your camera for gawker photos of your struggling partner.) A short stroll over fourth-class rubble (pitch 3) leads to a comfortable ledge below double cracks and the chimney, where you'll either feel like a hero or a zero, depending on your tolerance for vertigo. I can only imagine what this pitch felt like for that bold threesome 60 years ago, groveling skyward with hammers and steel pitons. "Carter remembers being amazed by Kor's speed, especially on aid: 'He went so fast … boom! boom! boom! and that was it,'" wrote Bartlett. The three completed the climb in a 12-hour push.
Above the 5.8 chimney lies "The Belfry," an outrageous final pitch. Creative body English will get you off the belay, followed by guano-covered ledges and the dizzying architecture of the Kissing Couple's lips, and finally a bodylength of Kayenta caprock. The upper chimney is a bit like being inside the better-known Honeymoon Chimney on the Priest (there must be something tying love and spirituality to the primal fear evoked by hard-to-protect chimneys … ). Still, "The Bell Tower was an excellent climb," Kor in Desert Rock III was quoted as saying. "One of the few desert first ascents that I later repeated."