Artificial Glaciers to Fight the Effects of Climate Change
These "ice stupas" in Chile will store over two million liters of water each, supporting mountain communities during increasingly long dry seasons.
Heading out the door? Read this article on the new Outside+ app available now on iOS devices for members! Download the app.
Human-made ice parks are increasingly common sites of recreation for climbers. Now, alpine towns are creating their own ice farms, but not for climbing.
It's well known that climate change negatively impacts mountain tourism, a major income generator in alpine communities across the globe. As glaciers shrink and annual snowfall decreases, climbers traveling to mountain towns have less technical ice to tackle. The decline in glacial coverage on popular high-altitude climbs, especially in equatorial regions of South America, like Ecuador, also contributes to increased danger for those on the mountain. Crevasses often grow, or form in areas where none were previously, as glaciers melt and pull apart. Rockfall threat, too, can increase as moraines stretch higher and higher up the mountain.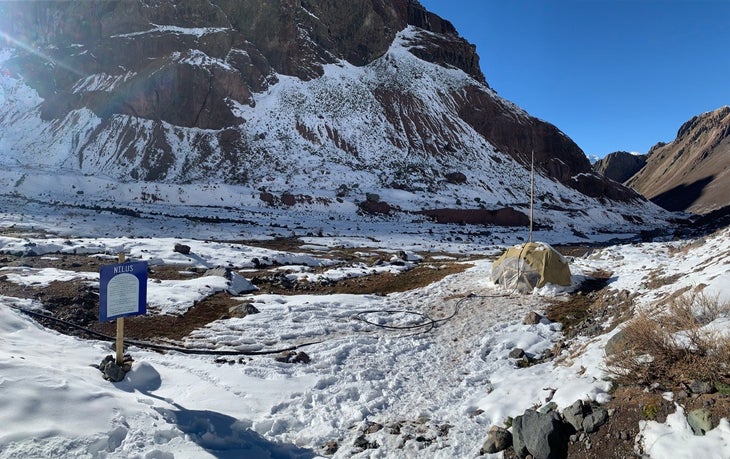 But glacial shrinkage as a result of climate change isn't just something affecting mountaineering. Over 1.9 billion people, nearly 25% of the world's population, rely to some degree on glacial melt for drinking water and crop irrigation. Impoverished mountain communities around the world, from the Himalaya to the Andes, are suffering under increasingly lengthy dry seasons, as the world's alpine glaciers have lost approximately 300 billion tons of ice annually since 2015. Climate change isn't just harming agriculture due to reduced water for irrigation, either. It's also contributing to flash floods from freak summer rainstorms, which increasingly drier, poorly-vegetated hillsides are unable to mitigate.
In the Cajón del Maipo region of central Chile, the Nilus Project aims to combat that glacial melt via the construction of artificial glaciers, known as "ice stupas" to store water for local communities during the dry season, in addition to revegetating drier hillsides to soak up rain and prevent flash flooding.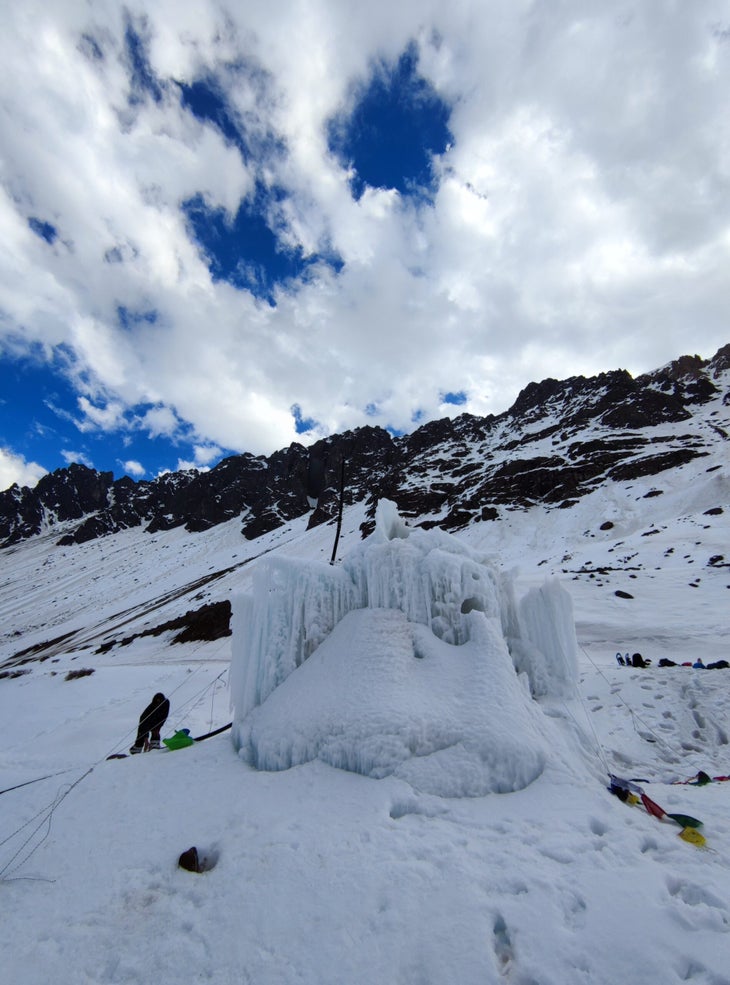 "We want to build stupas of approximately two million liters [each] and if we reach 50 [total stupas], it would be approximately 100 million liters that would serve more or less to supply a community of 100,000 people for three months," Roberto Lara, a civil engineer for the Nilus Project, told Mexicanist.
The project was inspired by an initiative in Ladakh, India, where engineer Sonam Wangchuk built the world's first ice stupa in 2013. The communities of the Ladakh region, which averages a mere four inches of rain a year, are dependent on glacial melt and snowfall, which is rapidly decreasing. On average, winter temperatures have risen one degree Celsius (1.8 degrees Fahrenheit) over the past forty years. "The gap between a late winter snowmelt and springtime glacier melt is yawning ever wider," Wangchuk told National Geographic. "We have a negligible carbon footprint, but we are bearing the brunt of a changing climate."
Wangchuk came up with the idea after noticing that, even at low altitudes and in summer, ice stayed frozen so long as it was well-shaded. Keeping large quantities of ice in the shade would be difficult, but he realized that a tall mound of ice would naturally shade its own interior. The steeper, the better, because this would reduce the surface area of the outer layers, the parts exposed to the sun. "High school math told me that a cone was the simple answer," Wangchuk said.
The ice stupas are constructed beginning with a conical base of wood and steel, after which gravity is used to divert water from nearby alpine streams during the rainy season, when the streams are still flowing. The water is sprayed vertically into the air onto the structure, fountain-style, and sub-freezing nighttime temperatures in the wet season freeze the water in place, growing a "stupa" of ice. This store of water begins melting in the dry seasons, providing a source of water for nearby communities. This is particularly crucial in agricultural communities, where the extra water for irrigation in the early growing season can extend the cropping season by several weeks. 26 ice stupas were built last year in Ladakh, nine of which were over 100 feet in height.
While most ice stupas don't survive the summer, larger ones, depending on their placement, have the potential to do so. "If a stupa's size and location are optimal, it might survive the summer into the following winter," Wangchuk said. "The stupa would grow, year on year," becoming perennial—like a glacier."