Sleep Easy: America's Best Climber Campgrounds
Heading out the door? Read this article on the new Outside+ app available now on iOS devices for members! Download the app.
When it comes to camping, many climbers prefer a no-frills, quasi-wilderness experience, while others like their creature comforts. Whether you see sleeping under the stars as the best part of a climbing trip or a necessary evil, we've got you covered. We sifted through guidebooks, called park rangers, and solicited climbers to identify 10 (in no particular order) of the U.S.'s best drive-up climber campsites.
All-Inclusive Horse Pens 40; Steele, Alabama $10/night (includes day-use fee)
Horse Pens 40 sits atop Chandler Mountain, where the Schultz clan has been watching over this nature park and boulderfield for the last decade. Known for its bulbous sandstone blocs and lack of topout holds, HP40 boasts more than 400 problems. Campsites are scattered around the perimeter of the boulders, just a minute's walk away. A clean, spacious bathhouse offers showers and flushing toilets, and the main building houses a mini-market and a café with all things homemade, including half-pound hamburgers and fried green tomatoes. Leave the dog at home—pets aren't allowed in the park.
Best Value Miguel's Pizza; Slade, Kentucky $2/night
Miguel's Pizza sits in the heart of eastern American sport climbing, only a few miles from the Red River Gorge. On top of the restaurant offering breakfast, lunch, and dinner (and a gear shop), you can't beat the price for accommodations. A brand-new bathhouse, completed in 2010, offers seven showers with heated floors, washers and dryers, two full-sized bathrooms, and a kitchen area. On the second floor, four rooms are available for rent ($32/night). Also onsite is the "people port," an openwalled pavilion housing picnic tables and a communal sink. On rest days, you can shoot hoops on the basketball court, spike some volleyballs, or sit around the popular campfire pit. Arrive early on weekends to secure a spot. Lago Linda Hideaway, about 25 minutes south, is a great alternative for climbers looking to get away from Miguel's chaos. The three-dozen sites are graveled and include electrical and water hook-ups, a picnic table, and a fire ring. $5/night;
Best Après Climb North Rim Campground; Black Canyon of the Gunnison National Park, Colorado $12/night
"It's the most climber-friendly NPS campground I've ever been to," says Blake Herrington. Accessed by a long, flat dirt road on the non-touristy side of the 2,000-foot-deep canyon, the North Rim boasts gorgeous scenery, but you'll likely encounter only other climbers and fishermen in the sites nestled among piñon pines. A three-minute walk takes you to the overlooks or to the ranger station to register for climbs. ("The rangers are climbers," Herrington says. "They walk the loop of sites and share beta, suggest routes, and ask how your day was.") Approaches to the Black's all-day climbs also begin minutes from your campsite. Best of all, when you top out, there's no descent to worry about. Hop over the lookout railing or saunter a few steps through the woods, and there you are: back at your campsite and the waiting cooler.
Wild and Scenic The Adirondack Park; New York Free
Camping in the six-million-acre Adirondack Park is pretty simple—if you can find a spot. Walk 150 feet from any road, water source, or trail, and pitch your tent. Many of the choicest spots (including road-side camping) are Department of Environmental Conservation–designated sites labeled with a yellow "Camp Here" disc. The car-camping sites in and around Chapel Pond Pass are especially plum—and hard to nab. They're fairly quiet and situated close to favorite crags like the Beer Walls, Chapel Pond Slab, and the Spider's Web, home to some of the best crack climbing in the Northeast.
Best Views Shelf Road; Colorado $4/night
Climbers flock to Shelf for hundreds of moderate limestone sport climbs, but the scenery and camping also are primo: Sites are roomy and level, and approaches to the crags from both campgrounds take five to 20 minutes. Sand Gulch is a little warmer and more sheltered from wind; the Bank has better views—from these cliff-top sites, you can see the snowy Sangre de Cristo Mountains and watch Shelf's limestone walls glow fiery orange at sunset. Arriving on a Friday night might mean all sites are taken, so making friends (and sharing beers) with group-site campers could be advantageous.
Best Sunsets Bridger Jack Mesa; Indian Creek, Utah Free
The scattered sites at the base of the Bridger Jack spires offer little shade and no amenities (there's a vault toilet down the road), but boast incredible views of the nearby towers and Wingate sandstone walls. "You pitch your tent right on the open bedrock," says Jim Lawyer. "Climbers everywhere, great sunsets." From your tent, it's a half-hour walk to Sunflower, Thumbelina, Easter Island, and the other towers of the Bridger Jack massif, and trailheads to all of the Indian Creek crags are just a short drive away. Too hot for Bridger Jack's open sites? Look for cottonwood shade at the Creek Pasture campsites farther north along the road toward Canyonlands National Park. Pack out everything, including human waste.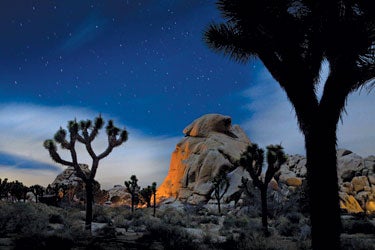 Best On-site Climbing Hidden Valley Campground; Joshua Tree National Park, California $10/night
You'll wake up in this campground literally surrounded by great routes and boulder problems, and the many classics of Real Hidden Valley are just a short walk away. "It's the ultimate soloing circuit," says Chris Van Leuven. "The norm is to wake up, solo six to 10 routes around camp, then drink coffee, catch some rays, play chess, boulder, and drink heaps of PBR." Water is available down the road at the Oasis Visitor Center or the Indian Cove Ranger Station. No reservations, so get there early on busy weekends.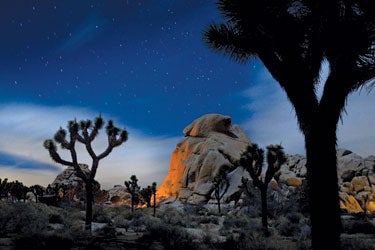 The Wild Life City of Rocks; Idaho $12.72/night
The City's 63 sites may be inside a closely managed national reserve, but they're spread over five miles, giving the camping a secluded feel among the maze of pinnacles and boulders. Most climbing is within a short walk or mountain-bike ride. "Once you park your car, there's no need to start it again," says climbing ranger Brad Shilling. At the lower sites, you'll pitch your tent among piñon and juniper, while aspen and mountain mahogany line the hillsides up high. In addition to the beautiful scenery, run-ins with wildlife may occur: A Climbing editor once heard mountain lions mating just above his campsite. Reservations recommended during the summer.
Climbers Only Wild Iris; Wyoming Free
Shaded, wind-protected campsites are nestled among the aspens below the OK Corral cliff at Wild Iris, and it would be amazing if you encountered anyone here besides other climbers. The campsites are one to 30 minutes' walk from the white limestone cliffs, and there's an outhouse above the main parking lot, a short walk from your tent. In recent years, bears have wandered through the area, so store your food properly. For a more secluded area, drive just past the main camping area and a quarry, and turn right onto an unmarked road (washed out in 2010). This takes you to the top of OK Corral; there's room for one or two parties up here, where it's windy and lightning-prone but the views are spectacular.
Cowboy Country Ten Sleep Canyon; Wyoming Free to $14/night
Climbers headed to Ten Sleep's pocketed walls have several standout camping options. During the warmer months, head up-canyon to Sitting Bull or nearby Forest Service campgrounds. At 8,600 feet, Sitting Bull sits at the edge of a huge, wildlife-filled mountain meadow. If the nights are too frosty, drive down to the bottom of the canyon (3,000 feet lower!) and look for Leigh Creek Campground, with quiet riverside sites. On rest days, check out the pools of trout at the Ten Sleep State Fish Hatchery, near Leigh Creek, or drive 15 minutes to the cowboy town of Ten Sleep for ice cream. Free campsites are scattered along the old road that runs down the south side of the canyon. There are no amenities, but sites are within walking distance of the Mecca crags. And did we mention they're free?