Our Favorite High-Elevation Crags to Beat Summer's Heat
Get this high elevation rock while you can!
Heading out the door? Read this article on the new Outside+ app available now on iOS devices for members! Download the app.
This story originally appeared in Climbing September 2015 .
It's easy to be complacent about midsummer climbing—those sultry days, the allure of the swimming hole, the crack of a beer… There always seems to be more time. But you know what? All too soon the high peaks will be buried in snow and steel gates will clang shut across mountain roads. True, you could still reach many rocks with a bit of hiking (or snowshoeing). But if anything, winter apathy is even more powerful than summer languor. So don't wait! In late summer and early fall, the crags are dry, nasty bugs have vanished, and foliage is bursting into brilliant color—it's prime time for high-country cragging.
Uinta Mountains, Utah
The place for cool quartzite cragging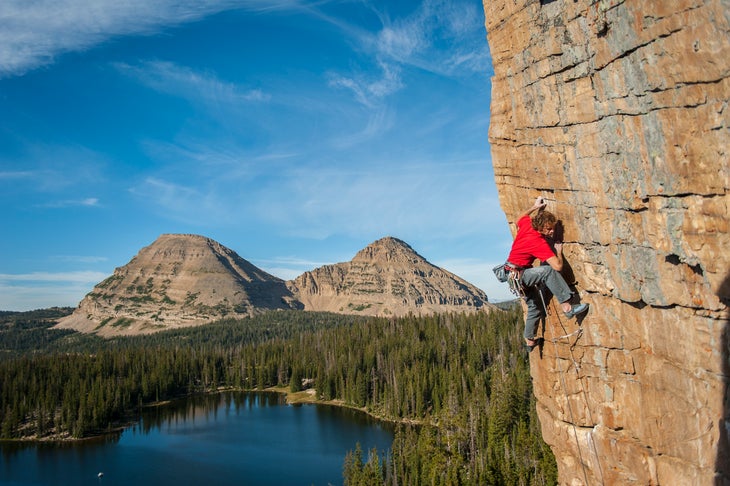 The paved Mirror Lake Scenic Byway (State Route 150) twists through the Uinta Mountains, a cool alpine refuge from the blistering heat of Salt Lake City about 1.5 hours away. With about two dozen crags, nearly all above 10,000 feet, dotted among the lakes and bare mountaintops, the Uintas are flat-out gorgeous. The tiered quartzite crags have a mix of trad and sport routes. Most first-timers head to the bolted crags above Ruth Lake, with lines of all grades quite close to the road. If you like crimpy 5.10 and 5.11 sport routes, this is your place.
For a mix of grades on vertical to super-steep routes, head to the Stone Garden a few miles north (downhill) from Ruth Lake. Sessions (5.12a) and Obsessions (5.12b) both have the proverbial "biggest holds you'll ever fall off." The nearby Mosquito Wall has about 18 bolted routes, most of which are 5.9 or easier. For getting off the beaten path, guidebook author Nathan Smith recommends Cliff Lake ("three steep 5.10s and a handful of easier lines"), Notch Lake ("a 2.3-mile hike in, but it goes by quickly and you will rarely find anyone else there"), and the Wall of Tiers ("close to Ruth Lake in overall quantity of great climbs, but many of these are mixed or trad, so they don't see the traffic"). In recent years, several climbers have been developing walls on 12,479-foot Hayden Peak, including three- to five-pitch routes (mostly trad with bolts in key places) on the 400-foot, west-facing Iron Hayden Wall.
Uinta Mountains Beta
Prime Season: July to September
Average Closing Day: November 7
Tip: Save the Ruth Lake crags for a heat wave—they're shady almost all day. Uinta mosquitoes can be fearsome—bring bug dope and long sleeves.
Road Conditions: UDOT Traffic
Guidebook: Uinta Rock, by Nathan Smith and Paul Tusting, is out of print but may be found in stores. Otherwise, Mountain Project has the beta, including the previously unpublished lines on Mosquito Wall and Hayden Peak.
Evans Notch, New Hampshire/Maine
Go wild in the White Mountains
Route 113 is a seasonal highway along the Maine–New Hampshire frontier, crossing a 1,410-foot high point at Evans Notch. Looming over this pass is the Laughing Lion, a 350-foot cliff of twisted schist with three- to four-pitch, mostly bolted routes that ascend gently overhanging, techy faces. "It's high elevation for a New England cliff—the base is around 2,000 feet, about the same as Cannon Cliff but a lot more sheltered," says local guide Bayard Russell. "It has some incredible exposure, really varied climbing, and the whole thing is capped by a huge roof." Recommended routes include The Hustler (5.11c), Mane Line (5.11d, 4 pitches, mixed gear and bolts), and Acid Wall (5.12d, 3 pitches, sport).
At the north end of the Evans Notch road, about three miles from Gilead, Maine, the Wild River Road branches to the southwest, leading to the trailhead for a small but superb sport crag known as Wild River. After 45 minutes of hiking you'll reach the land of endurance pumps, with 140-foot routes following overhanging corners and arêtes. "Wild River is a great little crag with incredible swirly rock," Russell says. "The crag is cool (east-facing), and the rock has a great texture that can punch through the summer slime." Russell recommends the nearly side-by-side triumvirate of Wild Life (5.12a/b), Wild Thing (5.13a), and Big Red (5.11d).
Evans Notch Beta
Prime Season: August to October
Average Closing Day: December 1
Tip: Nesting peregrine falcons may close Laughing Lion until late July. Bring a swimsuit (or whatever) for the pools and water slides below the Wild River cliff.
Road Conditions: White Mountains Forest Road Status
Guidebook: North Conway Rock Climbs, by Jerry Handren
Black Mountain, California
Go high into the San Jacinto Mountains for legendary SoCal boulders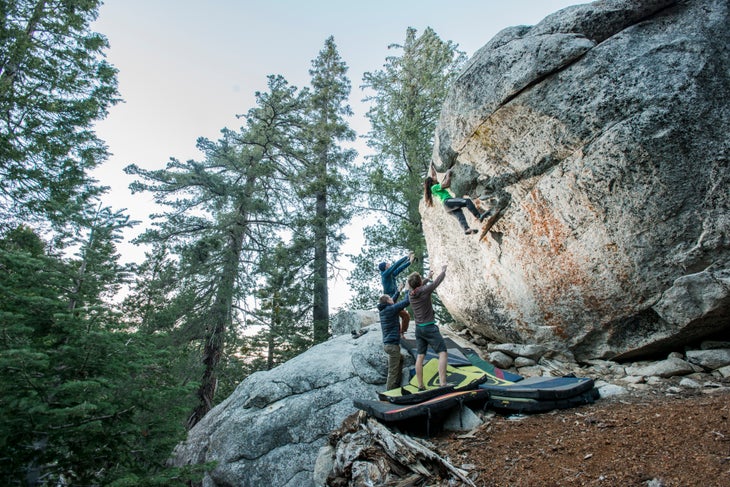 The Stonemasters drove up to the piney woods of Black Mountain three decades ago to escape SoCal's summer heat, and boulderers still flock to these big, bold granite blocks. "Imagine the boulders of Yosemite meet the texture of the Buttermilks," say the authors of Black Mountain's brand-new guidebook. "The patina isn't as pronounced as it is at the Buttermilks, but the best lines are every bit as stunning as those found in the Valley." Authors Ian McIntosh and Alan Moore recommend first-timers head straight to the Boulder Basin Campground to start sampling the 1,700 known problems on the mountain, with climbs of all difficulties. Problems like Big Greeny (V1/2) or the calendar-worthy Once Upon a Time (V1 X) will vividly demonstrate one of Black Mountain's key characteristics: These rocks are high. "Boulders at Black Mountain do not go easily," McIntosh says. "The climbing here is often highly technical and powerful at the same time. A positive state of mind is required to supplant the absence of positive holds high off the deck. This only makes the Black Mountain experience more gratifying."
Also gratifying are the superb sunset views off the west side of the mountain, tempting climbers to linger for one more problem before returning to the sweltering valley. "I can't emphasize enough the beauty of the sunset," Moore says. "It completely transforms the mountain. I often hike out in the dark because I don't want to miss the final moments of golden light."
Black Mountain Beta
Prime Season: October to December; March to May
Average Closing Day: December 15 (sometimes open year-round
Tip: A high-clearance vehicle is recommended but usually not essential
Road Conditions: Inquire at the Idyllwild ranger district about access to Boulder Basin Campground (909-382-2921).
Guidebook: Black Mountain Bouldering, by Ian McIntosh and Alan Moore
Needles Highway, South Dakota
Bag a spindly granite spire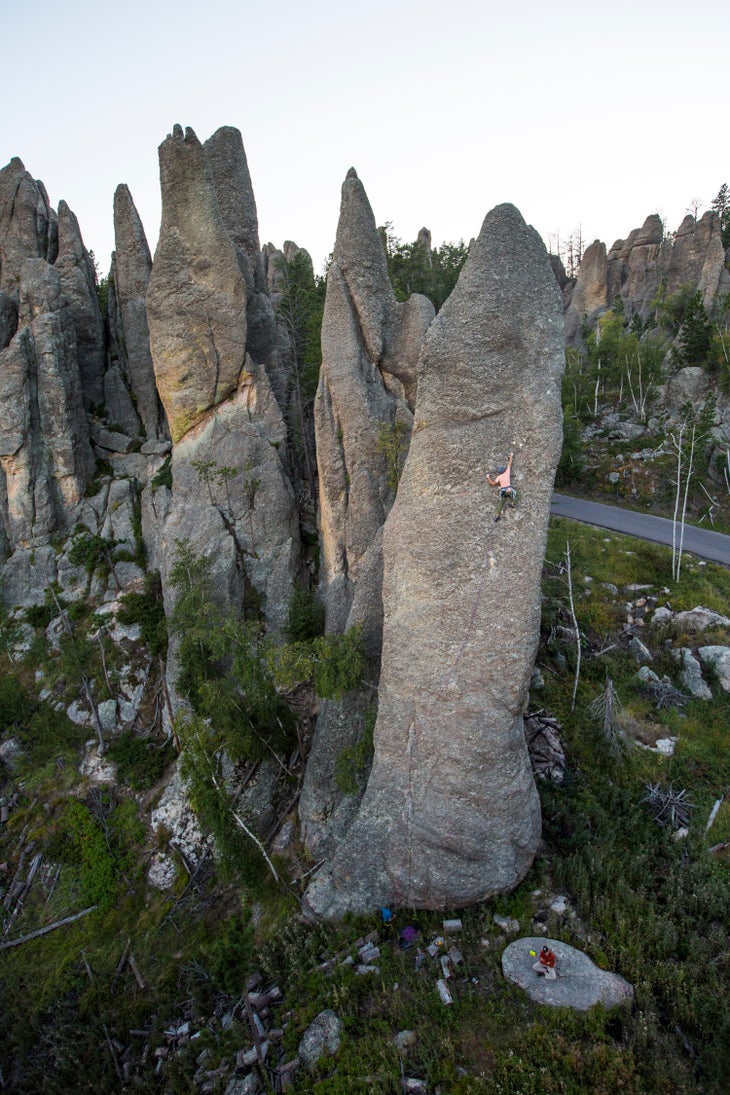 Early fall is the time to hit the Needles, when the roar of the Harleys has diminished (the annual Sturgis motorcycle festival is just 65 miles away) and the "how do you get the ropes up there" crowds have gone back wherever they came from. Even more important, crisp autumn temps and low humidity guarantee maximum friction on the Needles' slick crystals.
Highway 87 threads through the amazing granite spires and buttresses of Custer State Park, with a few climbs starting so close to the road that you can step off a guardrail for the first move. The guardrail that threatened John Gill's life during the unrehearsed solo first ascent of The Thimble in 1961 is gone, but danger remains—this highball was probably the first 5.12 in the country. Plenty of easier but no less exciting climbs line the road, like the famous Needle's Eye, which you can summit by a 5.8+ route or chimney the eye via Threading the Needle (5.8) for the ultimate photogenic pose-down—keep in mind that both climbs require confident leaders. Down in the Ten Pins area, don't miss Tricouni Nail (aka Cerberus, 5.8), a ridiculous tent pole of a tower where the descent is a simul-rappel off either side, with no anchor on top. (It's safer than it sounds.) If all the runouts are wearing you down, head over to Reunion Rock for the well-bolted Loss of Sensation, a 5.10a with great views over the Cathedral Spires.
Needles Highway Beta
Prime Season: June to early October
Average Closing Day: November 1
Tip: Bring plenty of slings and a small trad rack to supplement fixed pro on the bold face climbs. "Slings are endlessly useful for tying off chickenheads or extending gear placed off to the sides," says guidebook author Zach Orenczak. "You'll be running it out here and there, but the cliffs are littered with jugs. It's all in the mind."
Road Conditions: Safe Travel USA: South Dakota
Guidebook: The Needles (2014 edition), by Zach Orenczak and Rachael Lynn
Washington Pass, Washington
Take the short hike to North Cascades alpine cragging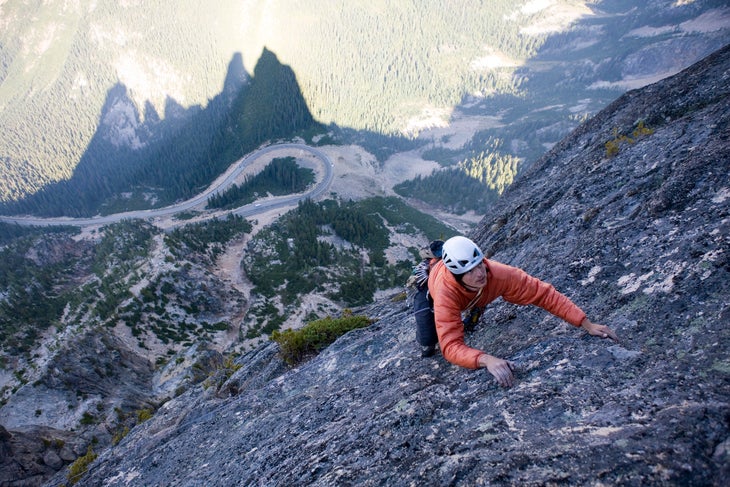 Washington Pass is an alpine climbing area with all the usual hazards—storms, loose rock, snowfields. It's best known for summit climbs like the Beckey Route and Liberty Crack on Liberty Bell, the closest tower to the road. But the super-short approach from State Route 20—short by alpine standards anyway—along with a selection of great half-day climbs and some primo bouldering, make this an awesome destination for rock climbers as well. "The best bouldering and the best climbing wall at Washington Pass—Liberty Bell—has only a 40-minute approach!" says Cascades local Blake Herrington. "And you can rap with one rope after climbing the first five or six pitches of the lines on the east face."
Avoid the east-face crowds on Liberty Crack (usually aided but goes free at 5.13) by trying the free version of Thin Red Line, a classic wall route freed by Mikey Schaefer. The first four pitches go at 5.11, or you can try the two 5.12 pitches above—you can bail anywhere with a single 70-meter rope. Or try the mostly bolted Freedom or Death (5.12a), a four-pitch start to Liberty Crack.
Other nearby towers offer other good mid-length climbs, including a 5.9+ crack climb on the east face of Lexington Tower that sneaks through some impressive roofs, and the 5.9 to 5.11 routes on South and North Early Winters Spires. If you find you're not getting enough action, this is a great area for multi-route link-ups.
Washington Pass Beta
Prime Season: Late June-September
Average Closing Day: October 20
Tip: Two ropes are needed for most rappels
Road Conditions: North Cascades Highway Status
Guidebook: Washington Pass Climbing, by Ian Nicholson; Selected Climbs in the Cascades, by Jim Nelson and Peter Potterfield; Cascades Rock, by Blake Herrington.
Sonora Pass, California
Enter the northern Sierra's granite playground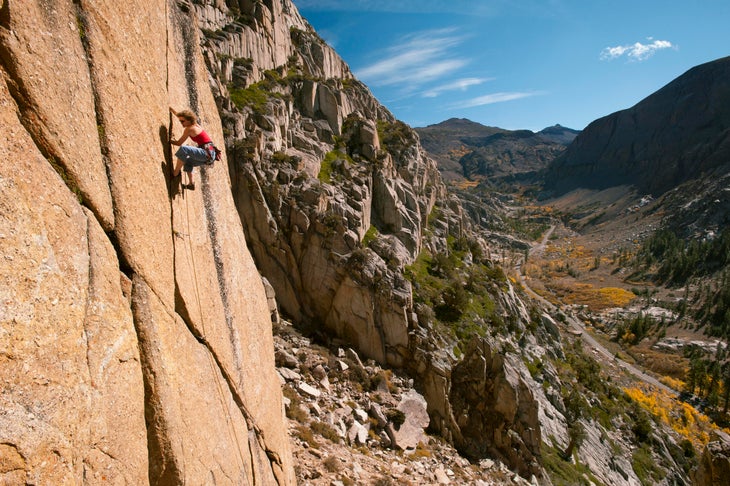 While out-of-staters flock to the Sierra's big-name summer crags—Tuolumne Meadows, Donner Pass, the Needles—northern California climbers increasingly opt to drive up Sonora Pass, the second-highest pass in the state. Once the deep Sierra snowpack has melted back—deep in normal years, that is—Highway 108 over the 9,624-foot pass gives access to dozens of crags at Chipmunk Flat, 5N06, Burst Rock, and other areas. The new guidebook covers upwards of 1,500 routes, many of them done in the last decade.
Most of the rock is granite, but there's nearly endless variety, including a mix of trad and sport routes. "You can have perfect Tuolumne knobs and splitter cracks up at Burst, Frankensteins, and Chipmunk Flat, and quartz-veined gneiss at the Lost World," says photographer and local climber Jerry Dodrill. "And Columns of the Giants is a steep volcanic cave, similar to Jailhouse and the other Table Mountain areas, that is climbable even when the High Sierra thunderstorms chase you off the granite." Most of the routes are one to four pitches, but longer lines are out there, including the super-adventurous, canoe-access, 10-pitch trad lines above Donnell Reservoir.
"There is plenty of free camping, fishing, mountain biking, and a refreshing, hassle-free vibe," Dodrill says. "I've been climbing up there and putting up routes since the late 1990s, and I feel like I've still just scratched the surface."
Sonora Pass Beta
Prime Season: June to October
Average Close Day: December 15
Tip: If bad weather chases you out of the high country, the popular volcanic sport climbs of the Grotto and Jailhouse Rock are only an hour or so away.
Road Conditions: California Road Information
Guidebook: Climber's Guide to the Sonora Pass Highway (2nd Edition), by Brad Young and Steve Dawson
Table Rock, North Carolina
Get a taste of multi-pitch adventure in the Southeast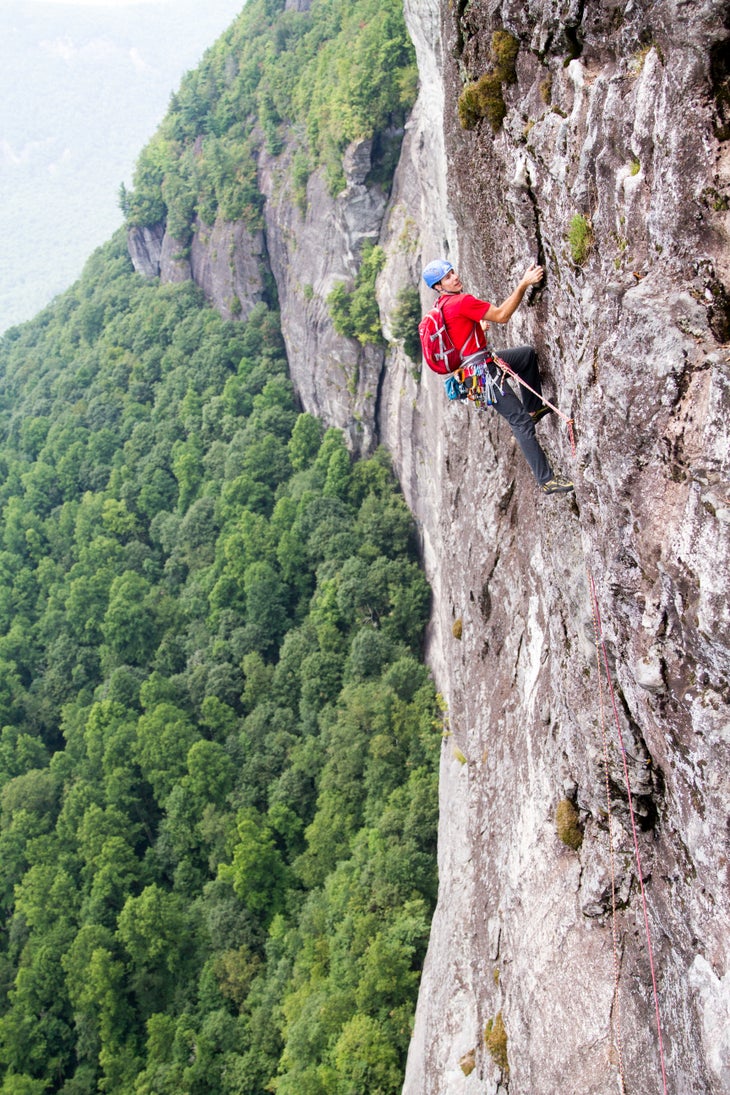 The walk to Table Rock when the steep, switchbacked access road is closed likely won't leave your feet too blistered to stuff into rock shoes—it's only about two miles from the winter gate to the crag. But it's usually too cold to climb then anyway. This cliff is most popular in the warmer months, when climbers flock to the shady quartzite cliffs, up to 300 feet high, hoping to catch a cooling breeze high on the east side of Linville Gorge. With a plethora of easier climbs and classic routes up to four pitches, let's not sugarcoat it: Table Rock can swarm with climbers. (A helmet is a must.) But there are plenty of routes to spread people around. Newcomers to multi-pitch climbing will love the North Ridge (5.5, 3 pitches) or Peek-a-Boo (5.5, 3 pitches), with its dramatic step-across move. More experienced trad leaders won't want to miss the brilliant corners of White Lightning (5.8, 2 pitches) or the varied Second Stanza (5.8+/5.9, 4 pitches). Though Table is known as a beginner's area, the steep lower walls have been developed with harder climbs as well, including the bulging Waste a Bit (5.10+) and Indecent Exposure (5.11c), both protected with a mix of gear and bolts, as well as the 5.11c seam of On Misty Edge.
Table Rock Beta
Prime Season: April-November
Average Close Day: January 1
Tip: Newcomers to outdoor or traditional climbing shouldn't underestimate these climbs just because they have a low number grade, says guidebook author Harrison Shull. "The cliff is ledgy and thus the perfect place to crush an ankle if you get careless, over-bold, or both."
Road Conditions: Call the Grandfather Ranger District at 828- 652-2144.
Guidebook: Selected Climbs in North Carolina, by Yon Lambert and Harrison Shull
Smugglers Notch, Vermont
Adventure cragging in New England ski country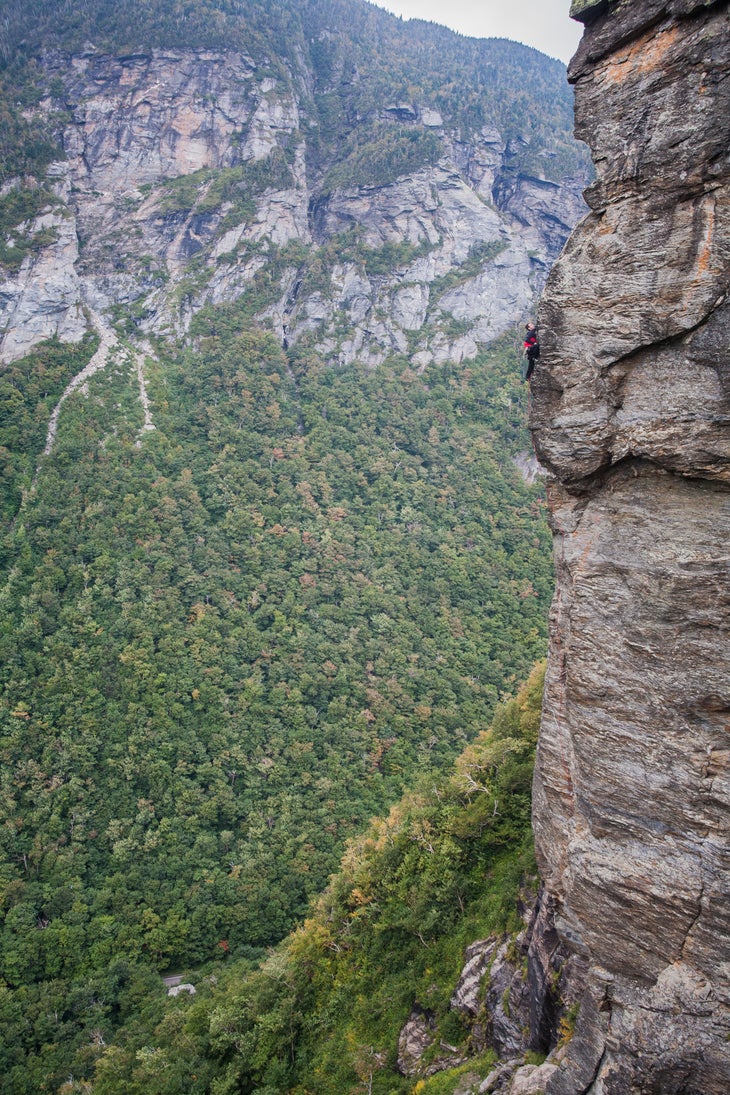 North of the Stowe ski area and bordered on one side by Vermont's highest peak, Smugglers Notch is a treasured area for ice climbing, and it feels nearly as adventurous in the summertime. Alpine-like conditions—wet, mossy, sometimes-loose rock, threatening weather, and thrashing approaches through stinging nettles predominate. Even the route descriptions are often given in reference to nearby ice climbs. If this doesn't scare you off, you'll find some of New England's best adventure climbs among the buttresses looming over Route 108.
Guidebook author Travis Peckham recommends The Diagonal (5.8+, "wild exposure and cool climbing on the second pitch"), Quartz Crack (5.9, "great climbing and an amazing position make this a Smuggs classic—be prepared to draw a crowd of amazed tourists"), and Ganesh (5.12a), an exposed four-pitch line up the right arête of the towering Elephant's Head buttress. You can also try the stunning, bolt-protected left arête of Elephant's Head via the route Airavata—the first three pitches go at 5.11, with a final 5.12b lead to the summit if you're up to it. The area behind the visitor center and parking lot at the top of Smugglers Notch holds a maze of blocks and caves with some of northern New England's best bouldering. Classic problems include Pac Man (V3/4), the highball General Patton's Arête (V3), Nemesis Traverse (V5), and The Green Egg (V6).
Smugglers Notch Beta
Prime Season: Late June to September
Average Close Day: October 20
Tip: Wait a while after the road opens before heading to Smuggs—or be flexible in your route choices. Some routes stay wet through at least early July.
Road Conditions: Vermont Agency of Transportation
Guidebook: Tough Schist, by Travis Peckham (updates at vermontrock.com); New England Bouldering, by Tim Kemple
Independence Pass, Colorado
Get your Rocky Mountain high at this granite playground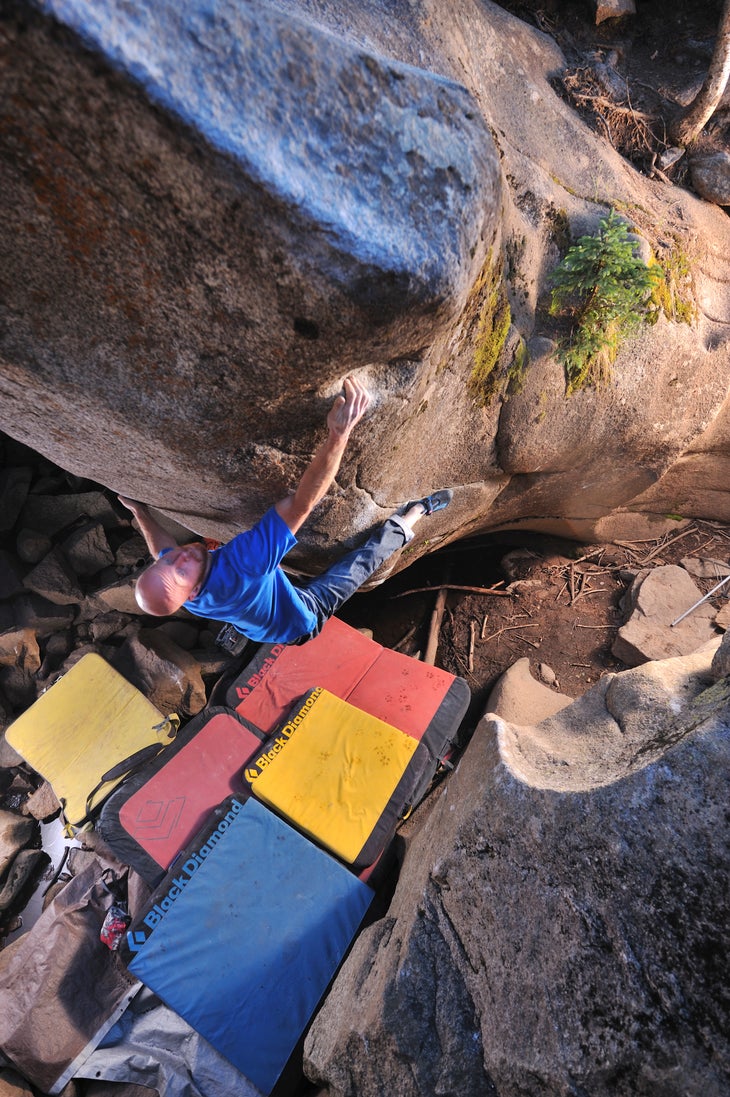 When climbers in western Colorado refer to "The Pass," they're talking about the twisting approach to 12,095-foot Independence Pass, like a road straight out of the Giro d'Italia. Dozens of crags and boulderfields line the highest paved road across the Continental Divide in the North America, especially on the Aspen side. (Climbing magazine founder Harvey Carter was active on the Pass, and the magazine operated out of Aspen and nearby Carbondale for more than three decades.) Most of the crags along Colorado Highway 82 are between 9,000 and 10,000 feet in elevation.
The Pass is all about granite in its many forms. For trad climbing, start at Grotto Walls. Twin Cracks (5.8) has a wild overhanging finish, and the classic Cryogenics can be climbed as either a one-pitch corner (5.10a) or with a bulging 5.11c second pitch. Higher up the hill is the classic Plaque Right (5.9). There's also an assortment of testy crack and flake climbs, from 5.7 to 5.13, on the various Lincoln Creek crags.
For sport climbing, the Olympic Wall is stacked, with highlights including Standing Eight Count (5.11c) and I've Got Skills (5.12a). The nearby Thindependence and Outrageous Overhangs crags will ensure your fingers don't fail to get worked. Boulderers can start at the Jaws Boulder, with its classic V3 of the same name, or Upper Boulderfield. The cliffs at the Pass mostly face south, and the high-elevation sun can make them surprisingly hot. Afternoon shade can be found at many of the Lincoln Creek crags, and thunderstorms frequently cool things off—or chase climbers to the fleshpots of Aspen.
Independence Pass Beta
Prime Season: Memorial Day to October 31
Average Closing Day: November 1
Tip: Monitor Rock on the east side (accessible from Leadville) is easily reached in spring, before the road over the pass opens.
Road Conditions: CO Trip Road Conditions
Guidebook: Independence Pass Rock Climbing II, by Tom Perkins