Heading out the door? Read this article on the new Outside+ app available now on iOS devices for members! Download the app.
Spice up your travel plans with local climbing
Climbers love to travel, but it can be annoying to visit a distant city solely for work or other reasons, thus interrupting your dedicated training schedule or weekend cragging plans. But don't let non-climbing travel stop your fun. We tracked down 21 bouldering destinations within two hours of eight major cities—there's no need to train inside an unfamiliar gym. All you need to do is pack a pair of climbing shoes and a chalk bag, grab the keys to your rental car (or a bus schedule), and sneak away before that rehearsal dinner to enjoy the spoils of local bouldering. Note: All driving times are approximate.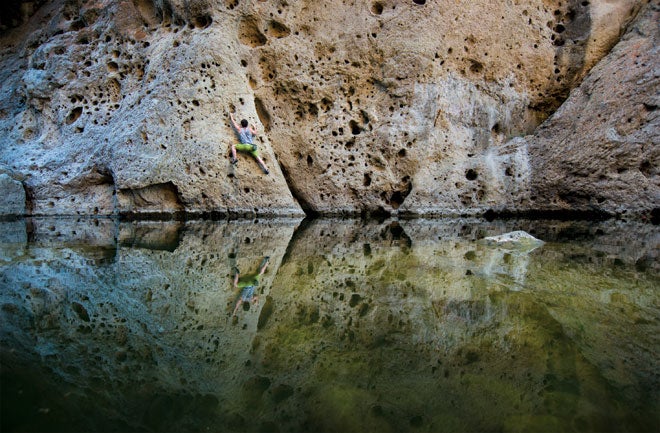 Los Angeles, California
Climbing's roots in Southern California go so deep that it's almost impossible to find rock that hasn't been touched by a climbing legend like Royal Robbins or Bob Kamps. Stoney Point alone has more than 100 such famed problems, some of which are literally just off the road. So when you need to escape the Entertainment Capital of the World, check out these two local favorites.
There is public transportation to Stoney Point, but Purple Stones and Malibu Creek require a rental car. Check out the Adventure 16 pro shop in West L.A. (adventure16.com) to rent a crash pad.
Guidebook: Southern California Boulder Guide, by Craig Fly (falcon.com)
Malibu State Park (50 minutes)
Malibu Creek was mentioned in an old Southern California guidebook as a place to rappel, along with "some" bouldering near a pool. After this uninteresting review, the area remained relatively unclimbed until the 1980s. Then local climber Mike Guardino took more interest in the area, and 30 years later, Malibu Creek has a couple of dozen classic problems (as well as numerous sport climbs) on clean, pocketed sandstone conglomerate.
Ticklist: South American Face (V0), Niagara Fist (V3), Recluse Roof (V4), Lunge or Plunge (V4/5), Even Flow (V8/9)
Stoney Point (35 minutes)
First developed in 1935 by Glen Dawson and the Sierra Club Mountaineers, Stoney Point has been the training ground for Southern California climbers ever since, attracting the likes of Yvon Chouinard and Tom Frost. Stoney Point's smooth, friendly sandstone still attracts some of the best climbers around. "The best part about Stoney Point is the amazingly encouraging, friendly, and experienced locals who climb there," says local Cole Gibson. "We are always willing to share our love and knowledge for the sport. I don't think a community like that exists anywhere else close by."
Ticklist: Yabo Roof (V2), Sculpture's Crack Traverse (V2), The Crack (V3), Crystal Ball (V4), Master of Reality (V5)
San Francisco, California
San Francisco's easy-access bouldering may be the city's best-kept secret. While some clandestine boulders are kept out of reach from the public because they're on private land, there remains a plethora of high-quality boulders in the Bay Area that welcomes visitors. You can boulder here year-round on almost every type of rock, from sandstone to basalt, on the waterfront or inside the city. There is public transportation (511.org) to within a half-mile of Indian Rock and Vacaville, but you'll need a rental car to get to Castle Rock.
Guidebook: Bay Area Bouldering, by Chris Summit (supertopo.com)
Nut Tree Boulders (1 hour, 10 minute)
These basalt boulders, divided into the Woodcrest and Hillcrest boulders, lay hidden in the grassy hills of the suburban area known as Vacaville, an hour east of San Francisco. These 50 problems are an even mix of highballs, lowballs, and pumpy traverses, from V0 to V9. You'll encounter the occasional crack among the flat edges and in-cut buckets, with beautiful views of the Sacramento Valley and, on a clear enough day, the snowcapped Sierras. The stone walls you'll see around the boulders are to keep the grazing cows from making potholes under the problems.
Ticklist: Stonewall Traverse (V1), Gimme My Forty Sucka (V1), Mother Nature (V3), Stoned Dangler (V5), The Forty Oz. Traverse (V6)
Indian Rock Park (25 minutes)
The birthplace of Bay Area bouldering, Indian Rock has seen activity on its volcanic rhyolite crags since the 1920s. Pioneers like Dick Leonard and David Brower learned and practiced climbing and the first dynamic belays here. Only 30 minutes outside San Francisco in the Berkeley Hills, these problems provide a solid afternoon of fun bouldering on pockets, jugs, crimps, and cracks, along with topouts that offer great views of the Bay. If you're looking for more of a challenge, head up the street to Mortar Rock. Its west face has the Bay Area's hardest problems, up to V13.
Ticklist: Indian Arête (V0), Watercourse (V1), The Flake (V3), Center Overhang (V3), The Bubble (V5)
Castle Rock State Park (1 hour, 20 minutes)
Castle Rock has the highest concentration of boulders in the Bay Area, from V0 to V10, and served as a young Chris Sharma's training ground. The beautiful Vaqueros sandstone takes the form of honeycomb caves, sculpted arêtes, tafoni pockets, and strange cannonball shapes on khaki-colored stone. Technique is more important than strength. Sending often requires odd friction moves—trust those smeary feet and slopers! Ticklist: Mr. Magoo (V1), The Classic (V3), Yabo Roof (V5), Lost Keys Traverse (V6), Eco Terrorist (V10)
Seattle, Washington
Seattle's best bouldering is one to two hours' drive from the city, but the climbing is well worth the gas money. From the north woods scenery of Gold Bar to the old-world Bavarian atmosphere of Leavenworth, the granite bouldering is both world-class and picturesque, the problems thought-provoking and technical.
Without a car it is possible to get to Icicle Canyon and Tumwater Canyon in Leavenworth via a combination of bus, train, and walking, but Gold Bar can only be accessed by car. Local climbing gym Seattle Bouldering Project (seattleboulderingproject.com) has a selection of rental crash pads.
Guidebook: Central Washington Bouldering: Leavenworth and Gold Bar, by Kelly Sheridan (sharpendbooks.com)
Leavenworth  (2 hours)
The Bavarian-style town of Leavenworth has more to offer than lederhosen and schnitzel. Nearby Tumwater Canyon has steep slopes that keep many of the boulders shaded throughout the summer months. Winters in Tumwater are cold, dark, and soggy, so head to Icicle Canyon in the colder months. Both areas are home to granodiorite, granite that lends itself to cracks, friction slabs, and knobs. To get the most out of the local culture, visit Leavenworth during its month-long Oktoberfest.
Ticklist: Tumwater: The Beach Arête (V2), The Footless Traverse (V5), The Beckey Problem (V6), Ivy (V8), The Nine Iron (V11). Icicle: The Sleeping Lady (V2), Taller (V5), WAS (V8), Pimpsqueak (V9), The Peephole (V11)
Gold Bar Boulders (1 hour)
Gold Bar's "granite is rife with horizontal fissures that form perfectly sculpted edges, slopers, pockets, and 'meatwraps,'" says guidebook author Kelly Sheridan. "Just hanging out in the forest feels like stepping into Where the Wild Things Are, and Gold Bar's 300 problems from V0 to V12 will keep anyone busy." The area's proudest attraction is the house-sized Five Star Boulder, which Sheridan calls one of the best boulders in America.
Gold Bar falls prey to the same extremely wet weather as much of the Northwest, so don't be surprised if you have to clean some fresh moss off a classic route. On the flipside, Gold Bar doesn't accumulate much snow in the winter, where Leavenworth is too cold and wet.
Ticklist: The Bricklayer (V2), Gates of Fire (V4), Ryan's Problem (V6), Ares God of War (V8), Rubik's Cube (V9)
Las Vegas, Nevada
Lesser known to the masses than Las Vegas' gambling is its incredible rock climbing. The stunning Red Rock Canyon National Conservation Area is about 30 minutes away, and, in addition to thousands of routes, Red Rock has hundreds of quality boulder problems. The easily accessible areas are great for a quick-fix session, while the more remote ones will satisfy your craving for adventure. "Scaling the exquisite sandstone here is like climbing on beautiful pieces of art," says Tom Moulin, author of Southern Nevada Bouldering. "You get everything from long, pumpy traverses to under-vertical balance affairs." Visit Vegas in the winter to climb in the crisp yet sunny weather, and rent a crash pad at Desert Rock Sports (desertrocksportslv.com). There is no public transportation to Red Rock.
Guidebook: Southern Nevada Bouldering, by Tom Moulin (snellpress.com)
Oak Creek Canyon (40 minutes)
Oak Creek has much to offer the adventurous boulderer: challenging problems, spectacular scenery, and the ambience of remote semi-wilderness. The Aztec Sandstone offers some of the best rock quality in Red Rock, and a range of styles from vertical to roof climbs. "One of the nice things about Oak Creek is that it has large features alongside the quintessential varnished crimps Red Rock is known for," says Moulin. Problems range in grade from V5 to V8, and are surrounded by a piñon-juniper woodland and the colorful, towering cliffs of Rainbow Mountain and Mt. Wilson.
Ticklist: American Dream (V3), The Dirty Bubble (V5), Blood Trails (V5), All Nightmare Long (V6), Kissed by a Raindrop (V8)
Kraft Boulders and Gateway Canyon (30 minutes)
With short approaches this area is an optimal destination for your smaller windows of free time. The Kraft Boulders has quality problems ranging from V0 to V12. The large, angular boulders of varnished sandstone often provide an easy dvown climb on one side and a steep face on another side or two. "The holds vary in shape and size, but the smallest crimps usually break off, leaving sloper-crimps or one-pad edges," says semi-local Chris Weidner.
For harder problems in the V4 to V15 range, continue north on the trail for five to 25 minutes to find Gateway Canyon. "Here, climbers will find a number of stand-alone gems, many of which are steeper than the Kraft Boulders," says Moulin. "The climbing style is vaguely reminiscent of Hueco Tanks, with gymnastic climbing on incut crimps and huecos in caves and on roofs." Some of these ca. 160 problems require access via scrambling and rock hopping.
Ticklist: Kraft Boulders: Perfect Poser (V2), Monkey Bars (V2), The Pearl (V5), Monkey Pinch (V5), Vino Rojo (V6). Gateway Canyon: The Pork Chop (V2/3), Jack of All Trades (V4), Mr. Moran (V7), Bitch Slap (V8), Americana Exotica (V8)
Denver, Colorado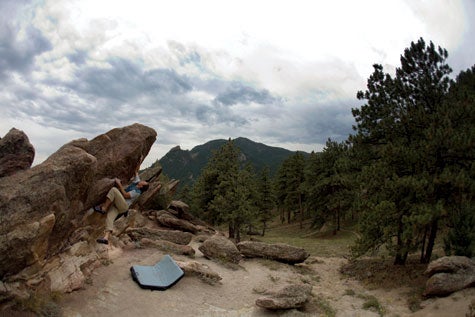 With all that Colorado's Front Range has to offer, it's hard not to be a happy climber while visiting Denver. Combine thousands of nearby routes with a considerable number of microbreweries and 300 days of sunshine, and you just might never go home.
The Regional Transportation District (rtd-denver.com) is invaluable if you're trying to get around the Front Range without a car; it can take you to both Boulder and Morrison. Unfortunately, the RTD service does not extend to Castle Rock. Neptune Mountaineering (neptunemountaineering.com) in Boulder rents pads.
Guidebook: Colorado Bouldering Front Range, by Phillip Benningfield and Matt Samet (sharpendbooks.com)
Flagstaff Mountain (45 minutes)
In Boulder, you can drive, bike, or walk in almost any direction and find rocks to climb. But for a historic setting that bouldering legends like Jim Holloway and Pat Ament created in the 1960s and '70s, head to Flagstaff. Classics like The Monkey Traverse (V4) and Just Right (V7) are mere feet from the road. Some of the best climbing happens in the winter: "On a cold, sunny winter day, with no wind, you can be warm next to the rock, and the friction is off the charts," says Matt Samet, guidebook author. The coarse fountain sandstone is notorious for flaying fingers, so bring tape and salve.
Ticklist: Face Out (V4), Monkey Traverse (V4), Hagan's Wall (V5), First Overhang (V6), Just Right (V7)
Morrison (25 minutes)
Just south of the legendary Red Rocks Amphitheater, Morrison contains a fun collection of accessible problems. The winning combination here is the finger-friendly sandstone, the short walk between boulders, and a variety of climbing styles; the south-facing aspect also makes Morrison a great wintertime destination. Samet recommends exploring the hillside up and left of the Black Hole and Lobby areas for a quieter experience, where you'll enjoy "high, fun V0s and V1s on pretty white sandstone, with a big swath of Colorado sky past the ridgeline above."
Ticklist: Breashears Crack (V3), Upper Wisdom Simulator (V3), Tendonitis Traverse (V5), Electric Nork (V6), Holloway's Route (V7)
Chattanooga, Tennessee
Passionate boulderers will find themselves in good company in Chattanooga, where collections of Cumberland sandstone blocs as close as 25 minutes from town offer some of the best bouldering in the country. Two of these areas are stops on the Triple Crown Bouldering Series, a competition held to raise money for the Southeastern Climbers' Coalition and the Carolina Climbers' Coalition. You should also check out these destinations if you're traveling to Atlanta, only two hours from Chattanooga. You can rent a crash pad at The Crash Pad hostel on Johnson Street (crashpadchattanooga.com). There's no public transportation to these sites.
Guidebooks: Stone Fort Bouldering, by Andy Wellman (greenergrasspublishing.com); Horse Pens 40 Bouldering, by Adam Henry (greenergrasspublishing.com); Rocktown Bouldering, by Sean Kearney and Zak Roper (brayackmedia.com)
Horse Pens 40 (1 hours, 45 minutes)
This historic park holds a dense collection of boulder problems atop Alabama's third-highest summit, Chandler Mountain. The park has seen over 15,000 years of human habitation, with the sandstone dating back 400 million to 600 million years. "It's a little slice of Fountainebleau," says Adam Henry, author of Horse Pens 40 Bouldering. "The bouldering here tends to be on slopers, requiring a bit of compression, and has thought-provoking mantels, which require a balance of power and technique."
Ticklist: Merlin (V1), WASP (V3), Mortal Combat (V4), Chattanooga Plow (V7), God Module (V11)
Rocktown (1 hour, 15 minutes)
"The rock quality and formations at Rocktown epitomize the best of Southern sandstone," says local photographer Andrew Kornylak. Located atop Pigeon Mountain in northwest Georgia, it's one of the largest boulderfields in the South, with more than 600 problems, up to V12, on fine-grained, highly featured sandstone.
Ticklist: Mr. Softy (V1), The Scoop (V3), The Standard (V3), Croc Block (V5), The Orb (V8)
Stone Fort (25 minutes)
Upon entering Chattanooga, you'll hear locals talk about "Little Rock City," an impressive collection of boulders located less than 30 minutes away. "No other city in America boasts a local bouldering area half as good as Stone Fort," says Andy Wellman, author of Stone Fort Bouldering. And because it shares its property with a golf course, you can buy beer and sundries from the clubhouse, and the approach from the car is about 30 seconds. The bouldering here is generally moderate, with close to 600 problems and classics at all grades. Still a young climbing destination, Stone Fort has been legally open to the public since 2003, thanks to the efforts of the local climbing organizations.
Ticklist: Incredarête (V1), Super Mario (V4), The Wave (V6), Deception (V9), The Shield (V12)
Austin, Texas
It's hard not to have fun in Austin. While the popular live music and thrift stores are crucial stopovers, the bouldering opportunities are another significant aspect of Austin's eclectic culture. Grab a quick training session on limestone inside city limits, or take a relaxing deep water solo getaway. Visit Austin Rock Gym (austinrockgym.com) to rent a crash pad. You'll need a car to get to Pace Bend Park and Roger's Park.
Guidebook: Texas Limestone Bouldering, by Jeff Jackson (erockonline.com)
Pace Bend Park (50 minutes)
Thirty miles west of the city is Lake Travis, Austin's go-to spot in the hot summer months, where you'll enjoy deep water soloing in the park's numerous coves. The karstic boulders at Pace Bend offer amazing roof climbing, according to Vinson. Check bloodyflapper.com for current lake levels, or bring a depth tester to know you will be soloing safely. While low lake levels can eliminate your chances of deep water soloing, they do open up the Duende Cave, a hidden bouldering spot that hosts two Austin classics.
Ticklist: Slap Shot (V4), The Bass Mouth (V4), Rick's Roof (V6), Atlantis (V7), The Duende (V10)
Roger's Park (1 hour, 20 minutes)
To break away from your trip for a full day of fun bouldering, head to Roger's Park. With boulders of varying style, size, and grade, the 70- mile trip from Austin is worth it. The featured limestone, up to 30 feet tall, offers slabs to overhangs, littered with jugs and pockets above great landings. The cliff overlooks Belton Lake, a good place to cool off on warm days.
Ticklist: Jaws (V1), Mexican Affairs (V3), Zen (V5), Reflection Eternal (V8), King Crosley (V10)
Boston, Massachusetts
Boston's small crags and boulders have long been the training ground for many serious New England climbers. Development began right before WWI, when Frank S. Mason started exploring nearby granite and puddingstone (a type of slick conglomerate). Now, it's possible to take a train or bus to within 10 minutes of Lynn Woods and Hammond Pond. Visit Rock Spot Climbing (rockspotclimbing.com) for crash pad rentals.
Guidebook: Boston Rocks 2nd Edition, by Richard Doucette and Susan Ruff (bostonrocksonline.com); mountainproject.com
Lynn Woods (25 minutes)
Stretched across 2,200 acres, Lynn Woods is the second largest municipally owned park in the States and offers plenty of granite bouldering. Its impressive size means that in addition to the area's established classics, there are also many boulders that have yet to be touched. "Climbing at Lynn Woods tends to be crimpy and technical with small feet," says local Peter Otis. "The deeper you go into the park, the more solitary the climbing."
Ticklist: Stone Beachball (V2), Pipefitter (V3), Bruce Lee (V5), The Chi Problem (V6), The Kool-aid Arête (V7)
Hammond Pond (20 minutes)
Located just outside of a shopping center, Hammond Pond is one of the most accessible bouldering areas we've seen. A short ride on the MBTA subway from downtown Boston will bring you to a 10-minute walk from the crag, where you'll find yourself on the slippery puddingstone. The short approach makes for a perfect after-work outing.
Ticklist: Backseat Hammond (V1), Breakfast of Champions (V2), Hammond Eggs (V4), Beached Whale (V6), Trance Space (V7)