Climb in the Balkans with Rockbusters
This rock climbing road trip should be added to your bucket list
You may have seen the name Rockbusters before, popping up alongside some of the most recognizable names in the climbing world, such as Adam Ondra, Patxi Usobiaga, Hazel Findlay, and Daila Ojeda. Rockbusters offers unique climbing trips and coaching courses at the best crags in Europe. Under the supervision of high-level coaches, climbers are motivated to push themselves and progress in climbing. As a company built by climbers for climbers, Rockbusters is the perfect partner to help you knock off your climbing bucket list! They don't just provide the gear and guides—they are working to build a positive climbing culture.
Next stop: The Balkans. From Slovenia and Croatia to Bulgaria and Greece, with all the countries in between, the Balkan peninsula is the new Spain. Full of great culture, delicious food, and welcoming people, the Balkans would be a dream vacation destination for anyone, but for climbers it's an incomparable adventure. From canyons surrounded with great walls of Paklenica, to small limestone crags with Tufas similar to ones in Kalymnos, to deep water solo walls at the numerous Islands of Adriatic Sea, the climbing is top tier and the crowds are nonexistent.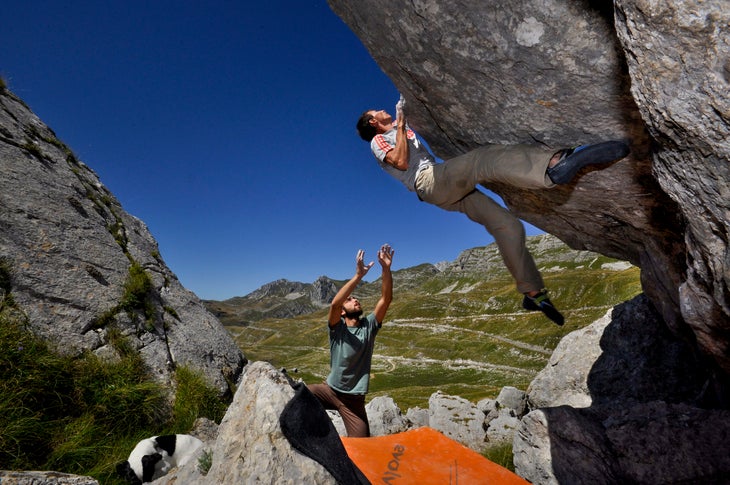 Imagine waking up each day in a different location, next to the sea, lake, or river, surrounded by lush forest or green meadows. That magical experience is made possible by Adria and SunLiving camper vans, which provide transportation and accommodation, plus La Sportiva DEMO and Singing Rock DEMO options ensure you'll not only be traveling but climbing in style. You'll be guided by a legendary climber from Slovenia, Klemen Bečan, who is also responsible for the development of many new crags in the Balkans, bolting and opening some of the hardest climbs in the area (repeated only by Adam Ondra). With his expert knowledge of local conditions, Klemen is the ideal guide to help you explore one of the coolest parts of Europe.
Balkans climbing road trip highlights
Maximum quality and quantity of climbing at the best crags on the Balkan peninsula

6 – 24 full days of intensive climbing with a professional guide and coach

Individual approach to your needs and level

Maximum 7:1 client/coach ratio

Group courses for 5 to 15 participants

One-on-one coaching

Video analysis  
You'll have the opportunity to work on all necessary skills and knowledge to be able to do single pitch sport climbs and to attack routes on or beyond your limit such as:
Choosing the right equipment for the best climbing experience while staying safe, plus how to treat and store it

Basic understanding of outdoor risks (so you can make it home safely every day)

Proper belaying, lead belaying techniques, catching falls dynamically

Setting up top-ropes 

Lead climbing techniques 

Cleaning the anchors to retrieve all your gear

How and when to use stick clip and other techniques to pre-clip first quickdraw

Climbing calls and communication 

Movement skills to climb more efficiently

Special climbing techniques (overhang techniques such as side-stepping, drop knee, flagging, heel hooking, kneebars, and more)

Redpoint and on-sight attempts so you can tackle new climbs with ease

Personalized coaching to break through mental barriers
Rockbusters is building an international community of climbers who are not just focused on physical strength and technique, but also mental fortitude, all while honoring the areas they recreate in.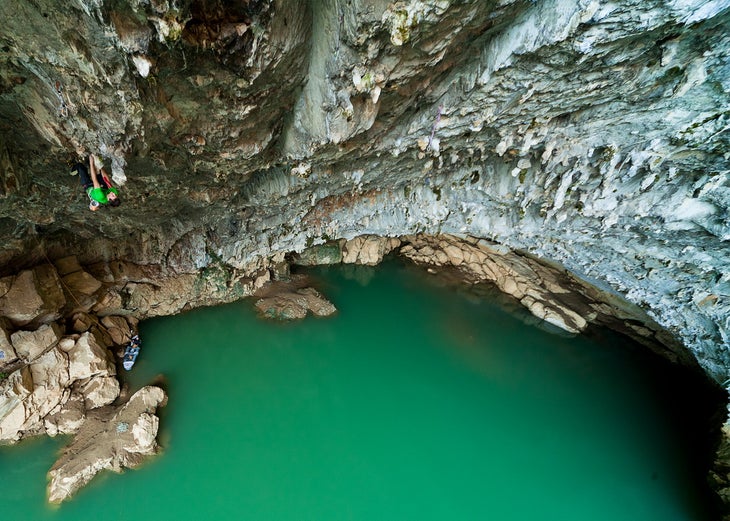 They believe that growing up as a climber means growing up as a person. They live and work in natural environments, sharing their positive attitude toward nature. Rockbusters is a member of 1% for the Planet, an international organization whose members contribute at least one percent of their annual sales to environmental causes.
To learn more and book the trip of a lifetime CLICK HERE.