Climbing Made Public: Sport Climbing Comes to Upstate New York at Thacher State Park
Heading out the door? Read this article on the new Outside+ app available now on iOS devices for members! Download the app.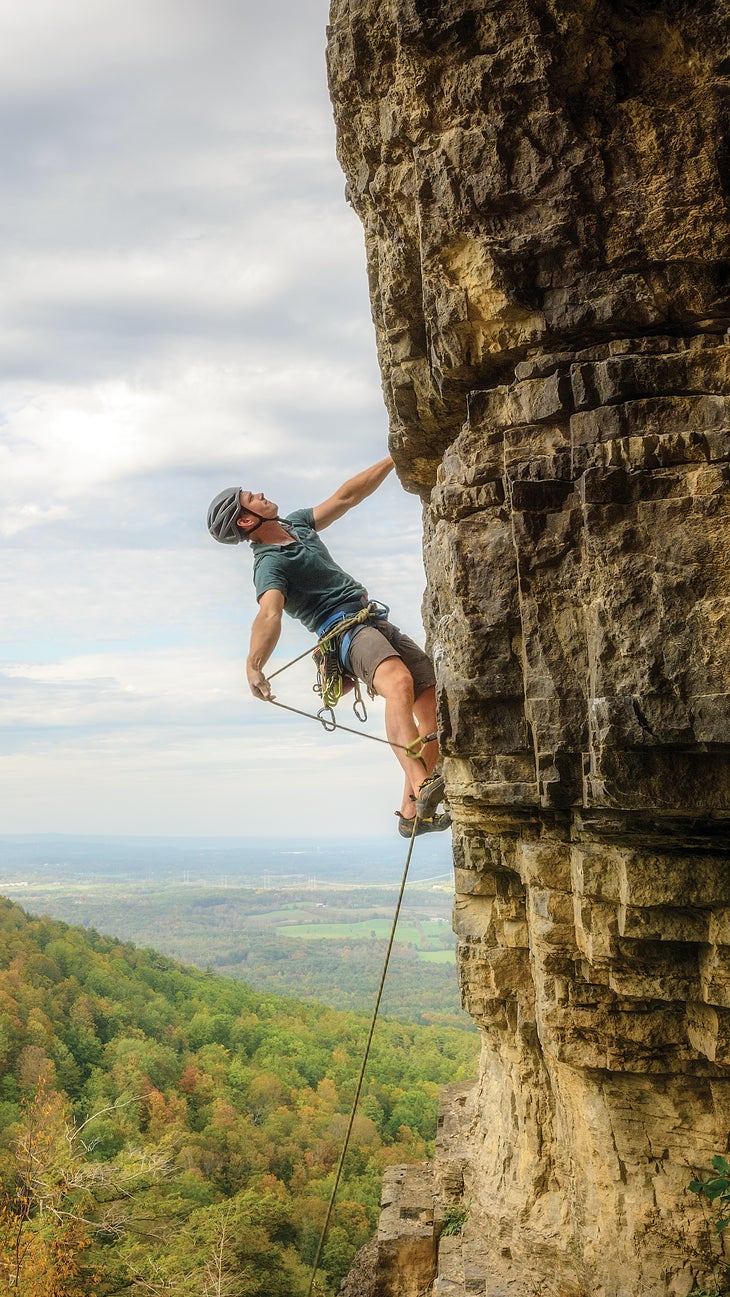 Squeeze through the "Fat Man's Misery," a limestone crevice that tapers to eight inches, and you'll be spit out at the base of Albany, New York's, first crag: Thacher State Park. A rare sport area in a state mostly bereft of well-bolted climbs, Thacher may soon become one of the few large-scale Northeast sport destinations. In fact, until now, the state's capital was only a great climber's town if you liked driving: The Gunks are 75 miles south, and Keene Valley, the epicenter of Adirondack climbing, sits 120 miles north. In between, there is nothing but a few climbing gyms.
On July 1, 2017, the cliffs at John Boyd Thacher State Park opened, giving climbers access to a 90-foot-tall escarpment of featured dark-gray limestone. The cliff houses more than 50 bolted routes from 5.6 to 5.12, with the majority in the 5.10-to-5.11 range. Locals expect more development—up to 100 additional routes—on the three miles of cliff within the park. (Another three-mile section of the cliff rests on inaccessible private land outside park boundaries.) Thacher's successful first day, which drew hundreds of climbers from more than 25 states, offers a lesson in opening new areas on public land. It was preceded by six years of behind-the-scenes work between climbers and park management, which had long banned climbing but then found itself looking for new ways to attract visitors. This is particularly noteworthy within the New York state-park system, which despite having 180 parks only allows climbing in one other, Minnewaska, down from the privately owned Shawangunks. (Adirondack Park, with its thousands of routes, is managed by another state agency.)
Thacher is 2,100 acres, most situated atop three miles of 100-million-year-old limestone cliffs. Named for an Albany mayor who bought the land and in 1914 donated it to the state, the park was once meant to be a recreational jewel for the Capital Region, with a hotel, golf course, and massive pool complex. However, the hotel and golf course were never built, and the pool closed in 2006. Recently, visitation had declined, and the park closed temporarily in 2010 due to budget cuts. Its infrastructure is aging to the point that when a $4 million visitor's center opened recently, power came from generators because the ancient electric lines couldn't support the current.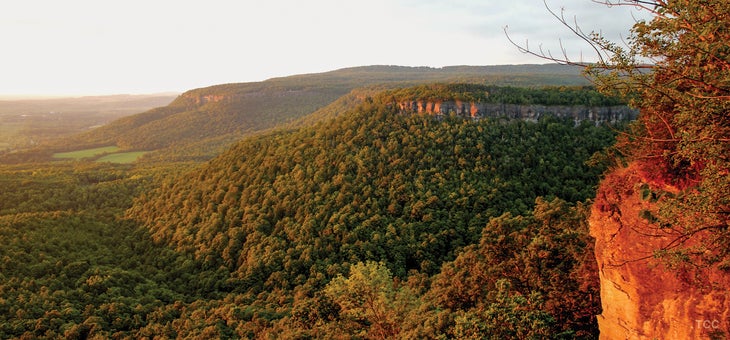 Still, nature lovers enjoy the park for its scenic viewpoints, picnic areas, and hiking and mountain-biking trails—all 20 minutes from town. Climbing had, until recently, not been part of the park's management plan. Many climbers had eyed the rock, but most assumed it was choss. But in 2011, the local climber Mike Whelan, who had moved out to Colorado, returned to visit. A regular at Colorado's limestone Shelf Road, Whelan thought Thacher's rock looked similar, so he approached Alane Ball Chinian, a regional director of New York State Parks, Recreation and Historic Preservation, pitching the idea of opening the park to climbing. Whelan expected stiff opposition, but instead found a sympathetic ear.
"It needed some vision," Chinian says of Thacher. "[Visitation] was definitely declining." Whelan's timing was serendipitous, as the park was working on a new master plan that included adding a ropes course, disc golf, mountain-bike skills course, and geocaching. Maybe climbing would fit the new Thacher. "Climbing was clearly a recreational priority for those participating in the park-planning process," Chinian adds. "And we listened."
Thus began the Thacher Climbing Coalition (TCC). Group leaders gave park management a presentation on how climbing worked, and eventually obtained permission to survey the cliffs. They scrambled along the uneven, sometimes-exposed base, across loose scree and gravel, to scope potential. The TCC quickly expanded its membership to more than 100 members, mostly Albany-area climbers, and brought their survey to the park. The park agreed to allow the coalition to establish routes on a 0.75-mile section of cliff, accessed from a secluded parking area away from the more popular zones.
"There's a handful of people on the park side who totally get it and who are interested in seeing us succeed," says Jeff Moss, current president of the coalition. "That's what's gotten it to happen."
The volunteers cleaned out debris from the crag base, including garbage cans and picnic tables that local teenagers had hucked off the top. (The park has now installed "climbers below" signs.) TCC members scrubbed the cliffs of moss, dirt, and loose rock and began to rap-bolt. They built up base areas through more than a half-dozen trail days that brought up to 30 volunteers. They also gave climbing demonstrations for the sheriff's department's vertical rescue unit, which was more used to body recoveries than rescues, in preparation for future accidents.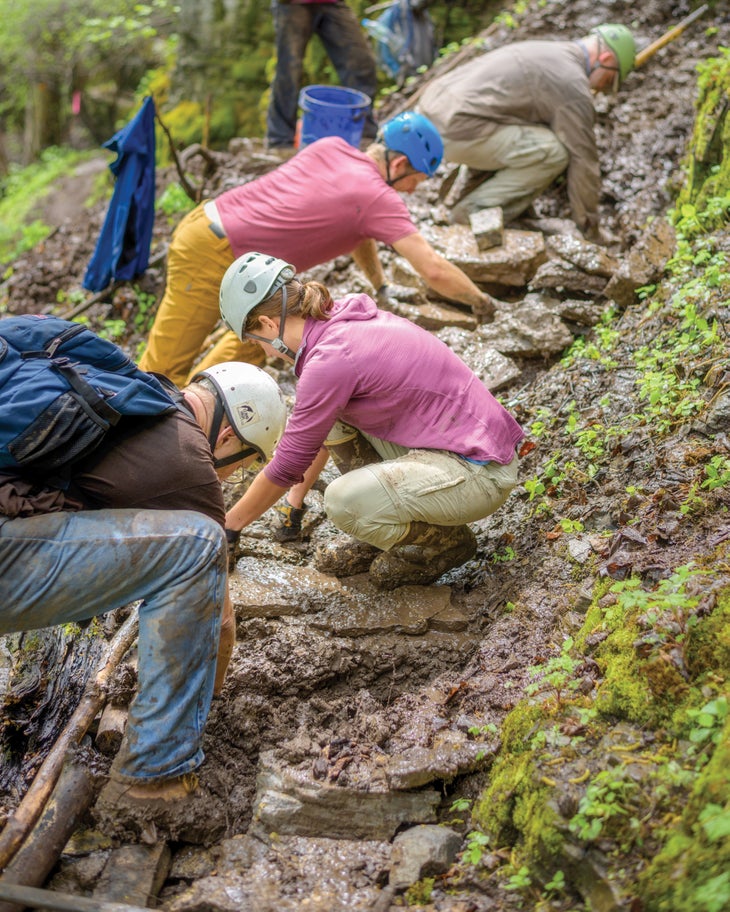 The TCC's success could serve as a model for partnerships between climbers and parks around New York—and other states as well. While most state parks in New York don't have viable rock, there are some, especially in the Hudson Valley, that seem promising. And then there's ice. Thacher has nearly a dozen possible ice lines up to 100 feet long, some potentially stout. Coalition members are discussing opening ice climbing with park officials—who currently say it's not a top priority—and ask that for now climbers wield their tools elsewhere. Around New York's parks, especially in the deep gorges of the Finger Lakes, are many potential routes that could turn remote regions of the state into ice destinations—TCC's interface with Thacher will set an important precedent.
One thing the park has however permitted is a mock-crevice—a wooden simulator—leading to the Fat Man's Misery. It allows first-timers to assess their claustrophobia level before committing.
"We'd like to have a different access, at some point," Moss notes.
Access Wins and Red Flags
The Access Fund (AF) has been lobbying for access since 1991. We've teamed up with them to present key victories and threats. Visit accessfund.org for more.
Big Wins
AF is making allies on Capitol Hill and working with Congress on legislation and the Admnistration on policy that improves climbing management and legitimizes fixed anchors on federal lands, including NPS, BLM, etc. E.g., AF is working with Utah lawmakers to strengthen recreation and conservation provisions in the Emery County public lands bill, to protect climbing in the San Rafael Swell.

AF partnered with the Southeastern Climbers Coalition to purchase two bouldering properties in Chattanooga, TN: the new area Hell's Kitchen and a critical, closer access point to the Dogwood Boulders.
Red Flags
The Administration and some members of Congress are allowing special interest groups to sneak dangerous provisions into public-lands legislation and policy, attempting to bypass thorough environmental review in order to open some public lands to irresponsible energy development. Examples include the bills reducing the size of Bears Ears and Escalante national monuments and also opening them to coal, oil, gas, and uranium extraction.