Nat Bailey on Freeing the 'Cosmic Egg,' 10-pitch Aid Route in Zion
'The Crack in The Cosmic Egg' is a 10-pitch aid route on Mt. Moroni. It went free at 5.13- R in November 2021.
---
Join Climbing
Create a personalized feed and bookmark your favorites.
Join Climbing
Create a personalized feed and bookmark your favorites.
Join for free
Heading out the door? Read this article on the new Outside+ app available now on iOS devices for members! Download the app.
In December of 2004, Mike Anderson did the first free ascent of the north face of Zion's Angels Landing, via the Lowe Route. In a summary of the ascent for Alpinist 11, which is now taped to the ceiling of my minivan, he wrote:
"For decades, climbers in Yosemite have been systematically eliminating aid from any route that will go. In Zion, apart from Douglas Heinrich, most climbers just don't bother.
"I decided to bother."
Seventeen years later, in November 2021, having decided to bother myself, I tied my rope around a coffin-sized boulder at the base of The Crack in The Cosmic Egg, gave the rope an assuring tug, and started up the first pitch alone, equal parts determined and terrified. 
***
The year prior, on a bike ride through the canyon my friend Steffan pointed out The Crack in The Cosmic Egg on Mt. Moroni. I was inspired. Hungry. Our whole bike ride I grilled him about what he thought would go free. I asked about The Egg. He shrugged. I saw some empathy for my believing eyes, and, bless his heart, he didn't say no. I craned my head as we biked by the striking line, and internally scheduled a late-night research bender. I found pitch breakdowns on Mountain Project and Supertopo that highlighted easy free climbing high on the route, and four pitches of aid climbing lower down, mostly following a quarter-inch splitter. There were photos. It was beautiful and featured. I was inspired. 
I already fostered a deep, unconditional love for Zion. In 2019 I was entranced by an all night epic on Mt. Kinesava's Tatooine and the modern classic Moonshadow. I returned to punch the clock for a classically low failure on my obligatory Moonlight Buttress onsight attempt, among other things. For the last three seasons (which is an eternity when you're 21) my life has orbited around the little big walls hugging the Virgin River as much as it has anywhere. My life has unfolded in this canyon, and in part because of this canyon. There was nowhere else I wanted to be.
***
With no partners lined up and a month before I had to be back at work in Squamish, my plan was to self-belay the first five pitches of The Egg and investigate the free climbing potential. Aside from climbing the first eleven pitches of the Nose in three days, a few highsteps on fixed copperheads in my Uggs, and one pitch in China where I used a thirty-foot branch as a stick-clip, I had next to no aid-climbing experience and even less rope-soloing experience. I had never rope-soloed a multi pitch, but felt that my prerequisite systems knowledge would carry me through. Plus, I was psyched. Really fucking psyched.
Believe it or not, it went quite smoothly, albeit slowly. After seven afternoons of effort I had soloed the first five pitches of the route, fixed ropes, and was optimistic that the major portion of aid on the route would go free with effort and time. The aid pitch guarding the summit loomed over me. It would have to be sorted out on the fly.
I started each day by writing out a boxed list of question marks, uncertainties, and goals for the afternoon. The first big question mark, besides "how the fuck do you aid solo," was the second pitch, an engineered bolt ladder coming off the ledge through a blank-looking section of sandstone to the mega seam. Upon my research I encountered a sort of communal dogma around this pitch that it would not go free, defied by one comment (and a lot of patina) on Mountain Project that was typed in November 2020 by a Ted Baker, in which he speculated it would go free. Hell yeah, Ted! Hell yeah! 
On the left side of the ledge, I noticed another seam which led to a braille trail of face holds that connected to the major system. Some laborious shenanigans later, I had swung around and touched enough holds that I was convinced it was going to go free. Question mark answered … sort of.
The second question mark was pitch three, a fierce 0.1 cam–size splitter with a few blown-out pin scars. For a few meters, it overhangs 20 degrees. There was just enough bomber gear to convince me to keep investigating. I learned quickly that any free sequence would be hard and scary. A part of me hoped that I would get shut down in a manner so brutally swift and certain that I would never have to entertain the process of redpointing this pitch.
After one toprope-solo session I faced an undeniable truth: The Cosmic Egg would go free, and I was spiritually convicted to putting my cards on the table. It was a strange and exhilarating experience to be aware that I was in the middle of living out a dream, that it was actually happening, and that I, me, was the one leapfrogging RPs, swinging around on fixed ropes, and talking to myself more and more maniacally about sequences. The canyon had never been so beautiful.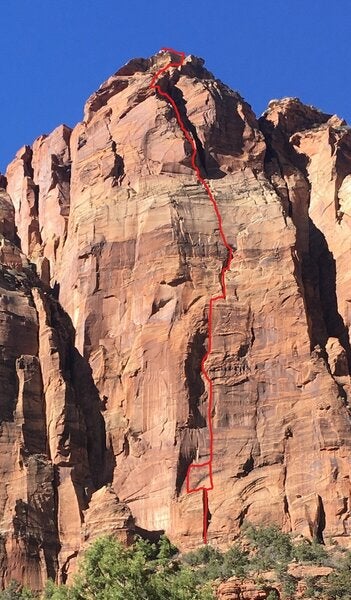 For a week my only face-to-face interactions were with tourists and the deer that I saw on my daily commute. My pacing and personality subtly changed. I pondered the world aloud with myself. I began speaking to my cams. One day, having checked my boxes for the afternoon early, I rappelled down to the ledge atop pitch one and spent the last of the autumn light reading my book, smoking Marlboro Reds, and admiring Zion. On the ledge that afternoon, I wrote in my journal:
"I find myself less and less stressed about whether or not the Cosmic Egg will go free. There is something burning deep inside that I haven't felt to this extent before. It guides me, and keeps me optimistic. It lives in the majesty of this place, and it is telling me that if I am bold, willing, and humble, this is a chance to connect. I follow the fire."
***
"Sometimes the close-up reality of attaining visions requires the repetition of simple tasks. Doing a lot of almost nothing until it becomes something. Until we make it into something more, something worth hoping for." —Suzana EL Massri, Call it Dreaming, Alpinist 73.
"A lot of almost nothing."
November rolled on to a rhythm of almost nothing: the tap-tap of a hand drill; the discovery and loss of crumbling footholds; a quiet visit from two California Condors; showing up; the slow, methodical, and very real labor of vision and dreams. By my eighth day alone, solitude and loneliness washed in and out like the tide, and I was running out of things to do alone. It was coming together, but the process was beginning to take its toll. I was tired, eager to share the experience, and needed a proper belay. 
Fear not! A steady stream of friends began to roll into Zion, though it didn't begin organically. Feeling particularly dejected and desperate after my eighth day alone, I offered to pay my friend Hoai-Nam Bui's gas for her to drive from Bishop and come climb on the Egg. She was psyched! In the depths of my strange solitude, I had an awkward conversation with my cams that someone else was in the picture and we wouldn't be talking so much anymore. They said nothing. Typical. 
A lot of almost nothing.
Hoai-Nam's visit phased in a new chapter on the Egg. It was so much fun! Over two days, we happily wrecked ourselves sorting out the nuances of pitches two and three. The pitches ended up feeling much harder with a proper belay (go figure), and my nervousness for pitch three was heightened by reality. After two days, Hoai-Nam went to Los Angeles and I went northeast to the Utah desert to climb with my dear friends Danny and Ashley and take a break from the Egg. I was reinvigorated, writing in my journal:
"I am fully at sea on this project. The waves are crashing onto the deck and I am reminded that this is what I signed up for. I know now, more than ever, that this life is the one that I choose, that I will choose again and again. This life of pursuit, of failure and process and glimmers of magic."
***
I went up one more day with my friend and hero Drew "The Wizard" Marshall. As I tinkered away adding one more bolt to my variation around the pitch two bolt ladder, I watched in awe as Drew sorted out free climbing the original bolt ladder in a mere twenty minutes. My personal definition of "blank" sandstone was redefined in an instant. I will never look at Zion the same. Drew shrugged and said it was probably 5.12+ slab, at least while the footholds were still there. Drew is a veteran, and I am not. I laughed, inspired, and put the finishing touches on my variation pitch.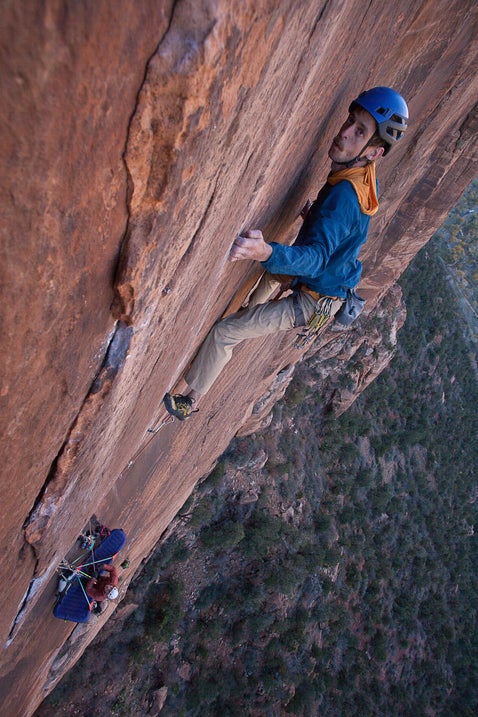 After a rest day, it was time for the almost nothings to become something. It was time to try.
***
Over the next week, every pitch on The Crack In The Cosmic Egg went free, on lead. This was a gift, and I guess the one that I had originally sought: The richness of being the first (and in the case of pitch three, the second person; more on that later) person to free climb new pitches. Good pitches that demanded that I become a better climber to climb them. That is a special experience. That's the surface spray, and it is valuable. There's more though. There's always more. 
***
"Grace comes by art; and art does not come easy." —Norman Maclean, A River Runs Through It
"What the fuck do I have to do!" I yelled as I flew through the air, narrowly missing Drew at the belay. Pitch three was crashing the ego party. I sent pitch two a few days prior, and then failed to send pitch three that day, and the following. The gold standard, a continuous free ascent, was dead. C'est la vie. After two rest days I was back on pitch three with Drew, who was fresh off seeing his slab variation through. Pitch two went free two different ways! I had invited my friend Jérôme to come and take photos, and I was failing. I didn't have anything left and I knew it. I also knew that Drew had sorted out some very different beta than the boulder problem I had so eagerly discovered, and was looking smooth on it.
His eyes meant mine, empathetically. 
"You should do it man," I said, breaking the silence. "You should lead this pitch." 
Drew was hesitant, because he is a good friend. He said he didn't mind waiting and that I could rest and try again. I knew it wasn't my day though, and I knew that if I asked Drew not to lead the pitch, I would've known that my ego was too fragile, that I was too possessive over a title, to share an experience.
These moments are funny because it really shouldn't matter who leads what, and a lot of the time we pretend that it doesn't. We take the moral high road on paper and bury our screaming egos with comments about our humbleness and gracious nature.
Drew tied in, put his shoes on, and bumped my fist. "Don't hold back," I said to him as he stepped off the ledge. And he didn't. Drew is a technician, deep into his craft. I knew as soon as he pulled on that he had flipped the switch, a skill he's honed over more than a decade of climbing. It is a joy to watch someone you love practice their art. His footwork was a flurry of precision. At the end of the crux, he took a little breath, and committed to a dynamic pounce, way out from his gear. Time hung suspended. He latched the hold. It was over. The pitch was sent. 
In a perfect world I could write to you about how excited I was for Drew, how it didn't really matter, and how I felt great about it all. But man, when he hit that hold at the end of the crux, it hurt. It hurt! I was fucking deflated. And then guilty about being deflated. And then excited for my friend. And then wondering what this means for me. It was a storm of mixed emotions. Jérôme asked me how I was feeling, and I didn't really know what to say. I was disappointed in myself for feeling so much about something so small. I was psyched for Drew and put on a brave face in front of my boyish feelings.
But it was on. It was on. I jugged the pitch.
"I think I know how you're feeling right now. It is a weird feeling," Drew said to me when I arrived at the anchor. The ensuing conversation left me a little more peaceful, a little more aware. Sometimes I forget that I'm 21 years old; that I don't know shit and I've got a lot of knocks left to take. 
"Grace comes by art, and art does not come easy." Grace takes devoted time. I admired Drew and his grace that day, both in his climbing and navigation of the difficult nuance of friendship. 
Plus, I was in for a fucking ride on the next pitch! Drew handed me the rack and told me to fire the pitch. I had toprope soloed pitch four weeks prior and wrote down the gear on a note, which I forgot to bring up. Summoning up memory, the power of my music library on shuffle, and a deep understanding that my fragile ego could not handle more dejection, I scrapped my way up the pitch, refusing to fall. I let out fear-fuelled screams as the Dirty Dancing soundtrack bellowed from my chest pocket. I screamed on the last boulder problem to Know Your Enemy and slumped onto the anchor after clipping it. Shuffle power!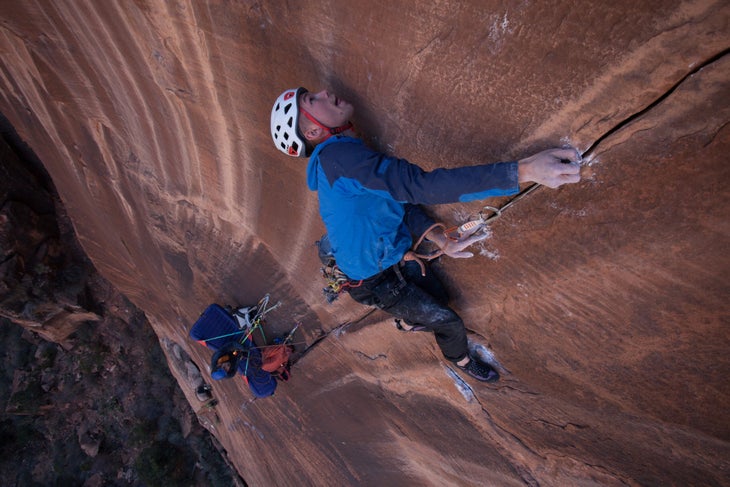 We descended our fixed lines and returned to camp, which was now full of friends. I pondered listening to poetry podcasts and eating noodles alone in the same camp a few weeks prior, and was grateful to now see it full of laughter and stories.
The next day, we ascended our fixed lines to the top of pitch four, determined to see the Cosmic Egg through. I would go back and redpoint pitch three later, but for now we had to do this thing! Pitches five and nine were the only question marks that remained. I had aided pitch five weeks ago and fixed a line, but thought it looked mangeable and didn't bother coming back to it. I was excited about the idea of going for a quasi-onsight ascent into virgin terrain. I barely squeaked out a spicy traverse and groveled up an obligatory Zion chimney of sand and sin. The fear-screams came out on the slopey exit, but I managed to hang on. It was ON! The last pitch was all that remained unfreed.
It was one of the most fun climbing days I had ever had. Drew and I swung leads up lovely moderate terrain, giggling to each other that at some point the climbing must deteriorate in quality. I was up high, about to seal the deal on a fantastic adventure, and I was sharing it with a really good friend. Awesome.
After looking at the last pitch for the first time, we decided to find another way. To our left, a sea of jugs led to an arete. It looked easy. I took the rack and headed off, climbing carefully and trying to keep three points of contact on should one of the holds pop off the wall. It was scrappy Zion climbing at its finest: Tempting jugs held on by unknown forces, thorny bushes, and granular white rim rock that always climbs in a more engaging manner than it looks. We detoured around the aid pitch in two belays and dubbed the pitches "The Guide's Intuition Pitches." We basked on the summit for sunset. 
A new free climb in Zion. On the drive back to camp, all I could do to try to make sense of the experience was chainsmoke menthols and listen to ABBA Gold. I drove through the night in a state of disbelief.
***
Drew and our friend Meghan excitedly offered to come back with me, and after a rest day I sent pitch three with Drew's new beta. We ran out of time for the continuous free ascent. That is someone else's dream, and I'm excited for them.
I'm learning that when you give something life, you inherently also give it a death. This peaceful and profound sadness is a badge of honor of sorts; it means you were in love, you were daring enough to be in love. 
In November of 2021 I decided to bother. It culminated with Drew Marshall and I doing the first free ascent (non-continuous) of The Crack In The Cosmic Egg (5.13- R). This wouldn't be complete without an expression of gratitude for my family (a group chat with my brothers kept me sane while I was climbing alone) and wonderful friends. Rab Carrington got it right: "The best thing climbing gave me was friendship." 
To anyone reading this, I encourage you to trust and listen to your vision. Tune out of the dogma of bolt ladders, seams, and blank sections, and tune into your vision. Tune into the spirit of a place and yours in it. Go bother. Go have a look.