Dover Island, Nova Scotia: The Ever-Changing Granite Playground of This Tiny Atlantic Isle
Heading out the door? Read this article on the new Outside+ app available now on iOS devices for members! Download the app.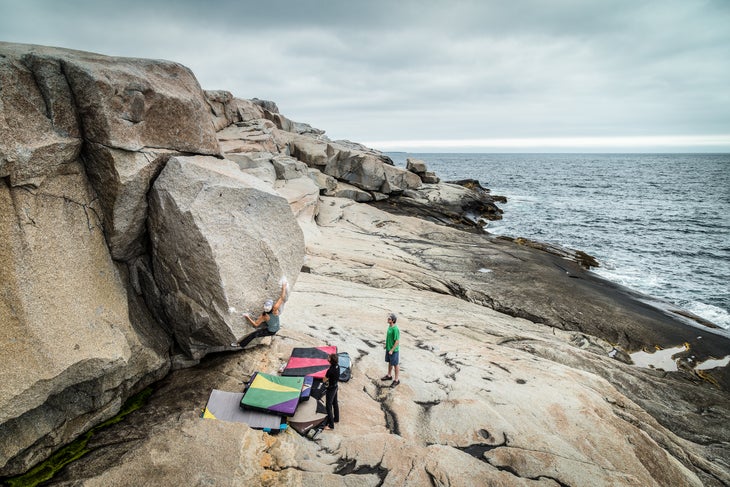 "Don't leave anything undone, because it might not be there next year," warns Todd Foster, a video editor from Halifax and one of the original developers of Dover Island, Nova Scotia's granite playground 25 miles from the province's capital. The uninhabited rocky fingerling harbors over 100 problems from V0 to V11, making it Atlantic Canada's highest concentration of coastal bouldering. Over the years, quality lines have come and gone with the tides—literally. The opportunity for FAs and "Never Agains" is as embedded in the changing landscape as the quartz crystals in the granite.
"During hurricanes, I've seen waves crash over the island," says Lawrence "Rod" Morash, a fourth-generation fisherman who ferries climbers to and fro in his motorboat from the mainland's one-street hamlet of West Dover.
Dover Island, one of about 3,800 outcroppings along Nova Scotia's coastline, acts as a natural breakwater against storms. The island is three-quarters of a mile long by one-fifth of a mile wide (or roughly 12 soccer fields in length by 5 fields across), and sits just 59 feet above sea level. Strong Atlantic waves are known to wash up and sometimes even sweep away camper-van-sized boulders. Climbers Sean Therien, Jonathan Graham, Ghislain Losier, and Foster began exploring in 1999. Therien, the founder of Ground Zero Climbing Gym in Dartmouth, was shown the area by a client who'd been kayaking along the coast.
"They paddled out, and Sean recognized right away what we had," says Foster. Shortly after, the duo went to explore the island further, navigating its tiny paths through juniper, black crowberry, and bunchberry. "You land and walk 50, 60 feet up to a ridge at the narrow point [and it all unfolds in front of you]," says Foster. "We stood there stunned."
Waves and wind have eroded the island's south side until only granite remains for an exposed half-mile plus. At the eastern end, a 30-foot wall runs along a pebble beach with vertical crack systems containing the island's 14 trad lines, which range from 5.7 to 5.11b. The boulder problems, meanwhile, follow a long east-to-west boardwalk of granite facing the sea, climbing more diminutive cliff bands and freestanding blocks that stand sentry atop flat landings. The original group established classics like Orangutan (V7), The Bear (V4), and Bugs Bunny (V5) in the first few sessions.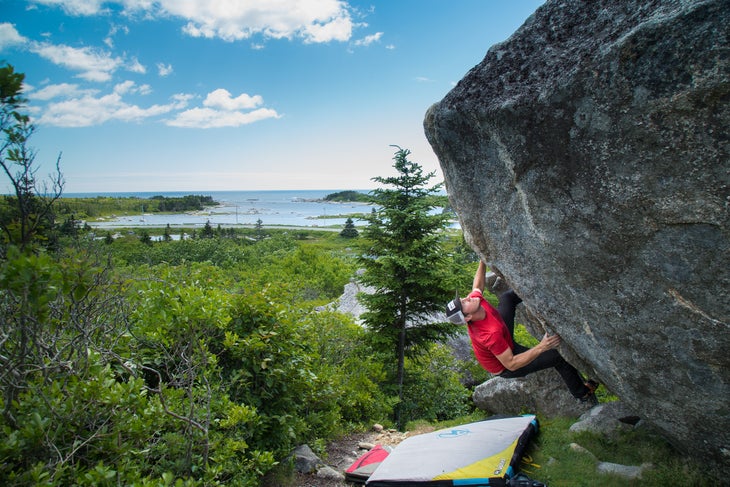 "'99 through '02 was probably the heyday of development for bouldering [in the province]," says Foster. "Around that time, we were also exploring Land of Confusion near Peggy's Cove, not too far from Dover Island, and [Losier] and Nick Sagar were pushing the grades and focused in on West Pennant, 30 minutes south of Halifax." These areas soon became some of the most popular spots on the Eastern Shore.
Today, Dover Island offers a dozen sectors with a variety of styles, from heel-hook-dominant roofs, such as Bull Dog, a V6 that moves through two lips and a crux mantel; to compression problems on sharp arêtes, such as Exciter SDS (V9/V10); to The Wave, a V4 that begins in big cracks on a vertical wall, gains a slopey lip, and ends with a crux topout.
Large crystals and a subsequent demand for tape characterize the coarse-grained granite. The short cliffs and detached boulders were formed about 390 million years ago with the creation of Pangea, according to Alec Soucy and Foster's Rock Climbing Nova Scotia. The rock, they write, is streaked with "quartz veins and dikes … called aplites, which have finer crystals" that developed in the fissures of the South Mountain Batholith, the bedrock around Halifax. The pristine environment was a gem for early climbing developers, while the logistics of reaching the island helped keep it a secret.
"In the early days, if a few of us went out climbing, you would never run into another person," says Foster. Outside of rock-dense Dover Island, the other nearby bouldering tends to be spread out and remote. "[Back then] to see chalk on a route, you'd be like, 'Who was that? We're all here, we know everyone who goes out, who could it have been?'" Foster says. Things have changed. These days, on a "busy" late-summer or fall weekend, you're likely to see at least a few other parties out.
"We've seen a lot of growth and more interest than ever before," says Foster, who's been climbing in the province for over 20 years. Climb Nova Scotia (CNS), a nonprofit founded in 1994 by Sean Willett and Heather Reynolds, has worked to secure access at local crags, provides educational programs, and organizes the yearly Boulderfest event on Dover Island, Nova Scotia's largest and longest-running annual climbing festival (launched in 2001). For two days each August, stoked locals climb, eat, and rejoice on the island. Attendees—some 120 in 2019—set up camp near the thundering waves, are fed by CNS, and enjoy yoga, an evening fire, and midnight projecting by headlamp.
While human interest and development are changing the sport, nature has also brought significant transformations to the physical landscape. In September 2003, Hurricane Juan, a category 2 hurricane with peak winds of 105 mph, devastated the area. Wave heights reached over 29 feet at Halifax Harbor, washing railcars into the ocean, and up to 65 feet elsewhere. "Dover Island took the brunt of the force," says Foster. At West Dover, Morash lost his boat house, and many docks in the town were destroyed. Throughout the province, the hurricane caused over $200 million in damage, uprooting trees and sinking docked ships; nearly a third of all homes suffered damage.
When climbers returned to Dover, things seemed off. "We were going by whereThe Wave is, and something felt wrong. I couldn't put my finger on it," says Foster of the popular sector at the island's midpoint. "I went a bit further, and realized something was missing." The Fish Mouth Boulder, a dump-truck-sized rock, had fallen into a gully 30 feet below.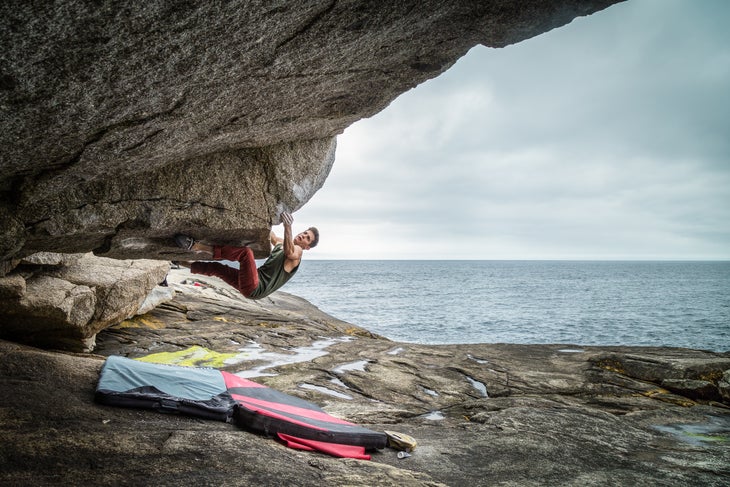 For Foster and others, it revealed just how quickly the coastline can change. They'd often joke that the temperamental landscape allowed them to "climb it again for the first time," but now they'd seen the shift firsthand. Transformation has continued. After a bad winter in 2008, One Scoop, an egg-shaped boulder about the size of a Volkswagen Beetle, was missing. Meanwhile, Orangutan lost a hold (and has been altered several times since), Polar Bear has been hibernating ever since it became blocked by a small boulder, and Cassidy's Prow no longer has a prow. Geological rearrangement isn't unique to Dover Island, though. Residents and properties along Nova Scotia's 8,264 miles of mainland coastline and among its islands are vulnerable to climate change. Some 70 percent of Nova Scotians live within 12 miles of the ocean, and there are about 60,000 buildings situated much closer to the waterfront. Locals are seeing the effects of greater storm activity since the mid-90s, including heavier rainfall and stronger winds, resulting in beaches swept away, infrastructure damage, flooding, and the loss of wetlands.
Nova Scotia Lands and Forestry estimates that coastal erosion ranges from a few tens of centimeters up to a meter or more every year. Under severe conditions, such as a hurricane at high tide, several meters of sediment wash away in hours. In a 2009 report, The State of Nova Scotia's Coast, the Nova Scotia Provincial Government estimated that sea levels around the province are expected to rise between 27.5 and 55 inches by the end of the twenty-first century, which could lead to "serious coastal flooding, high rates of erosion and more frequent storm surges." In 2019, the Nova Scotia legislature introduced the Coastal Protection Act, which restricts development adjacent to the shore and aims to preserve ecosystems.
But the sea doesn't just take away—it also gives. In 2018, climbers arrived at Boulderfest to find a jumble of blocks the size of flattened cars pried loose from the cliff band. This exposed a system of horizontal cracks. At least two FAs went up in the newly anointed The Gift area: Low-Hanging Fruit, a ladder of sharp, slopey ledges; and Two Deep, a V4 that begins with your feet matched in a 45-degree offwidth tunnel. In The Wave area, Witness Protection (V5) became exposed when the boulder blocking the roof was moved. Each big storm is a bit like shaking a snow globe—you never know how the pieces will settle out.
"This is our reality," says Foster of the Nova Scotia climbing landscape. Whether from manmade or natural forces, "It's changing right in front of us all the time."
Beta
Location
Nova Scotia, Canada
Type
Bouldering, trad climbing
Resources
Season
Spring, summer, fall
Total Climbs
120+