Fontainebleau for the First-Timer
Heading out the door? Read this article on the new Outside+ app available now on iOS devices for members! Download the app.
Not many climbing areas can claim over a hundred years of heritage or categorical impacts on the pursuit of climbing. Fontainebleau, situated about an hour south of Paris, is perhaps the crown jewel of bouldering history. Here in this historic region of forest, farm, and rolling hills, one can walk the woods and climb the very lines that made bouldering a legitimate act unto itself. These fantastic sandstone blocks helped shape the timeline of climbing as we know it today, and saw the shift and crests of bouldering as both practice and pursuit.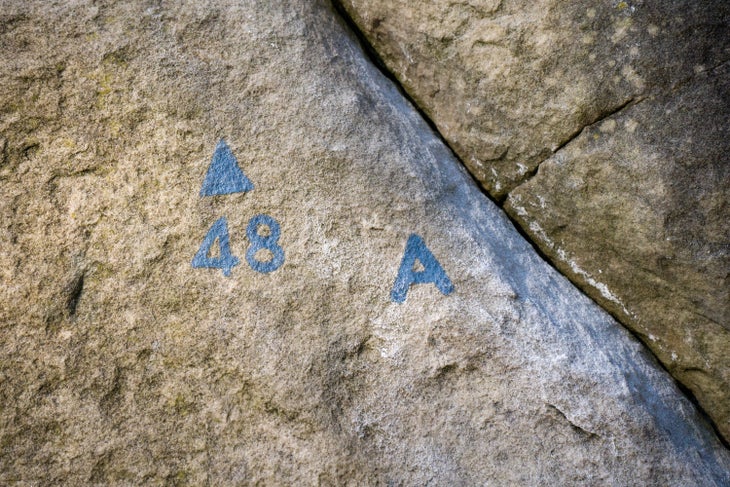 The climbing here is legendary. Technical slabs and fickle slopers leading to tenuous mantels are the norm, but the sheer volume of stone demands there be a wild assortment of roofs, pillars, gentle overhangs, crimpy faces, and Seussian oddities not yet known to be found in such concentration anywhere else on Earth. You can warm up in bliss for the rest of your life here, or you can hurl yourself with monastic devotion at the most difficult and conditions-dependent problems in history. You can dance and hop and struggle your way across the forest via one of the many circuits particular to Bleau, or you can wander aimlessly like a bumblebee, alighting on whichever flower of a bloc catches your eye: Here, they're mostly sweet, and it's hard to go wrong.
No climber, no matter their discipline, should miss out on a chance to visit the Magic Forest. It's a pilgrimage, a trainer, a pursuit for anyone devoted to the art of climbing. You'll be taunted, enticed, frustrated, illuminated, and—no kidding—you'll become a better climber for it. Whether it's the movement, the aesthetics, or the pure joy of warming up for hours or realizing a finicky project after days with just the smallest twitch of the hip, Font will make you a better climber and give you a new appreciation for the subtleties, the try-hard, and the beauty of bouldering.
Back this year from my eighth trip to Font, I think back to the first time I ever got on a plane; I landed in Paris on the other side of the world, drove my tiny rental car around the periphery of the City of Lights, and pulled into the parking lot at Bas Cuvier, grabbed my shoes, and stepped into history. The next decade saw me return with near-annual devotion, each time gleaning some little bit of cozy or crucial beta, each time making myself more at home. Put down those preconceptions of eternal drizzle and rude French waiters, impossible sandbags and paint slapped everywhere… this handful of tips will sort out your line and make your trip a smooth one, come what may. Bonne chance!
When to go
I've found March to be a pretty good time for one's first trip. The weather is more stable than in the dead of winter, and you'll get splitter send days as well as warmer, cozy picnic days, too. Some folks swear by April, which I find a touch warm most days, but the trees have leafed out, and the heavy uniforms of winter have come off—and you can see France in all the glory of spring.
Getting around
Hire a car. The forest is big, and it's nice to be able to visit the many, many areas that dot its 250-plus square miles. What we know generically as Fontainebleau is actually a collection of areas spanning three national forests and quite a few smaller zones up to about 20 miles distant from the actual city of Fontainebleau. So get yourself a car and do some exploring, or at the very least—if staying in town—rent some bikes. (The car is useful also for a rest-day trip to Paris or Versailles.) If you're staying for a month or so, it's easy to pair your rental with your airfare. For longer stays, look into kemwel.com or Peugeot Open Europe for a long-term lease. You'll get a brand-new ride and a discounted rebate for the length of your rental. You absolutely can do the trains and walks and bikes, but nothing beats a car out here, especially when it rains. If you've even driven to Hueco from, well, anywhere, you'll laugh to hear that Swiss granite is a mere seven-hour drive from Font, a plus if the forecast looks to turn ugly for a stretch.
Accommodation
Get a house. Camping in the bouldering-area parking lots is illegal, despite how many people get away with it. The forest suffers as well, as there are absolutely zero facilities available. Furthermore, nights are long and damp during climbing season, and it's hard to fully recover out in the cold damp. You'll perform much better with some creature comforts—cooking breakfast as the morning mists lift, and then coming home to a warm, dry house at the end of the day to shower and eat loads of dinner calories that you definitely burned with a full day of try-hard. Old school staples like The House in Tousson, have closed. But there are numerous other options. One is the Tete des Trains, just a couple doors down from The House, with outstanding heavy food and a wild selection of bottled beer. (If you catch the right night, you'll be treated to a collective of musicians from across the region who gather and play lively traditional Irish music.) Otherwise, try the Gites de France site, an excellent resource for long-term rentals, or airbnb for the shorter term.
Gear
Bring or rent a crashpad. I've never had a problem checking my regular-sized pad on any airline, though a plus-sized pad will certainly add baggage fees (and maybe hassle). Stuff it full of the small and soft stuff, and wrap it in a plastic bag with packing tape or the like. Some gites/houses will rent you a pad as well if you want to travel extra light, and you can rent pads from Karma  and Climb Fontainebleau. The landings in Bleau are often flat and sandy, but yeah… you want a pad. If you like, you can buy one in the local shop, along with chalk, shoes, and brushes.
Guides
Get a guidebook. 5+6, and 7+8 are the new standards. The old purple guide Fontainebleau Climbs by Jo and Françoise Montchaussé and Jacky Godoffe is a good cross-reference, and the Jingo Wobbly guide Fontainebleau Magique is pretty nice too. Bleau is huge—huge—and there are many zones and problems spread . If you plan on becoming a devotee, you'll just start collecting guides, as no single guide will ever do the trick and some areas and problems can be tricky to find, even with a map. Having said that: Ditch the guide some days. Climb what looks good, because in all certainty it will be. Warm up like this, too, and you'll climb some of the best V-5.7s ever—and get bouted by some just as if they were a mystery at your limit… until you move your hips just so. Also, do at least one circuit. The circuit is a defining characteristic of the area, and a bit of history you shouldn't neglect. It will make you a better climber and tour you around the forest as you hop from one bloc to another.
View two sample topos (opens as pdf):
Ethics
Get a little towel for cleaning off your shoes. Use it. The sandstone can be fragile, especially with all the traffic of 100 years. Get and use brushes too—soft-bristled boar's hair brushes work best; bring a big one for slopers and a little one for crimps. BRUSH OFF YOUR TICKS AND CHALK. It's an issue for such a popular area, and a contentious one at that. Don't use pof (rosin), despite what that wiry old man hiking that 7a says. You'll hear crazy arguments on these topics eventually, so just act normal and clean up after yourself like the guest you are.
Apart from that, respect private property (PROPRETIE PRIVEE), stay away from the well-signed hunting parties (CHASSE EN COURS: You cant miss 'em—hounds and sometimes horses and horns, and always a big crew), and clean up after yourself. It doesn't hurt to clean up after others, either.
Food
EAT. It's France. Drink some wine too, as it's amazing, and costs half what you pay in the States. A €5 bottle of wine might knock your socks off, so if that's your thing, do try a few varieties you might not venture at home, even if you could find 'em. Go out a bit at least. I like quaint little Barbizon for food, just across from the megazone Bas Cuvier, and La Dame Jouanne just up the road from L'Elephant. The city of Font has a variety of restaurants as well, from pizza as you've never known it to Chinese by the kilo, to traditional French and oh-my-god kebab. My favorite kebab on earth is in Nemours, just left of the church in the center of town. It'll put you to sleep—keep that in mind if you're headed to Rocher Greau or Petit Bois: You'll pass out in the parking lot.
Grocery shopping is an adventure all on its own. The mega-shopping experience out at the Carrefour is huge and colorful, with more food and drink than you can walk in two hours, threaded with hollering fishmongers and roller-skating employees. It's a rest-day activity all on its own. Do get out to the smaller markets too, as each will have little pastries and cheeses you won't find anywhere nearby. The market at Milly-la-Foret is wonderful. Obviously, you'll want to go to the patisserie. Go to the patisserie.
This is the truth, and carries over to the boulangerie… If you're gluten-free, hmm—maybe consider bending the rules.
Rest days
It shall rain. It might even snow. Don't fret: You're an hour from Paris, one of the greatest cities on Earth. Museums, restaurants, and sights worth seeing are everywhere, and thanks to trains, it's easy to access and navigate without having to drive around the City of Lights, which can be…. engaging. Park your car at the train station in Font-Avon or Malasherbes or wherever, and zip up to the city in about an hour. Marvel at the scale of art you've only seen in books. Eat some snails and drink white wine. Buy a used book you can't understand. Have a coffee and dessert on the river. Smooch under the Eiffel Tower. Paris yourself. If history, palaces, and gardens are your thing, Versailles is only an hour or so from Bleau as well.
Locally, the forest is a wonderful place to stroll, even in inclement weather. Take a GR path and see where you end up. Recon some of the smaller areas and see if you'll need to add a project or six to the list. Walk the grounds of the Chateau at Fontainebleau—it's free to just leg it through the gardens—and consider a nominal fee for entrance to the massive, leg-crushing tour of the old hunting lodge of Louis XIV. Like a trip to Paris, by the end of the day you may be wondering how restful it was.