Forlorn Pinnacle (Or How Not to Epic)
After decades of alpine climbing, Mark Jenkins reaches a simple truth.
Heading out the door? Read this article on the new Outside+ app available now on iOS devices for members! Download the app.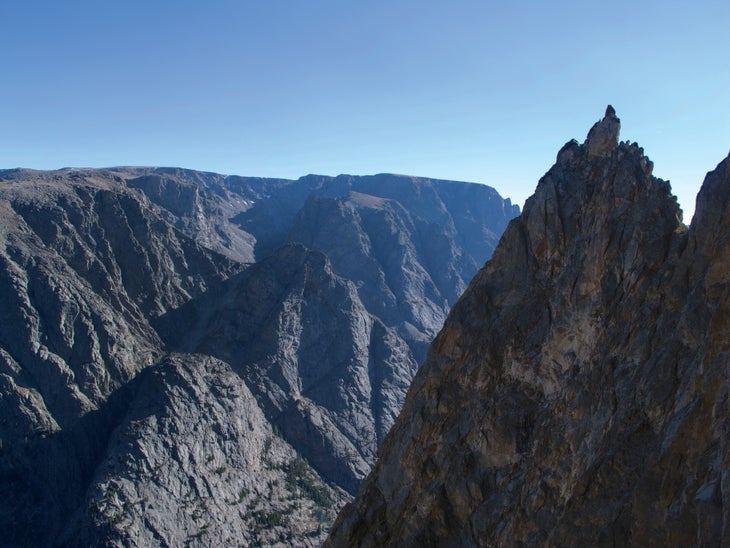 We'd summited at dusk and had been rappelling in the dark for hours. No idea where we were going, just rapping to the end of the knotted ropes then searching for a new anchor, the beams of our headlamps bobbing across the granite. So far this had worked. We'd sling a horn or slot in a stopper and rap. But somewhere in the middle of a 2,000-foot face in Wyoming's Wind River Mountains, the cracks disappeared.
"Nothing here but a bush!" my climbing partner Oliver Deshler shouted up.
Far below me, I could see the light from his headlamp penduluming back and forth.
"You want to jug back up?" I replied.
"No!"
He only had prusiks, so I didn't blame him. He'd find something. He always did. A class V creek boater, mad big-mountain skier, and relentless climber with the physique of a Roman gladiator, Oliver was the best all-around outdoor athlete I knew.
Despite repeated warnings about the wicked eight-mile approach, we'd hiked into the Clear Creek drainage in the northern Wind River Mountains the previous day, lured by new-route potential. We'd studied topos and found multiple big walls in the valley, but Joe Kelsey's 1994 guidebook only mentioned two known routes, both 5.8 A2, the de rigueur rating for many early Winds climbs. But getting in would be loathsome. Some years back, the trail had been obliterated by a blow down, the trees piled like pick-up sticks into an impenetrable thatchwork. It took us hours just to make a few miles—slacklining atop bouncy 8-inch lodgepoles 10 feet above punji-stick pits, dragging our packs through little caves of timber, crossing and recrossing the ice-cold Clear Creek.
Want to learn to trad climb? Internationally certified mountain guides Rob Coppolillo and Marc Chauvin will teach you the fundamentals of trad climbing in our 8-week online course: Intro to Trad Climbing. From placing/removing gear and proper belay techniques, to how to make an anchor and manage a stuck rope, Intro to Trad Climbing takes the guesswork out of exploring traditionally protected climbs.
It was past dark when we finally popped up our tent. Before dawn, we started up a giant buttress west of Mt. Osborne's Forlorn Pinnacle, picking our way up virgin terrain. Right off the deck, Oliver led a slippery, tendon-stretching 5.11 fingertip layback. After that, we swapped leads for a half dozen pitches, then took an unnecessarily long, lazy lunch break on an expansive ledge. The upper buttress looked like it would go fast, but, as is often the case in the Winds, it turned out to be several pitches longer than it looked from below. Hence, we were benighted.
Eventually, Oliver yelled, "Off rappel," and I zipped down to him through the moonless night. Oliver hung from the bush—actually a spidery young pine tree sprouting like an alpine flower out of some unseen crevice. No trunk, just floppy, 2-inch-diameter limbs.
"I know it doesn't look that good, but I've slung all the branches," he said.
"Wonderful," I said sarcastically.
We didn't have a bolt kit, or a hammer and pitons—that was one of our alpine rules.
"I think it will hold," Oliver said.
"Yeah, probably," I said, but my mind was screaming, What the fuck are we doing!
We pulled the ropes. While I stood atop the tree limbs, Oliver gently lowered his weight onto the lines, careful not to bounce. We both held our breath. If the tree pulled, we died. Eventually, Oliver yelled, in a squeaky voice, "Off rappel." I took off my pack, laden with gear, and set it on the bush. I was so unsettled by this arboreal anchor that once on the ropes, I forgot about the pack.
This time when I got down to Oliver, I was deeply relieved to see a solid anchor.
"Little sketch up there," Oliver said, his headlamp blinding me.
"Lotta sketch," I replied, my voice weird from the fear.
"Hey, where's your pack?!"
I actually looked over my shoulder.
There was no way we were going to prusik back up the ropes.
We abandoned the pack and the $1,000 worth of gear inside, but now we had only tat for protection. We kept going, one horrific rap after the next, down through inky emptiness. We didn't get back to camp until 3 a.m., 22 hours after we'd started.
We named the route You Gotta Want It. It was the second route on Twenty-Hour Tower, first climbed by Paul Horton and Sean O'Malley in 1977. Two months later, we returned to put up another new route—Alexander's Band—that joined You Gotta Want It at pitch 10, and retrieved the pack.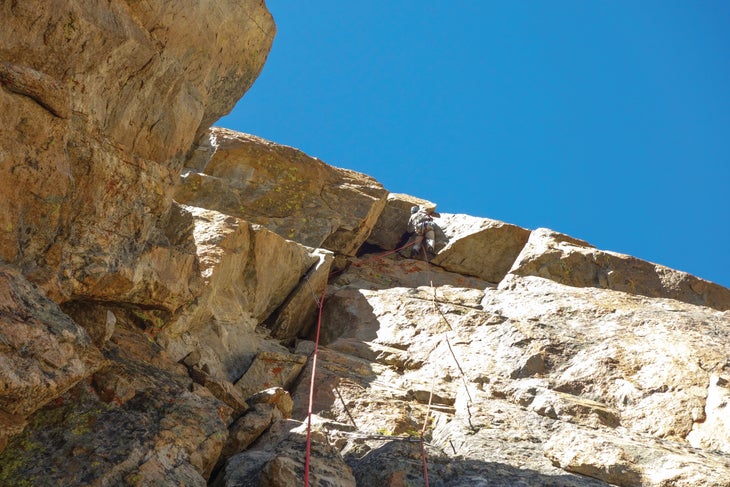 Like most mountaineers, I've had my share of epics. Seventy days on the North Face of Everest and no summit. Forced off the Freney Face of Mt. Blanc by three feet of fresh snow. Benighted on Cloud Peak in the Bighorn Mountains and obliged to bivouac with no sleeping bag, bivy sack, or even a damn puffy.
These are the trips that tall tales are made of, episodes we survive by the "skin of our teeth." Such adventures inevitably make for the best stories because they have drama—things go wrong and the original goal must be abandoned, with the protagonists reaching deep into their psychic reserves and bag of technical tricks to get out alive. Survival, not success, becomes paramount. From Ernest Shackleton to Aaron Ralston to Joe Simpson, each became famous because he fucked up, but had the will, wit, and wherewithal to survive.
And who doesn't love a gripping survival story? No one wants to read about an expedition that went smoothly—where's the sturm und drang? In 1911, Norwegian Roald Amundsen and team skied to the South Pole and back—the trip so meticulously planned it seemed effortless—and Amundsen is barely remembered. Who do we remember? His polar opposite, Robert Falcon Scott, who through a peculiarly British combination of arrogance, stubbornness, and courage, died—slowly, heroically—during his return from the South Pole along with several of his teammates.
Everyone knows about George Mallory and Sandy Irvine's disappearance on Everest in 1924, but who remembers that on that same expedition, Edward Norton, in woolen breeches and leather boots, soloed to 28,120 feet, just 1,000 feet below the summit, sans oxygen? Norton lived to 1954 and his altitude record held until 1952.
The truth is, mountaineering literature, like Western lit clear back to The Odyssey, celebrates epics: recklessness, as opposed to rigor. In fact, if you're a newbie to the vertical world, after hearing all the barroom yarns, you'd be excused for concluding that if you're not epicing, you're doing something wrong. So let me be clear: Yes, the best adventure stories are often about epics; however, the best actual adventures are about doing just the opposite.
This past summer, nearly a decade after our little epic in the Winds, Oliver and I returned to the Clear Creek valley to try a nearby, unclimbed spire. In the intervening years, we'd put up a half dozen new wilderness routes together.
"We just went for it on You Gotta Want It," said Oliver, poking the campfire. "That's what everybody says you should do, so you do it. And somehow, usually, it works out. But it's stupid."
Oliver is now a nurse anesthetist. In his former life, he was a ski patroller and raft guide. He's lost friends and has more than once come close to the abyss himself. He still kayaks and climbs hard, but he's become more thoughtful over the years.
"You have to think about all the people who love you. Not on the climb, but before. On the climb you have to be right there," he continued.
We started discussing what we'd done wrong back in 2009: Even though we'd set out at 5 a.m., we should have started earlier. We'd spent too much time freeing the 5.11 crux. Then we'd taken a leisurely lunch. We'd underestimated the number of pitches. We'd taken too much time swapping leads. We hadn't scouted a descent route. These were all mistakes.
In the ensuing years, Oliver and I took to debriefing after each first ascent. What did we do right, what did we do wrong, what would we do differently? Rock climbers routinely talk about individual moves—a hidden heel hook, a perfect pinch, a wide stem—but alpinists talk about logistics. You each have to carry descent shoes, water, food, and a jacket, so one pack or two? How many vertical feet, how many pitches, how much time per pitch? When to simul-climb; when to alternate leads; when to lead in blocks? Some of this can only be decided on the climb, but you must anticipate potentialities to ensure decisions are made rapidly and accurately.
"I don't want to epic this time," said Oliver.
It was dark and we'd let our diminutive campfire die out.
"What's our turnaround time tomorrow?" I asked.
"Three," said Oliver. "Outta-here time?"
"Four," I said.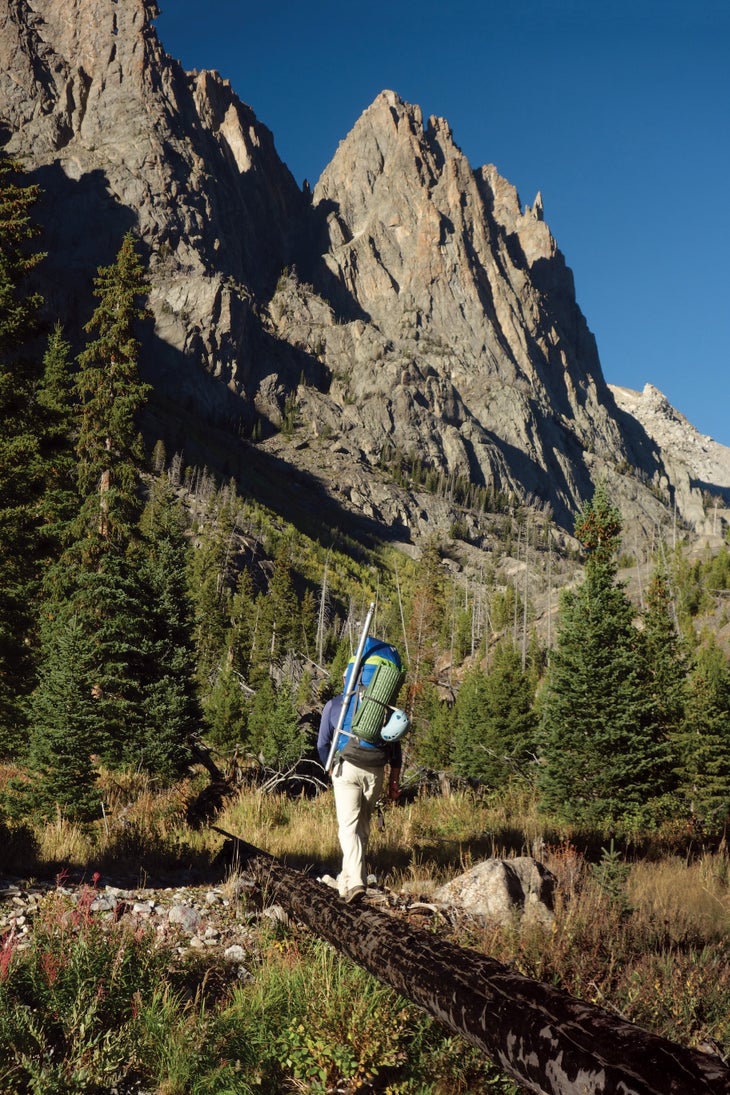 Six hours later, we weave up through talus by headlamp. The terrain gradually steepens until we are actually climbing. The sky opens like a giant clam, the light soft and pink, although the air is still night-bitten cold. To the west, we can barely make out a dark shoulder of Twenty-Hour Tower. To the south, we can see the crumbling ridge we climbed on Flat Top years ago, naming the route Trundler.
We change into rock shoes and continue climbing, staying 25 feet apart horizontally to avoid dislodged stones. Trying to cover ground as fast as possible, we scramble too high before roping up. We're doing 5.8 face climbing when we finally stop.
"Hey, you want to throw me a rope?" shouts Oliver.
"I was just about to ask you the same thing!" I shout back.
We laugh. I get to a belay, bring Oliver over, and drop the gear sling over his head.
He ascends a chimney and brings me up; I continue up the chimney to a gulley and bring him up. We're already on the mountain's second tier. We coil the ropes while ascending a couloir. We pause briefly to take pictures of the pinnacle above and discuss the cleanest route. Below the next wall there is no anchor, so Oliver starts climbing, doubling the first two pieces.
We each check our watches regularly. When we have to traverse, we note the best potential rap stations and where they would drop us. We wear our own packs so we each have access to food and water. We each use an autoblock for belays, so we can eat while the other climbs. No lunch break.
After 10 pitches, we're below an overhang one pitch from the top. It's 2 p.m. Oliver races up, gets into the overhang, takes a couple short falls, yards on a few pieces, and pulls through. He brings me up—I also grab gear to save time—and I continue to the summit. Time: 3:03 p.m.
It's a true pinnacle so we lop off a chunk of rope and drape it over the top as our anchor. We rap our route. A dozen rappels, the last two in the dark, but since we have already identified the safe rap stations, it goes smoothly. A zigzag course down through the talus, boulders trundling before us, and we're back at camp.
"Here's the thing," said Oliver, handing me the plastic flask of whiskey over the fire late that night. "When you're forced to go into survival mode, you've lost control of the situation." I remembered how freaked out we had been rapping off You Gotta Want It compared to how calm and efficient we were on our rappels today.
"When you lose control, you've already failed because you've gotten into a predicament of unacceptable risk," he continued.
"Ah, but the worst trips make the best stories," I replied.
"As long as you live," said Oliver somberly.
Over more whiskey, the fire crackling before our feet, we talked about our other epics in the Winds. The time we ran across a summit with lightning bolts striking at our heels. The time I insisted on the wrong descent route and we spent the night wandering through a boulder field. The time I pulled off a refrigerator-sized block that came within inches of Oliver. So many great stories!
We didn't talk about the clean, beautiful line we'd just put up on Forlorn Pinnacle. A deeply satisfying route climbed safely and in good style. That wasn't a very good story. No near-death falls, no hypothermic bivouacs, no blood or frostbite. No one would want to read about it. Which is exactly the point.  
Mark Jenkins is the University of Wyoming's writer in residence.