Green Ice: Vermont's Ice and Mixed Climbing
Heading out the door? Read this article on the new Outside+ app available now on iOS devices for members! Download the app.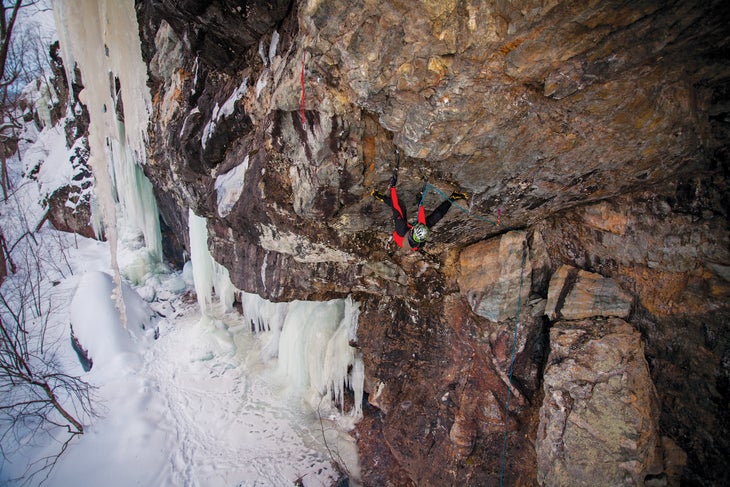 "Welcome to Smugglers' Notch!" the tour leader bellowed. Alluding to the narrow canyon's Prohibition-era history as a place for Canadian bootleggers to hide liquor, he added, "Go up into those rocks 'n you might just find yerself some whiskey!" The participants of the snowmobile tour giggled outside our tent. We did not. It was midnight, 20 degrees below zero, and the third time we'd heard his spiel that night. Finally, my climbing partner and I drifted off to sleep, waking among snow-covered boulders in the arctic morning.
We geared up and waited for body heat to melt our frozen layers before searching for Grand Confusion (WI3+) in the Easy Gully area. True to the route name we got lost, and decided instead to head for the Notch's most obvious feature, Jefferson Slide (WI2-4), a 200-foot-wide swath of ice easily seen from the access road. Though we found it, we bailed after the first pitch, fingers numb and gloves frozen to the tool shafts. The day before, our harnesses, gloves, and pants had wetted out on the approach to the Blue Ice Bulge (II WI3-4), which we eventually abandoned in the face of a slab- avalanche release. High winds and ample snow in the area erased paths and created dangerous cross-loaded snow on the approach gullies. While I'd climbed high-altitude peaks from Alaska to Ecuador, this was a new level of pain and frustration. Faced with postholing, vague guidebook info, aimless bushwhacking, looming avalanches, and cruel temperatures, like many Notch first-timers, we left the next day utterly defeated. Despite the smackdown, we had gotten a glimpse of the crown jewel of Vermont ice climbing.
Winter climbing in Vermont resembles the culture of New England: a bit cold and distant at first and slow to reveal itself, but once the bond is made, evincing a remarkable range of character. Within view of Vermont's Left Coast, also known as Lake Champlain, Snake Mountain has established itself as a formidable area for mixed lines. Drive less than three hours to the other side of the state to the sweeping, fractured face of Willoughby for hard, steep ice lines and scratchy mixed potential. Smack dab in the center, the chasm of Smugglers' Notch opens like a bottomless mine of ice and mixed climbing. In between, there are crags aplenty, agriculture, cold brews, craft cheese, and a vibrant climbing community. The only thing missing is comprehensive beta. An Ice Climber's Guide to Northern New England, by Rick Wilcox and Peter Lewis, is the go-to for info in the region, yet among the dated book's 320 pages, only 35 are allotted to Vermont. A new guidebook on the horizon promises salvation, but poses a question that only time will answer: Will it detract from the solitude that makes these remote Northeastern spots so special?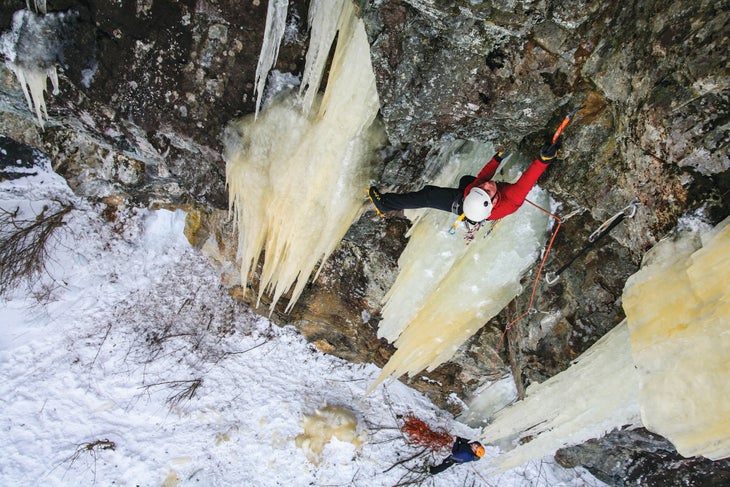 Lake Willoughby
Tucked in the corner of the Northeast Kingdom, the upper right corner of the state, Lake Willoughby appears as if a witch scratched her nail across the map, carving a five-mile-long lake with sheer cliffs along its eastern side. The splintered rock presents little for summertime climbers, but winter temperatures provide solid ice on top of otherwise friable rock. It becomes what world-traveling ice climber and Canadian Rockies guidebook author Joe Josephson has called "the single greatest ice climbing cliff on Earth." Prolific first ascensionist Henry Barber and his partners first opened the cliffs of Willoughby in 1974 when they climbed Twenty Below Zero Gully (WI4+). Moving left from Twenty Below, the ice ramps up into WI5+ terrain and culminates one mile later with The Call of the Wild—New England's first WI6. Today, the area provides more than 30 established climbs for those looking to test their skills and receive tutelage in steep ice. But this amazing climbing comes at a cost.
A southwest-facing aspect means ephemeral lines. Routes that are "plastic" in the early a.m. can become delaminated slices of Swiss cheese when the morning sun crests the cliff, and arctic winds funnel straight to the area. These lake conditions require patience, a virtue that Jon Sykes, a 30-year devotee of Willoughby, learned on Called on Account of Rains (IV WI5+ M4 R). "It took me five tries in almost as many years, getting up to the base of the route and saying, 'No, it looks too scary,'" Sykes says. Despite the lake's raw nature, Sykes says, "It's the first thing I want to do every year—there's always the potential for something new." Last year, he put up a WI4+ R variation to Stormy Monday (III WI4+), and between the 30 established pitches there is a canvas for new mixed lines. The difficult routes will demand a combination of bolts and gear, cold climbing in rock shoes, steep chugging up ice pillars, and topping out on turf.
Vermont ice chronicler Tim Farr predicts, "It'll be full-on alpine climbing."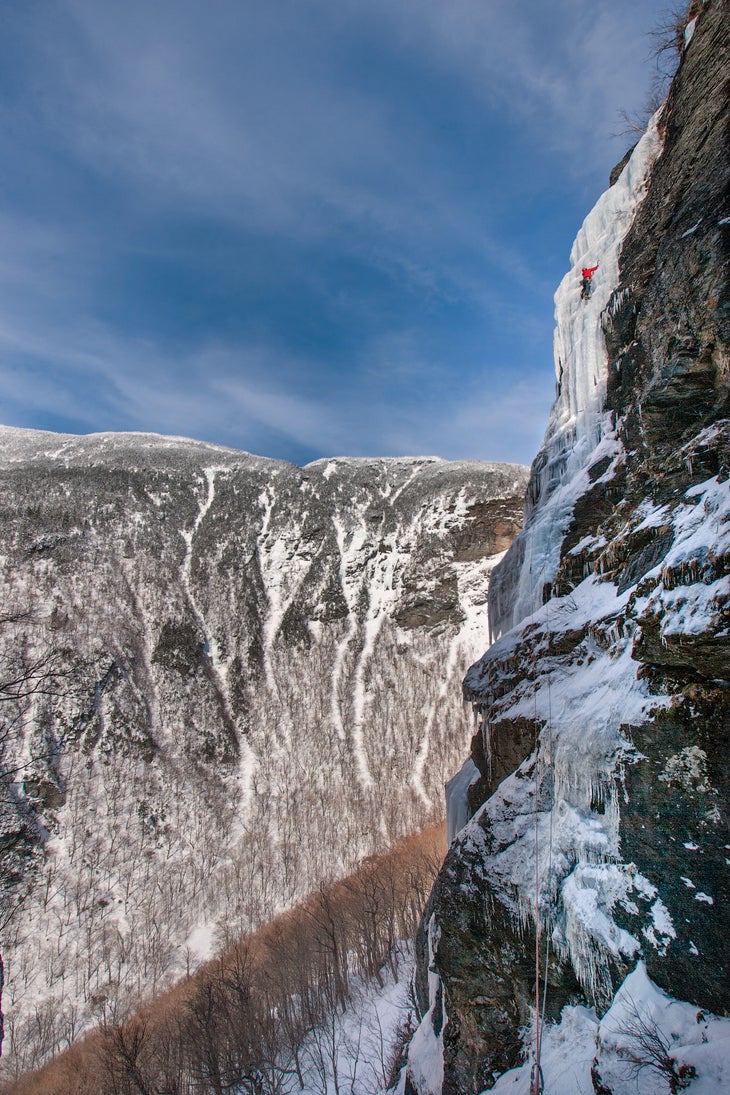 Snake Mountain
Though not on the scale of Willoughby, the single-pitch overhanging mixed routes of Snake Mountain have their own charms. Native Vermonter and mixed climber Josh Worley discovered the potential while flying over it with his dad, who is a private pilot. "It's not that the place was any secret, though," Worley admits. The mountain rises like a wedge of cheddar from the Lake Champlain farmlands. Its mile-plus of steep ice pillars are clearly visible, but there was one major problem: "The biggest, baddest pillars of ice never touch down," Worley says. The starts of the routes are guarded by blank rock faces, and the endings are protected by steep roofs. In 2004, while he was working in the consignment area at the Outdoor Gear Exchange in Burlington, the mothership for Northeast gear junkies, Worley found his solution in a set of aggressive Black Diamond Fusion axes designed for mixed climbing. "My friends and I just said, 'That's it! We need that pair of tools, and we need to be climbing those routes!'" Not long after, a crew from "The OGE" established Raven and Glass, an M7 line that starts up a 40-foot pillar of ice, then transitions onto a five-bolt stretch of overhanging rock. Soon, the place became a training ground for Worley, who started climbing on the national ice competition circuit, while also attracting the region's mixed climbers.
"I'd seen pictures of these guys figure-fouring in yellow Koflachs," says Matt McCormick, who was living in New Hampshire at the time. "It looked crazy." With an invitation from Worley, McCormick traveled to Snake Mountain. Over two weekends, he established Paradigm Shift (M8-). "The route's got steep dry-tooling onto an icicle, more dry-tooling, then 25 meters of WI5," says McCormick. "That's one of the special things about Snake—you actually have to know how to ice climb to top out." McCormick named it as a nod to the change happening in the region. "People had done some impressive ice, but there wasn't really much mixed. It felt cool to be a part of that shift in thinking," he says.
And development is only starting at Snake. There are 15 existing routes from WI2 to M11 on the original north side, with room for half a dozen more. The area's west side contains eight routes from WI3 to M9+, with the potential for dozens more, but tackling lines at Snake requires a Vermont sense of adventure. Worley notes, "Route information has always just been spread through the winter climbing community." Only CRAG Rags, the Climbing Resource Access Group of Vermont's (CRAG-VT) newsletter, documents new lines. But good news for those chomping at the bit to establish new lines: The local climbing community is very welcoming.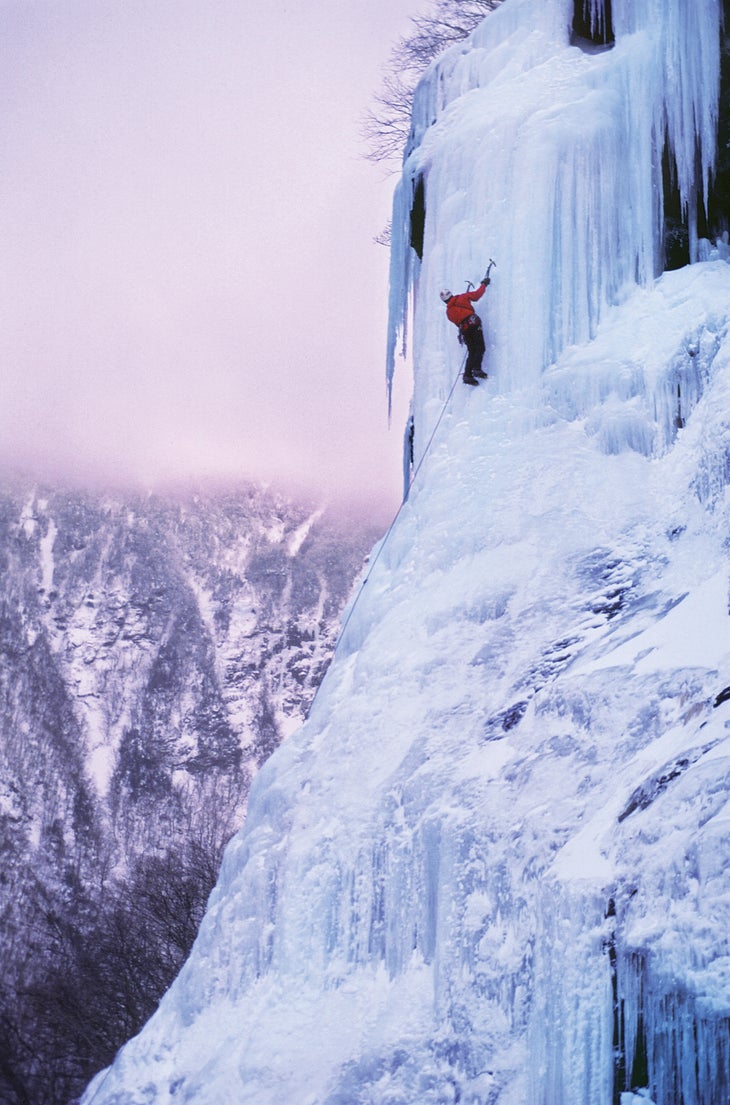 Smugglers' Notch
In contrast to the linear cliff faces and sweeping farmland of Snake Mountain, Smuggs is a sinuous stretch of road between the twin ski villages of Stowe and Jeffersonville. Back in the 1990s, Bob Timmer, from the nearby National Guard Mountain Warfare School, pushed into mixed terrain with routes like The Beginning of the End (WI5 M7+). Partner Bert Severin says the name was meant to signify "we're on to something new" in winter climbing. Dave Furman saw the next stage in 2003. With Will Mayo rope-gunning, the pair linked four pitches of sloping schist, eggshell ice, and a hanging pillar on the FA of Cloak and Dagger (WI6 M5), a seamless marriage of the diverse winter climbing skills that Vermont demands.
Beyond the beta challenges, the many nooks, crannies, aspects, and angles at Smuggs make predicting the conditions difficult. Furman hooked up with another strong local, Alden Pellett, for the first ascent of Dominatrix (WI4+ M6). "Alden and I went up there at least four times. It was always a matter of catching it when conditions were right," Furman says. "When the top looks good, the bottom is often dry; if the bottom is good, the top can be rotten." And you want the right conditions—because even when it's perfect, the whole thing is hard to protect. "The name [came about because] it kept beating us up and scaring us, but we continued coming back for more," says Furman. The mixed classic was a testament to the power of patience, persistence, and postholing to check out the route, all common themes with Notch climbing.
Fortunately, the rent's not all high-end. With clefts and couloirs, Smugglers' Notch also specializes in moderate gully climbs. Elephant's Head Gully (WI3) sends climbers up to a dizzying perch next to a soaring rock buttress. Hidden Gully (WI3/4-) is an alpine challenge with more than 1,000 feet of terrain. Ent Gully (WI2) is as mossy and picturesque as its Lord of the Rings name suggests. There are now nearly a hundred routes at Smuggs, and "there is a ton of potential for new winter routes," according to Pellett. But these routes aren't going to be moderates. Farr predicts most new routes will go at WI5/6, with mixed routes at M8 and harder, and he emphasizes that climbers should wait for the right conditions and make bold leads to maintain the tone of Smuggs.
"There's a sense of quietness to it that I haven't gotten except in the interior of Alaska," says Farr, who lived in The Last Frontier before moving to Vermont to work as a guide. Naming of climbs at Smuggs only adds to the complexity, with Grand Confusion near Grand Illusion and Grand Contusion, Blue Ice Bulge across from Blue Room, and Blind Faith being joined by Blind Fate. It can get cruxy just identifying the climb you're looking for.
However, some of that quietude may change. Working with Farr, Pellett plans to release the first ice guide for Smugglers' Notch since a vague booklet came out in 1999. A new guidebook will be a boon for locals and visiting climbers who typically favor the straightforward approaches of Frankenstein in New Hampshire and the park-and-play areas in the Adirondacks.
Across the Vermont spectrum, whether bolted gymnastics at Snake, scary steepness at Willoughby, or endless gullies at Smuggs, a strong sense of community pervades the state. As the ice thaws and the maple sap runs, entire towns close to attend Town Meeting Day and discuss the future of their village. Vermont has the highest number of breweries per capita, and climbers often end frigid climbing days with an equally cold beer. Ironically, Smugglers' Notch—a place made famous by Prohibition—is now the midway point of the "IPA Highway," a trail of crisp, strong beers found at some of the state's best breweries. Farr concedes that the guidebook may bring new attention to the area and to the state, but thinks it's likely to stay Vermont chill. And Furman agrees: "It's just inconvenient enough, with the long drives from major cities, arduous approaches, and butt-ass cold weather … those things are kind of its saving grace."