How Much Does it Cost to Climb Everest in 2022?
A longtime Everest chronicler looks at how much it actually costs to climb Mount Everest, where the money goes, and how costs vary by expedition type (and swankiness).
Heading out the door? Read this article on the new Outside+ app available now on iOS devices for members! Download the app.
Climbing Everest brings out a range of emotions—incredulity, awe, envy, and so on—but the most common emotion revolves around… money.
I know a thing or two about both Everest and money. I summited Everest on May 21, 2011, after previous attempts in 2002, 2003, and 2008, and I have written an edition of "How much does it cost to climb Mount Everest?" for the last ten years.
I often field two popular questions about Everest:
1. How much money is needed? As I've said for years, the short answer is a car, but the prices have skyrocketed, so now it's a lovely car. Most people pay between $30,000 and $60,000, and some will pay as much as $220,000! But prices continue to rise, so if you are on a tight climbing budget, go as soon as your skills, experience, and checkbook can support a safe attempt.
2. What are my chances of tagging the summit? Actually, they're pretty good, assuming you have the appropriate experience and go with a qualified team. Since 2011, 61% of people who climbed above Everest Base Camp made the top, according to the Himalayan Database. In recent years, long-time western operators like Jagged Globe, Adventure Consultants, Furtenbach Adventures, Madison Mountaineering, and others regularly put almost every member on the summit. However, those who believe they can show up and be "guided" to the summit by a talented guide are often the ones we read about in the obituary column.
That said, there are large variations in cost and expedition structure, so I'm going to go into detail below.
Note: The COVID-19 pandemic took a massive toll on global tourism. Thanks to lockdowns and travel restrictions, mountaineering in Nepal and China stalled in 2020. In 2021, China again closed Everest, but Nepal pretended nothing was happening and issued a record number of permits to foreigners. For the 2022 season, I fully expect Nepal to be open and anticipate China to be closed to foreigners for a third year. This decision has not yet been made, however, so I'll be providing contingencies and cost breakdowns for both sides of the mountain.
Section divider
The Big Picture
In 2022 prices continue to increase from operators on both sides since China has raised permit fees and Nepal is now regulating minimum pay and insurance. The world's highest mountain is in high demand, with operators catering to an ever-rising supply of clients, especially in Asia.
So, do you have to be rich to climb Everest in 2022?
That depends on what rich means to you. The Nepali operators have always been willing to deal, and given today's hurting tourism business, Nepali companies are especially willing to make deals—so take their list prices as an opening bid. I wouldn't be surprised if you could get on a low-end, essential services-only trip for $30,000. As for dealing with foreign operators, don't bet on a significant discount. They often offer small discounts to clients who pay in a year in advance, but that's about it. They fill their teams months in advance, so they have little incentive to discount.
The following chart breaks down the current median prices by style and route. I'll go into more detail later in this post; but this shows you how much prices have increased on both sides, for all styles:
NEPAL
TIBET
2021
2022
% Change
2021
2022
% Change
Nepali Guide Service
$42,500
$45,000
5.6%
$42,000
$45,000
6.7%
Foreign Guide Service with Sherpa Guide
$47,000
$48,000
2.1%
Foreign Guide Service with Western Guide
$67,000
$67,000
0%
$64,350
$67,000
4%
Section divider
Everest 2021 Review and 2022 Outlook
The spring 2021 season on Everest was perhaps the most complicated in history. With COVID out of control in India and Nepal, the virus didn't take long to reach Everest Base Camp, despite the government's adamant denials and cover-ups. Unfortunately, some guides also participated in this scandal.
China closed Tibet to all foreigners but allowed one national team to climb. This team, however, canceled their attempt after a few weeks—citing fear of getting COVID from climbers reaching the summit via the Nepal side.
Nepal's government, meanwhile, issued a record 408 permits to foreigners, but only 190 members summited—a paltry 46% success rate when compared to 76% in 2019—while an estimated 150 people evacuated Everest Base Camp with COVID symptoms. Continuing the trend of Sherpa success, 2021 saw an astounding 282 Sherpa summits, meaning that almost 1.5 Sherpas summited for every client. Two clients and two Sherpa died during the spring season, which is on the low-end of the usual death count on Everest.
Check out the previous issue: "How Much Does it Cost to Climb Everest (2021 Edition)"
Outlook for 2022
I suspect 2022 will look very similar to 2021, with perhaps less drama around COVID. It appears that China will keep Tibet closed to foreign climbers for the third straight year. China has also imposed tighter travel restrictions, so there may be fewer or no Chinese nationals climbing on Nepal's side, a huge change from previous years. There are also rumors that there will be fewer Indian climbers, and the new war in Ukraine is impacting multiple European countries that regularly climb Everest. As a result of all these things, several guides tell me that there may be fewer foreign permits issued this year than the 408 issued in 2021. That said, Everest will still be crowded.
Similar to global trends, cases and deaths from the Omicron variant of COVID-19 are slowing in Nepal. With most climbers arriving in Nepal in late March, this is good news. But as we saw with Delta last year, massive outbreaks in India can quickly spread to Nepal; so the risk from future variants remains a possibility for this spring.
I anticipate the Nepali operators who cater to the Indian, Chinese, and South Asia markets will have a banner year while the Western operators will see a higher number of clients than last year, though their numbers will remain subdued compared to 2019.
Who's Climbing and New Rules
In keeping with the past few years, look for more climbers than ever from China and India. As I've detailed in the past, China requires all Chinese Nationals to have successfully summited another 8000-meter peak before climbing Everest from China. As a result, many go to Nepal, where there are no experience requirements. As for the Indian climbers: it's folklore that if you summit Everest, you can leverage that into fame and fortune—a considerable miscalculation. Yet many Nepali/Indian guide companies meet this market demand, creating a profitable business of running training programs for the under-20 crowd, then taking them to Everest when they're "ready." This approach is a deadly gamble that may backfire one day.
Thanks to COVID and turmoil in Nepal's Government, Nepal has announced no new rules—a pleasant change from their recent history of ginning up the climbing community with promises of a cleaner, safer environment with phantom new restrictions. But there are rumors that Nepal will increase permit prices in 2023, perhaps to $15,000 or more for Everest. I've heard this rumor for many years, but it feels a bit stronger these days.
The bottom line is that 2022 climbers should triple-check with the evacuation company that you have full coverage (evacuation, medical, and repatriation), plus are covered for COVID for the guide service you use. Also, get vaccinated.
Section divider
Where Does My Money Go?
There are four major cost components for an Everest climb: travel cost, permits/insurance, supplies/gear, and guides. For 2022, there are no significant changes to this cost structure.
The following discussion breaks down the expenses as if an individual wanted to climb without joining a team, but almost no one does this—it's just too expensive and risky. I know individuals who've climbed on the cheap in decades past, but this is increasingly uncommon. I usually get a reply to this article saying, "Alan, you're crazy. I climbed Everest and spent $5,000." Congratulations if that's true, but chances are it was in the last century, was illegal (no permit), or took place on the north side of the mountain before China raised their prices and put in team size minimums.
1. Travel $500 – $10,125
Most people use Thai, Turkish, Qatar, Air India, or China Eastern to reach Nepal, with fares costing between a few hundred dollars to over $7,000, depending on where you live and the class of travel. Once in Kathmandu, most people fly to Lukla, Namche, or Lhasa, and then start the journey to base camp, which adds a few hundred dollars, but if you want to save a little money, you can take a bus to Jiri and trek five days to Lukla, then continue on to Everest base camp.
From Lukla, the week-long trek to base camp can cost between $400 and $1,000 per person for food and lodging. But, depending on your travel style and how many beers you buy, you can save money. Remember that everything becomes more expensive the closer you get to base camp, so buy batteries, toilet paper, and other necessities in Kathmandu, Lukla, or Namche.
Teahouses have dramatically increased their prices in the Khumbu. You can still find the $5 per night room but expect to pay $5-10 for each meal. Of course, climbers can always camp in tents and cook their meals to save money. However, if you decide to camp but still want to eat in the teahouse, expect to pay four times the price for the meal.
You have to get yourself and all of your gear—tents, food, oxygen, etc.—to base camp using porters and yaks, which cost at least $20 per day per load (and usually higher), totaling over a thousand dollars. Large operators generally hire helicopters and bundle the expense into the overall price.
On the Tibet side, the climbing permit includes all transportation. In addition, a China Mountaineering Association (CMA) representative will meet you wherever you arrive in China and never leave you for the entire expedition.
Getting to Nepal: $2,450 – $8,350
Airfare: $1,500 – $7,000, depending on class and routing and excess baggage
Transportation from Kathmandu to Lukla: $350 round trip per person
Hotel and food in Kathmandu: $300 – $700, depending on delays and quality level
Nepal Visa: $100
Immunizations: $200
Getting to base camp $1,240 – $1,800
Yaks to and from base camp: $40 per yak per day, carrying 120 lbs. (4 yaks for four days minimum or $640)
Extra Yak in China: $300 per Yak
Porters to and from base camp: $20 per porter per day carrying 60 lbs. (three porters for six days minimum or $360)
Tea Houses and food on trek to base camp: $20 – $100 per person per day—seven days $140 – $700
Park Fee: $100 per team
2. Permits and Insurance $9,950 – $29,500
Costs from Nepal
Nepal has an $11,000 permit fee per individual. This permit simply allows a climber to climb and does not come with other perks permits come with elsewhere. (Permits to climb Aconcagua in Argentina or Denali in Alaska, which cost $800 or $365 per permit respectively, help fund high altitude ranger camps, hire seasonal staff, provide mountaineering information, and keep the mountain environment clean. On Denali, the permit includes helicopter evacuation in the case of life or limb but not for low-level sickness.)
Nepal requires using a local company to organize your permit, which costs $2,500 for the team, plus a refundable trash deposit of $4,000 per permit, and a liaison officer that costs an additional $3,000 per team. These total $9,500 in addition to the $11,000 per person climbing permit. So before you hire guides, yaks, food, or gear, you must first spend almost $20,000 to climb from the Nepal side.
Sherpa guides
In 2013, Nepal implemented a new rule that requires every foreign climber to hire a local Sherpa guide—which adds a minimum of $4,000 to the absolute lowest cost ascent of the mountain. This rule is still in place for the 2022 season, but the policy is unevenly enforced.
Insurance
Most guides on the Nepal side also require evacuation insurance and medical coverage. One of the best investments you can make is to add trip cancellation to the evacuation insurance policy. In both 2014 and 2015, when the Everest season ended early, those with trip cancellation / interruption coverage had 100% of their trip expenses reimbursed—some as high as $45,000. Travelex is a popular choice, but it's expensive. To save money, join the American Alpine Club, which provides evacuation coverage through Global Rescue. Redpoint's Ripcord Rescue Travel Protection program is another popular evacuation company.
With all these policies, you must follow their rules strictly, or you will not be covered… and I mean precisely. One misstep, and you're not covered. Also, most do not cover searches and those who do, have low limits. Finally, Nepal requires COVID insurance but may drop that requirement before the season starts. However, many of the traditional evacuation insurance companies will not cover you if COVID is involved, so once again, double-check the policy and get everything in writing.
Costs from Tibet
I expect China to be closed this year—but if I'm wrong, fees will look as follows:
The Chinese have recently increased climbing permits for Everest, which effectively eliminates a low-cost, single-person climb from Tibet for under $20,000 and forces climbers to team up with at least three other members. This three-person requirement is not a big deal for independent climbers: many guides will gladly put you on their permit in exchange for a small fee—though, of course, you'd have to pay for full guiding services if you want any further support.
China charges between $15,800 and 18,000 per person for a four-person team permit. This price includes transportation from the entry point in China (usually Lhasa or Zhangmu / Kodari) to base camp, plus hotels, a liaison officer, a trash fee, five yaks (per member) for the journey to base camp, four yaks (per member) for the journey out. In addition, there is an extra charge of $200 per person per day spent in Lhasa. And if you want a Nepali Sherpa to climb with you in Tibet, budget an additional $4,500 for each Sherpa's "work permit," required by the CTMA, plus their salary of $5,000.
Insurance
Evacuation insurance is more complicated on the Tibet side since a centralized team performs all on-mountain rescues—which means that each rescued climber is on the hook for an unspecified and unlimited fee. Currently, helicopters are not allowed to participate in rescues, but they may begin operation in the next few years, maybe by 2023. It would be wise to double-check everything with your provider to understand the details if you want to climb in China.
Climbing Fees: $20,600 – $25,650
Nepal's agency fee: $2,500 per team (usually included in the total price from a guide)
Nepalese liaison officer: $3,000 per team (usually included in the total price from a guide)
South base camp medical support from Everest ER: $100/person
Nepal permit: $11,000 for each climber regardless of team size
Nepal garbage and human waste deposit $4,000/team permit (refundable but not always)
Icefall Doctors to fix route: $2,500/team or $600 per climber
Chinese permit: between $15,800 to 18,000 per person for teams of 4 or more. $4,500 for each Nepali Sherpa
Tibet garbage and human waste deposit $4,000/team permit (refundable but not always)
Contribution to fixed ropes higher on mountain: $200/climber, higher on Tibet side
Weather forecast: $0 to $1,000
Puja: $300
Insurance $70 – $3,000
Evacuation Insurance: $70 (American Alpine Club) – ~$500 (Global Rescue/Travelex)
Medical only: $500
Rescue Insurance for any reason with medical insurance and trip cancellation coverage: $3,000 to $5,000 (Travelex)
Private pay helicopter evacuation from Everest South: $5,000 – $20,000 depending on start and end locations (not available on Tibetan side, but planned)
Note: All insurance figures are representative and vary widely with age, length of trip, and total cost.
3. Supplies/Gear $ 800 – $29,450
You will need to eat and stay warm. You can cook your food, but most people use a cook and helpers at base camp and budget about $800 per person for six weeks of food and fuel.
97% of Everest's summiteers use supplemental oxygen, which runs about $550 per bottle. A minimum of 5 bottles totals $2,750. But you will also need a mask ($450) and a regulator ($450). You can carry your extra oxygen to the high camps yourself, but most people pay Sherpas to cache them at the high camps. When hiring a personal Sherpa, the standard is for him to climb on oxygen, albeit at a lower flow rate than you probably will—and this means an additional $2,000 in oxygen costs.
Finally, you will need climbing gear, including boots, a down suit, clothing layers, gloves, sleeping bags, packs, and more. These items will cost at least $7,000 if you buy everything new. High altitude boots from La Sportiva or Millet go for $1,000; a full down suit from Feathered Friends or Mountain Hardwear is over $1,000; a sleeping bag rated to -20F is at least $600. But you can often find lightly used climbing gear on eBay or GearTrade.com.
Miscellaneous costs: $7,750 – $13,000 – $17,000
Full Medical kit: $500 – $1,000. (Add $2,000 for a Gamow Bag)
Sherpas, cook tips, and bonus: $250 – $2,000+ per individual, depending on performance and summit
Personal Gear (down suit, high altitude boots, sleeping bags, etc.): roughly $7,000
Satellite phone: $1,000 – $3,000 depending on usage
Gear allowance for Sherpas: $2,000
Everest Base Camp and High Camps: $3,800 – $8,800
Tents: $3,000 new (sleeping, cooking, toilet, storage at four camps for three people)
Cooks: $5,000 per cook and assistant for six weeks
Food and fuel: $800 per person for six weeks
Climbing Support $3,650 – $8,650
Oxygen: $550/bottle (5 bottles) $2,750 (doesn't include costs to take to high camps)
Oxygen Mask (Summit Oxygen): $450
Oxygen Regulator: $450
Climbing Sherpa: $5,000 per Personal Sherpa with oxygen at $2,000
4. Logistics Support (i.e. Professional Guides): $30,000 – $85,000
As implied above, managing all the costs can be overwhelming. But don't despair!
You can join a fully supported or guided team that takes care of everything. For decades, western operators like Adventure Consultants, Alpine Ascents (AAI), Jagged Globe, Himalayan Experience (Himex), International Mountain Guides (IMG), and others have guided Everest for prices ranging from $40,000 to $65,000, all-inclusive.
But the dominance of Western guides is changing. There has been intense competition from Nepali-owned and operated companies in the last few years. With many Sherpas having ten or more Everest summits, they advertise themselves as Everest Guides and eliminate the traditional Western Guide (each of whom typically earns between $10,000 and $25,000 for the season). This cost-saving is passed through to clients. However, in 2022, Sherpas are earning salaries similar to Westerners, so the price gap is much narrower than it used to be.
Many lead Sherpas now have a subset (no ski qualification, for example) of the IFMGA certification—and have more summits than many Western guides. This certification allows the Sherpas to earn up to $10,000 per season compared to $4,000 – $5,000 they previously made. The cost of the Nepali companies is rising as more and more Sherpas become certified. But some Nepali operators still have a practice of underpaying their staff and then charging clients half as much as traditional western operators. (For instance, in 2021, Seven Summits Treks reportedly offered their Everest expedition for as low as $28,000 per climber.) Also, bartering is more widely accepted among Nepali guides, who sometimes privately negotiate and provide discounts—something that few foreign operators will do.
Section divider
2022 Expedition Price Chart
Drawing on this background information and information available on public websites, I have compiled a list of 2022 Everest fees from the major Everest guide companies. Calculating summit successes, I looked back at their 2019 and 2021 summit rates, their websites, and the Himalayan Database. (Remember, there were virtually no climbers on Everest in 2020 and none on the Chinese side in 2021.)
Note: This list is not comprehensive; some guides are not included, and I did not look at smaller operators or operators who don't run climbs every year. I'm not making endorsements by including or excluding a company from the list. It should be used for initial reference only. For confirmation, details, or questions, please consult each operator directly.
(Also: the term "member" here is used to describe paying clients.)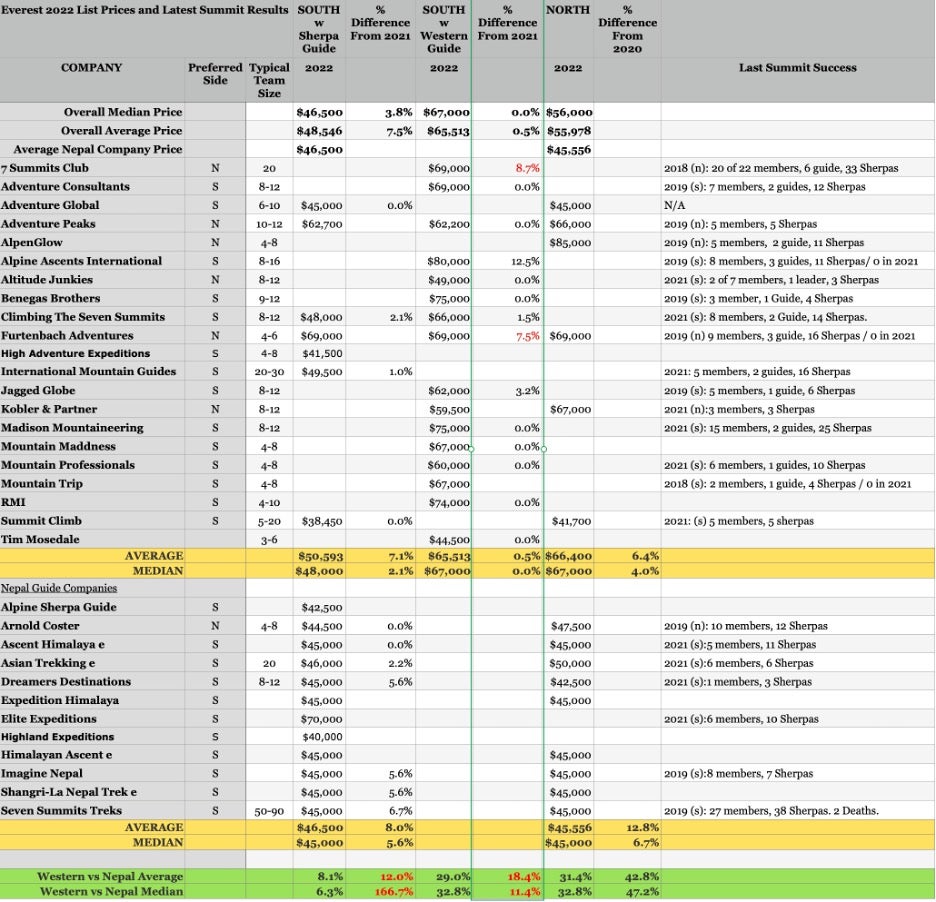 What has changed since 2021? Almost all guides increased their prices for the 2022 season, but non-Nepali guides operating with western companies on the Tibet side have increased their fee by average of 6%—a change primarily driven by new Chinese cost increases and rules. Operators on the Nepal side increased their fees by 7%. Prices usually include full logistics support, gear, food, personal sherpas, oxygen, mask, and regulator.
Section divider
Types of Guided Expeditions
There are no requirements to call yourself a guide in Nepal. Nepal's Ministry of Tourism calls every Sherpa a Sherpa Guide, regardless of their training or experience. However, this is slowly changing as more Sherpas take basic climbing and first aid course at the Khumbu Climbing Center.
There are three options for supported climbs: (1) Sherpa-supported expedition, (2) Sherpa-guided expedition, or (3) a western (foreign) guided commercial expedition.
Note: almost every foreign guiding company offers multiple options today, ranging from Sherpa-guided/supported to Western guided to private climbs. Most companies also offer climbs just to Camp Two or the North Col to climbers less interested in making the summit than just being on the mountain.
Sherpa-supported Expedition
(Please note that the term "Sherpa-supported" does not constitute a guided expedition, which is what most Nepali-owned companies offer.)
For about $45,000, you can climb on a Sherpa-supported expedition. The cost is about 5% higher than last year. The company organizes all the logistics: food, group gear, transportation, and Sherpa support, but does not provide western guides or, in some cases, even a lead Sherpa guide. The Sherpas may or may not speak English very well and will most likely let you make on-mountain decisions about when to push forward or turn back. In other words: You are fully responsible for your safety and life.
You must be extremely careful when selecting amongst these companies: some are excellent, others are lacking. A Sherpa will climb with you on summit night, but you might be on your own, or with random teammates, throughout the rest of the acclimatization climbing process, including preparing meals at the high camps. It is pretty common to find yourself climbing only with a Sherpa or even by yourself. The Sherpas may have attended a climbing school, like the Khumbu Climbing Center, which is excellent, but they will usually lack basic medical training and may not be capable of offering significant help in a health crisis other than getting you lower—a step that, of course, is substantial and often lifesaving.
Expect to pay between $35,000 and $45,000 for this option, which is suitable for climbers with significant high-altitude experience. It is absolutely not for novices or for climbers embarking on their first 8000-meter peak.
Sherpa-guided Expedition
(Please note that this is Sherpa-guided, not Sherpa-supported.)
International Mountain Guides (IMG) Classic Everest Climb is a Sherpa-guided expedition in which an experienced Sherpa leads climbers throughout the route. IMG charges $49,500 for this model. Climbing The Seven Summits offers a similar program for $48,000. Both companies have increased their prices for 2022. Only a few years ago IMG charged $40,000, but it has passed rising fees and costs on to its clients. Usually, this model uses highly experienced senior Sherpa—also known as a Sirdar—to make big decisions, such as when to go for the summit or turn around. Meanwhile, these companies often have a Westerner overseer who stays at Base Camp.
A further option is to hire a personal Sherpa for an additional $5,000 to $10,000, (plus 5% to 20% for tips and bonuses). These Sherpas have significant experience and training in dealing one-to-one with western climbers, and their English skills are usually excellent. While they will not carry all your gear, they may offload some of your items on occasion. They will be with you exclusively on your summit night, even if you decide to turn around before the summit. As with the Sherpas on Sherpa-supported expeditions, these personal Sherpas may lack medical training, but you will never climb alone.
This style is appropriate for climbers with previous 8000-meter experience and strong climbing skills but is not for novices. I used this model with IMG and Kami Sherpa in 2011 for my successful summit bid and was very pleased.
Western Commercial Guides
The western guided expeditions are full-service trips and are most appropriate for first-time Everest climbers or anyone looking for maximum levels of support. The cost varies widely, ranging from $65K to $100K. The fee includes all the services of a Sherpa-guided climb plus sharing one or more western guides. If you want a personal western guide, expect to pay at least $120K, plus tips and bonuses… which adds up close to $175K.
The primary point of this approach is that you are climbing close to a western guide who has probably summited Everest several times. There is no language barrier and the guide will have some wilderness medical training. The guide will make all the decisions about turnaround times, weather, and emergency management.
On these higher-end expeditions, you will also have high-quality food—ranging from well-prepared to exotic. (One service likes to promote their sushi, another their five-star chef.) Then there are espresso machines and open bars. The sky is the limit, but it all comes at a cost. The most expensive guide companies (Adventure Consultants, AAI, Alpenglow, Furtenbach, CTSS, Madison, etc.) always come with several western guides, and you never climb alone.
Luxury guides
Seven Summits Treks. Catering to the China market, Seven Summits Treks has raised the luxury level with their new VVIP Everest Expedition 2022. For the royal price of $130,000, the expedition includes: private camp facilities (luxurious dining, communication, medical dome tent, Wi-fi enabled workspace, sleeping tent with king-size bed, kitchen, hot shower, and toilet at basecamp); a helicopter that supplies fresh fruits, vegetables, meats, mineral water, and other food items almost every day; a two-hour helicopter flight around Mount Everest for filming and panoramic views; 12 bottles of supplementary oxygen per member; a rescue team of Sherpas standing by at Camp II for emergency and rescue purposes; and a documentary movie of the entire trip.
Furtenbach Adventures Signature Everest Expedition—Another top-end option is from Austrian-based Furtenbach Adventures. In addition to their typical high-service standard trip, clients of the Signature Expedition (who pay €200,000 or $222,000), get full support from the expedition's preparation phase to the summit, including: "private mentoring from Lukas Furtenbach," a "personalized training plan put together by a professional sports physiologist," a "personalized nutrition plan," support from two personal climbing Sherpas, an unlimited supply of oxygen, and an 80 square meter heated tent with a private bathroom in basecamp, among other amenities.
Climbing the Seven Summits' Everest Executive Domes Upgrade—As part of its suite of climbing services, Climbing the Seven Summits gives its clients the option (paid) to live in hotel-like domes kitted out with heaters, queen sized beds, "windows with curtains to take in the epic views," private Wi-fi enabled workspaces, and "morning beverage service."
Rapid Climbs
A relatively new option offered by many foreign guides and a few Nepali ones is a fast climb, which takes two to four weeks. The primary market is people who can spend over $100,000 but cannot be away from work for more than a month. Alpenglow and Furtenbach have been the most aggressive with this model, but others offer it.
The idea is that by minimizing your time on the mountain, you conserve energy and risk to illness. Using an altitude tent 30 days before leaving home, you arrive at base camp acclimatized to 17,000-feet. Thus you eliminate one or more acclimatization rotations, increasing your chances of summiting.
The package usually includes pre-acclimatizing in an altitude tent, an AMGA/IFMGA guide, virtually unlimited oxygen flowing up to 8 lpm in some cases, and plenty of Sherpa support. Unfortunately, all of this extra support drives the price up.
Section divider
Common Everest Questions
Do I have to take one of the standard routes?
No. You can get a permit to climb any of the 20 named routes on Everest or make up your own. If you want to traverse from Nepal to Tibet or the other way, you will need to get permits from both countries; however, China has refused to issue permission from their side for many years now. In 2017 a climber illegally made the traverse and was deported and banned for five years. He claimed it was a medical emergency.
Can I Climb Everest Alone?
Officially no. Nepal's Ministry of Tourism requires every climber to hire a Sherpa guide. The CMA has a similar requirement. But like everything around Everest, there are exceptions, and most rules are never enforced.
What is the minimum I can spend to climb Everest?
As previously addressed, it is almost impossible to climb Everest entirely alone on the standard route. However, you can climb independently with no oxygen, Sherpa, or cook support but using ladders and ropes on the south side. For one person, this would cost at least $25,000. Even splitting group expenses, the base costs add up to $26,000 per person for a seven-person team. When you add in oxygen and base camp support, a one-person climb with Sherpa support approaches $45,000, but a seven-person team leveraging the group costs comes in at $37,000.
What is the difference between a $30K and a $65K Everest Climb?
There is a real difference in offerings by some companies and very little with others, so it's up to the climber to shop wisely.
The general rule is that the lower the price, the larger the team. At the high end, profit, overhead, and the number of western guides drive up the price. Also, how many services are bundled into one price versus offered as options. The lower cost outfits promote a low price but charge for other not-so-optional "options" such as oxygen, Sherpa support, and food above base camp.
Another common practice is to pay support staff the absolute minimum, whereas the guide companies pay a livable wage for their entire team.
One well-known low-cost operator had all their tents destroyed one year, had no backup tents, and had to beg other operators for spares. They also ran out of food.
An example of price confusion is Sherpa's bonuses. A low-cost service may not include a bonus, whereas another may. For instance, one Nepali company asks the climber to pay $1,500 to their Sherpa if they reach the South Col and another $500 if they leave for the summit. The tips are in addition to the base price. But a different company includes these bonuses in their overall package. It is customary to tip your guides (both Sherpa and western).
How many people have summited Everest?
The Himalayan Database reports that through December 2021, there have been 10,656 summits (5,351 clients and 5,305 hired guides) on Everest by all routes by 6,098 different people. 1,410 people, including 990 Sherpa, have summited multiple times for 4,642 total summits. There have been 756 summits by women.
The Nepal side is more popular than the Tibet side, with 7,023 summits vs 3,633 summits. Two hundred sixteen climbers have summited without supplemental oxygen, about 2.1%. 35 climbers have traversed from one side to the other. 62% of all expeditions have put at least one member on the summit. 621 climbers have summited from both Nepal and Tibet. 135 climbers have summited more than once in a single season, including 67 who summited within seven days of their first summit that season.
305 people (186 westerners and 119 Sherpas) died on Everest between 1924 and December 2021, about 3.5% of the summiteers. 86 (or roughly 28%) died descending from their summit bid. 13 women have died. The Nepal side of the mountain has had 195 deaths (or 2.9% of climbers). The Tibet side has 112 deaths (3%,). Most bodies are still on the mountain, but China has removed many from sight on their side. The top causes of death are avalanches (77), falls (71), altitude sickness (35), and exposure (26).
In 2021, there were 472 summits, all from the Nepal side, and all using supplemental oxygen. There were four deaths. There were none from Tibet as it was closed.
How safe is Everest?
Of the 8,000-meter peaks, Everest has the highest absolute number of deaths at 305 but ranks near the bottom with a death rate of 0.9. Annapurna is the deadliest 8000er, with one death for every four summits. Cho Oyu is the safest, with 4,038 summits and 52 deaths.
People die on both sides of Everest. But the mountain is getting safer, even as it gets more crowded. From 1923 to 1999 there were 1,169 summits and 170 deaths—a 14.5% death rate. Between 2000 and 2021, however, there were 9,571 summits and 135 deaths—1.4% rate. And a disproportionate number of those deaths occurred in three years, skewing the rates (17 people died 2014, 14 in 2015, and 11 in 2019). The reduction in deaths is primarily due to better gear, improved weather forecasting, and a greater percentage of people climbing with commercial operations.
Most deaths are due to inexperience, not whom you selected as your guide. However, choosing a competent guide could save your life. The 11 deaths in 2019 tragically demonstrated what happens when inexperienced people go with the lowest cost guide companies.
Which side of Everest should I climb: north or south?
Both sides have a lot to offer—and both are historic: the Mallory and Irvine mystery in 1924 gives mystique to the Tibetan side, while Nepal was the route taken by the first summiteers, Sir Edmund Hillary and Tenzing Norgay, in1953.
The comparison between sides is pretty simple. The North is colder, windier, dustier, and may be technically harder since you climb on more exposed rock. The South has the Khumbu Icefall, which many people (justifiably) find terrifying. But the Nepal side is more popular.
When choosing sides, keep in mind that, as of 2022, China does not allow helicopter rescues. However, that might change as they are building a massive Mountaineering Center at base camp to cater to tourists and have said they will start helicopter rescues as part of the center.
One can cherry-pick the numbers to prove almost any point on which side is safer, but the bottom line is that death happens on both sides of Everest, and it often comes down to being in the wrong place at the wrong time.
Should I Use Supplemental Oxygen?
It is rare to summit Everest without using supplemental oxygen; only 216 people have, and most of them were very experienced on 8,000-meter peaks.
Supplemental oxygen gives the body a 3,000-foot advantage. In other words, when the climber is at 28,000 feet, the body feels like it is at 25,000 feet. The main benefit of supplemental oxygen is that you feel warmer, thus allowing the heart to pump blood and oxygen to fingers and toes, thus reducing the risk of frostbite.
Digging deep into the data reveals that of the 305 people who've died on the mountain, 167 were not using O's when they perished—but this statistic is a bit misleading because many of the deaths (121 to be precise) were doing route preparation, a role primarily filled by Sherpas, most would not have been using oxygen because they were low on the mountain. Case in point: both the 2014 ice serac release and the 2015 earthquake (events that together killed 31 people) took place below Camp 1, where no one would have been using oxygen.
If we look at climbing in modern times, i.e., after 1990 to 2021, we can see that 133 non-Sherpa climbers summited without supplemental oxygen while 39 died—a death rate of 30%. Meanwhile, 5,132 climbers summited with oxygen while 133 died—a rate of 2.5%.
While climbing without oxygen is a meaningful accomplishment, it is not for everyone. Many try, few succeed.
Section divider
Why climb Everest in the first place?
It is trendy to criticize anyone who has or is planning a climb. Jon Krakauer's book Into Thin Air set a negative tone and profiled climbers as rich, inexperienced, and selfish after his one climb in 1996. In my experience—six climbs on Everest or Lhotse—the opposite is today's reality.
To be fair, in recent years, the marketing of low-cost expeditions is attracting inexperienced climbers. This price move is all about supply and demand. All the puffery from Nepal's government about making Everest safer will have zero impact on this because everyone involved—government officials, guide companies, and the guides themselves—benefit.
If you want to attempt the world's highest peak, do the work: get the proper experience, train your body to be in "Everest Shape," and prepare your mind to push yourself harder than you ever thought possible. Earn the right to climb Everest, don't just expect money to be sufficient. Select a team that matches your experience, be smart, be humble and savor every moment.
Alan Arnette is the oldest American to summit K2 in 2014 and has six expeditions on Everest or Lhotse with a summit of Everest in 2011. He climbs to raise money and awareness of Alzheimer's disease.