If Céüse Isn't Perfect, What Is? A Photo Essay.
Green grass and wildflowers bend in the alpine breeze. Butterflies land on your head. Marmots chirp. Or were those unicorns? Break out the wineskin and marvel at stone in front of you.
---
Join Climbing
Create a personalized feed and bookmark your favorites.
Join Climbing
Create a personalized feed and bookmark your favorites.
Join for free
Heading out the door? Read this article on the new Outside+ app available now on iOS devices for members! Download the app.
This essay was first published in Rock and Ice No. 267 (January 2021)
Céüse has a rep: The hour-long uphill march to the limestone crown is no joke. The routes, such as Chris Sharma's Biographie (aka Realization), the world's first 9a+/5.15a, and Bibligraphie, Alex Megos's 5.15c, are as lofty as the rock itself. And spicy, for it is here that Patrick Edlinger, who was happiest with big air under his feet, sank bolts in the mid 1980s, establishing the vibe. 
But there's another side to Céüse. Its some 800 routes, sport mostly, are heavy on 5.10a to 5.12, and loads of them are easier than that. The two-mile-long horseshoe cliff has varied angles even Picasso would admire, and routes from short to five pitches. At 6,600 feet in elevation (there's a ski area on the back side), and with aspects on all compass points, the walls simultaneously have sun and shade—pick your temperature. And, of course, the scuplted gold- and blue-streaked stone is the standard against which other limestone crags are measured. Savor a route, top out onto Céüse's broad summit plateau, and experience yet another OMG moment. Here, green grass and wildflowers bend in the alpine breeze. Butterflies land on your head. Marmots chirp. Or were those unicorns? Sit, forget about your trip coming to a close, break out the fromage and the wineskin, and savor a 360-degree view of France's Hautes-Alpes. Céüse, is there anywhere else? 
Over some 40 years of development, Céüse has felt the love of climbing's luminaries. On its rightmost side, the great alpinist Jean-Christophe Lafaille opened the five-pitch Natilik, a spectacular outing with pitches of 5.10c, 5.10d, 5.9+, 5.9 and 5.10b. In a nod to his traditional background, Lafaille, who also realized and bolted the futuristic line Biographie in 1989, climbed the hand-and-fist crack line of Natilik without bolts, using gear and the odd fixed pin, adding a splash of adventure seldom found at a sport crag. Recommended rack: .3 to 4-inch cams, doubling up on the one to three inchers. In the photo above, Symon Welfringer and Manon Berend quest up the 5.9 third pitch.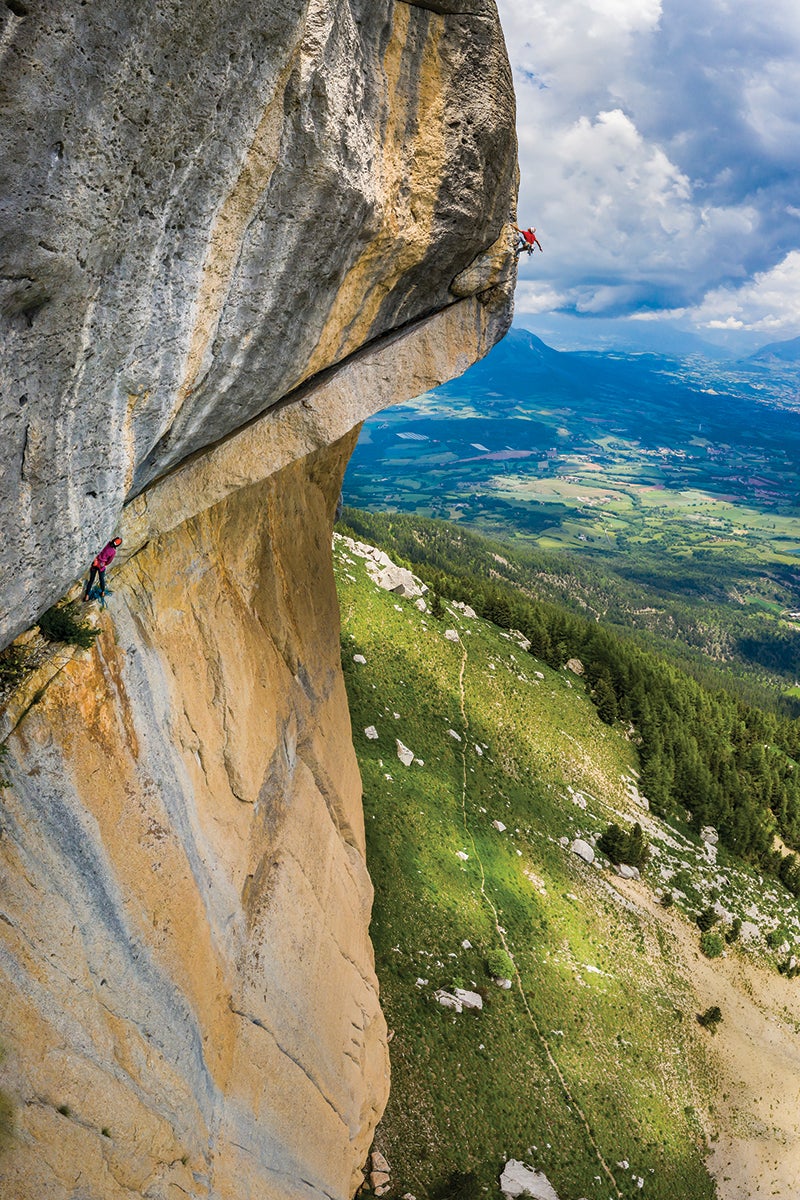 Natilik is famous for its ramping fourth pitch, the obvious slot seen in the photo, with a belly wiggle rightward along a very exposed shelf. Eventually, you drop to a handrail and pull an airy 5.9 roof to arrive at the final belay.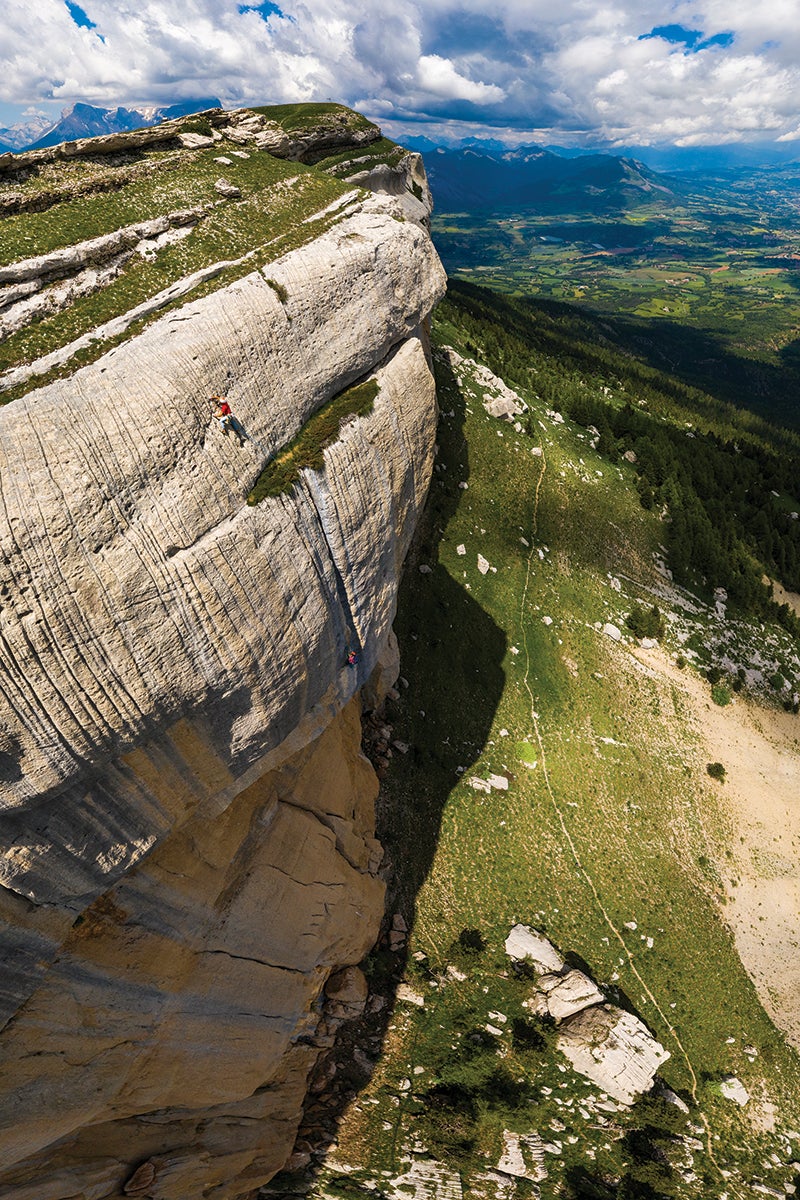 From the roof belay, Céüse provides yet again, with stonker pinches and stems up a water groove. Lafaille himself wasn't so generous: Only two bolts protect the face pitch, but don't worry, the grips are secure, and with the summit just ahead you will only wish the climbing wasn't ending.
Symon Welfringer, leading in both photos, is yet another strong alpinist, recently completing an impressive trilogy in the Alps above Chamonix. In the last two weeks of July he pulled off a free, onsight and likely first one-day ascent of Manitua (7c/5.12d, 3,300 feet) on the North Face of the Grandes Jorasses, redpointed the 700-foot 8a+/5.13c Le Grand Bleu at Balme, Italy, and made a day-push ascent of the Gabarrou-Silvy (6c/5.11b, 3,300 feet) on the Aiguille Verte.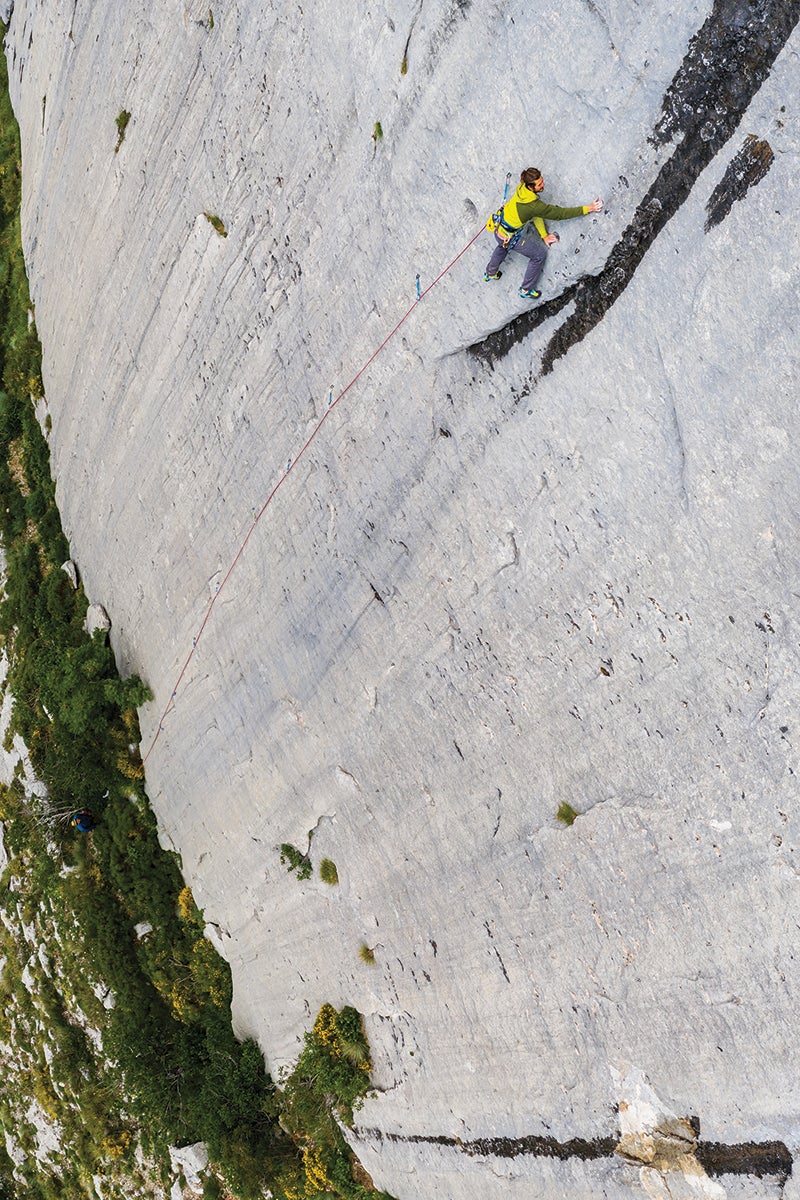 At the Sector Capeps, 27 of the wall's 30 routes are 5.11 or below, the stone is bullet and the movement is prime, as seen here on En Baskets (5c+/5.10a), climbed by Jonathan Isoard, a local activist and no slouch in the bigger mountains. In 2015, Isoard was a Piolet d'Or finalist with the first ascent of Le Reactor, a huge, hard route on the northwest face of Ailefroide Occidentale in France's Massif des Écrins.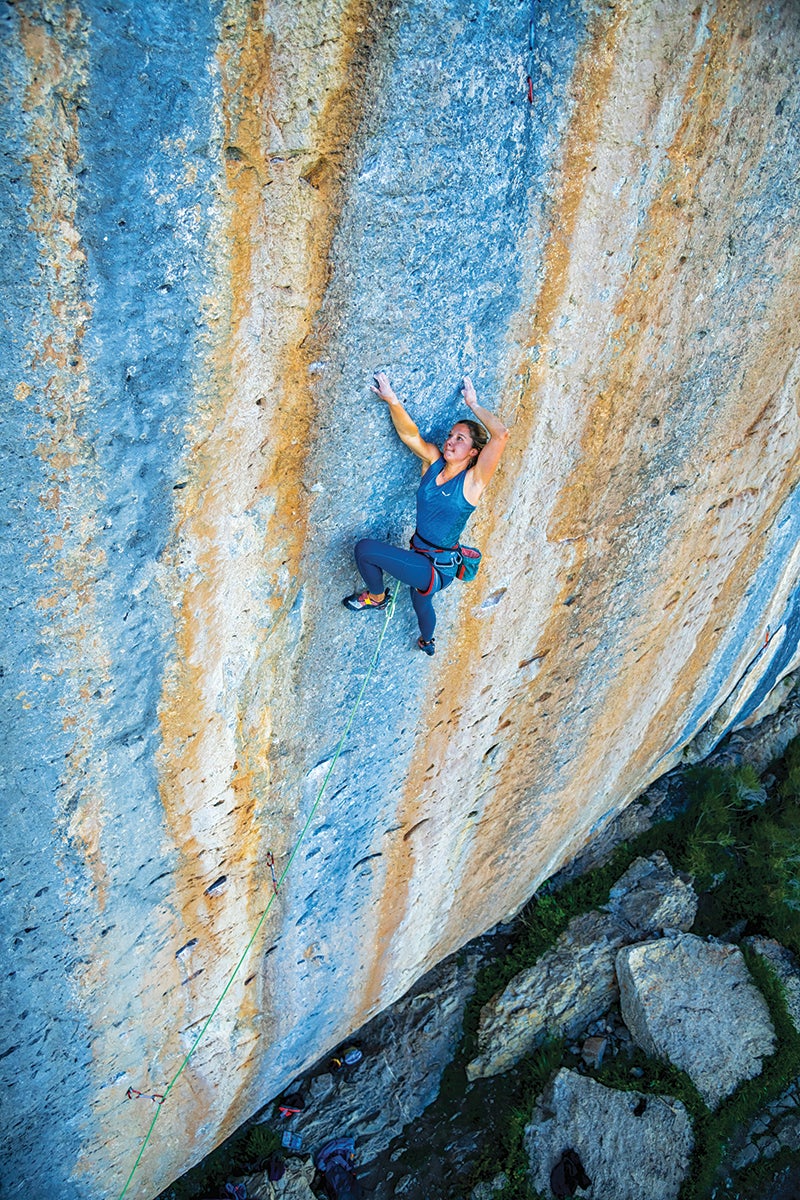 Céüse is as famous for pockets as France is for wine. The holes can be large, small, deep or shallow, and many or few. The ratings indicate what to expect. Eline Le Menestrel, daughter of Marc and niece of Antoine, two leading sport climbers in the 1980s and early 1990s, has climbing in her DNA. In this photo, she sends the sustained Chirurgien du Crépuscule (The Twilight Surgeon), a hard 8b/5.13d. Eline has climbed the world over but says Céüse is her favorite—she's been climbing here since age 14.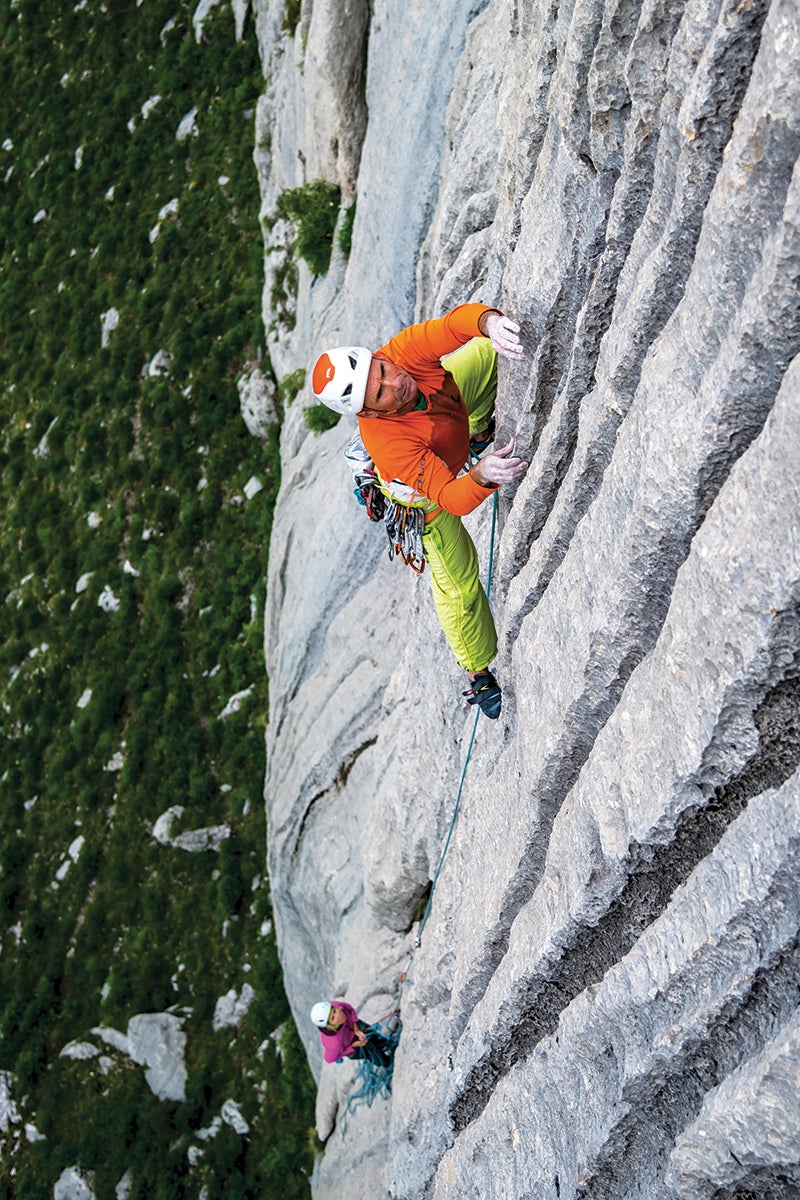 Who would think that skeletons of ancient marine organisms could be so much fun? Water runnels define pitch two of Chérubin (Cherub), a three-pitch 6a+/5.10b at the Natilik sector. Laurent Girousse, co-author of the new Céüse guidebook, and Marianne Bissol, a member of the Hautes-Alpes Departmental Council, enjoy the karst outing.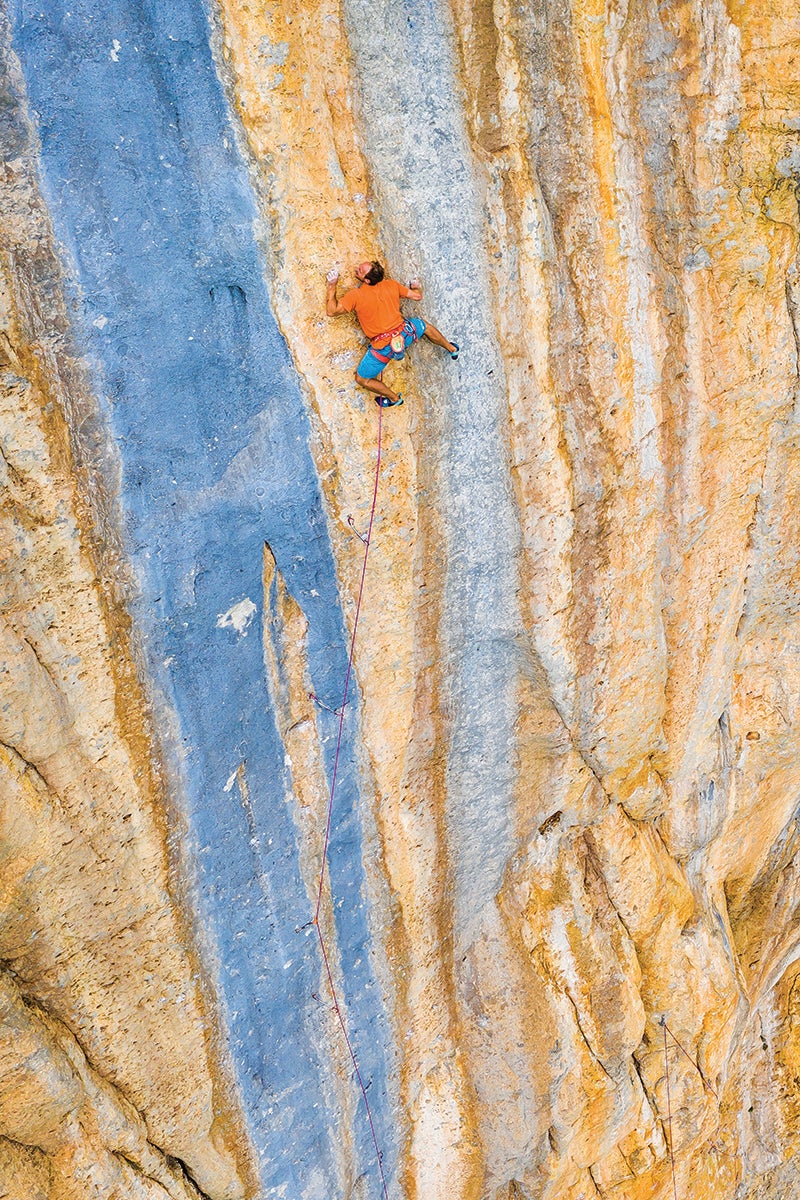 The capstone to a mountain, Céüse's resilient rock is known for its blue streaks, and the most famous of them is Biographie. Lesser known, but equal in purity of line, is the 50-meter pitch of Immense et Bleue (Huge and Blue), an 8a/5.13b, and one of 84 routes at the Grand Face sector. Seen here is the ice, rock, mixed, and alpine climber Sylvain Thiabaud.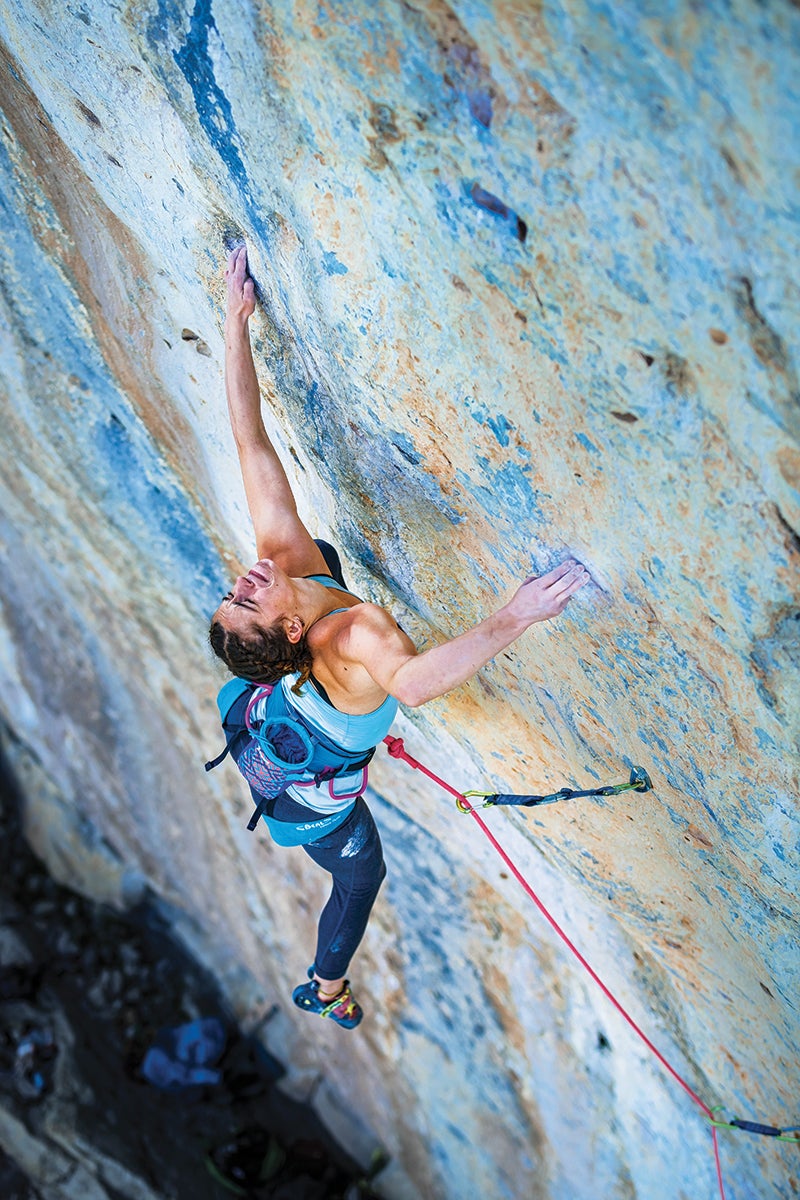 Luce Douady, age 16, is shown attempting the superb Mister Hyde (8c +/5.14c). Douady was a 2024 Olympic hopeful for the French team, placing fifth at just age 15 in 2019 at the IFSC Bouldering World Cup in Vail, Colorado, and finishing 20th at the IFSC Climbing World Championships in Hachioji, Japan. In May 2020, Douady redpointed her first 5.14 on rock and made good progress on Mister Hyde. "Her extraordinary combativeness made everyone stop climbing to admire her!" says photographer Sam Bié. Tragically, Douady died in June 2020 when she fell from a precipitous approach to a crag in southeastern France.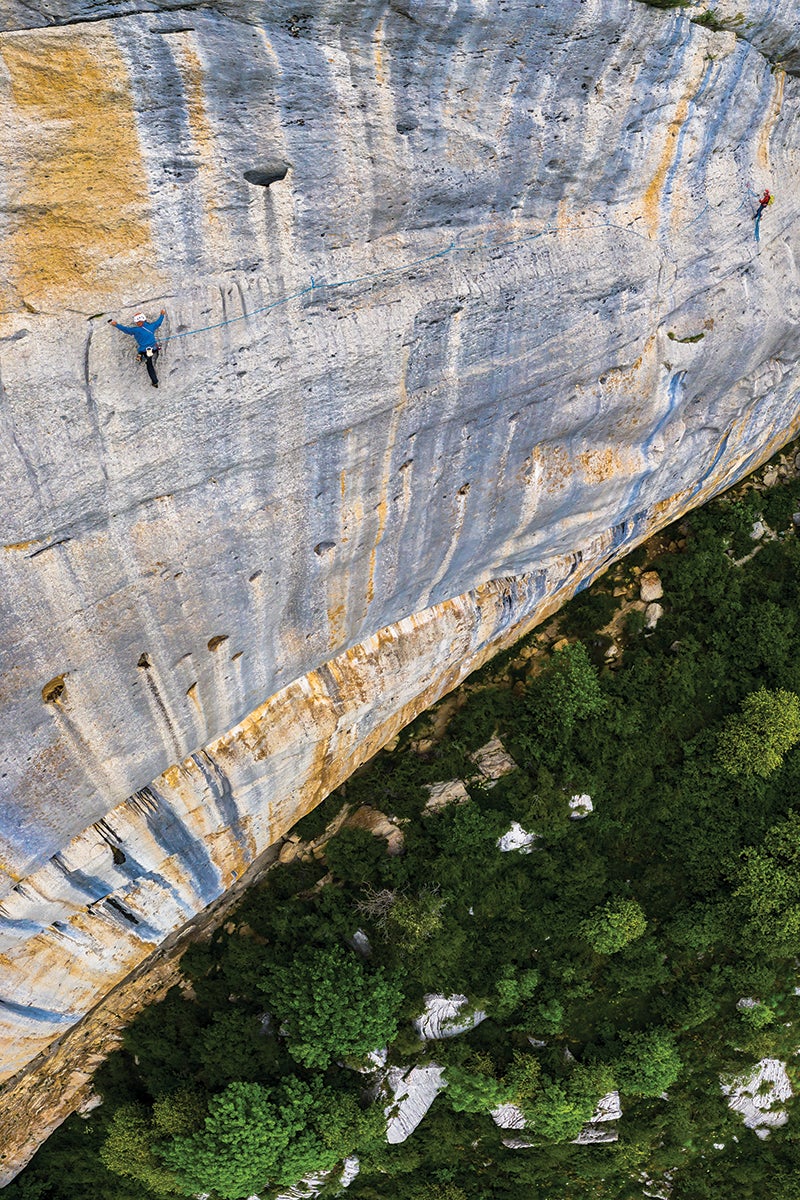 Rare show to see the mutant Adam Ondra using a stick to snag the next bolt, as he works through his L'étrange Ivresse des Lenteurs (The Strange Intoxication of Slowness) (9a+/5.15a), at the Biographie sector.
The Biographie sector is not for the weak of fingers—most routes are 8a/5.13b and harder, with nine 5.14d's and three 5.15s: Biographie/Realization (9a+/5.15a), Chris Sharma, 2001; L'étrange Ivresse des Lenteurs (9a+/5.15a), Adam Ondra, 2010; and Bibliographie (9b+/5.15c), Alex Megos, 2020, currently Céüse's hardest line. Cool, tacky temps help on all routes here. Lucien Martinez takes advantage of the evening chill to log a lap on the relatively easy Run Away (8b/5.13d).
The base of Céüse is over a mile high in elevation. The mountain weather can quickly change. Don't forget your puffy, and when it starts to rain, you'll find shelter and kindred spirits beneath the natural umbrella of the overhanging Biographie sector.