Josh Larson and Charlotte Durif Put up Hard Adventure Route in the Peruvian Andes
Heading out the door? Read this article on the new Outside+ app available now on iOS devices for members! Download the app.
At 4,800 meters in the Peruvian Andes, the limestone tooth of Kuntur Sayana cast a shadow over the entire valley, over llamas, sheep and farmers tending to chores. 
Above us, a storm was brooding. A few pitches up the spire, Charlotte completed the last 5.13b pitch out of breath, joining me at the anchors. Without a rest, she rushed off from the belay to attempt the last two pitches into one 70-meter push.  
I waited and prayed for the storm to abate. Already we had put in seven days of cleaning and bolting, and had had our work interrupted by a trip to the big city so I could have a tooth pulled. We were now on our second attempt, and had just four days before we had to go home. 
Three years ago, in 2016, Charlotte Durif was living in France, completing her Ph.D. in materials science and climbing outside less often than she was used to. On the other side of the Atlantic, deep in the heart of Boston, I was route setting, coaching, climbing, and making short films with friends about New England's beautiful granite. 
I had met Charlotte in 2013 at Metrorock Climbing Gym, in Littleton, Massachusetts, where I then worked, and after a first awkward moment—due to my nerves—we connected and have been together since. Charlotte started climbing at the age of six with her father and brother in the French Alps and Verdon Gorge. She has sent 5.14d and won World Cups and even a few World Championship titles. Add all that up, plus her intelligence, and she's out of my league. 
So, I asked her to marry me in 2019. And she said yes.
As for me, I joined a climbing team at age 15 and loved it until I was 18, then decided it was time to get a real job, as an electrician. Five years later, I found that work too repetitive, and quit to work in the climbing industry. 
The climbing world taught me a lot, and I trained to be the best I could. My accomplishments aren't all that much, but I am proud of them. I've climbed and established up to V13, sport climbed and bolted up to 5.14b, and competed on the U.S. Bouldering Team for four years, traveling the world. But in 2017 my attention turned away from plastic—I wanted to go where people hadn't yet climbed. The best part was that Charlotte was all about it, too.
In 2016 we talked about going to places with no guidebooks, no crowds, no Reel Rock tours or polished footholds.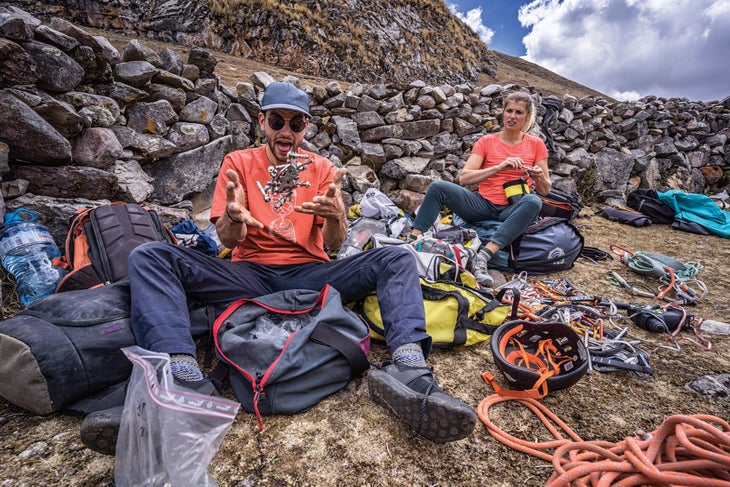 We spent almost two years visiting distant countries and developing new routes and blocs or just climbing in obscure areas. We went to Nepal and bolted limestone cliffs in the Annapurna Range, and to Tsaranoro, in Madagascar, for remote multi-pitch climbing. In Puerto Rico we sampled the crisp island granite and fresh coconuts. Finally, we went to one of our favorites—Peru. 
We had heard about Peru from Charlotte's friends who had climbed in Juaraz, north of the capital city of Lima. Juaraz was a small, single-pitch high-altitude limestone sport area that was popular for South America. We figured we'd go there for a week, then move on, but after talking to Coco, a developer, we flew to Cusco instead.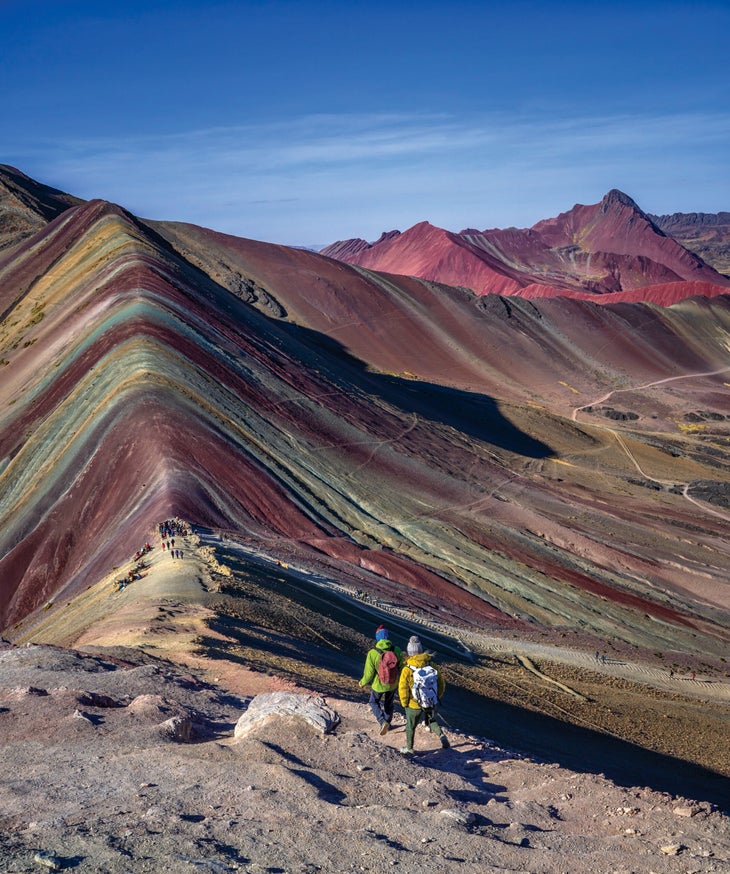 In May, 2018, we landed in Cusco, in the Andes Mountains, a 4,300-mile-long range  running the length of South America from north to south. For over 300 years, beginning in the 13th  century, Cusco was  the capital of the Inca Empire. Tourism has been its economic backbone since the 2000s, bringing in over 1.2 million visitors a year. The city is known for Inca ruins, heritage sites and the restaurants surrounding the "Plaza de Armas," or city center, and as the point of entry for visiting Machu Picchu. Shops sell llama wool. Backpackers from the Inca Trail trudge by on tired legs. 
We stepped out of the airport, six bags in tow, into chaos. 
"Taxi, taxi, taxi," everyone shouted, as drivers beeped, the smells of food wafted by, and we exchanged smiles with the locals.  
Our friends, the main local developers—Jorge Sirvas (aka Coco) and his girlfriend, Diana Gomez, picked us up, and we drove two and a half hours south on Route 3S to the town of Pitumarca, where a valley of untapped limestone potential awaited. Coco had sent us pictures that promised a mountain range with endless potential, and we were eager to set our eyes and hands on it.
Pitumarca sits at 11,700 feet and is the last outpost for tourists on their way to the recently trendy geologic wonder of Rainbow Mountain. Small streets spread from the center square of town, where festive dances and farmers' markets come to life each day. There isn't a bank or a gas station in sight. Pitumarca is a cash-and-trade type of town. Farmers from the outlying hills and valleys bring their mountain-fresh veggies and fruits to sell, and are one of the world's last pastoral societies. 
We drove along, dodging cows and three-wheeler motorbike taxis with flashing lights. Soon, we were greeted with a view into the Ch'acco Huayllascca valley just above town. Rumor had it that the valley has one of the greatest concentrations of climbable limestone in the world, and we didn't see anything to dispute that. Currently there are 100 to 120 routes, with room for 10 times that, and 20 times if you include the valley where we would soon discover the wall of Kuntur Sayana.
Our first day we climbed with Coco and Diana at "Page 2," the first sector they bolted in 2015 when they discovered the valley. Stand-out routes were Verdon-like slabs at the Libron Hoja 2 sector, and the long tufas of Coco-Drilo, a 5.12a bolted by Cody Roth at Gran Desplome. After a day of climbing in the Ch'acco Huayllascca valley we were so stoked we extended our trip from two weeks to six.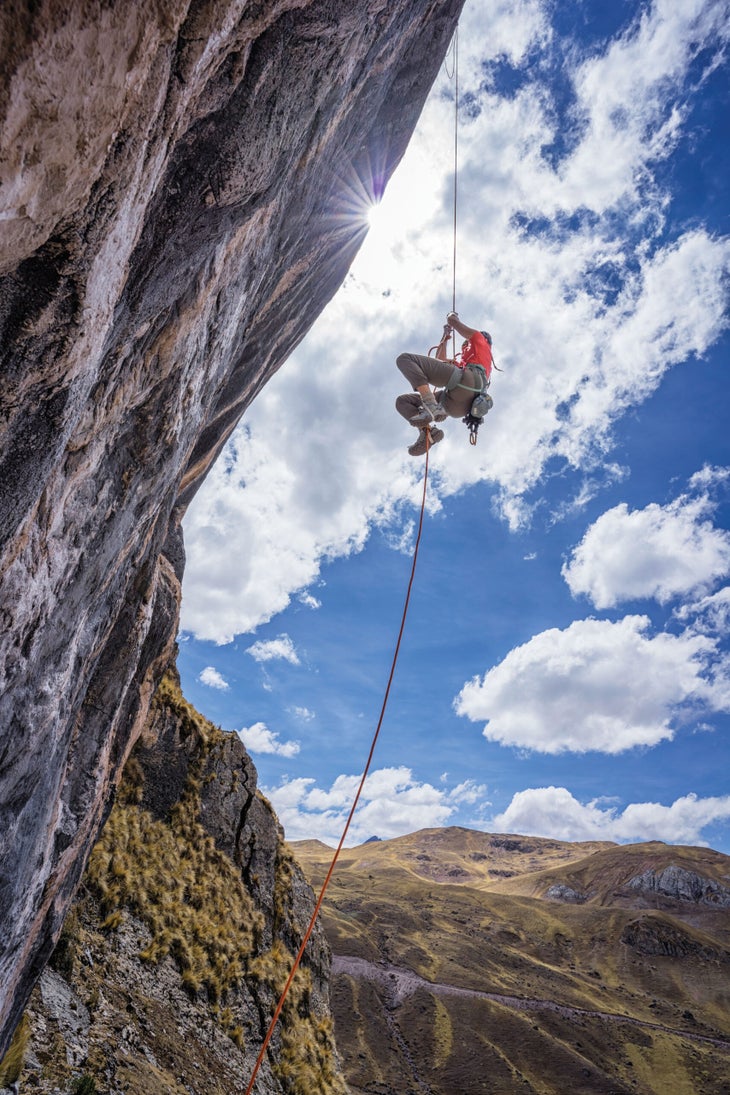 Six years ago, Coco was scrolling "the Facebook" when one of those ridiculous notifications about a photo popped up, like "your mother's friend's sister-in-law's son was hiking in Pitumarca." Normally, this would be an instant delete, but the photo gave Coco pause. In it he noticed stunning cliffs and grassy hills surrounded by breathtaking peaks—and just two hours away from his home in Cusco. 
Coco and Diana followed up and in a small village near endless walls they found friendly villagers. The eager climbers discussed access with the farmers, and rented a place in March 2015. That June the villagers gave them permission to bolt. Diana now works with Acceso Panam, the Peruvian version of the Access Fund.
Pitumarca locals have subsisted in these mountains, farming potatoes and raising llamas, dating back to the time of the Incas. The area is remote and primitive by Western standards: some of the smaller villages in the Ch'acco Huayllascca valley still don't have power or running water.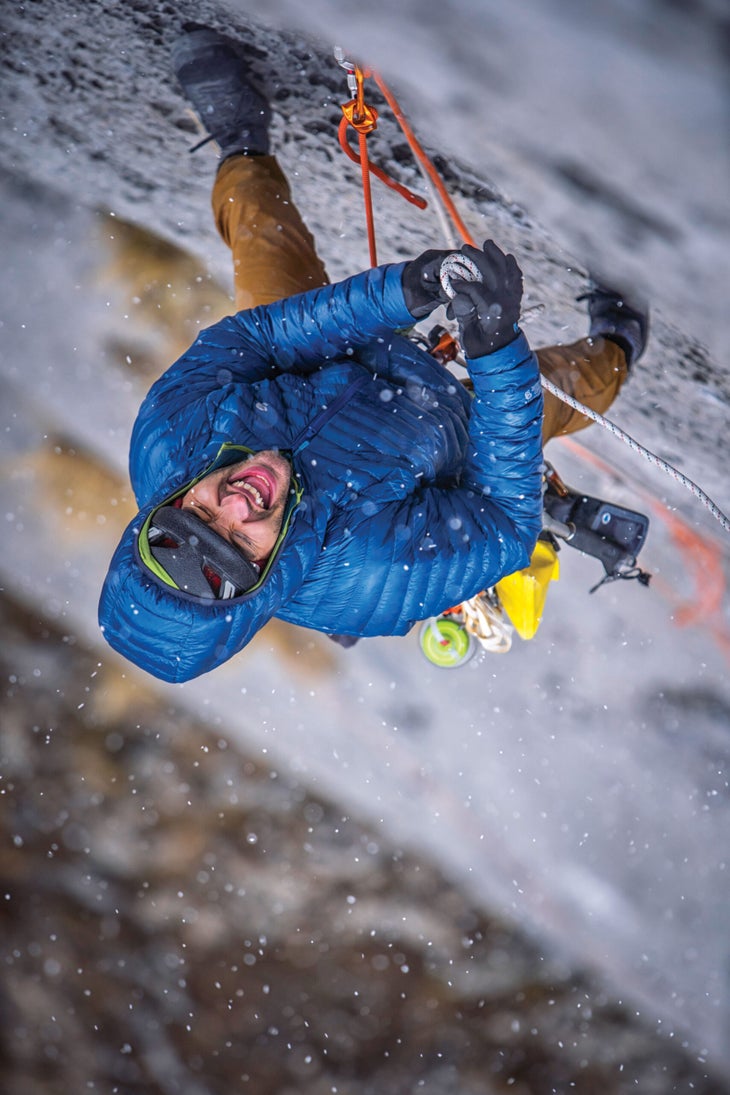 We can all be thankful that Coco and Diana secured access to the fantastic cliffs, and developed the infrastructure such as parking and toilet facilities necessary for an uptick in climbers. In 2018 they welcomed Charlotte and me to explore and start a project of our own. 
On one side of the valley we spied three massive bands, called the Three Pages, each stacked over the other. Grassy hills with terraced potato fields rolled to the horizon. Game and farm trails wove in and out like threads in a tapestry. The other side of the valley was a maze of 25 or more cliffs with towers, prows and tufas. The area was maybe one percent developed. 
The history of climbing in Pitumarca is that of the present. Before Coco and Diana began developing, there was nothing. The two were, and still are, the pioneers.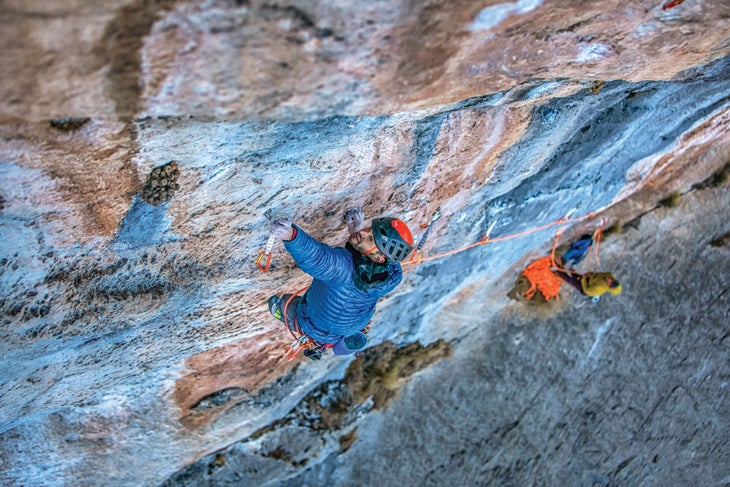 Charlotte and I bolted and sent several single-pitch routes, then we hiked about seeking multi-pitch possibilities.
The Sheep Prow was the first feature we had seen when we drove into the valley. Sitting high and prominent, the prow looks like a sheep's face and appeared difficult to reach and harder to climb—just what we were looking for. We lucked out when we stumbled upon an ancient trail that led us right to the top of the wall, and after about a week of effort we had bolted three lines, including a 5.12c, Afternoon Delightning, coined for the late-season storms that often visited us. The other two routes we left as projects: Charlotte would redpoint one, a 5.14b she would name simply Sheep Prow, on a return trip.
During another of our exploratory hikes we discovered what we called the Shady Wall. Hidden by a maze of cliffs and peaks, this  overhanging wall, sporting crimps and tufas, became an instant favorite. Coco joined us and by the time we left the wall had nine lines from 5.11 to 5.14. Recently, a team from The North Face established still more.
Despite already hitting the jackpot, from Pitumarca we could see yet another wall at the head of the valley. We called this one Mini Céüse owing to its shape and color … and because of what looked like a strenuous approach. Coco was psyched, so on our last day before we had to move on, we drove up to check out the wall.
Dirt roads switchbacked through several villages, where the locals always waved. We made progress, then were stopped on a tight switchback. A landslide had left a boulder blocking the road. 
An hour later, winded and having busted a tire jack, we moved the rock just enough to squeeze by in the Jeep. A few switchbacks later, the gorgeous limestone tooth of Kuntur Sayana filled the windshield. The wall wasn't our Mini Céüse. It was better. It looked about 600 feet high, and the base was carpeted in grass, a good sign for solid rock above. 
"I guess we're coming back sooner than we thought," exclaimed Charlotte.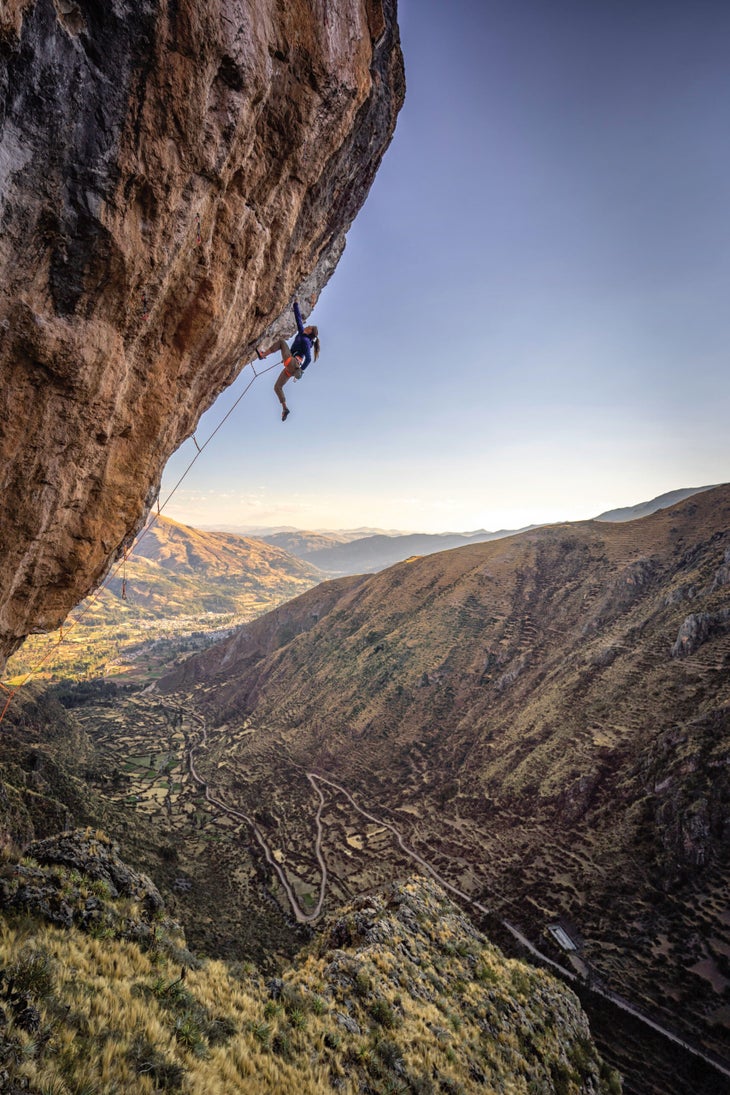 Charlotte and I continued our world tour through Africa and Asia, and in January 2019, settled in Salt Lake City, where I would work as U.S.A. Climbing's head coach and route setter for the adult team. Charlotte would work for the IFSC helping the Olympic movement. 
We were both busy, happy and climbing, but the wall we had discovered in Peru never left our thoughts. We stayed in touch with Coco and Diana, who were talking to Pitumarca's community leaders, hoping to get their  blessings so we could develop the wall. The locals in these remote villages speak mainly Quechua, their native tongue. The Quechua people make up the various ethnic groups indigenous to Peru, and have dialects that can be unintelligible even among themselves. It was no surprise then that even Coco needed a translator to converse with them. 
Despite the language barrier, last April Coco told us, "It's a go." 
We booked our tickets. Charlotte's father, Christian Durif, a lifelong climber, would join us. My father, Everett Larson, and my brother, Zach, also wanted to see Peru. My dad isn't a climber (at heart he is), but he also has always supported my efforts, and would assume the role of chef and teller of dad jokes. 
We arrived in summer to find the roads in better condition, and we were able to drive to within a 20-minute hike to Kuntur Sayana in the area we would call the Hachojo Sector. We hiked to the top of Kuntur Sayana, rapped in and began bolting. That evening, we strode into our warm tent for pasta, soup and bread prepared by Pops, jibbering excitedly about the day and how tomorrow might look.
The next day, early, Charlotte jugged ahead of me to drill the upper section. I would bolt from the third pitch down. We sat in harnesses for the entire day, swinging around, redirecting lines, placing bolts and anchors, chalking holds, and scrubbing. After three days, the seven-pitch route was ready. 
When we had first arrived in Peru, I was bothered by a mild tooh ache. Now, perhaps due to the elevation and the vibrations of the drill, the pain in my tooth was such that I could only eat soft bananas and avocados. Pitumarca, the nearest real civilization, didn't  have a dentist. 
After a solid night of zero sleep I decided to drive back to Cusco and find a dentist. Zach offered to accompany me, for, I suspected, a hot shower and pizza, though the prospect of seeing his brother get a tooth ripped out might also have motivated him. 
We arrived in Cusco at 8 p.m.—the dentist's office was open until 11 p.m., which was strange. Driving the dark streets we saw numerous dentist offices with people lined up outside, and that further worried me. 
Dr. Armando greeted me in English. Whew. I didn't need to trust Google translate for this one. An hour of drilling, tinkering and X-rays later, the dentist confirmed that I had an infection under my back tooth, and it had to be removed the next day.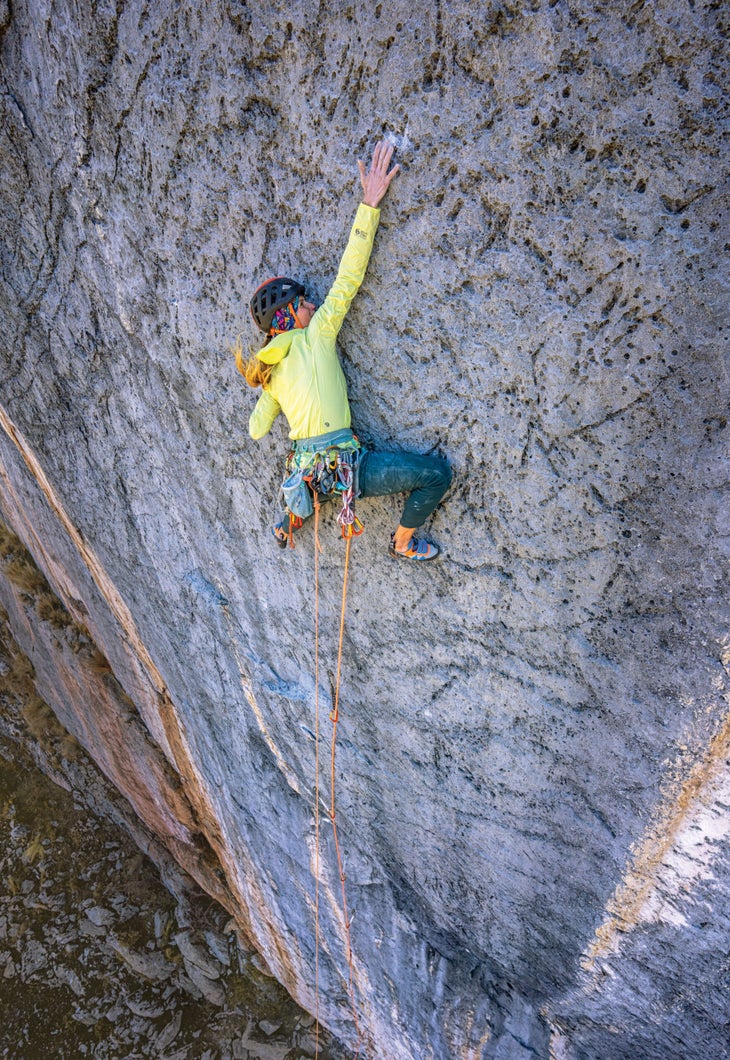 The next morning, on our way back to the dentist, we got a flat tire. We parked the car and hailed a taxi. 
"We'll deal with that later, dude," said my brother. 
The dentist called in the oral surgeon.
She was late and I imagined she was maxed,  ripping out teeth elsewhere. When she did arrive she got right to work. A shot of Novocaine and one second later, she held a pair of pliers that could have come from Home Depot. She grabbed my tooth and pulled. She put her knee against my body for leverage. She had seemed like such a nice person. I felt my tooth begin to move. She pulled harder and pushed harder with her knee and—rrrrip. "Oh shit, that's f'd up," I blurted out. I put my tooth in my pocket, paid $140, thanked the surgeon, and met my brother for the drive back to Pitumarca.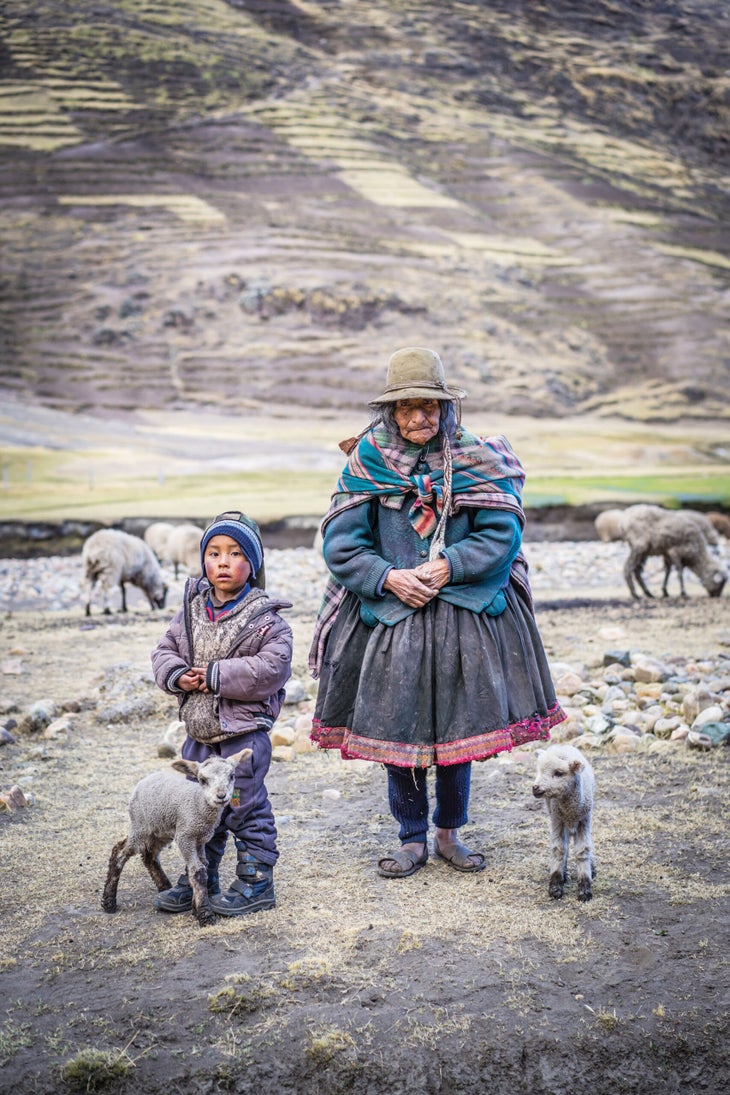 Charlotte and I planned to try to send our prepped route on Kuntur Sayana from the ground up in one push.
Our greatest concerns were pitch one, a steep 35-meter 5.13c;  pitch three, which was overhanging to thin slab, clocking in around 5.13b; and pitch five, the most exposed of the bunch, a techy section with difficult pockets and small crimps, about 5.13b.
We woke before the sun hit the wall. There was a cold bite in the air, and we made breakfast behind a stone-walled llama corral, where we indulged in coffee, tea, avocados, eggs, bananas, and more coffee. It was a relief  for me to chew for the first time since we had arrived in Peru.
We headed up. Charlotte's hands clubbed out from the cold at the fifth bolt. The sun hadn't yet warmed the wall, and the moves were harder than anticipated. She still gave it her all, but fell midway up the pitch. Not a problem. Figure out the moves, lower and go again. 
Ordinarily that tactic would be fine, but we were burning more time that we had anticipated, and still had six pitches, including the crux slab, to go.
"There is no way we're going to send this beast today,"said Charlotte. "Let's work the moves, and figure out how hard this is really going to feel."  
By sunset, I had just completed the final moves on the last hard bit, pitch five. But we had skipped most of pitch four, and my arms were so  spent I couldn't straighten them. 
We donned headlamps and began rapping just as snow began to fall.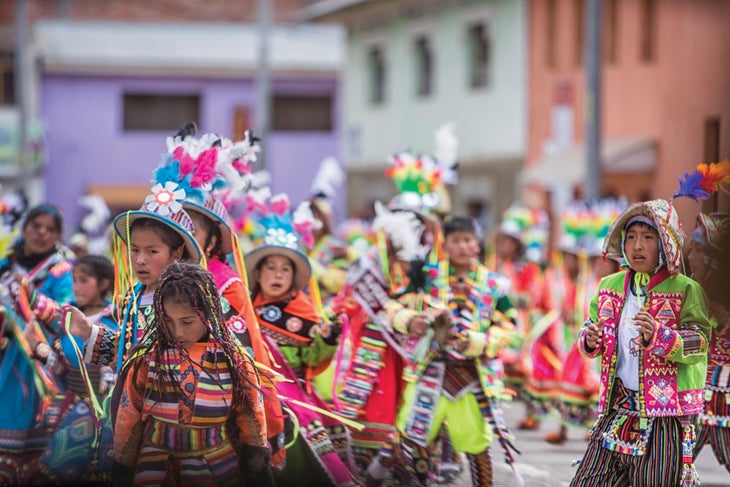 We spent a rest day fishing fruitlessly with my dad and brother, and sorting out how our next attempt on the wall would go. 
By 8:30 a.m. the next day, Charlotte and I were at the end of that pesky 5.13c first pitch. The first and second pitches were mine; Charlotte would lead the third and fourth. I fired pitch two. Pitch three, 5.13b, was our primary concern because of its low-percentage slab moves. Charlotte jetted off and in five minutes had climbed out of sight. I waited, humming and enjoying a fine vista of the Andes. About three quarters of an hour later, I heard, "Off belay!" 
All was smooth, until I heard a rumble. Then clouds began to build. It was a race against the storm. Charlotte needed to be quick and link the last two pitches, a 5.12d and 5.8, to save time. Off she went.
Lightning flashed. 
"Damn, Charlotte," I yelled. "We have bad luck with storms." 
"I'm going as fast as I can," she said. 
On the wall we were reasonably protected, but the descent was an exposed ridge at 15,500 feet—a lightning magnet. Then, on cue, the gathering storm seemed to pause, and it looked like we might just get a break. Fifteen minutes later I felt three big tugs on the rope. Charlotte was in direct. I could start climbing. 
I ran up the rope-stretcher to Charlotte, overwhelmed as I unsnapped the quickdraw from the last bolt. We did it. Hugs and kisses, then we got a final arm blaster by coiling 400 meters of rope.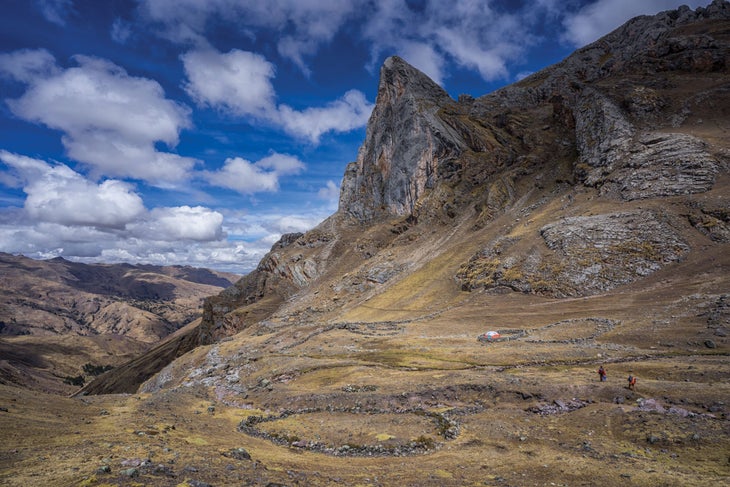 On our way down we met three farmers stooped over, sacks of potatoes on their shoulders. 
We shook hands, and I wondered what might they think of us, two visitors with enough free time to climb rocks.
"Congratulations," they said, seemingly proud of what their land had meant to us. 
Throughout my travels, I often consider what a day must be like for the people who live where we climb. I imagined that those farmers we met had had a much tougher day than us, and that every day for them was hard, working the stony ground, tending to the herd, no paid vacations or sick days. Their lives of labor show in their faces, toned by the sun to an amber. 
Charlotte and I sometimes complain when the wifi is slow or the food is subpar in the areas we visit. It is cliche to say that these are first-world problems, but they are. 
Back in camp, Charlotte and I reclined on a grassy hill and studied the Kuntur Sayana. We hadn't broken any difficulty records. We had simply tried hard and pushed each other. We were grateful for our partnership, and for all the help we had gotten from the locals of Pitumarca who had graciously let us climb on their land, and from Coco and Diana, who had filled the cultural divide with them. 
Sitting on that knoll, sun beaming and with our route completed, we settled on a name. Our route would be Vuelo del Condor, in honor of the Andean condor, the largest flying bird in the world with a wingspan of up to 10 feet, that had buzzed us while we were bolting.  Later, back in the village we'd learn that the locals  hadn't seen a condor for many years. It was a good omen—in Andean mythology the condor is said to be the ruler of the upper world. The villagers said they'd give thanks by planting potatoes near the base of the wall. 
Josh Larson has worked in the climbing world for over 15 years. He is a former competitor for USA Climbing, and is Head Coach for the U.S.A. national climbing team.