Lead Now: One Year of Climbing and Helping Non-Profits Around the World
Apply the passion and dedication it takes to climb 5.14 to doing good around the world, and you get one of the climbing world's greatest years of travel—ever. Here is the story of Marmot's Lead Now Tour.
Heading out the door? Read this article on the new Outside+ app available now on iOS devices for members! Download the app.
This story originally appeared in the November 2014 issue of our print edition.
"Do you think you could climb one 5.14 a month for a whole year?" filmmaker Jon Glassberg asked me two years ago as we sat around a classic summer campfire after a great day of climbing. I had graduated from college a few months earlier with no concrete plans—other than more climbing and more campfires—and a vague idea of starting the marketing career college had groomed me for. My answer to Jon's question was simple—uh, hell yes!—but the very thought sparked a larger idea that would eventually take me around the world, offering me the chance to work and play in some of the world's most beautiful settings.
We decided we would tackle a different climbing objective each month (most commonly a 5.14 sport route), with the caveat that each route needed to be in a different country. We aimed for smaller crags, obscure objectives, and countries that don't necessarily top the list of must-visit climbing destinations. I would spend my time tackling climbs at my limit, and Jon would document the whole experience. We saw it as an opportunity to challenge ourselves not only physically through hard climbing, but also mentally and emotionally through difficult and sometimes unknown travel.
But I wanted to do more than just climb. Our itinerary included impoverished areas of the world, where children don't have the opportunities that I was blessed with growing up. We decided that we would also produce video marketing content to promote and support local nonprofit organizations in each country we visited, helping these groups reach a larger audience and raise money in the process. We could tell a story of travel, culture, and nonprofit work in addition to the traditional hard-send media. And thanks to the help of Marmot, our title sponsor, we pulled it off! The Lead Now Tour involved 35 flights to nine countries, shooting more than 68,000 photos, raising more than $20,000 for charities, seven 5.14 sends—and only five bouts of food poisoning. These are the highlights—and some hard-won advice.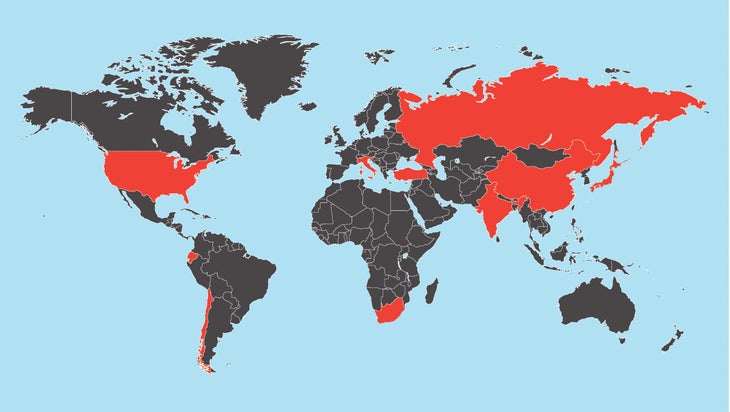 Tip Sheet
Check the baggage allowance for each flight ahead of time, and then understand that what you encounter at the airport may be different from the rules listed online. We had to leave a large duffel full of climbing ropes, brand-new shoes, clothes, etc., because Qatar Airways wouldn't let us check the bag for less than $1,700.
Airport security in each country (and even at different airports within a country) varies greatly. Avoid trying to carry on ropes, quickdraws, and chalk, which will often be confiscated. Also avoid carrying on mace, particularly in China. I forgot I had it in my bag and was questioned for an hour in the back room about how I got through five countries with it.
If your cell phone contract is nearly up, consider unlocking your smartphone and purchasing local SIM cards in each country. We found this was much cheaper than purchasing an international plan with our home carriers.If you're planning an around-the-world trip, look into AirTreks for flights, a travel agency that will help you plan complex multi-stop international itineraries, without the restrictions of a typical "around the world" ticket. AirTreks requires that you make at least three stops internationally in at least two countries, not including your start and end cities, but it has no limitations on direction of travel or duration of each stop. Pretty much, AirTreks was the make-it-or-break-it of our budget on Marmot's Lead Now Tour, allowing us to purchase a total of 35 flights to 10 countries all around the world for $8,000 per person.
South Africa
"It could be the world's best rock climb!"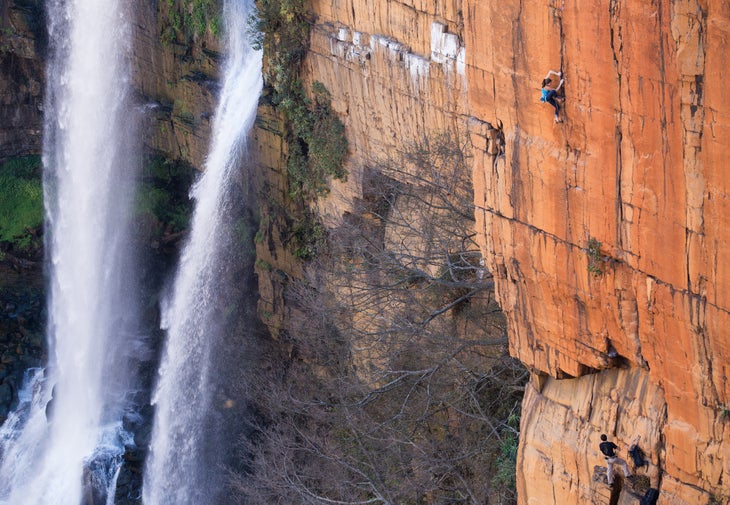 This message about a newly bolted, unclimbed project on a remote buttress far from everything was the latest addition to my inbox from South African developer Andrew Pedley. So we made Africa stop number one. After 40 hours of travel from the U.S. and five hours of droopy-eyed driving on the opposite side of the road, we're swapping drivers every 10 minutes. We can't stay awake. When we arrive at the home of local developer Roger Nattrass, we're ready to crash. I don't even want food, which is saying something, but fate (and Roger) demands we experience a safari. Like now. A short Jeep ride into the backyard, and we're face to face with the giraffes that will watch us muscle up the sandstone walls of Umgeni over the coming days.
We arrive late on our first day at the crag. A herd of zebras had blocked the rough dirt road leading to Wow Prow. Imagine a perfect wall of rock—dream holds, a perfect angle and style—flawless. African sandstone reigns supreme. Set in the boundless plains of South Africa's Free State, Wow Prow puts everything I have ever known about climbing aesthetics to shame. "Here's your projie," Andrew says, pointing to the line he bolted a few months ago. This delicately painted canvas of seemingly featureless orange and gray patterns is the reason I'm here.
Digital Warfare (5.14a) is just that—a fingertip battle. I climb it twice a day, every other day, before my tips eventually split from crimping the lips of sharp pockets, which are blocked by pebbles lodged inside. We take misery burns on the 5.12d "warm-up" before redpoint attempts as Pedley and his army of strong, young locals set to work bolting new lines. The number of available routes at Wow Prow triples over the course of 10 days. These guys are relentless, and when we return home each evening, they devour an absurd amount of meat (usually boerewors, a type of sausage with beef, lamb, and pork) in true South African style.
Just as our time at Wow Prow is coming to a close and my skin is opening beyond repair, the battle ends: After seven days of effort, I finally snag the two dynamic, finger-biting pocket cruxes of Digital Warfare, before the frigid winter winds move in over the Free State. Clipping the chains on this virgin stone sparks my interest to bolt a line of my own. Pedley offers up one of his gems, but I later learn it is just one prize in his quiver. I've never met someone with such a keen eye for stunning lines, and I hope to return next year and study as his bolting apprentice. During our month in the country, I was also able to claim the first female ascent of the powerful and long (115 feet!) Rodan (5.14a), also put up by Pedley at Waterval Boven.
Watch Paige Claassen climb Rolihlahla (5.14a) in South Africa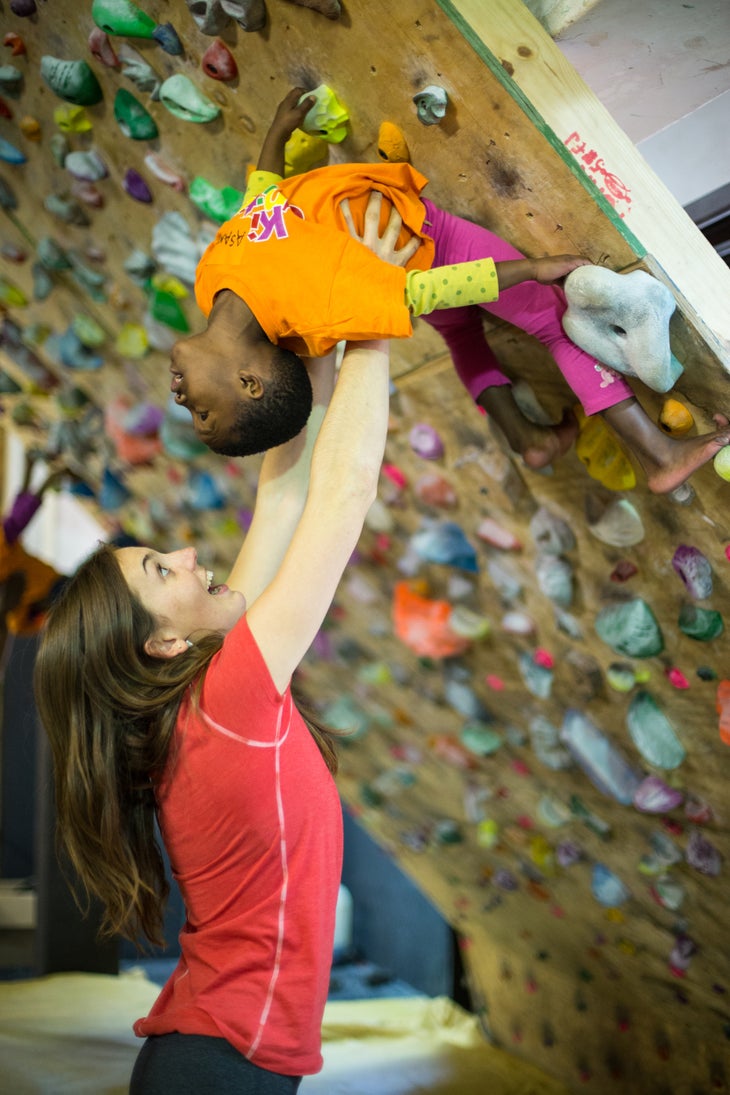 Tip Sheet
Don't turn down an invite to a braai, the South African version of a barbeque, but much more involved. A multi-hour event means friends are guzzling wine while many, many types of meat cook over an open fire. Delicious, and you're sure to take part in fabulously entertaining conversations and learn about the best lines in the area.
If you're already visiting the world-renowned bouldering area of Rocklands, toss your sport gear into your suitcase and make a stop at Waterval Boven on the eastern side of the country: easy access, routes of all grades, stunning scenery, and baboons.
Beta
Get there: Drive 3.5 hours south of Johannesburg to the small settlement of Clocolan.
Stay: Camp at the Ben Nevis Cherry Farm (ben-nevis.co.za). Daily expenses are cheap after breaking the bank on plane tickets.
Season: Find ideal conditions in September/October and April/May.
More: For topos and more travel information, visit climbing.co.za.
Russia
"Bikini! Bikini! Bikini!"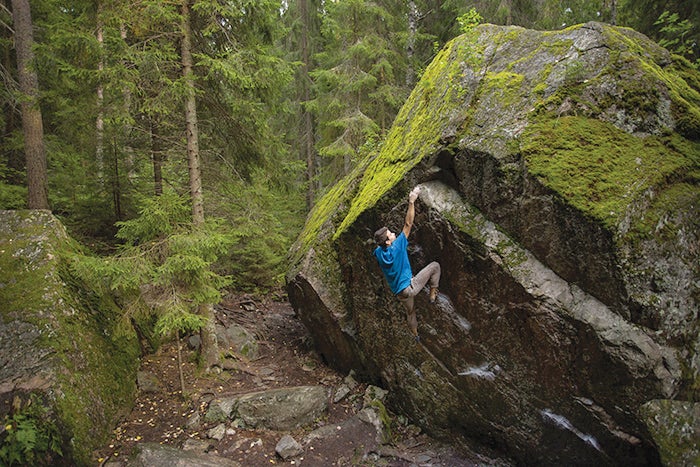 It's midnight on Friday, and a dozen children run around screaming this phrase. Empty bottles of vodka line the table, but the party seems to be just starting. After a long period of confusion, we reluctantly put on our bathing suits, and a gaggle of giggling Russians leads us outside into a wooden hut. Zan, our new Russian father, pours boiling water over hot rocks and dried birch branches, creating a suffocating air so thick and hot that I can't breath. Without warning, he slaps scalding-hot birch branches on my back. Ten minutes of whipping later, I'm feeling dizzy and raw. Before I can get my bearings, a bucket of icy rainwater is upon me. I stagger outside to hysterical laughter. Welcome to Russia, enjoy your "relaxing" experience in the banya!
Just that morning, our rental car bumbled down a rough dirt road, deep in one of the Svetogorsk forests. Despite Russia's grandeur, climbable rock is scarce, and climbers from Moscow frequently make the 12+ hour trek to Triangular Lake, just for the weekend. A few local climbers we met just a few hours ago have arranged for us to stay in the only structure within miles of the area—the home of a local family. All we know is they speak no English, there's no electricity or running water, and they've offered to house us for three weeks. Amazing! As we pull up to the oversized cabin, a flood of 20 people rush from all doors and balconies, welcoming us with big grins and bear hugs. Through mostly hand gestures, we learn that Zan, Olga, and Babushka (grandmother) live a quiet life during the week, tending to the garden, collecting berries and mushrooms in the forest, and tinkering with the house. On the weekends, friends from the city drive in with new stocks of food and vodka for two glorious days of debauchery.
Each climbing day begins with pickles for breakfast and a heaping plate of fried potatoes. We don't leave the picnic table until Babushka is satisfied that we've eaten enough. She thinks my arms are too skinny and my cheeks need to fill out. I, on the other hand, am struggling more and more every day to get off the ground. Fried noodles, cabbage-topped fish pie, borscht with mayonnaise, buttery Karelia pies, and always more fried potatoes await us at each meal.
We call Triangular Lake "the land of V9" because it seems to be the entry-level grade among the small community of climbers who make the long drive here. Among the vast granite playground hidden deep in the pine forest, you won't find many developed problems harder than V9, but you also won't find much to warm up on. Plenty of boulders await discovery, just be prepared to dig through the forest, as the moss, mushrooms, and pines cover everything.
Watch Lead Now Tour: Paige Claassen in Russia
Tip Sheet
Consider a visit to Triangular Lake during the "white nights" of June and July when the sun never sets, and you can project literally all day long. For cooler, crisper sending temps, target September.
Travelers and locals alike must show a permit at two security checkpoints to reach the climbing area of Triangular Lake. Our Russian friends taught us to say "hi" (privet), which I cheerfully said upon handing our permits over to the stern border guard. A bout of laughter later, I learned privet is a very casual "Hey, what's up?"—not the best greeting for a Russian border guard. Instead, try ZDRAHS-tvooy-tyeh—yep, that's why I chose privet.
Beta
Get there: The only way for foreigners to reach Triangular Lake is with help from locals; you'll need detailed driving beta for the complex dirt roads, plus a permit to get past security checkpoints near the border. I used Facebook to find locals and ask about everything. I suggest the community Facebook page "Bouldermania LietLahti." It's the gateway for proactive climbers and travelers to access this crazy, remote area.
More: The Russian climbing crew has recently developed an app for Triangular Lake climbing. It's free in the iTunes store (search for "Triangular Lake"), but it's all in Russian.
Italy
"It's usually not like this."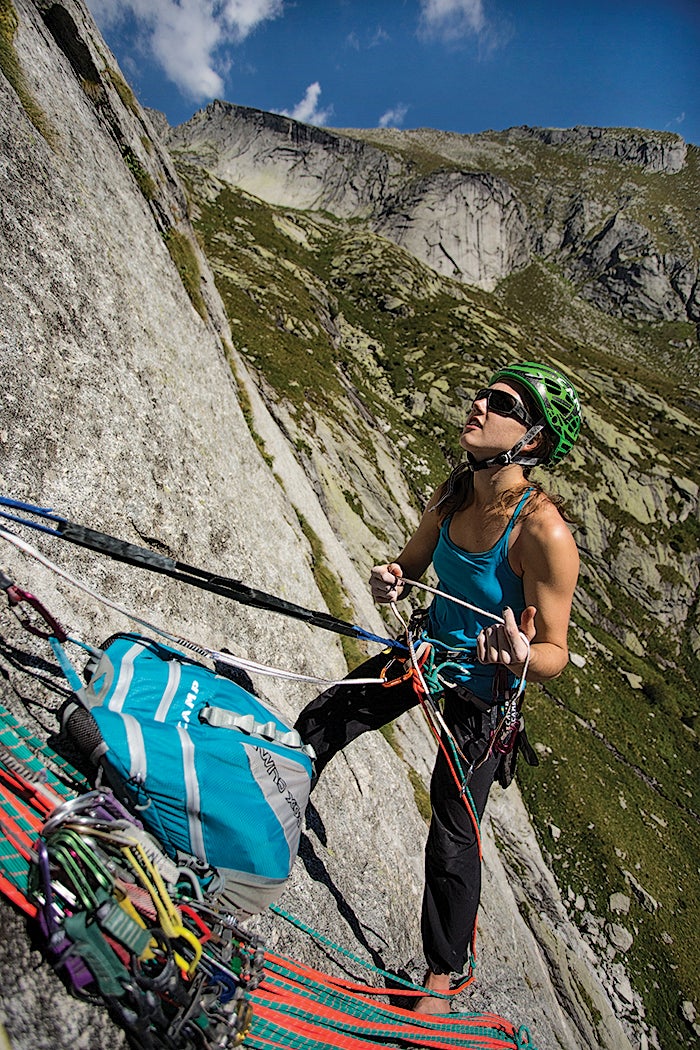 Fog. Mist. Humidity. Still air. Day after day the gray skies of the Italian Alps dampen our spirits. I'm in Italy visiting the CAMP headquarters and working on a new ultra-light women's harness with the design team. My climbing objective for the month is up in the air because of the weather, until I stumble across Art Attack (5.14b), and the blank-looking slab sucks me in. We see it from the car as we drive on the country road to Val di Mello, a green and granite valley with big walls and boulders alike. Since Simone Pedeferri opened the 5.14b line in 2004, it hasn't seen a repeat. We begin scraping lichen off the forgotten face.
Climbing wet granite isn't friendly on the skin or confidence. Projecting a 5.14b slab in the mist is even worse. The already-non-existent feet feel like slick clay, and my moist skin won't stick to the rock. I don't believe in myself or a change in the weather. But I keep trying, because at the end of the month I don't want to have any excuses.
I tie in and make my way up the slab. Through the 5.12d section, into the smears, moving toward the crux. After about 40 attempts, I still haven't climbed into the crux, but suddenly I'm sticking the iron-cross move, the down-campus, and the thumbdercling exit moves. I top out the slab, which ascends what is supposedly "Europe's Largest Boulder" (it's a huge freestanding stone, not part of a bigger cliff), and the second ascent of Art Attack is done.
Watch Lead Now Tour: Paige Claassen in India
Tip Sheet
Pack for all styles of climbing, as Val di Mello hosts many great options for bouldering, sport, and multi-pitch climbing. If you're up for a side trip, change of scenery, or you're getting weathered out, it's also a convenient central location for other crags in the region. The Lecco Valley is one hour south and boasts endless sport and multi-pitch options in a warmer setting. Consider crossing the Swiss border an hour north, or drive a few hours east to the Dolomites.
Beware of pizzocari, buckwheat pasta smothered in cheese and then more cheese. Best after a serious day in the mountains, not just a meager day of sport climbing.
Milan is no different from other busy cities. Plan your drive to and from the airport at low-traffic hours, or prepare to be stuck in your car when you could be drinking affogatos (vanilla gelato topped with a shot of hot espresso) instead.
Beta
Get there: Fly into Milan and drive north on highway SS36 then east on SS38, until Via del Molini takes you north to Val di Mello.
Stay: Plan to camp at Sasso Remenno or Campeggio Ground Jack, or rent a room in town, which is walking distance from the climbing.
Season: September and October are typically dependable months, although we hit unusually rainy conditions during the September of our visit.
Japan
"Arigatou gozaimasu!"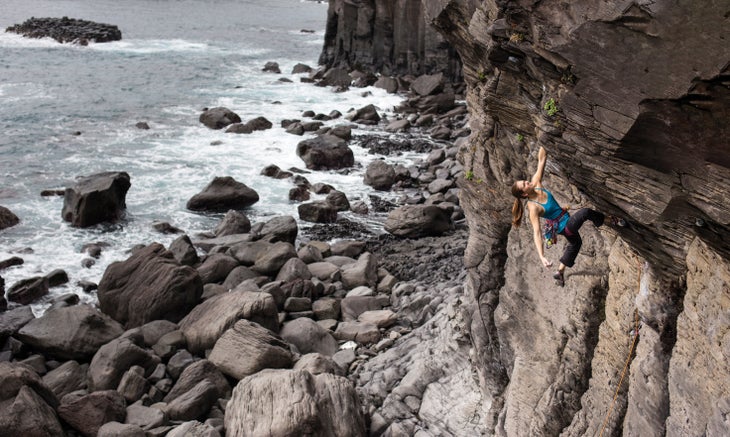 The voice blares over the loudspeaker for the thousandth time. We sit at the neighborhood conveyor-belt sushi restaurant, the one with the animated eggplant logo. Fresh sushi is the most economical thing we can eat here, at $10 for two people. Alternatively, we could pay $5 for one apple at the market or $20 for a small bag of rice. We spend hours mulling over the oddities in the grocery store. Brightly colored packages with giggling cartoon logos hide the contents inside. The crag snacks are grim. Tiny dried fish. Processed crab products disguised as pastries. Fermented soy beans. In the cookie and candy aisle, everything is green tea flavored—that I can live with.
Navigating the culinary curiosities is one thing, but finding dry rock to climb is an entirely different obstacle. Typhoon after typhoon sweeps away our dreams of projects. A glorious bed of river-smoothed boulders in the peaceful Shosenkyo Gorge, two hours due west of Tokyo, taunts us. The swelling river swallowed my short-lived bouldering project, so we set to work salvaging Jon's. A partially drowned landing and ominous rapid underneath the topout make for an exciting adventure once we finally reach the boulders. In the end, Jon comes away with the first ascent of Candy Crush, a remarkable V13 compression problem amidst the fiery autumn leaves.
Japan's climbers are strong and focused. In climbing, as in other walks of life, their approach is simple: Through self-discipline, strive for mastery. The results are obvious, as even beginner climbers seem to climb around the V8 level, quickly advancing to harder grades. Off the rock, we notice a similar ideal of perfection: spotless handrails on a busy staircase in Tokyo, beautifully manicured medians on the highway, pastries that shame even French croissants. When the Japanese choose to do something, they do it well—really well. Unfortunately, my month in Japan saw very little climbing, as typhoons drenched nearly all the country's rock. I succumbed to projecting pushups and squeezing in a few training sessions in the Kofu City climbing gym.
Watch Lead Now Tour: Paige Claassen in Japan
Tip Sheet
Fresh fruits and vegetables are practically unaffordable—we saw cantaloupe for $40! But fresh sashimi is basically a budget meal.
Respect is important in the Japanese culture. Easily express gratitude in any scenario—from the toll gates to grocery store checkout—with a slight bow and a smile. Arigatou!
Fall is typically ideal for climbing, but plan for rain. On bad weather days, visit local shrines, temples, cemeteries, restaurants—even the barber. They're all important pieces of Japanese culture. My favorites included small udon soup houses (I learned slurping is the appropriate way to cool down your noodles) and the Zenkoji temple in Kofu City.
Beta
Get there: Fly into Tokyo and drive 1.5 hours west to Kofu City, the nearest town to Shosenkyo Gorge, Ogawayama, and Mizugaki.
Stay: Japan is no cheap endeavor, but a monthly apartment rental in Kofu City, 30 minutes from Shosenkyo, brought our cost down significantly. Try contacting one of Tokyo's climbing gyms, like Caramba , as a starting point. Onsen, a Japanese spa, also offers beds for rent in private rooms.
Eat: You could spend a fortune on fresh fruits and vegetables, but sushi on a budget is no problem (think: $10 total for two people).
China
"We don't go to that sea cliff. You must drive two hours through expensive tolls and hike two hours through a military camp. It's not good for foreigners. They have dogs."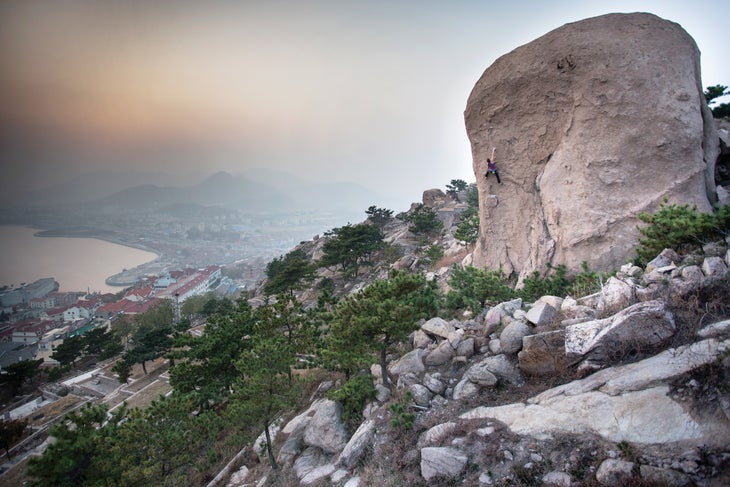 The sea cliff was the whole inspiration for our trip to eastern China—horizontal shelves of sandstone with waves crashing into the base below. But we can't get there. After three consecutive months of rain in Russia, Italy, and Japan, we need to climb. My fingers feel weak, and I've lost my snap. I dream of hard routes, long lines, powerful moves, and endurance testpieces. But we need dry, accessible rock to climb. With friends Ben Spannuth, Rich Crowder, and my brother, Sam, visiting from home, we make the executive decision to pull the plug on climbing in Qingdao after a week of driving and hiking around without finding any special objective. We book tickets to Yangshuo, the mecca of limestone stalactites in southeast China's Guangxi province, which has grown significantly in climbing popularity over the past 10 years.
Yangshuo's trendiness didn't match up with the "off the beaten path" theme of our trip, but if I couldn't rebuild fitness, I couldn't climb well, and this entire round-the-world trip relied on me climbing my very best. Our first week in Yangshuo, I took myself out of project mode and into training mode. I tried to climb everything in sight, regardless of grade. I flailed my way up routes I would have considered warm-ups in the past. I wasn't picky about conditions, reminding myself that just one more lap would pay off next week after my skin recovered. I destroyed myself, but it was some of the most fun climbing I've ever done.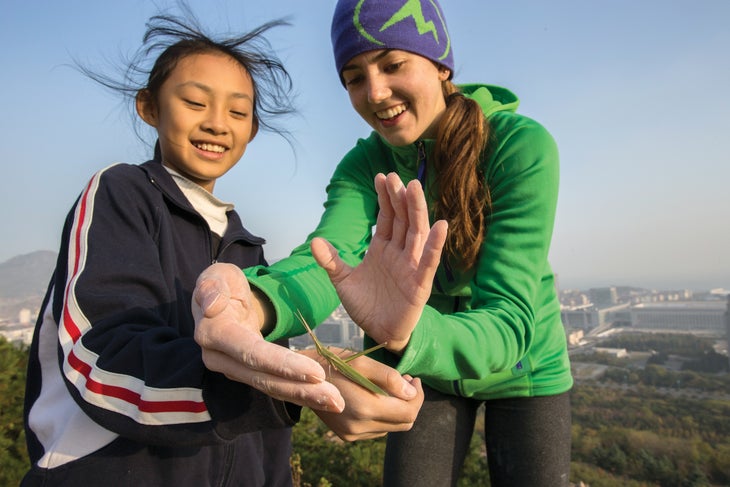 My fitness returned quickly, so I added projects back into my routine. After finishing China Climb (5.14b), I decided to aim for a style opposite to the slab project in Italy, and the Moon Hill arch presented the steepest, most physical challenge I could imagine. After hanging the draws on Sea of Tranquility (5.14a), which climbs the steepest part of the arch, I swore never to get back on the painful, dead-horizontal roof. But alas, the discomfort quickly slipped my mind, and I was back to suss beta within the hour. On a miracle burn the next day, I wrestled pythons—ahem, I mean tufas and stalactites—all the way to the chains, receiving beta from Ben on the exit moves that had resisted my efforts the day before. I was back!
Watch Lead Now Tour: Paige Claassen in China
Tip Sheet
Don't worry about "accidentally" eating dog in China, as dog is a specialty meat served at a higher price than other offerings. Beef is a more common and inexpensive offering.
Eggplant dishes are divine, and sour fishhead soup is well, interesting. Use caution at the $1.20 stir-fry stands, which are rumored to reuse the oil disposed from other restaurants.
"Fishing pills," or charcoal, can help ease diarrhea in a pinch and are available at local pharmacies; just clutch at your stomach and this will be the first thing you'll be handed.
Taxis and rickshaws are the most convenient and relatively cheap ways to get around; forget about driving a car in the insanely busy streets.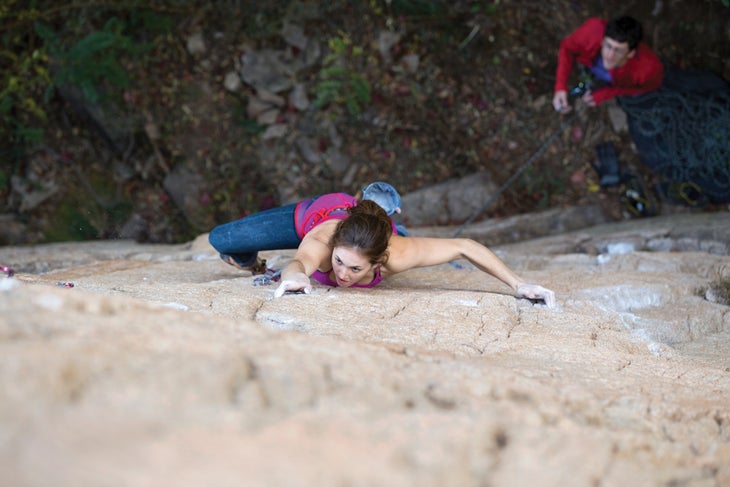 Beta
Get there: Fly to Hong Kong, then take a cab to the town of Yangshuo.
Stay: The Rockabond Inn (no website but check tripadvisor.com for info and reviews), owned by local powerhouse climber Abond, is the place to stay for visiting climbers—impeccably clean and conveniently located downtown but off the noisy main road. Abond and his partner Ting help climbers organize everything from taxis to the cliff to new routes to explore and dining options after climbing.
Eat: Yangshuo is as westernized as China gets. Expect eggs, toast, orange juice, and banana bread for breakfast, or keep it traditional with steamed buns and greens. Either way, you won't be roughing it.
India
"It doesn't matter if you do something big or small, but you have to do it as if it matters."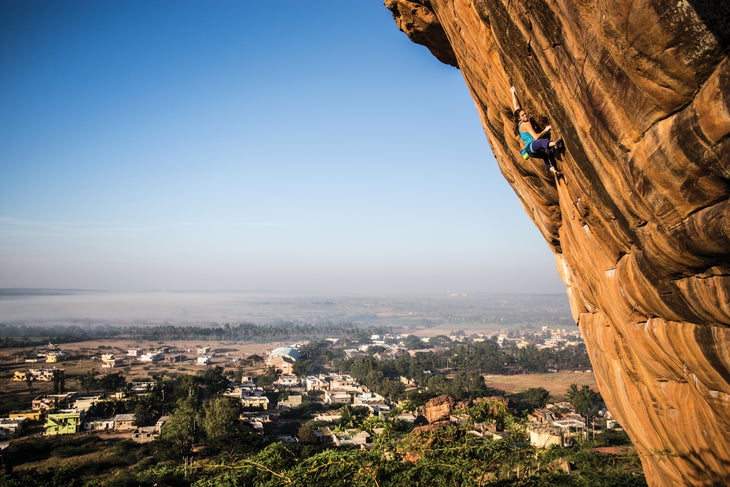 Ruchira Gupta, Emmy Award winner and founder of Apne Aap Women's Worldwide, explains the approach her Indian NGO takes to pull girls out of the sex-trade industry. Gupta is a symbol of tenacity in a world where hope and a future are treasured gifts. I'm speaking with Gupta in her backyard in Delhi, moments before she hops on a flight to attend a conference in Nepal. She explains how the women she helps give her strength each day—strength to fight for the rights of women in India, to live courageously, even to battle breast cancer. Speaking with Gupta was perhaps the most powerful experience of our whole trip. Her message is simple. Find a way to brighten the lives of those around you, and pursue it with all your heart.
As we wander through the streets of Badami, the small village where we're climbing, I feel eyes from every direction. Curious eyes, wondering why a girl wearing pants but not wrist bangles is walking down the main dirt road. Tourists arrive on buses, snap photos within the gated temple, and leave. Jon and I walk through the village at 4 a.m. each morning to climb for an hour before the sun comes up. Locals Tuhin Satarkar, 18, and Sandeep Maity, 20, have fingers of steel and the psych of a thousand Indian monkeys. They act as our guides, spouting proverbs of wisdom: Find drinking water here. Buy a scarf to cover up your shoulders; you can't walk through town in your climbing clothes. You won't get sick from the lassis (spiced yogurt drinks) here, but over there is bad. The monkeys will steal all your food and gear.
I ignore one crucial piece of advice. During an evening walk to the temple, I just have to get a photo of the monkey with an oozing shoulder wound, the one you really wouldn't want to touch you. I snap my photo, turn my back, and fall onto the brick floor, dropping my camera with a shriek. Before I can think, the monkey has leapt onto my back, grabbed trash out of my pack, and scampered away. Tuhin and Sandeep laugh, "Not so cute anymore, are they?" These cunning critters can also run thousands of laps on your project.
Ganesh (5.14a) was the original inspiration for our trip because I had seen a video of Gerome Pouvreau climbing the immaculate sandstone bulges of India's hardest sport climb while trip planning. I knew I had to do this route. Yet sitting on the plane between China and India, I began to question my objective. What was I thinking, comparing myself to Gerome, one of the most accomplished sport climbers in the world? We'd compared wingspans in a Facebook thread, and he told me my +5 ape index would technically be long enough for the opening span of Ganesh. But was I strong enough to generate momentum with my foot matched next to my hands?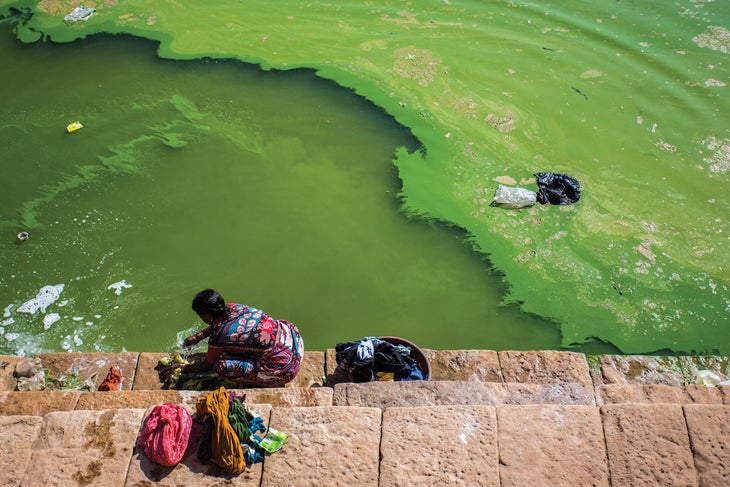 For six days, I rehearse the first move, over and over and over. I can't latch the half-pad edge that rests 5' 10" above my last hold. I tell myself it's possible—I have one inch to spare, for goodness' sake! We traveled to India for this one route, and I can't even do the first move. Finally, my fingers stick. It is possible. After 50+ attempts, creeping closer and closer each time, my body has finally committed the move to muscle memory. The next day, I latch the first move and don't let go until I sit on a ledge full of monkeys at the top. A few days later, Tuhin follows suit, becoming the first Indian to climb Ganesh. Witnessing this impressive mark in Indian sport climbing history from the little ledge below, looking out over the horizon that was about to welcome the sun, I know that we took on the challenge as if it mattered, just as Gupta instructed.
Watch Lead Now Tour: Paige Claassen in India
Tip Sheet
Food poisoning in India is tough to avoid. Take plenty of antibiotics with you, but as a climber, be careful which you choose. Commonly used Cipro can weaken tendons. Azithromycin is a good alternative, or simply charcoal pills (just don't be alarmed when you poop black).
Be respectful of the local culture by sticking to conservative attire—women should avoid shorts and cover up shoulders with a jacket or scarf after a day of climbing, even if the heat is sweltering.
The village of Badami in southern India offers a lifetime of rock. If you can stand the heat (it's always hot), it's worth the trip to sport climb, boulder, and place gear. The Heritage Resort is a comfortable accommodation option, with one of the few clean restaurants in town (though we still got sick).
Beta
Get there/Stay: Book a resort or hotel in Badami, and then fly into the regional airport in Hubli, where your Badami accommodation will come pick you up. Badami is about 1.5 hours from Hubli, and it's a small village with very few options for travelers. The Heritage Resort is a bit pricey, but by far the cleanest choice, with private huts and a spotless restaurant. No need to rent a car, as the climbing is all within walking distance, or pay $1 for a rickshaw ride.
Turkey
"What are we supposed to do, lie here naked?"
I'm slowly learning to expect strange bathing experiences in different countries, but this one tops the charts. Heather and Chris Weidner, our friends and fellow climbers from back home in Boulder, Colorado, have joined us for a month of climbing in Turkey. Heather has taken quickly to the steep limestone climbing, but her opinion of the Turkish bathhouse is yet to be determined. The Turkish bath, similar to ancient Greek and Roman bathing practices, became popular during the Victorian era, with a focus on relaxation and cleansing. I'm here for the historical experience in the 21st century, but I don't dare inhale, for I will certainly suffocate from soap suds. I struggle to relax, but I've never had a giant woman in a black two-piece scrub me down—and so vigorously! I'm trying not to laugh, but 50+ naked women freely waddle around the ceramic dome room. This is normal, this is how people bathe here, I'm learning to adapt to different cultures, yet I'm trapped with a middle schooler's mind: This scenario is comically absurd. These are the same women who wear headscarves and giant floral pants out on the street. In fact, Heather and I purchase a pair of our own flower pants, available in one size fits all, which are sure to garner snickers from the elderly women selling oranges in the market. I feel as though I've fallen back in time here, to a place where the simple things in life deserve more time and attention to detail than the hustle and bustle of the modern world.
We step out of the bathhouse and onto the busy streets of Antalya before driving out to the countryside, where we are once again pulled back in time. Ancient ruins surround us, and it looks like we're in a time machine that can't make up its mind on the decade. My mind drifts to what I might have been doing 3,000 years ago had I lived in the grand city of Aspendos. I imagine peering down on a theater performance from the hill above, or selling oil and salt in the market as many modern residents still do today, but certainly not climbing on seaside cliffs.
It's Christmas Day and normally I would be with my family, playing in the snow outside. Instead, Jon and I head to our projects at Olympos, one of the world's most picturesque yet vacant crags. I can't believe no one else is here to take in the delicate, albeit razor-sharp crimps of this stunning sea crag in perfectly pleasant conditions. Only the crash of waves interrupts the still air as I top out Gangster (5.14a) in the Cennet sector. With bloodied tips, we trek back to an evening of cabbage salad and bitter Turkish tea. I also managed an ascent of Sarpedon (5.14a) in Geyikbayiri, but I miss my mom's Christmas cinnamon rolls.
Tip Sheet
Stock up on tasty and inexpensive oranges, pomegranate juice, and dried herbs at the weekend markets on the road between Antalya and Geyikbayiri.
Rent a car and an apartment in Antalya if you want to have tons of climbing options and save a bit of money (but do a good bit of driving), or go for the more expensive climbers' cottages in Geyikbayiri if you'll be sticking around that area.
Beta
Get there: Fly into Antalya, where you can rent a car or request a shuttle from your accommodation.
Stay: Kadir's Tree Houses offer a unique experience at Olympos, with actual tree house bungalows for rent with breakfast, dinner, and Turkish tea provided each day. No car is necessary, just walk 10 minutes to any crag or the beach. After a relaxing stay at Olympos, venture one hour north to Geyikbayiri, where you'll find the main climbing scene with nearly 1,000 sport routes of every grade.
Ecuador
"Oh no, we never climb at Acantilado; it's much too cold."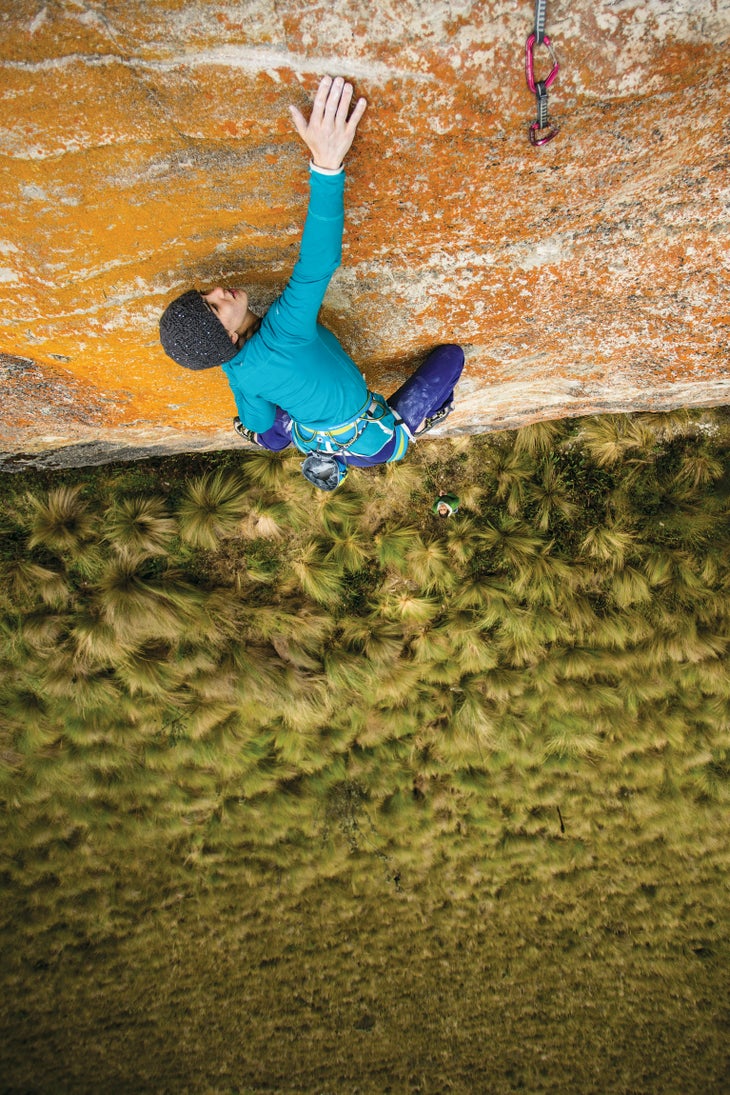 The locals warn us against the frigid conditions at 13,000 feet. I pessimistically expected tropical climbing and short volcanic rock in the equatorial jungle, but the Ecuadorian climbers I messaged with online were so enthusiastic about the higher crags that I couldn't contain my curiosity. When local climber Christian Medina offers to take us to sport climbs in the cold alpine valleys at well over two miles above sea level, I don't care what anyone says. I'm going.
El Acantilado is a valley of vibrant green pastures. Llamas and alpacas graze on the steeply farmed hillsides, and Ecuador's highest mountain, the inactive Chimborazo volcano, sits as the valley mantelpiece. Yet despite the fairy tale setting, our group of three enjoys the lengthy volcanic walls all to ourselves. I log Cinco Ocho as the best 5.13b I've ever climbed, but lockoffs on perfectly carved edges for 30 meters at 13,000 feet don't come without a struggle. It's hard just to breathe.
We venture south toward the city of Cuenca, with Christian as our road trip guide. He explains the diversity of his small country, which is roughly the size of Colorado. Different accents mark each region, tiny lambs, or ovejitas, skip across the dirt roads, and gas station snacks trump the buffet at your local Whole Foods. From the sapphire-blue coastlines and craggy lagoons to the snow-dusted peaks of the highlands and family-run farms scattered in between, I'm falling in love with a country I knew nothing about just a few days prior. And the best is yet to come.
Daniel Duran, who owns the local C Tres climbing gym in Cuenca, tells us of an open project bolted by local developer Mickey Verduga in the alpine tundra of Cajas National Park, where condors and giant hummingbirds (the world's largest, in fact) make their homes among jagged cliffs, glacier-fed waterfalls, and plentiful straw grass at 13,000 feet. As we drive farther into the mountains, the clouds sink lower and lower, weaving between the hills and towering rock formations. The air grows colder with each turn. We park and walk up a short hill, and I look back frequently, expecting either the Lorax or Gandalf to pop out from around a shrub. Giant plumes of grass cover the floor beneath a white wall littered with orange lichen. I immediately rope up and start cleaning. Underneath the lichen and layers of volcanic dust are holds of every shape and size—a climber's absolute dream.
Over the following week, this mystical alpine tundra becomes our playground. We clean, climb, and try to bring our heart rates down to a manageable level. Before our time in Ecuador ends, we are able to add Middle Earth (5.13+) to the Cajas climbing scene.
Tip Sheet
A road trip through Ecuador is a simple way to explore the diverse landscape. Tick the beach, jungle, alpine tundra, volcanoes, plains, and plenty of rock off your checklist in a single day by renting a car and tackling the narrow but easily navigable roads. Just beware that local drivers have no fear and no rules when passing, especially on windy mountain roads!
Choose Ecuador if you're looking for a country to practice Spanish. Most Ecuadorians speak very clear Spanish and are patient with learners.
Ecuador is a prime February destination, a rarity for good sport climbing conditions.
Don't stress about converting your cash: Ecuador uses the U.S. dollar, and prices are significantly cheaper.
Beta
Get there: Fly into Quito for the cheapest tickets, Cuenca to be closer to the climbing. Road-tripping is a great way to see the small country of Ecuador, from the coast to the big mountains, rainforest, cities, and countryside. Car rentals are relatively expensive ($50/day and up), but gas is cheap, as is the local cuisine—ceviche, tropical fruits, and empanadas are delicious and everywhere.
Stay: Use Airbnb to find an apartment rental in Cuenca.
More: Don't miss climbing at El Acantilado, one of the most scenic and serene areas I've visited, with marvelous volcanic sport lines. Learn more and reach out to locals for specific advice on the "Climbers of Ecuador" Facebook page.
Chile
"Did you feel the tremors last night?"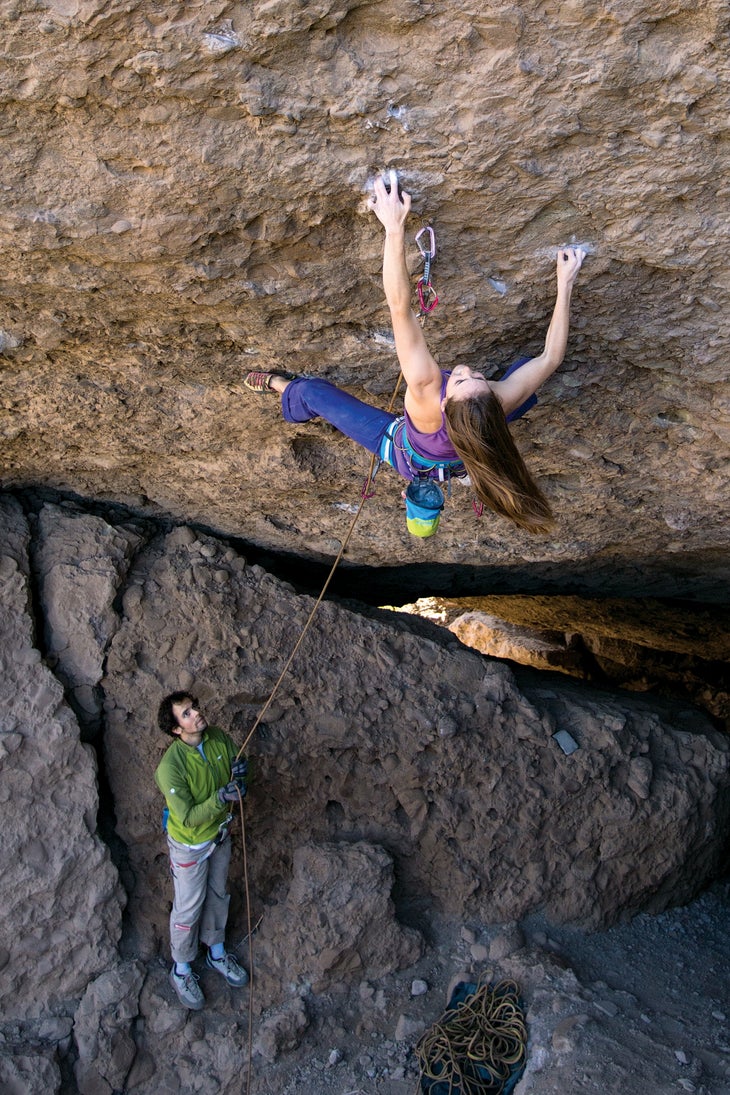 Each morning begins by assessing the previous night's earthquake. At first I thought we would be swallowed into giant openings that appeared in the city, but I quickly realize that part of a good night's sleep in Santiago involves a swaying building. Even though it's a bustling metropolis of 6 million people, it's not hard to get out, and fellow pro climber Matias Meyerholz carts us around to his favorite climbing spots. From conglomerate sport climbing at Las Chilcas to thought-provoking slab wrestling at El Arrayán, small pockets of climbing envelop the city. But Cajon del Maipo trumps them all, a narrow canyon filled with mountain streams, huasos (Chilean horseman), and cotton candy sunsets. Although we don't have much time to spend in Cajon del Maipo, I immediately notice the diversity of climbing this valley has to offer. Technical, smeary sport climbs, multi-pitch gear routes ascending orange and turquoise volcanic rock, and an enormous field of boulders just below El Volcán. The valley is truly a playground for rock climbers, and gale-force winds whipping through branching corridors provide essential friction. We learn quickly to bring a warm jacket despite the balmy conditions in Santiago.
But my favorite climbing experience in Chile actually occurs in the gym. Nonprofit VE Global supports children at social risk in Santiago by planting volunteers who serve as mentors, educators, and advocates of social justice. The children in VE-supported (Voluntarios de la Esperanza, or Volunteers of Hope) residential homes have suffered abuse, neglect, and abandonment, but VE provides alternate activities and role models for a more positive future. Climbing played a huge role in my life as a kid, building self esteem and a strong work ethic, so I was excited to take a few of VE's girls to the climbing gym in Santiago—and even more excited when I watched them smile and laugh as they crushed.
Chile was best experienced by scoping out as many crags as possible, rather than projecting at just one. We climbed a ton, but the first female ascents of Geko (5.13c/d) and Por Belenos (5.13c/d), both at El Arrayán, were two of my favorite ascents.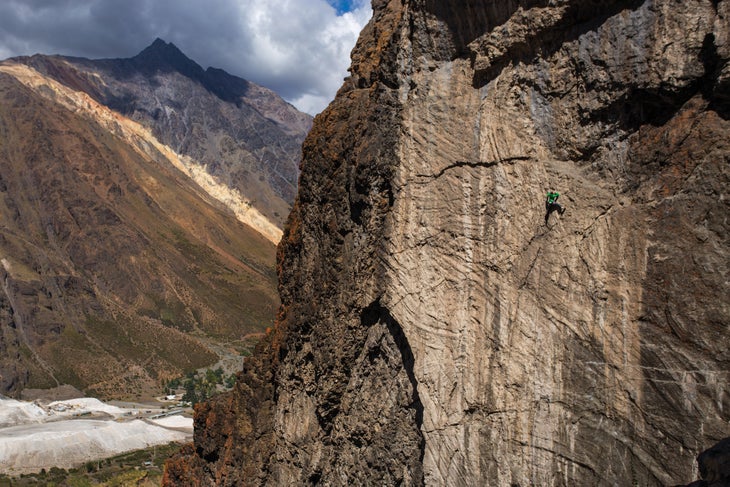 Tip Sheet
The Chilean dialect is very different, so try to learn the differences before visiting. Beer is chela not cerveza, and don't mention taco when you're hungry—you'll get a traffic jam.
Local restaurants offer onces, or afternoon tea, between 5 and 8 p.m., with tea, coffee, pastries, and sandwiches. Only 30 percent of Chileans do dinner, but restaurants offer it from 8 to 12 at night.
Beta
Get there/Stay: Fly into Santiago and use Airbnb to find an affordable apartment rental. Camping in Cajon del Maipo is permitted, or stay in a refugio like Lo Valdes for convenient access to climbing. A car is essential, but we found navigation particularly difficult in Santiago compared to other cities. Bring a GPS.
Back Home
That day in the Chilean gym brought back memories of my first time climbing, and how I've felt every day since. We get to the top of the wall and feel relief, accomplishment, and pride. Whether we have climbing walls, soccer balls, or a library full of books, each of us has that inner child who longs to live out his or her dream. By sharing motivation and encouragement, we can support one another in our ambitions at home, on the road, in the climbing gym, or at school or work. This is what climbing teaches me, what my trip affirmed, and what I'm grateful for every day.
Friends from home warned that after so much travel, I would find it difficult to feel content at home. In reality, exposure to so many incredible sites around the world—from climbing to exotic animals to strange customs to new friends—forced me to soak in all the details. I'm now much more observant and appreciative of the subtleties that make my Colorado home just another world-class destination.
Watch Marmot's Lead Now Tour, the full series
Nonprofits
South Africa
Room to Read increases students' access to reading material in their native language—a crucial goal in a country where 80 percent of students don't have a library nearby. Rural schools suffer from overcrowding and poor infrastructure.
Russia
Women's World Banking assists low-income women in getting access to microloans that allow them to create sustainable businesses. Customers use loans differently, but all have the goal of making a decent living and supporting their families.
Italy
Save the Children works to end malnutrition by providing home, school, and community programs that change eating practices, provide nutrient-rich food, and promote healthier choices by influencing policy change.
Japan
When flash floods devastated Colorado's Front Range, where many of our friends, family, and favorite crags are, we switched things up and devoted October and November to flood relief. The American Red Cross supports immediate rescue operations by providing food, shelter, rescue supplies, care, and comfort to stranded flood victims.
China
Foothills United Way is committed to longterm flood-relief efforts as a result of the September 2013 floods in Colorado's Front Range. Funds raised go to support health and human services in Boulder and Broomfield counties in the years of flood recovery ahead.
India
Apne Aap is a grassroots organization based in India that helps women and girls get out of the sex-trafficking industry. Founded by 22 women in prostitution, this group helps females work together to know what their rights are and how to fight for them.
Turkey
CARE (Cooperative for Assistance and Relief Everywhere) is an international humanitarian agency that focuses on getting women and children out of poverty by tackling the underlying causes through community-based efforts. These efforts include improving basic education, finding quality healthcare, and increasing economic opportunity so people can become self-sufficient.
Ecuador
Heifer International works with communities, rural organizations, and small farmers to end hunger and poverty and take care of the planet. Through Heifer's "passing on the gift" mantra, families who receive livestock, seeds, or training can pass it on to other families in need.
Chile
VE Global recruits, trains, and organizes international volunteers to work with Chilean at-risk youth.