Out on a Ledge: Way of Life
As climbing's popularity rises, so does the environmental impact.
Heading out the door? Read this article on the new Outside+ app available now on iOS devices for members! Download the app.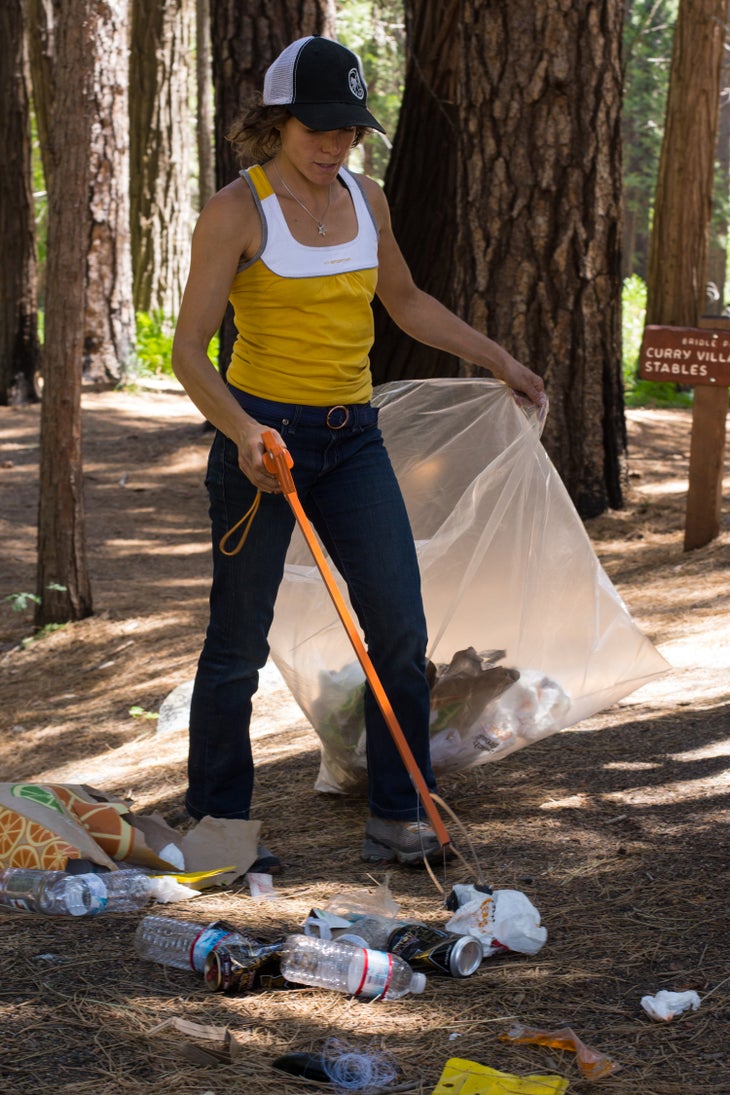 "One hundred twelve!" a voice shouted from the backseat. The line of cars, trucks, and vans winding up Buttermilk Road to the world-famous boulders was impressive. As the driver navigated our vehicle into a tight parking spot between two dusty cars, I thought about how, historically, midweek winter mornings in Bishop were mellow. But in the last 10 years, the rise of indoor and outdoor climbers has brought an increase in trampled vegetation, overcrowding, excess human and pet waste, litter, and overrun boulders. Our car finally came to a stop. "That's got to be some kind of record," my friend Patrick, a Bishop local, said.
Before the mid-2000s, climbing gyms in the U.S. consisted of plywood walls with all the same polished holds. These woodies provided places to climb during bad weather or for specific training, and climbers who began before the gym boom spent the majority of their time climbing outside. From this, they developed strong connections to the places where they recreated. For some climbers, they discovered climbing after time spent outdoors doing other activities, like hiking, skiing, and backpacking. Both paths provided a relationship with nature as well as a relationship with climbing.
That all changed with the advent of climbing gyms. For many who have gotten their climbing start in one of the 600 U.S. gyms in the last few years, particularly in urban centers, the outdoor environment can play little to no part in their connection to climbing. Each indoor community provides a place where people can come together, train, forge friendships, and make climbing plans, just like the outdoor crags and meccas did in the past, but these plastic paradises do little to foster a respect for the natural world. Gyms can also inadvertently ingrain a "smash and grab" mindset, where you get in, train your ass off, and get out, without considering the environment.
As climbing's popularity rises, so do the environmental impacts. In Tuolumne Meadows, Yosemite's premier summer destination, climbing areas once accessed via small, unnoticeable climber trails are trampled and eroded as the masses flock to the beautiful and delicate High Sierra. Numerous approach trails to popular areas like Puppy Dome, Medlicott Dome, and Daff Dome have all undergone massive volunteer-run facelifts since 2014 to help deal with the disintegrating trails. Rather than a maze of zigzagging social trails, volunteers attempt to define a common path to the base of these popular walls, and it's on these trails where the worst, most consistent damage to soil and vegetation occurs. When you're eager to get there, or tired and heading home, it's easy to be sloppy and take shortcuts through loose soil and sensitive meadows.
While route developers, land managers, and organizations like the Access Fund help mitigate the problems with increased visitor use, our climbing areas need more foresight and planning to prevent these problems from worsening. Beyond trail erosion, the climbing community is experiencing litter, overcrowding, and a rise in injuries. According to a study published by the Center for Injury Research and Policy conducted over the last decade, more than 40,000 people sought treatment in U.S. emergency rooms for fractures, sprains, and other ailments related to rock climbing. That's a 63 percent increase from previous years. In the last two years in Bishop alone, serious injuries like compound fractures and broken backs from falling off boulder problems saw a sharp increase. Yosemite saw a rise in preventable injuries from misuse of gear, such as dropped haulbags and letting go of the brake hand while rappelling. Climbing has serious repercussions if it's not approached with respect for and understanding of the elements we interact with.
There is room to grow in this capacity, however, from gym-sponsored classes that teach proper spotting, route finding, self-rescue techniques, cleaning anchors/routes, and outdoor ethics like Leave No Trace. There also exists an opportunity to educate climbers about treating the outdoor areas we climb in as sacred spaces, to appreciate climbing as more of a practice and way of life.
With your car packed and only the 5 o'clock traffic separating you from the mountains, it's understandable that anxiety sets in as you consider the long journey. The weeknights spent in the gym have you psyched for hitting the rocks Saturday morning, and with a mere 24 hours to climb your heart out before you return home, the hustle continues. Instead of leaving the rush of everyday life behind, you've packed it with you. Breaking from this mindset becomes difficult when one is faced with it daily; relaxing into the outdoors and understanding how to act in nature takes time, often more time than we have for a weekend climbing trip.
With climbing as a way to train yourself physically and mentally, there is an opportunity to reconnect, an opportunity that has been lost in all the hustle. Climbing, like martial arts, is an expansive power, where the whole body moves in a coordinated manner with relaxation.
"Mind and body were originally one. The condition of one will affect the other," spoke Koichi Tohei, one of Japan's most prominent Aikido teachers. Not only is a tuned body beneficial for climbing, but the development of the mind is crucial; it is in the mind that we believe. One has to believe that they can make a dyno, believe they can stand on a smear, or believe they can free climb El Cap. The mind spurs the action and leads the body. Through practice and refinement of our skill, we become more fluid and the body starts to lead the mind. As climbers, we strive for this joining of mind and body.
In Japanese, dojo means "place of the way," and refers to a training center; practitioners of martial arts treat the dojo as a sacred space. To find wisdom and energy in the dojo, it must be respected and cared for. For climbers, our dojos are the rocks and the gyms. In Aikido the mind and body are unified so that one can do her best in all situations. Climbing also offers this experience. The problems occur when we neglect ourselves and our dojo.
If we are stressed, anxious, and distracted, this will play out in our climbing, in our experiences, and wreck the environment. These symptoms create a disconnect. We lose touch with where we are and what we are doing. Haulbags get dropped, trash gets left behind, and the impact increases. Once we have lost touch, it becomes easy to be blasé or unconcerned with our effect on people and places. In order to develop awareness, inner power, and compassion, we must experience hardship and work. Climbing can be used to forge ourselves, and like Aikido, our true dojo becomes life itself. From each situation we can further ourselves. With our minds expanded, we become stronger.
Regardless how one has found climbing, it has the potential to drive and unite. With climbing spread across the world, there seems to be an endless supply of rock, but our main resource is actually finite. As climbing continues to grow, so does our responsibility to each other to be stewards of the land and to look after the places we use. Each one of us has to take part in ensuring that our physical and mental landscapes are protected by picking up trash, staying on trails, taking out human waste as well as pet waste, attending crag clean-ups, mentoring other climbers in proper behavior and skill, and having awareness of environmental and social interactions. Rock climbing is about more than entertainment, being strong, and specialization; it is a practice and a way of life and should be handled with care. Being calm and respectful of climbing areas and each other is paramount to climbing's future. The stresses of life can overwhelm, but if we center ourselves through climbing, a connection to purpose can be attained and environmental awareness and appreciation will follow.
Katie Lambert is a professional climber based out of a van in California's Sierra Nevada with her husband and photographer, Ben Ditto. Lambert has climbed for more than 20 years on everything from boulders to big walls.