"If You Can Lead at Devil's Lake You Can Lead Anywhere": The Heady Climbs of the Midwest
On the sharp end and otherwise at the Midwest's most storied climbing area.
---
Join Climbing
Create a personalized feed and bookmark your favorites.
Join Climbing
Create a personalized feed and bookmark your favorites.
Join for free
"If you can lead at Devil's Lake, you can lead anywhere."
I've heard this mantra many times at Devil's Lake, Wisconsin. A frazzled leader repeats it under his breath. Two beginning climbers look up at a 5.10 finger crack, and one says it to the other. When you are on lead at the Lake, the ground never seems that far away. While there are some straight-in cracks, most climbs follow discontinuous seams. Runouts are common, and those cracks you see from the ground often hold nothing more than empty hope. By local consensus, it's a no-bolt area. Toproping is a way of life at the short crags here.
Now, I am halfway up Son of Great Chimney, and these famous words are running through my head. Trying to lead this route onsight seemed like a good idea—before I started.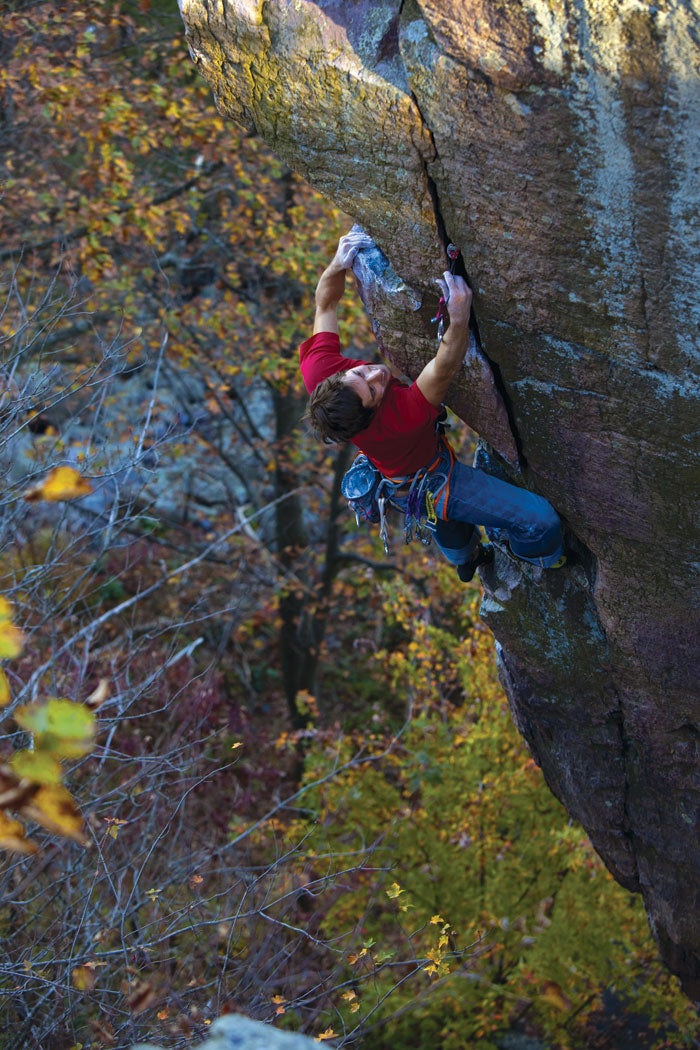 Named for its proximity to a 5.3 access gully, Son of Great Chimney doesn't have a particularly catchy name, but this son has definitely eclipsed his parent. The route is steep by Devil's Lake standards, climbing the gently overhanging face of a buttress that forms a striking promontory on the West Rampart. Pete Cleveland made the first ascent in 1968, and at 5.11c, it was one of the hardest routes in the country at the time. With no prior knowledge of the moves, Cleveland just walked up and sent it, pounding pins as protection—the same pins that I am having a hard time clipping.
While Son of Great Chimney is less than 50 feet tall, about average for Devil's Lake, it sits atop a 400-foot-tall talus field, lending a sense of exposure. I can hear the muffled shouts of swimmers and kayakers on the lake far below. After an unprotected mantel, I arrive at a ledge below the crux. I place a brass offset that's less than perfect and a small TCU with only two lobes engaged. I fiddle in another small nut a bit lower. This nest will have to protect me through the crux and beyond, until I reach a crack 20 feet higher that looks like it will accept good gear.
The quartzite feels even slicker than usual as I paste my left foot on the flat wall. I contort into an insecure stem and reach blindly for a hold. I feel my foot slipping as my hand searches, and I think about my gear, now a body length below. Finally, my fingers find a tiny crimp. I lock it off, stand up on the smear, and yell as I reach a crisp edge. The crux is over, but I still have 10 feet of unprotected climbing until I reach the upper crack. Then, with better gear, I negotiate the upper crux and deposit myself at the top of the cliff. Completely knackered, I sit down and stare out toward the lake.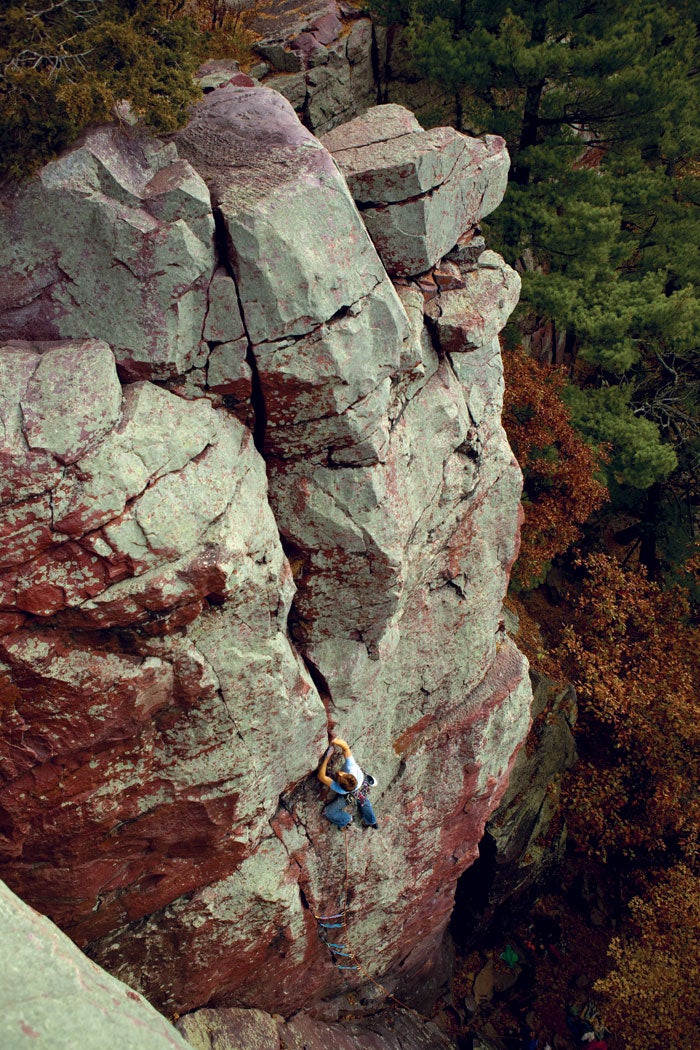 Situated just outside of Baraboo, Wisconsin, Devil's Lake State Park attracts thousands of visitors a year, mostly of the camping, fishing, and hiking variety. South-central Wisconsin is known more for rolling hills and bucolic farms than for climbing, and the cliffs of Devil's Lake seem incongruous. Driving on the quiet country roads in the area, you might get a quick glimpse of the bluffs, rising high above the surrounding landscape, but otherwise, you would never guess that a lifetime's supply of rock exists among the cornfields and picturesque red barns. The rock is a local anomaly, and geologists travel from all over the world to study this quartzite island in a sea of Wisconsin sandstone. The flint-hard rock is remarkable to climbers, too—among its unique features, the most obvious to the first-time visitor is its almost complete lack of friction. Smearing here is usually an exercise in futility. Devil's Lake may be the only climbing area where the lichen holds a higher friction coefficient than the stone.
The niches and slots in the dense, hard quartzite securely hold nuts, including the smallest brassies. Cams, on the other hand, often don't grip well on the glassy surfaces. Legend has it that when a climber decided to aid Sometime Crack, one of the few parallel-sided hand cracks at Devil's Lake, he watched a perfectly placed No. 1 Camalot slide down under his body weight. The technical climbing and tricky pro make Devil's Lake either perfect or perilous for learning to lead, depending on your perspective. Maybe that's why so many people toprope.
A busy weekend here sees the parking lot full of cars from Chicago, Milwaukee, and Madison, along with youth group buses and vans of Boy Scouts. The East Rampart, by far the most popular area, teems with climbers. There's a Scout group with a toprope set up on Boy Scout, a 5.3 slab and chimney. There's a school group with multiple ropes strung across the entire Campus Wall. Three climbers have decided to test their skills by setting up a toprope on Congratulations, a perfect 5.10 finger crack. A few locals have put a rope on Acid Rock, a desperate 5.12 face. Short, generally near vertical or less steep, and with easy access to the top of the cliffs, Devil's Lake might just be the country's most perfect toproping area. Indeed, leading here is a rarity.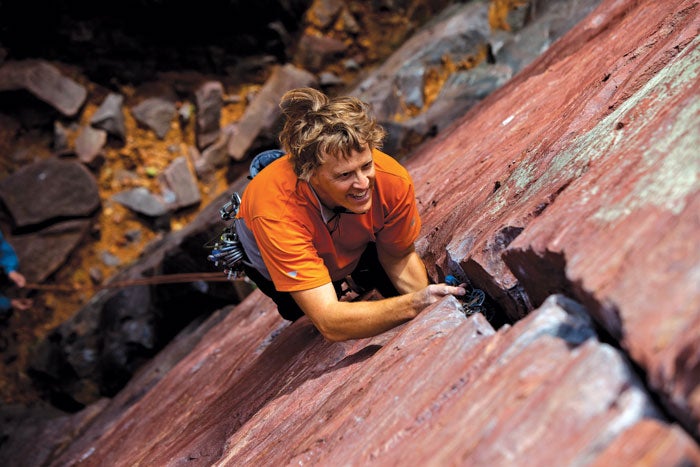 Eric Zschiesche climbed at Devil's Lake on and off from 1985 until 2001 before moving to Ogden, Utah, where he currently resides. He put up many 5.12s and 5.13s on Devil's Lake quartzite, but what he remembers as unique is the sense of camaraderie. "I've been to a lot different areas," he says, "and the Lake has one of the warmest, kindest communities I know of. Everybody's got ropes hanging. Everybody uses everybody's ropes." This is a low-stress way to get in a lot of mileage, and when the belays are shared, so is conversation, in an attitude of common purpose. This might explain the unusual supportiveness of the local scene. As Zschiesche says, "You have to have a certain amount of humility when all you are doing is toproping."
I've learned humility on Devil's Lake leads, as well. After my sketch-fest on Son of Great Chimney, I called Pete Cleveland to talk about his first ascent. I was hoping for a move-by-move account of a harrowing lead. Instead, he said that Son of Great Chimney "just happened to fall into place." Climbing at Devil's Lake is like that. It has to fall into place. When you go for a lead, there can't be any indecision. The slippery rock demands pure focus and deliberate technique. Pete continued, "Most of the climbing at the Lake is slow." Meaning thoughtful, methodical. Compared to the modern paradigm of big, powerful moves, Devil's Lake climbing is like a throwback to a more reserved era. It takes a special kind of ability to high-step above your waist, grab a dime edge, and rock all of your weight onto a foothold. The moves at Devil's Lake almost always rely more on balance than power.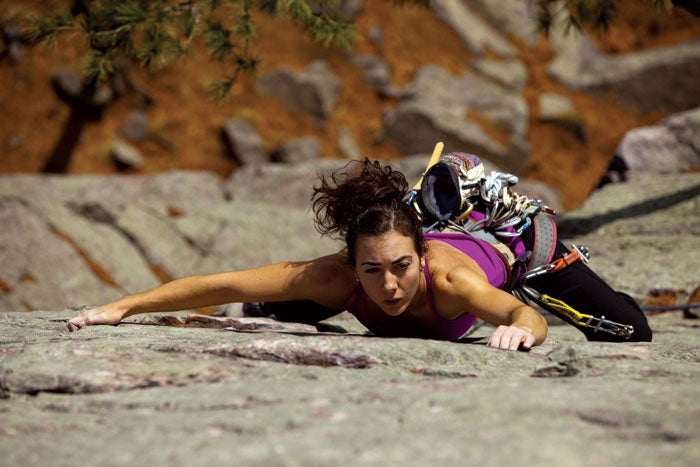 Such coordination and balance is best learned on the moderates, and Devil's Lake is a moderate climber's paradise, with hundreds of routes under 5.9. If any route sums up the Devil's Lake experience, it's Brinton's Crack (5.6). First climbed in 1942, Brinton's follows an elegant line of cracks up a buttress. Fritz Wiessner, having returned from his legendary 1939 expedition to within 700 feet of the summit of K2, attempted the first ascent. He started out strongly, negotiating the initial wide crack, but when the crack petered out halfway up the wall, Wiessner bailed. Bill Brinton took over the rope, devised a sneaky rightward traverse, and forged his way up a second crack system to the top. Today, many leaders contemplate bailing in the same place Fritz did. Those who continue across the traverse trust the ample footholds and lean heavily to the right, across a blank wall of quartzite.
Despite Fritz's bad day on Brinton's, he did leave his mark on the area, with a first ascent of the spectacular Wiessner's Face. Located on the West Bluff, high above the lake, this classic begins with a tricky chimney, traditionally rated 5.4. (Many a modern climber has commented that 5.4 should never feel like that.) The chimney ends on a perfect ledge that breaks the climb naturally into two pitches. Above looms the face proper, set back a few degrees under vertical, and with plentiful horizontal edges and cracks. The face goes at a moderate grade of 5.7, but when smearing sticky rubber on the small footholds and stuffing micro cams into the cracks, the modern climber might remember that Fritz fired this climb in hiking boots, 80 years ago.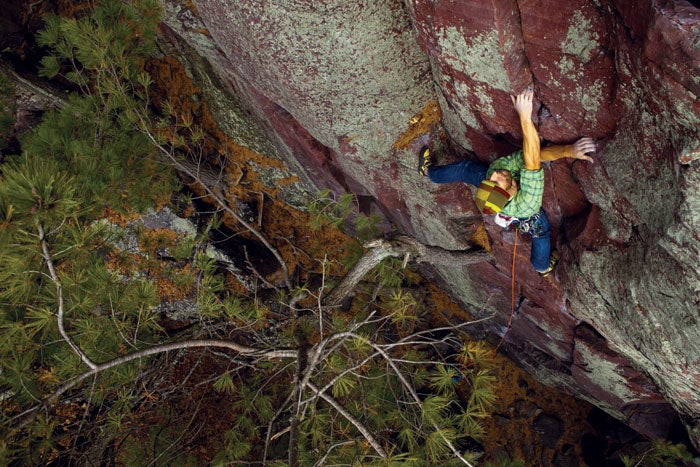 Devil's Lake has a subtle way of reminding the climber of its colorful history. Near Wiessner's, for example, on the West Bluff, lies Cleo's Amphitheater, a semicircle of rock surrounding a free-standing pinnacle, Cleo's Needle. One of the classic summits at Devil's Lake, Cleo's Needle draws the eye of every climber who views her. The most popular route up the spire is a 5.4 jaunt up the lakeside face, leading to a unique summit experience. The single rappel bolt—which sports a four-inch diameter stainless-steel ring—has "Joe 1964" stamped into it. Joe Stettner, a metalworker by trade, made his most famous climb with his brother Paul when they motorcycled out to Colorado from Chicago and did the first ascent of Stettner's Ledges on Longs Peak in 1927. Joe's handiwork on Cleo's Needle has stood the test of time, as climbers continue to rappel off his bolt. But beware: Cleo's entire summit block rocks just enough to terrify an unsuspecting climber.
After putting in an apprenticeship on routes like Cleo's and Brinton's, a Devil's Lake climber may feel the call of the numerous 5.9s and 5.10s here. And in some ways, these are safer leads, as they lack the dangerous ledges found on many of the easier climbs. Even at this grade, the historical tour continues. In the late 1950s, John Gill began climbing at Devil's Lake. Bouldering was his main focus, but he took this mentality to the Lake's short routes and produced many onsight solo first ascents, almost all of them 5.10.
Perhaps Gill's most notable first ascent is Gill's Crack, a thin fissure that splits a sheer face above a steep slab. Legend has it that, on the first ascent, Gill set out solo and was stopped by the crux, about 15 feet above the slab. This section involves a tricky layback and some precise footwork, and is every bit the modern grade of 5.10c. Uncharacteristically, Gill fell at the crux. Orienting himself in mid-air, he landed cat-like on the slab below. He then climbed back up, through the crux, to the top. To this day, locals tell the story to anyone who is interested in repeating the crack.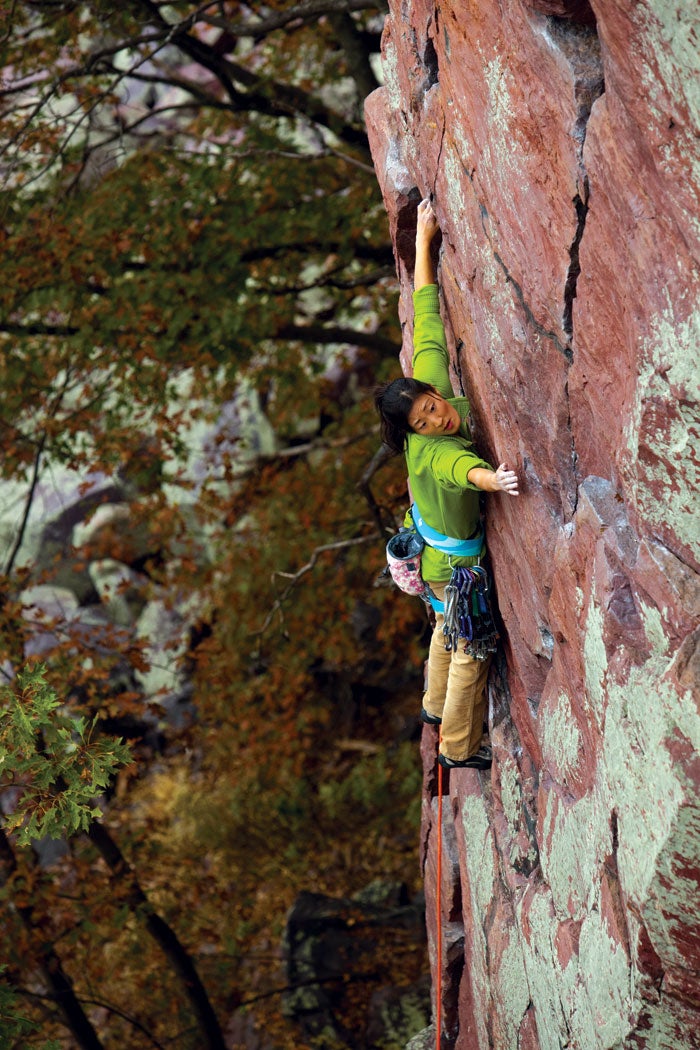 Gill produced nearby routes such as Congratulations and Sometime Crack, both 5.10a and both onsight solos. These are perhaps the best-protected cracks at the Lake, but the crux on Congratulations comes right at the bottom—too high to comfortably boulder but low enough that even a short runout can mean a deck fall. You'll be well aware of this as you grab the shallow, slippery fingerlock for the tenuous crux pull. The ground isn't the problem with Sometime Crack; it's the slippery, parallel-sided cam placement that gave that aid climber a fright. As is often the case at Devil's Lake, each climb is a great lead—except for one thing. On Congrats, it's the ground; on Sometime, it's the slipping cam.
Devil's Lake leaders fall into two categories. There are those who learn to cope with except and get psyched up to lead a few routes—usually routes they have dialed from numerous toprope burns. And then there are those Devil's Lake climbers who relish the except, who seem to search out the uncertainty, who thrive in that moment when the outcome of a climb is unsure. Pete Cleveland was one of those climbers. So was John Gill. Then came a whole group of the climbers who seemed to make the except a way of life: the DLFA.
The DLFA—Devil's Lake Fukness Association—was a self-styled group of burnouts and misfits who became the driving force behind Devil's Lake climbing in the 1980s and 1990s. Often under the influence of mind-altering substances, they focused on leading as many hard routes as possible. Dave Groth, one of the top climbers of the era, explained how one might get involved with the group: "After you burned through all the safe leads, you started doing the not-so-safe ones, and then you got noticed by the DLFA guys." Many 5.12 routes were led by the likes of Groth, Tommy Deuchler, Rich Bechler, Steve Sangdahl, Bill Russell, and Eric Zschiesche.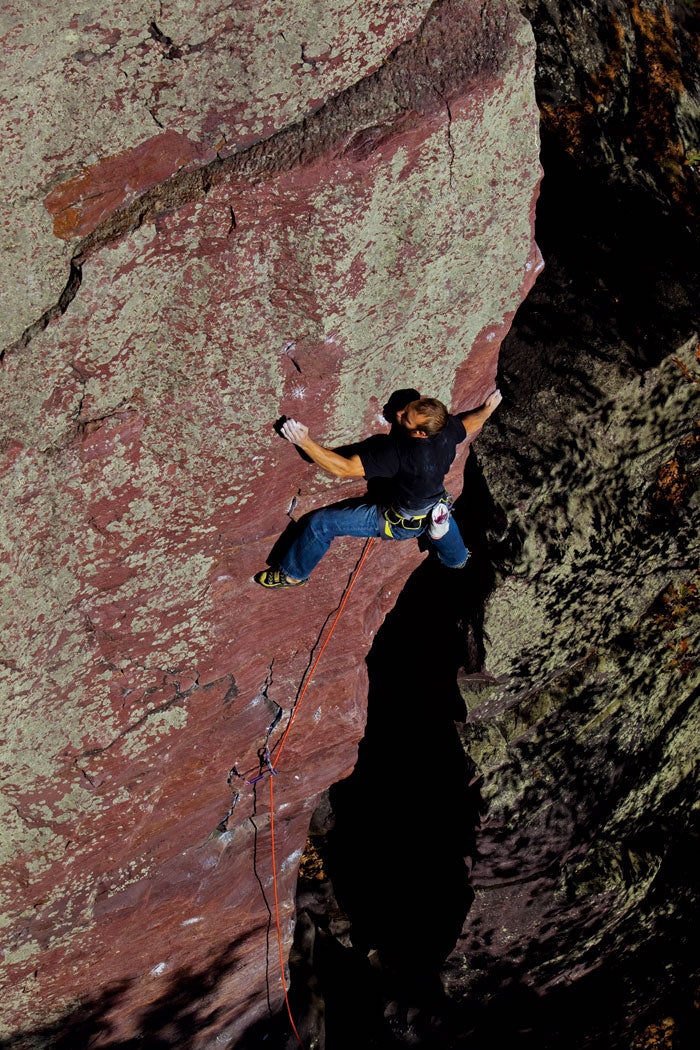 The DLFA still exists at Devil's Lake, if only as a relic of the past, as stories are passed down from one climber to another. I was reminded of this when I tried to lead All the Way, a marginally protected 5.12b on the East Rampart. My attempts to stick the initial boulder problem had all failed, probably because I knew that what followed was 50 feet of quartzite protected only by one nut and a sketchy threaded sling. Sure, the climbing eased to 5.8 at the top, but the thoughts of a fall up there were, well, unthinkable.
Attempt after attempt, I kept falling off the boulder problem onto my crashpad. As I got ready for yet another failed attempt, a local, Errol, happened by and regaled us with a story of how Eric Zschiesche led this climb in the 1980s. Evidently, he left the ground without any gear, and as he moved up, he asked the onlookers to toss him whatever pieces he needed. "Now throw me a yellow TCU!" Catching the last piece of gear (fortunately and unfortunately, there were only three placements) took many attempted throws. I'd heard this story before, with many variations on the details. At least in Errol's version, Zschiesche was wearing rock shoes. On many of the harder climbs at Devil's Lake, he didn't.
While most of the original DLFA members have either moved on or quit climbing, some climbers keep alive the DLFA's bold attitude. Colorado climber Jason Huston blew through town and repeated many of the DLFA's best leads and added a few firsts of his own, including leads of the popular toprope climbs Acid Rock (5.12a X) and Cheap Thrills (5.12c R). Nick Rhoads, Kris Gorny, and others continue to scour the quartzite for that one brassie placement that separates a lead from a solo.
These guys, however, are the minority. Most climbers drive up from the cities with a backpack full of rope, webbing, and a beginner's psych. They locate the top of the climb, place three solid anchors, and throw the rope down. They spend peaceful days practicing the craft of rock climbing with the safety of a toprope. They talk about which routes they'd like to lead, and which routes they never will. They talk about the DLFA and tell stories, some true, some patently false, and some in between. They watch turkey vultures ride the air currents above the deep and cool waters of the lake. Sure, if you can lead at Devil's Lake, you can lead anywhere—but what's wrong with staying right here?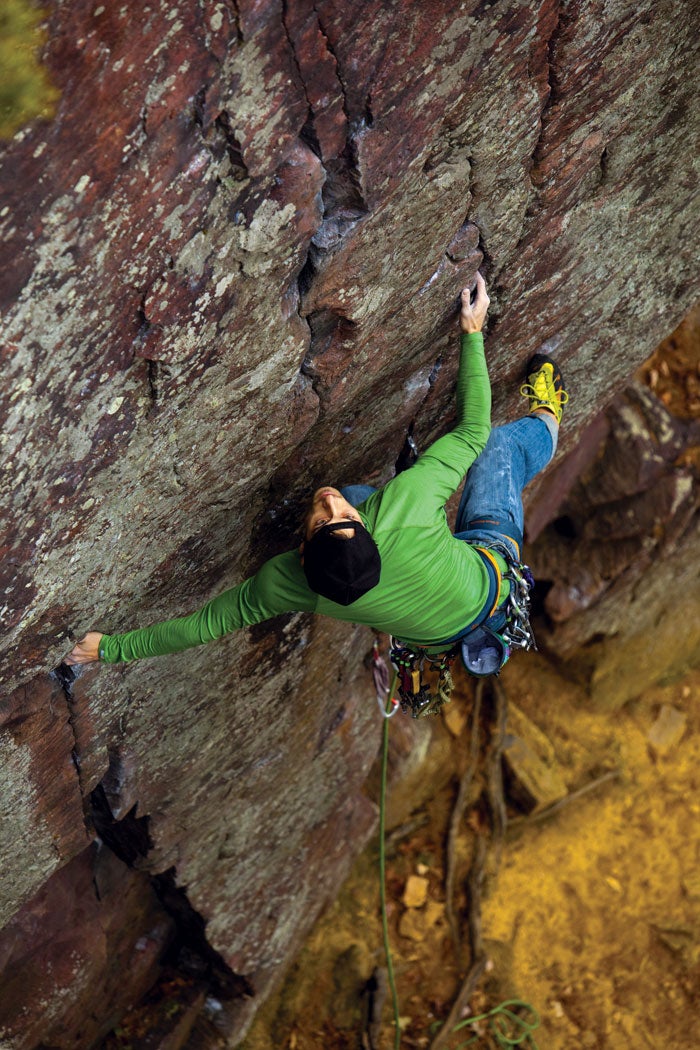 Devil's Lake Headpoints
Pretend you're on toprope—but don't forget you're not.
Onsight leads are exciting and stylish, but some climbs—with committing moves, tricky gear, or no gear—are extensively toproped before they're led. This style of mentally demanding redpoint—a "headpoint"—is another rewarding facet of the trad-climbing game, and Devil's Lake is a great place to play it. These 10 routes, all located on the East Rampart, represent the most classic—and notorious—of the Devil's Lake headpoints, not at all guaranteed to be safe. If your toprope rehearsal reveals your chosen climb to be a bit much for the sharp end, relax and join the crowd. This is Devil's Lake. Leads are bonus, and a toprope counts as a send.
1. Mouse's Misery (5.10a PG-13/R). First led by Jim Erickson in 1966, this is the entrance exam for hard, scary leading at Devil's Lake. The crux, a tenuous layback halfway up, is well protected, but one must climb 30 unprotected feet to get to it.
2. The End (5.10a R/X). A steep, 40-foot prow right off the popular CCC Trail. Perhaps the most dangerous of the area's 5.10 leads, this well-named route is "protected" by just two pieces, and a fall in most places will deposit a climber on the ground. Reputedly led by Scott Stewart in the mid 1960s; Tommy Deuchler led it in the 1970s.
3. Flake Route (5.10d PG-13). First led by Steve Sangdahl in 1979, this offers the quintessential Devil's Lake headpoint experience: a dead-vertical wall on small, positive crimps. A rite of passage for all aspiring headpointers.
4. Happy Hunting Grounds (5.11a R). The crux has excellent protection. The catch? To get to the crux, one must negotiate 40 feet of unprotected 5.9—a more serious version of Mouse's Misery. First lead unknown.
5. Callipigeanous Direct (5.11b PG-13). This route climbs the popular 5.10a finger crack of Callipigeanous, but when that route veers right, the Direct busts straight up a steep face. A pin protecting the crux disappeared years ago, but small nuts suffice in its place. As with so many hard routes at Devil's Lake, Pete Cleveland made the first lead in 1965.
6. Gill's Nose (5.11b R). A striking prow in the middle of Gill's Buttress, first led by Tommy Deuchler in the mid 1970s. Whereas many Devil's Lake 5.11s test a climber's crimp strength, this requires a subtler skill set as you slap tenuously up an arête. A more serious direct variation goes at 5.11c.
7. Acid Rock (5.12a X). One of the few unled gems left over from the DLFA era, this popular toprope problem stood for more than 20 years before Jason Huston made the first lead in 2006. The route begins atop a detached 30-foot pinnacle, so even a fall off the starting moves might pitch the climber into a rock crevasse. Huston used modern protection (including a skyhook) and steely nerves to tick this heroic last great problem.
8. All the Way (5.12b PG-13/R). Tommy Deuchler's lead in 1979 lit the fuse for the DLFA's search for hard, scary leads in the 1980s. While the crux is close to the ground, All the Way still requires the climber to be comfortable on sparsely protected 5.11.
9. Cheap Thrills (5.12c R). Another toprope problem that fell to the visiting Jason Huston, but this one actually has protection at the crux: a completely blind TCU placement. Get this piece placed correctly and you're golden. Screw it up, and…
10. Bagatelle (5.12c/d R/X). When Pete Cleveland toproped Bagatelle in 1969, it may have been the hardest route in the country. Tommy Deuchler led it in 1981, and it has seen only a handful of leads since. The wall is perfectly vertical, the gear is difficult, and the climbing is stellar. For those reasons, Bagatelle has gained mythical status as THE Devil's Lake headpoint.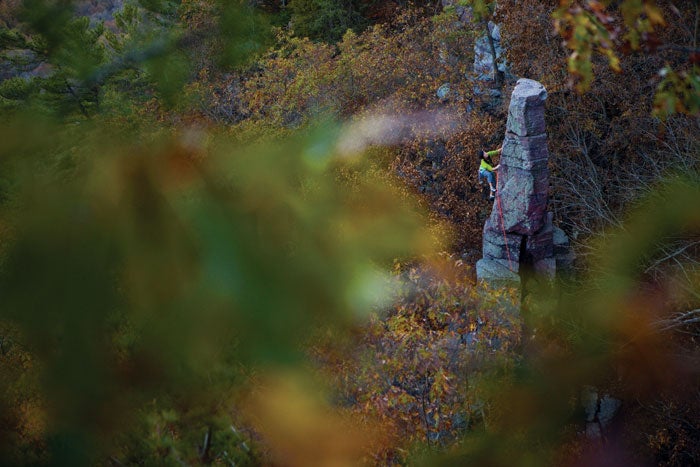 Logistics
Where: Devil's Lake State Park is located outside of Baraboo, Wisconsin, about 45 miles northwest of Madison.
When: Spring and fall are the best. Winter brings snow and cold temps. Summer brings humidity and crowds, but the swimming in the lake is top-notch. After a rain, seepage is rarely a problem, so if the road's dry, the rock's dry.
Camping: Devil's Lake State Park (608-356-8301) offers many campsites. During summer, sites fill up weeks in advance, so reservations are recommended. Wheeler's Campground (608-356-4877), just a few miles from the park, caters to climbers and offers a small climbing shop. Green Valley Campground (608-355-0090) is also a favorite camping spot among climbers.
Fees: All climbing areas are within Devil's Lake State Park. A parking pass ($7 in-state/$10 out-of-state) is required for all cars, available at park headquarters at the north-shore entrance to the lake.
Amenities: Baraboo offers all basic supplies. For climbing gear, head to Wildside Adventure Company (608-356-9218) in Baraboo or to Wheeler's Campground.
Rest Days: Baraboo is the home of the Ringling Brothers Circus, and their museum, Circus World, is worth a stop. If you are looking for water parks, go-carts, mini-golf, or any other kind of distraction, the Wisconsin Dells, 15 miles north, is the place. For rainy days, Boulders Climbing Gym is in Madison.
Gear: Most routes can be led with a single set of nuts and cams. For headpoints, specialty protection such as brass offsets, ball-nuts, and hooks might be required. For toproping, bring plenty of webbing for rigging anchors off natural protection, often far back from the cliff's edge.
Jay Knower grew up in Baraboo and learned to climb at Devil's Lake. He has since left Wisconsin for the safety of sport climbing in Rumney, New Hampshire, but he returns each year to scare himself on the Devil's Lake quartzite.