A Love Story: Switzerland's Uniquely Beautiful Bouldering Zones
Chris Schulte's homage to some of the world's most iconic gneiss bouldering zones.
---
Join Climbing
Create a personalized feed and bookmark your favorites.
Join Climbing
Create a personalized feed and bookmark your favorites.
Join for free
Heading out the door? Read this article on the new Outside+ app available now on iOS devices for members! Download the app.
This article originally appeared in Gym Climber's spring 2021 print edition.
It's usually snowing as I plow south through the Alps, through Uri, Switzerland, and the approaching dark of Gotthard tunnel. Twenty minutes underground, the temperature inside rises eerily to near 90 F halfway, then a slow cooling as a pin of light grows brighter to sudden sunshine, to evergreen and sky-blue, and a switch from German to Italian, Ausfahrt to Uscita. 
It feels like rolling neutral, zipping down valley, heading for a narrow V horizon, passing towns peeking from high hillsides. Mellifluous names at the exits, a gradual greening as one descends into a grateful spring, and just as a true and battle-built castle comes into view, signage for Cresciano.
Dreamtime, in Cresciano, was the world's first V15, one of many bars set by bouldering master Fred Nicole. It would be impossible to forget the first time I laid eyes on this block, perched steeply under shady trees, held fast to a broad, earthen shelf by a web of roots. Regardless of one's range, it's a stone worthy of a pilgrim's pause. The line sweeps up and left, propelling the eye … a world classic.
Around back, the prow of the Dagger juts out, sharp, pointed. First time I laid eyes on this, it wasn't yet a thing: "Where the hell's the chalk on this?" I asked the wide valley. Toni Lamprecht would answer the following year with the FA of this "fridge test piece." Wild spinning methods and investment by the steel fingers of Dave Graham brought a wicked-hard sit to this stunning squeeze line, another must-do on the hillside hard list. If you can get past the vicious cutter crimp, a Story of Two Worlds just might be in the bag … just hold on through the V14.
Further down around the castelli (castle in Italian), you pass tiny towns strung with green grapevines and salted with plastered homes. Pizza and Porsche dealers, a tall Redwood, and swift turn cutting up the switchbacks of Scalata, then the narrow Val Verzasca, guarded by the "James Bond dam." Lavertezzo comes up quick with its insta-famous Roman bridge and superb swimming hole.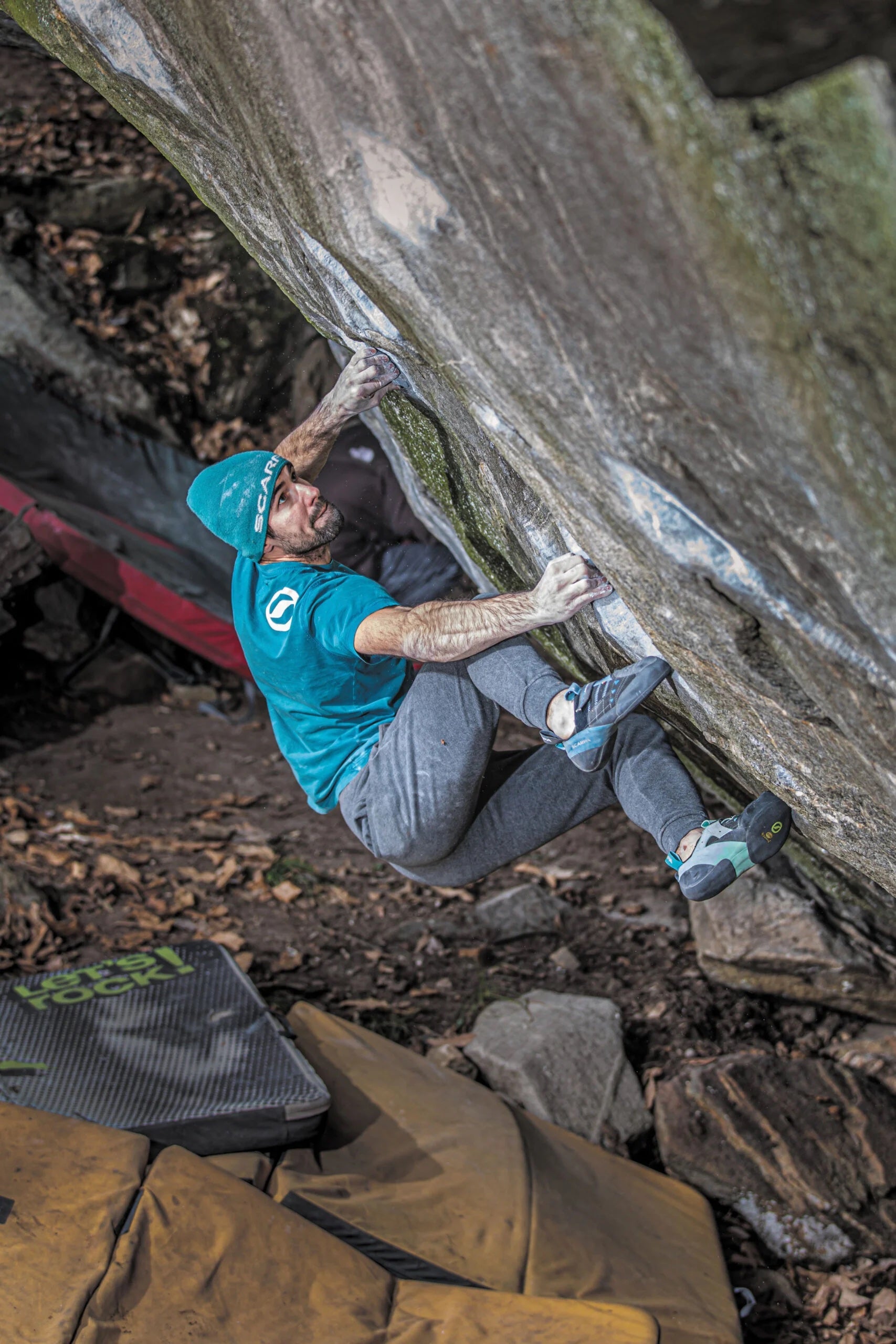 A few more wiggles pulls you into the parking lot, the edge of Brione. Riverside, these polished blocks are striped and smooth; in the trees, a fine grain. Winding back through thickening woods lies General Disarray (V13), stationed in the heart. You'd be hard pressed to set a wilder route indoors; this one's set in stone. Heel hooks, hops and broad pinches make the problem.
Just a touch farther up the road, through another wood, you arrive at a bit of Ticinese bouldering history: the stunning wall of Vecchio Leoni, and its famous pinch. Loads of strong folks ticked this off their lists before Carlo Traversi linked the obvious line of shouldery edges to the left for the Kingdom (V15).
Once you've ticked, or tickled these, head up to the valley's end to the self-serve cooler for a local lump of hazelnut and honey-scented goat cheese. Then plop down on the grass just above the car to watch the soccer game across the river. Once that score's been settled and the night winds on into deeper spring, you may wake to song and bells from the aged chapel 'cross the way.
Enough time in the paradise of pizza and red wine might leave you hungry for spätzle and lager bier, cooler temps and grips. Up and through a tunnel (of course), and you're back to German-speaking folk, alpenhüttes and snow-capped peaks that seem to be just there. Magic Wood, Switzerland, lies up the Ferrera valley, with iron-hard boulders and soft-green mosses clinging to a steep slope guarded by suspension bridges spanning blue-green waters, sometimes perfect swimming, sometimes treacherous.
Piled among these blocks you'll find all manner of line, from barely V0 to the cutting edge. An air-conditioned blast blows from beneath these stones, cooling burnt tips for one more go; you'll take everything you can get while trying to escape the cave at Paul Robinson's Ill Trill, an extra hard V14 that climbs much longer than it looks. Down the hill and riverside, the legendary Never Ending Story climbs exactly as long as it looks. Gianni Clement's Stil Vor Talent (V16) climbs even longer, moving across the entirety of the monster overhang to top out after a crushing number of moves.
And maybe end (or middle) of day, you stroll across the creek and back up to the Gasthaus Edelweiss for a beer in the bright sunshine. Maybe back then to the woods for a session afternoon or after dark. Maybe you just watch the goats and listen to the fountain, cut by the swish of a scythe trimming dandelions across the quiet street as the shady line of night lifts the yellowing light up a not-so-distant Piz Grisch, sugared with a summer snow. Bees. Grass. A whispering in the trees as night blows gently down the valley. A scent of pine and honey.