The Big Easy: An Insider's Guide to Joe's Valley Bouldering
Heading out the door? Read this article on the new Outside+ app available now on iOS devices for members! Download the app.
I had a charmed beginning as a climber. I dug my roots deep in the Southeast, which has some of the country's finest boulderfields: rocks are strewn all over North Carolina's mountains, and Tennessee and Alabama are close enough for weekend visits. I cut my teeth surrounded by rhododendrons and conifers, deep in the green, rolling hills of the Appalachians.
Three and a half years ago, I moved to Boulder, where I faced a different superlative in climbing: literally thousands of sport and trad routes scattered along Colorado's Front Range. Summer weekends on Rifle limestone, early mornings on the sweeping granite cracks of Rocky Mountain National Park, and crowded afternoons on Eldorado's colorful and cerebral sandstone; there's plenty of bouldering to be found in Colorado, but not in the quality or quantity I yearned for back East.
Then I heard speak of this magical playground called Joe's Valley in central Utah, where more boulders dot the hillsides than bobbing heads at a Red Rocks show, each with flat landings, zero approaches, and, best of all, no regulations. My fingers twitched; I dusted off my crashpad and on one early spring weekend in 2012, a friend and I loaded up the car and headed west.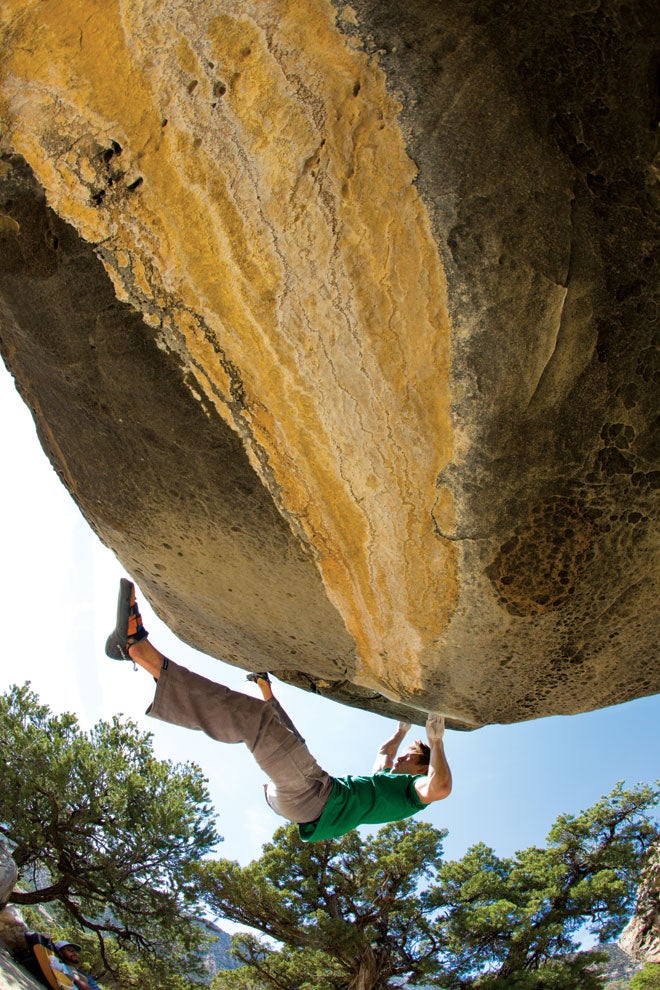 I had seen photos of Joe's Valley bouldering, but nothing prepared me for the actual view: thousands of Castlegate Sandstone blocks striped with black, orange, and tan flooded the slopes, scattered among juniper, ponderosa pine, and sagebrush. My palms were sweating; I felt like I had hit the jackpot. That visit soon turned into several more, and Joe's quickly become one of my favorite spots for bouldering. Haven't been there yet? Here's why Joe's needs to be on your list.
It's Convenient
Joe's Valley is within a day's drive of Denver, Salt Lake, Vegas, and several other climber-centric cities. In September, two friends and I had crammed four days' worth of camping gear and groceries, two dogs, and camera gear into a Jetta, with three pads strapped on the back. The seven hours from Denver turned into nine, and we didn't arrive until about 1 a.m. I climbed out of the car to a soft, dusty breeze; thankfully, our campsite was only yards away from the parking. Despite a soft glow from the nearest town, Orangeville, millions of stars blanketed a sable sky. We pitched our tents in near silence, with only distant moos of ranchers' cattle filtering through the night air.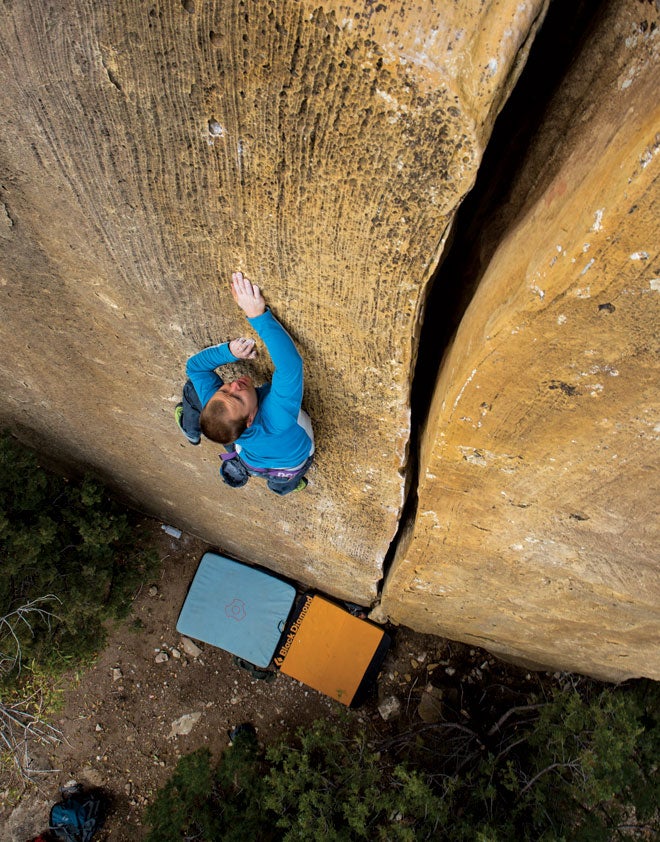 It was easy to wrangle two partners for this trip. Though my friends Jamison and Lucas are dedicated boulderers, even the most serious sport or trad climbers would enjoy Joe's. The atmosphere is nothing less than laid back. Camping is plentiful and free, and usually just strides away from the road. Many sites have established fire pits, and the ground is soft and sandy. During peak seasons (spring and fall), the Salt Lake Climbers Alliance installs portable toilets at larger camping areas to help keep Joe's clean. (Donate at saltlakeclimbers.org.)
Wandering deer and cattle have carved natural paths throughout the canyons, erasing the need for a separate climbers' trail in many places. The majority of boulder problems sit close to the road, and with flat landings protecting many of them, schlepping numerous pads up the hill often isn't necessary.
Most of the climbing is on public land—a combination of the state, Bureau of Land Management, and National Forest—with some boulders on private land. Joe's Valley is divided into three areas: Right Fork, Left Fork, and New Joe's. All zones pack copious problems of all grades, with each offering something a little different. Right Fork, up Cottonwood Creek, has abundant camping, and afternoon shade provides relief for hot days. (In late September, drive up to Dairy Canyon to view aspens on full display.) In Left Fork, an emerald-green river winds through the canyon, with fun problems on creek-side boulders. New Joe's, where the sun sticks around the longest, is perfect on cold days.
With no climbing or camping fees, no registration or permits, and no limits on climbing access, Joe's Valley is one of the country's easiest bouldering areas to visit. What's more, the locals and rangers are friendly and welcoming. (So long as you yield to cows and ranchers when driving.)
There's Something for Everyone
I've often heard Joe's described as a "jungle gym of boulder problems." While many problems cater toward gymnastic, dynamic pulling, there is a huge variety of climbing styles. Slopers, cracks, huecos, pockets, and even tufas fill out the sandstone. Problems in the V0 to V1 range are scarcer, but even first-time boulderers will find more than enough to keep busy for multiple trips. Once you hit V4 or V5, the field opens up immensely, giving projecters a reason to return over and over again. But unlike the cryptic limestone of Rifle, you won't get shut down on your first visit to Joe's. Any climber can find success.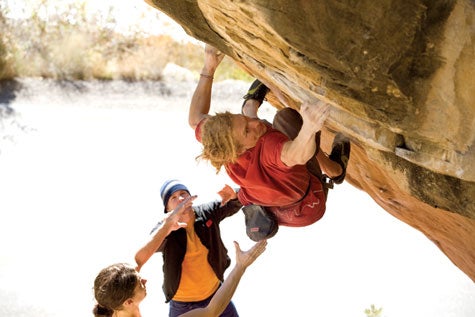 Right and Left Fork began to see development in the early 1990s by visiting Salt Lake City and Provo climbers. As word spread, the most easily accessible and safest boulder problems were picked off first; this was before bouldering pads tumbled onto the scene. But as crash pads evolved, so did bouldering at Joe's: Climbers strolled higher onto the hillsides with these portable, padded landing zones, pushing their limits on taller problems without fear of breaking their ankles. Hundreds more problems were established, and more climbers began traveling to Joe's.
In the late 1990s, New Joe's began seeing attention, leading to another surge in development. Growth slowed in the 2000s, but as more climbers were willing to climb taller rocks and endure steeper hikes, more double-digit problems began to appear. Joe's was back on the radar. Steady development has continued throughout the last dozen years, mostly in the higher grades. Locals estimate there are more than 700 problems in the area, but one glance up the hillside reveals massive potential for more development. Those willing to hike their pads just a bit further up the slope will be rewarded with untouched boulders; anyone can grab a first ascent.
It Will Challenge You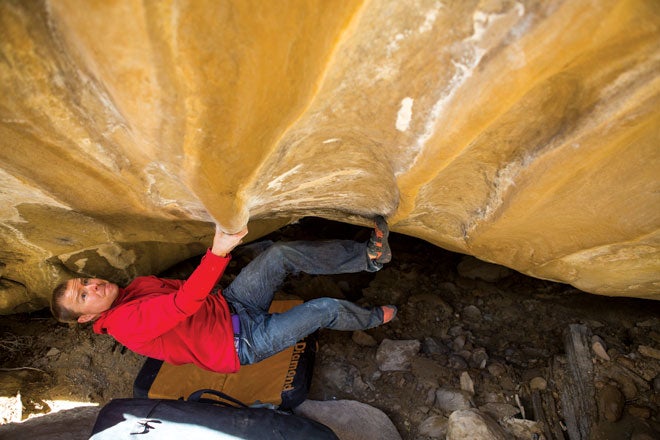 Though access and camping are usually effortless, don't expect the bouldering to be soft. During our September visit, one of us hatched the idea to film a threestar problem at each grade—or at least as high as we could climb in our three days there. This set off a bit of a race, as carrying extra equipment, setting up the camera, and filming add a good chunk of time to actual climbing. We started at the Black and Tan area, where I took down Blue-Eyed (V5) after a couple of tries; Lucas quickly followed up with Filla Void (V6). Then we moved a few feet around the corner of the latter to try a V2. Assuming this would be a quickie, I hopped on Kids are for Chicks, bearing down on painful crimps. My feet popped off almost immediately. After several more attempts, I ceded the problem to Lucas, who also puzzled over the slab. Jamison, ever patient, waited behind the lens while we stood flummoxed by what we thought would be a warmup. Finally, after a few tries, Lucas topped out. Hmm, this might take longer than we thought.
We moved onto the Warmup area, where sits a tall V4 crack called Better Than Coffee. Given my proclivity for laybacking any crack climb instead of sinking jams, I was drawn in. Though my climbing résumé suggests that V4 is not at my limit, this particular problem was becoming a hiccup in my day. My paltry three days of gym training that month weren't kicking in. Gritting my teeth, I pulled on again and began shuffling up the crack. The guidebook says "airy finish"; I ignored this euphemism when I encountered grit at the top, my feet high off the deck. My foot slipped; I cried out, but held it. Topping out slowly, on hands and needs, triggered a flashback to my first day of bouldering eight years ago in Blowing Rock, North Carolina. I stood up, knees shaking slightly, and began downclimbing between a tree and the rock.
SNAP! A branch I stepped on splintered, propelling me down into a much larger limb, my chest taking the force. Shock registered for a nanosecond before pain began to set in. I tugged my shirt free from the tree and fell back onto the ground as tears flowed freely down my face. Hearing my unmasked sobs, Jamison quickly appeared and examined the trauma; the two-pronged branch had shredded the skin on my torso. Ribbons of dermis mingled with blood, dirt, and fabric, and pain charged through my ribs. Well. There goes the rest of this trip for me.
We took a two-hour detour to nearby Price to pick up gauze, antibiotic ointment, bandages, and whiskey. I limped around the rest of the long weekend as Jamison and Lucas took turns ticking Joe's classics like Buoux Crack (V3) and Electric Fence (V7). Each has a climbing CV that extends beyond V7, but at Joe's, problems at every grade provide an entertaining challenge. We laughed as we fell off V1s at the end of the trip; our skin and muscles were taxed, but our psych was high.
It's Addictive
My last trip to Joe's left me with several dislocated ribs and nasty road rash, but that's not enough to dissuade me from visiting again. I have several projects on my mind, and I don't want to deal with the logistical nightmare of Hueco Tanks, Texas. The quality, density, ease, and pure fun of bouldering at Joe's scarcely exists elsewhere. Fontainebleau's thousands of sandstone boulders might be on your life list, but you don't need a passport to drive through Utah. (Although you might want to import beer and booze from another state.) Joe's Valley offers some of the best bouldering in the world, with zero hoops to jump through. Drive, camp, and climb—what's simpler than that?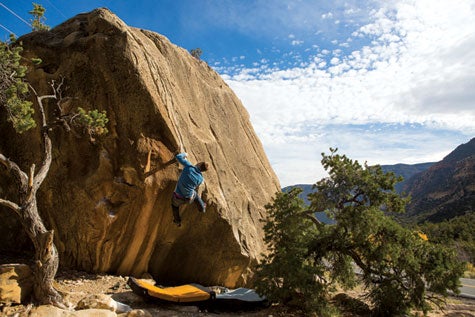 Local's favorites
New Joe's:
Desperado (V1)
Warm Me Up, Scotty (V1)
The Edge (V2)
Self Service (V4)
Pocket Rocket (V5)
I'd Rather Be Climbing Her (V6)
Chips (V7)
Resident Evil (V10)
Black Lung (V13)
Left Fork:
The Angler (V2)
Dirt and Grime (V4)
Kill by Numbers (V5)
Wills of Fire (V6)
Bring the Heatwole (V7)
Save Yourself Left (V7)
Renaissance Man (V9)
Black Dahlia (V10)
Worm Turns (V11)
Right Fork:
Canadian's Finest (V1)
Kids Are For Chicks (V2)
Chexmix (V3)
Obtuse (V3)
Bowling Ball (V4)
Better Than Coffee (V4)
Frosted Flakes (V5)
Blue-Eyed (V5)
Moby Dick (V6)
Filla Void (V6)
Electric Fence (V7)
Kinda Brawny (V8)
Incredible Hulk (V9)
Finger Hut (V10)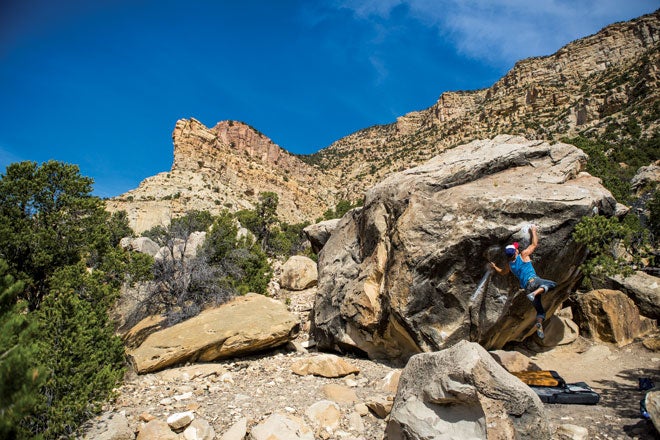 Beta
Getting there: The nearest town to Joe's Valley is Orangeville. Joe's is about 2.5 hours from Salt Lake City, 7 hours from Denver, 5.5 hours from Las Vegas, and 8 hours from Flagstaff. From Orangeville, drive northwest on Highway 29. For New Joe's, turn right onto Highway 57 at mile 3.3, and drive 4.1 miles to a parking area on the right side of the road. For Right and Left forks, continue on Highway 29 until the obvious split after eight miles.
Guidebook:An Insightful Guide to Joe's Valley Bouldering, by Isaac Caldiero ($24.95, joesvalleyguidebook.com)
Season: Early spring and late fall have the most comfortable temps, but you can climb at Joe's anytime with good weather. Hold off if it rains or snows and wait for the rock to dry completely, as climbing on wet sandstone damages the rock.
Camping: Dispersed, unmaintained sites are located mostly in the Right Fork. First come, first served. Follow Leave No Trace practices. There's also a free BLM campground  at New Joes and another in the Right Fork.
Food: Get groceries or ready-made food in Orangeville at the Food Ranch, which also offers free Wi-Fi and an upstairs lounge. Head four miles east to Castledale to hit R Pizza Place (435- 381-2163) or Big Mama's Pizza and Deli (435-381-5080). For the local bar experience, stop into Chick's Rock'n Roost, where we once saw a sign for "midget wrestling" (435-381-5518).
Rest days: Drive up to Joe's Valley Reservoir on a warm day and enjoy some cliff jumping. The nearby San Rafael Swell (climbing.com/route/the-sandstone-alps) is host to beautiful, sweeping slab climbing; visit for a runout adventure or just drive through for spectacular scenery. Pop into the Museum of the San Rafael Swell to see dinosaur bones and Native American potsherds and artifacts. Rinse off the dust and grime at the Emery County Aquatic Center for $4 (emerycounty.com/pool).