The Classic 25: America's Best Boulder Problems
Let the debate begin! Here are the best 25 boulder problems in America... or 25 of the best... across a wide swath of regions and grades. (From 2021)
Heading out the door? Read this article on the new Outside+ app available now on iOS devices for members! Download the app.
Humans have been exploring boulders in America for hundreds of years, going back to the Native Americans who lived in and around many of today's bouldering areas. In the 1950s and '60s, John Gill began taking gymnastics to the rocks, seeking challenges on small cliffs and boulders from Illinois to the Tetons to the Black Hills to Colorado. But he was largely alone until well into the 1970s and '80s, when bouldering started to become seen as a pursuit in its own right. Given the size and geological diversity of the US, we may very well have the most—and most varied—bouldering in the world. We also have an extraordinary legacy of classic problems from V0 to V16, with seemingly endless potential left. To list the 25 best problems in America is a challenge.
So what defines a classic? The best problems are singular lines in beautiful settings. The features connect with original and compelling movement. The rock feels solid and secure. And finally, the boulder comes with a history. Besides Gill and his foundational problems, there are other, more local personalities like Bob Murray and Jim Holloway renowned for their strength and tenacity. Holloway singlehandedly established V12 in Colorado before V9 was even a thing and was rumored to have been able to hold a front lever for half a minute while holding a conversation; the reclusive Murray was famed for his barefoot wizardry, eventually pulling a tendon in his big toe, an injury probably unrepeated in climbing. John Long and John Bachar blurred the lines between bouldering and soloing, leaving a legacy of serious "problems" that are more like difficult free soloes, a story culminating in Daniel Woods's 2016 testpiece The Process at the Buttermilks, basically an unroped 5.15. Each era was marked by the establishment of lines that tested nerves and strength—and a fair number of these problems made our list.
We set out to represent America's various geographic regions as well as a wide spread of grades, to create dialogue and psyche. Whether you're pebble-wrestling on a forested hillside, in a stark high-desert canyon, or in an alpine talus field, and whether you're ticking V1 schist cracks in New England, V11 roofs in Hueco, V8 sandstone sloperfests down South, or V3 granite highballs in Colorado, American bouldering delivers.
Trying to get better at climbing instead of just reading about it? Take our courses:
Section divider
California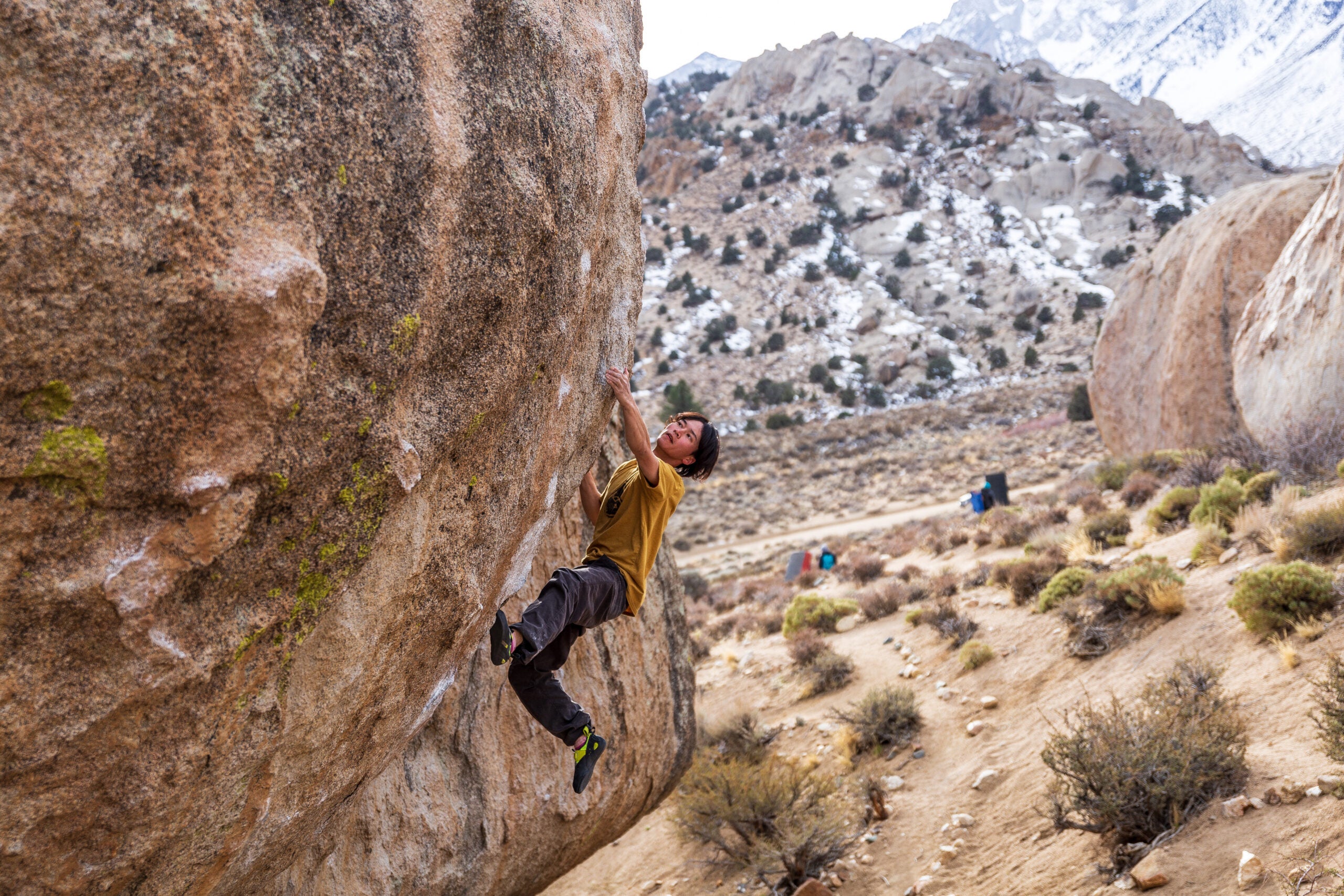 Inhabited by Native Americans long before the Gold Rush brought European settlers, the Sierra Nevada and other California areas have been an integral part of American climbing history. California granite, at its best, is bone-white or ash-gray, minimally featured, tall, and impressive.
The Mandala (V12)
Buttermilks, Bishop
When Chris Sharma crimped up the overhanging patina-edge prow of The Mandala in early 2000, he kick-started modern American bouldering. According to Wills Young's excellent 2010 Bishop Bouldering guide, the late John Bachar, in the late 1970s, told Ron Kauk that "perhaps, long into the future, John Gill's great-grandson might climb the line." A tick demands a clear understanding of the start holds: a jump or stacked pads to begin on a right-hand incut and a left hand undercling/sidepull. You can also tack on a direct start and finish to add two V-grades.
Nearby classics:
Saigon (V6)
High Plains Drifter (V7)
Slashface (V3)
Joshua Tree National Park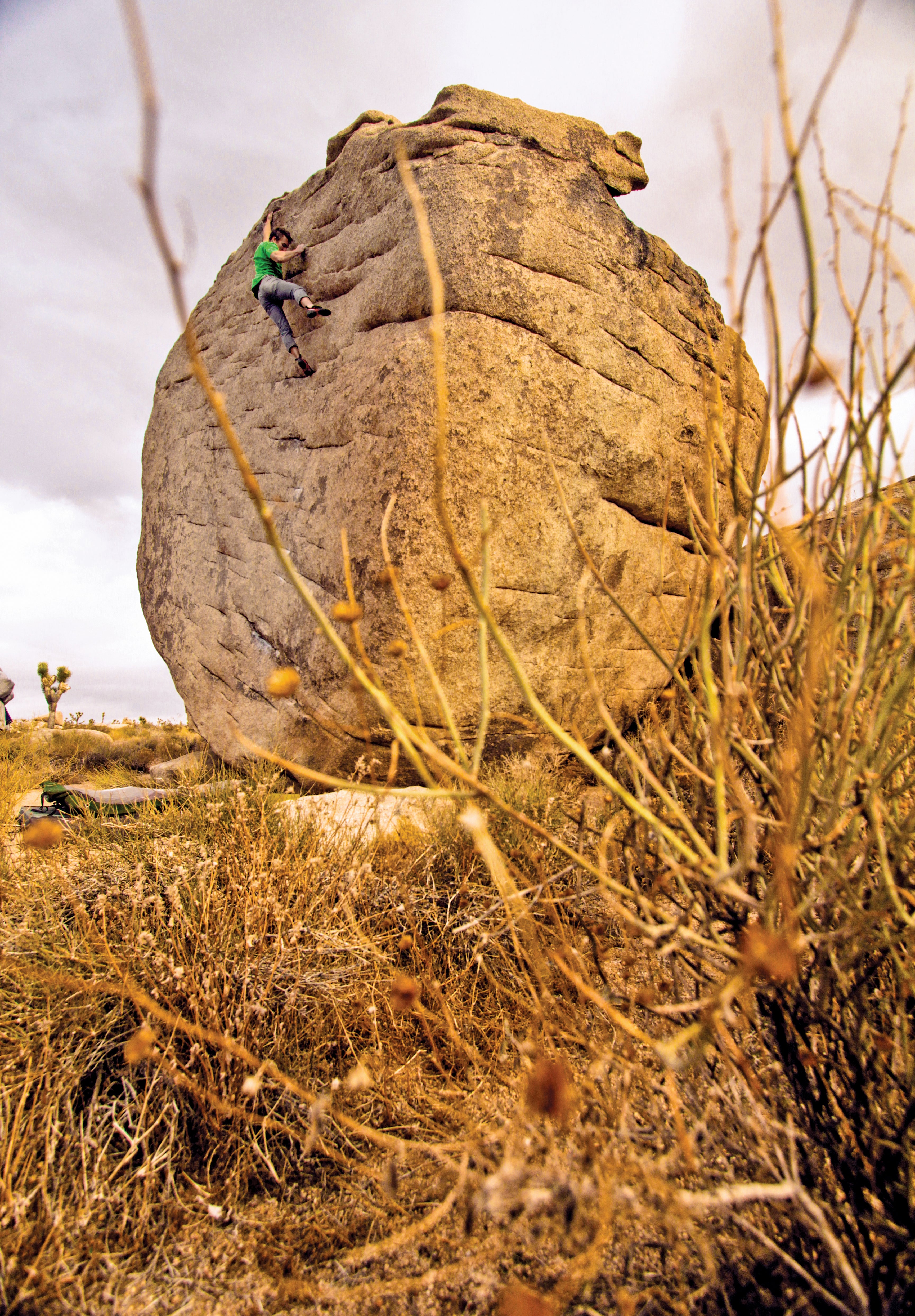 Joshua Tree has long been a center of difficult ropeless climbing, especially since the heady days of the 1970s when the Stonemasters made it a winter hang. Stonemaster John Bachar crimped his way up the gorgeous 25-foot face of Slashface, connecting thin diagonal breaks and a compelling but moderate finishing mantel high above the Seussian desert landscape.
Nearby classics:
Stem Gem (V4)
Pinched Loaf (V6)
All Washed Up (V6)
Thriller (V10)
Yosemite National Park
Seated in the venerable Camp 4, this problem features a desperate match, a hard move to the "snowcone," and sustained crimping to the top. Shaded by an enormous oak tree, this 1984 Ron Kauk testpiece (climbed sans pads) is still sought after to this day. Next door is the 1991 classic The Force (originally V11 but today done with a V9 start), a problem that helped push American standards but also reflected controversy as glue-reinforced key holds at the crux were pried off after the first ascent.
Nearby classics:
Midnight Lightning (V8)
Yabo Roof (V12)
Dominator (V12)
Southwest Arête (V0) of Grandma Peabody
Buttermilks, Bishop
Bishop bouldering dates back at least to the Paiute people who called the Owens River Valley home and left rock art in the Volcanic Tablelands. Though serious bouldering at the 'Milks didn't begin until the mid-1970s, the 50-foot Southwest Arête of Grandma Peabody had already been climbed—it's too obvious to ignore. It's best considered a 5.9 solo, with the crux 15 feet up and a dicey slab transition higher.
Nearby classics:
Pope's Prow (V5)
Green Wall Center (V6)
Evilution (V11)
Section divider
The Cascades
Washington's Cascades provide everything from glaciated alpine treks to multi-pitch traditional crack climbing. In the past decade, amazing bouldering has emerged as well, especially in the vicinity of Stevens Pass, with Index and Goldbar to the west and Leavenworth to the east.
Sleeping Lady (V2)
Icicle Canyon, Leavenworth
Just outside the Bavarian-themed tourist town of Leavenworth runs Icicle Creek, whose headwaters are at pristine Josephine Lake, near the Cascades' crest. The river's cold waters surge through the narrow, boulder-filled Icicle Canyon, including under Sleeping Lady, a steep jug haul over raging rapids where sending is your best, if not only, option.
Nearby classics:
Feel the Pinch (V4)
Pimp Squeak (V7)
The Engineer (V9)
Index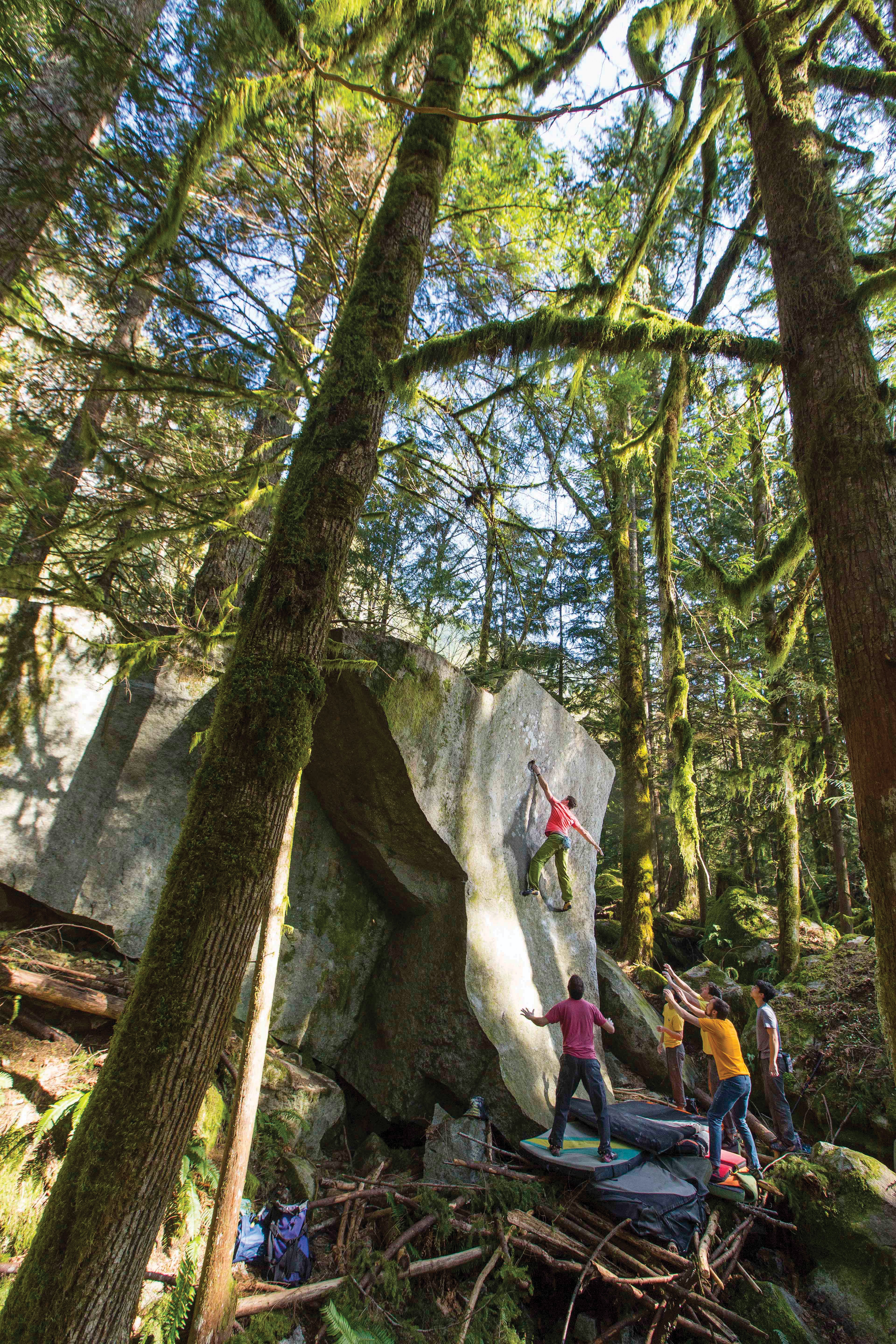 With the unpleasant distinction of being on the wet side of Stevens Pass, Index receives 93 inches of rain per year. Due to all the precipitation, some of the US' best granite is cloaked in foliage, but in the woods below the Town Walls you'll find The Engineer, a bold, steep slab with minimal features. Classic in appearance and committing, it exemplifies the new wave of Washington bouldering.
Nearby classics:
Section divider
The Northeast
There are countless boulders hidden in the trees of New England. Granite forms the majority of the rock here, though the Gunks features quartzite and Rumney hosts a peculiar schist. The climate can be tricky, so catch the cool crisp temps of fall, avoid the deluge in spring, and check the forecast in winter, when it can be either crispy or heinous.
Confident Man (V11)
Pawtuckaway, New Hampshire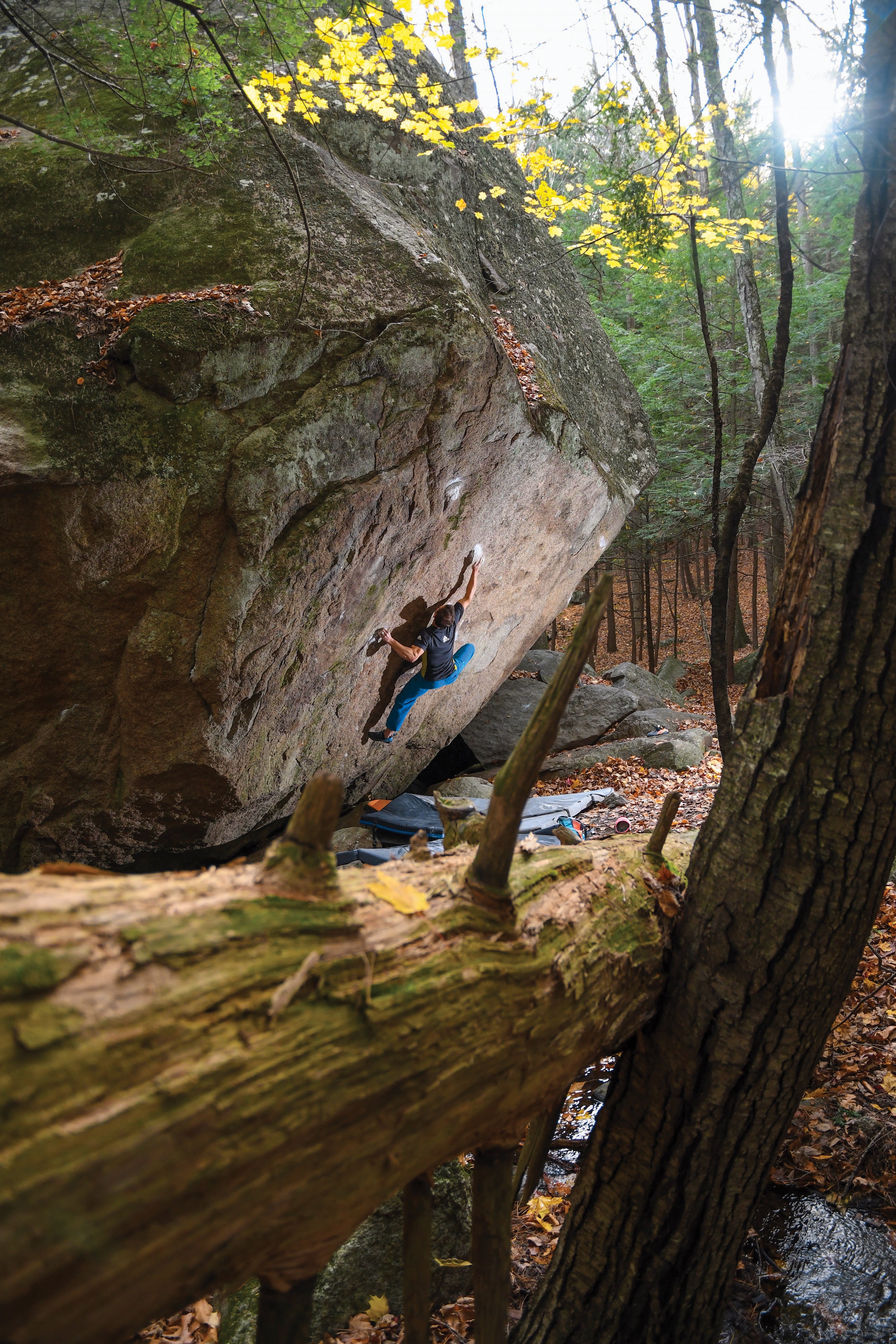 The center of New England bouldering, the granite blocks in the New Hampshire forest have allowed top climbers like Dave Graham to cut their teeth on savage crimps. At Pawtuckaway, Tim Kemple claimed one of the best double-digit lines in the Northeast, an overhanging series of moves with a committing exit. It's a must-do at the grade—assuming the swarms of black flies don't carry you away first!
Nearby classics:
Overlooked (V4)
Ride the Lightning (V6)
Dopeman (V8)
New Pair of Glasses (V7)
Shawangunks, New York
The Gunks was at the forefront of high-end free-climbing until the early 1980s, and attracted strong climbers like Gill and the local Rich Goldstone. Right on the Carriage Road, the 30-foot New Pair of Glasses stand-starts with high holds. The low crux leads to a high but manageable exit on the Gunks' famous horizontals. FAist Ivan Greene bestowed the name to point out how a new vision was all that was needed to see the area's abundant bouldering potential.
Nearby classics:
The Million Dollar Problem (V5)
The Gill Egg (V4)
Pound Crack (V1)
Rumney, New Hampshire
Rumney is known for its punchy, bouldery routes, among the most famous being The Fly (5.14d or V14). Below all the desperates at the the main cliff, you'll find amazing moderates, especially Pound Crack, an 18-foot splitter with a jug in the middle—perfect recreation on an autumn day.
Nearby classics:
Blackjack Crack (V2)
Umbrella Traverse (V2)
Satan on a Halfshell (V10)
Section divider
Southern Sandstone
Southern sandstone would be bouldering nirvana if it wasn't for the friction-destroying summer heat. The rest of the year, however, it's pure bliss. The woods in Alabama, Arkansas, Georgia, Southern Illinois, and Tennessee contain endless cliffbands and boulders of tight-grained sandstone, featured with baby-butt slopers, jug horns, huecos, pockets, and classic micro-crimps. Some of the proudest, most singular lines in the world can be found here, problems that make you go, "I want to climb that," even if your pay grade doesn't match the V-grade.
The Orb (V8)
Rocktown, Georgia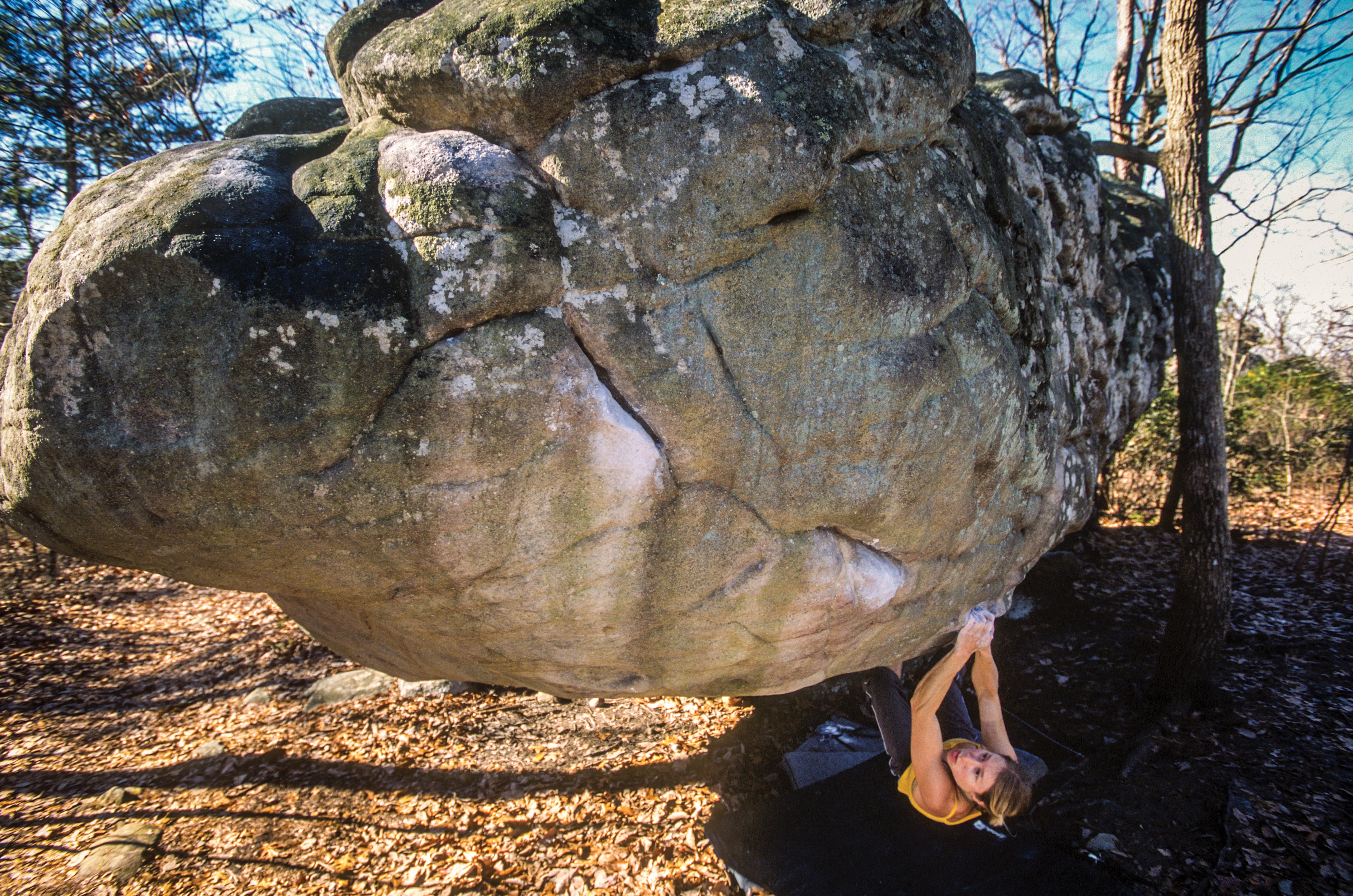 Perhaps the most famous Southern problem, this oft-photographed traverse moves along a UFO-shaped boulder on bulbous slopers. More remote than HP40 or Stone Fort, Rocktown has the classic features that define Southern sandstone, all on a pristine, forested plateau.
Nearby classics:
Golden Shower (V5)
Sherman Photo Roof (V7)
Golden Harvest (V10)
Mortal Kombat (V4)
Horse Pens 40, Alabama
The 20-foot, smooth, steep arête of Mortal Kombat is a rare American bouldering feature—one that climbs as good as it looks. Tall and spooky, with a bad landing that merits a slew of pads, this problem requires moving with conviction to the scoop at the top. The privately owned Horse Pens 40, situated on a mountaintop in northeast Alabama, might be one of the best moderate zones in the US.
Nearby classics:
Millipede (V6)
Moon Arête (V6)
The Shield (V12)
Stone Fort, Tennessee
On a golf course above Chattanooga, Tennessee, there's a lightning-bolt seam that strikes though immaculate sandstone: The Shield. First climbed by the French boulderer Tony Lamiche in 2006, the problem starts on a pair of jugs under a bulge and then climbs a smooth, overhanging wall of seams to top out 18 feet above the loamy soil.
Nearby classics:
The Wave (V6)
Celestial Mechanics (V7)
Fin Diesel (V4)
Hurricane, Arkansas
As Cole Fennel hilariously notes in his awesome new guidebook Arkansas Bouldering, the striking, semi-highball arête/blade of Fin Diesel at the Hurricane Boulders is "better than the entire Fast and Furious collection combined." Things can be a little moist and shady here, but the bullet gray stone is reminiscent of the best of Fontainebleau and well worth a visit, especially with the new, improved approach beta.
Nearby Classics:
Lost and Found (V2)
Totem Pole (V6)
Buzz Saw (V7)
Section divider
Hueco Tanks, Texas
Perhaps no other area in the world has as many problems per square yard as Hueco Tanks State Park outside El Paso, Texas. While accessing these three jumbled mountains of porphyritic syenite might seem daunting—with mandatory reservations and tours (for two of the mountains), and a limited number of visitors per day—if you can get through the red tape, this is bouldering heaven.
See Spot Run (V6)
"A desperate start to a mortifying topout," writes John Sherman in the Hueco Tanks Climbing and Bouldering Guide. This highball experience (20-plus feet) follows iron-rock crimps up the Big Show Boulder's chocolate stone to a long punch to the lip—or a long drop to the pads. Sherman climbed it in the late 1980s sans pads, writing of his experience, "I descend with the best case of adrenaline shakes I've ever had. The [spotters] haven't budged—they're in shock" ("Texas Tall Tales," Climbing No. 116, Oct/Nov 1989).
Nearby classics:
Nobody Here Gets Out Alive (V2)
Hundred Proof Roof (V3)
Baby Face (V7)
The Melon Patch (V0)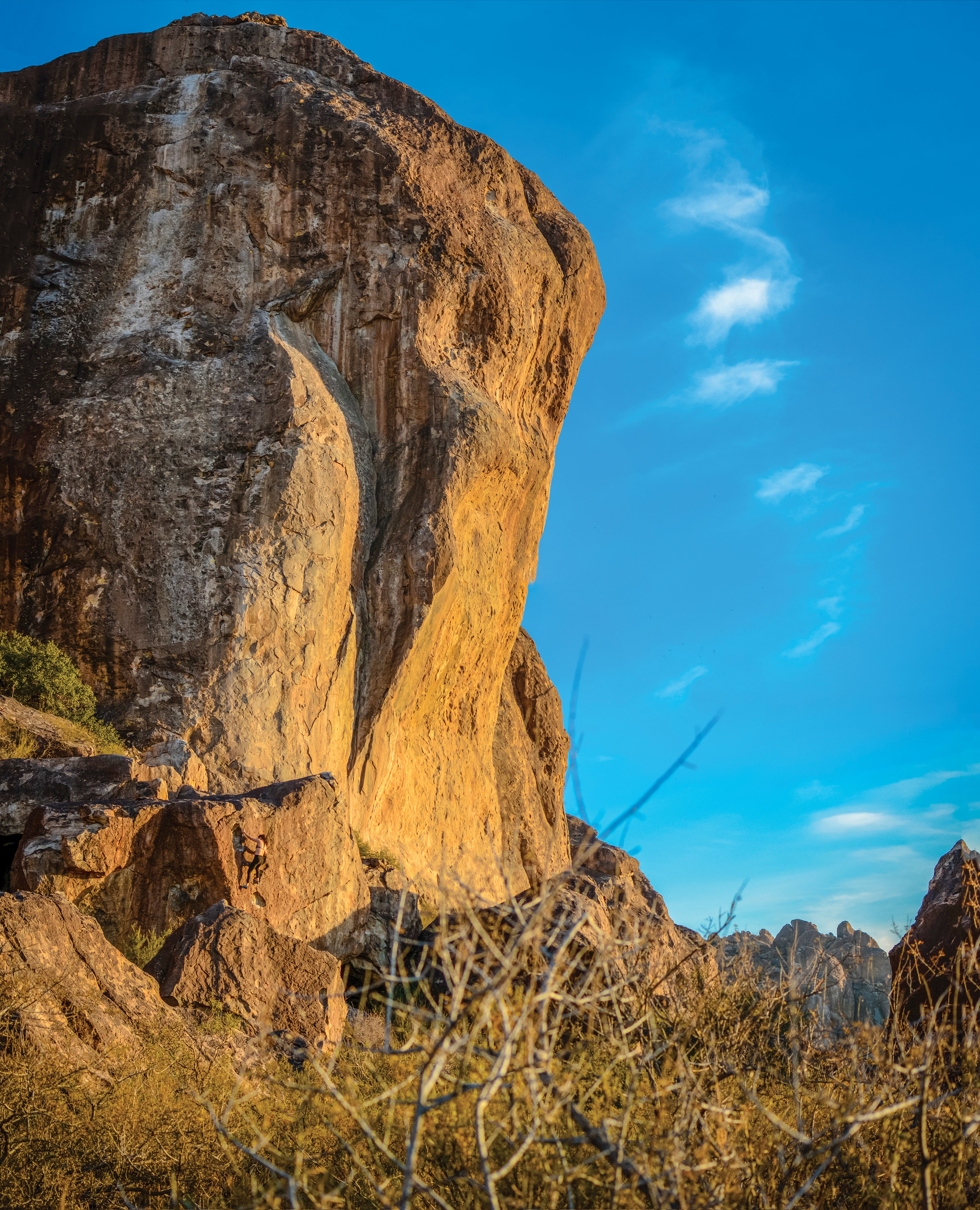 This vertical wall with deep, juggy huecos below the looming Indecent Exposure Buttress takes you way off the deck to a creaky finish at 25 feet. This photogenic problem may whet your appetite for the Wanker 101, a compilation of 101 "easy" problems around Hueco Tanks' North Mountain that will thrash you by day's end.
Nearby classics:
Epilady (V1)
Shaved Pits (V2)
T-Bone Shuffle (V4)
Diaphanous Sea (V11)
This climb exemplifies the iron-rock-crimping style so prevalent at Hueco. A sit-start on a low flake leads to a lunge to a good flake, and then the exit on an iron-rock face. If you've been putting your time in on the MoonBoard, Diaphanous Sea could go down quickly. It's one of a number of double-digit classics put up in Hueco by the bouldering legend Fred Nicole.
Nearby classics:
Sign of the Cross (V3)
Choir Boys (V7)
Power of Silence (V10)
Section divider
Colorado Rockies
The Rockies offer jagged peaks, alpine walls, and massive boulders—plus endless bouldering in the foothills and the highest concentration of problems above V12 in the US. High-altitude bouldering in Rocky Mountain National Park started in earnest in the late 1990s with Jim Belcer, Dean Potter, and Tommy Caldwell, but in the early 2000s Dave Graham radically changed the game with his powerful, über-technical lines.
Germ-Free Adolescence (V5)
Eldorado Canyon State Park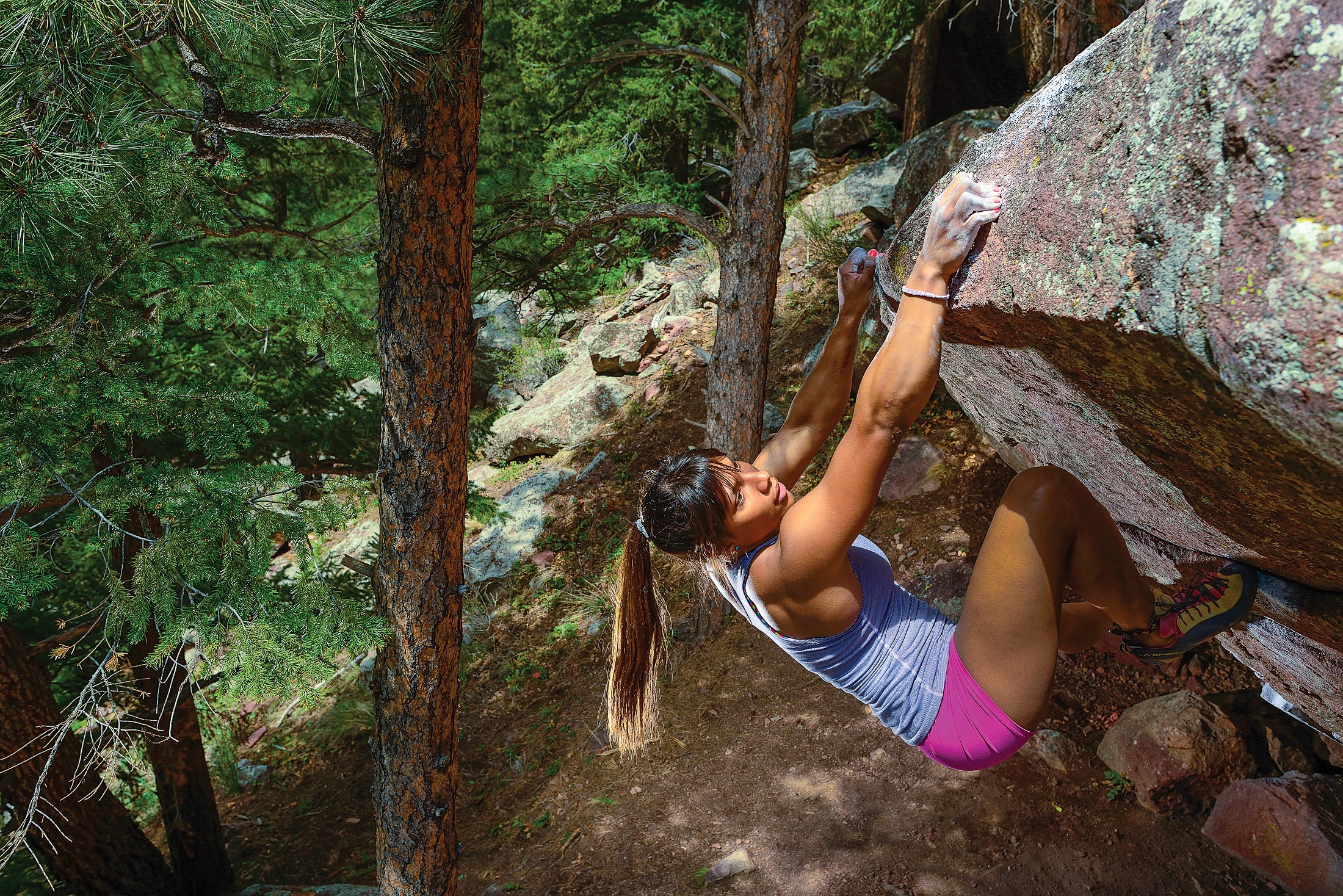 A notorious sandbag, first climbed by the equally notorious boulderer/bouldering historian (read Stone Crusade!) John Sherman in the mid-1980s, this behemoth overhang reels out a jug flake to a terrifying crimp-mantel lip encounter at 15 feet. Many climbers bring half a dozen pads, even strapping one to the pine tree nearby to pinball off. Or, you could forego the pads like on the first ascent. Naomi Guy threw down the gauntlet by doing this in 2003 in a billowing hoop skirt for the classic film Front Range Freaks.
Nearby classics:
Milton (V4)
Resonated (V7)
Never Say Never (V9)
Tommy's Arête (V7)
Rocky Mountain National Park
Located at nearly 10,000 feet at Lake Haiyaha, this pit sit-start problem follows engaging and sustained movement on gneiss to a committing crux at 15 feet. American climbing legend Tommy Caldwell, going off a report from his dad about huge boulders around Lake Haiyaha, picked this plum in 1999, helping kick off the boom in RMNP bouldering. It will leave you breathless—literally—if not for the altitude then for its scary talus landing, 45-minute and 885-foot-elevation-gain approach, or situation next to the postcard-perfect blue-green waters of the lake.
Nearby classics:
Autobot (V5)
Potato Chip (V7)
Whispers of Wisdom (V10)
Jaws (V3)
Independence Pass
"We, Bachar and I, used to climb this baby unroped," wrote John Long on Mountain Project of this aptly named great-white-shark-looking blade of tight-grained granite. This old-school classic on Independence Pass above Aspen tackles a 20-foot arête, with a distinctive roof in the middle and a crimp crux surmounting it. Sandwiched between Highway 82 and the Roaring Fork River in a forest at 9,000 feet, it's an easy crawl back to the car if you fall and break your leg, as the editor of this magazine did in 2004 when he slipped from dew-covered holds and landed on tree roots at the base.
Nearby classics:
The Ineditable (V6)
The Vampire (V7)
Section divider
Utah Desert
From the remote, windswept boulders of Ibex, to the expansive talus fields of Joe's Valley, to the smooth, urban granite of Little Cottonwood Canyon, Utah offers bouldering in a variety of landscapes, with many of the hardest lines established by longtime heroes like Ben Moon, Boone Speed, and Steven Jeffery. Utah bouldering is an ever-changing mix of styles, rock types, and environments.
AirWolf (V7)
Indian Creek
The most famous of the new-wave problems coming out of Indian Creek ascends a wolf-shaped tower below the Sparks Wall. This Chris Schulte compression line tops out at 25 feet, and most people will want to bring a rope and harness to rap instead of dropping back to the pads. Schulte describes it as "One of the proudest things I've ever seen." Alternating heel hooks and slaps take you off the deck—keep the compression and the head steady, lest the Airwolf pounce.
Nearby classics:
The Split Boulder (V6) at Indian Creek
Chaos (V8) at the Big Bend Boulders
Wills Afire (V6)
Joe's Valley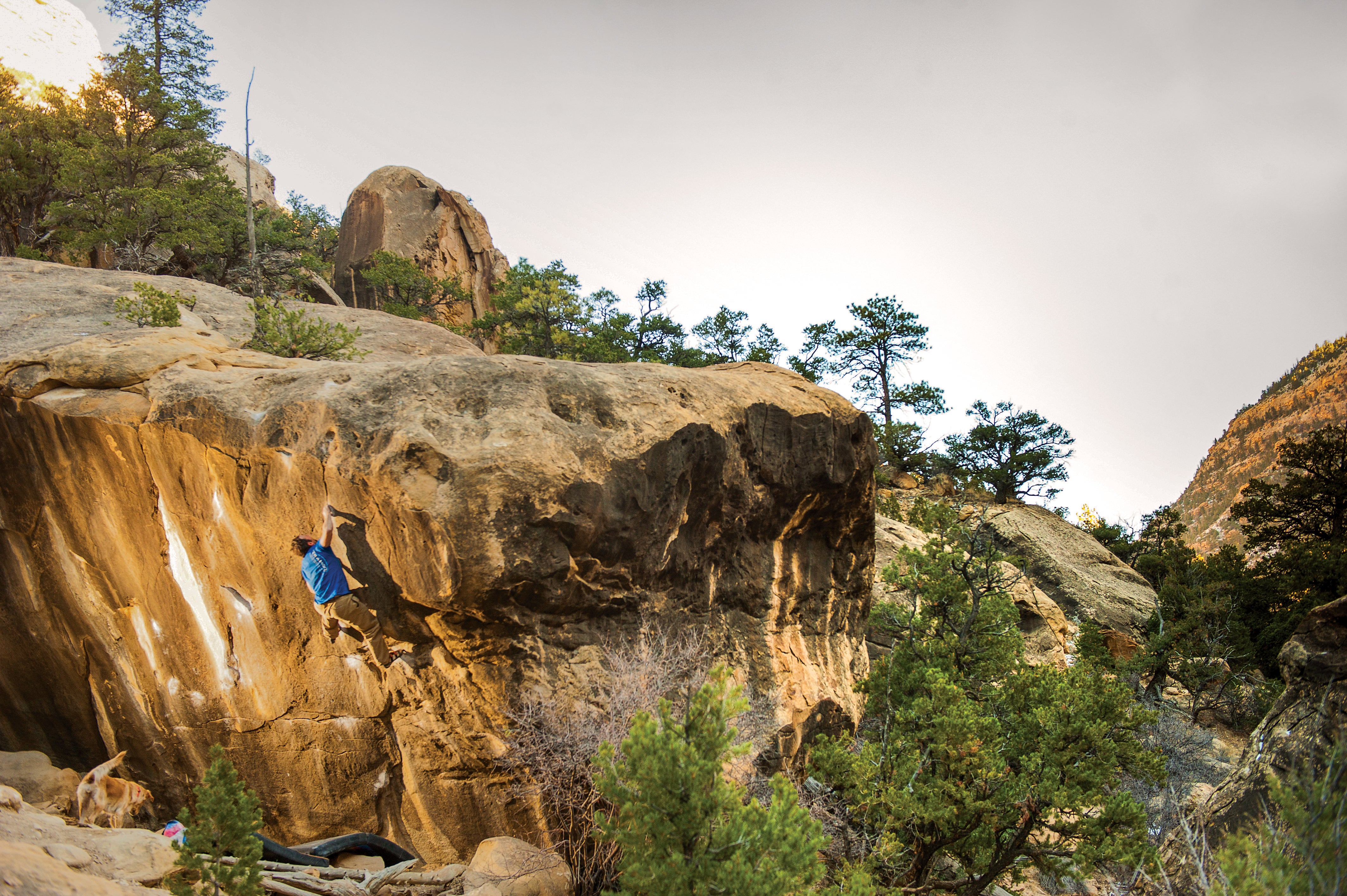 In 1998, Wills Young got lost looking for Steven Jeffery in Joe's Valley's Left Fork, but he found a classic instead. Wills Afire follows a 30-degree overhang on seams, edges, and pockets, culminating in a fingerlock or gaston move to a high-enough-to-be-memorable lip encounter. Excited, Young told his then-coworkers at Climbing about finding one of the country's best problems. But the staff was too busy skiing to report his ascent. Jeffery loved Wills's enthusiasm and started calling the problem Wills Afire. The name stuck.
Nearby classics:
The Angler (V2)
They Call Him Jordan (V8)
Beyond Life (V10/12)
Huntsman Graffiti (V5)
Moe's Valley
Moe's Valley, near St. George in southern Utah, has become a bouldering pitstop. When snow covers areas farther north, Moe's provides warm, sunny sandstone. Tackling a line of crimps next to its namesake graffiti on the Sentinel Boulder, this problem features enjoyable moves above a flat landing. It's the perfect gateway drug to Moe's Valley.
Nearby classics:
Shot Hole (V6)
Israil (V6)
Gription (V9)
Section divider
Desert Southwest
With its vast, open landscape of flat desert, cactus-covered hills, and hot temps, the Desert Southwest can feel forbidding. But amidst this arid region there are pockets of excellent stone—limestone, sandstone, quartzite, and volcanic rock—many in forested, higher-elevation locations like Flagstaff, the Ortega Mountains, and Roy. First explored in depth by Southwest bouldering legend Bob Murray, this region is home to any number of strong darkhorse locals like Timy Fairfield and Matt Gentile.
Bottle Rocket (V12)
The Renegade Roof, Flagstaff, Arizona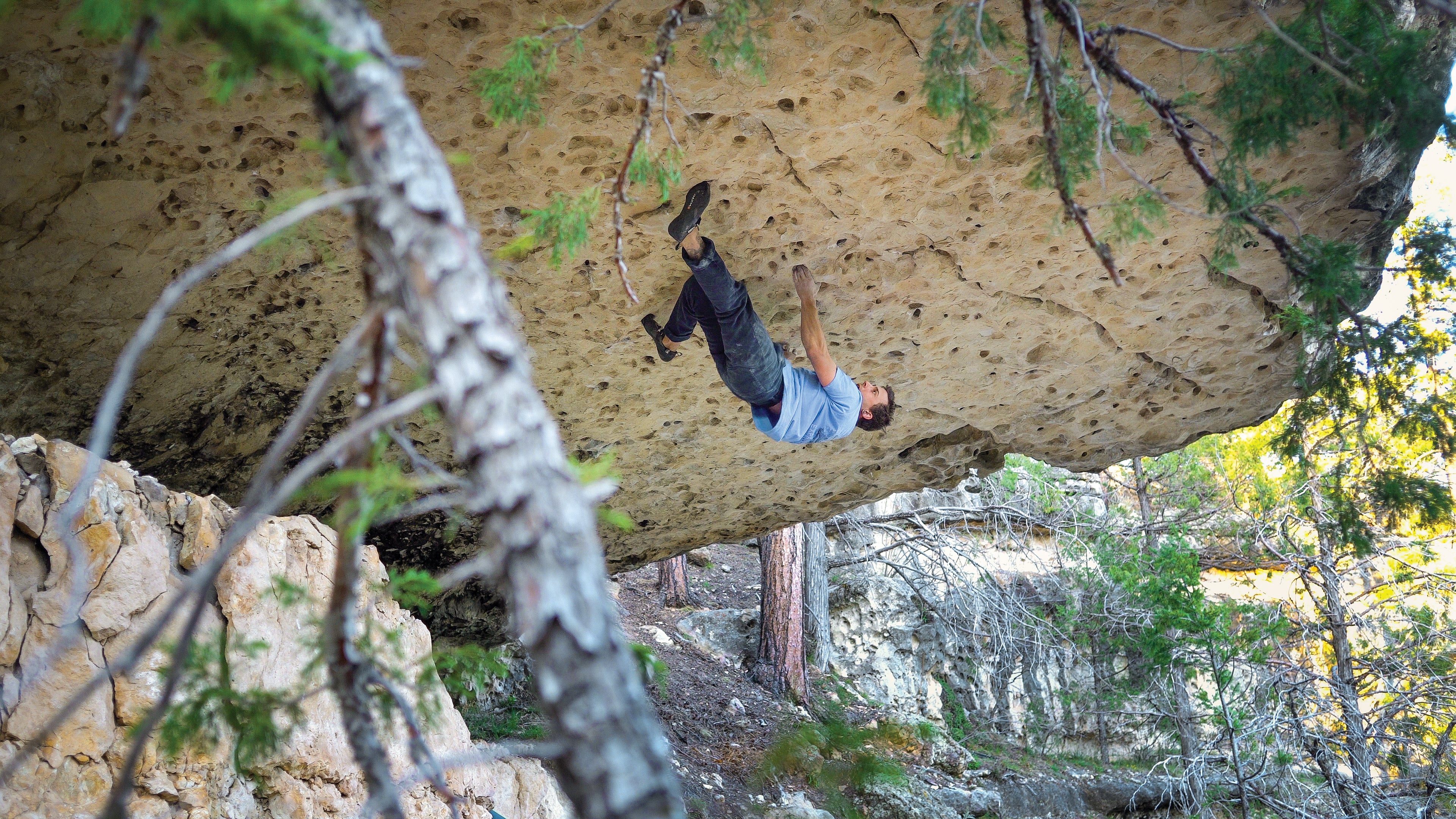 Located in the Woody Mountain Road sector near Flagstaff, the Kaibab limestone here is featured with honeycomb pockets and wide pinches through a 25-foot dead-horizontal panel. The first ascentionist, Matt Gentile, has called Bottle Rocket the best problem in Arizona. Body tension and precise footwork are a must—along with 10 crashpads.
Nearby classics:
Escape from the Blobs (V3)
Legends Never Die (V6)
Choss Origins (V8)
Kudos (V8)
Too Good to Be American (V3)
Ortega Mountains, New Mexico
This perfectly cut 90-degree corner in the Nosos area of New Mexico's remote Ortega Mountains can be climbed as a slab or dihedral, with or without the arête. First ascentionist Tom Ellis named the bloc thusly because the white quartzite seemed more akin to the bullet stone of Brione, Switzerland, than any rock in the US.
Nearby classics:
Two Stroke (V3)
Super Moto (V4)
Ripple Wall (V9)
Section divider
Red Rock Canyon, Nevada
In the past few decades, Red Rock Canyon, once known mainly for its sport climbing and multi-pitch trad, has become one of the most popular bouldering venues in the country. In the deep sandstone canyons, the huge walls have shed gigantic boulders, creating a playground of epic proportions in the gullies and washes below. Sculpted from unfathomably deep beds of Aztec sandstone, the boulders have an infinite variety of shapes, features, and colors, varnished to perfection by the desert elements and of bright, technicolor hues that must be seen to be believed. Enticing lines from V0 to V15 exist, luring climbers of every level to test themselves in the Nevada desert.
Fear of a Black Hat (V9)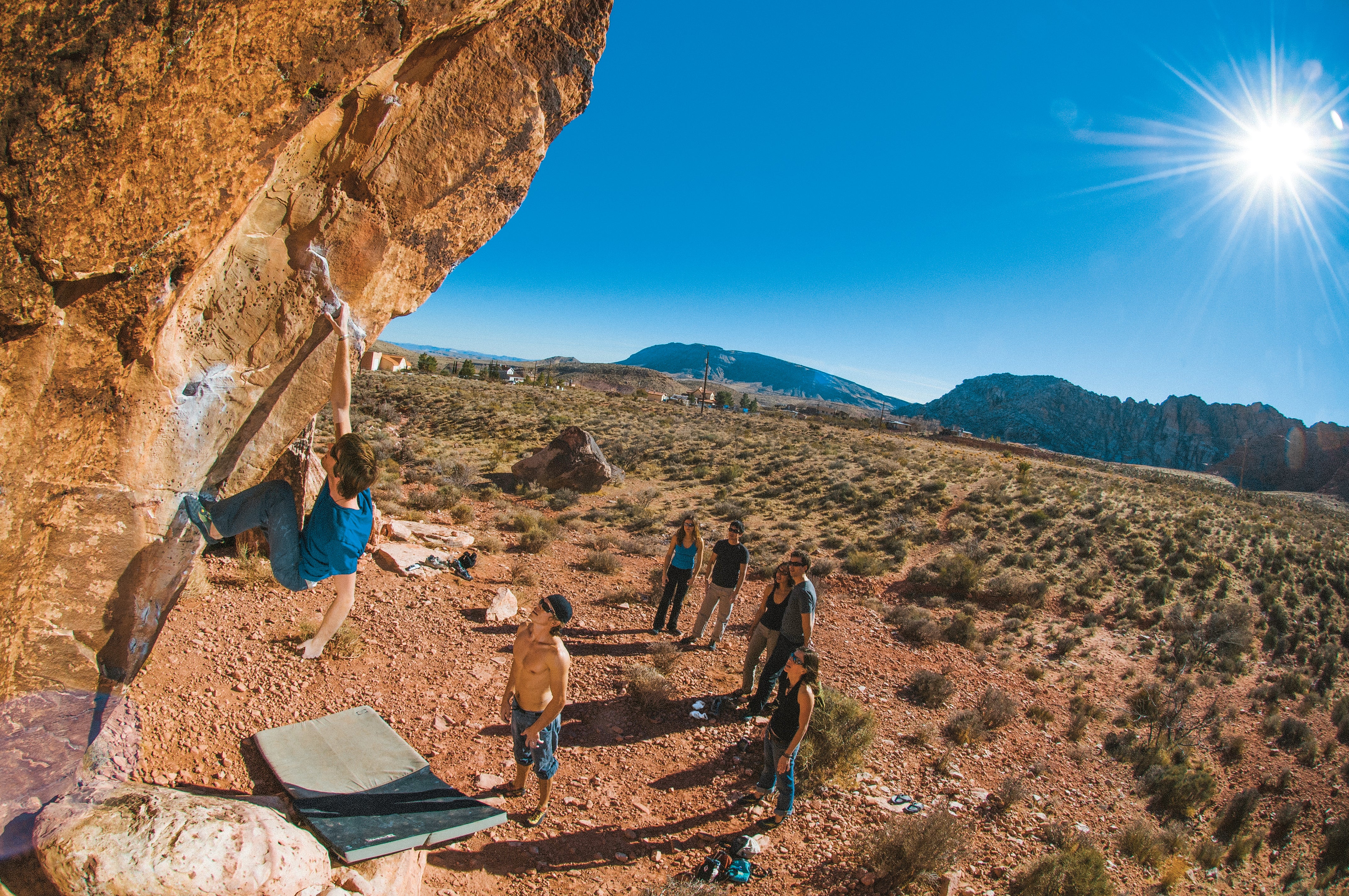 Dominating Calico Basin's famous Kraft Boulders, the Cube features four facets of classic climbing—even the V1 downclimb gets four stars. Fear of a Black Hat tackles the arête on the south face, starting on a big hueco and requiring the ability to stay calm on the balancey topout. John Bachar was one of the original suitors until a broken hold dropped him on his back, scaring off later attempts. Red Rock guidebook author Jared McMillen scooped the first ascent, retaining the name bestowed by Colorado local Brian Kimball, who'd cleaned the line for safer attempts.
Nearby classics:
The Pearl (V5)
Monkey Bar Direct (V8)
Clockwork Orange (V12)
Natasha's Highball (V2)
Most climbers make the 30-minute hike into Red Rock's Black Velvet Canyon for the long trad routes, but pebble wrestlers will stop at the canyon mouth to sample a cluster of a dozen classic lines. With a few hard crimp moves, a pull off a mono, and then glorious, albeit high jugs to finish, Ethan Pringle's Natasha's Highball is not only photogenic but a standard Red Rock tick.
Nearby classics:
Wet Dream (V12)
Atlas Shrugged (V12)
Colorado-based boulderer and art-history professor Peter Beal is the author of Bouldering: Movement, Tactics, and Problem Solving.