The Dark Side of Liberty
The price of freedom on the East Face of Washington's Liberty Bell
Heading out the door? Read this article on the new Outside+ app available now on iOS devices for members! Download the app.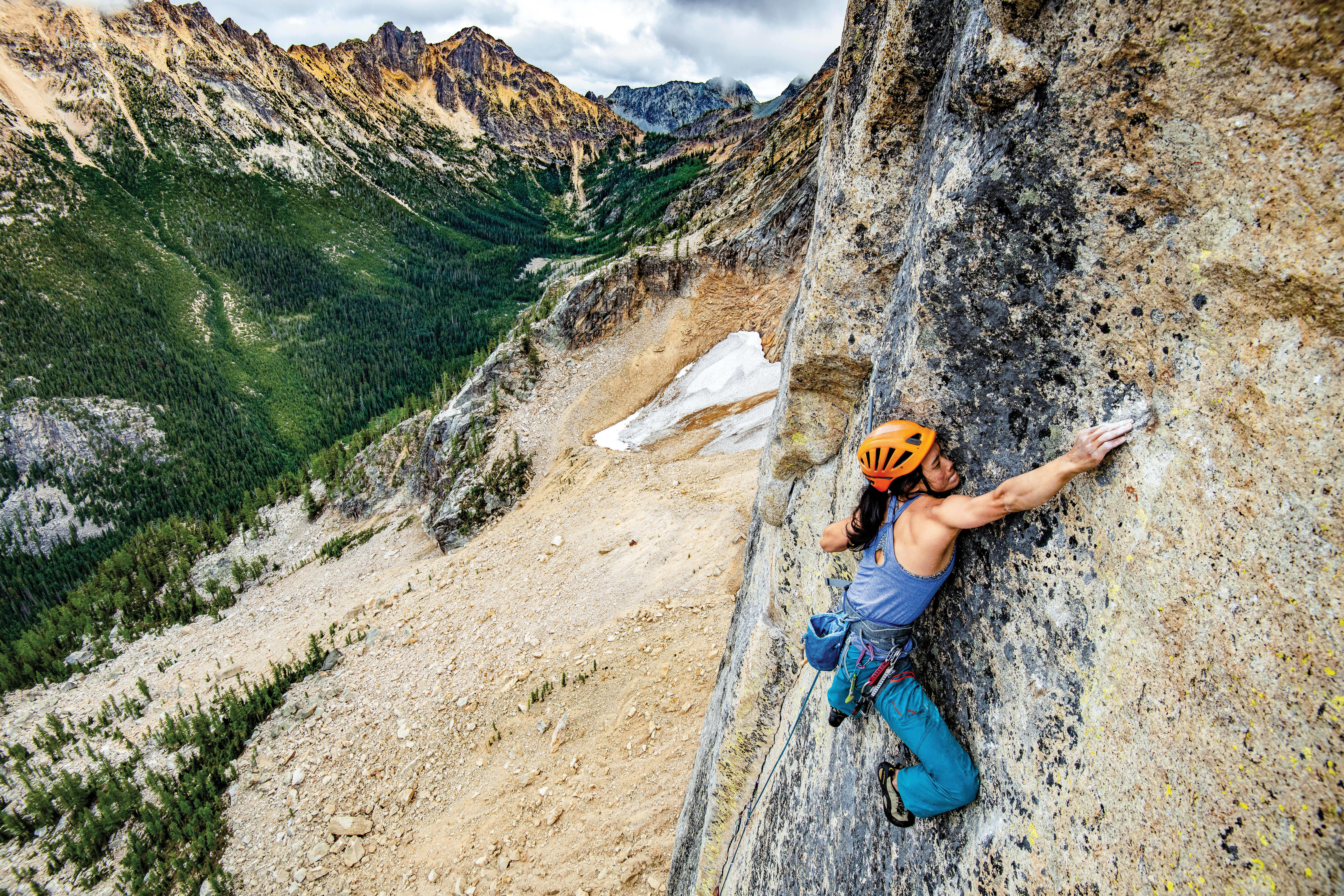 "I think there's a line," my partner—and new-routing guru—Mikey Schaefer said as we finished up another full day on the East Face of Liberty Bell, at Washington Pass in the North Cascades. Although Mikey and I were based in Oregon, we frequently spent summers in Washington because it offered the closest granite climbing. Unconvinced, I squinted at the spire and replied, "Where?" Mikey traced features along the northeast aspect with his finger. "But how do you know the rock is any good?" I asked.
"I've looked at pictures … and I've stared at this rock a lot," Mikey said. "But to really know, we'll just have to go up there and swing around."
In May 2018, Mikey and I climbed the 5.9 Barber Pole to access the unclimbed terrain. When we swung around the corner onto Liberty Bell's northeast side, we were excited to find swathes of lichen-dotted, bullet-hard granite through steep faces, dikes, and splitter crack systems. As often is the case, Mikey was right: There was a line.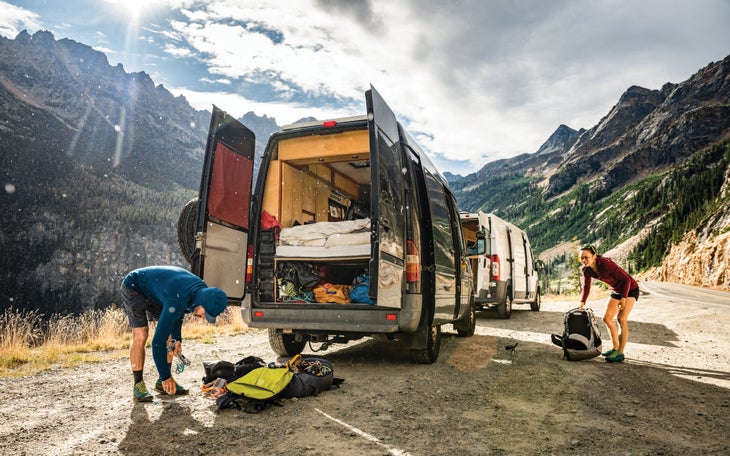 Partnership: On and Off the Wall
Every partnership is different, with its own strengths and weaknesses. What I value about Mikey Schaefer's and my partnership is that we are both willing to try—within reason—even when the situation is far from perfect. Even if I've been in the operating room until 8 p.m. on a Friday night, I still drive 6.5 hours to Washington Pass for the weekend, because some time on the route is better than no time. And Mikey will keep his word to climb on August 10, even if he just got in from a delayed, multi-leg international flight. In this photo, taken at the pullout below Liberty Bell, we're the only climbers in sight—the forecasted rain kept other suitors away. As Mikey often says, "What else would we be doing?" Although I can usually think of many more- comfortable alternatives, what it comes down to is that we both love to climb, we both are willing to try, and we're both willing to be flexible even when other variables are not. 
Liberty Bell is the most prominent feature of the Liberty Bell Group. The formation is unmistakable, looming over Highway 20 right by the "hairpin" turn. The Methow Tribe called the spires the Watchers, a spiritual symbol that towered above the east-west trade route over the 5,500-foot pass. The spires are part of the Golden Horn Batholith, notable for its multiple types of granite. While there are climbs throughout the group, the East Face of Liberty Bell boasts some of the most consistently high-quality rock, all a mere 20-minute hike from the highway.
Mikey grew up climbing in Washington, with mentors who instilled in him that establishing new routes was just part of the sport. He put up his first new climb on the columnar basalt of Frenchman's Coulee when he was 16, three years after he started climbing. "It was chossy and not that good," Mikey recalls. "[My mentor] Jim Yoder named it Little Stinker—I think because I could do it and he couldn't." Mikey would go on to spend many of his formative climbing years in Yosemite Valley, big-wall aid and then big-wall free climbing. His route development there started with The Night Shift (5.12+) on Fairview Dome in 2002, and was followed by Retrospective (5.11+) on Fairview Dome in 2005, Border Country (5.12) on Middle Cathedral in 2009, and, most recently, Father Time (5.13b) on Middle Cathedral in 2012. He thinks Father Time may be his proudest achievement yet. "No one has put up an all-independent grade VI free route in Yosemite in decades," he says. "It's not super common because you have to know how to aid climb, you have to be a strong free climber, and you have to know how to put up routes. That's three different genres."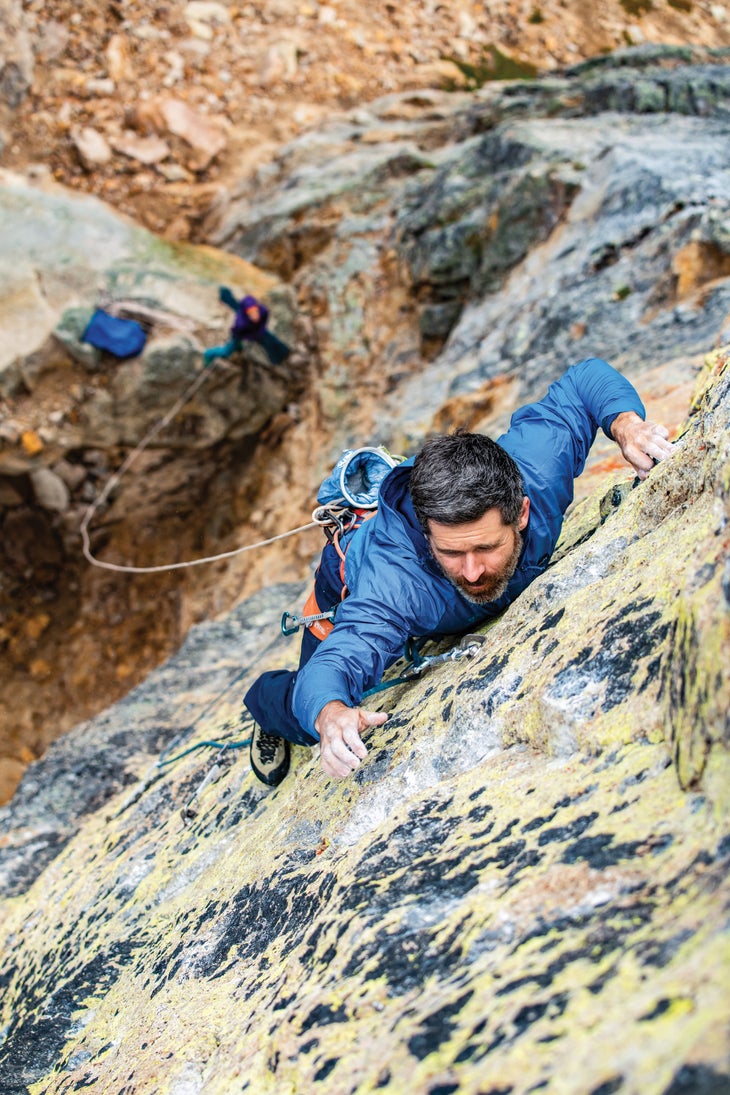 Pitch 1 (5.12+): Tech 9 Granite Trickery
Prior aid climbers had ventured up in the general area of DSOL; we found hardware of different vintages—including rivets, multiple types of bolts including machine-heads, and hangers from multiple eras and brands—that petered out about 200 feet up. One of these attempts was by Mikey's first climbing partner, Blair Williams. We opted to climb the technical face to the right of the prior aid attempts because it looked like a better free line. Here, Mikey has danced over the initial chossy rock band before crossing into the high-quality face features above. The crux comes just before the anchors; it seems impossible until you figure out the sequence—classic granite trickery. 
Over the years, Mikey has brought this skill set back to the East Face of Liberty Bell, his very first big wall, which he climbed with Blair Williams in 1994 at age 15. In 2008, Mikey pioneered a variation around the "obligatory" pendulum on pitch five of Thin Red Line, completing his first free climb on the East Face—and the FFA of the route (see sidebar, p.47). While working the route, he noticed a lot of unrealized potential. In 2014, Mikey established Liberty and Injustice for All (5.12-) just right of Thin Red Line, rope-soloing it in order to "make it a little more challenging." He then explored a line up the center of the wall that would become A Slave to Liberty, completed in 2016. Although he'd hoped this would be the king line on Liberty Bell, the flaky nature of the crux pitch left him disappointed.
Liberty Bell has also played a large role in my own climbing progression. Although I discovered both climbing and the outdoors as a freshman at UCLA in 2003, my early climbing years were dominated by bouldering and sport climbing. In 2015, when I climbed Thin Red Line, it was my first "hard" multi-pitch route, and the first female ascent of the line. In July 2016, I completed the fourth free ascent of Liberty Crack (IV 5.13-), the storied original line up Liberty Bell's East Face. Working these routes helped me learn efficient systems in a well-controlled setting; it also gave me a better sense of how much terrain can be covered in a single day. However, unlike Mikey, I had never considered putting up routes. In my mind, I still had to climb all the established classics, and I'd convinced myself that putting up new routes was reserved for the masters—people like Mikey, Alan Watts, and other legends. Mikey, however, assured me that this was not the case and convinced me that participating in route-smithing would add to my skill set.
And so, after our quick scoping mission in May 2018, we found ourselves back on Liberty Bell that August. Mikey set up camp at his brother's house in nearby Winthrop, Washington, and I drove up on weekends and on a vacation week from my duties as an orthopaedic-surgery resident in Portland, Oregon. We set up our initial fixed lines midway up the route by traversing in along M&M ledge from Thin Red Line. Mikey insisted that going top-down made the most sense, because it would allow us the freedom to choose the best climbing. Then, on one of our first "rest days," we climbed the Beckey Route and rigged fixed lines from the summit. I soon learned that there were no real rest days in this process—there was simply too much work. On days when we were less tired, we would climb and figure out beta. On days that we were more tired, we would jug up and "garden," excavating dirt and exfoliating rock.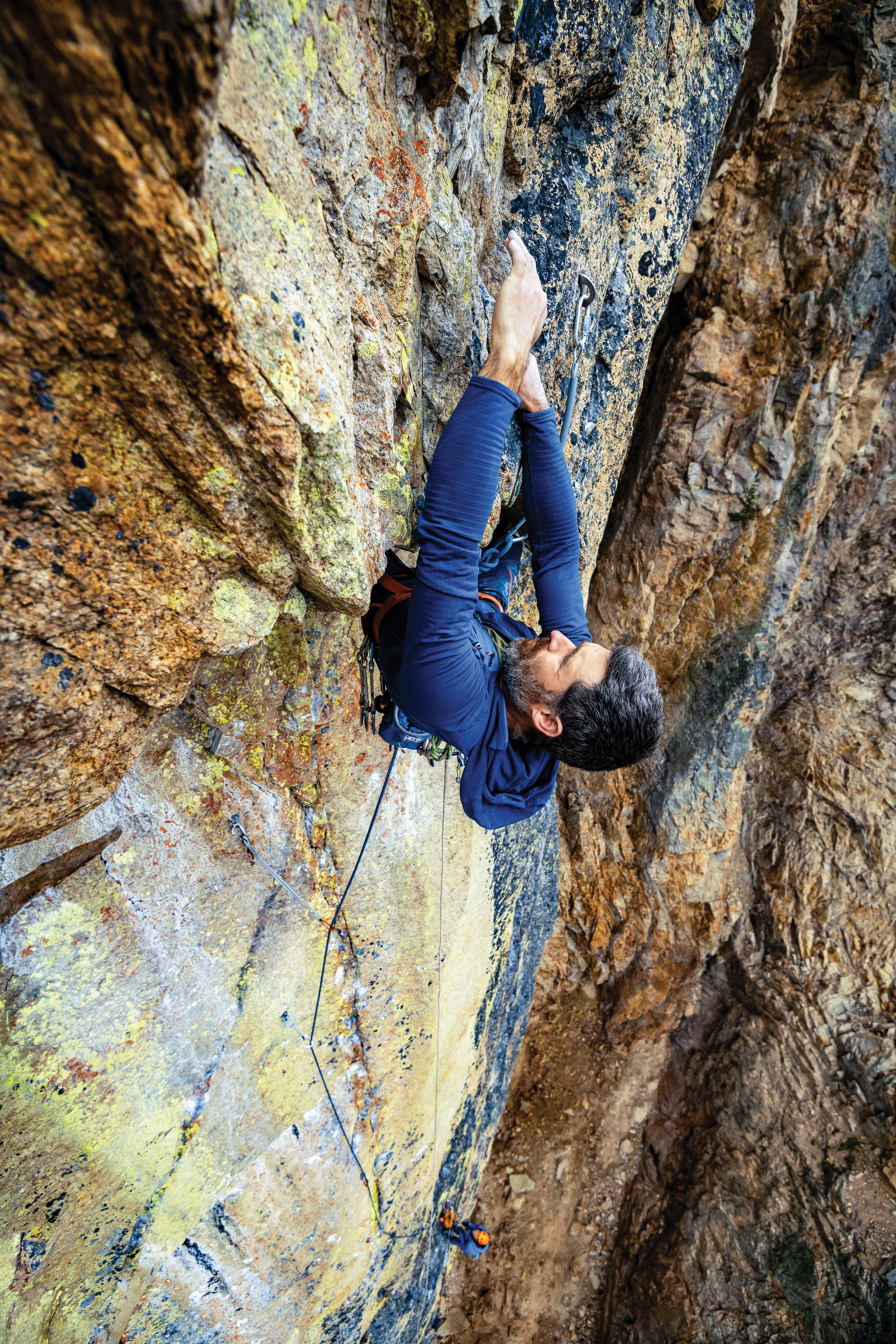 Pitch 2 (5.13-): A little bit of everything
This steep ropelength is one of the most atypical pitches on Liberty Bell, most of which is defined by low-angle, bouldery cruxes. Pitch two climbs more like a power-endurance sport climb, tackling an orange dike, powerful roof (shown left), and a technical, insecure traverse. Up at the belay atop pitch 2, Mikey and I share a kiss on a rainy Washington day (shown right).
The high grunt-work-to-climbing ratio was only one of many differences between putting up a new route and climbing an established route. I'd also, on established climbs, been accustomed to holds staying attached as I climbed! As visibly solid grips parted from the wall when weighted, I learned to tread more carefully. I also began to realize the complex, multi-faceted depth of problem-solving with an FA. We were not just executing a routine; we needed to choreograph it as well, all while taking into account not just what we wanted but also what future performers would want. This was a type of decision-making I had not yet encountered in climbing. While the creative freedom was exciting, it also meant increased responsibility.
The wildfires blazing through the Pacific Northwest that summer introduced additional concerns. As 400,000 acres burned in Washington alone, heavy smoke spread through the Methow Valley at the base of Washington Pass. We were lucky that on most days the route rose just above the worst of the smoke. However, there were enough non-viable days—meaning, too smoky to climb—that, by the end of August, we conceded defeat. We placed the last of the bolts, fully equipping the route, and cleaned our ropes for the year.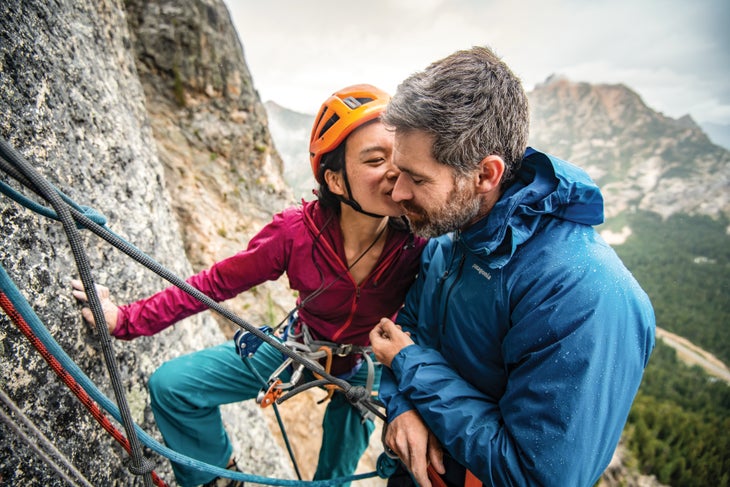 We returned in August 2019 with renewed enthusiasm and cleaner air, ready to direct our energy to just climbing and fine-tuning the beta. It became clear that the meat of the climbing would be in the first four pitches, and that the crux was pitch four—a nearly blank section between a finger crack and a steep bulge. From there, the middle pitches consisted of enjoyable 5.11 that featured both overhanging hand cracks and laybacks as well as technical, balancey sections. The final pitches were a 5.8-to-5.10 romp. After putting in nine days of climbing, which included a combination of Micro Traxioning the fixed lines and leading, on August 19, 2019, we decided to try from the bottom. The initial intention was to go to the top of pitch four since we had gotten a late start. However, when Mikey and I both sent the crux pitch, we decided to capitalize on the opportunity. The 5.11 hero climbing above was extra enjoyable now that the 5.13+ pitch was behind us. We summited just as it got dark.
I was excited that we had both redpointed the route, but as the days went by and the glow of success slowly faded, a quieter sense of accomplishment remained. It must be similar to the feeling of writing a book that others will read or developing a procedure that other surgeons will use. I had never imagined that I would be contributing to the existing catalog of routes, and it felt especially meaningful because it had been on a formation that has taught both me and Mikey so much. Furthermore, Mikey had finally established his king line on the East Face and created the hardest multi-pitch route (for now) in the state where he'd learned to climb. It was an incredible way to wrap up our time in the Pacific Northwest where we'd both been based for seven years; finishing the route was the last thing we did before we moved to Reno, Nevada.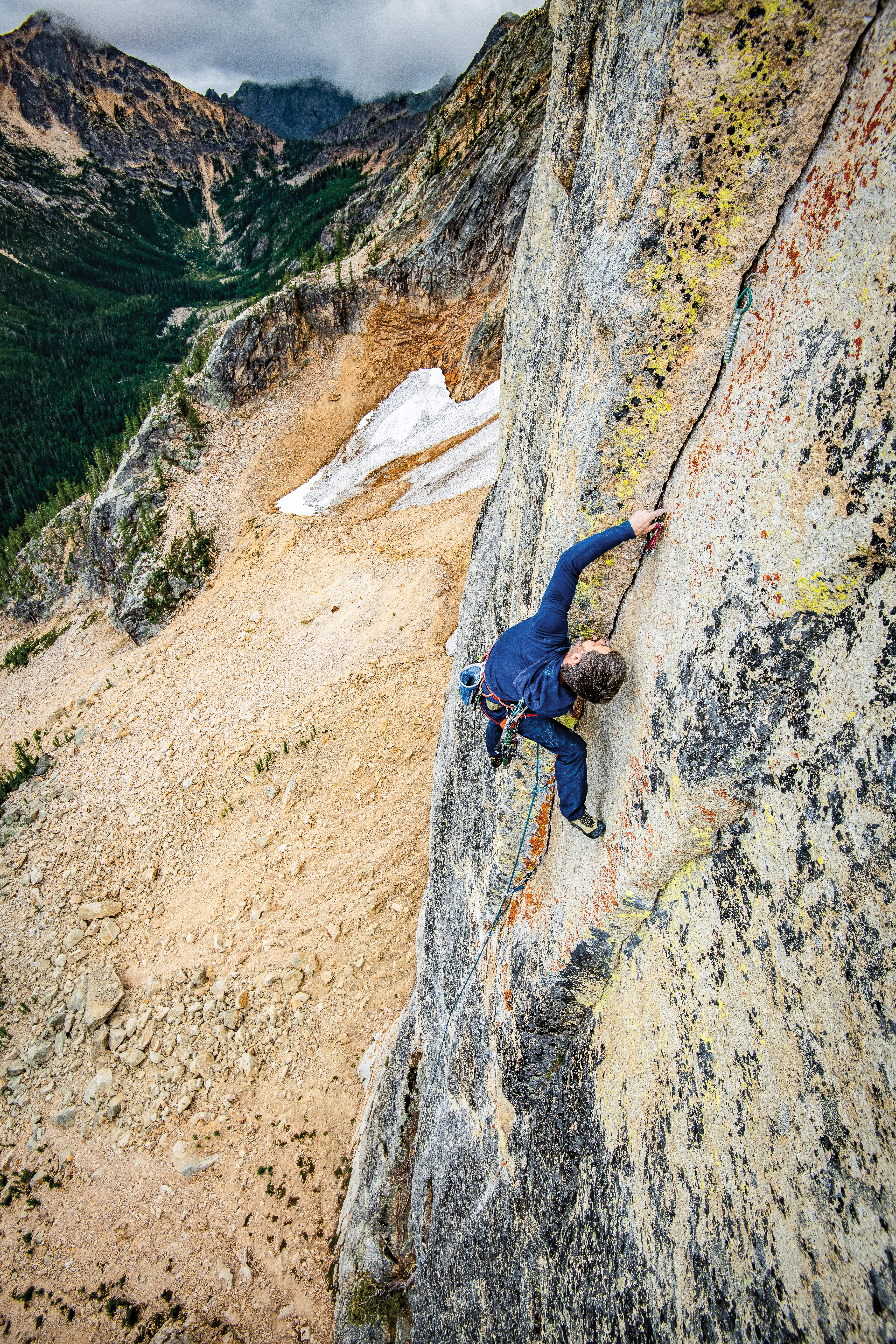 We named the route the Dark Side of Liberty because, during the first-ascent process, we were reminded that unbridled freedom can be a liability unless tempered with a consideration for others and for long-term consequences. Although we had the freedom to place the bolts anywhere, we felt the responsibility of doing it right, and took multiple laps up each sequence to determine the ideal clipping spots. In contrast, we'd seen how unchecked freedoms leading to air pollution and climate change had contributed to natural disasters like the omnipresent wildfires of 2018. And, of course, we also called the route the Dark Side of Liberty because it lies on Liberty Bell's dark side, perpetually in the shade save a few hours of sun in high summer.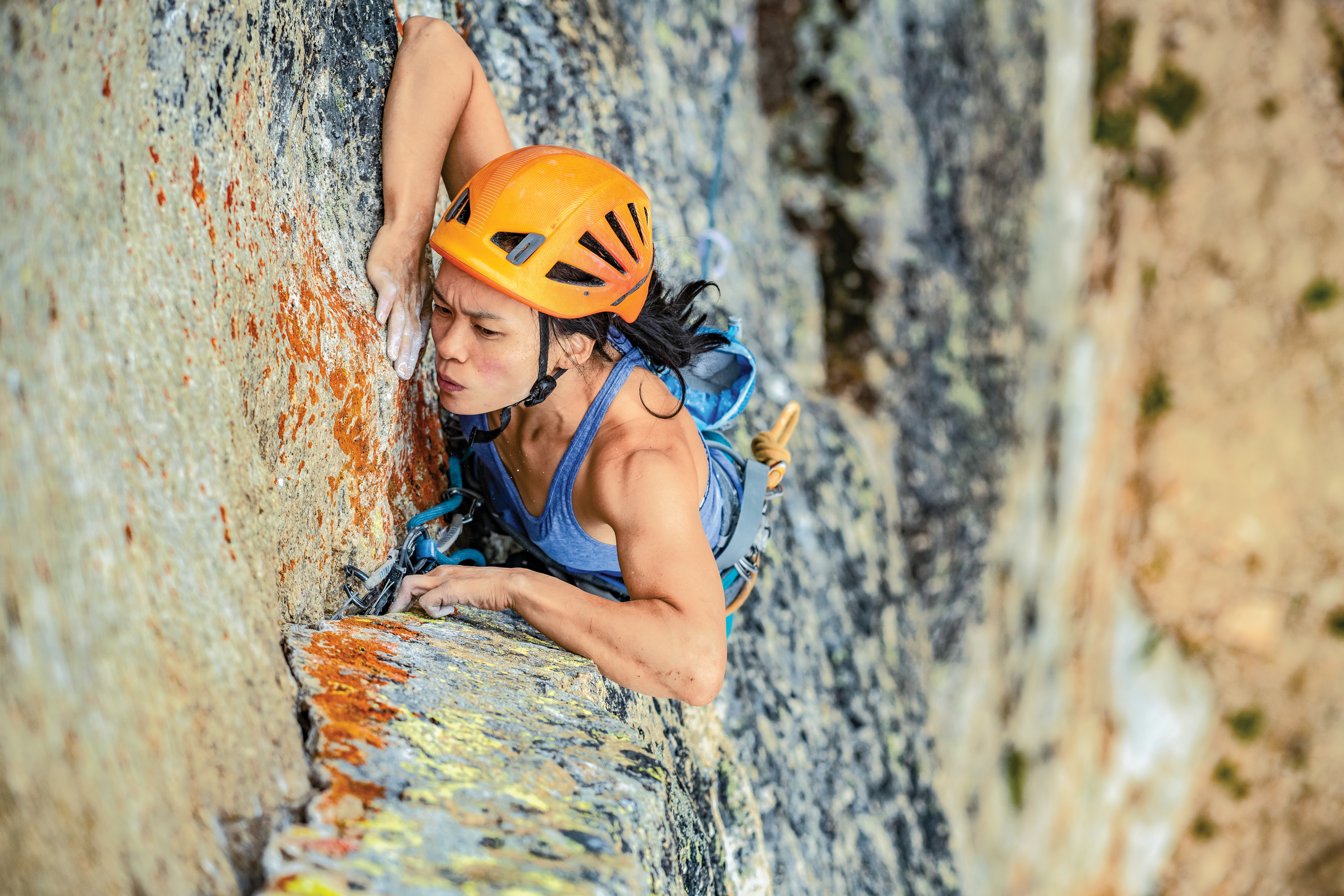 Pitch 4 (5.13+): Size is relative
Pitch four starts with a bouldery face sequence that leads into a beautiful 5.12 corner crack (above and p.46), which ends in a crucial resting stance. From there, the climb makes use of small gaston edges and improbable foot smears to gain a single-pad "jug." This thin and techy V9/10 sequence then moves right into a powerful V5/6 prow. Mikey and I took days to decrypt this nearly blank face. Each move felt desperate, but slowly, we made links until we had worked up to the "jug."

At the time, since we mostly spent our time on ropes, neither of us had ever climbed a benchmark outdoor V9 or V10, so we wanted confirmation of the grade. We recruited Seattle-based crusher Nathan Hadley, who was fresh off a quick sending spree of the Canadian alpine trilogy, all rated 5.14-. In September 2019, Hadley made a quick second ascent of DSOL, confirming the difficulty of the boulder problem. He also felt the route was comparable in grade to the routes of the Canadian alpine trilogy: The crux pitch could either go at 5.13+ or easy 5.14. But since Mikey could not be complicit in any grade inflation, we settled on 5.13+
The East Face of Liberty Bell
The sheer, 1,300-foot East Face of Liberty Bell (7,740 feet) stands proudly just a short approach above the North Cascades Highway. Liberty Bell itself was first climbed in 1946 (prior to the construction of the highway in 1964) by Fred Beckey, Jerry O'Neil, and Charles Welsh, but the East Face didn't see an ascent till 1965, via the classic Liberty Crack. The rock is generally solid, coarse-grained granite, though some kitty litter can be found toward the upper part of the wall.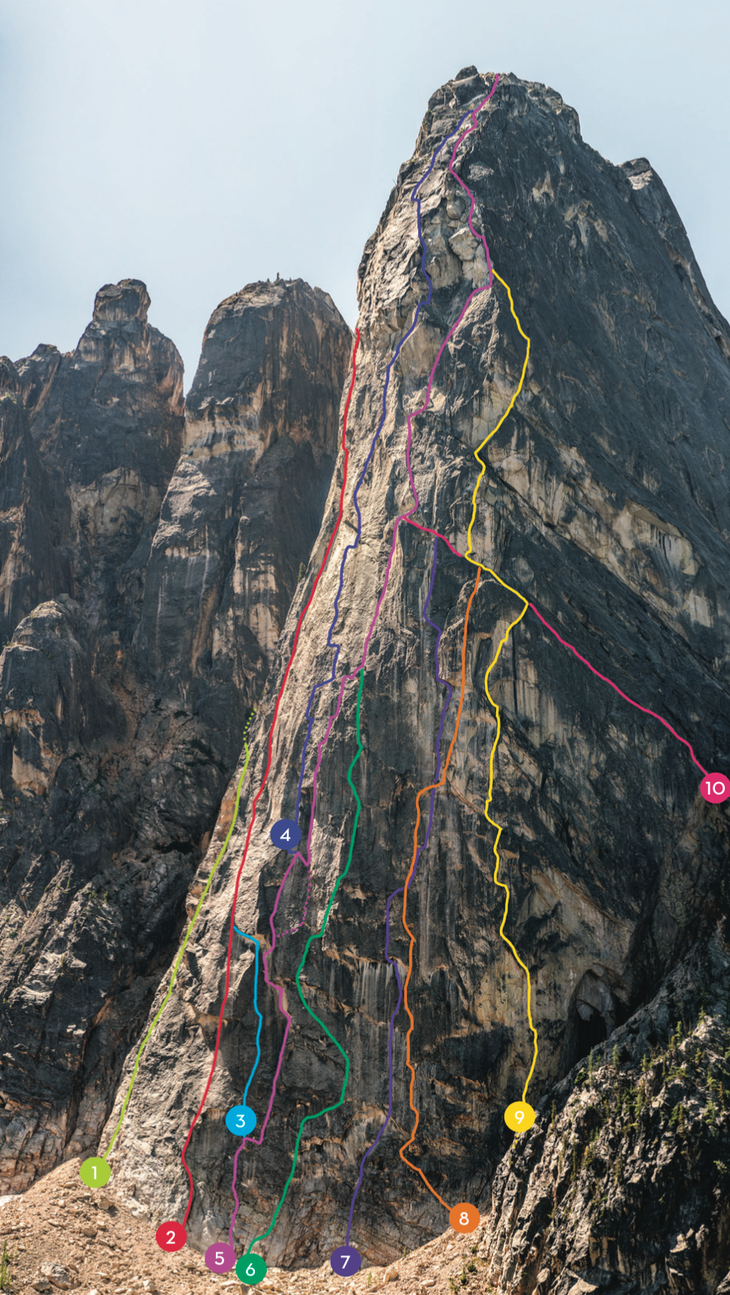 Freedom Rider (5.10d, 10 pitches), FA: S. Risse and B. Burdo, 1988. Though this was the first East Face free climb, it has faded into obscurity. It's more of an adventurous outing, with sections of loose rock and short runouts.
Liberty Crack (5.13- or 5.10 C2, 11 pitches), FA: S. Marts, D. McPherson, and F. Stanley, 1965; FFA: B. Sandahl, 1991. Due to its status as one of Roper and Steck's 50 Classic Climbs of North America, this is probably the most popular route on the wall and one of WA's most coveted climbs. Pitches two and three are generally aided, but deserve more free-climbing attention. Pitch two (5.13-) pulls a large roof via underclings and a crucial kneebar to get established in the final tips splitter. A free variation on pitch three takes a smooth slab out right.
Freedom or Death (5.12a, 4 pitches), FA: E. Helmuth, 1998. This four-pitch variation to Liberty Crack is the most attainable free climb on the East Face. The first three pitches are almost entirely bolted and make a fun outing on their own.
A Slave to Liberty (5.13-, 11 pitches), FA: M. Schaefer, 2016. This line branches left from pitch four of Thin Red Line and takes a direct line up the tallest, blankest part of the wall. Numerous pitches of slabby, technical 5.12 lead to a 5.13- crux on credit-card crimps and crumbly feet. It has had only one repeat—by Alex Honnold.
Thin Red Line (5.12, 12 pitches), FA: J. Madsen and K. Schmitz, 1967; FFA: M. Schaefer, 2008. Once considered WA's testpiece aid climb, Thin Red Line is now the region's benchmark long free climb, offering varied and enjoyable climbing on good rock. A variation out right on P4 avoids the aid pendulum.
Liberty and Injustice for All (5.12, 5 pitches), FA: M. Schaefer, 2014. With technical and engaging climbing on a mix of natural and fixed protection, this route features generally long pitches with adequate yet not always abundant protection. It's one of the more popular routes on the wall. Joins Thin Red Line at pitch seven.
Live Free or Die (5.12, 11 pitches), FA: B. Herrington and N. Hadley, 2017. Climbs very close to its neighbor, the Independence Route, allowing for pitches to be swapped out. The crux comes at a decidedly hard boulder problem on pitch four, with the remainder of the climbing being either 5.10 or 5.11.
Independence Route (5.12-, 12 pitches), FA: A. Bertulis and D. McPherson, 1966; FFA: S. Risse and K. Hertel, 1991. A bold and difficult undertaking on its FA and subsequent FFA. Even with the later addition of fixed gear and good beta, this is still a demanding tick. Joins Thin Red Line at M&M Ledge.
Dark Side of Liberty (5.13+, 10 pitches), FA: S. Lee and M. Schaefer. The protection is the most modern and approachable of all the routes on Liberty Bell, with the crux pitches bolted such that you can easily suss the moves.
Barber Pole (5.9), FA: S. Bill, C. Burgner, and F. Tarver, 1966. This adventurous route can be used to access M&M Ledge and the midway point on numerous routes—helpful for working their lower, harder pitches.
—Mikey Schaefer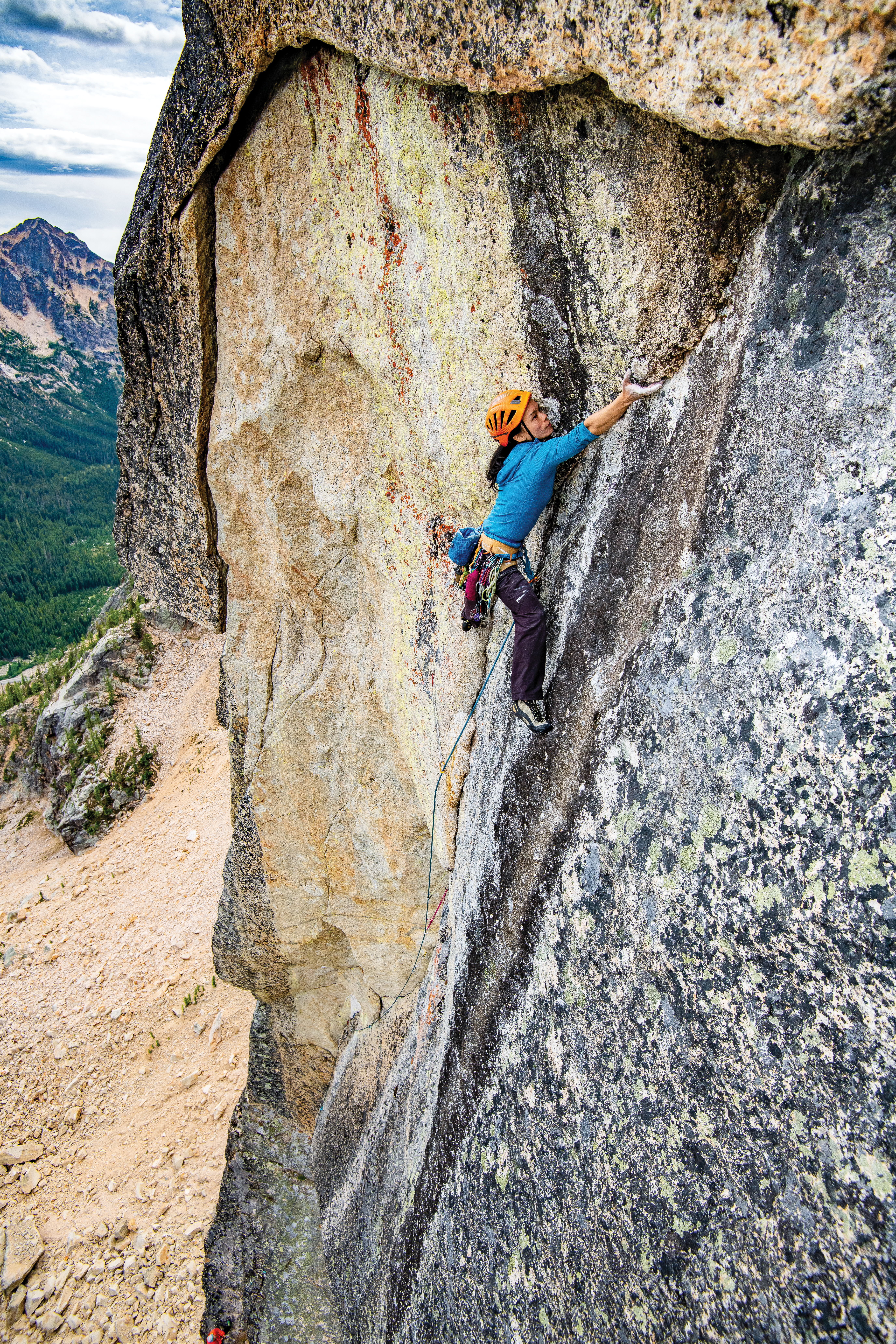 Pitch 5: Hero climbing
Pitch five climbs through one of the largest features on Liberty Bell—we nicknamed it "the Revolver" due to its resemblance to a downward-pointing revolver. The 150-foot pitch is marked by classic jamming and overhanging laybacking. It is undeniably hero climbing, due to its exposed position, steep and fun movement, and the fact that it marks the end of the hardest climbing on DSOL. 
The Mikey Schaefer School of Establishing Multi-Pitch Routes
Here are some things I learned from Mikey on Dark Side of Liberty:
Look at the wall. A lot. Some people use binoculars, but a good camera lets you take photos to inspect the features more closely. This will give you a route-finding blueprint.
Measure twice, cut once. When placing bolts in a top-down style, climb the pitch and mark the clips with chalk dots. Then climb it again and reassess. Make sure the hangers are clippable from the stances (for an average-height person).
Drill perpendicular to the wall. If it's a low-angle slab, raise your hand up off horizontal so the drill bit is pointing slightly downward, and vice versa if the wall is overhanging. If the drill hole is not perpendicular, then the hanger will not sit flush with the wall. Ask me how I know!
Use European-style anchors/vertically staggered anchors. The chains and single rap ring help to equalize the bolts, and the single ring (as opposed to two sets of chains) prevents the rope from twisting as you pull it. It also makes it easier to clip in since both bolts are already connected.
Use stainless-steel. Unless you want to go back and replace bolts and hangers when they rust!
There are no rest days. There is always something to do, whether that's bringing up more gear and ropes, deciphering the moves, putting in bolts, or scrubbing the holds.
Be 110 percent sure that there's no one below when trundling. Sometimes, that means hiking up at the day's end to make sure the area is clear. And sometimes, that means putting the rock in a backpack and taking it down with you. Also, check that the ropes aren't below you—lap-coil or saddle-bag if need be!
When it seems like the scrubbing will never end, remember that route establishment is type II fun—"fun" only in retrospect.
Asking/"conning" friends into climbing on the route will make the process more enjoyable. The outside input adds new perspective, and the additional traffic helps to clean up the rock. Plus, the morale boost is priceless.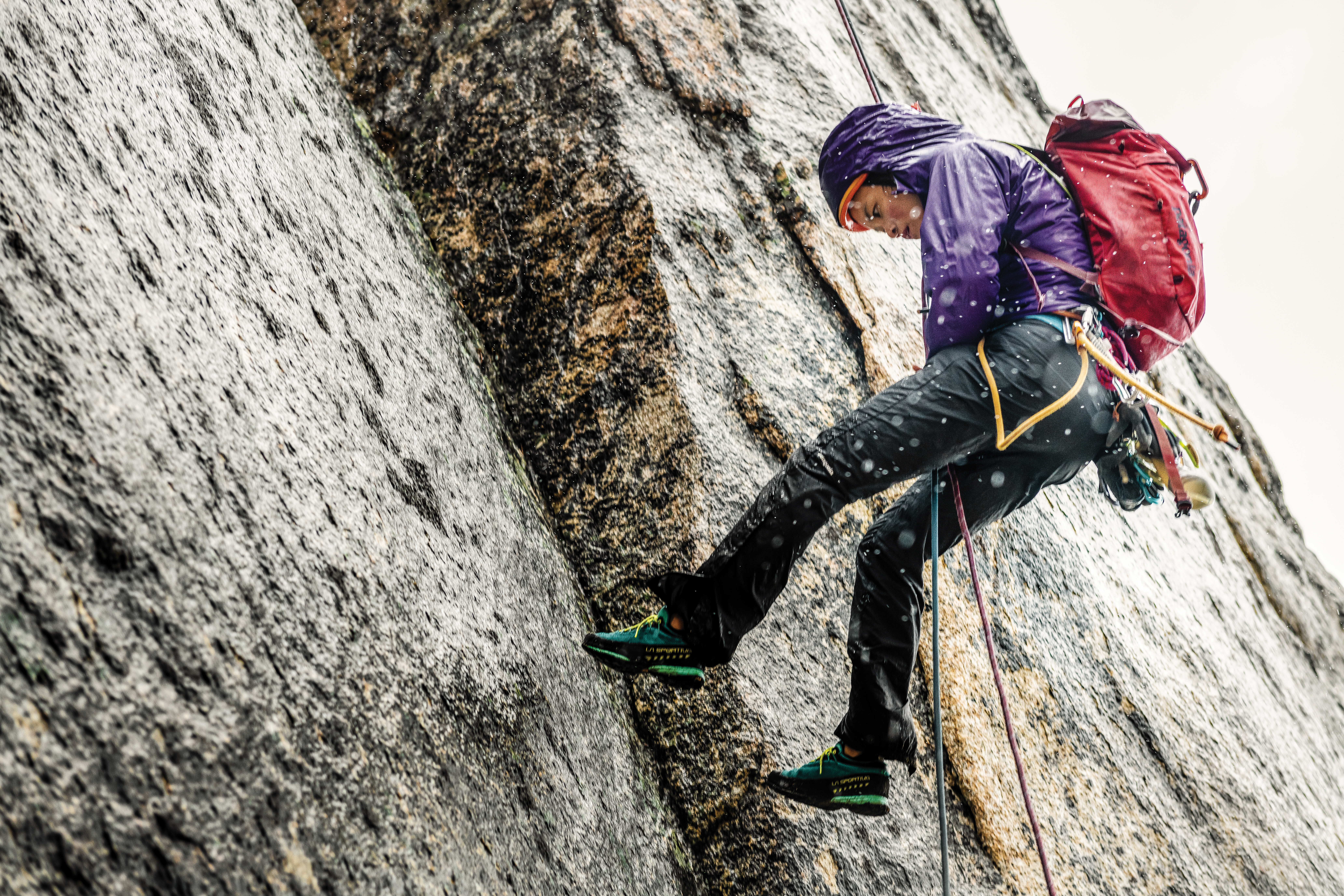 All the Elements: Rain, wind, earth, and fire
August weather in Washington Pass is generally dependable, but over the two seasons we spent working on DSOL, we encountered all the elements. The 2018 wildfires tested our commitment—the nearby Crescent Mountain and McLeod fires consumed nearly 80,000 acres alone. Our morning ritual included examining the acreage of fires, smoke maps, air-quality predictions, and wind direction to gauge conditions. Some days, we smoked the equivalent of 20-plus cigarettes due to the poor air quality. That first season, we wished for rain, and as pictured at right, in 2019 we got some! Even though it meant we did occasionally get shut down, memories of the wildfires made us grateful for every drop of moisture.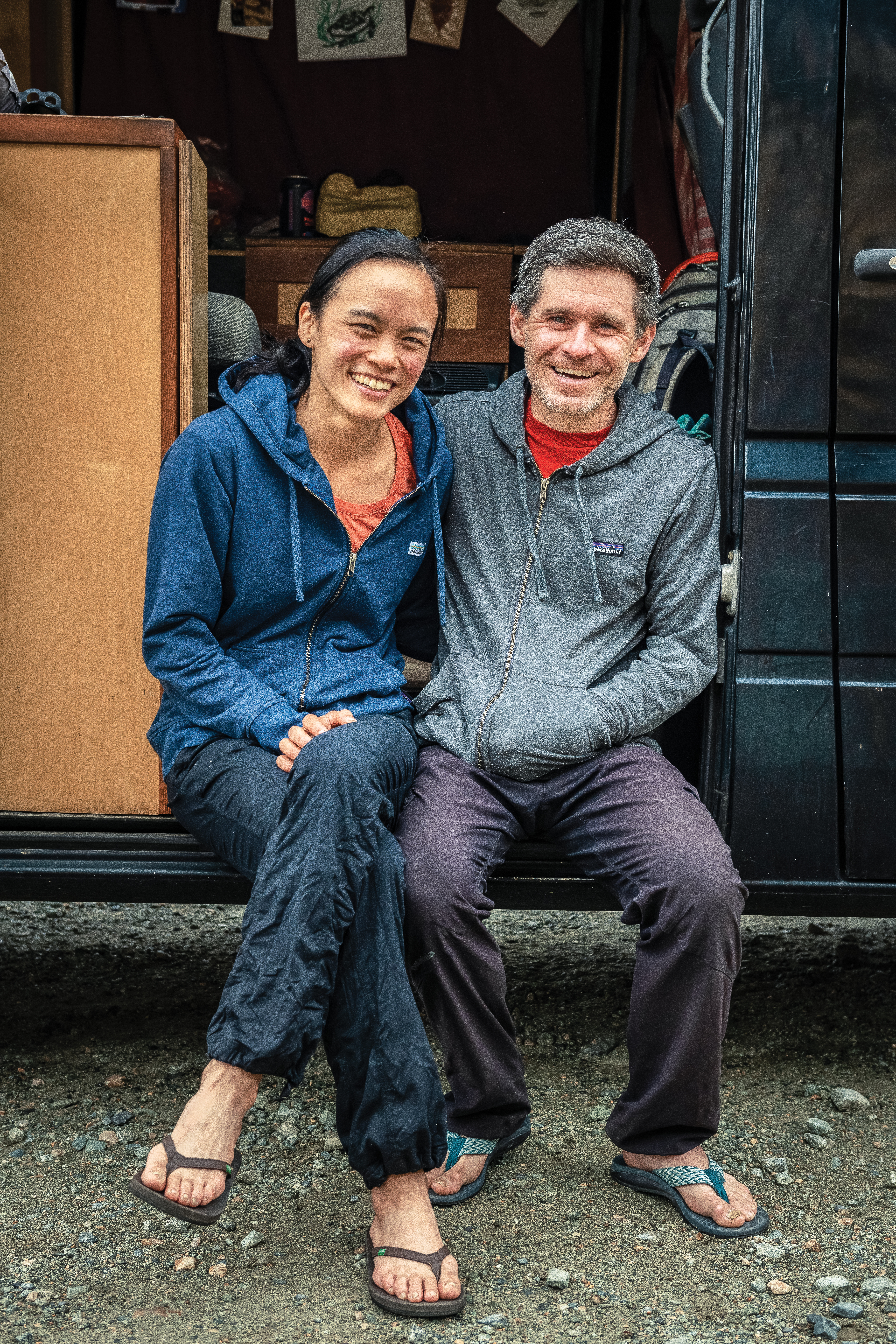 Portrait: Post-send smiles
All smiles after sending the Dark Side of Liberty—what an exciting way to end one chapter and start the next.  
Shanjean "SJ" Lee is a climber and an orthopaedic surgeon born in Taiwan and currently based in Reno, Nevada. She has been climbing for 17 years. Dark Side of Liberty was her first FA, but certainly not her last.