The History of Hard Sport Climbing in Boulder's Flatirons: Interview—Colin Lantz
Heading out the door? Read this article on the new Outside+ app available now on iOS devices for members! Download the app.
This story is a supplement to the feature Frozen in Time: A look at the new-school sport climbs of the Flatirons, Colorado on newsstands now in the July 2018 issue of Climbing Magazine. Subscribe here: print, digital.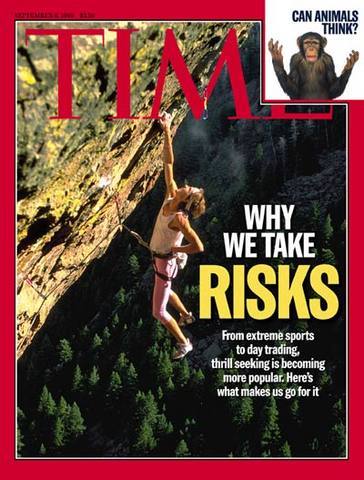 Colin Lantz, originally from Allentown, Pennsylvania, today lives west of Boulder in the mountain town of Nederland and is heavy into mountain biking, but he was in the 1980s and 1990s a driving force with hard first ascents in Colorado, from the Flatirons to Eldorado to Rifle. He may, in fact, have Colorado's first 5.14, The Colinator (5.14a), put up in spring 1992 in Rifle and originally given a sandbagged 5.13d—only uprated later after nobody could repeat it. His best-known Flatirons routes are Chains of Love (5.12b/c), The Violator (5.13c; unrepeated), and Honemaster Lambada (5.13d/14a); he also made the first free ascent of Rock Atrocity (5.13+) on the Hand on Dinosaur Mountain, a route infamous both for its industrial-scale gluing and, for a time, a bolted-on gym hold—both advents Lantz had nothing to do with. (He simply happened to be strong enough to free-climb the route, and so has his name on the FA.)
Here, in an interview originally conducted in 2010, Lantz reflects on his role as a Flatirons route developer.
Tell me a bit about how you came to be a climber in Boulder—did you grow up here, or move here?
Colin Lantz: I grew up in Philadelphia, Pennsylvania, and learned to climb in the Shawangunks in the early eighties… trad climbing, EBs, painter's pants, swamis with no leg loops, all that stuff. My wife, Kathy, and I moved to Boulder in the summer of 1987. We'd spent the previous two years living in our old rusted-out '72 VW bus primarily travelling around the country climbing and checking out towns where Kathy was interested in going to graduate school. Our search had two criteria: 1) a good PhD program in Kathy's field, and 2) good climbing. That was a memorable period living the vagabond dirtbag lifestyle and climbing our way across the country. At the end of that period, Boulder was on top of our list and so we packed everything we owned into our VW bus and drove to Colorado. We almost made it too, but the bus broke down in Limon. I had to pull the engine on the side of I-70, hitchhike to Denver get the head reconditioned, and then hitchhike back and install it.
When did you first climb in the Flatirons? Were you hooked on the area from the get-go, or was it something that grew on you over time?
I climbed the East Face of the Third Flatiron in 1985 with Kathy and a friend from Boulder while on our climbing/college tour. At the time, it seemed really boring and I wasn't interested in climbing in the Flatirons much at all after that. My impression was that the Flatirons were just a bunch of slabs. Everything I wanted to do was in Eldorado Canyon. Back then, my perception was that there were three major climbing destinations in the country: the Shawangunks, Eldorado Canyon, and Yosemite.
I moved to Boulder in '87 so I could climb in Eldo, and the first two years there I practically lived there. In July of '88, Dan Michael, told me about his route Slave to the Rhythm up in the Flatirons on the East Ironing Board. I went up there to check it out and was totally stoked on that route. I didn't do the route that day, but went back the next weekend and did the redpoint. Paul Piana was also bolting some routes on the same wall. Velvet Elvis (5.11a) was just below Slave, and Stars at Noon (5.13b) was just to the left.
After that first day on Slave, I went right out the next day and went for a long walk in the canyons and drainages around the Flatirons and the Ironing Boards, but what I saw just wasn't that inspiring. Mostly there was a lot of really chossy rock and a lack of steep and overhanging features. I didn't really see the potential in the Flatirons until the spring of 1989. At that point I was working for JRat [a gear and apparel company] back when they were still in the building next to the Liquor Mart in downtown Boulder. We were selling a T-Shirt with a graphic of John Wayne on it wearing Lycra tights and rap-bolting with a Bosch drill. It had a John Wayne quotation under the graphic that read, "Some things are worth hangin' for… pilgrim."
Somehow the new owner of JRat, Kevin Furnary, had acquired the rights to the design from Paul Piana and his upstart company called Jesters, one of the early Lycra-tight producers. Paul was closing up shop and moving from Boulder to Lander, Wyoming. I was sent to Paul's apartment/office/warehouse/manufacturing-facility to pick up the last of some of these T-shirts. I didn't really know Paul that well, but he was very friendly and easygoing. We struck up a conversation about putting up new routes and we found we had some common interests. Paul told me I had to go up into Fern Canyon and check it out. He thought he'd scoped some potential lines there, but as he was moving he wouldn't be getting back there anytime soon. I went up there on a reconnaissance hike the next weekend and I was totally blown away. The rock quality looked a lot better than in the area around the East Ironing Boards, and there were a lot of steep, overhanging features.
I went back the next day with Paul Pomeroy and Greg Robinson and we bolted Superfresh [a classic, five-bolt 5.12+ arête on a block directly above the trail]. We all went back the next day and I got the first redpoint on the route. That route set off a development spree for me that lasted through the spring of the next year, 1990, when I finally redpointed Violator, the hardest of the routes I put up in Fern Canyon.
The Flatirons were one of the first sport areas in America (1986/87), coming only a few years after Smith and emerging, along with Shelf, Cochiti, the New, etc., as one of the first major sport destinations. What, in your opinion, got the ball rolling in the Flatirons early on—how did you and your peers come to realize the potential up there?
Well, I have to disagree with your assessment that the Flatirons were one of the first sport-climbing destinations. It was one of the first sport-climbing areas for sure, but it was not really considered a destination area among the climberati of the late 80s and the early 90s. The problem with the Flatirons is that the routes are spread out over an expansive area, and the approaches are wicked long and steep to boot. This just is not conducive to sport-cragging by European standards, and everything back then was defined by the standards for sport climbing that were being created and defined by and large in France. That standard was set by the Bout du Monde in Buoux, where 14 routes from 7c to 8c were stacked up in close proximity. Euro sport climbers and subsequently American sport climbers smoked too much to walk the distances required to get in a full day of high-end cragging in the Flatirons.
I took Patrick Edlinger up there later in the summer of '89 and watched him flash Superfresh with no warm-up. I don't think he was too impressed with what he saw. He was actually a bit pissed that I took him to such a hard route without a warm-up. For sure, he didn't go back to France and tell all his buddies that they had to go to the Flatirons because it was the next Buoux. I think what got things heated up as far as sport development goes during that time was that Boulder had, and still has, an extremely high concentration of very active, very good climbers who were travelling the world and seeing what was going on in other areas, like Buoux and Smith Rock. When they got back to Boulder, they naturally turned their attention to Eldorado Canyon, but Eldo was already very developed with little room for new routes, and it just didn't have the preponderance of natural holds on the steep sections needed for modern sport routes. The Flatirons had lots of room and lots of holds, when you could find good rock. It was a natural conclusion for those interested in putting up new routes.
I know nearby Eldorado Canyon, the same rock formation (Fountain) but formed geologically somewhat differently, saw some of that sport evolution, with climbs like Paris Girl, Desdichado, etc. But what made/makes the Flatirons different?
I was done with Eldo by '88 as far as new route development went. That was the year I put up Your Mother [a classic 5.12d on the Bastille]. I don't recall any controversy at all surrounding this route. People seemed to really like it, and the fact that it was the first route put up in Eldo on rappel with a power drill seemed to be overlooked until I pointed it out years later in the second edition of Cimb! The History of Rock Climbing in Colorado.
I'd done all the other hard routes in Eldo that I had wanted to do like Desdichado, Paris Girl, Sacred and the Profane, and The Web. I only put up two routes in Eldo: Your Mother and Lips Like Sugar. Like I said, Eldo just didn't seem to be conducive to my vision of what sport climbing should be all about. Steep and overhanging rock was what I was looking for, mainly because of my experiences in the Gunks. I didn't think sport climbing should be about bringing hard routes down to one's level; I thought it should be about making the seemingly impossible possible. I learned to climb in the Gunks, and steep was the norm there. To me, climbing out horizontal roofs and extremely overhanging walls was where the challenge was. Super-crimpy vertical face climbing was just a bore, in my opinion. The only thing worse was slab climbing. Overhanging routes take power, and applying that power and marshaling the skill to overcome what was previously considered beyond the realm of possibility was pretty exciting.
What was the first sport climb you put up in the Flatirons? What inspired you to jump on the sport wagon?
The first route I put up in the Flatirons was Superfresh. I did the first ascent on May 28, 1989. As for jumping on the sport wagon, it is not that simple. It was more of a gradual process than a "jumping on." Everyone comes from somewhere. We all have our beginnings, influences, and our mentors. Most of what is called brilliance is simply clever adaptation coupled with a short collective memory span between generations. The bottom line is that we all begin by emulating someone else, even if unconsciously.
During the summers of '85 and '86, I worked as a ranger for the Mohonk Preserve in the Shawangunks. It was a great job for someone who wanted nothing more than to climb full-time. I'd quit my high-paying computer-programming job in Philadelphia in an effort to fully immerse myself in climbing, my newfound passion. Somehow I even managed to stay married through this whole process. That period in the Gunks was marked by tumultuous change and controversy centered on the unwanted arrival of hangdogging and rappel bolting—Euro tactics that had migrated from France, on to Smith Rock, and were now appearing in the Gunks.
I was the skinny little kid from Pennsylvania (as Ruff Raffa evidently referred to me) who was trying to climb 5.12 and get noticed by the top-level climbers of the day, e.g. Russ Clune, Mike Freeman, Lynn Hill, Jeff Gruenberg, Jack Mileski, et al. Eventually, I was invited to tag along with some of these new-route activists, and I watched intently everything they were doing. Jeff probably had the biggest influence on me. He wasn't necessarily gifted, but he excelled through sheer will, discipline, and determination. By the end of '86, I'd climbed Scott Franklin's 5.13 route Survival of the Fittest and put up a half-dozen or so new 5.12s. I realized I had an affinity to this new style of climbing and that I could probably get a lot better if I kept pushing myself.
Rock Atrocity, The Violator, and Honemaster Lambada might be your three best-known routes up there, and were some of America's early very steep, very hard sport climbs. Did you at the time see room for more climbs like this in the Flatirons, and would you have kept going in this vein if the bolting moratorium hadn't come down?
There was certainly more room for new routes in the Flatirons and Fern Canyon specifically. I probably would have kept developing routes there if it had not been for the bolting ban, at least well into 1990. In the summer of 1990, I discovered the Industrial Wall at Mickey Mouse and that kept me completely preoccupied until late in '91, when I got wind of what Kurt Smith and his group of friends had discovered in Rifle.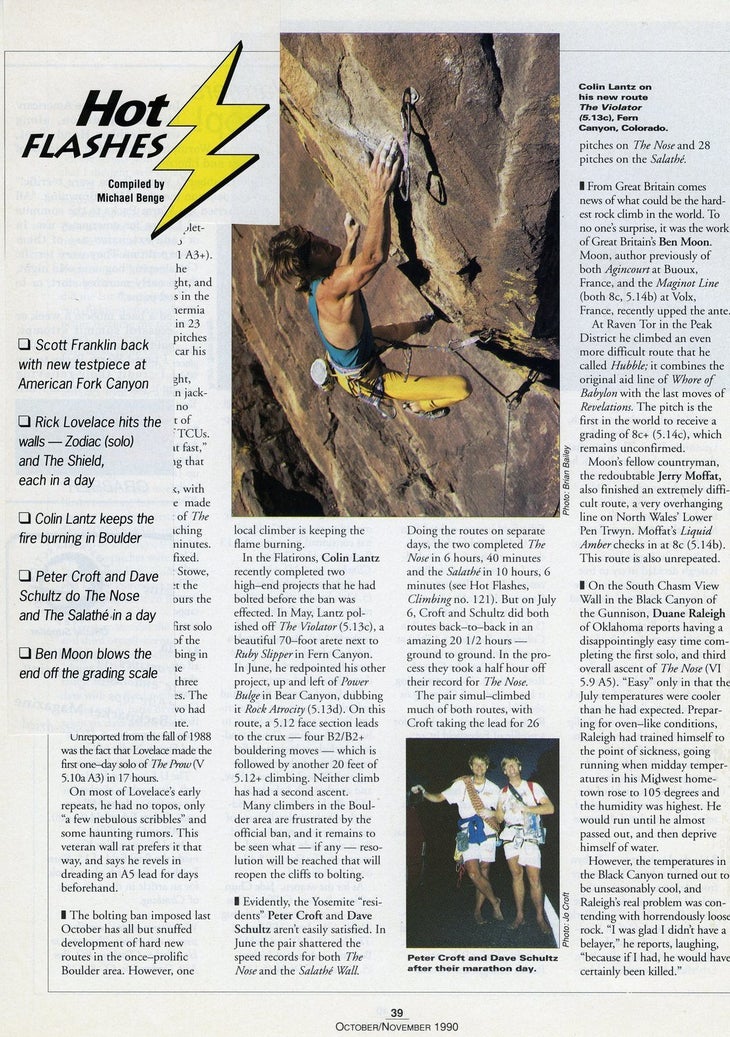 Rock Atrocity has the history with the bolt-on holds, removal, and then your sending it anyway—can you tell me a bit about how that all went down?
The history of this route is infamously documented in the 2002 book Climb!: The History of Rock Climbing in Colorado. Unfortunately, most of the information regarding the route is incorrect. A number of different people were working on the route during the same period in 1989. At some point, someone bolted an artificial climbing wall hold to the wall. I removed the hold and tried my best to patch the bolt hole so you couldn't see any evidence. The quality of the rock on the lower wall is very bad, and some of the holds are very loose. Another party used what appeared to be clear epoxy and coated the outside of some of the loose flakes on the lower wall with it. The result was horrible and very noticeable when the sun shined on the wall. It was impossible to remove the glue because the rock was so porous that the glue had soaked into the rock.
I got some special resin from my roommate (Chas Fisher, who owned Bolder Holds) that had rock texture and pigment in it, and I tried my best to repair and hide the damage that had been done. By this time, I knew the route would always have a stigma attached to it, but I figured it needed to be climbed since the bolts were already there and the damage already done. The top half of the route is actually quite beautiful, and the sequence of the moves and the proud position were worthy in my opinion. I named the route Rock Atrocity to call attention to the ethical transgressions that had taken place on the route. I redpointed the route in June 1990.
Any funny tales from those first ascents—attempts gone wrong, belayers gone sour, etc.?
I redpointed Honemaster Lambada in summer '91. The route is quite overhanging with a big, bulging, wave-like roof at the end. This is the location of the crux dyno. Because of the big bulge, it wasn't really possible to place the anchor in a location conducive to lowering off, so I'd just lower off the last two bolts. Reversing the moves back down over the crux bulge was pretty tough, so I just started jumping off the top. This soon led to some sporty "space launches" where the belayer would feed out a bunch of slack and then I'd jump, with me as a willing and eager participant. With a good dynamic belay, I could take a really fun 50-foot whipper. On one go, Paul Pomeroy, another ex-Gunky who'd earned his dynamic-Sticht-plate-belay merit badge climbing there, gave out just a little too much slack and I came damn close to hitting the deck. Once down, and with the rope hanging from the last bolt, we'd also have a little fun launching the "king-swing" where we'd back off a good 50 feet sideways from the belay and jump off the belay ledge into a giant 100-foot pendulum. It was like we were little kids at the most awesome playground ever built.
Can you remember much from the free-for-all days—what it was like to be able to drill freely up there, and if you had any negative interactions with climbers/rangers/etc.?
There was no free-for-all, at least as far as I was concerned. I'd just moved to Boulder from the Gunks were there was a huge backlash to sport climbing, hangdogging, and rap bolting. The Gunks is an extremely popular climbing area just outside one of the largest metropolitan areas in the U.S, New York City. As a ranger there, I'd seen a lot of confrontation at the crags just through sheer crowding. I'd also learned some valuable lessons from the climbing "elders" who were still active at the crags.
I'd once dropped my rope right next to John Stannard, the Gunks legend, and asked him if it was OK to crank my boombox while I sent this gnarly route I was working on (some insignificant 5.11, in reality). He said "no" emphatically and proceeded to tell me just why that was extremely rude and thoughtless. It didn't stop me listening to music at the crags, but I'd at least become very aware that my actions affected others and I learned to be considerate and turn it off if in a busy area if others could hear it. Russ Clune once gave me a verbal beat-down on the Near Trapps carriage road because he thought my ego was getting out of control while helping Jeff Gruenberg and Jack Mileski work on the first ascent of The Twilight Zone. There's a fine line between self-confidence and an inflated ego. That reality-check helped me realize that what I was doing was absolutely unimportant in the big picture. It's mentoring like this that was standard operating procedure at the Gunks, and it really helped me grow up fast and get my head screwed on right.
In any case, we'd be as stealthy as possible when bolting with the power drill just because we didn't want to draw attention to ourselves or be inconsiderate to other people out hiking around in the mountain parks. There were other active parties putting up routes, and occasionally you'd hear a drill running, but the area is very expansive and people were really spread out. The visual and auditory impact was pretty minimal in my opinion. The problem wasn't the relatively small number of crews out doing the drilling, it was the hordes of bottom-feeders (as Alan Lester referred to those who like to repeat routes put up by others) who were flocking to the Flatirons.
I know this myth has been perpetuated about how Superfresh was the straw that broke the camel's back in terms of access. What's the true history here?
I did the first ascent of this route on May 28, 1989. The story about the route published in Climb!: The History of Rock Climbing in Colorado recounting the hiker witnessing the bolting of the route and then complaining to the Boulder Mountain Parks rangers is conjecture at best. There was a lot of bolting going on in Fern Canyon that summer and a lot of active parties at work. Bear Canyon and the Ironing Boards had seen a lot of activity in the preceding years. The BMP [Boulder Mountain Parks, the governing land-management agency at the time] was most likely well aware of the pace of bolted new routes going up in all of the Flatirons and acted quickly to ban all bolting. We never had any run-ins with any rangers, and even though the route was right on the Fern Canyon trail, we never had any confrontations with any hikers. I had a Walkman and some little portable speakers that we used to listen to some tunes under the route, but we always turned it down if we saw someone coming. We would go out of our way to keep the trail clear so hikers could walk by, and we'd always try to be friendly and engaging. That was just the way I was raised, and my experiences in the Gunks helped to reinforce these values.
To get the real story about how the bolting ban went down, it's necessary to understand what was going in the late '80s in Boulder on the social and political landscape. The BMP had just a few years back banned all mountain biking within the park system. The BMP was clearly siding with preservationist sentiment within the community. A precedent had been set regarding recreational use in the parks—i.e., rude and abusive user groups would not be tolerated. According to local lore, a powerful city councilwoman was loitering trailside one afternoon, enjoying the beauty of a Ponderosa pine, when a fireballing gearhead clipped her elbow. The council convened soon afterward, and off-road biking in Boulder was history.
In 1989, there was a heated public debate taking place within the climbing community concerning hangdogging, "rap bolting," and sport climbing in general, and I mean heated. Inflammatory rhetoric such as that found in Christian Griffith's "Manifesto" printed in Climbing Magazine—with provocative language, such as "The slaughter of the last bastions of traditionalism has begun"—helped fuel the fire. There were many traditionalists who were very angry about these activities, and physical confrontations were not unheard of between staunch traditionalists and climbers clearly positioned in the sport-climbing camp. Bolts placed on rappel on sport routes where being "chopped," and this led to more confrontations and shout-downs often taking place at the climbing areas.
Many of the local sport-route activists (myself included) got involved with a fledgling grassroots group called the Colorado Climber's Coalition to try to represent climbers as a valid user group in the mountain parks and lobby the process to keep new-route development open. This all was to no avail, as the ban was railroaded through the public process and bolting was banned from the Flatirons. It didn't help that climbers were not presenting a unified voice at the organized public meetings where the infighting taking place between "trads" and the "rads" was made public at the microphone. Clearly, to the BMP, this was a user group that was out of control, and control is what they required. Soon thereafter, Eldorado Canyon State Park followed suit (January of 1990) and banned bolting also.
Has it been a good or a bad thing that there was a total moratorium for some time followed by (since 2003) bolting by permit only?
Good question. My answer is that it was probably good. From the BMP's perspective, I can totally understand why they took action. Here were a bunch of kids who were essentially building vertical trails in their park that they were tasked with preserving and protecting. If the Chains of Love had never been climbed, would the world be worse off? No, absolutely not. If peregrine falcons stopped nesting in the BMP, would the world be worse off. Most probably, yes. The BMP struggled to strike a delicate balance between recreation in the park and preservation. In my opinion, the balance has been perhaps a little too weighted to the preservation side, but as an avid recreationist I understand that my opinion is biased.
Where do you see the Flatirons sport evolution heading now?
I don't think the rock in the Flatirons really lends itself to modern high-end-grade sport climbing. I think there could be some really nice 5.13s and 5.14s up there, but the problem is that when the holds get really small on that sandstone, they tend to just break off. 5.15 and beyond is happening predominately on granite and limestone, rock that better lends itself to limit pushing sport routes. Also, it's a finite area, and by now just about every chunk of steep rock has been scrutinized. It's not like there is a huge wilderness back there where no man has tread.
Read more about the History of of Hard Sport Climbing in Boulder's Flatirons: